Every Thanksgiving, I'm more excited for the side dishes than I usually am for the main event. It's always a fun challenge to find new ways to dress up old favorites, especially when it's a perfect classic like macaroni and cheese. For this holiday, and maybe to keep in your back pocket for the rest of winter, try this mushroom & thyme mac and cheese! - Ann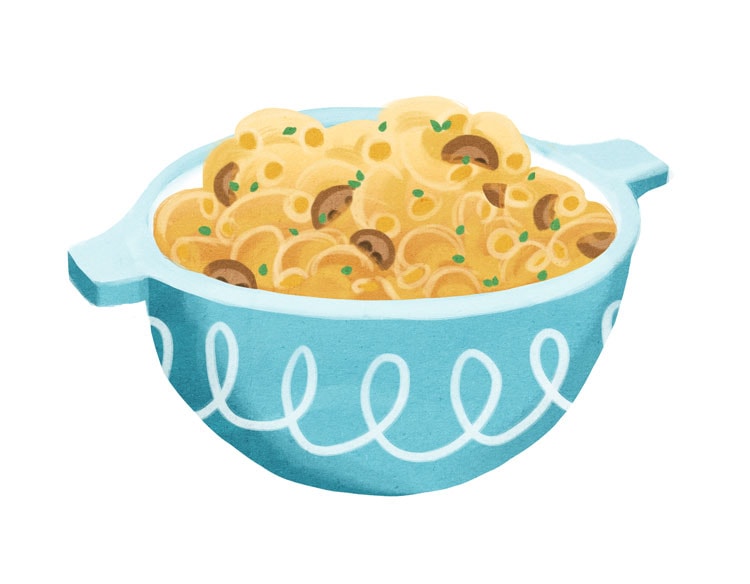 illustration by Ann Shen
Mushroom & Thyme Macaroni and Cheese – recipe via Martha Stewart Everyday Food
6 tablespoons unsalted butter
1 cup fresh breadcrumbs
¼ cup grated Parmesan
8 ounces sliced Cremini mushrooms
½ cup all-purpose flour
6 cups 2% milk
¾ pound elbow macaroni
3 cups grated fontina
1 cup grated Gruyere
2 teaspoons chopped fresh thyme leaves
Salt and pepper
Directions:
1. Heat broiler.
2. In a large dutch oven or skillet, melt butter. Remove 1 tablespoon butter and combine with breadcrumbs and Parmesan in a separate bowl.
3. Add mushrooms to pot and cook until softened. Whisk in flour and cook, stirring, 1 minute. Very gradually whisk in milk and bring to a simmer. Add macaroni and cook, stirring constantly and scraping bottom of pan, until tender, about 6 minutes. Remove from heat, stir in remaining cheese and the thyme, and season with salt and pepper.
4. Top with breadcrumb mixture and broil until golden brown, 1 to 2 minutes.