As spring approaches, I'm thinking of all the brunch parties to be thrown and attended—and I can't wait. I totally have a thing for breakfast foods. They're just so cozy and simple!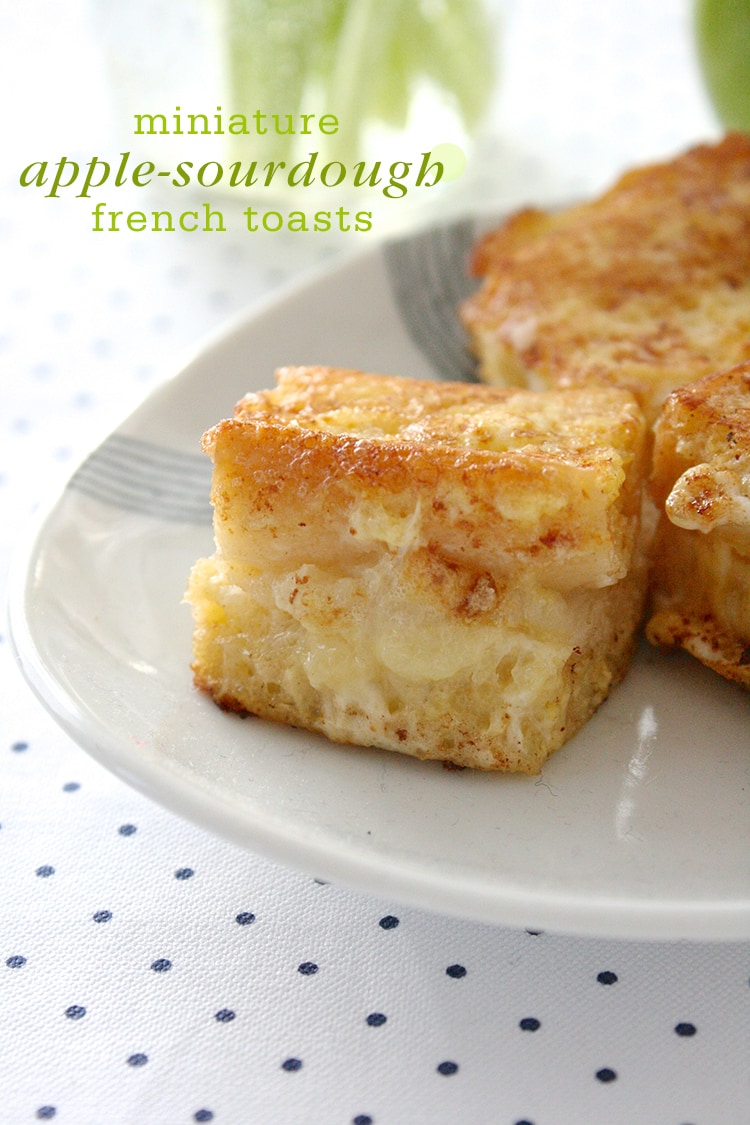 I always struggle, however, to find the perfect "starter" for a lazy, morning party (besides mimosas, of course). There just aren't many AM appetizers out there. That's why I'm dedicating this week's "5 Ingredient Recipe" column to tiny French toast bites. Make these minis up to 2 hours ahead, reheat in the oven and set 'em out for guests to graze on as their filling up their coffee mugs and/or champagne flutes.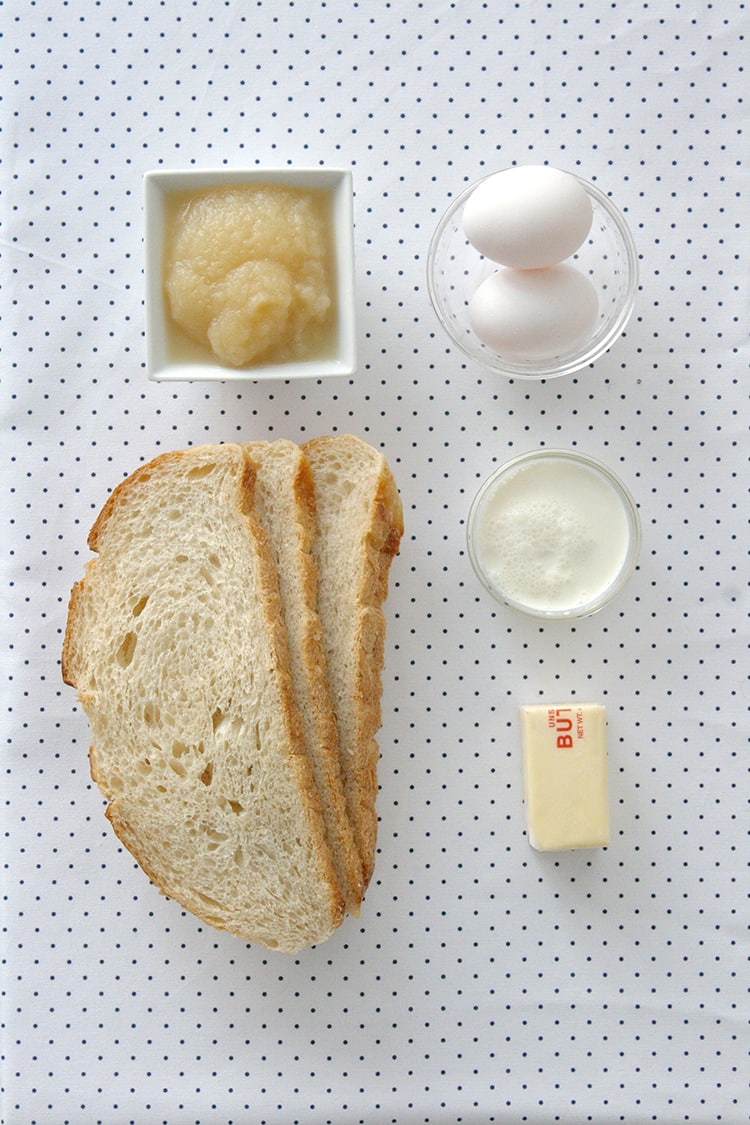 To give this recipes a sophisticated twist, I paired sour dough bread and tart Granny Smith apple applesauce (Mott's has a great one). The barely-sweet combo compliments both sweet and savory menus, so you can easily insert the bites into whatever brunch plan you have in store.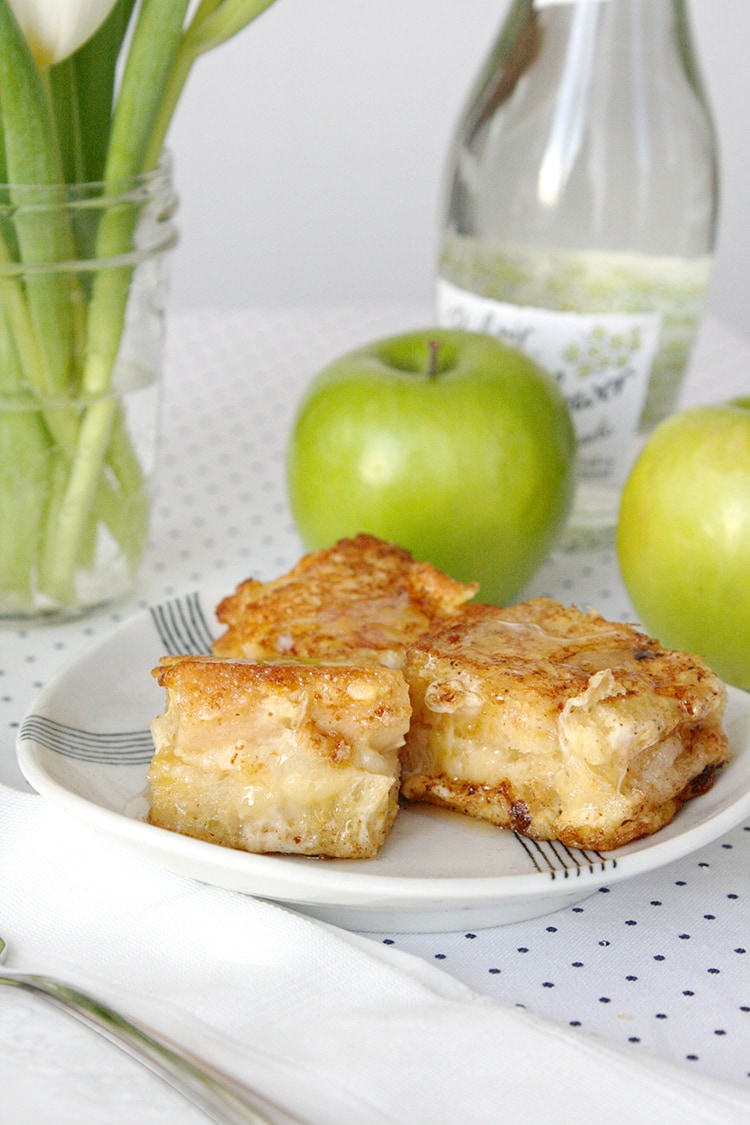 Want to talk about toppers? I like these miniature French toasts plain or sprinkled with a little granulated sugar (a pantry staple, so it doesn't even really count)! Other options: Top with good-quality honey, maple syrup or fresh chopped Granny smith apples, tossed with a little lemon juice.
 Q: What's your go-to brunch appetizer?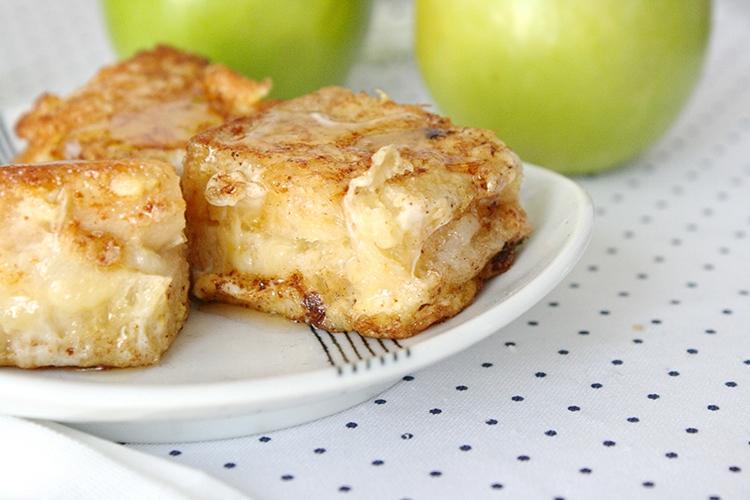 photos by Erin Phraner
Miniature Apple-Sour Dough French Toasts
serves: 4 to 6
6 to 8 slices sour dough bread, crusts trimmed off
½ cup Granny Smith apple sauce (or other applesauce)
2 large eggs
¼ cup whole milk
4 tablespoons unsalted butter
PANTRY STAPLE: Granulated sugar (optional)
 Directions:
1. Put the bread on a cutting board. Spread the apple sauce on half of the bread slices. Top with the remaining bread slices to make 3 to 4 sandwiches; cut into small square (about 1 ½ inches).
2. Whisk the eggs, milk and 1 tablespoon sugar (if using) in a small bowl.
3. Melt the butter in a large skillet over medium heat. Dip the sandwiches in the egg mixture, shaking off any excess, and add to the skillet. Cook 1 minute per side, or until golden. Transfer to a serving platter.
4. To make ahead, transfer to a baking sheet and tent with foil. Reheat at 300˚F until warmed through, 10 to 15 minutes.