Making homemade bread has always intimidated me. The science behind yeast and proofing, developing gluten, and everything else that goes into bread making quite frankly, overwhelms me. That is until I discovered this method for Easy No-Knead Bread.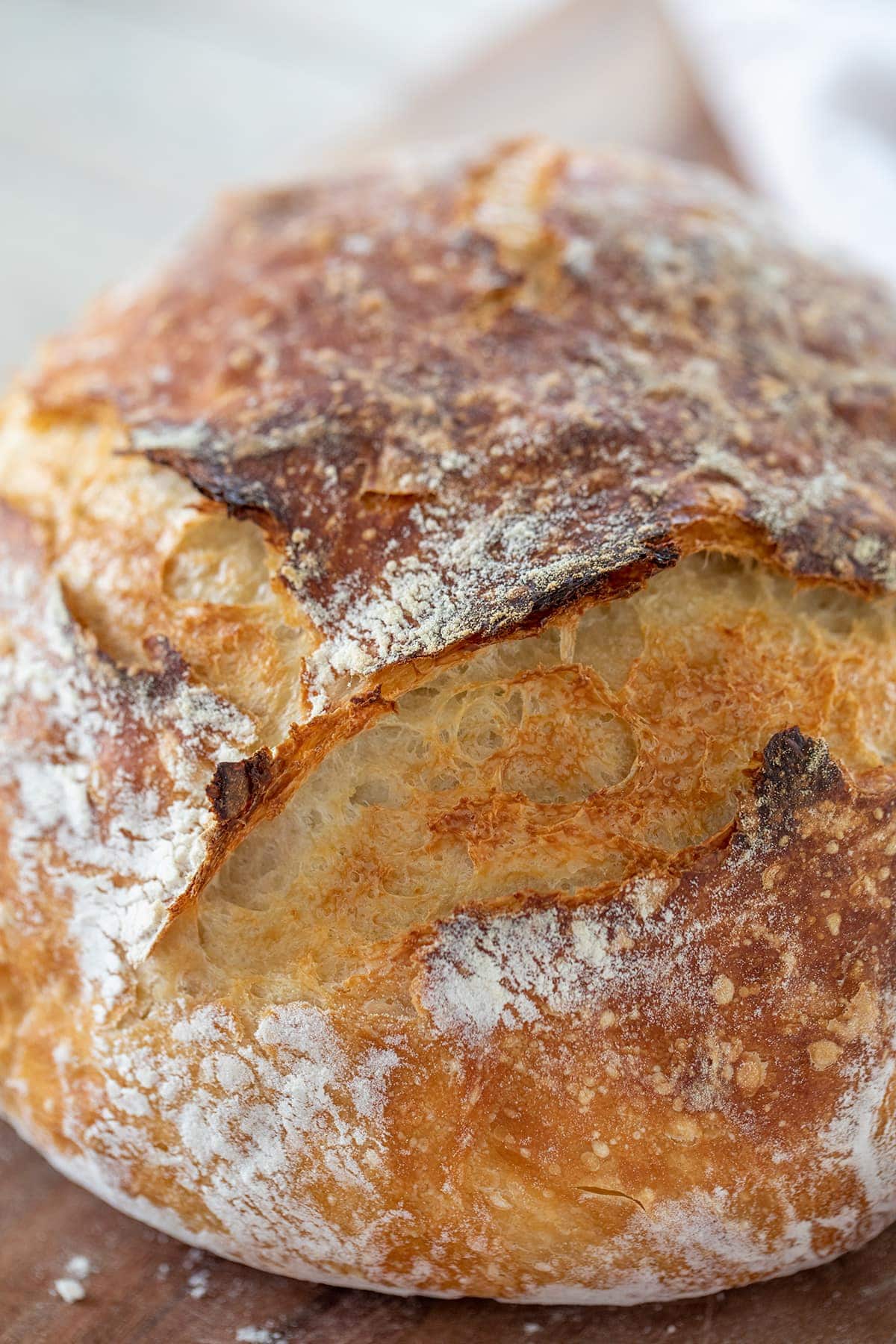 The Perfect No-Knead Bread Recipe
I first became inspired to try no-knead bread during the "great pandemic of 2020." Ha! If you are reading this post in real time, you are most likely sheltered at home right along with me, searching the web for the perfect homemade bread recipe. If you are reading this in the future...I'm sure you remember that crazy moment in our lives.
This time at home has definitely encouraged me to try new things in the kitchen, like bread baking. If there is a silver lining to this isolation, I suppose it would be that! So off I went to test and find the perfect EASY no-knead bread recipe.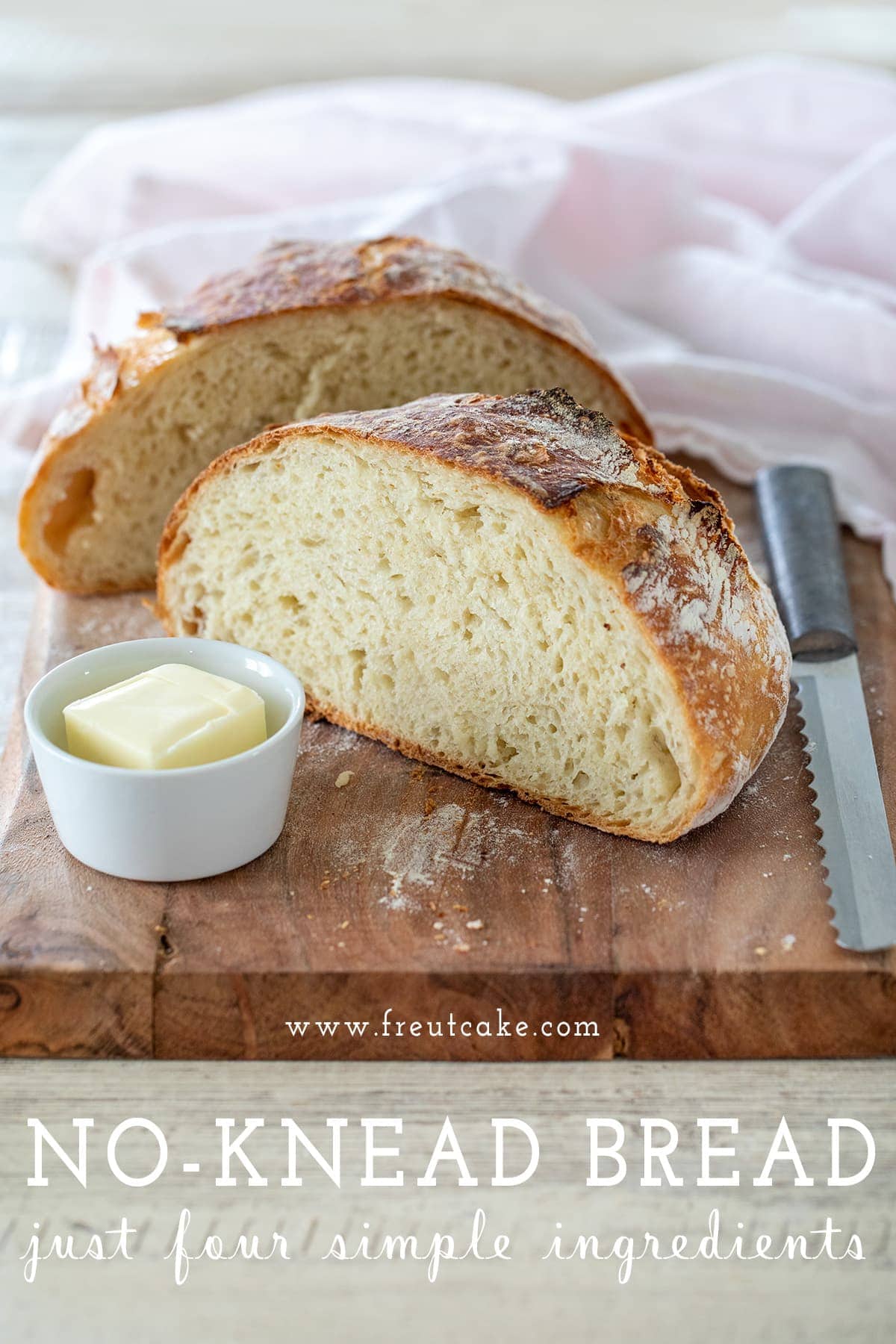 Jim Lahey No-Knead Bread Variations
As I scoured the web and tested different no-knead breads, I discovered that they are all essentially the same. All no-knead bread recipes are variations of the famous method developed by Jim Lahey.
Mr. Lahey's bread uses a long fermentation time instead of kneading to develop the gluten and the classic rustic bread texture without much effort, special ingredients or equipment...what's not to love about that?!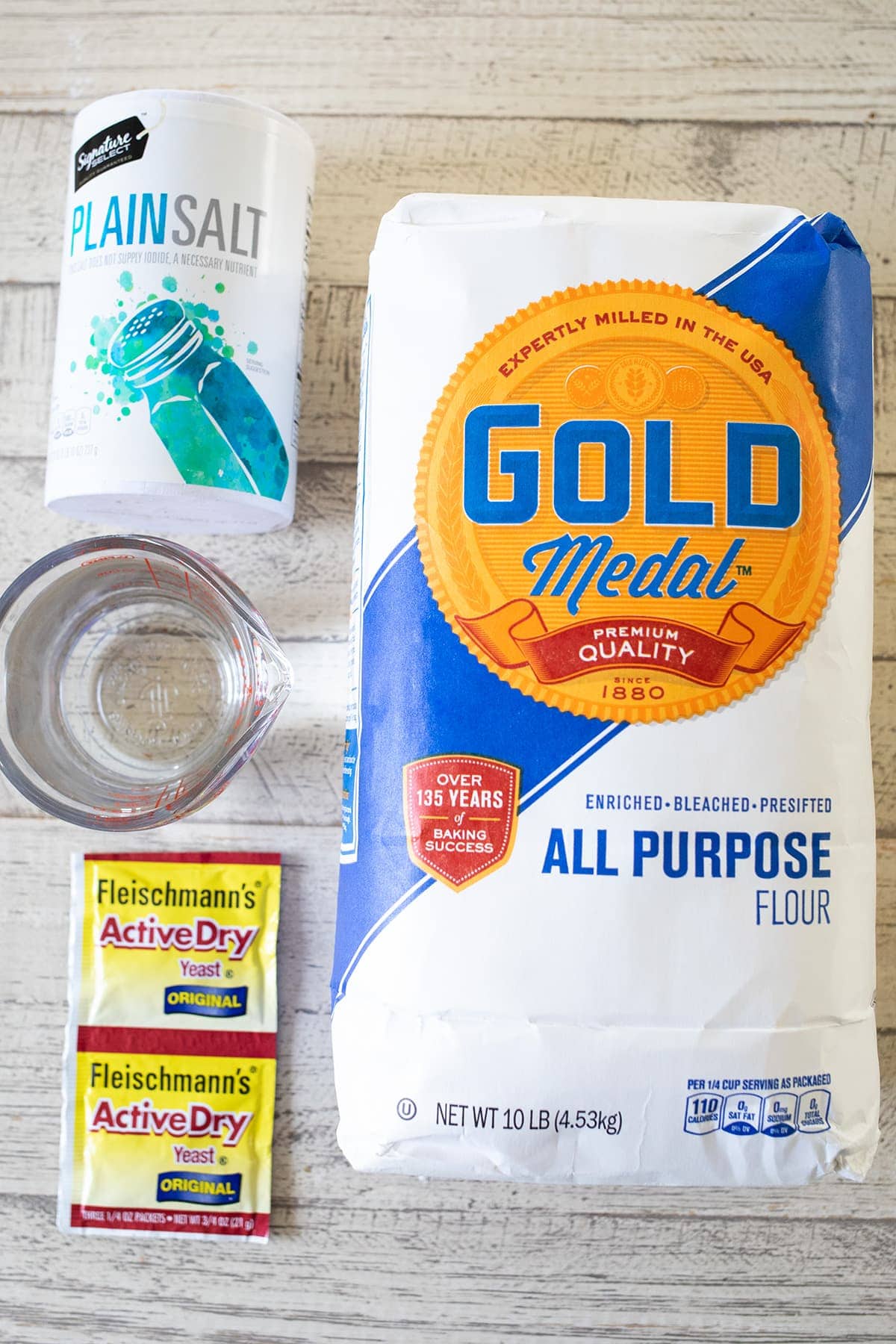 Ingredients In No-Knead Bread
All-Purpose Flour - the best thing about this bread recipe is that it calls for AP Flour! No specialty bread flour required.
Salt - regular old table salt does the trick.
Active Dry Yeast - I use Fleischmann's Active Dry Yeast, not instant or rapid rise for this recipe.
Water - luke warm tap water.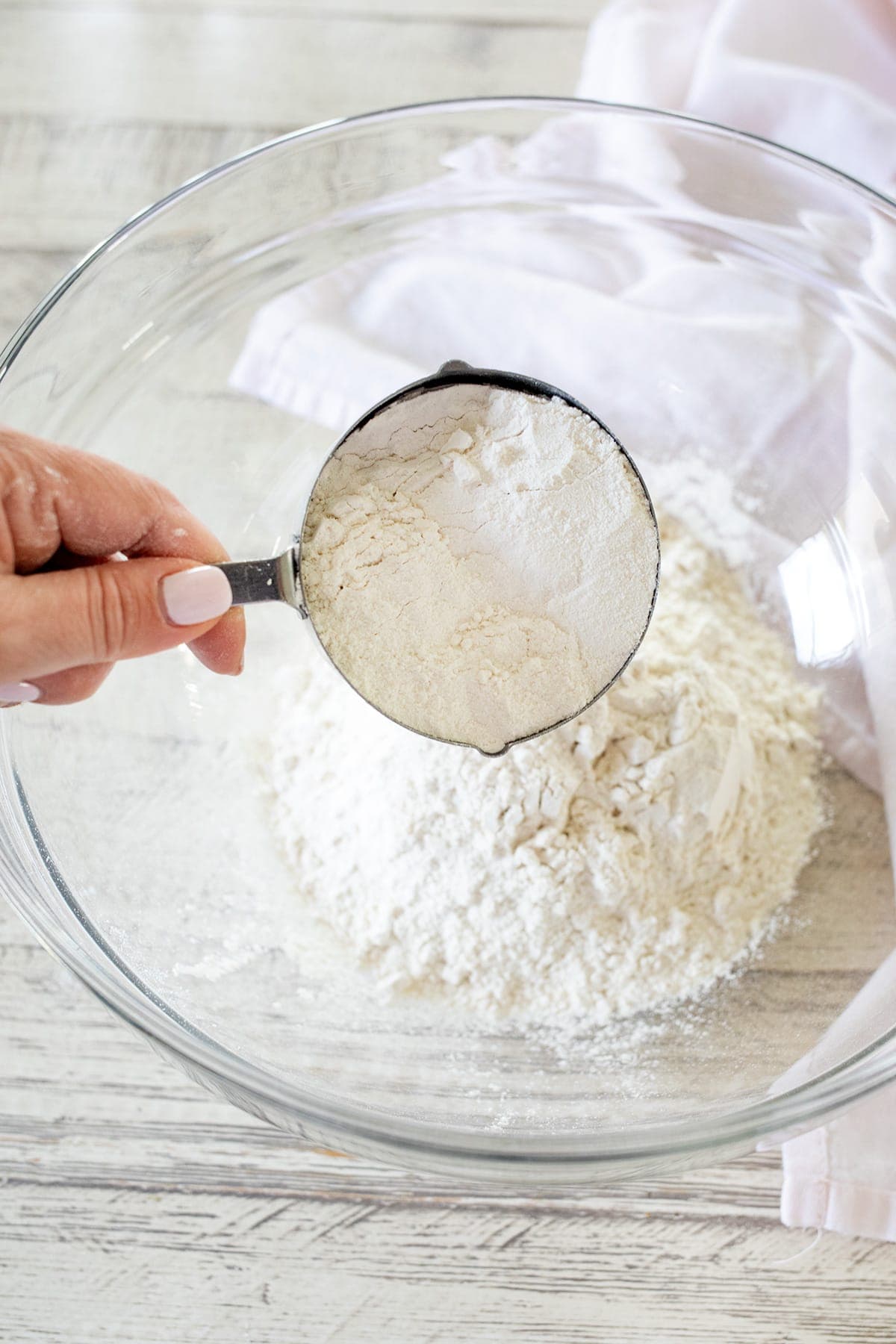 Equipment Needed For No-Knead Bread
Bowl - I use a large glass mixing bowl but metal would work just as well.
Cups & Spoons - you will need all of the usual suspects: a measuring cup, measuring spoon, a whisk and a good wooden spoon.
Plastic Wrap & Parchment Paper
Cloth - A light weight cotton tea towel or dish towel.
Dutch Oven - A cast iron dutch oven works best but you can use any heavy duty, oven safe pot with a lid. I have this dutch oven and I use it for so many recipes from chili to soup and now bread!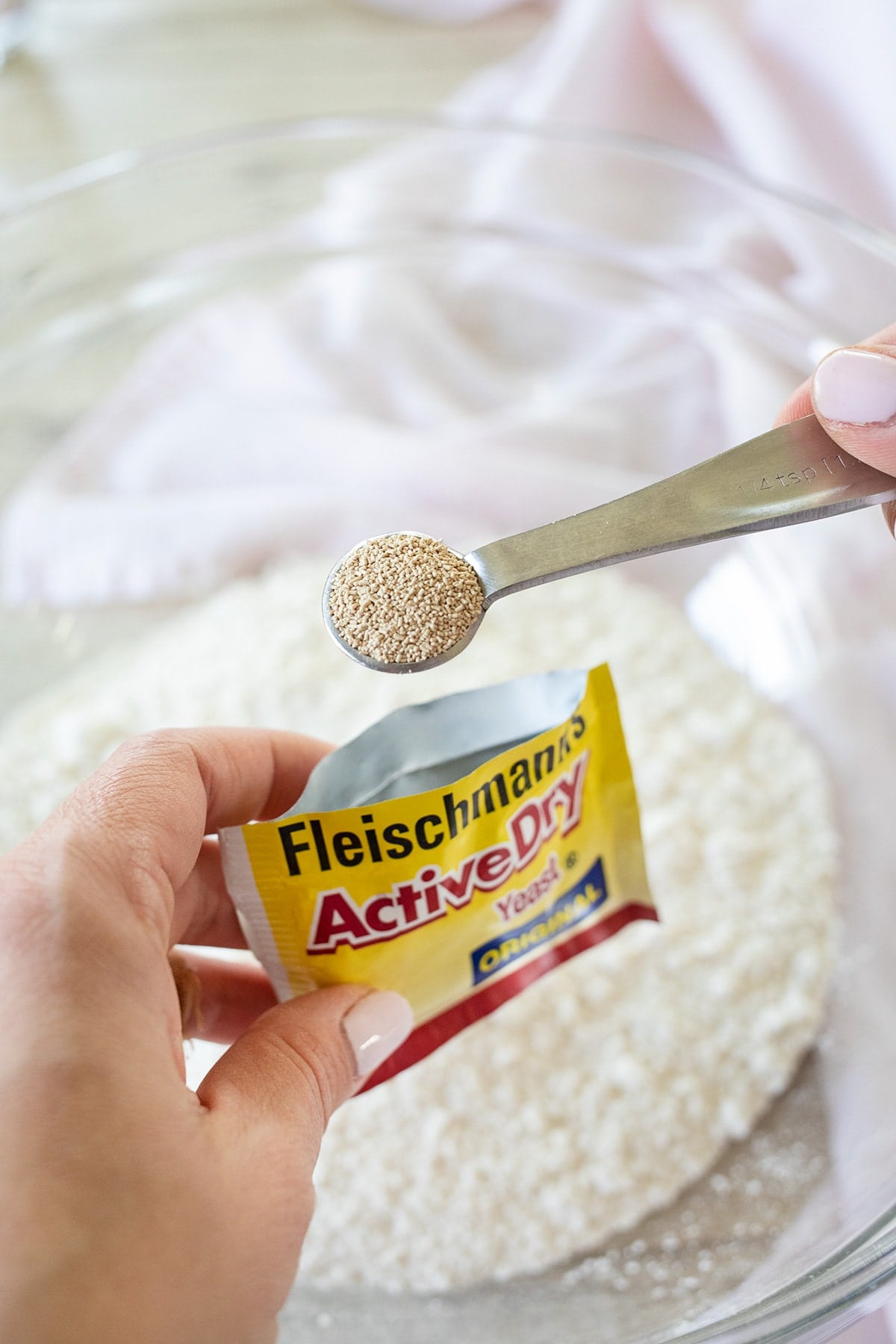 How to Make No-Knead Bread
Dry Ingredients - in a large mixing bowl, whisk together all of the dry ingredients: flour, salt and yeast.
Water - slowly pour in the lukewarm water and mix until you have a "shaggy dough" using a wooden spoon.
Proof - cover the bowl tightly with plastic wrap and allow to proof for 8 hours. In a warm spot out of direct sun and away from a draft. Don't overthink it, your kitchen counter will be perfect.
Form - on a large square of parchment paper dusted in flour, turn the proofed dough out and quickly fold it a few times until you have a round dome. You will want to tuck the dough under itself to form a round loaf shape. This doesn't have to be perfect!
Proof Again - cover with a tea towel and proof an additional hour.
Preheat - while the dough proofs, preheat your oven with the Dutch oven inside.
Score - cut an X in the top of your proofed dough using a sharp knife to create a pretty pattern in your loaf. NOTE: this is not necessary and I actually forgot to do this step in the photos above. The cut should not be deep.
Bake - CAREFULLY remove the Dutch oven and quickly transfer your proofed dough into the pot, parchment paper and all. Just pick up the four corners of your paper and plop the entire thing into the hot pot. Return the lid (using gloves of course) and place it back into the oven for 30 minutes.
Brown - Remove the lid and bake an additional 15 minutes to crisp up the crust and brown the top.
Cool - Remove the pot from the oven and use a spatula to transfer the bread to a cooling rack. Cool up to 1 hour before slicing.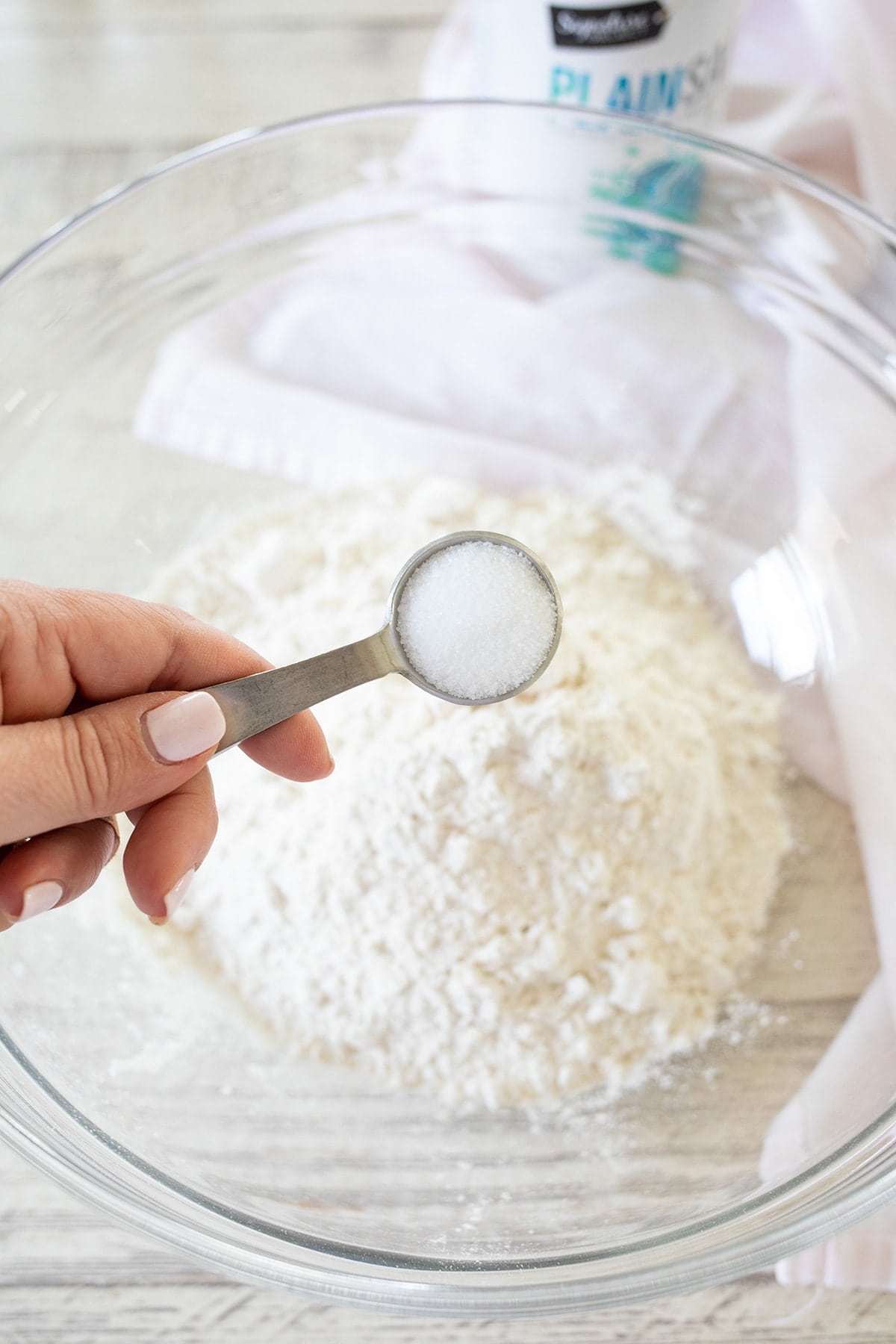 Step-by-Step Tutorial
Because I want this recipe to be as simple for you as possible, I photographed every step I take to make this bread. In the last week I've made exactly 8 loaves, ha! I wanted to test and retest to make sure that everything JUST WORKS for you. To see all of the steps start with the (photo above) of me adding the flour, then the yeast, the salt and continue on below. Or if you just want the recipe, feel free to skip to the recipe card at the end of this post. I hope this helps if you are a visual learner....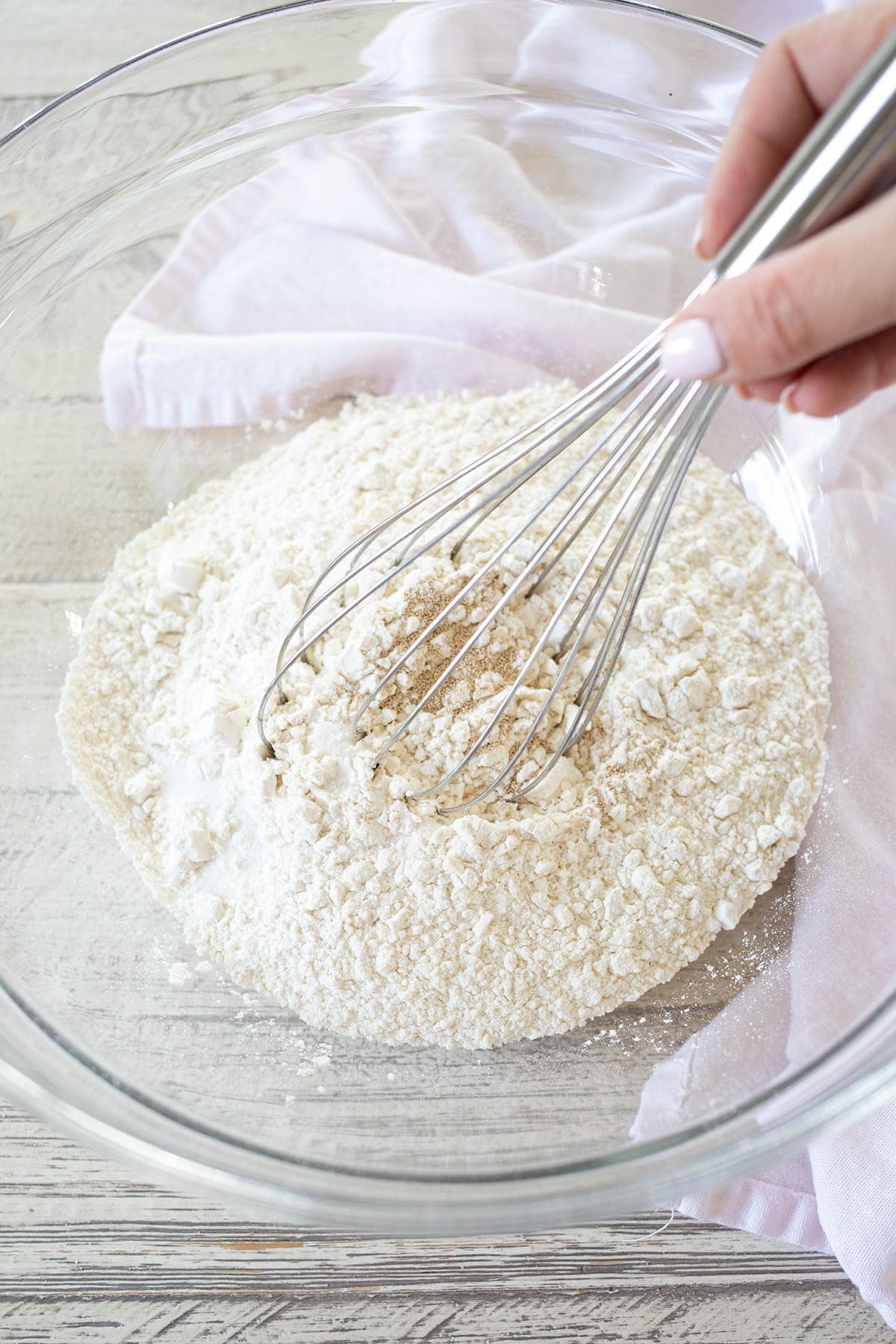 Luke Warm Water for Bread Making
I'm sure there is a recipe somewhere that will give you an exact temperature to aim for with your water, however this is not the one. You want it warm, but not hot and definitely not cold. Just luke warm to the touch and straight out of the tap. Too hot and it will kill your yeast.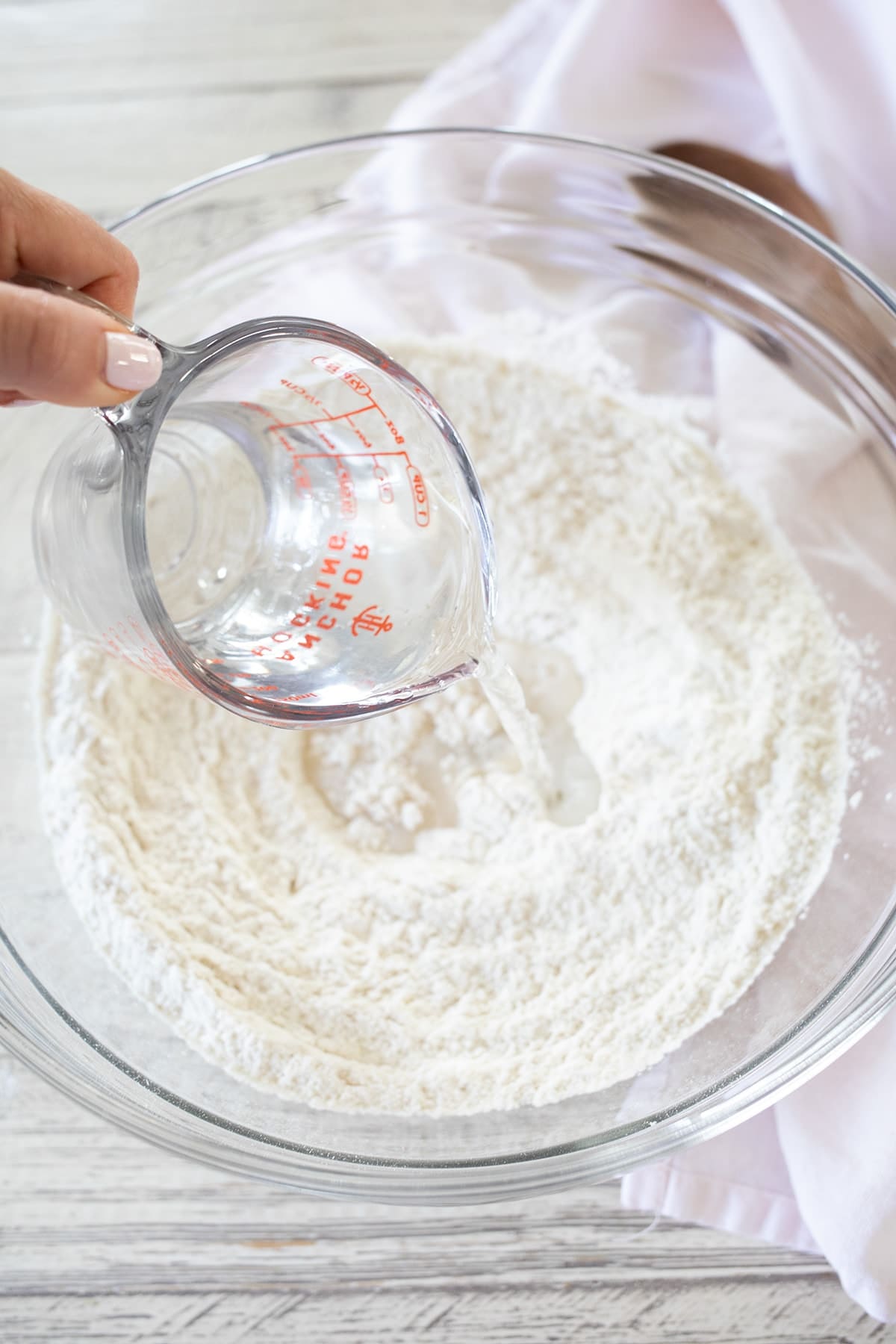 "Shaggy" Bread Dough
This term cracks me up. I can't help but think of Shaggy from Scooby Doo every single time I get to this step. It's kind of a mess but it comes together in the end. It's going to be a bit sticky, a bit floury and not at all smooth. In fact, my dough often looks much shaggier than the below photo which happened to be a bit "wetter" than normal. It's all fine, this is fine.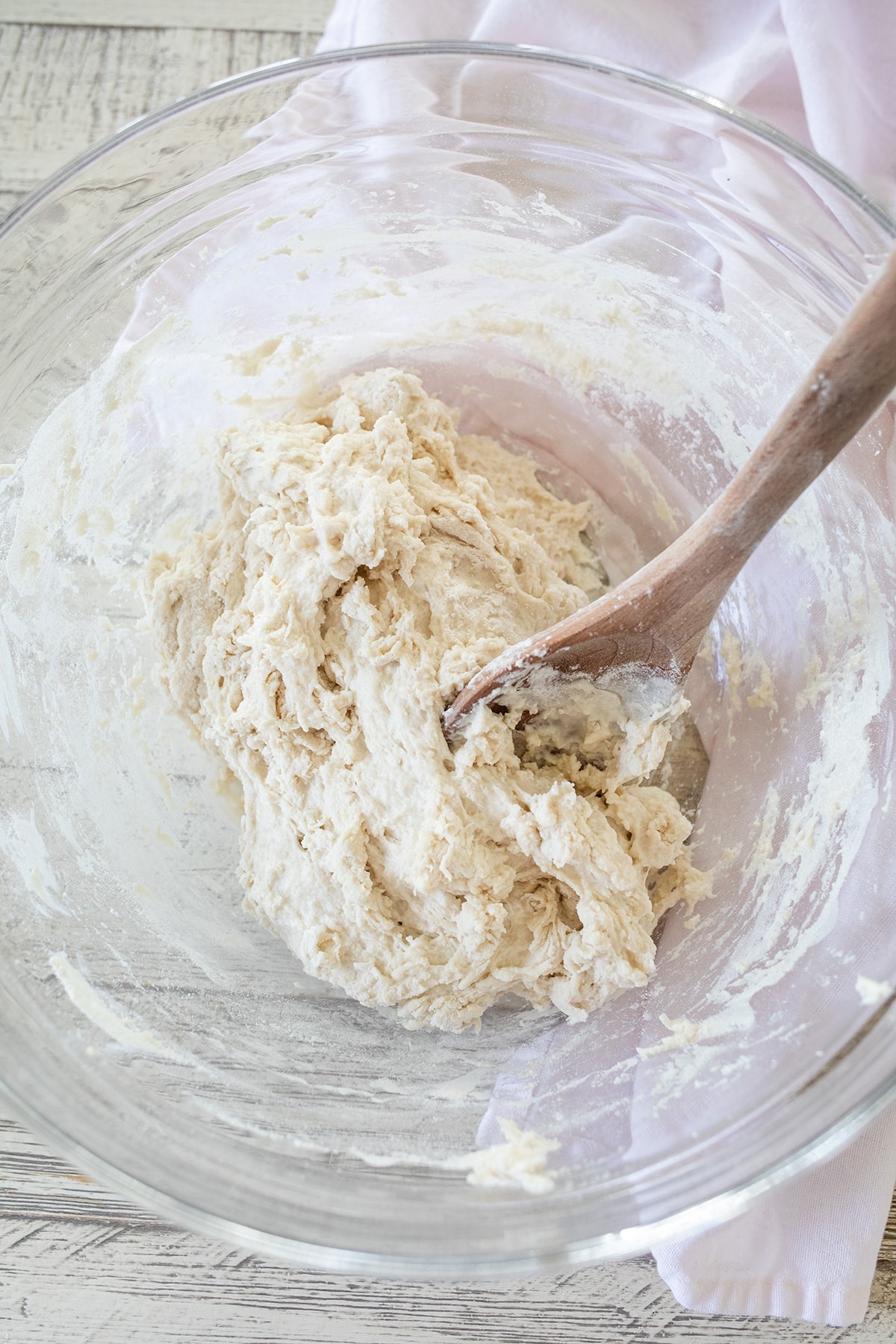 How Long to Proof No-Knead Bread
This step is where I tested the most. From 18 hours down to 8 and everything in between I tested this dough. It was pretty incredible to see the difference in the texture and what happens when you proof too long with too much yeast...let's just say it was s gooey mess. But in the end, 8 hours was the magic number for me and I think it's the perfect amount of proofing time, especially if you plan to make this dough in the morning and bake it for dinner.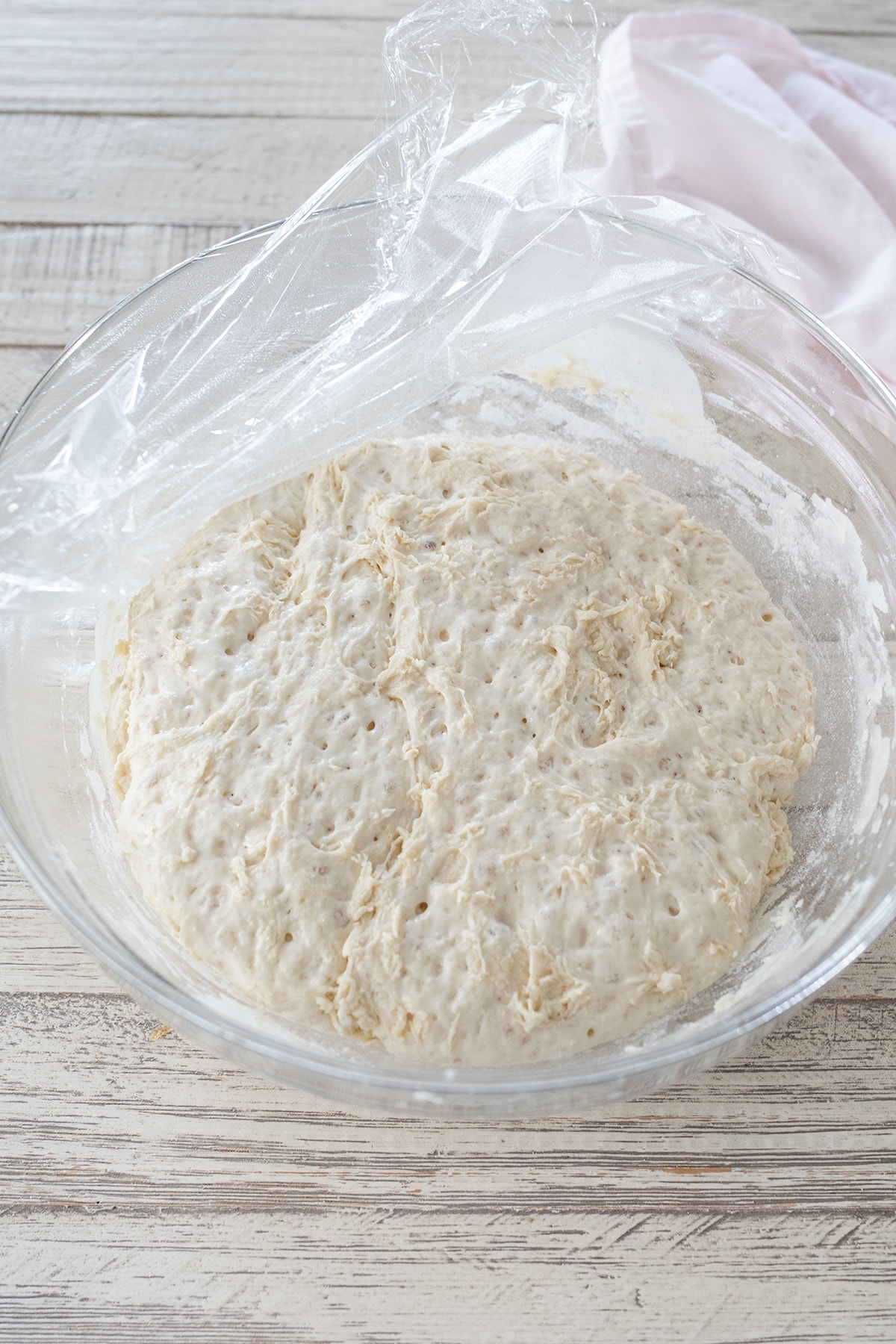 How to Test Yeast
Speaking of yeast, and testing and proofing, King Arthur Flour writes a great article on how to tell if yeast, baking powder and baking soda are all still fresh and active! This is an article to bookmark for future reference. See that bubbly dough above? That's some beautifully proofed dough with nice active yeast. Woohoo!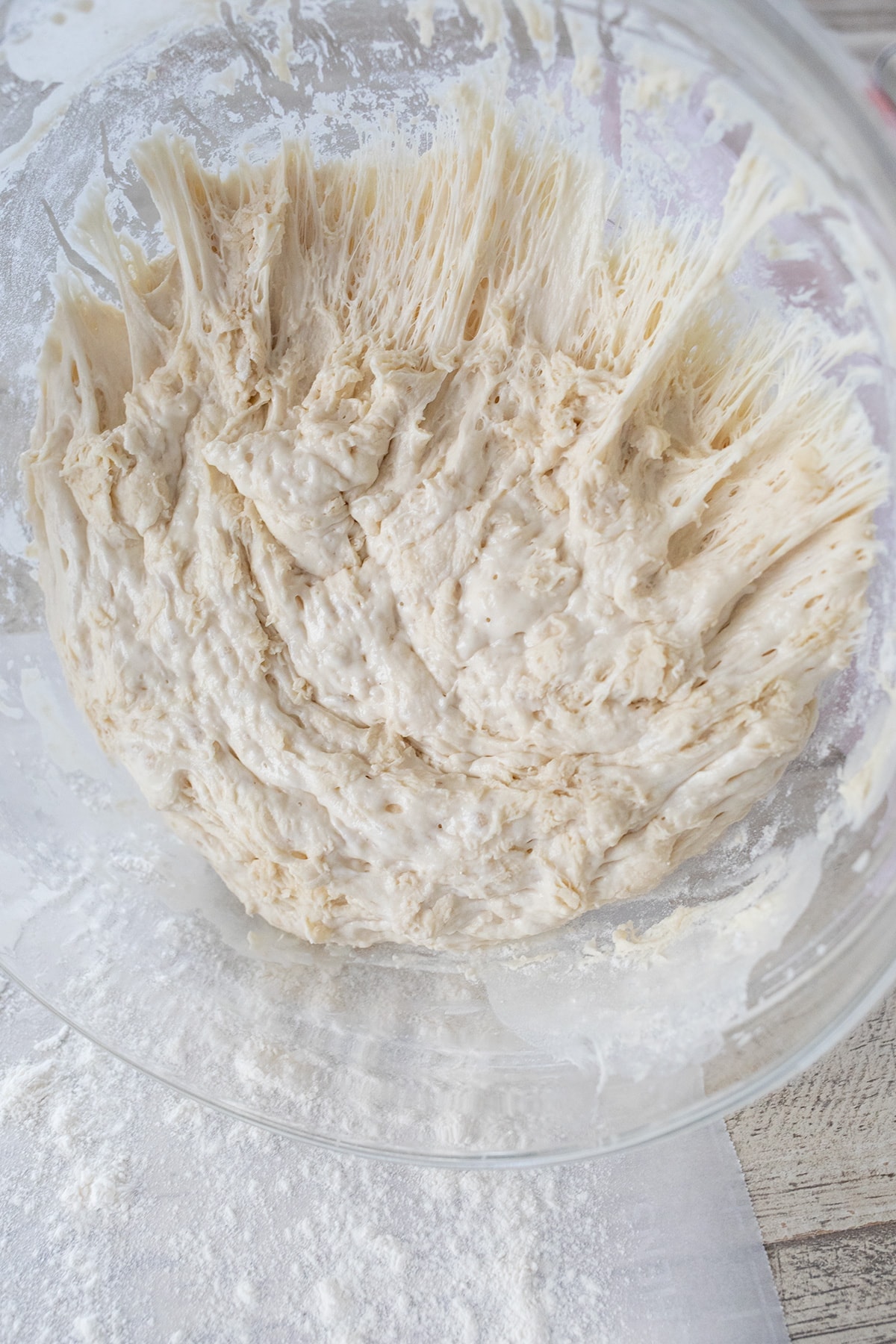 Ok, we are almost there friends! Your dough has proofed and now you are ready to turn it out onto a floured piece of parchment paper. Do you see those long stringy dough "fibers," that's an amazing sign that the gluten in your dough has developed! Look at you, baking bread like a pro. At this point, you can use either a spatula or your hands to gently help the dough out onto your floured surface.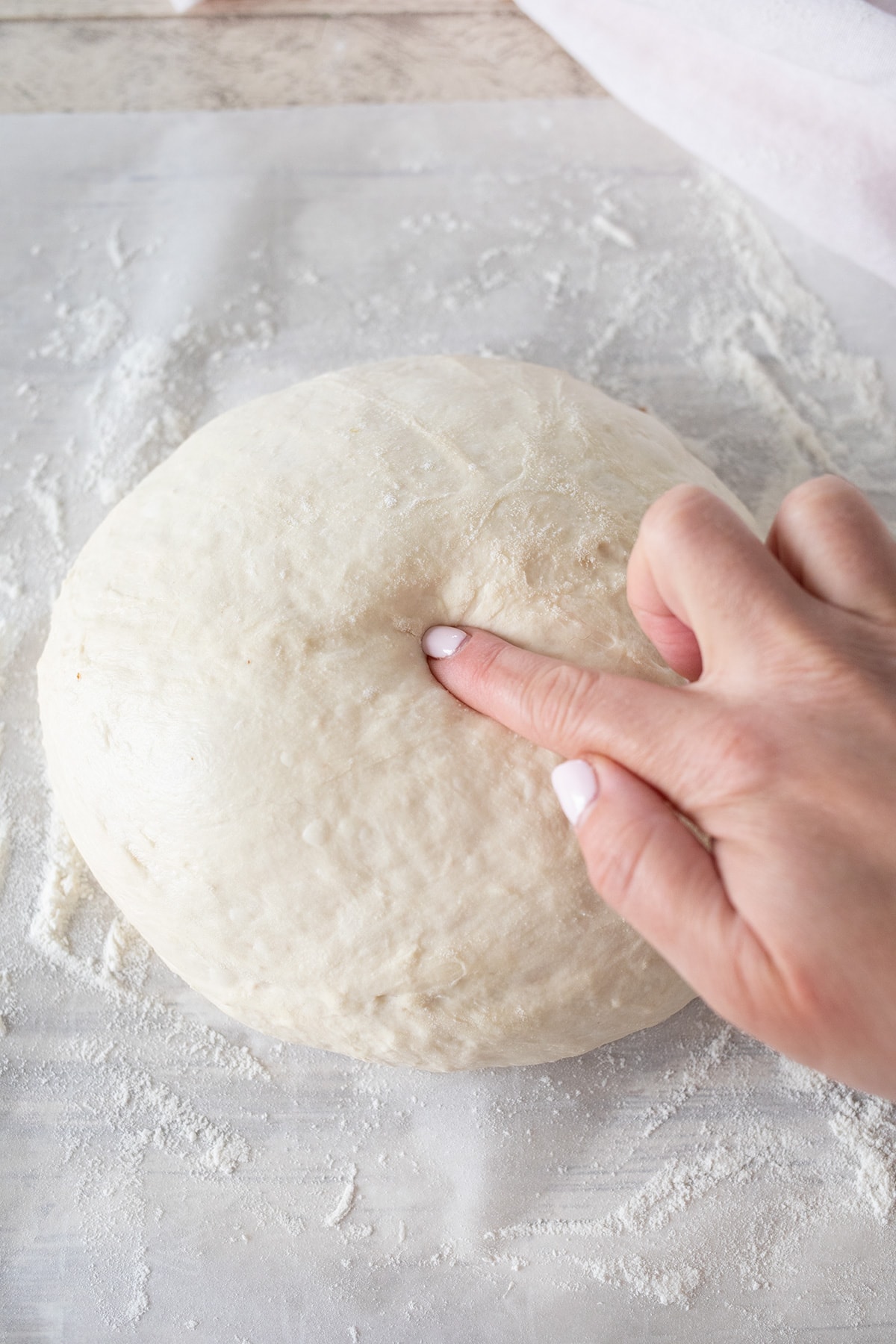 How to Test if Bread Dough is Proofed
One hour should be the perfect amount of proofing time for this bread however I still like to test it. Gently press into the dough with your finger. If the indentation bounces back half way, that means it's been proofed perfectly and it's ready to bake!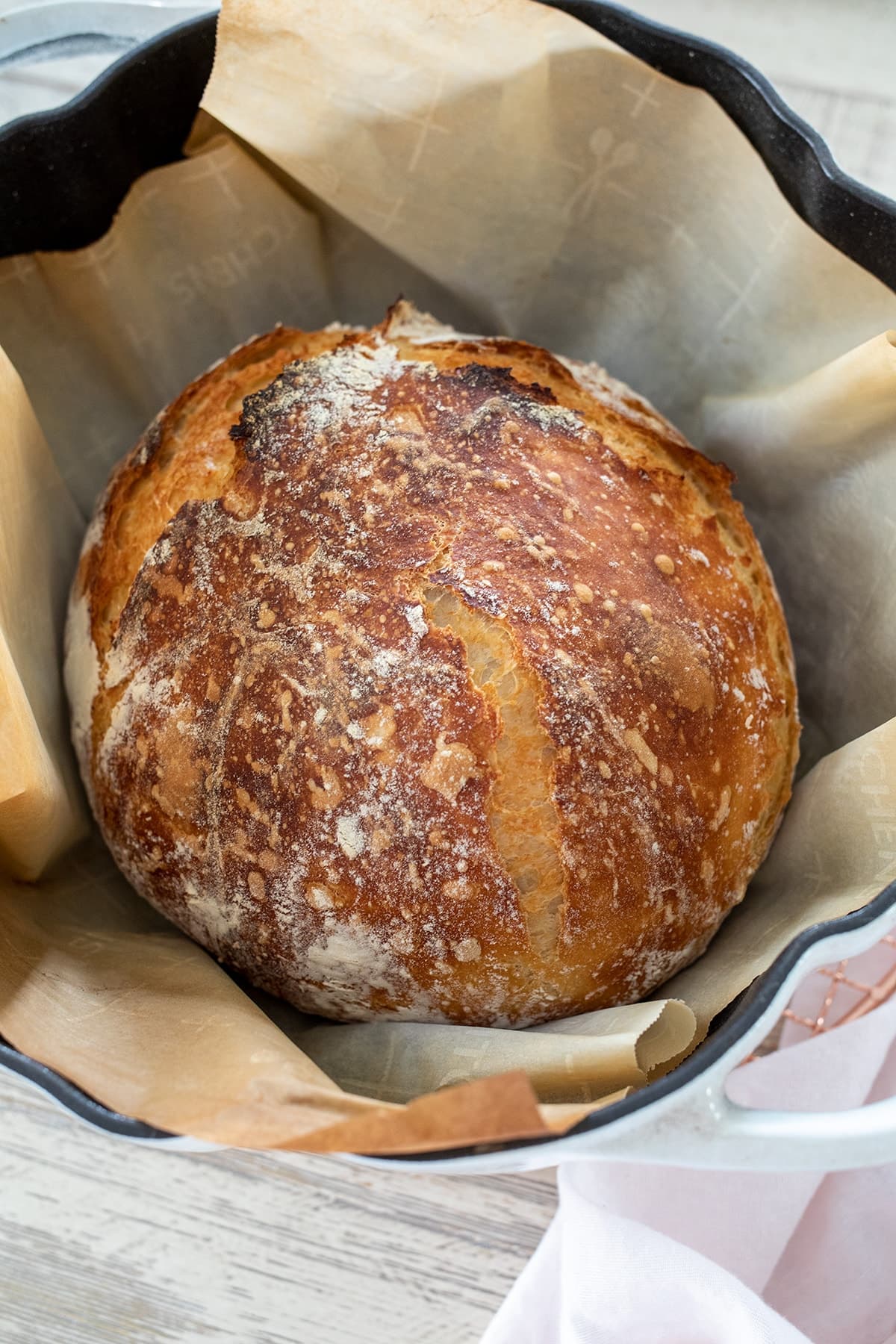 Tips for Making Perfect No-Knead Bread
Follow the recipe exactly. I know this seems obvious but this isn't the time to "guestimate" measurements.
Set a timer. Follow my instructions for proofing and set a timer so that you proof for the exact time recommended for this recipe. Proofing for too long or not long enough will not give you the desired results.
Plan ahead. If you want to have this bread on the table for dinner, you will need to start the dough in the morning. Make sure to plan ahead and leave 9 hours total for proofing!
Preheat the oven. Don't forget to preheat your oven WITH the pot inside so that it's nice and hot when the bread is done proofing.
Don't overthink it. Although I'm sharing ALL of my tips and tricks, this recipe is actually incredibly easy!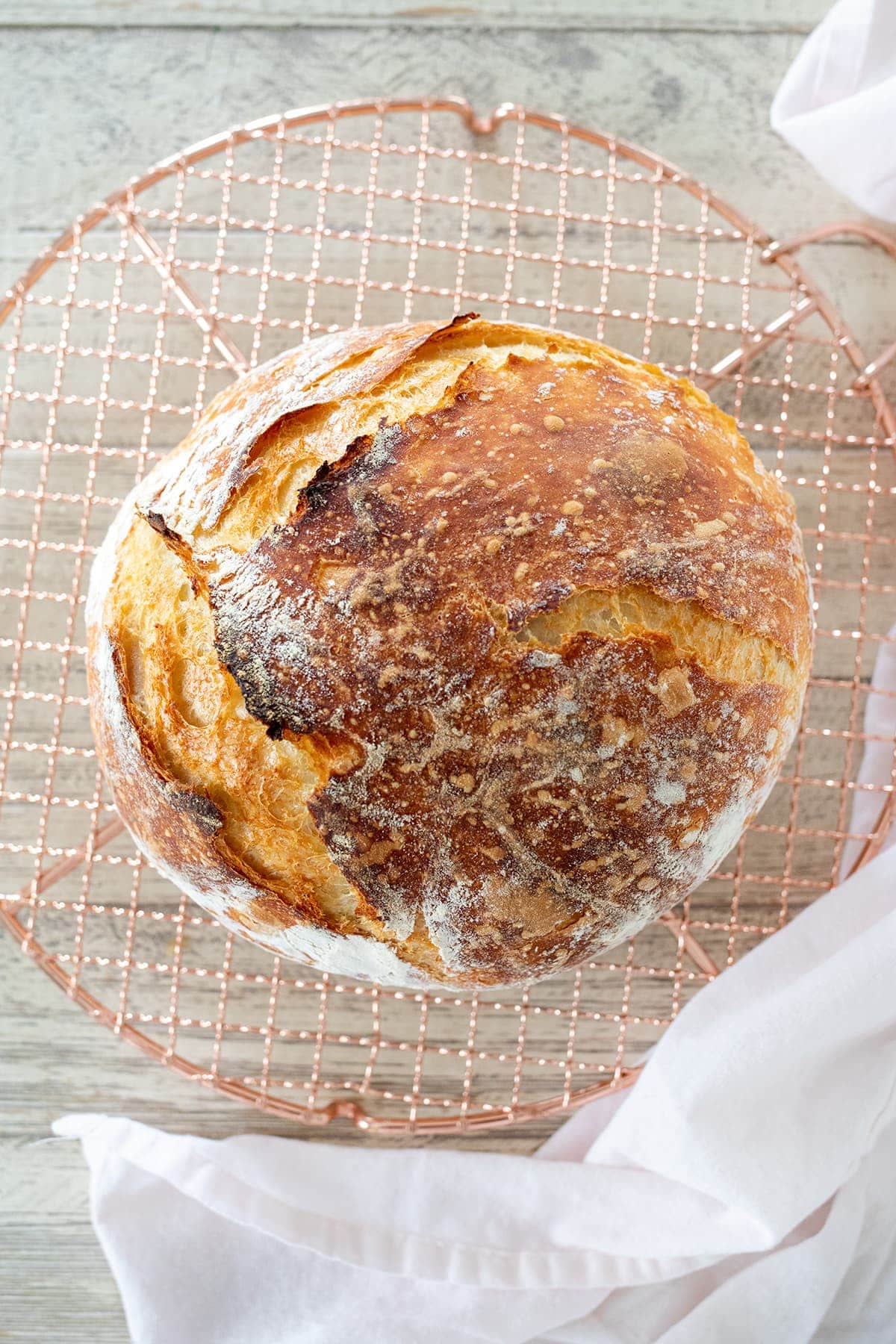 Recipes to Make with No-Knead Bread
I mean, what doesn't go well with bread?! We love dipping this bread in Chicken Noodle Soup or Black Bean Chili or serving it along side pasta for the ultimate comfort dinner. It's also amazing for breakfast, warmed up with butter and jam.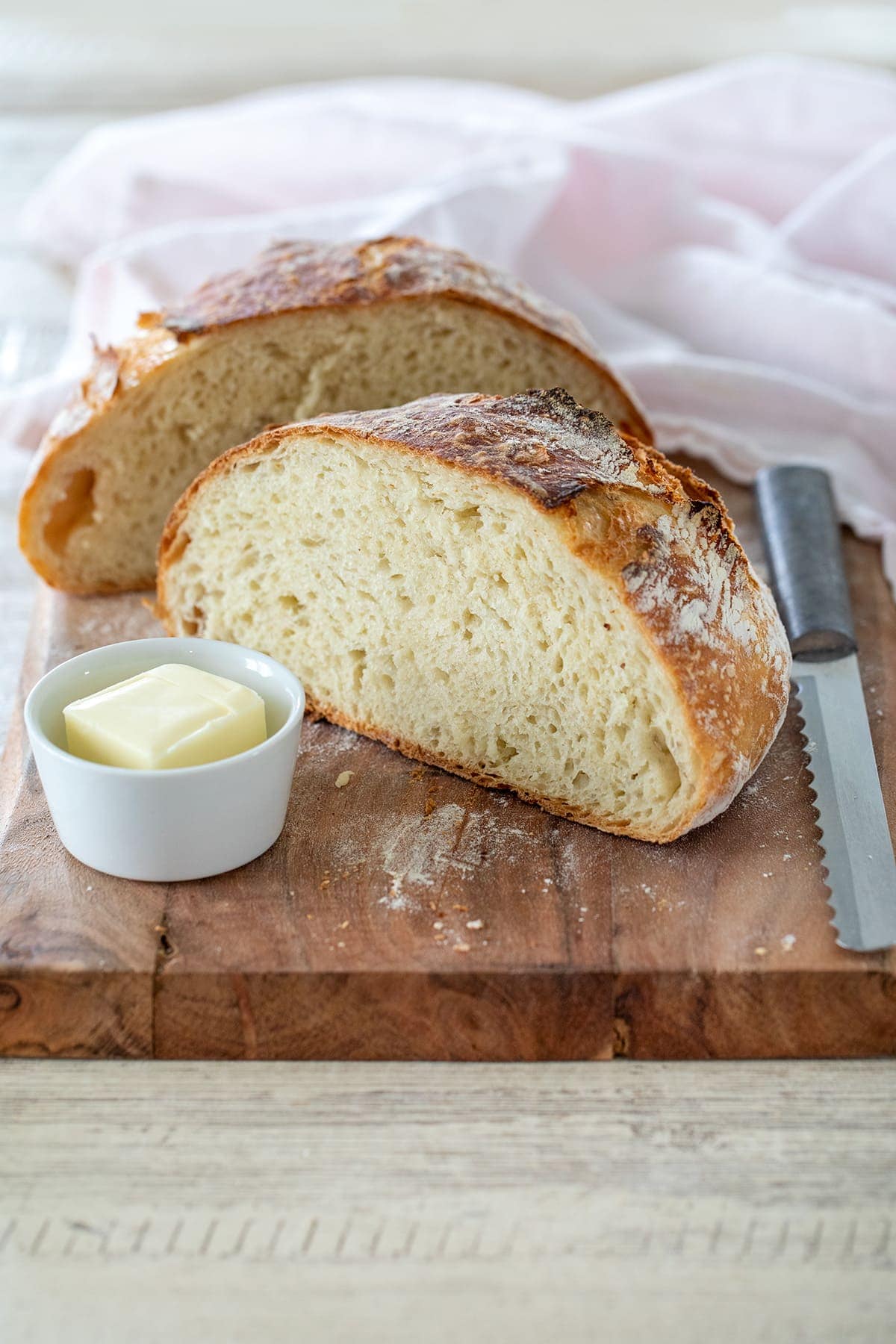 More Recipes to Make with Homemade Bread: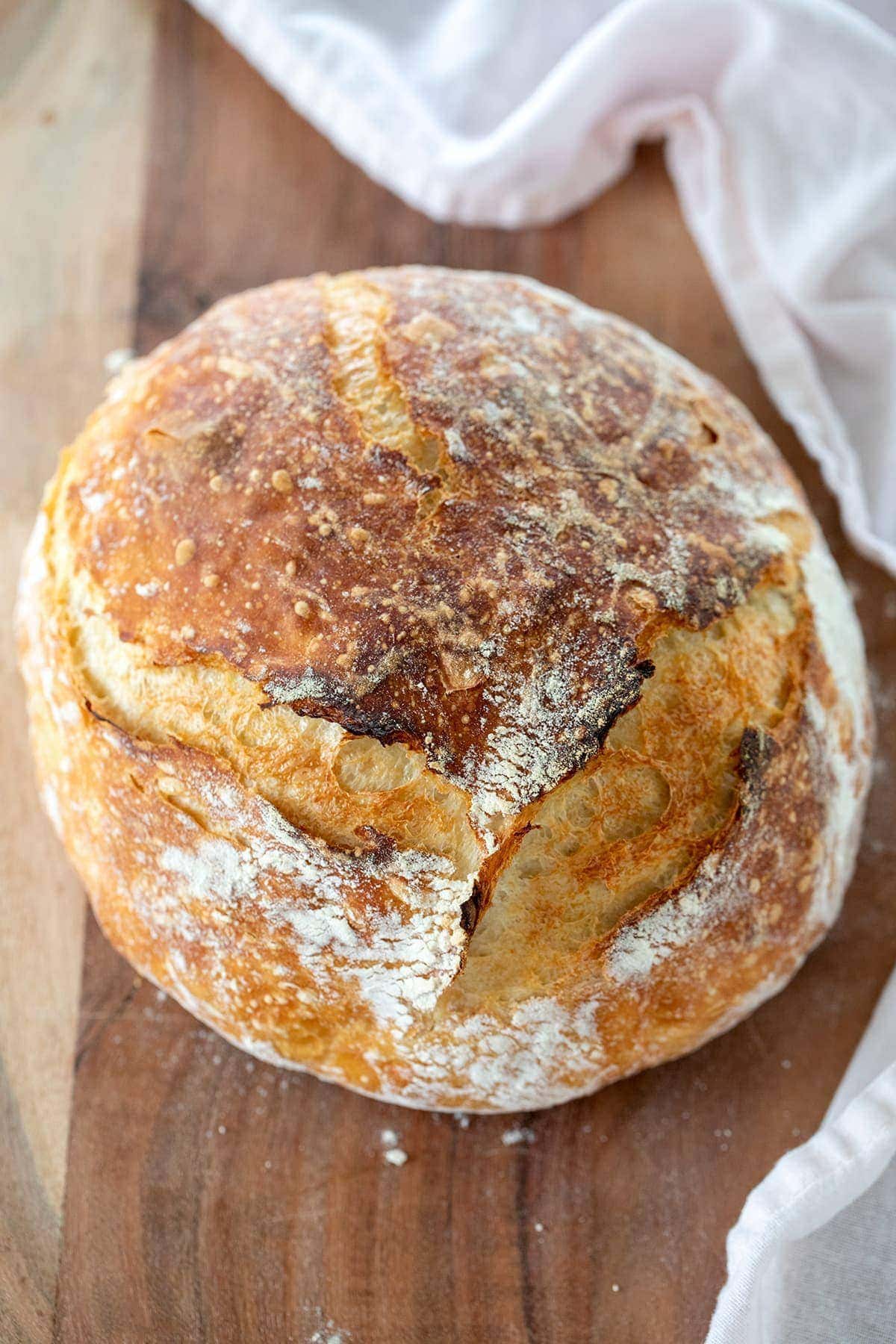 How to Store Homemade Bread
Store homemade bread at room temperature covered for up to three days. I either wrap mine in aluminum foil or keep, cut side down, in a cookie tin. This bread is best enjoyed in the first three days and is delicious warmed up in a toaster oven!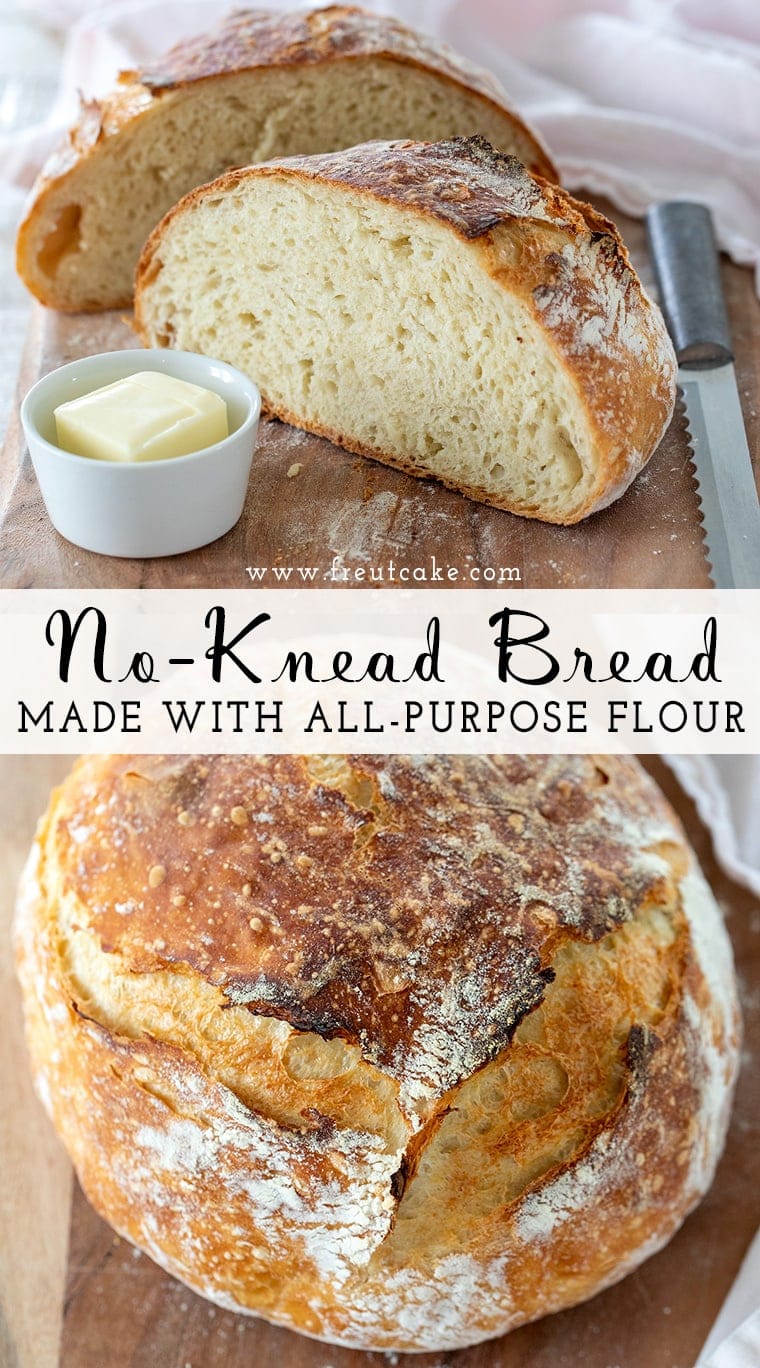 If you like this recipe you should also try my recipe for No-Knead Cinnamon Raisin Bread, delicious! If you make either of my bread recipes, please leave a comment in the section below letting me know what you think. Also, make sure to share a loaf of your delicious bread on Instagram @freutcake #freutcake so that I can see it. Happy Baking!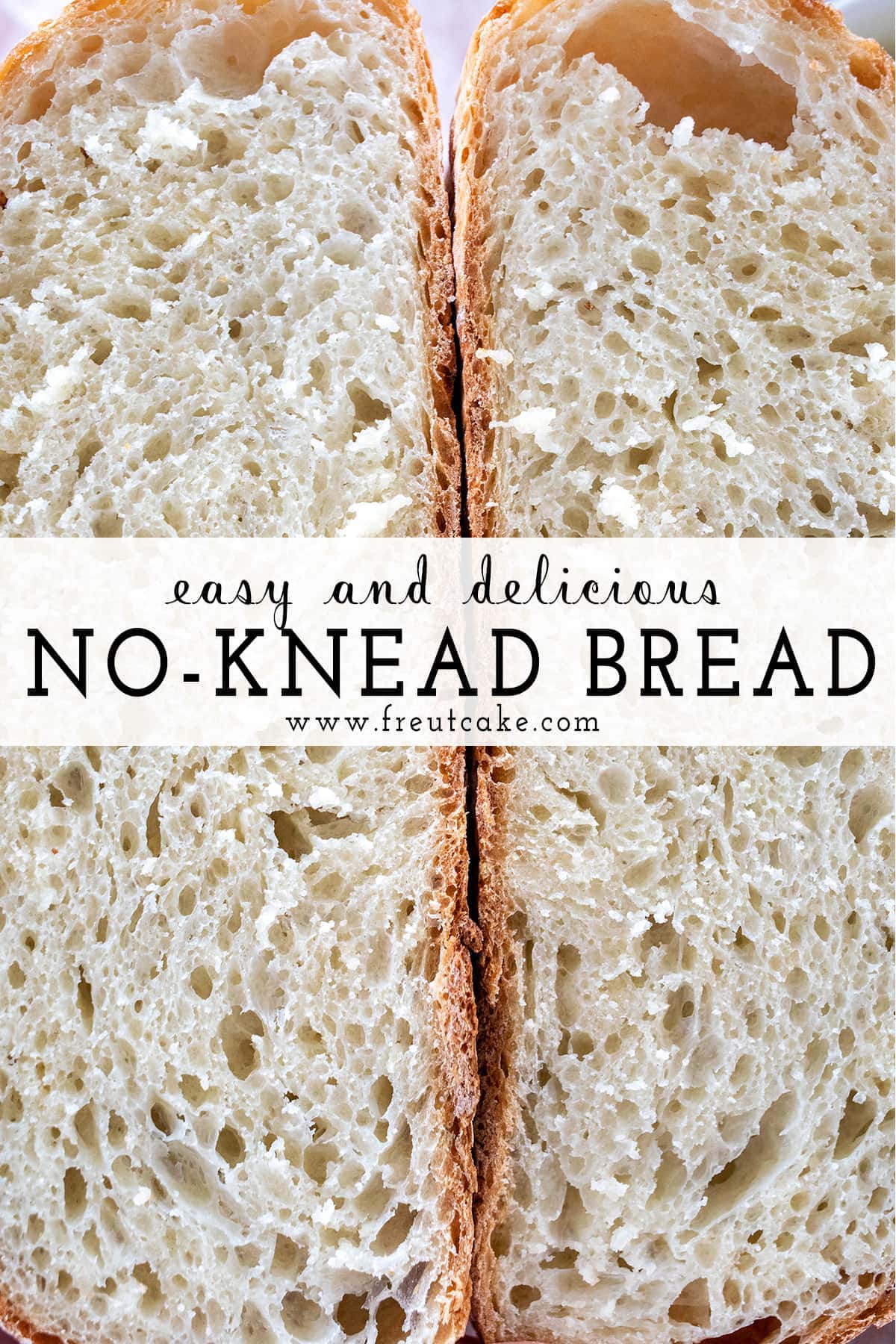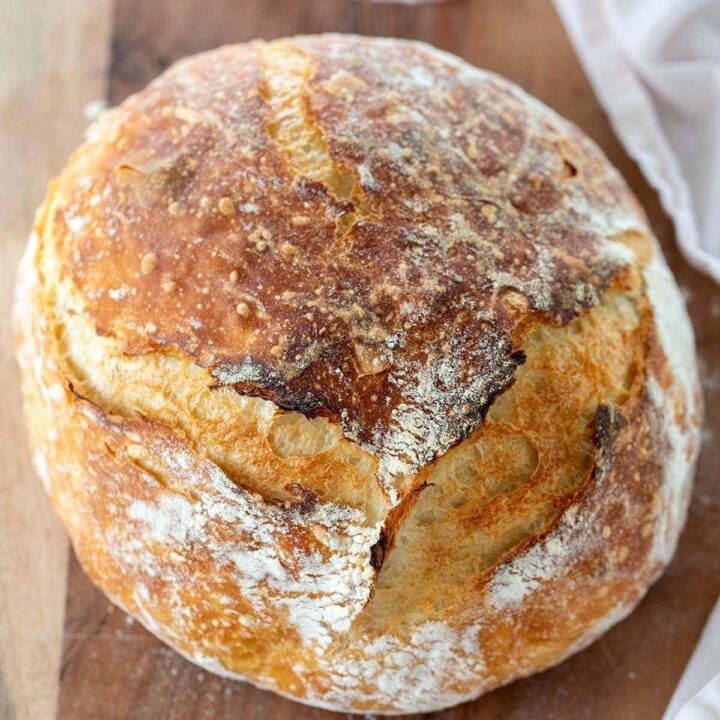 Easy No-Knead Bread
Additional Time:
10 minutes
Total Time:
9 hours
55 minutes
An easy no-knead bread recipe that only requires 4 simple ingredients.
Ingredients
3 cups all-purpose flour, plus more for sprinkling
2 teaspoons salt
¾ teaspoon active dry yeast
1 ½ cups lukewarm water
Instructions
Place the flour, salt, and yeast in a large mixing bowl and whisk to combine.
Add luke warm water and stir with a wooden spoon until it forms a shaggy dough. The dough will be very rough, not at all smooth.
Cover the bowl tightly with plastic wrap and let rise on the counter for 8 hours. Make sure you place the bowl in a warm place, away from any drafty windows or direct sun. The dough should doubled in size and become bubbly after 8 hours.
Once the dough has proofed, turn it out onto a lightly floured piece of parchment paper. Quickly turn the dough over a few times, shaping it into a round loaf. Cover with a kitchen towel and let rise for 1 hour more.
PRE-HEAT OVEN! 30 minutes before the dough is finished proofing, preheat the oven to 450 degrees and place a Dutch Oven (with lid) inside to heat on the center rack.
Using the parchment paper to lift, carefully transfer the dough (still on the paper) to the preheated Dutch oven. If desired, score the top of the dough with a sharp knife so that the bread can expand while baking. This isn't necessary but it makes the loaf pretty!
Use oven mits to cover and bake for 30 minutes. Careful, the lid is hot!
Remove the lid and bake an additional 15 minutes more to brown and crisp up the crust.
Carefully remove the bread to a cooking rack and allow to cool for at least 15 minutes but up to 30 minutes before slicing.
Notes
Please read blog post for notes, tips and how to make this bread perfectly every time!