Brie and Roasted Tomato Pizza is simple and delicious with creamy crème fraîche, melted brie, ripe tomatoes and lots of basil. Make it for lunch with a salad or as an easy appetizer. Either way, you will LOVE this flavor combination.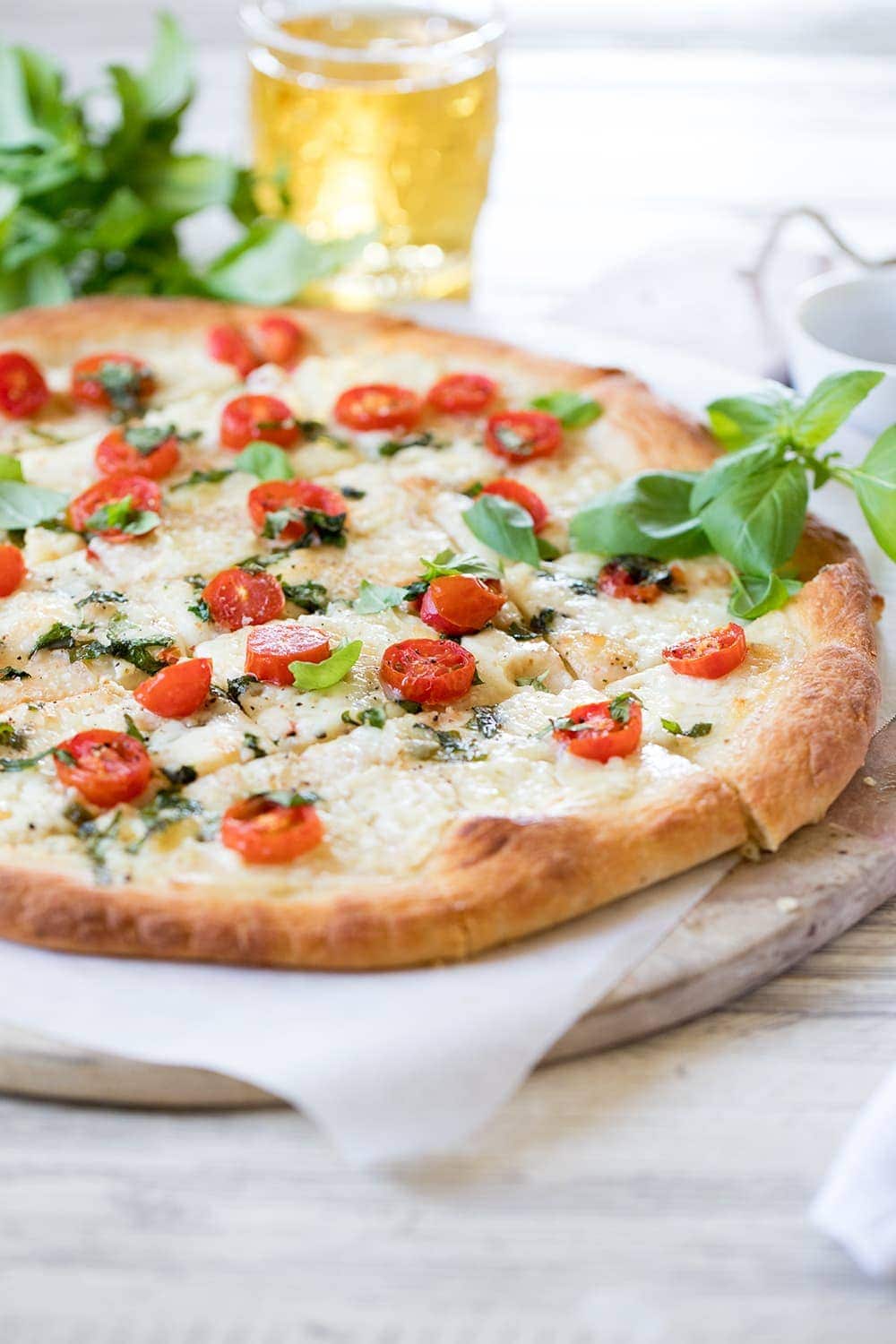 Trader Joe's Tarte au Brie et aux Tomates
Truth be told, I haven't met many store-bought frozen pizzas or flatbreads that I've liked. However, from time to time you find a good flavor combination in the pizza section of Trader Joes. They come up with some delicious flavor combinations but always end up sort of underwhelming.
Last week I had a friend over and I grabbed the Trader Joe's Tarte au Brie et aux Tomates to serve with a salad. I had absolutely NO time for making anything from scratch and the idea of brie on a pizza was too good to pass up.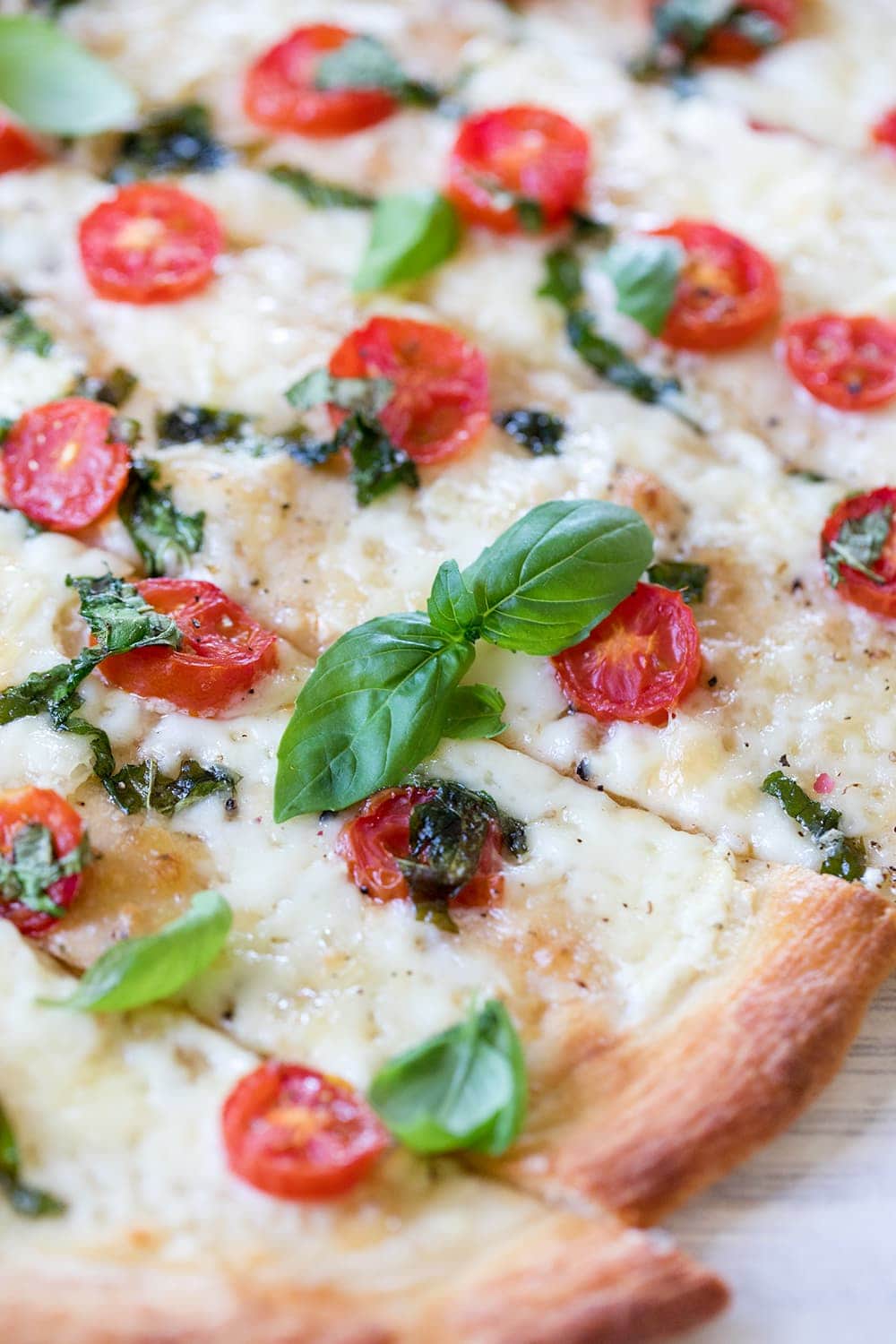 As it turned out that brie tart was super small, oddly shaped and with absolutely no structural integrity when it came to the too-thin center. Basically, the flavor combination was good, but it was not. I know this doesn't sound like a great intro for my Brie and Roasted Tomato Pizza but stay with me because this version is everything the frozen version is not.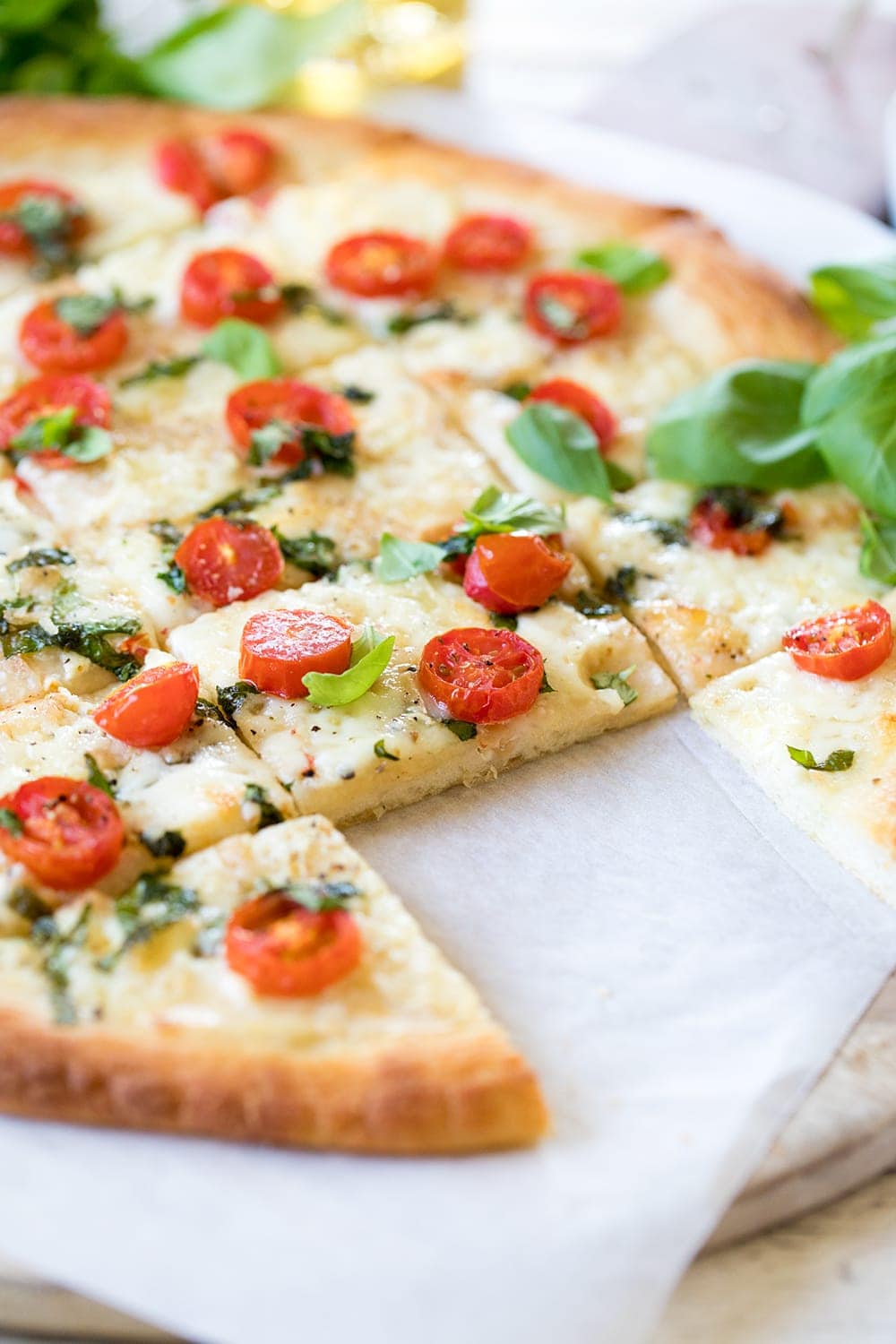 I knew that I HAD to make a better version at home because the flavor of melted brie on a pizza was just about the best thing ever. So I grabbed store bought dough and the rest of the simple ingredients I needed to recreate it and set off home to make my own.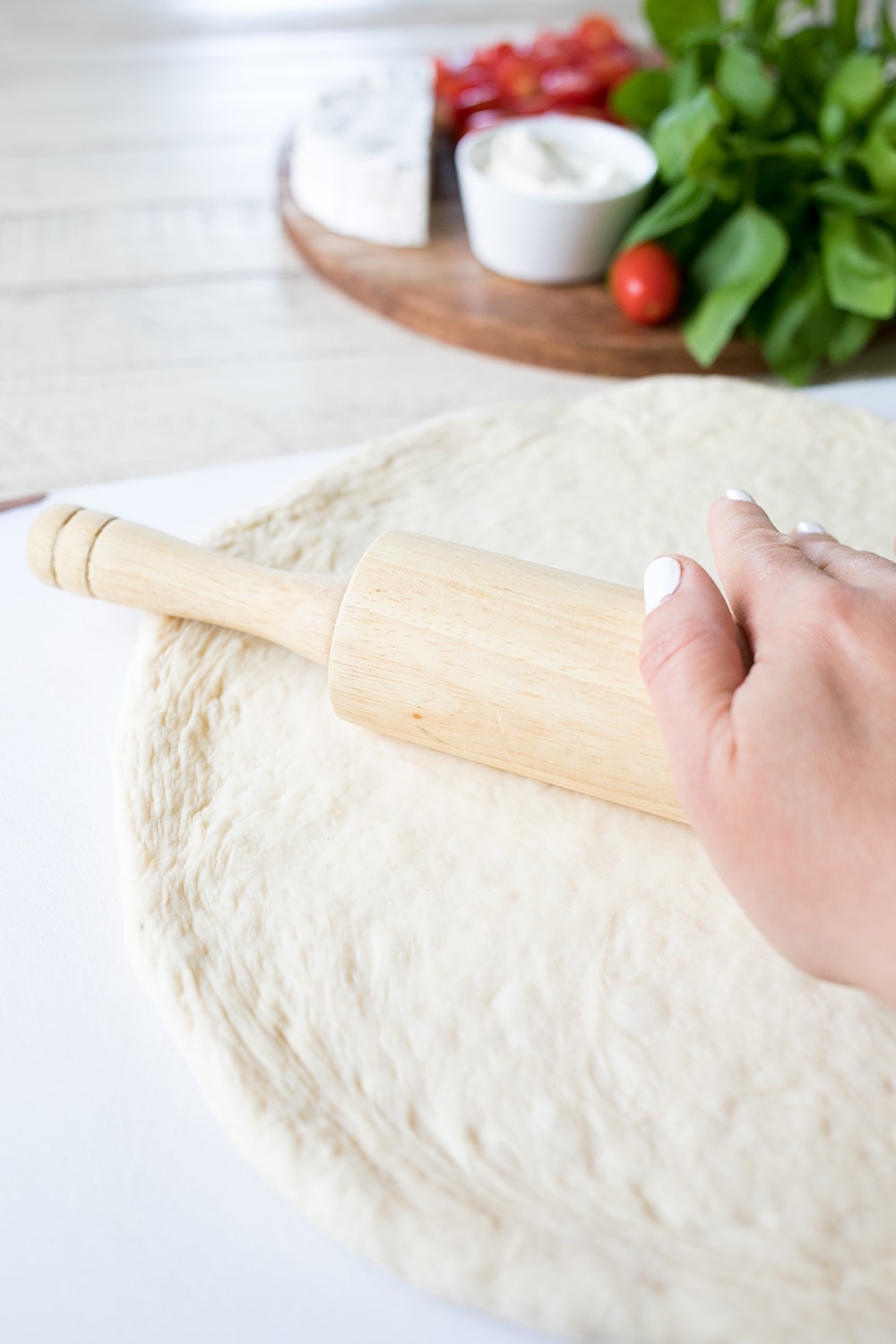 Store Bought Pizza Dough
My Dad is amazing at making homemade pizza dough. But somehow I didn't inherit the patience gene required or the "planning ahead" gene as it turns out. So, I usually buy the refrigerated pizza dough from Trader Joes and it works out just fine. One of these days I'll share my Dad's recipe here. It's worth the effort!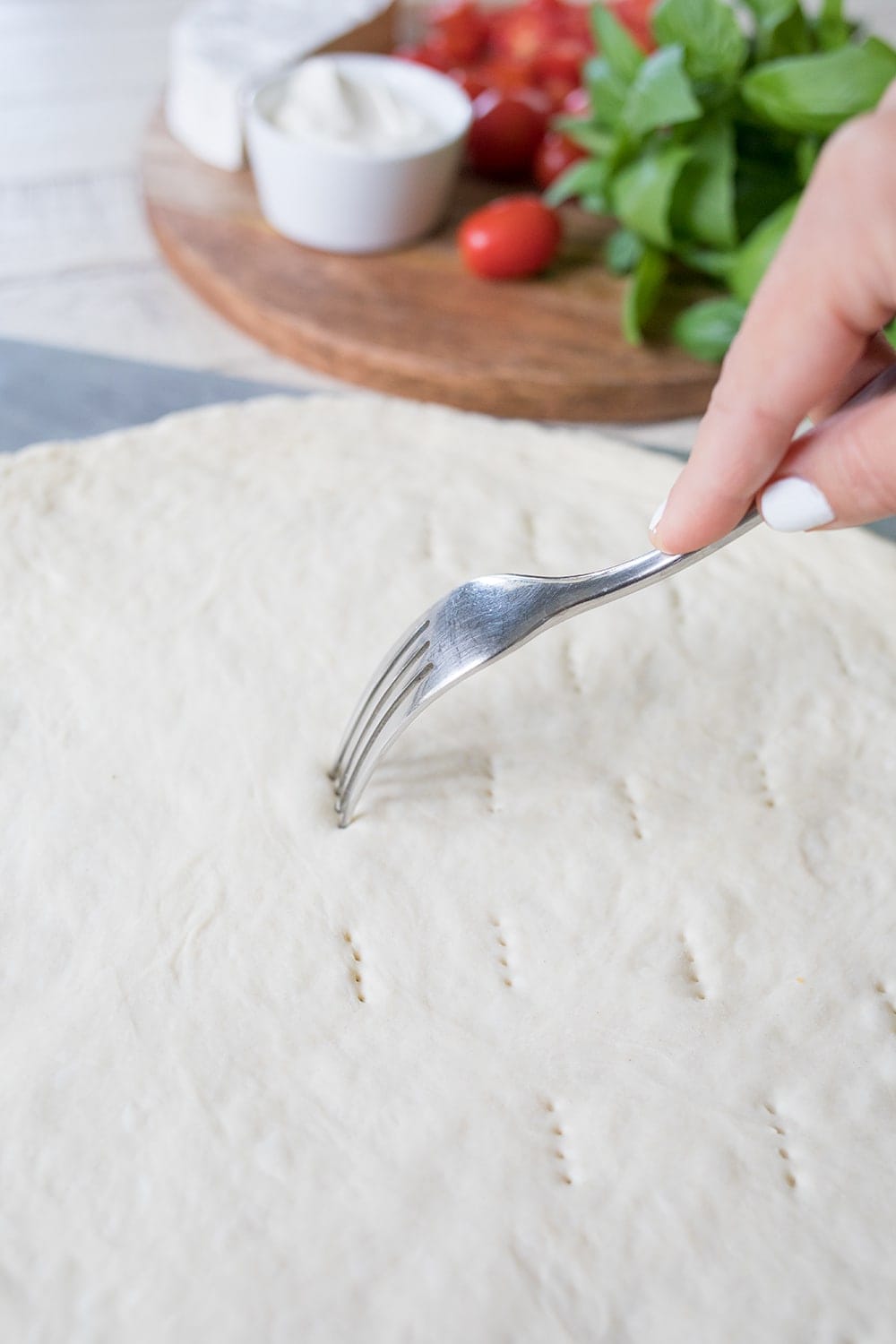 Par-Baking the Crust
I think the trick to making this flat bread is to par-bake the crust. The cheese and toppings don't need all that much time in the oven so docking the dough with a fork and baking it a bit first helps not over brown the delicate brie. By poking holes you are ensuring that your crust stays thinner and doesn't bubble up in spots.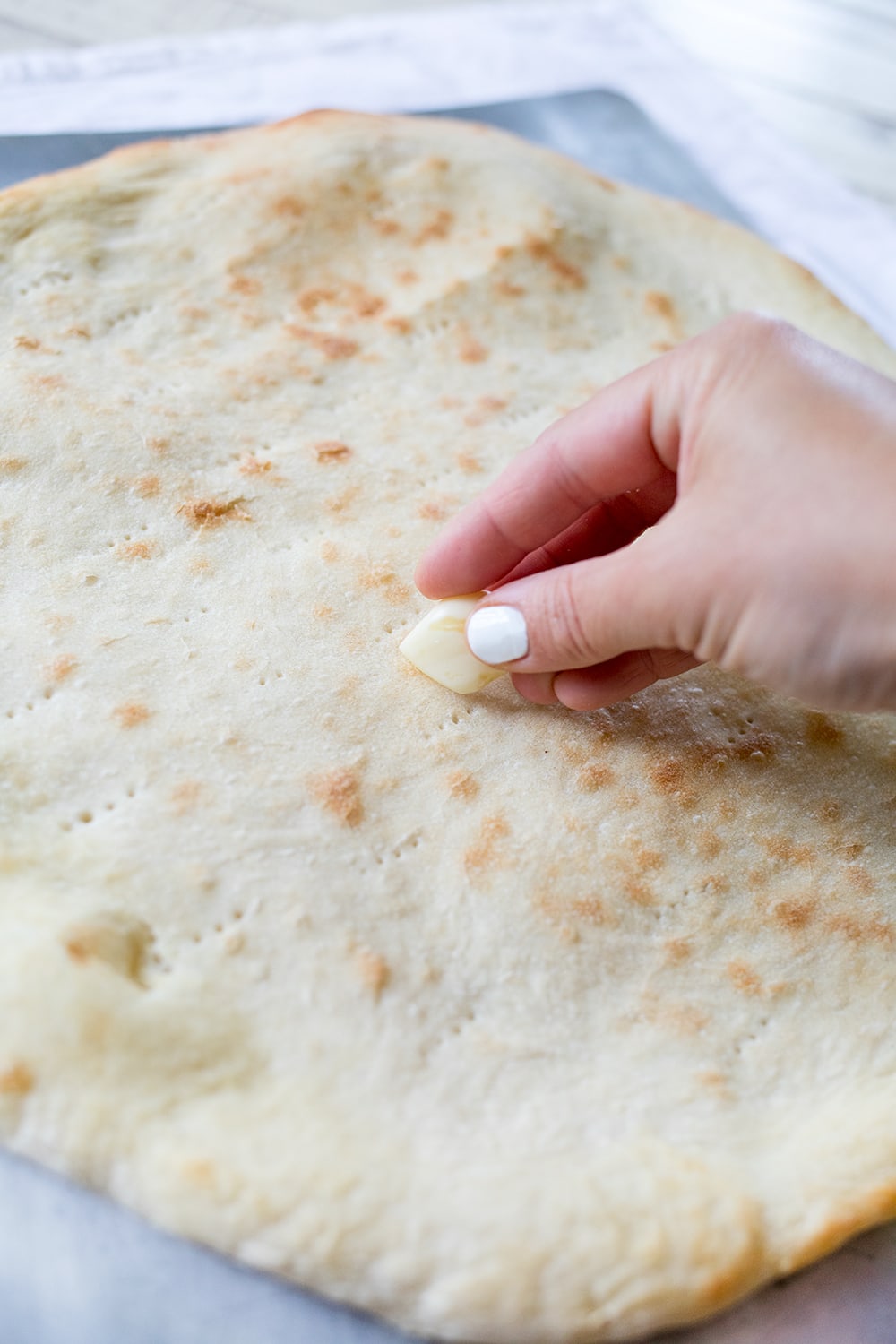 Garlic Rubbed Bread
Have you ever tried cutting a raw clove of garlic in half and rubbing it generously over hot toasted bread? Oh, my gawd it's good and a trick I learned back in college on a trip to Spain.
The crustier the bread (think toasted baguette slices) the better because it sort of grates the garlic but I used the same technique here to impart a mind garlic flavor to the crust. I didn't want to overpower the brie by grating it. The hot crust melts the garlic as you rub leaving behind a garlic oil.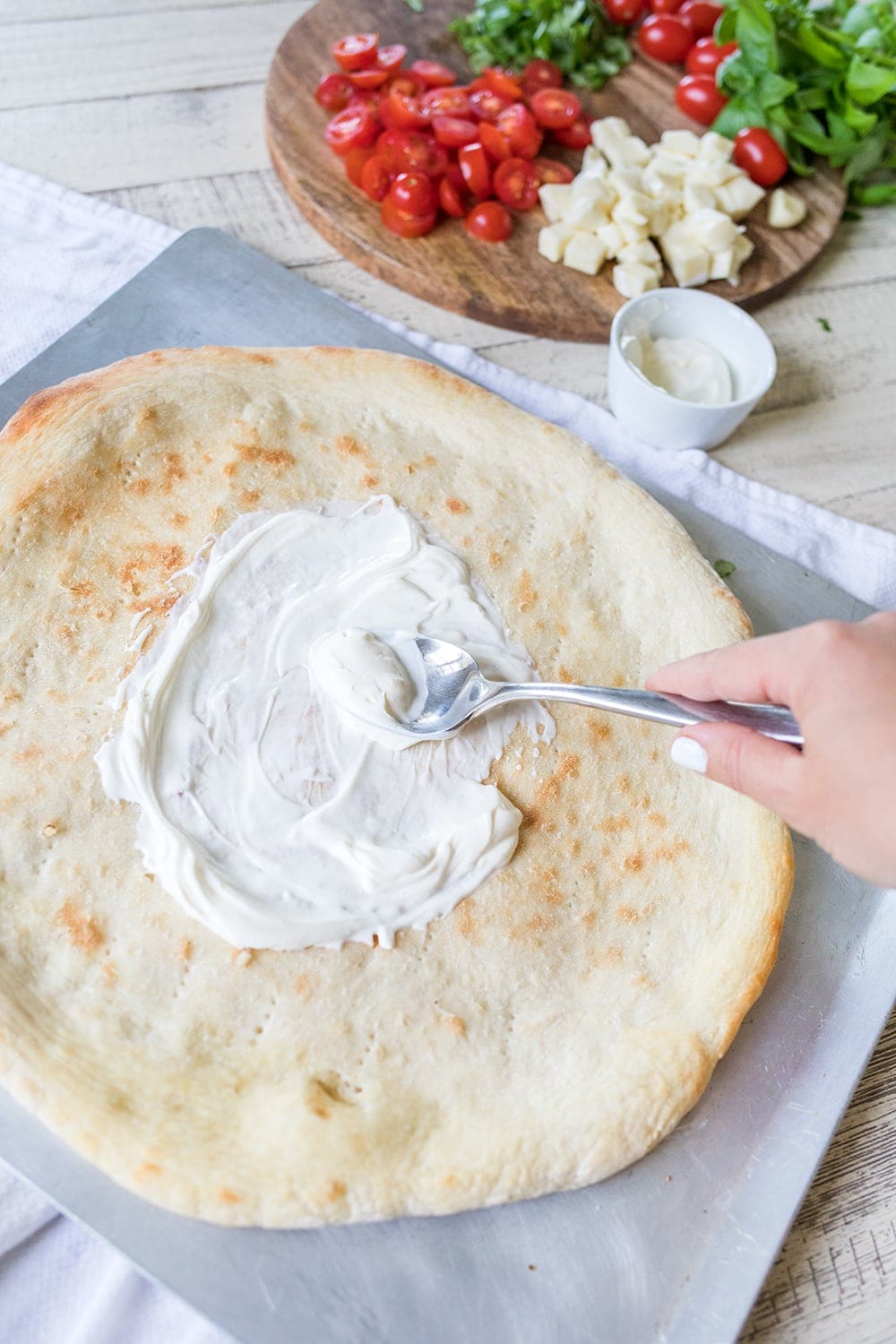 Next up crème fraiche...or sour cream if you can't find it! This give the flat bread a creamy consistency and melts together with the brie so nicely. Think white sauce.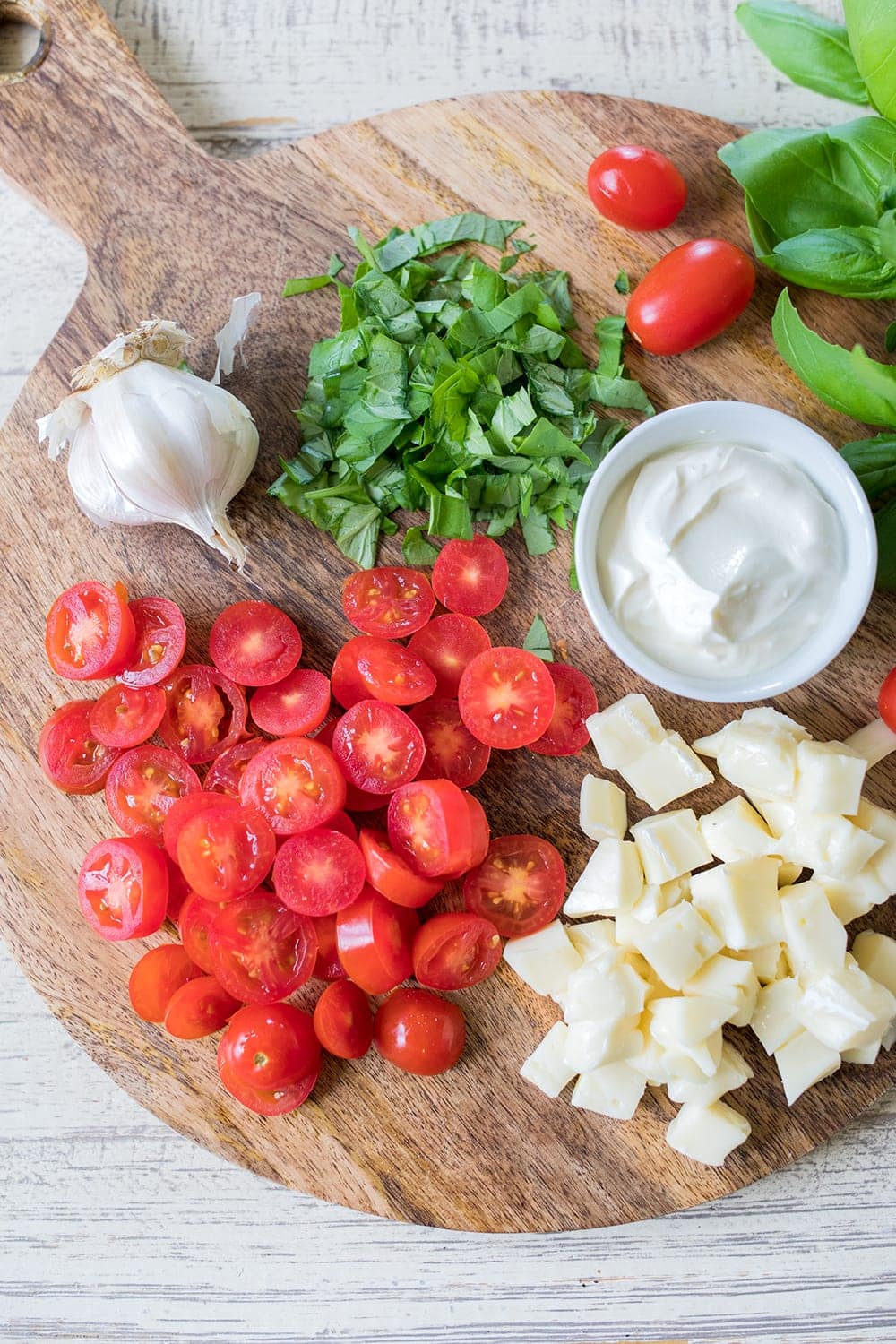 Creative Pizza Toppings
The toppings are simple: crème fraiche, double cream brie cheese, sliced grape tomatoes and fresh basil. I hope you will try this combination first but you could always use this recipe as a guide for making your own unique combination of flavors as well! Fresh figs and gorgonzola cheese maybe topped with arugula after baking? Ok, I'm trying that one next.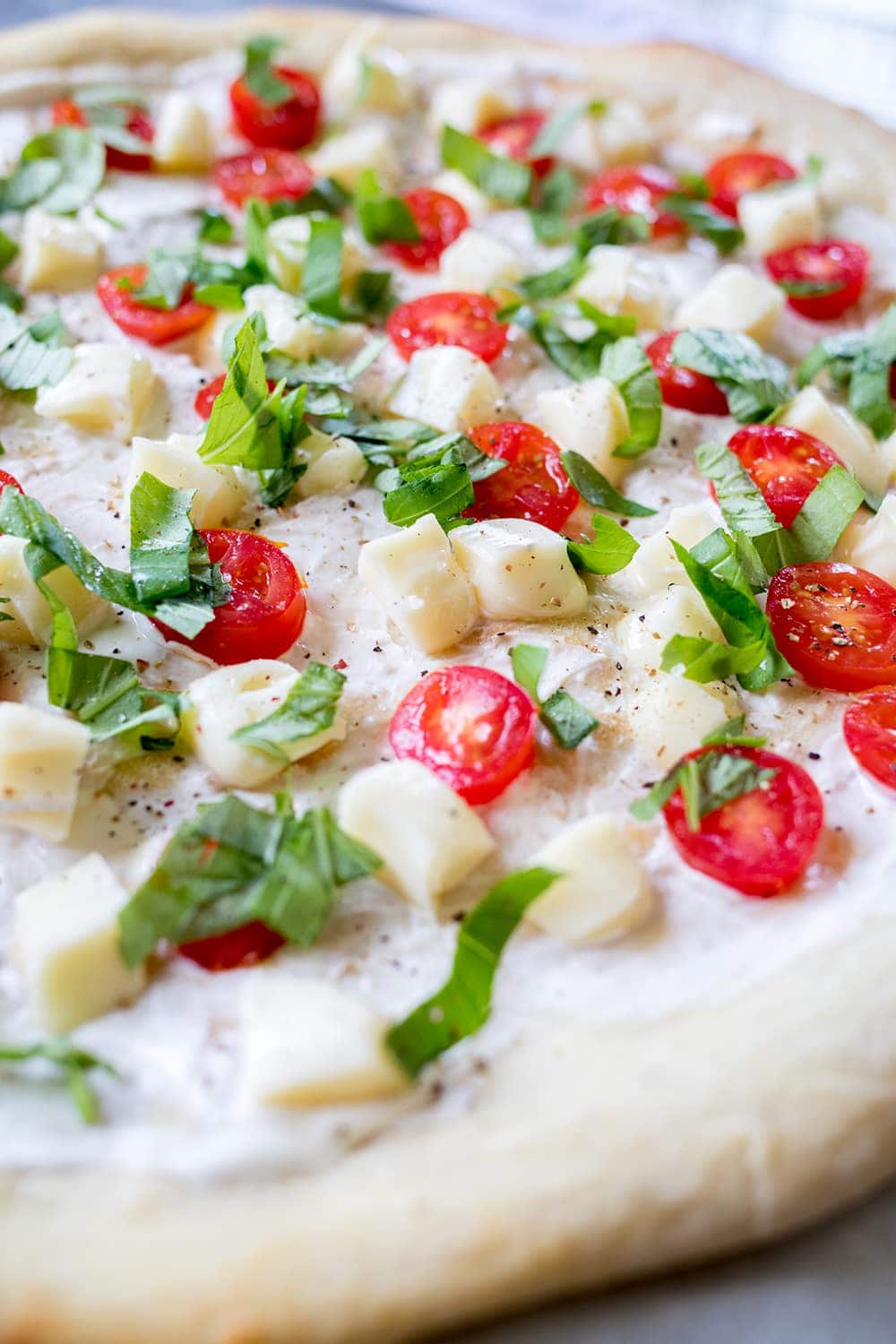 It only took me two pizzas to get it perfect…and man is this pizza perfect! This combination has all the charm of a classic Margharita but with an unexpected flavor twist from the brie. I cut the rind off leaving just the super soft center to melt down and spread over the crust easier but you can leave it on if you want a stronger "funky" flavor. You know what I mean.
Slice and serve with a big green salad and a glass of wine for a simple but delicious dinner. I promise you will never reach for a frozen Trader Joes flatbread again!
More Pizza Recipes You'll Love!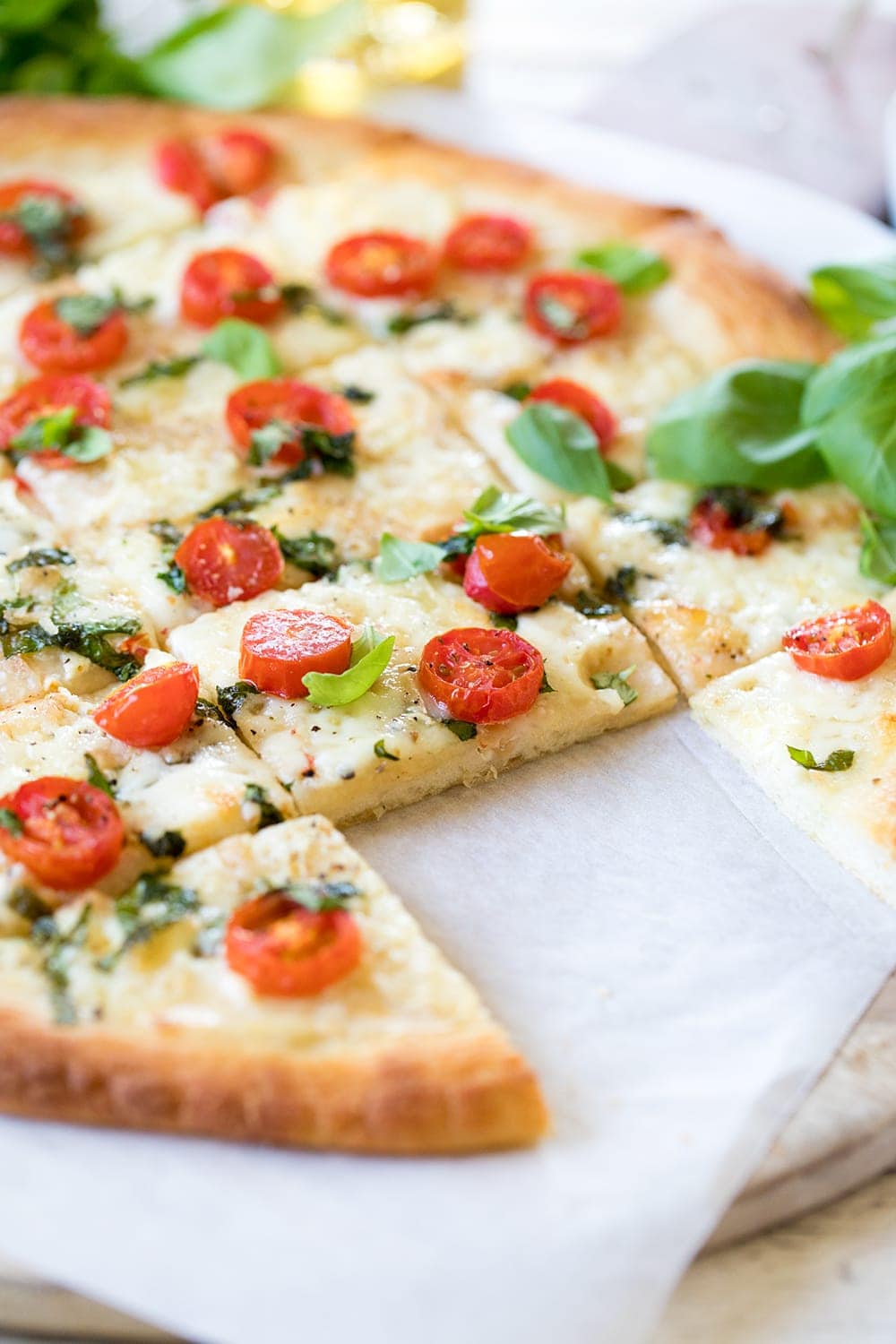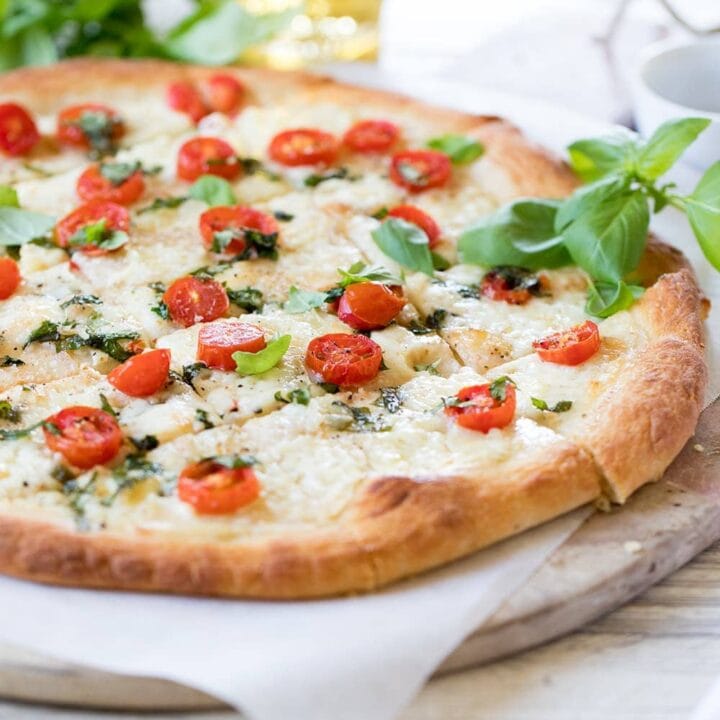 Brie and Roasted Tomato Pizza
Brie and Roasted Tomato Pizza
Ingredients
refrigerated pizza dough
¼ cup Crème fraîche or full fat sour cream
½ cup (half a wheel) diced double cream brie cheese
½ cup of sliced grape tomatoes
8-10 basil leaves sliced thin
olive oil
one large clove of garlic
salt and pepper
Instructions
Preheat oven to 425 degrees and grease a cookie sheet with olive oil, set aside.
Let pizza dough rest on a floured board for at least 30 minutes or more until it has relaxed and is easy to roll out.
While the dough rests, prepare your toppings. Slice grape tomatoes, julienne basil and cut the rind off of your brie cheese before dicing into small cubes. (see photos for reference.)
Roll pizza dough out into a 12" round and transfer to your baking sheet. Use a fork to poke holes in the top of the dough (avoid the crust) to prevent bubbles forming. Brush edges of the dough with olive oil and par-bake for 8 minutes.
Remove the dough and immediately rub all over with garlic clove. You will want to cut the clove in half to make rubbing it on the pizza easier.
Spread on crème fraîche leaving a 1 inch boarder for your crust.
Next, add brie, tomatoes and basil and season the entire pizza generously with fresh ground pepper and a sprinkle of kosher salt.
Brush the crust once more with olive oil and place back in the oven for 7-8 more minutes or until the cheese is melted and bubbly and the crust as browned nicely.
Remove from oven and let cool just slightly before slicing and serving.