By a show of hands, how many of you only learned to love rhubarb as a grownup? I'm right there with you! I don't think I even tasted the sweet-tart veggie (often treated as fruit) until college. The truth is, this celery-like ingredient is notoriously under-loved...until now. Rhubarb is everywhere suddenly! Wouldn't you agree? And it's about time.
My first instinct is always to turn rhubarb into dessert or a cocktail—I love a splash of rhubarb syrup in processo and rhubarb crisp is such an iconic spring sweet! That's why I wanted to challenge myself with a savory rhubarb dish.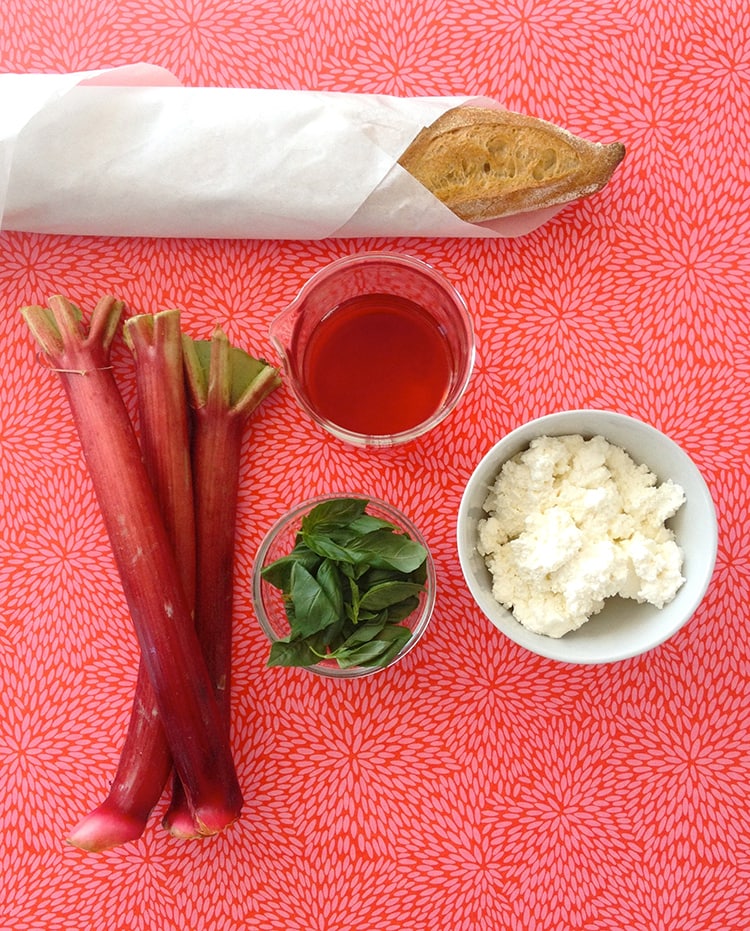 To compliment rhubarb's lip-puckering flavor, I soaked it in a simple mixture of red wine vinegar, salt and sugar to make quick pickles. A basic brine like this let's the rhubarb really shine, but you can throw in a few spices, too, if you have them around. I made this recipe with 4 whole cloves and 1 bay leaf this past weekend for guests—just divine!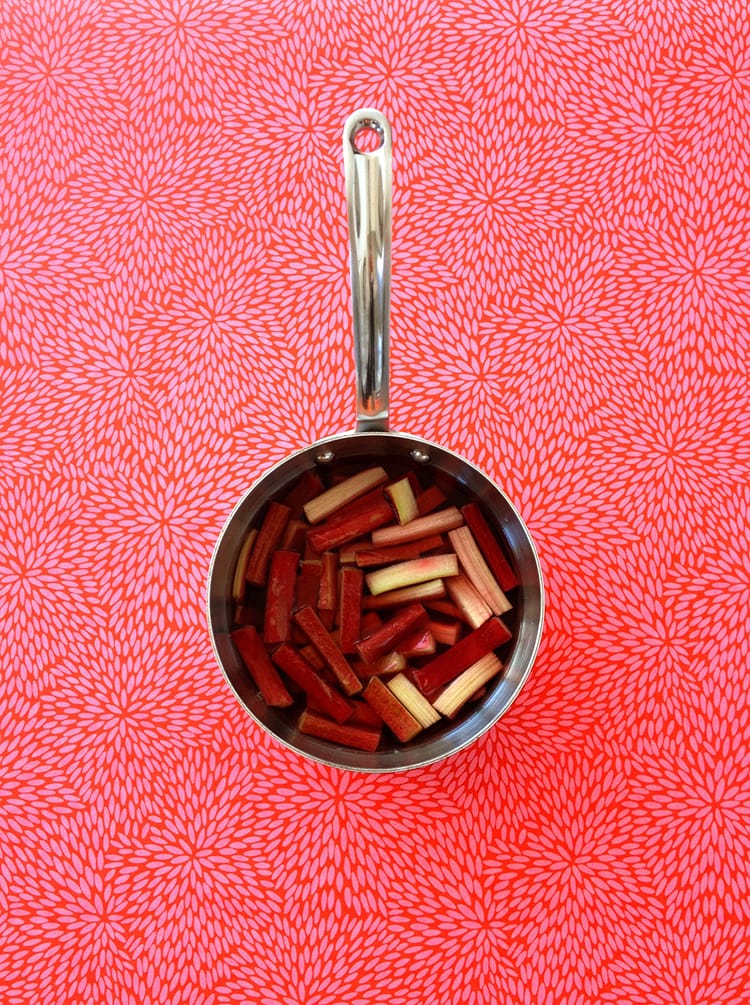 Toasty baguette, fresh ricotta cheese (the good stuff!) and a drizzle of olive oil turn this DIY condiment into an instant appetizer. Serve it with bubbly, and soak in this spring-staple before the season's over!
Pickled Rhubarb Crostini
serves: 6 to 8
2 to 3 stalks rhubarb
1 cup red wine vinegar
1 baguette, thinly sliced
1 cup fresh ricotta cheese
Fresh basil leaves, for topping
PANTRY STAPLES: Olive oil, salt and sugar
Directions:
1. Preheat oven to 350˚F. Thinly slice rhubarb stalks into 3 to 4 strips, lengthwise; cut into 1-inch lengths.
2. Bring the vinegar, about ¼ cup sugar and 2 teaspoons salt to boiling in a medium saucepan over medium heat (add additional spices, if desired). Stir in rhubarb; remove from heat, transfer to large bowl and refrigerate until cold.
3. Meanwhile, arrange baguette slices on baking sheet. Drizzle with olive oil and sprinkle with salt. Bake until toasted, about 5 minutes.
4. Spread ricotta on crostini. Top each with 1 to 2 pieces pickled rhubarb and 1 basil leaf. Drizzle with more olive oil, if desired.