Apples are a staple on our weekly shopping list. From easy and healthy snacks for the twins to a delicious mix-in for salads like my Apple Cherry Chicken Salad Wraps, the whole family loves them! Today I'm partnering with Autumn Glory apples to share one of my favorite ways to eat apples for lunch…in a lettuce wrap.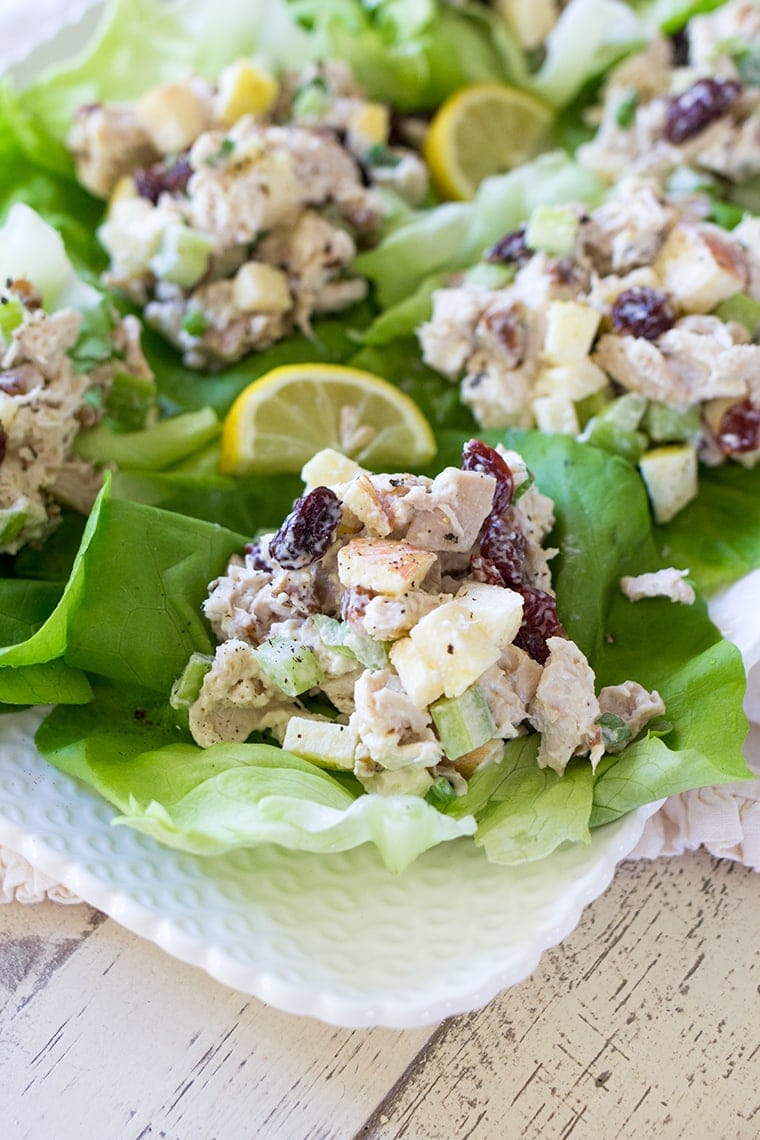 Autumn Glory apples are a crisp and firm apple with delicious sweet caramel and cinnamon notes. The first bite will blow your socks off! I love them sliced and sprinkled with just a bit of cinnamon for a quick and healthy snack but they are equally as delicious diced and tossed into chicken salad to add sweet crunch.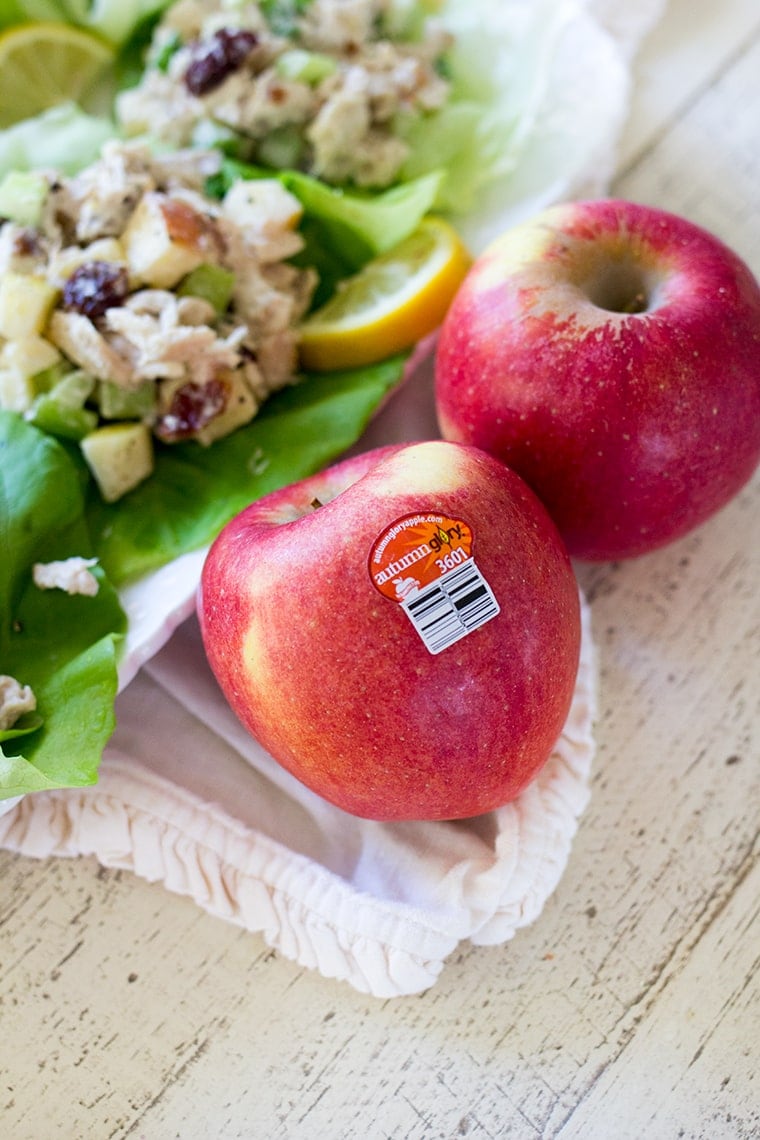 Apple Cherry Chicken Salad Wraps
Make a big batch of my Apple Cherry Chicken Salad and keep it in the fridge for a week's worth of fast lunches. I serve it in butter lettuce cups but it's also delicious on toasted cranberry walnut bread or your favorite sandwich bread!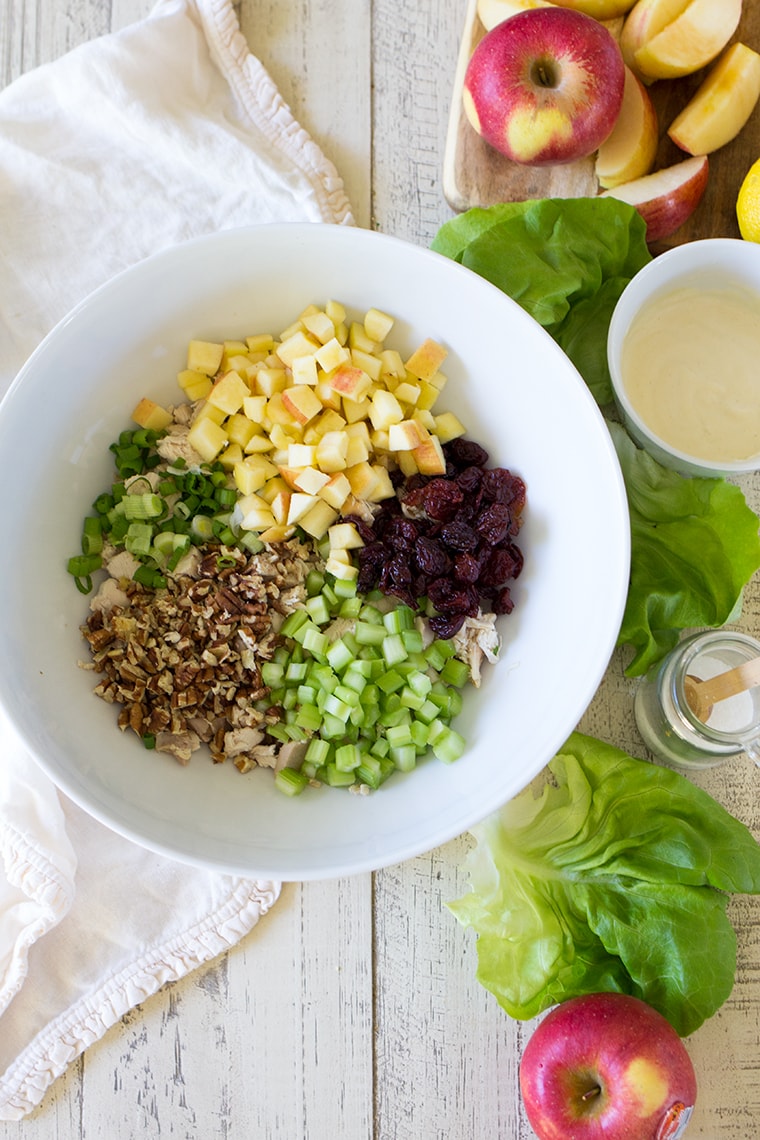 When it comes to making chicken salad, you can't go wrong with mixing in any and all of your favorite ingredients. Mine are Autumn Glory apples, celery, dried cherries, chopped pecans and green onions. It's just the right mix of sweet, savory and crunchy. I take a lot of help from the grocery store and buy a precooked rotisserie chicken to make this salad even faster to prepare.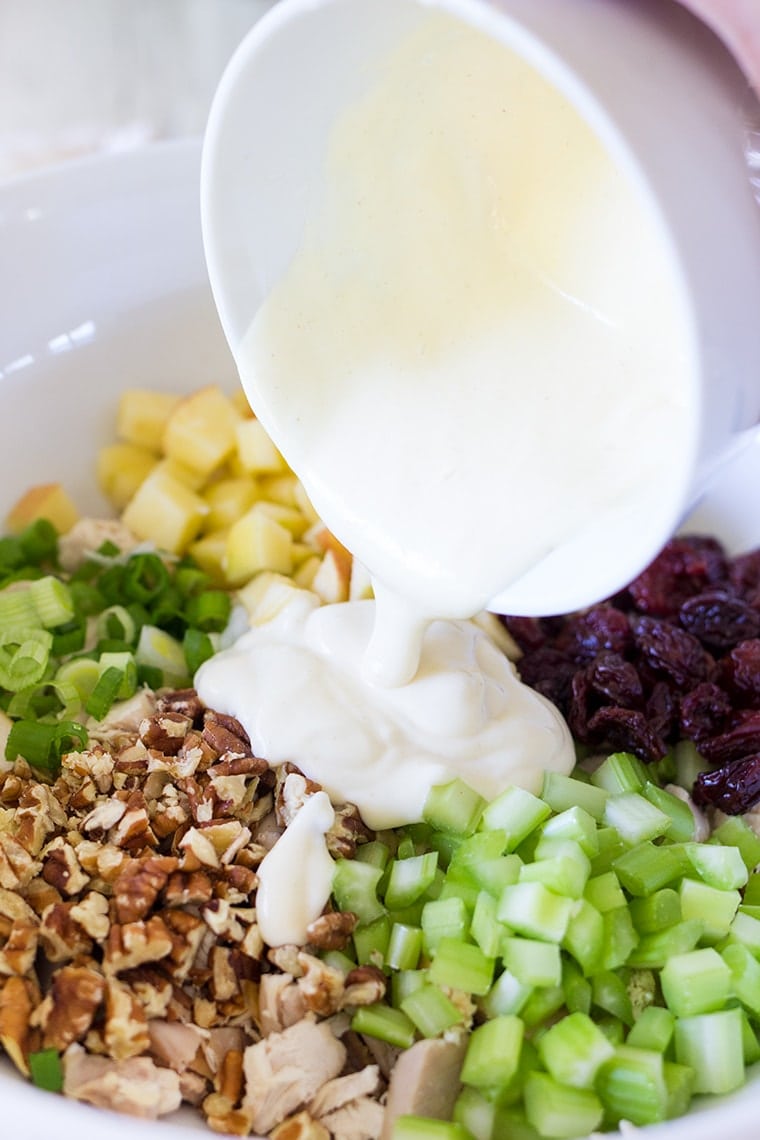 For the dressing, I mix mayo and Dijon mustard, plenty of lemon juice and salt and pepper to taste. Whisk that together and toss with your chicken and apple mixture. Chill until all of the flavors have combined before serving in butter lettuce cups.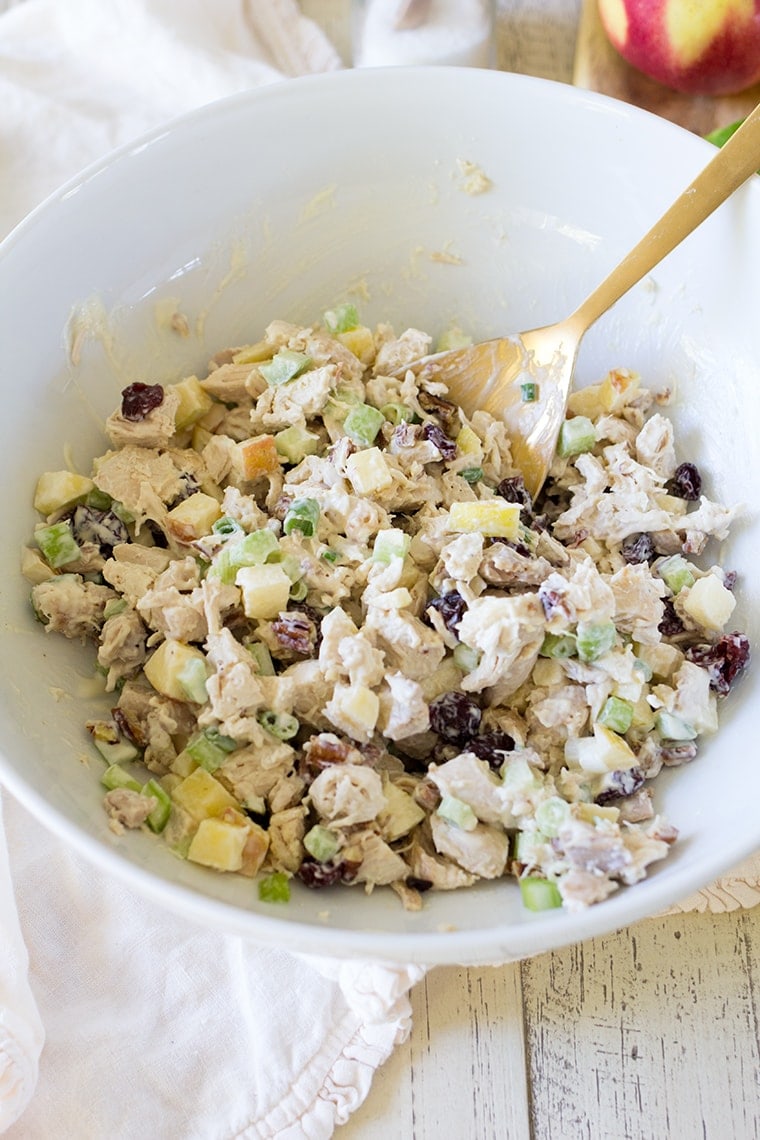 The next time you spot Autumn Glory apples in your grocery store, give them a try and let me know what you think! They are definitely a new favorite in our house.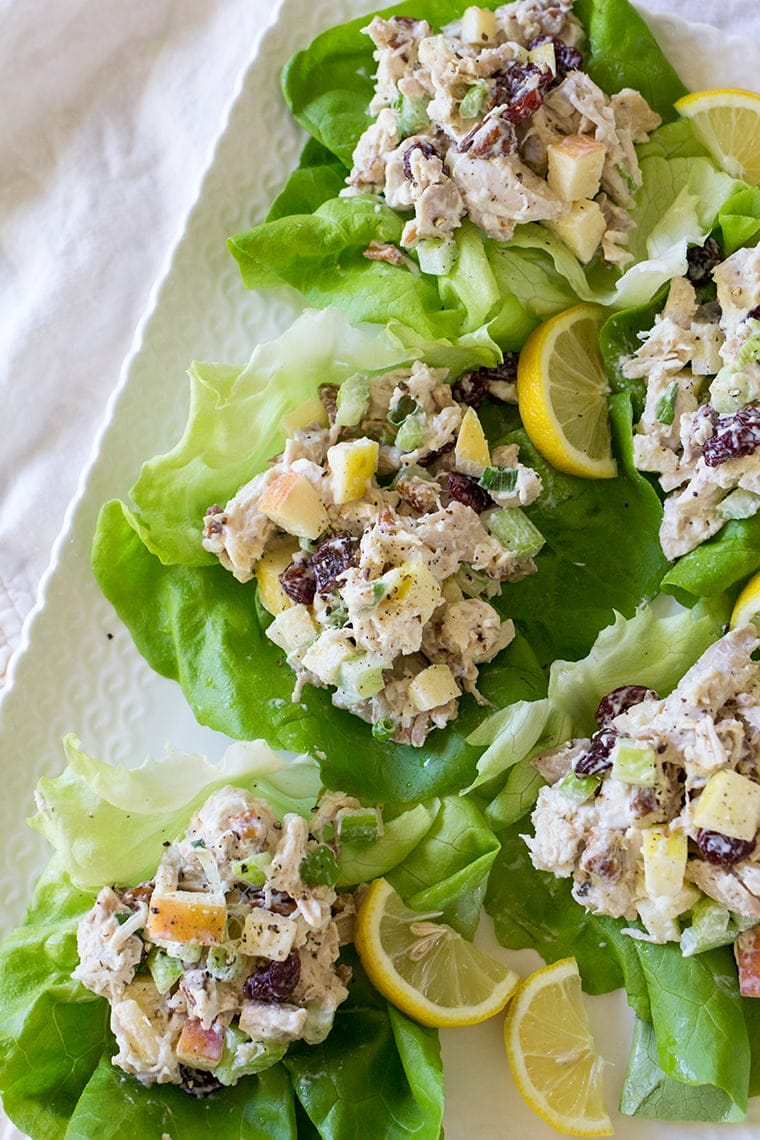 Disclosure: This post was sponsored by Autumn Glory apples however the recipe and all opinions expressed here are my own. Thanks for supporting my sponsors!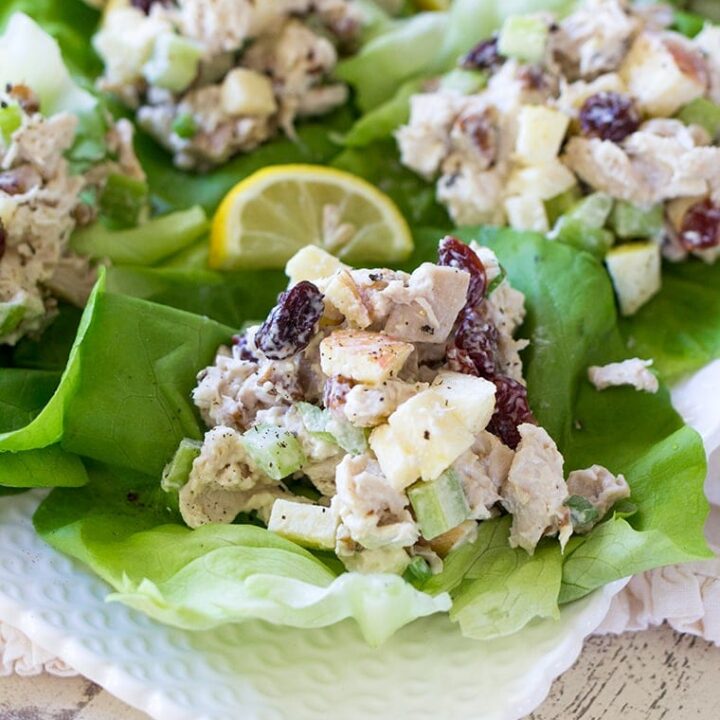 Apple Cherry Chicken Salad Wraps
Easy chicken salad made even more delicious with crunchy bites of apple, pecans and dried cherries served in lettuce cups.
Ingredients
3 cups rotisserie chicken, chopped
½ cup diced celery
1 green onion, thinly sliced
1 cup cored and diced Autumn Glory apples
⅓ cup dried cherries, chopped
¼ cup chopped pecans
head of butter lettuce
Dressing:
½ cup mayonnaise
1 Tablespoon Dijon mustard
juice of ½ a lemon
salt and pepper to taste
Instructions
Wash lettuce and set aside to dry. You will use the lettuce leaves as cups/wraps for the chicken salad.
In a bowl combine chicken, celery, onion, apples, cherries and pecans.
In a separate bowl whisk together mayonnaise, mustard, lemon juice and a pinch of salt and pepper. Taste and season more if needed.
Combine dressing with the other ingredients, tossing to combine. Chill before serving.
To serve, scoop chicken salad into lettuce cups and enjoy!