What is your love language? Mine is Tilapia Piccata swimming with capers in a white wine sauce served over buttery angel hair pasta. Ok, really, my love language is "Quality Time," I took the quiz before getting married...but who's really asking? I'm about to have some quality time with this fish, I'll tell you what! Who's ready for it...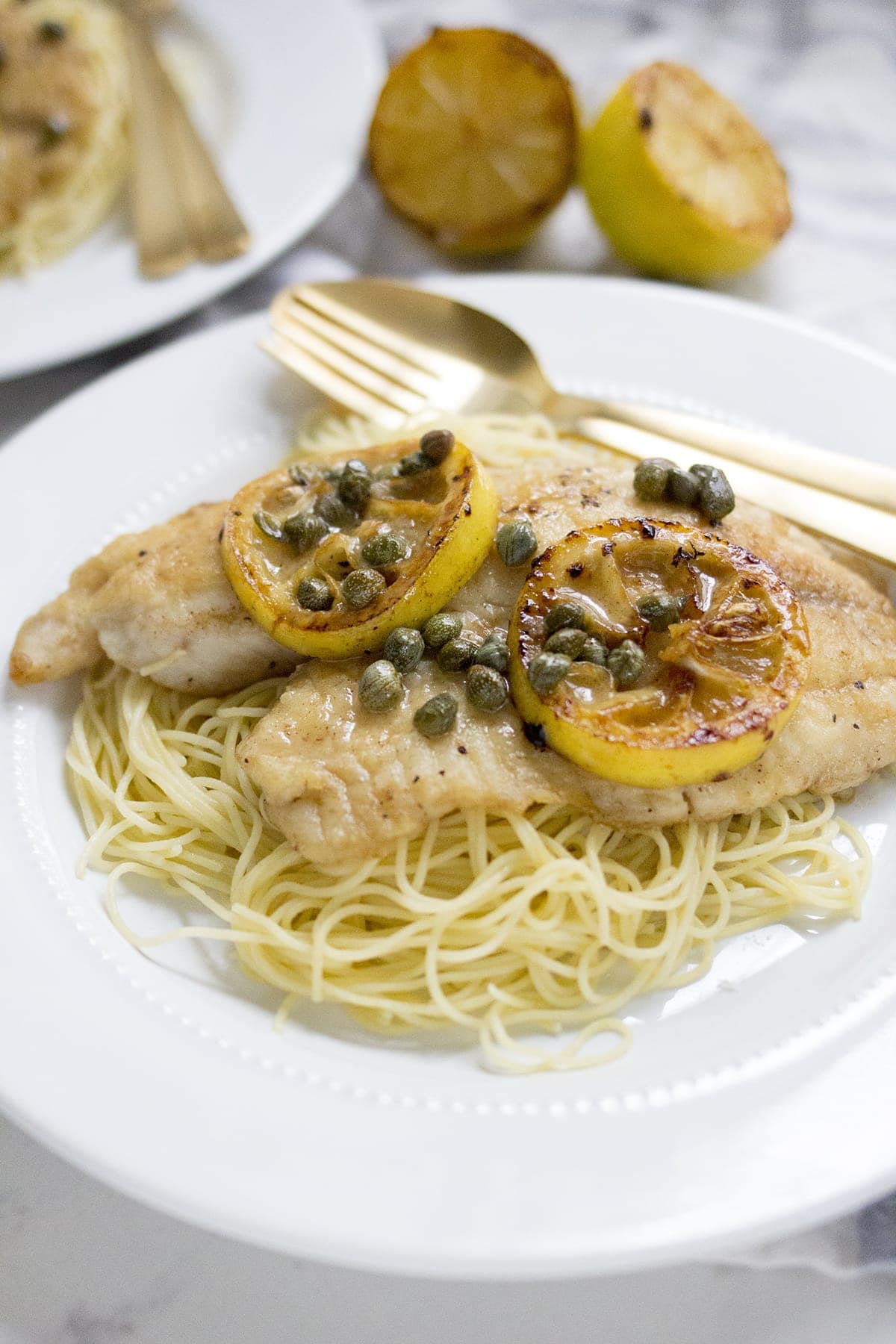 Chicken Piccata is good but have you ever tried it made with fish? Any flaky white fish will do, I just happen to like the very mild flavor of tilapia. I cook with tilapia all of the time from tacos to baked tilapia with potatoes and veggies, it's just so versatile! But today, it's all about the lemon-y, buttery, lusciousness that is Piccata sauce. Here's how I make it: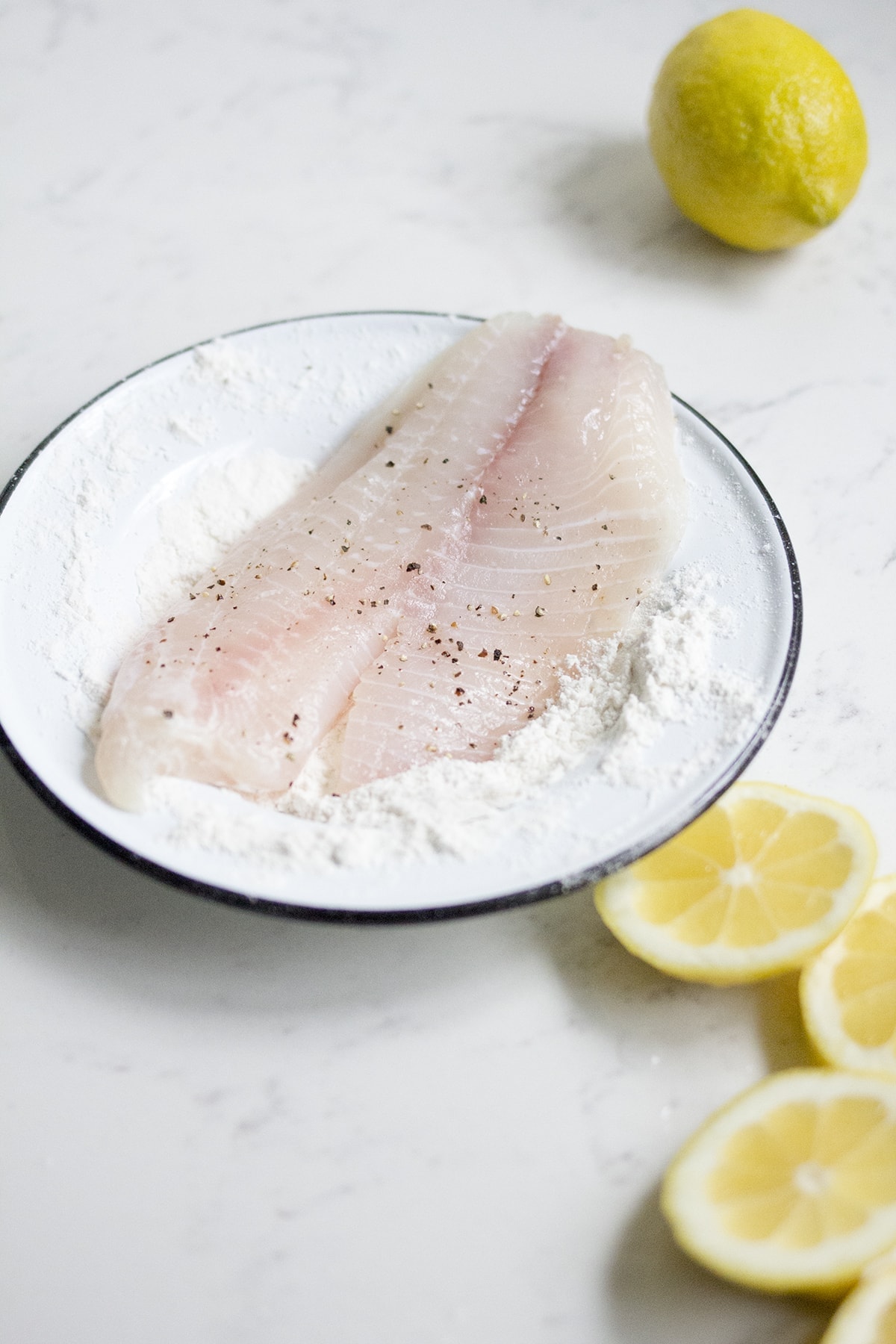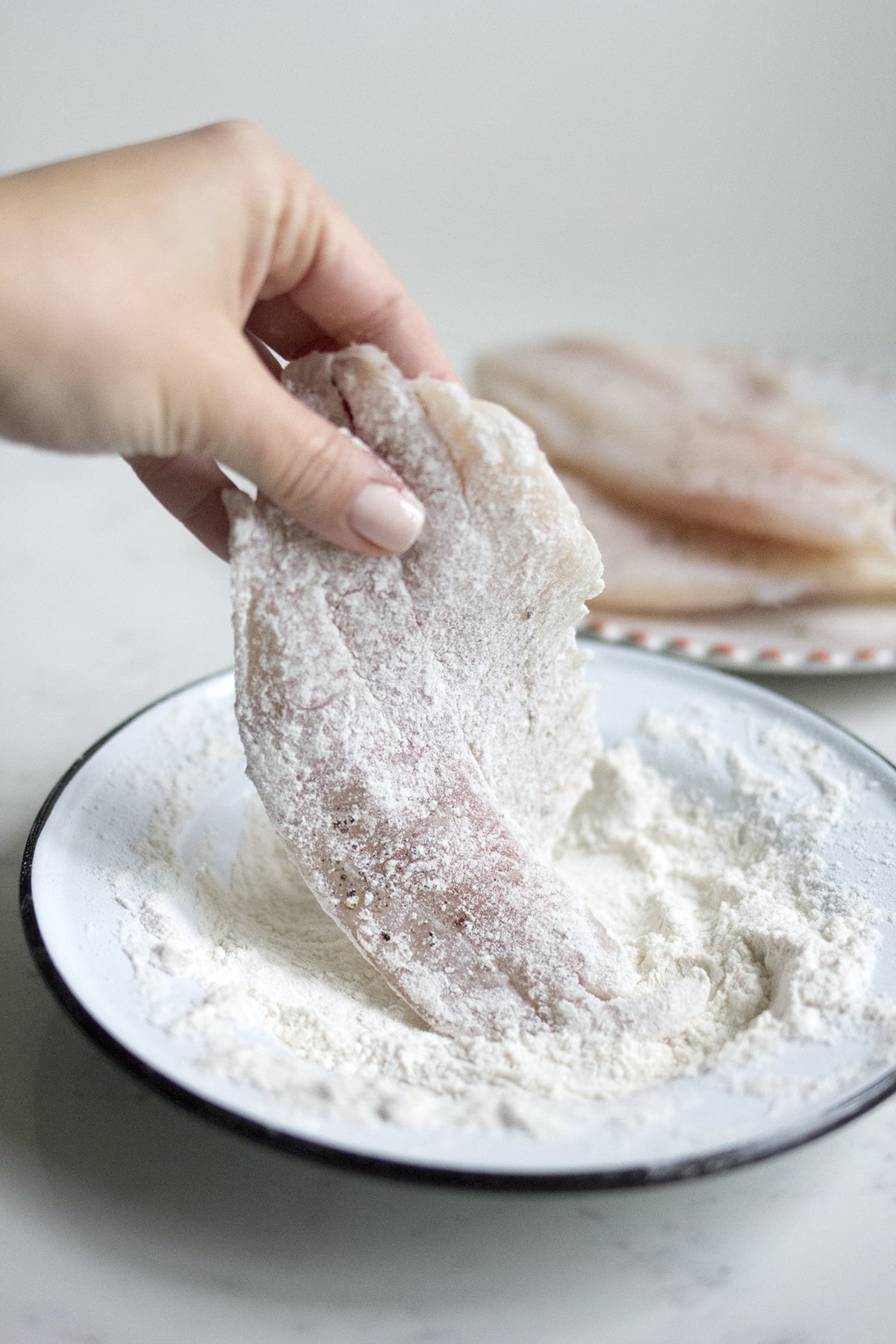 First, season the fish really well with salt and pepper and give it a good dredge in flour. Then sauté those fishies in lots of olive oil and butter until they are golden and just slightly crisp around the edges.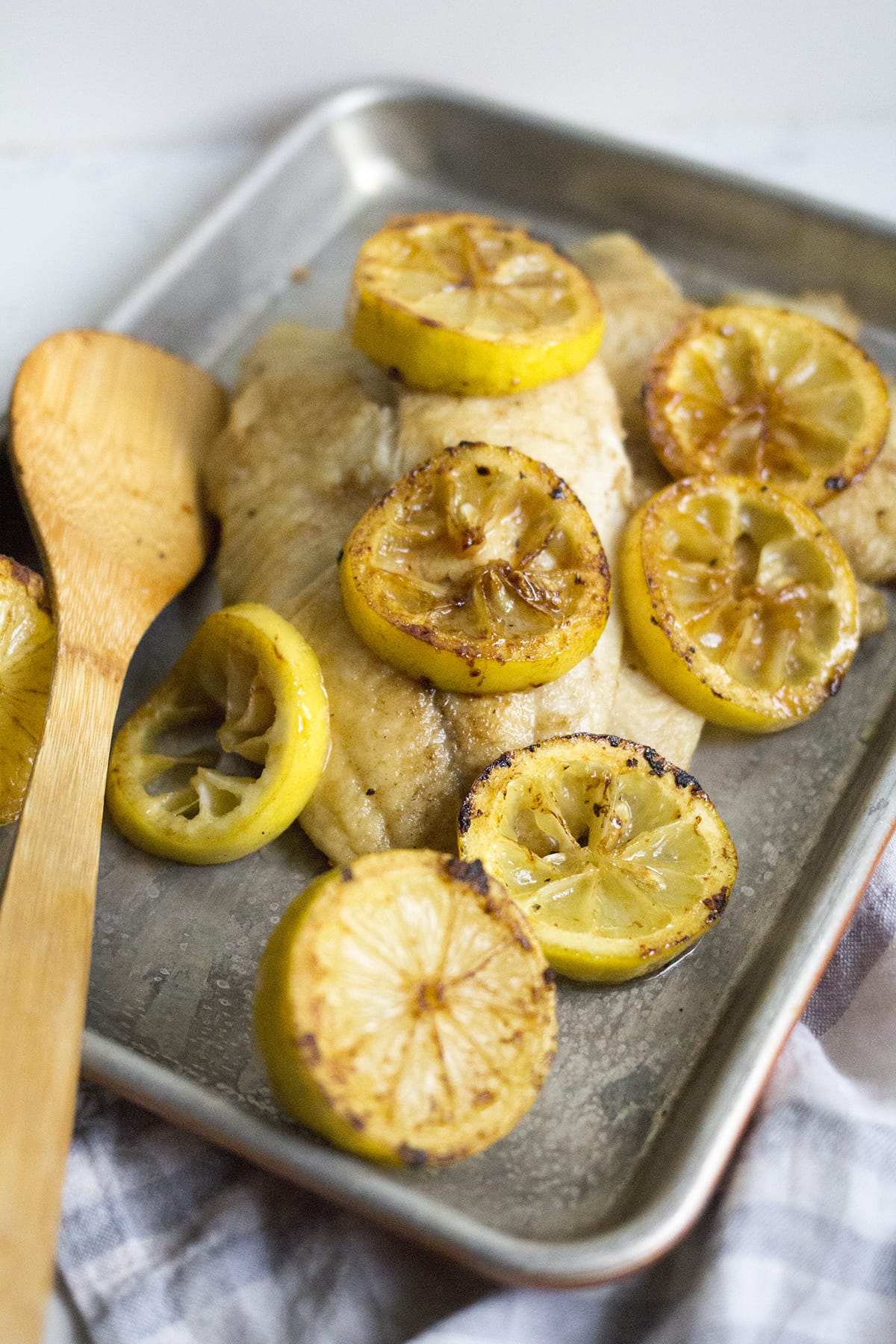 Keep them warm in the oven while you make the sauce. White wine (the good, drinkable stuff), garlic, lemon juice, lemon slices, capers, a splash of chicken broth and a whole lob of butter. Swirled together and drizzled right over a plate of warm angel hair pasta and the sautéed fish. Make sure to pile on the capers and you are ready to eat.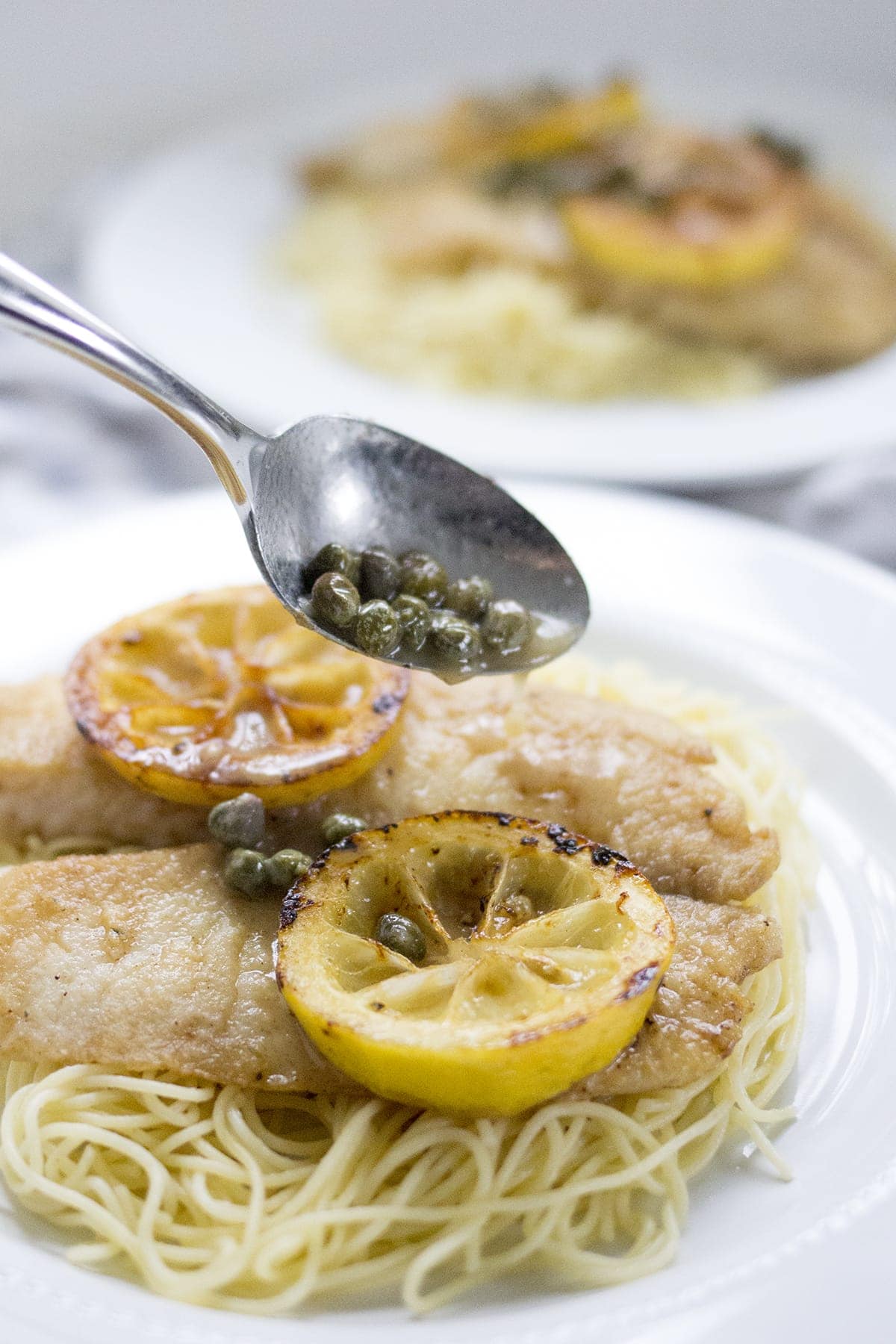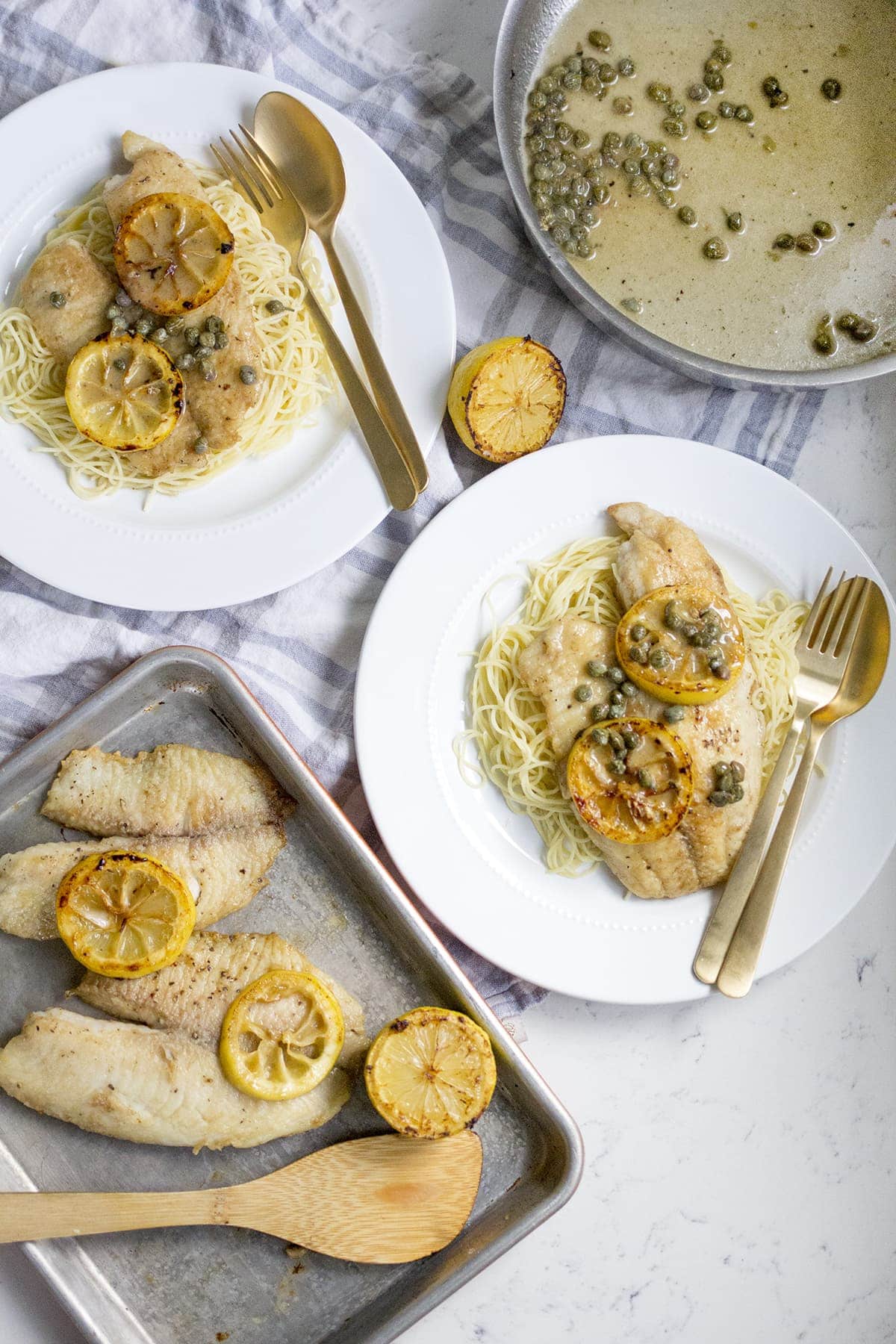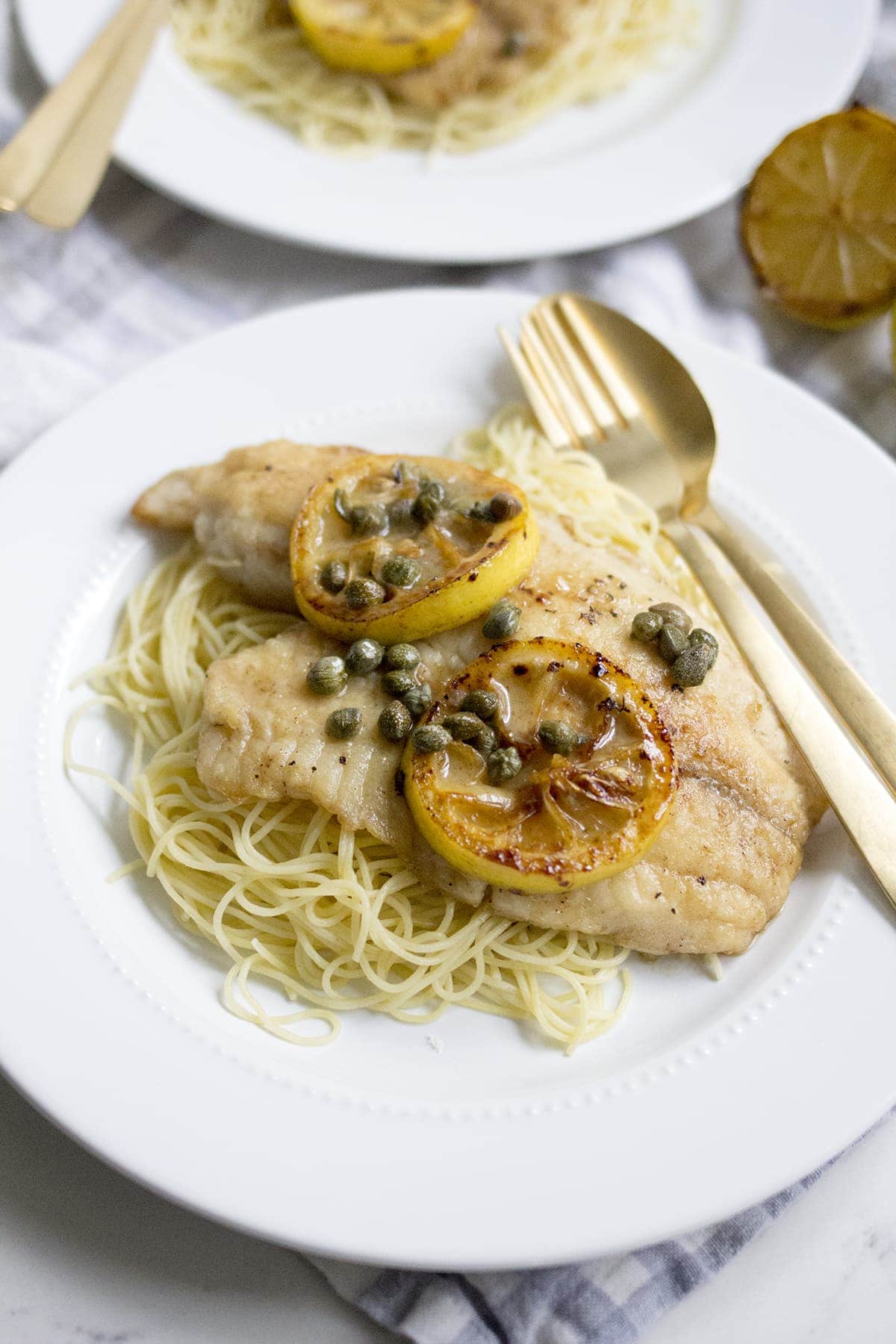 I swear if this isn't one of your new favorite dishes, well, we might not be the soul mates I thought we were. So, who's giving this quick and delicious dinner a try this week?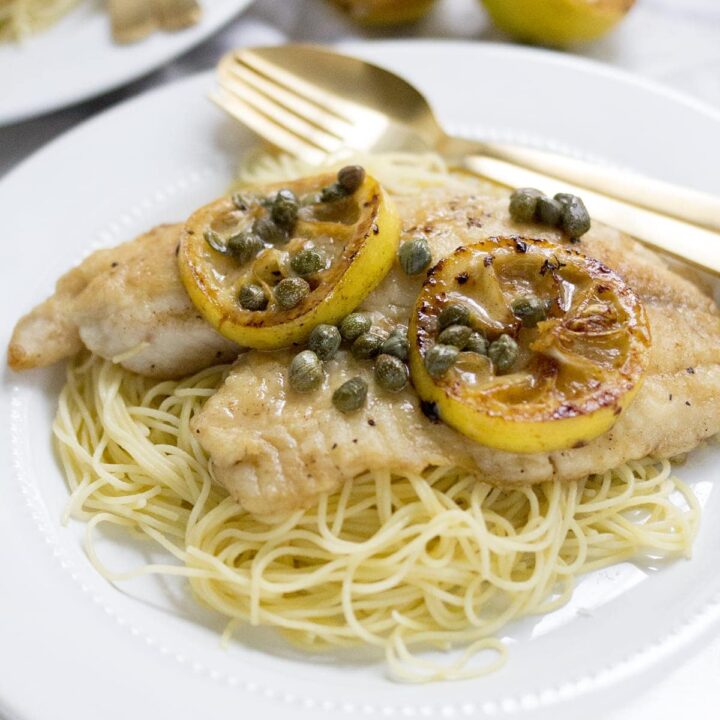 Tilapia Piccata
Tilapia in a lemon white wine piccata sauce served over angel hair pasta
Ingredients
4 tilapia fish fillets
Salt and pepper
1 cup flour, for dredging
4 tablespoons olive oil
5 tablespoons butter
2 lemons- 1 sliced, 1 juiced
1 large cloves garlic, minced
½ cup white wine
¼ cup chicken stock
2 tablespoons capers, drained
Instructions
Preheat the oven to the lowest setting just to keep fish warm and add a platter or rimmed baking sheet.
Rinse the tilapia in cold water and pat dry. Season both sides with salt and pepper. Place the flour on a plate and dredge the fish lightly in the flour, shaking off the excess.
In a large skillet, heat 2 tbsp. olive oil and 1 tbsp. butter over medium-high. When the butter melts add 2 fillets and cook until opaque in the center and lightly browned, 2 to 4 minutes per side. Transfer the fish to the oven to keep warm.
Wipe the skillet clean if you have any burnt pieces and add in another 2 tbsp. olive oil and 1 tablespoon of butter. Cook the remaining fish. Transfer fish to the oven to keep warm.
Wipe the skillet clean, then add 1 tbsp. butter. When the butter melts, add the lemon slices and cook, turning once, until lightly browned, 2 to 3 minutes. Place the lemon slices on top of the fish.
Add the garlic to the skillet and immediately add in the wine, capers, lemon juice and chicken broth. Swirl in the remaining 2 tbsp. butter and simmer until the sauce thickens slightly, about 1 minute. Meanwhile make angel hair pasta for serving and once drained, toss in olive oil and a couple of table spoons of butter.
Serve the fish on a bed of the buttered angel hair. Spoon the lemon caper sauce over the fish and serve with the cooked lemon slices for garnish
Nutrition Information:
Yield:

4
Serving Size:

1
Amount Per Serving:
Calories:

569
Total Fat:

32g
Saturated Fat:

12g
Trans Fat:

1g
Unsaturated Fat:

18g
Cholesterol:

112mg
Sodium:

386mg
Carbohydrates:

30g
Fiber:

2g
Sugar:

2g
Protein:

38g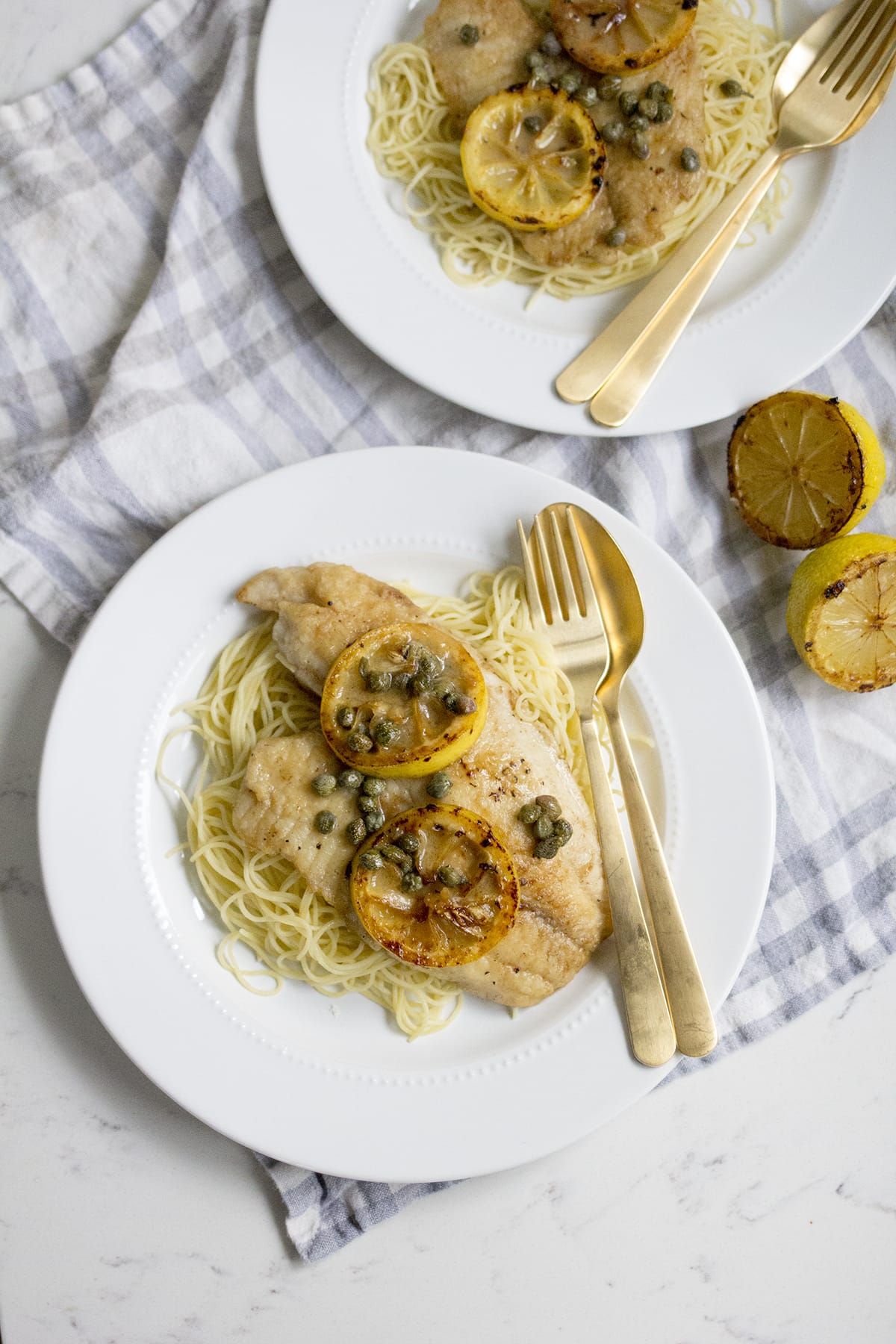 Save
Save