As I share this recipe for Baileys Irish Cream Cupcakes in honor of St. Patrick's day, I'll start by mentioning that I happen to be an American with zero Irish ancestry.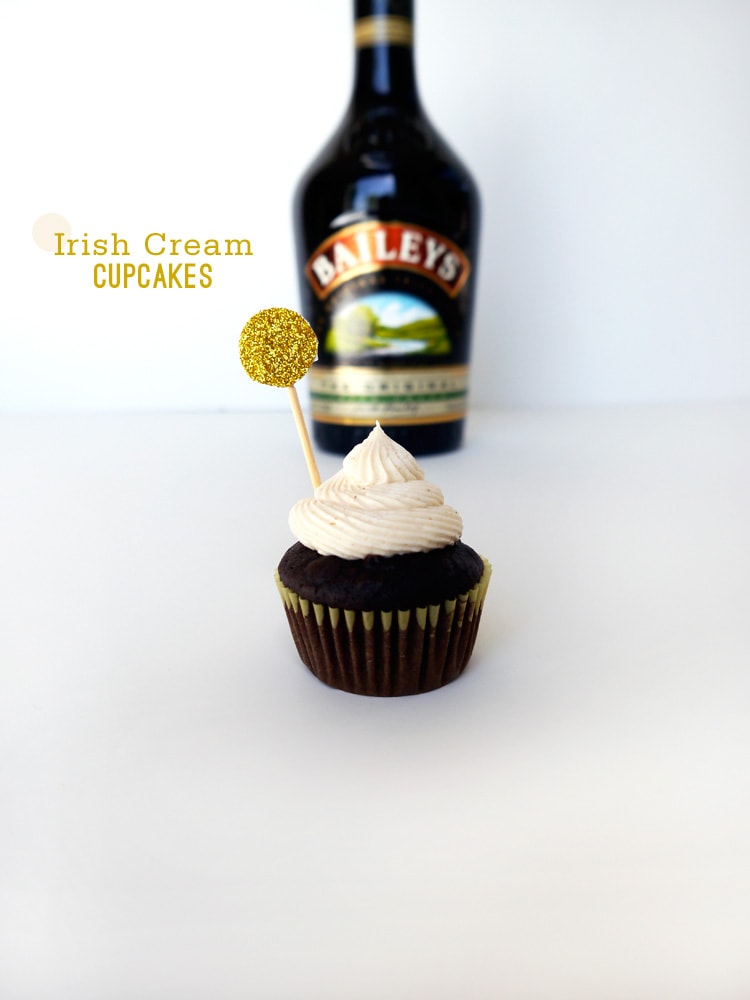 Do you remember when it was REALLY important to wear green on St. Patrick's Day in high school? It seemed as if the entire student body all became full-blooded Irish for a day the way they donned their shamrock pattered tees and sparkly shamrock buttons. Each year I wore my obligatory green to ward off the threat of pinching, and spent the school day feeling like a big fat fraud with not one ounce of Irish blood in my body.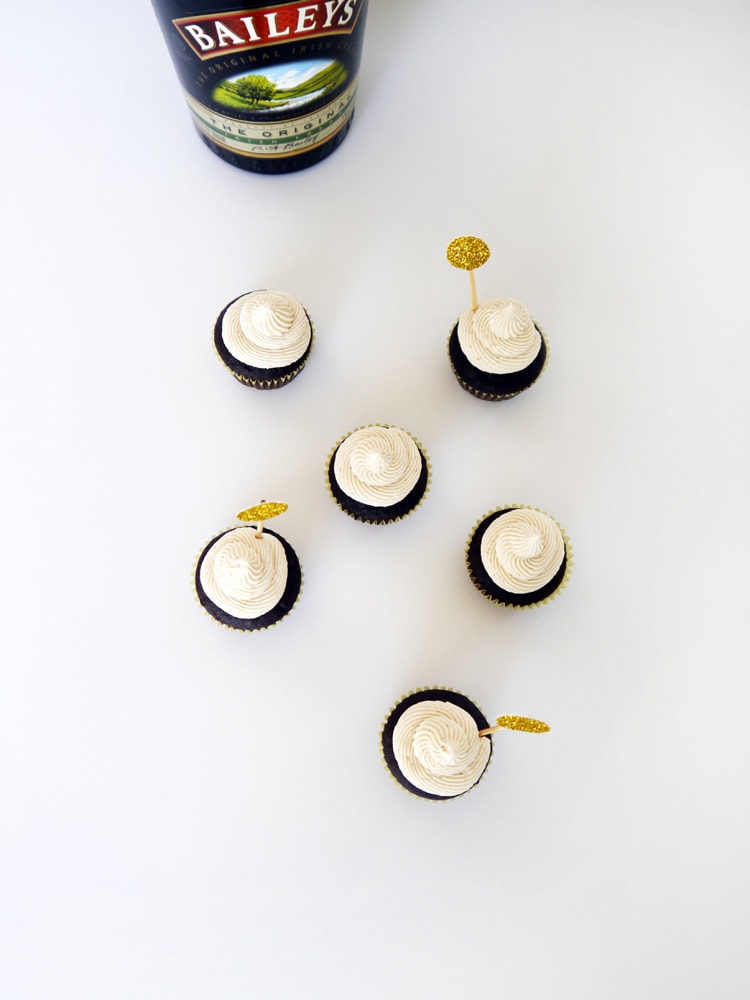 Then came college. No "Kiss Me I'm Irish" tees for this girlie. But don't feel sorry for me, I enjoyed the celebrations just as much as the next lassie and drank my green beer with the rest of them.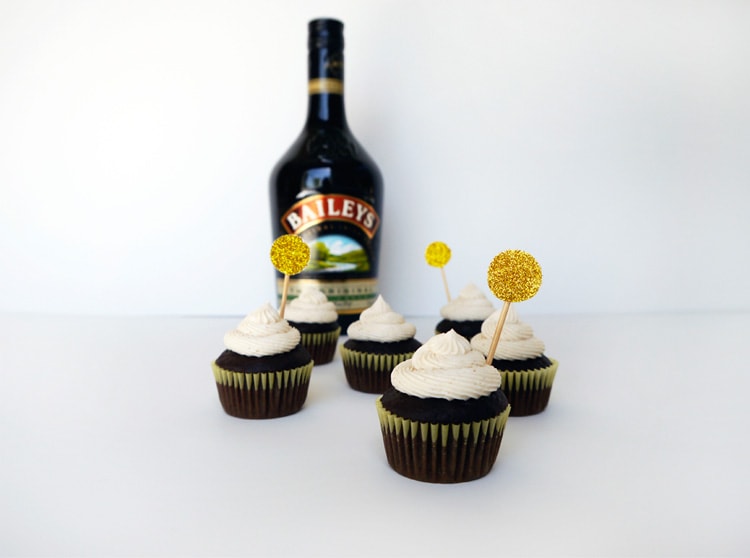 Now a day I usually pass on the green and bake something festive instead. Last year it was Irish Stout Brownies, rich and decadent. This year it's Baileys Irish Cream Chocolate Cupcake with Baleys Irish Cream Buttercream Frosting. Take some advice from someone with zero Irish blood…You don't have to be Irish to absolutely LOVE these cupcakes but you might feel a wee bit more Irish if you do! Happy St. Patrick's Day!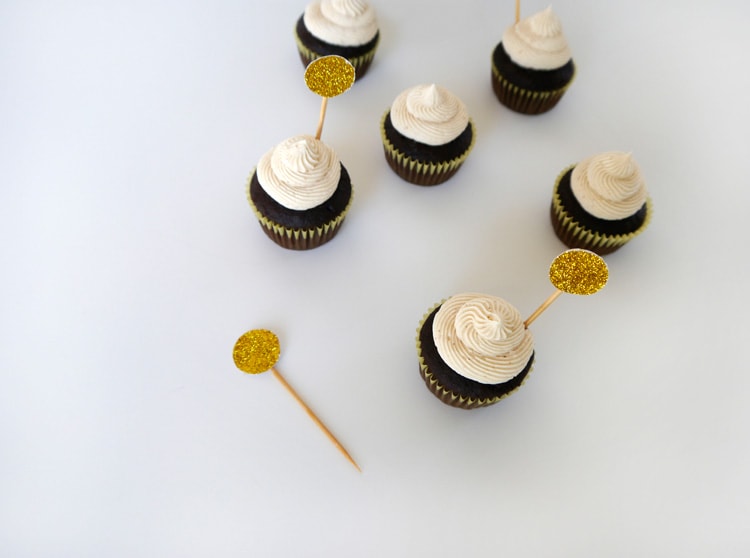 photos by Leah Bergman
Baileys Irish Cream Cupcakes- recipe via Tutti Dolci
makes 40 mini cupcakes
1 ¼ cups boiling water
¾ cup unsweetened cocoa
¼ cup Baileys Irish Cream
1 cup sugar
6 tablespoon unsalted butter, softened
1 teaspoon vanilla extract
2 large eggs
1 ⅔ cups flour
1 teaspoon baking soda
¾ teaspoon baking powder
¼ teaspoon salt
Baileys Irish Cream Buttercream
¾ cup unsalted butter, at room temperature
⅛ teaspoon cinnamon
⅛ teaspoon nutmeg
2 ¼ cups powdered sugar
2 tablespoon Baileys Irish Cream
Directions:
1. Preheat oven to 350°F and line a mini muffin pan with baking cups. Whisk together boiling water and cocoa, then cool completely. Whisk in Baileys.
2. Beat sugar, butter, and vanilla extract in a large mixer bowl at medium speed until well blended (about 3 minutes). Add eggs and beat well. Whisk together flour, baking soda, baking powder, and salt in a medium bowl. Add half of flour mixture to sugar mixture and beat until just combined. Add cocoa mixture, then finish with remaining flour mixture.
3. Fill each baking cup with a slightly rounded tablespoon of batter, to about ¼ inch below the top of the liner. Bake until a toothpick inserted in the center comes out clean, about 12 to 15 minutes. Cool the cupcakes for 2 minutes in the pan on a wire rack. Holding an edge of each liner, carefully lift the cupcakes from the pan and place them on the wire rack to cool completely.
4. To make buttercream, beat butter, cinnamon, and nutmeg in a large mixer bowl on medium speed until light and fluffy. Reduce speed to low; add powdered sugar and beat until smooth. Add Baileys and beat on medium speed until airy.
5. Fit a pastry bag with a tip and pipe a spiral onto each cupcake. Decorate with festive St. Patrick's Day party sticks and enjoy!