It's pretty hard to beat a warm and melty round of baked Brie fresh out of the oven spread over crostini…unless of course you top that Brie with roasted strawberries and a red tea reduction sauce! Sounds crazy doesn't it?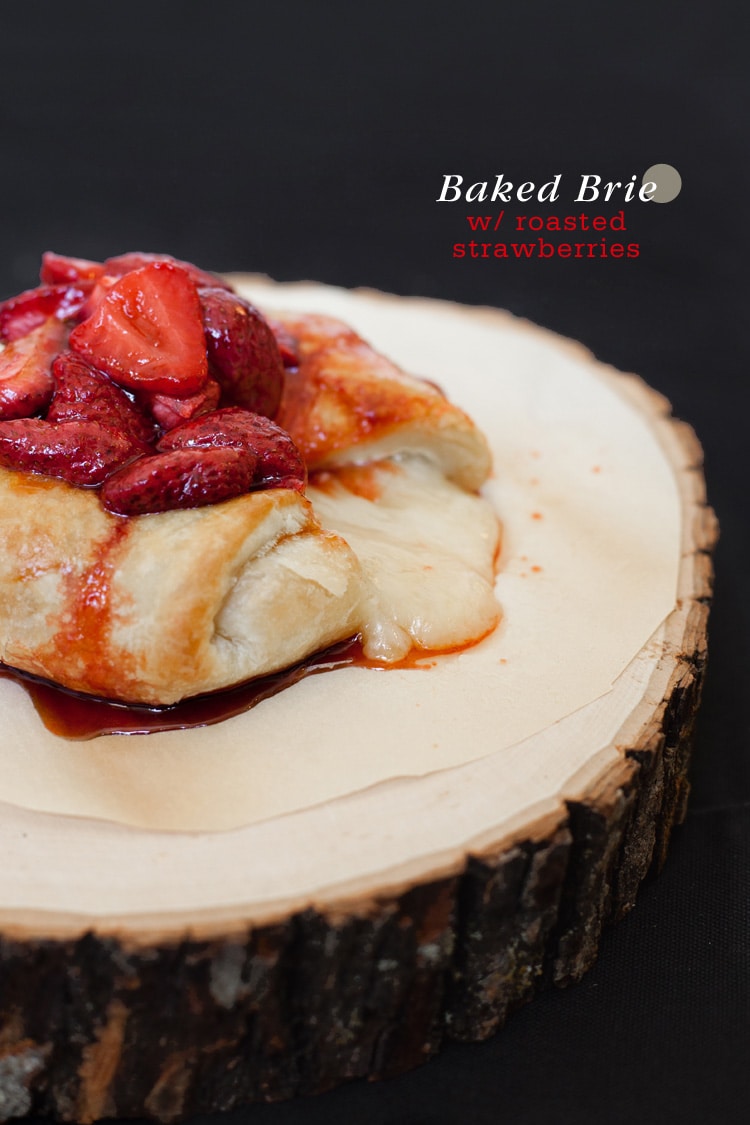 As I topped the puffed pastry with luscious roasted berries, drizzled on a generous amount of the sweet red tea sauce, and piled it all on top of a crostini, I knew something magical had happened.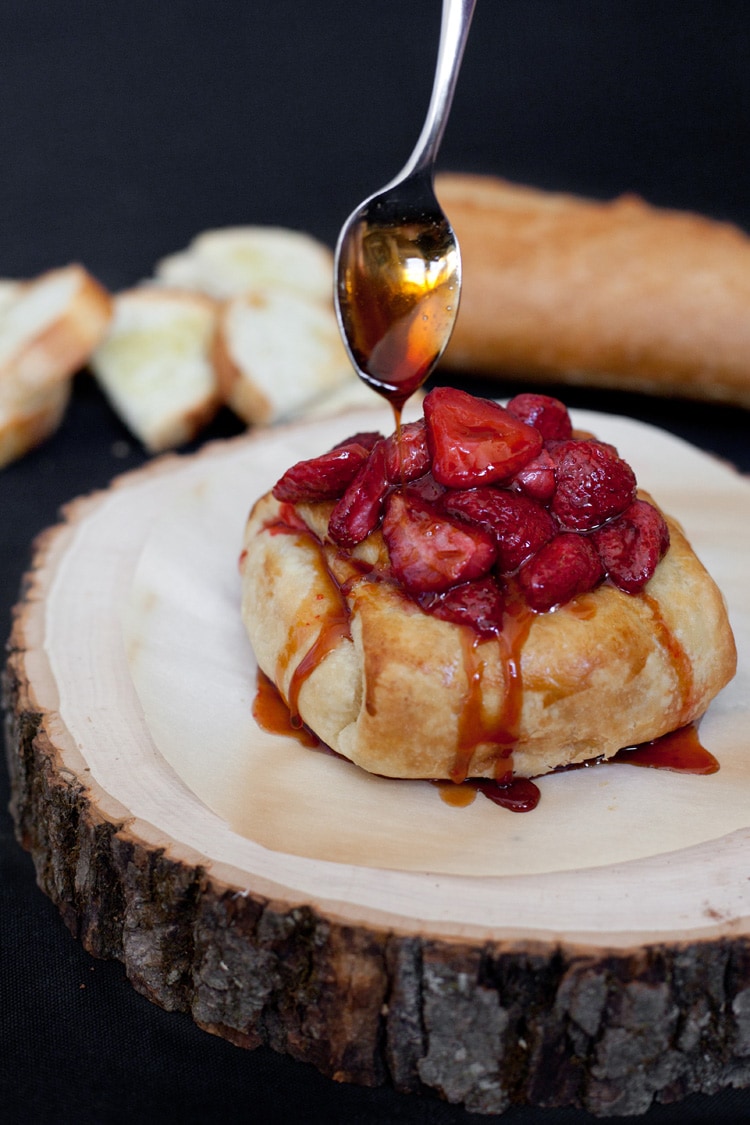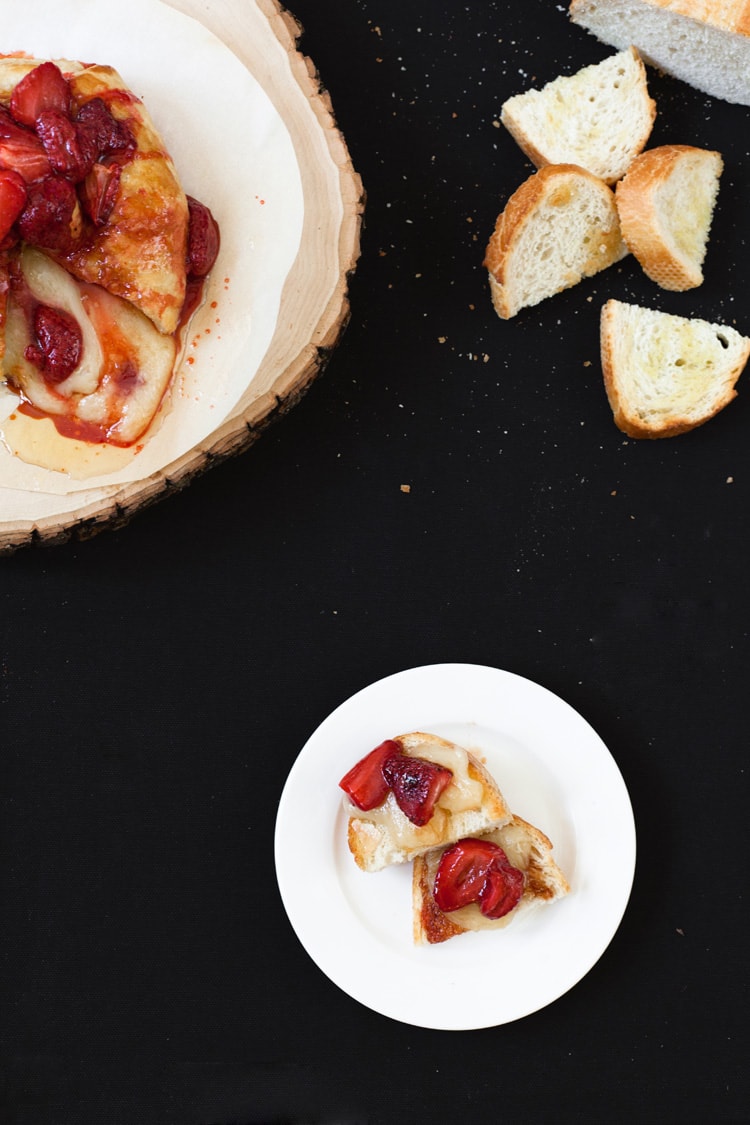 Baked Brie with Roasted Strawberries
Roasted Strawberries
8 oz. strawberries, halved or quartered
2 Tbsp. maple syrup
1 Tbsp. olive oil
¼ tsp. salt
Directions:
1. Toss strawberries in maple syrup, olive oil, and salt.
2. Arrange on a sheet pan lined with parchment and roast for 30 minutes or until juicy and softened.
Red Tea Sauce
4 Tbsp. loose-leaf red tea ( I used a Rooibos red tea)
2 cups water
1 cup sugar
Directions:
1. Bring the cold water, tea and sugar to a boil in a small saucepot.
2. Reduce to medium heat and allow the liquid to reduce down to a glaze.
3. Strain out the tea after sauce is dark and well brewed.
4. Return strained tea to pan and continue to reduce until sauce has reached the consistency of maple syrup. Remove from heat and allow to cool.
Baked Brie
1 sheet of Puff Pastry, thawed according to package directions
1 (8-ounce) Brie cheese round
1 egg
1 tbsp. water
Directions:
1. Heat the oven to 400°F. Unfold the pastry sheet on a lightly floured surface. Place the cheese in the center. Fold the pastry up over the cheese to cover. Trim the excess pastry and press to seal. Reserve the pastry scraps for decoration.
2. Beat the egg and water in a small bowl with a fork or whisk. Brush the seam of the pastry with the egg mixture. Place seam-side down onto a baking sheet. Decorate with the pastry scraps, if desired. Brush with the egg mixture.
3. Bake for 25 minutes or until the pastry is golden brown. Let stand for 20 minutes before serving.
4. Top with roasted strawberries and drizzle with red tea sauce. Serve with toasted bread.