It's October and you've already made all the pumpkin recipes known to Pinterest...but chances are you still have half a can of leftover pumpkin puree in your fridge. Does that stuff ever get fully used up? Introducing Baked Pumpkin Mac and Cheese. One more reason to indulge in fall flavored pumpkin goodness and thankfully, it's savory.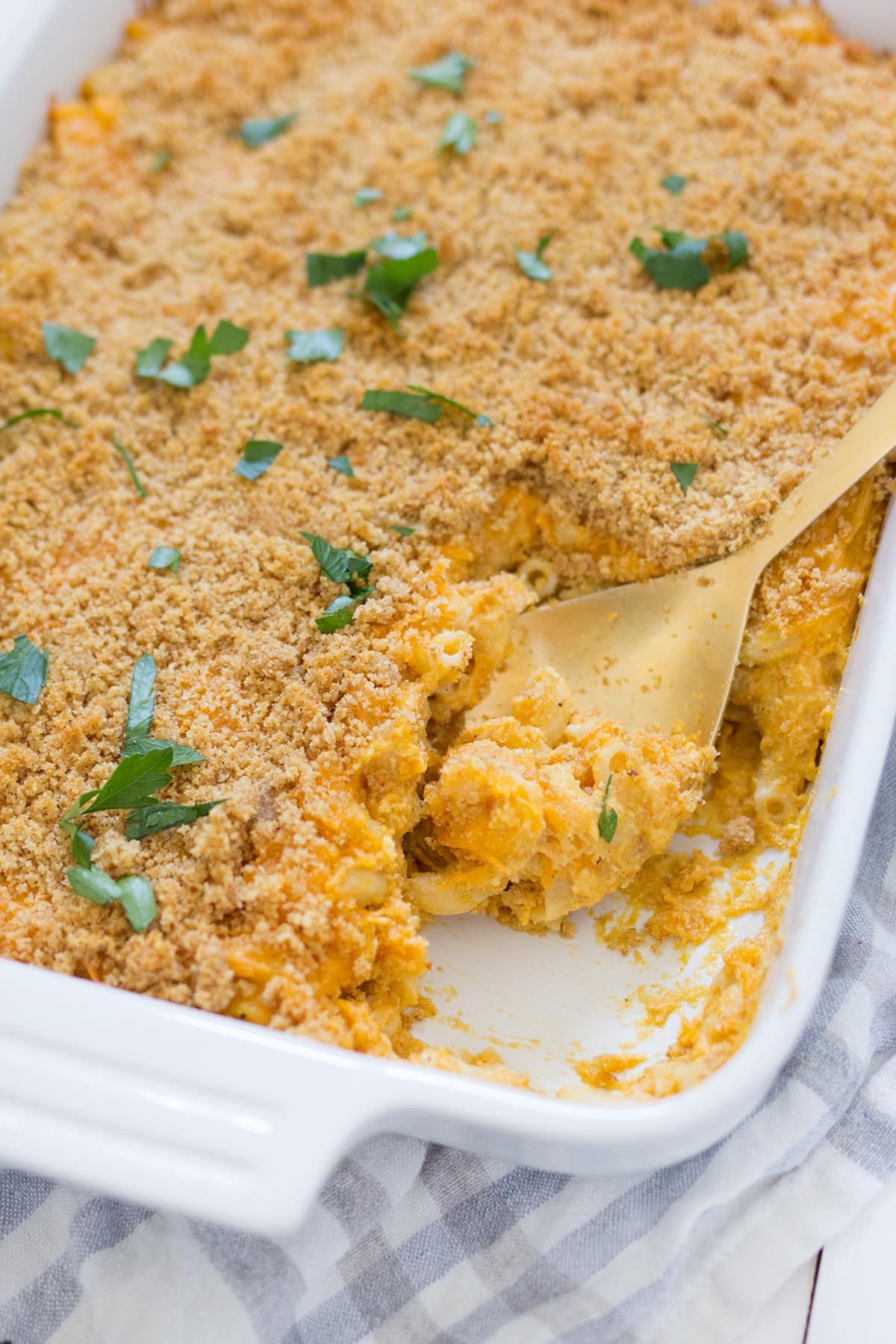 This is an old Alton Brown baked mac and cheese recipe that I've made for years and have always loved but improvised on with leftover pumpkin and a pinch of nutmeg. The addition of the creamy pumpkin into the cheese sauce doesn't impart a whole lot of flavor but it does give a natural pumpkin-y sweetness. Plus, it adds more saucy creaminess to the dish and I'm all for that!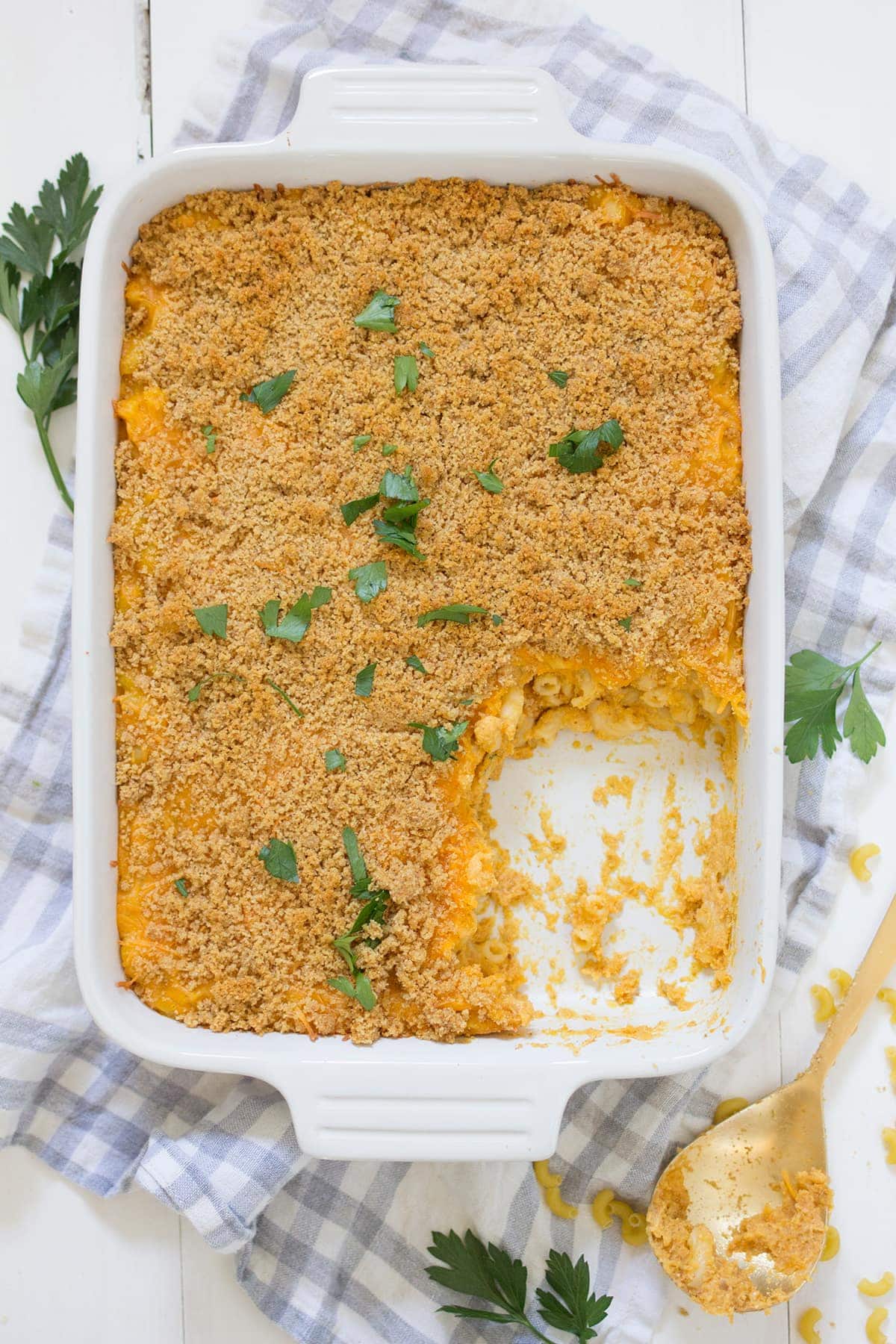 Now let's talk about the topping for a minute. Traditionally, plain breadcrumbs are used in baked mac and cheese and that works (heck, I used them in these pictures) but I highly recommend you try this recipe with crispy Panko breadcrumb. If you've never used Panko, they are a Japanese breadcrumb that stays crispy even when baked on top of a wet dish like this one. They are lighter than traditional breadcrumbs and don't impart quite as much flavor either. Personally, I love them for any recipe that calls for a crispy breadcrumb coating or topping!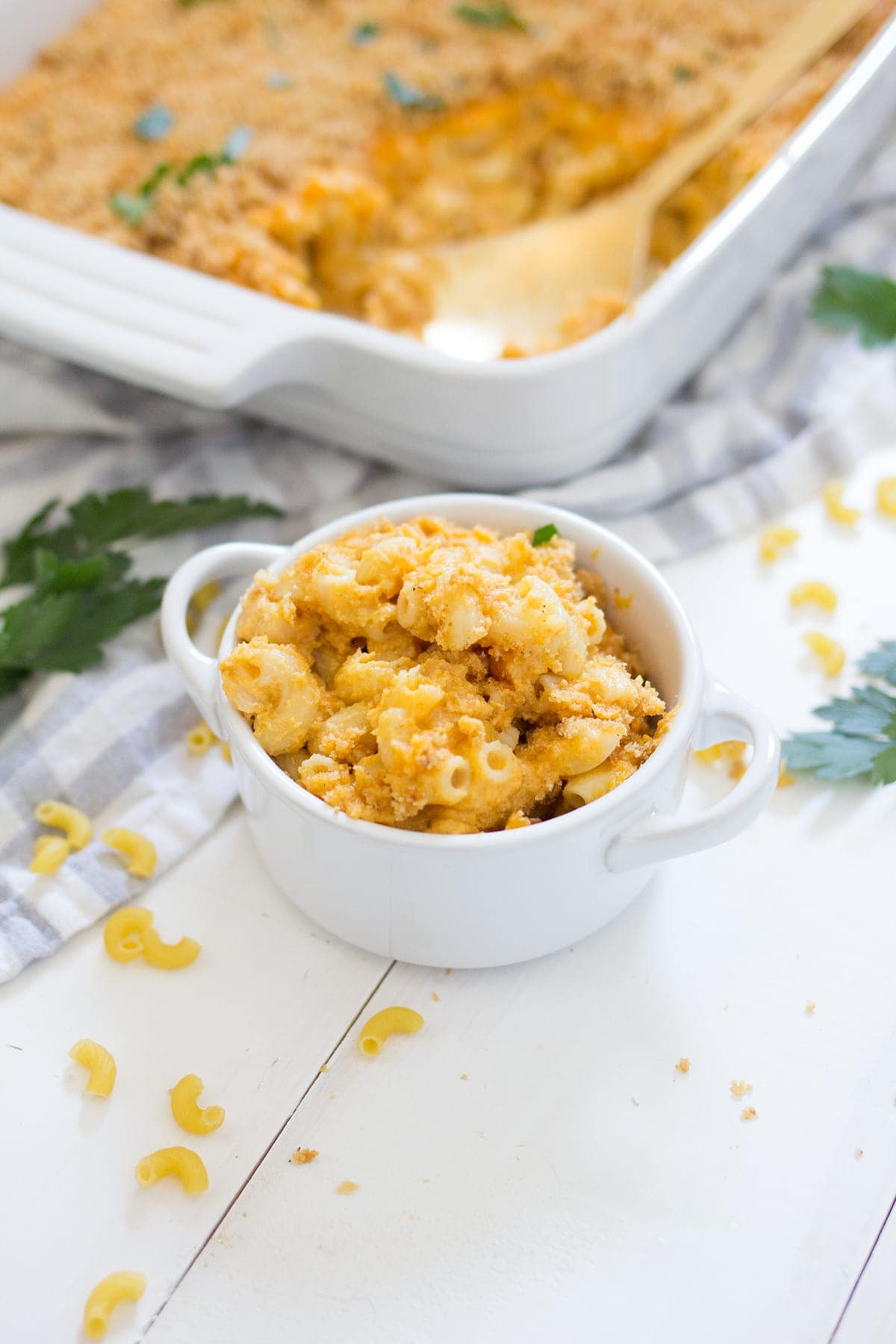 Bake, scoop, and serve this Pumpkin Mac and Cheese all fall and winter long. Pumpkin is good for you, packed with Vitamin A and beta-carotene, so you can feel good about sneaking in a healthy veggie into this dish. Or just make it because it's basically fall's best comfort food and it tastes like heaven, that works too! Oh, and if you hadn't already guessed, this is a whole family pleaser. What kid doesn't adore mac and cheese? In fact, this would be a great before trick-or-treating dinner for the family!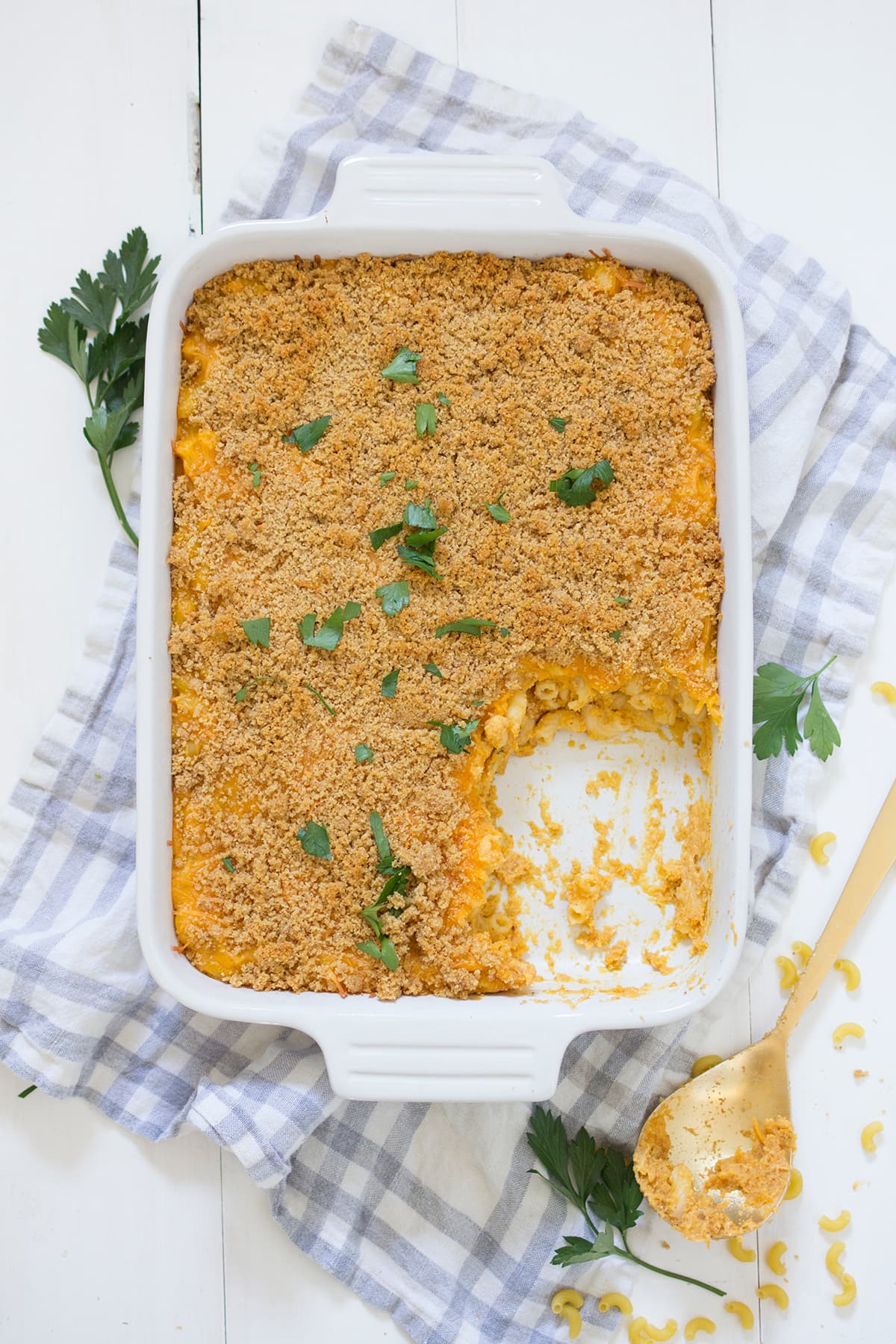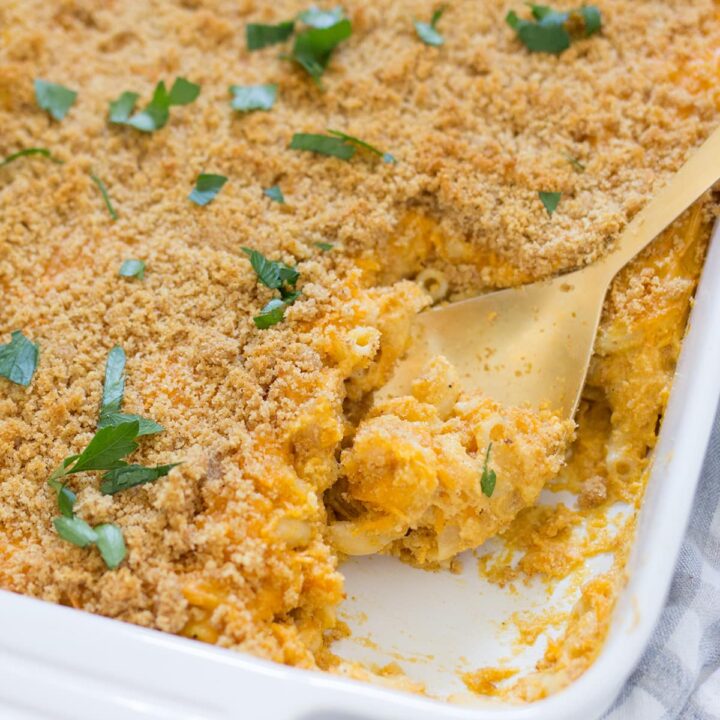 Baked Pumpkin Mac and Cheese
A creamy baked pumpkin mac and cheese.
Ingredients
½ pound elbow macaroni
3 Tablespoons butter
3 Tablespoons flour
1 Tablespoons powdered mustard
3 cups whole milk
¾ cup pure pumpkin puree
½ yellow onion, finely minced (or even chopped fine in a food processor)
1 bay leaf
½ teaspoon paprika
¼ teaspoon ground nutmeg
1 large egg
12 oz shredded sharp cheddar cheese
1 teaspoon salt
black pepper
Topping:
3 Tablespoons butter
1 cup panko bread crumbs
Instructions
Preheat oven to 350 degrees. In a large pot of boiling salted water cook the pasta to al dente. (Make sure not to cook all of the way or it will be mushy)
In a separate pot melt butter, whisk in the flour and mustard powder, stir for 5 minutes. Stir in milk, onion, bay leaf, paprika and nutmeg.
Simmer 10 minutes. Remove bay leaf and discard.
Temper in the egg slowly, stir in ¾ of the cheese, the pumpkin puree and the salt and pepper.
Fold the macaroni in and pour into a 2 quart casserole dish.
Top with remaining cheese.
Melt butter, toss in the bread crumbs. Top the mac and cheese with the crumbs and bake 30 minutes. Rest 5 minutes before serving.