Blueberry Muffin Coffee Cake with a buttery cinnamon crumble topping. I turned a well loved blueberry muffin recipe into a loaf and I'm loving the result!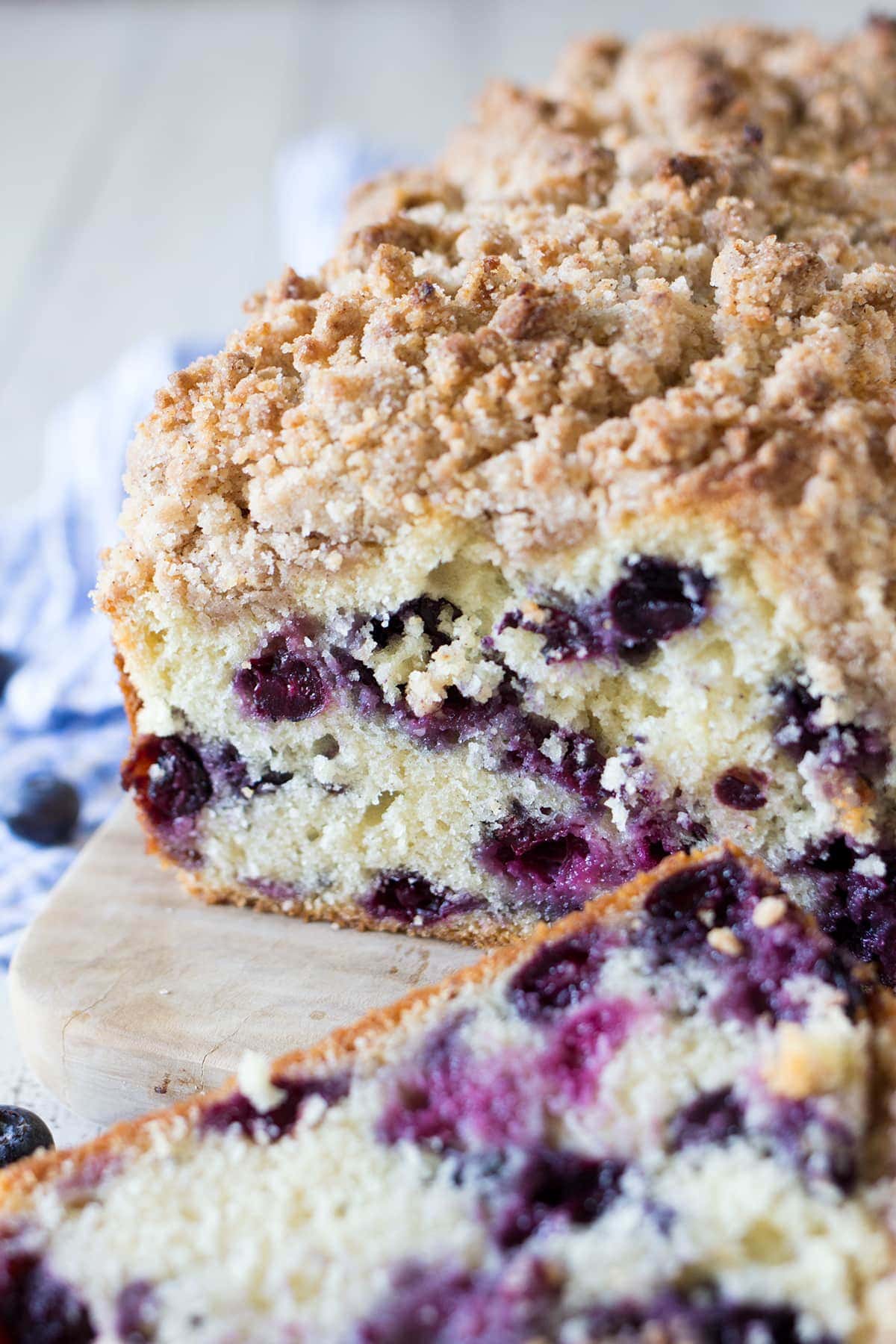 The great debate is on, muffin or loaf which is better? Recently I posted that question on my Instagram account to which I received a flood of comments and messages. The good news is this, you don't have to chose sides! I love this recipe equally as much in muffin form (recipe here) as I do in a loaf.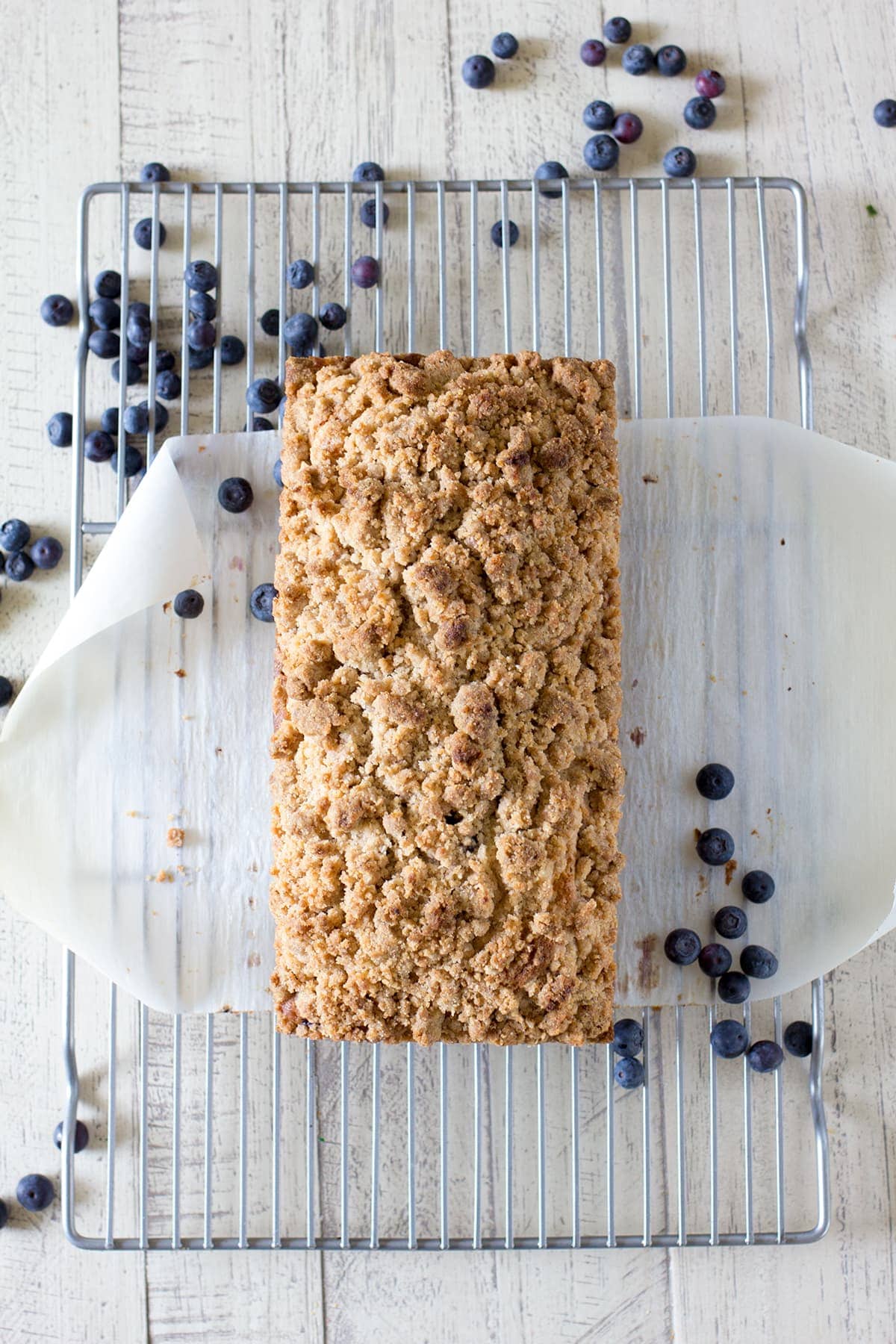 Either way the bread turns out moist with a lovely fluffy crumb to it and the blueberries suspend nicely throughout giving that fresh pop of berry flavor. The crumble is equally as delicious a top a muffin as it is crowning a loaf and either way you will be picking up dropped crumbs for fear they go un-eaten.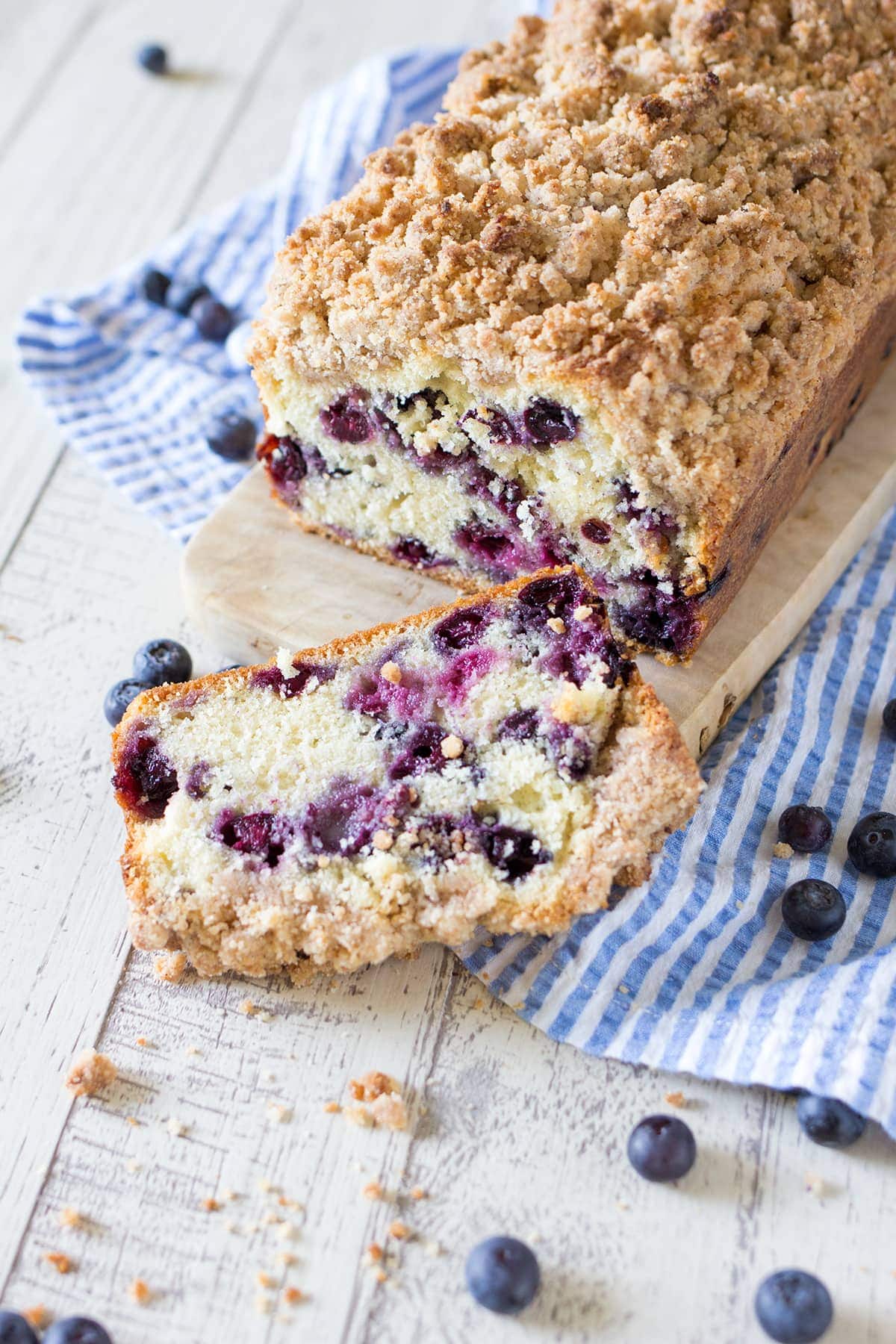 Personally, I love the simplicity of a loaf of this Blueberry Muffin Coffee Cake. You can cut it thick and slather it with butter for breakfast or break of bits at a time when you pass it in the kitchen.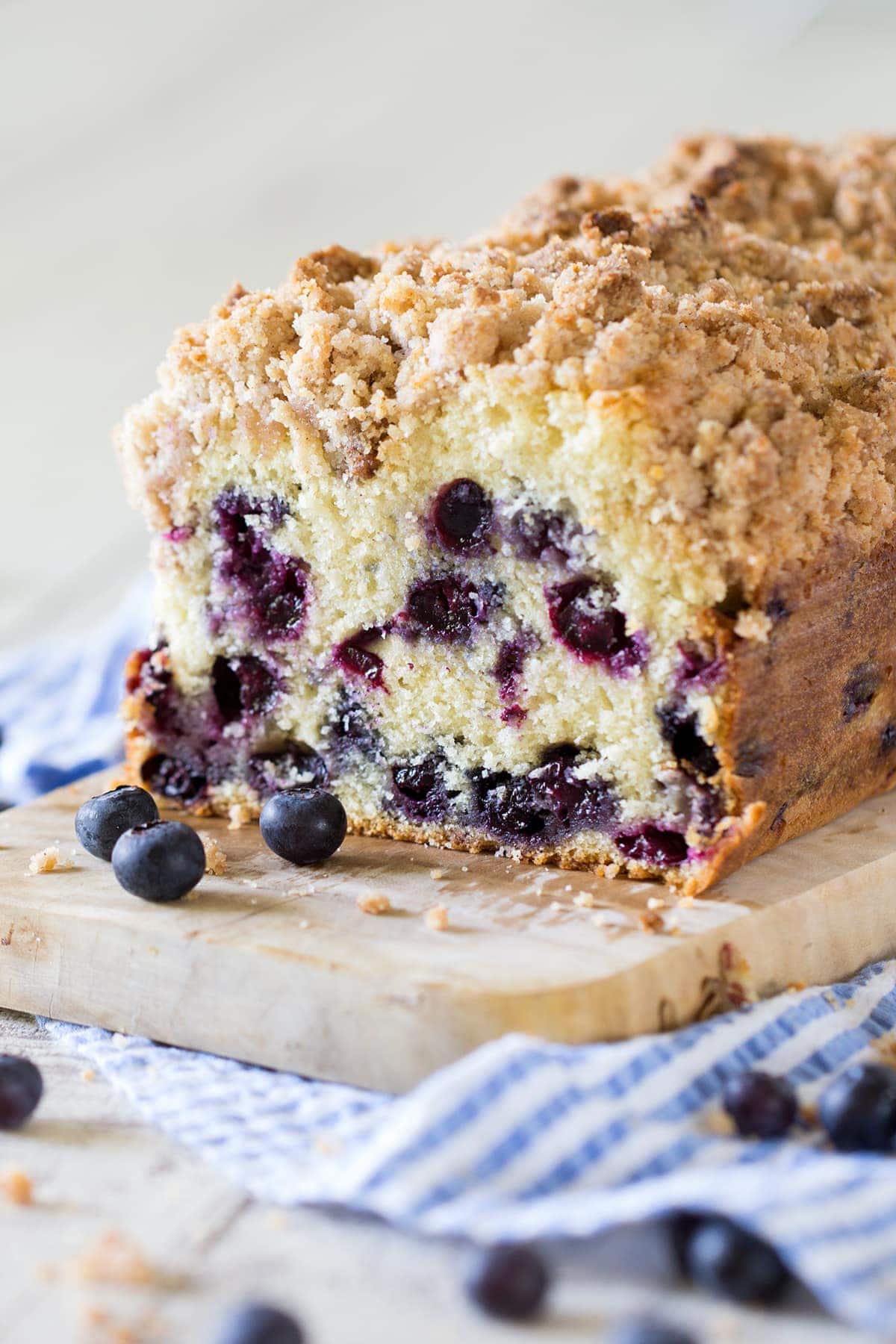 It only gets moister as the days go by thanks to those sweet berries. So, which do you prefer, muffin or loaf? Weigh in on the comments section below and either way, I hope you will make (and love) this recipe as much as I do. Happy baking!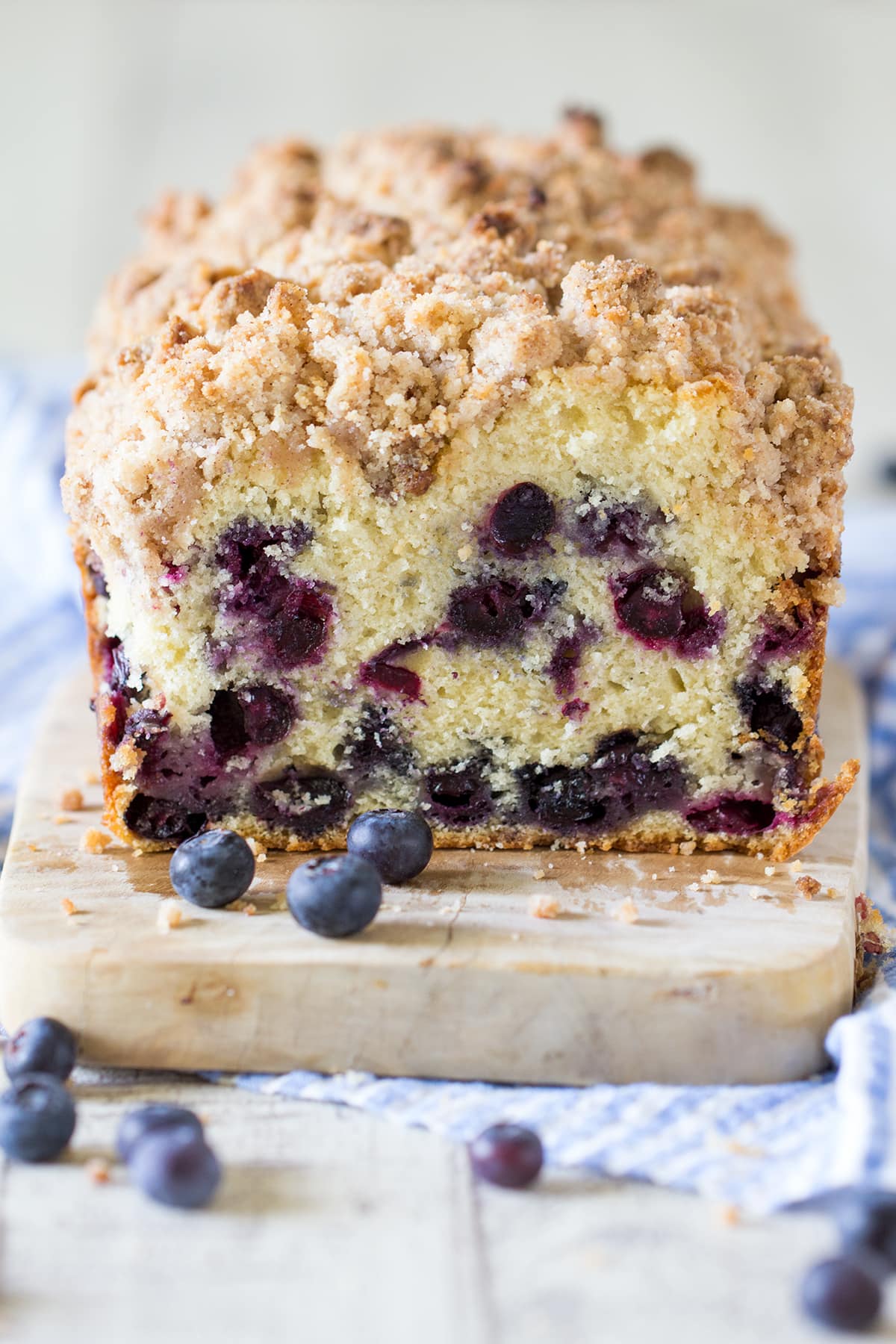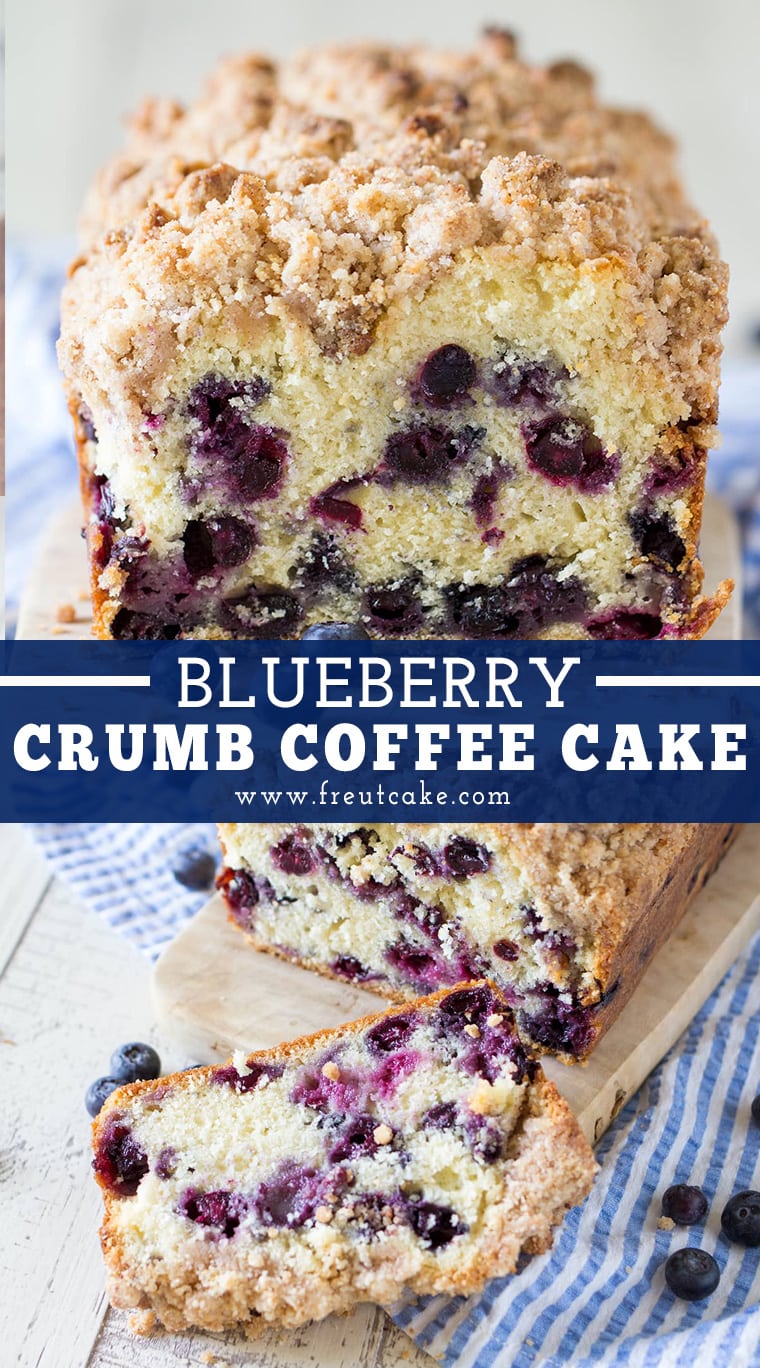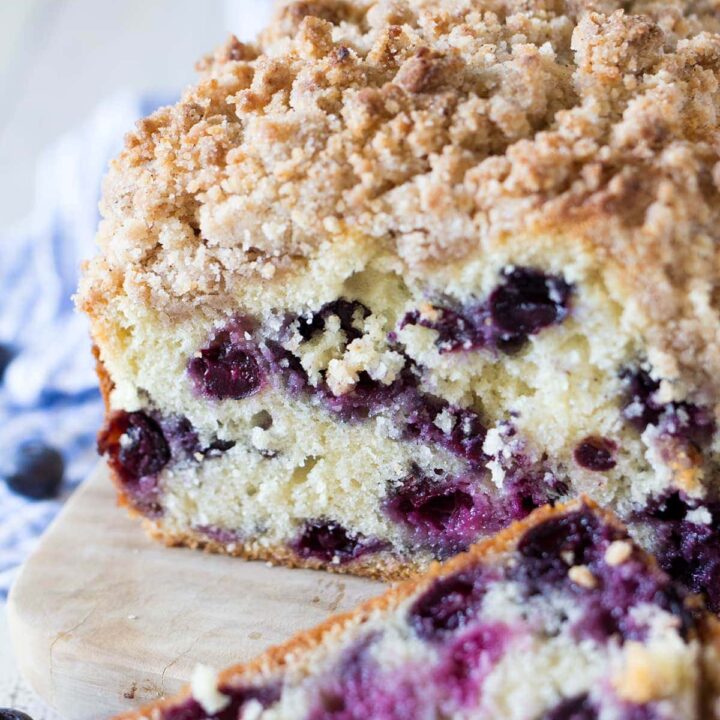 Blueberry Muffin Coffee Cake
Total Time:
1 hour
15 minutes
A blueberry loaf cake topped with a buttery cinnamon crumble topping.
Ingredients
6 tablespoons butter
¾ cup sugar
2 large eggs
2 cups all-purpose flour
2 teaspoons baking powder
½ teaspoon salt
½ cup whole milk
2 teaspoons vanilla extract
2 cups fresh blueberries
Crumble Topping:
1 cup all-purpose flour
⅔ cup granulated sugar
1 stick salted butter, melted
1 teaspoon cinnamon
Instructions
Preheat your oven to 375°F. Grease and line a loaf pan with parchment paper and set aside.
In a large mixing bowl, beat together the butter and sugar until they're light and fluffy. Add the eggs one at a time, beating well after each addition.
In a separate bowl, whisk together the flour, baking powder and salt.
Add the dry ingredients to the butter mixture, and beat well. Stir in the milk, and vanilla extract, mixing only until smooth.
Wash and dry blueberries on a dish towel or paper towels. In a bowl, toss blueberries with about 1 Tablespoon of flour. Gently fold berries into the batter. *tossing berries with flour will keep them from sinking in the batter.
Spoon batter into loaf pan and smooth top with a spatula.
In a bowl combine ingredients for the crumble topping; flour, sugar, melted butter and cinnamon and mix together with a fork. Pour mixture evenly over the loaf.
Bake loaf 50-60 minutes in the center of the oven until top is golden brown and a toothpick inserted in the center comes out clean. A few moist crumbs are fine, you don't want to dry out the bread.
Cool in the pan on a cooling rack for 10 minutes before removing to rack to cool completely.
Note: This loaf is delicious sliced and served with butter slightly warm or at room temperature. It also becomes more moist the second and third day so wrap with plastic wrap once cool to store and enjoy for days!