Good morning sunshine! Time for Lemon Chia Yogurt Pancakes, a fluffy and delicious way to start your day off packed with a boost of protein from whole milk yogurt, fiber and Omega-3 from chia seeds, and a lemony twist from fresh zest.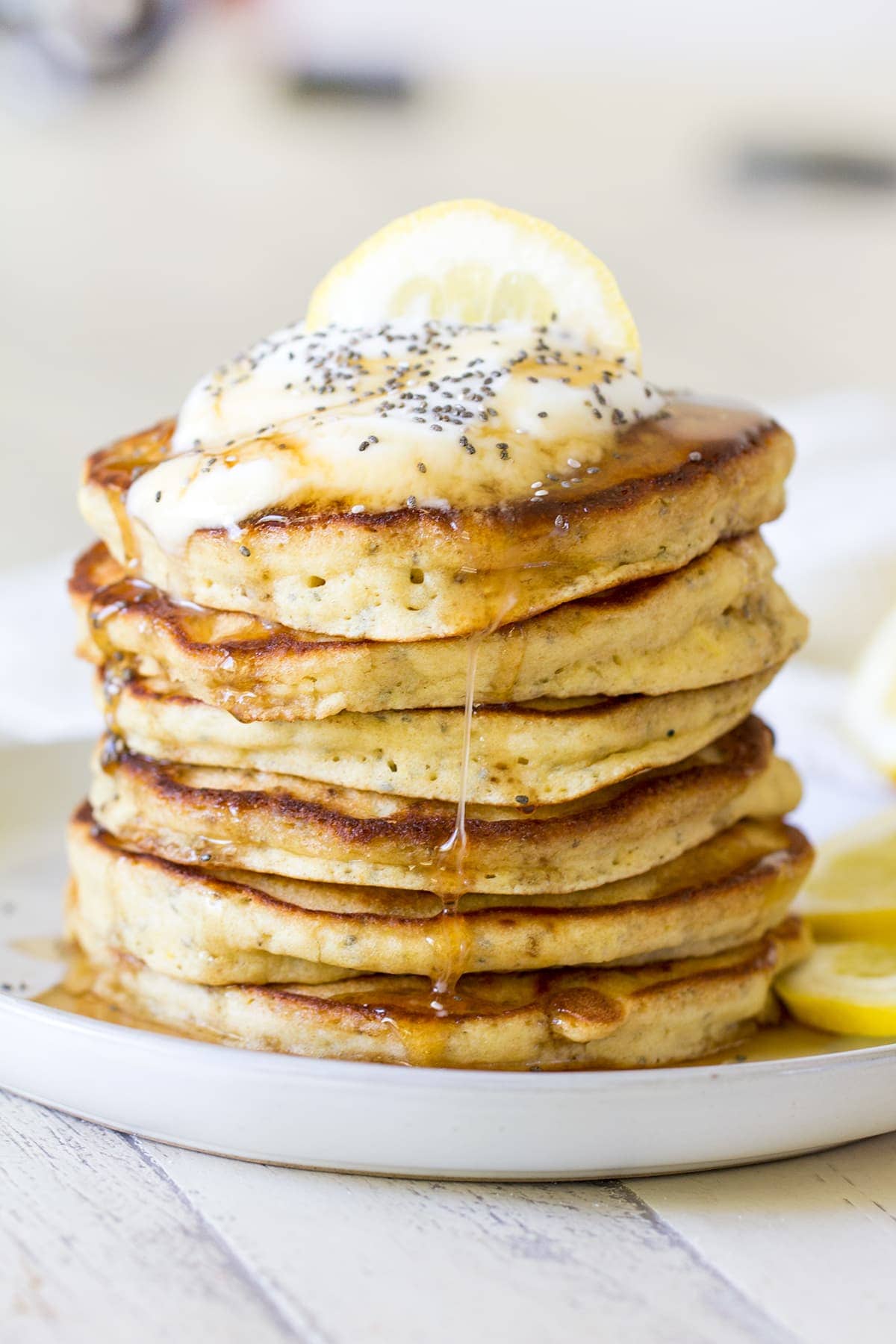 Pancakes are a breakfast food favorite in our house and when I have time to make them from scratch, I love to! King Arthur makes a white whole wheat flour that is much more mild in flavor compared to traditional whole wheat flour so I like using it in pancakes. The stay light and fluffy but have a little more whole grain goodness.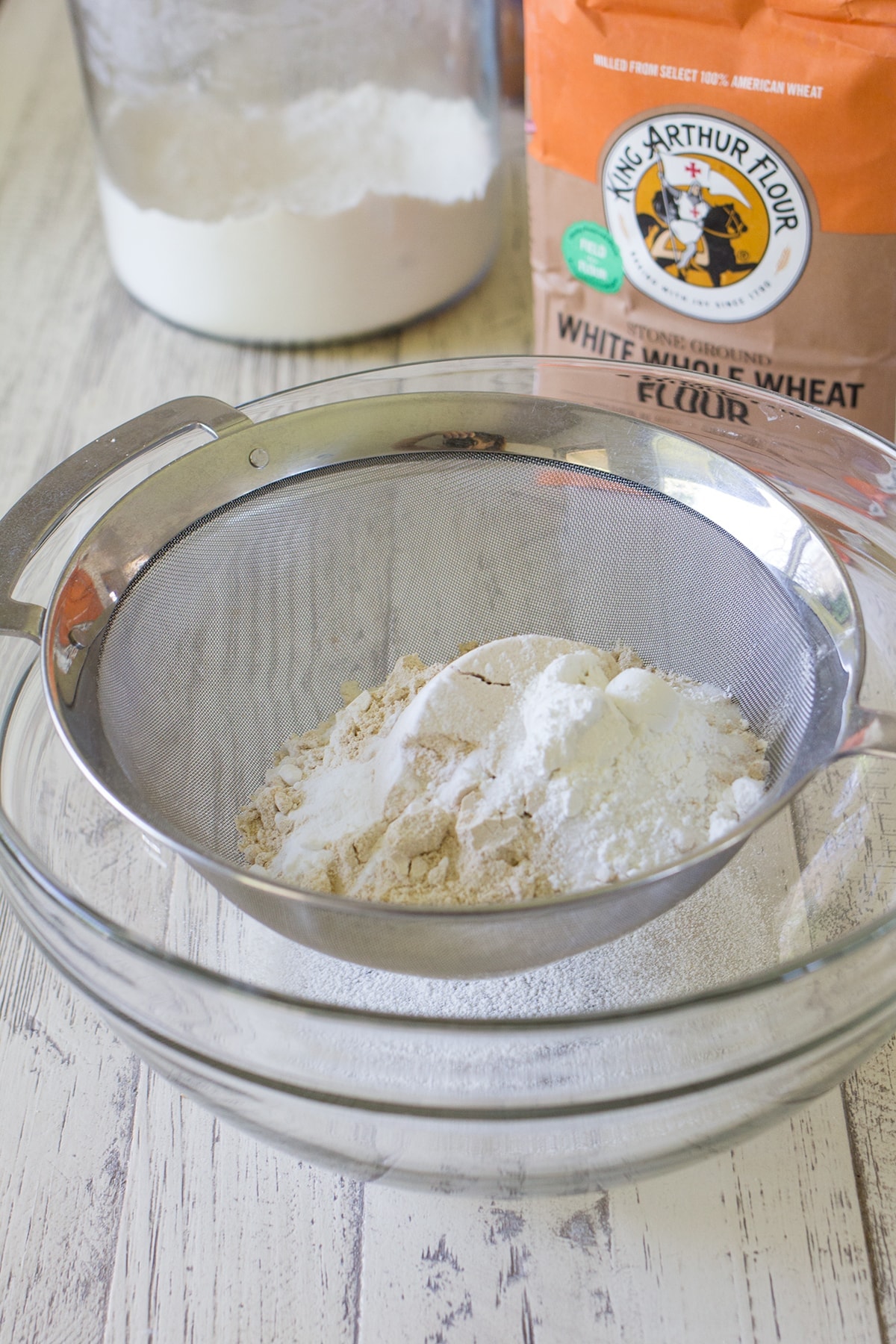 Sifting together your dry ingredients insures that the pancakes remain fluffy and everything is well mixed.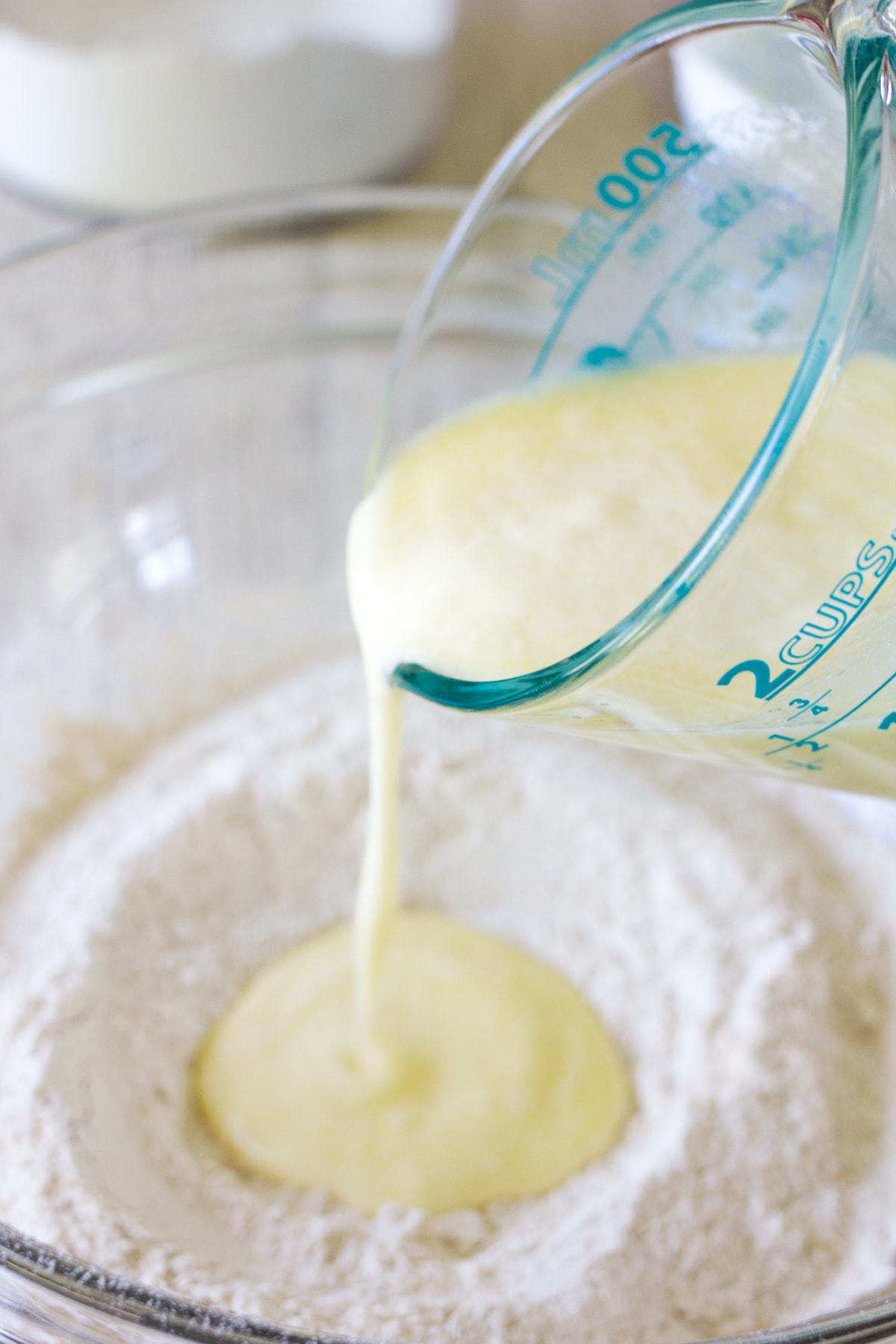 Creamy whole milk vanilla yogurt gives these pancakes flavor as well as a richness similar to buttermilk. I started adding yogurt to the pancakes I was making my twins to add in good healthy fats and protein and discovered just how delicious that made them! I don't think I'll ever go back.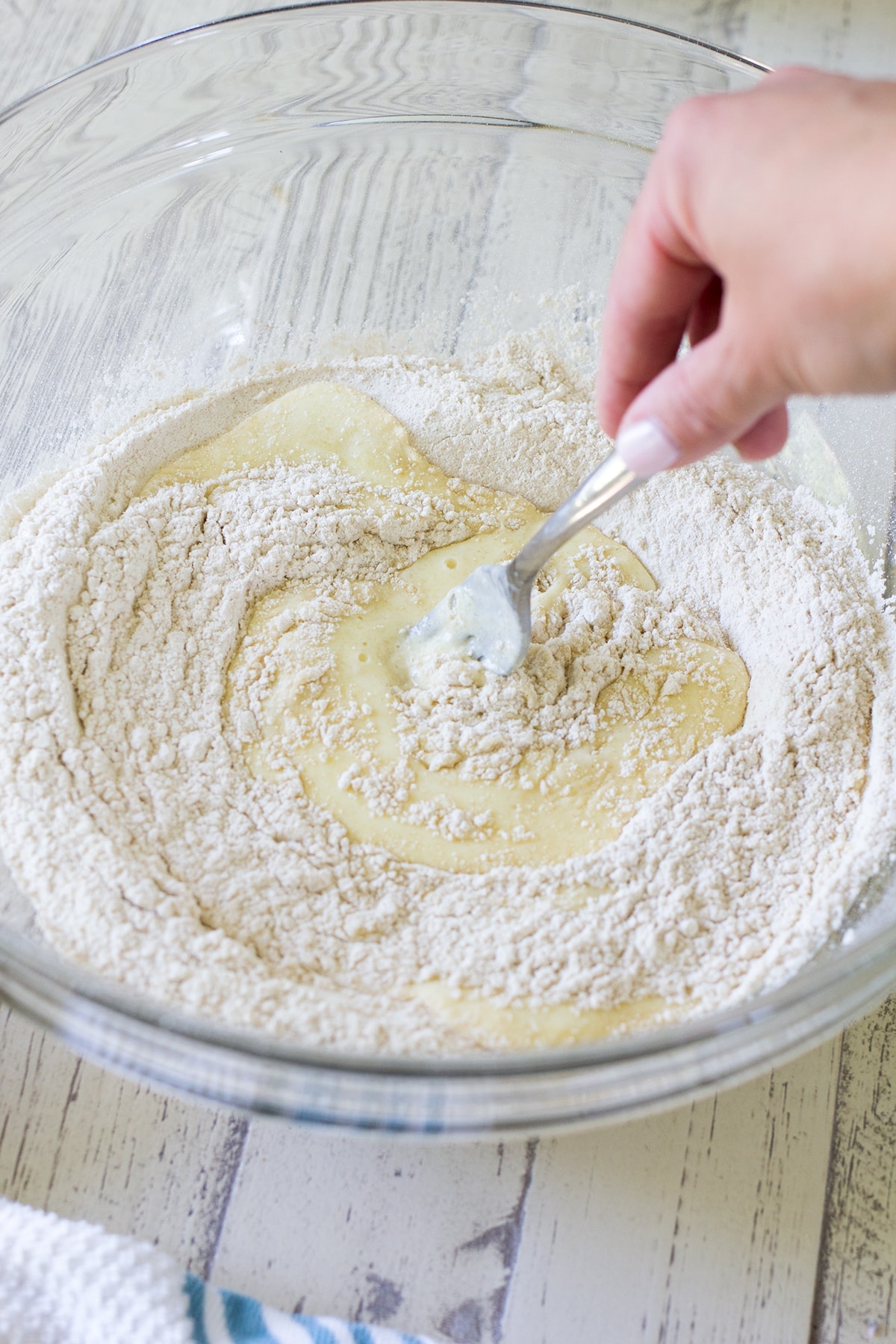 Use a fork to gently mix together the dry and wet. Don't worry about the batter being smooth, a few small lumps are fine and it will keep you from over mixing.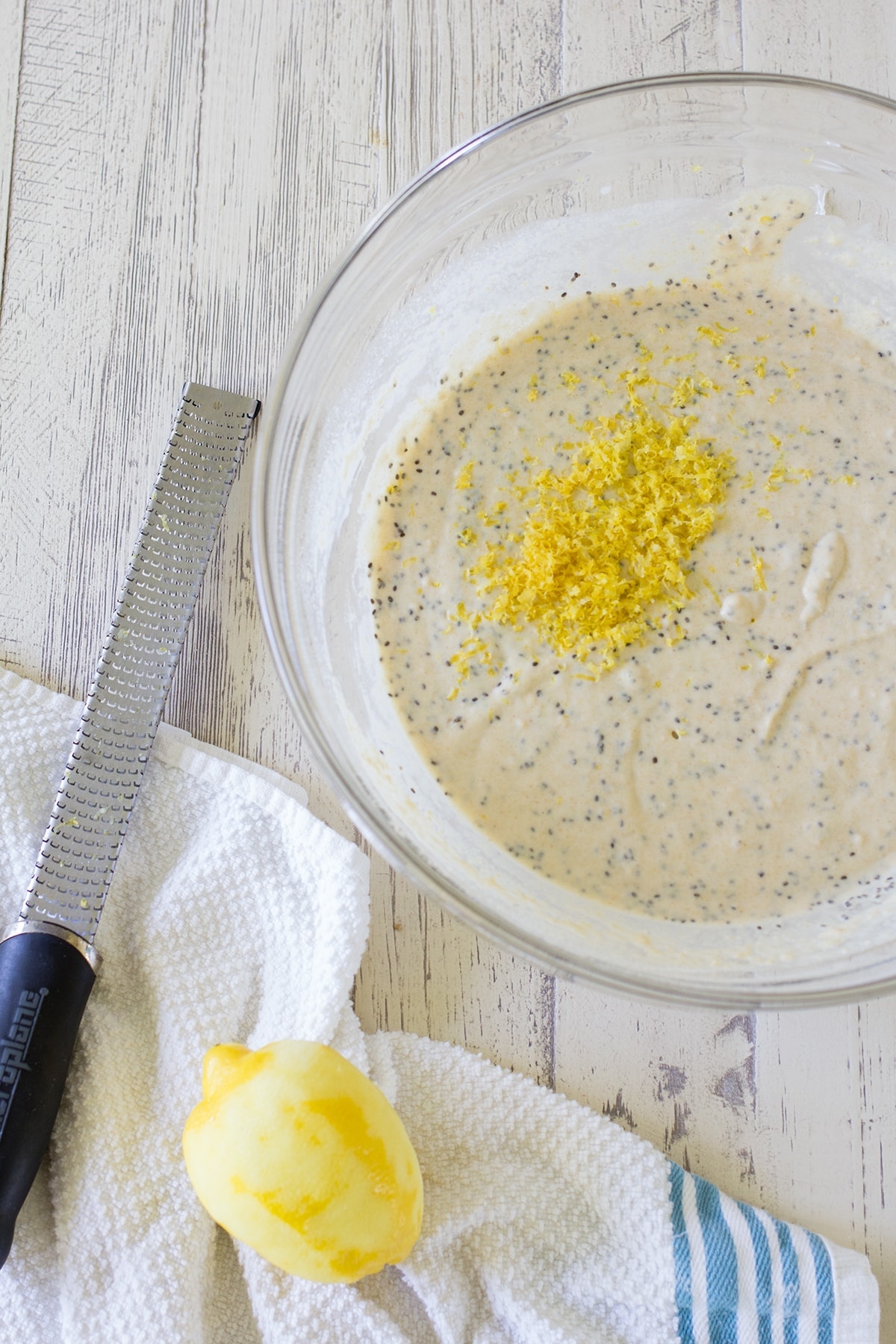 If you like the flavor of lemon poppy seed you will love this next step. Mix in the zest of two lemons and a chia seeds. The lemon zest gives these pancakes such a bright and delicious flavor, one lemon just wasn't enough.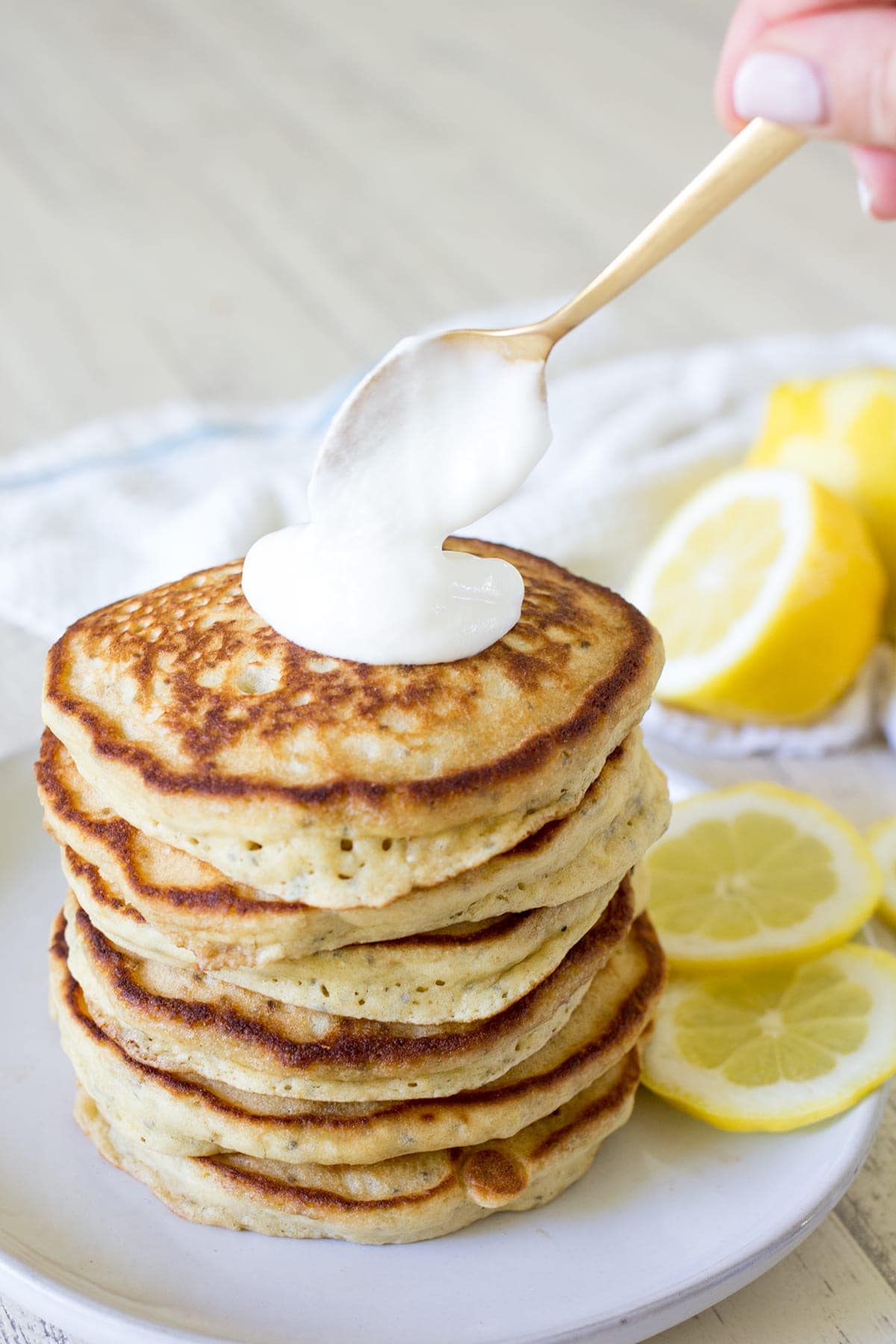 Butter a non-stick skillet and cook until golden on both sides and cooked through. The yogurt makes these pancakes brown a bit quicker than other pancakes so make sure to watch your heat and keep it low if they are getting too dark.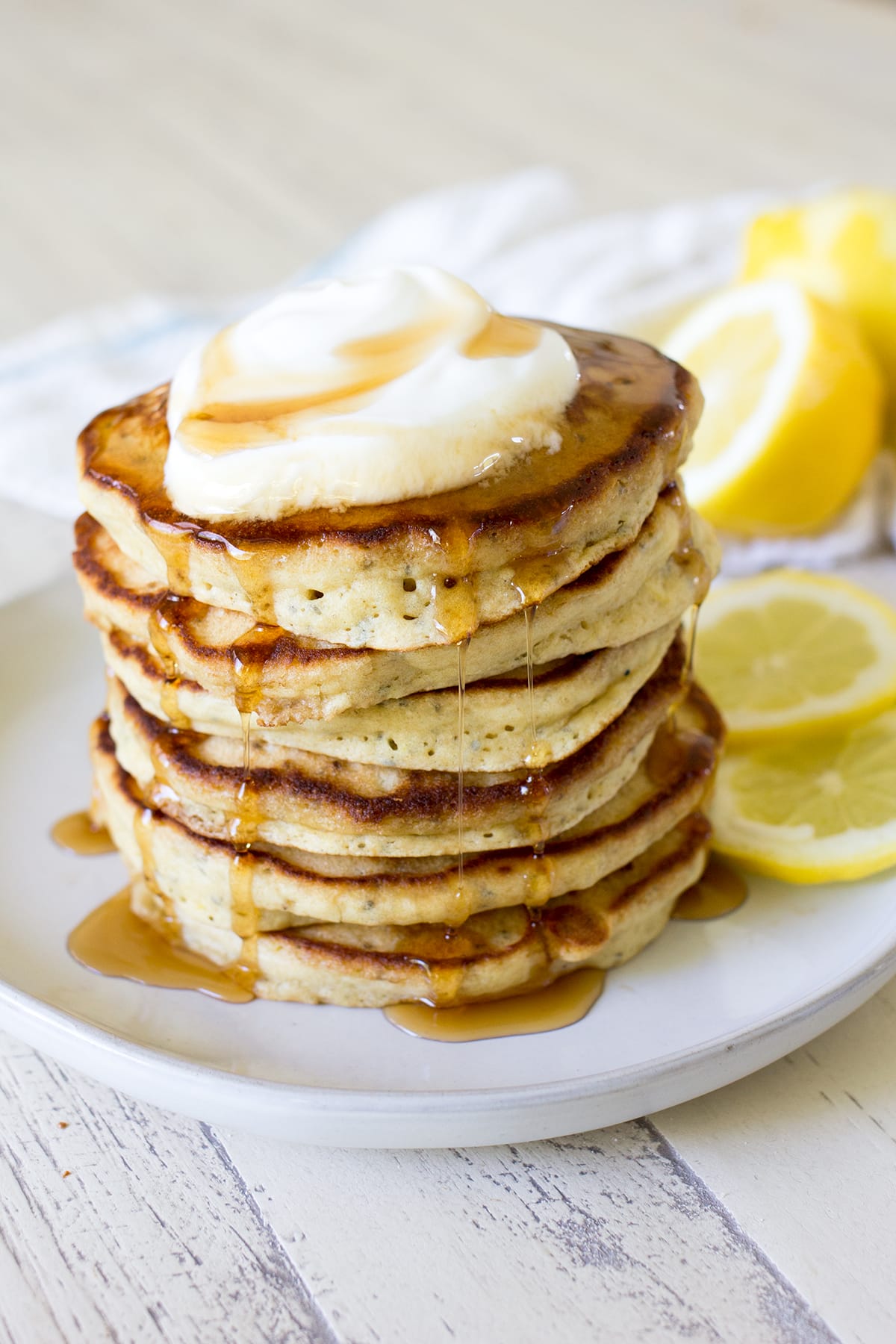 Top pancakes with a dollop of vanilla yogurt, a drizzle of maple syrup and a sprinkle of chia seeds if you like additional crunch. Anyone else ready to dig in? Your whole family will love these fluffy and delicious pancakes.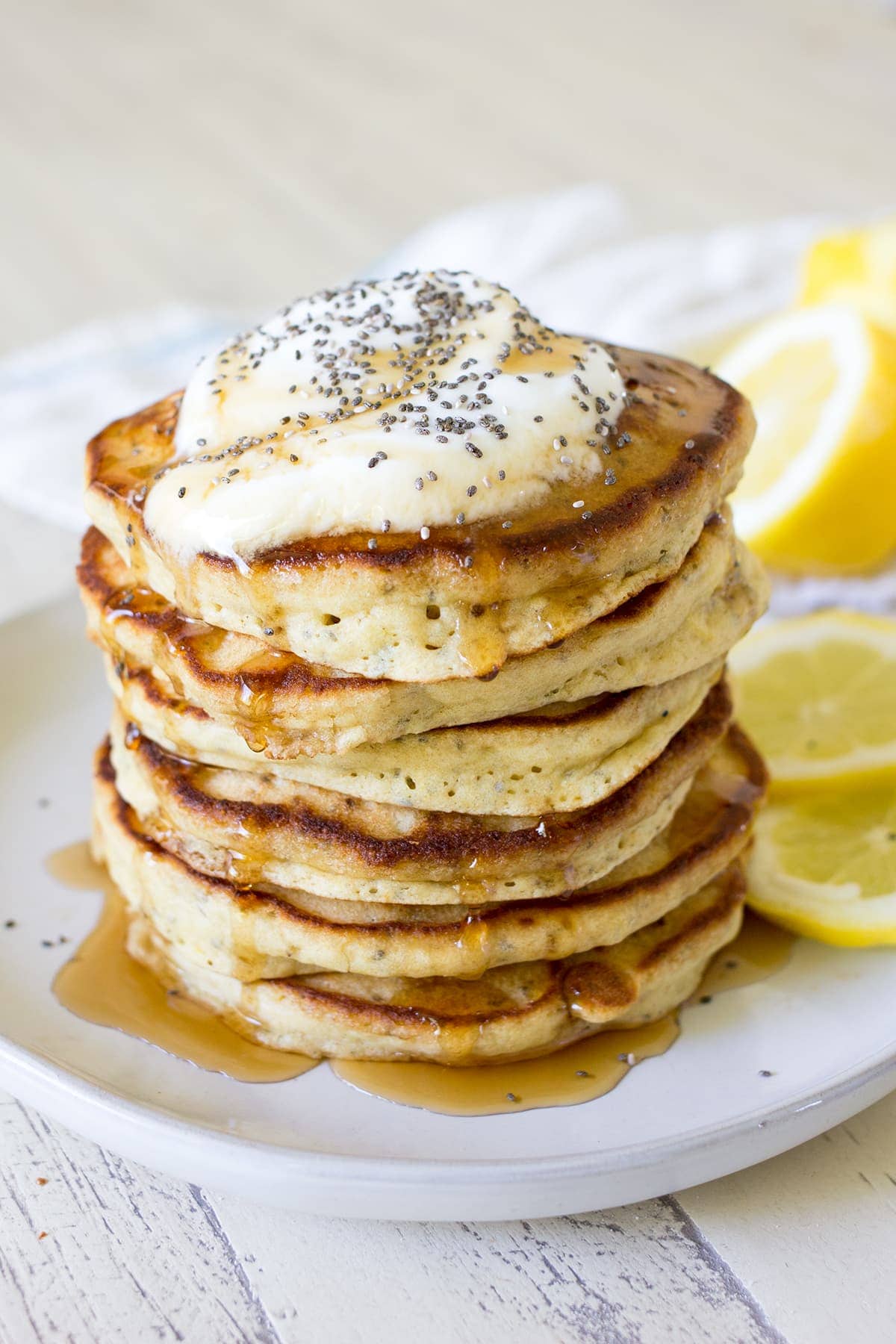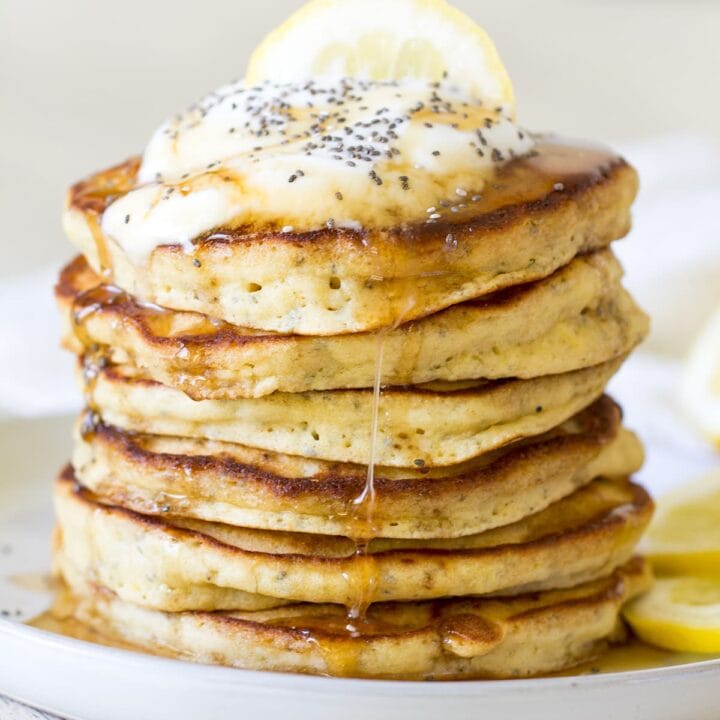 Lemon Chia Yogurt Pancakes
Light and fluffy lemon yogurt pancakes with chia seeds and lemon zest.
Ingredients
1 cup white whole wheat flour (I use King Arthur flour)
1 cup all-purpose flour
2 teaspoons baking powder
½ teaspoon baking soda
1 Tablespoon sugar
½ teaspoon salt
½ cup whole milk vanilla yogurt
1 ½ - 2 cups whole milk (start with 1 ½)
1 egg
3 Tablespoons melted salted butter
1 Tablespoon chia seeds
zest of two lemons
butter- for the pan and for serving
real maple syrup- for serving
Instructions
Preheat oven to 200 degrees and have a baking sheet or heatproof platter ready to keep cooked pancakes warm in the oven.
In a large bowl sift together the whole wheat flour, all purpose flour, baking powder, baking soda, sugar and salt.
In a separate bowl beat together vanilla, 1 ½ cups whole milk, egg and melted butter.
Pour wet ingredients into dry slowly while mixing with a fork. Do not over-mix, small lumps are ok!
Fold in chia seeds and lemon zest just until mixed in.
Note: The chia seeds can thicken the batter, if it gets too thick you can mix in the remaining ½ cup of milk you have reserved.
Heat a non-stick pan or griddle over medium heat. Butter generously and add in ⅓ cup of batter at a time making sure not to overcrowd the pan. That will make them more difficult to flip!
Cook until puffed and golden on the bottom before flipping over. The center should be cooked through.
Serve warm with more butter, a dollop of vanilla yogurt on top, a drizzle of real maple syrup and a sprinkle of chia seeds.