Apple Cinnamon Streusel Muffins are sweet spiced and moist muffins filled with chunks of diced apple and topped with a crunchy cinnamon streusel crumble. If you love the flavors of apple and cinnamon you will adore these sweet muffins.
Apple Cinnamon Streusel Muffins
In this house, we love to bake muffins! From Blueberry Crumb Muffins to Apple Cheddar Minis, the twins are always eager to help with muffin baking. These Apple Cinnamon muffins are a twist on my Blueberry Muffins with the same streusel topping and a similar batter with the addition of sour cream for added moisture and plenty of cinnamon and nutmeg.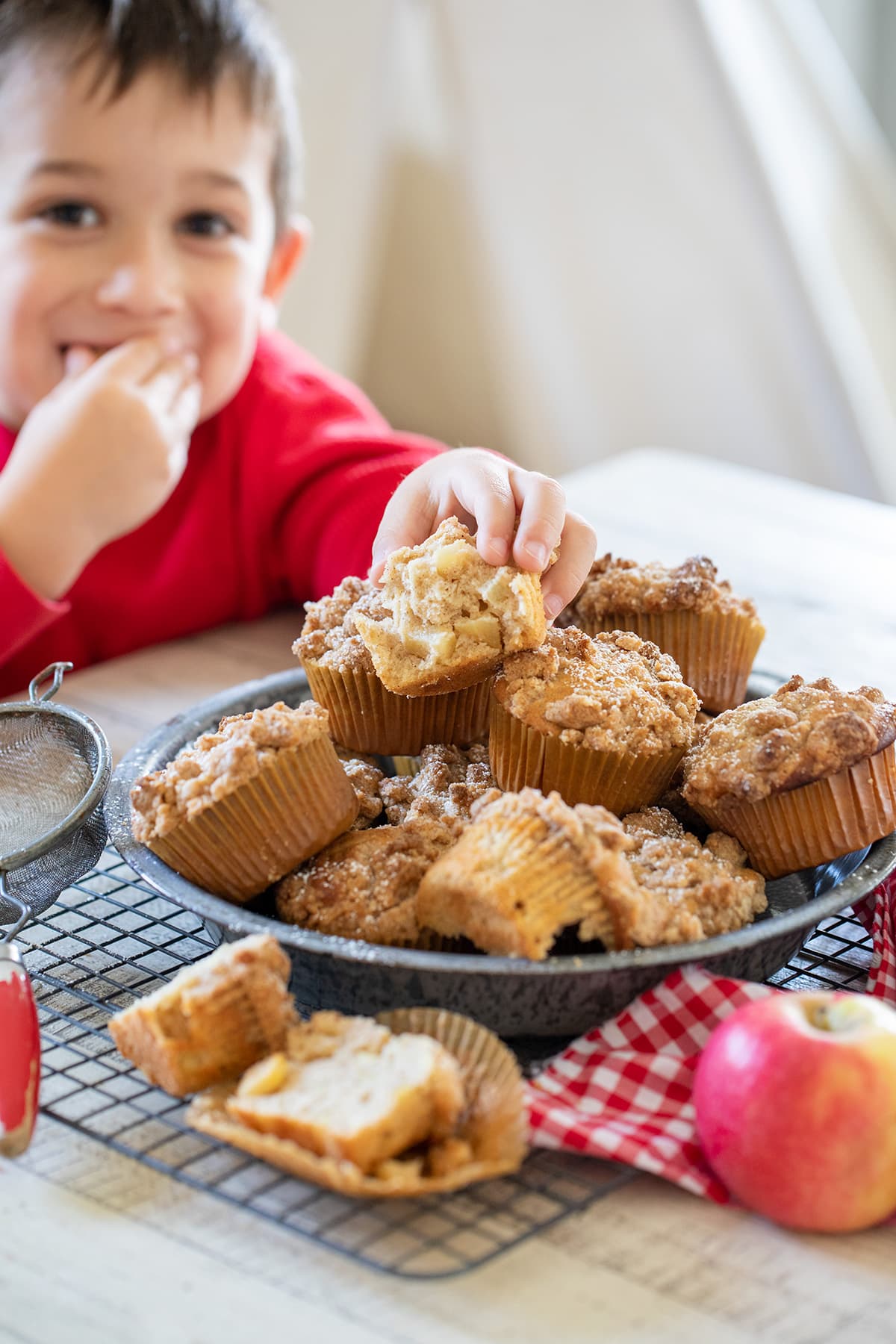 The Secret to Moist Muffins
I believe that the secret to moist muffins is adding sour cream and using fresh fruit. Both of these add so much moisture and flavor to muffins! Sour Cream is also the secret ingredient in my favorite Banana Bread recipe which stays moist for days...far longer than it actually lasts in my house.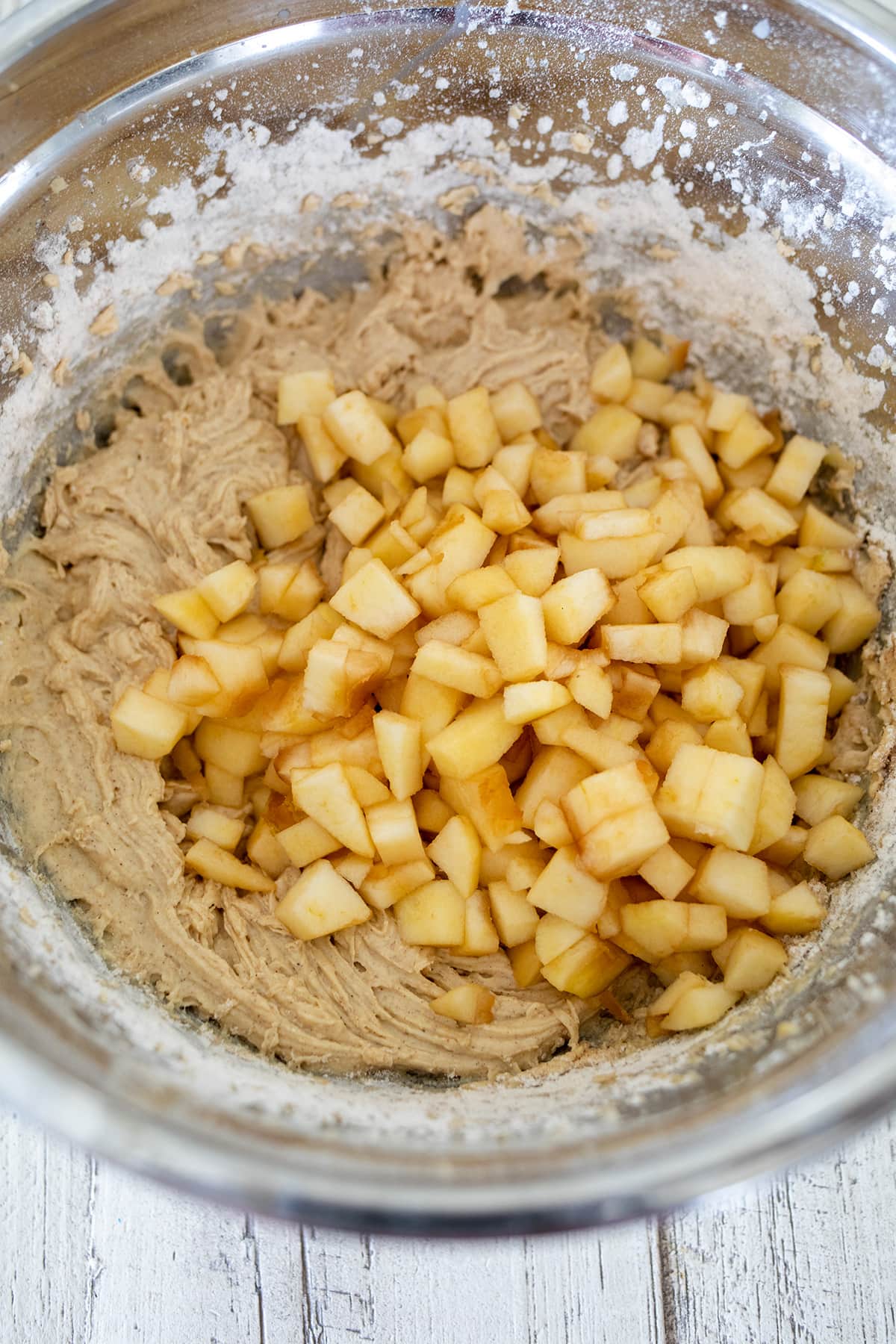 Ingredients Needed for Apple Muffins
Butter - I have always loved Land-O-Lakes unsalted butter for any baking I do.
Sugar - I added a mix of brown and white sugar to these muffins.
Eggs - I always use Large Eggs for my baking but X-Large also work!
Flour - good old fashioned all-purpose flour.
Sour Cream - full fat sour cream is the secret ingredients to the moistest muffins.
Milk - again, full fat whole milk or 2% work best.
Vanilla - real vanilla extract, you can't beat that flavor.
Baking Powder - this is your leavening agent.
Spices - salt, cinnamon and nutmeg are all you need!
Apples - I used honey crisp apples for this recipe but any sweet crunchy red apple will do.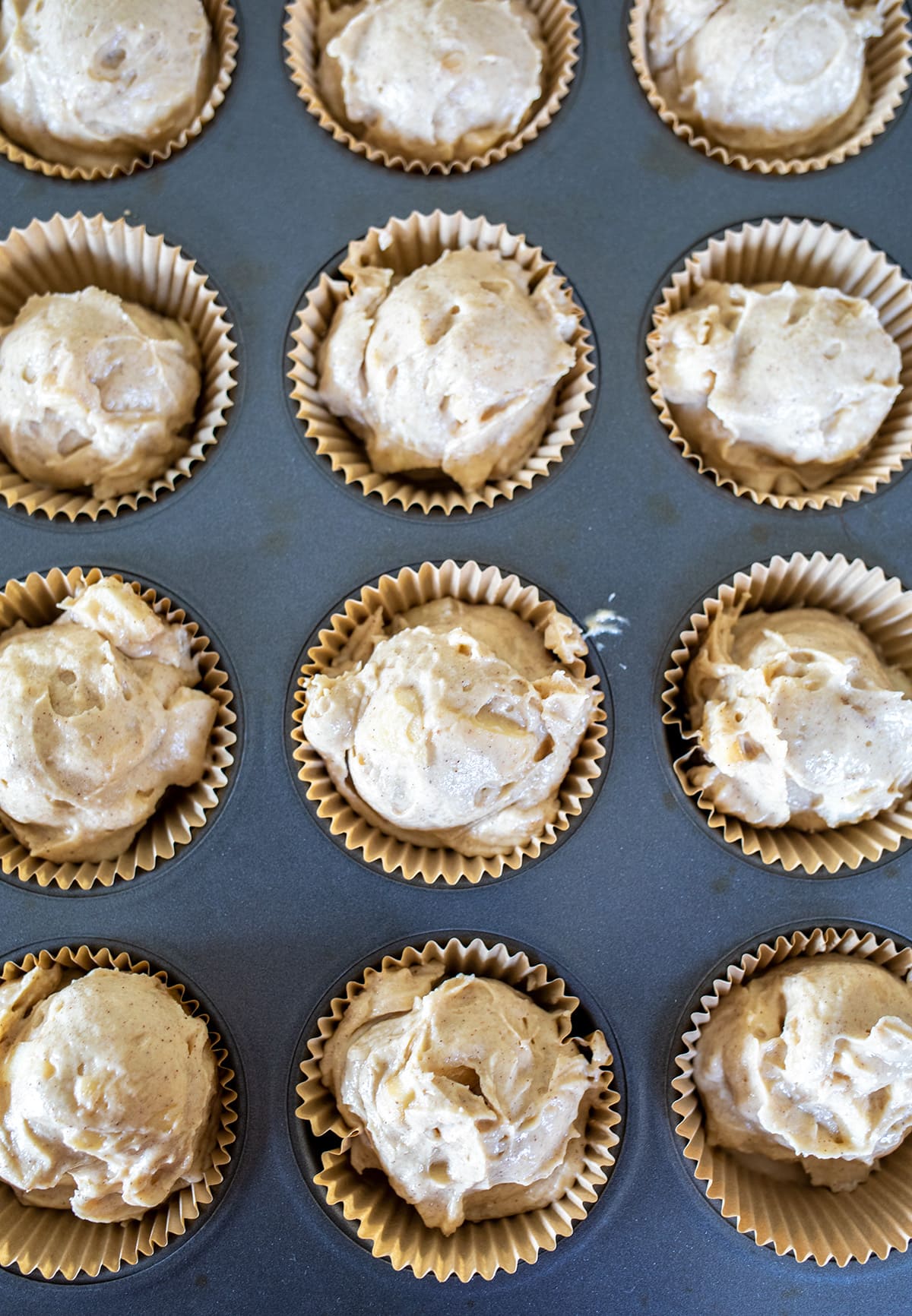 How to Make Apple Crumb Muffins
Preheat & Line - I always like to line my muffin tins so that I avoid any sticking issues however if you don't have liners you can grease your pan well.
Prep Apples - core, peel, slice and then dice your apples small.
Cream - in a mixer or with a hand mixer, cream together butter and sugar, add eggs and vanilla and set aside.
Dry - Whisk together dry ingredients: flour, baking powder, salt, and spices.
Alternate - alternate dry ingredients with milk and sour cream. Mix together until combined.
Apples - fold in the apples & scoop into prepared pan. I use an ice cream scoop for this!
Streusel - make the streusel topping and top each muffin generously with the mixture before baking.
Bake, cool, eat, enjoy!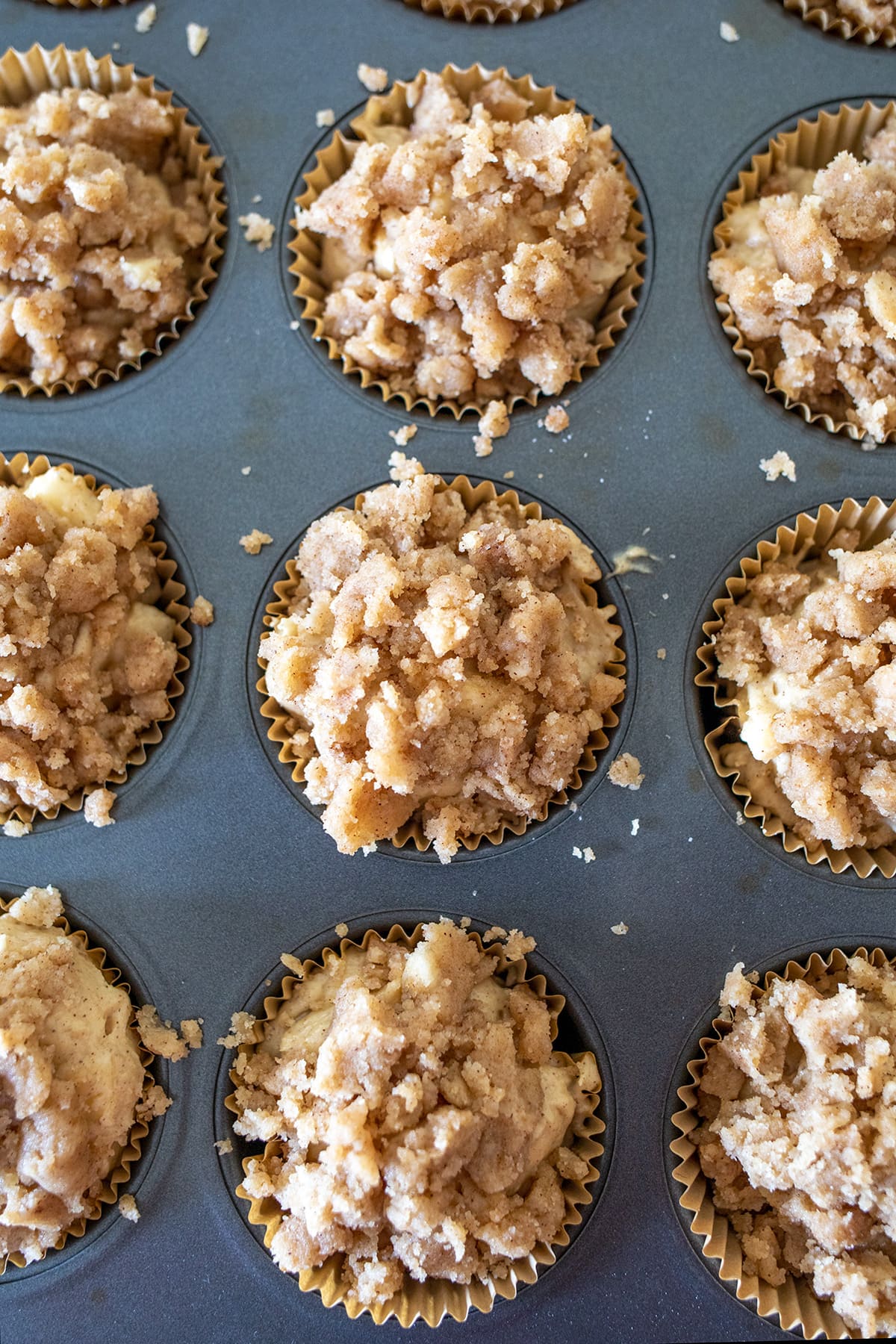 What is Streusel and How Do you Make it?
Isn't streusel such a fun word? Streusel in baking is a crumbly topping made out of flour, butter, sugar and cinnamon. It's great for topping muffins and even banana or pumpkin bread! You can take this streusel topping recipe and use it on just about any quick bread or muffin. When streusel bakes it becomes a crispy, crunchy, delicious sweet topping.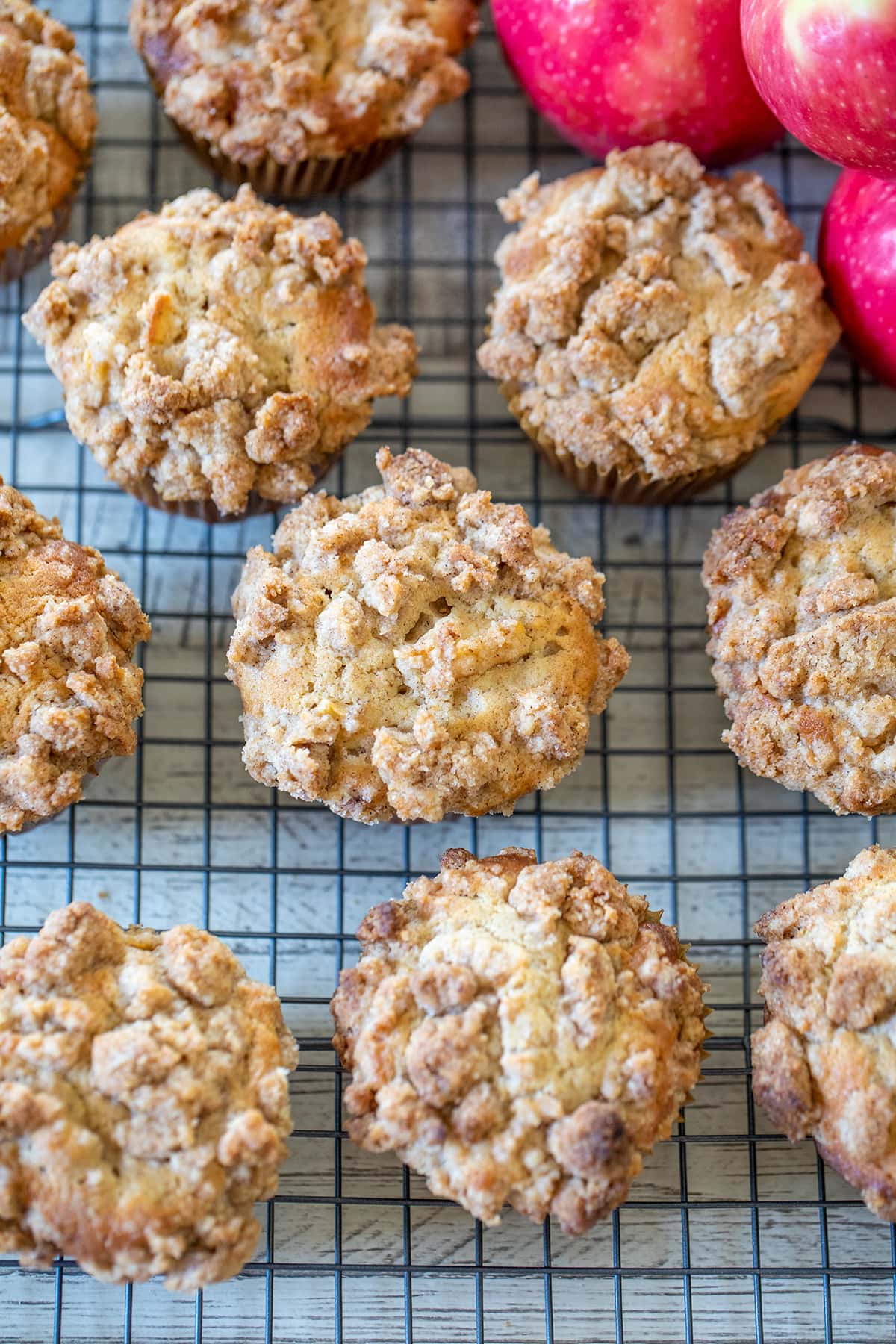 If you are looking for a recipe to make your entire house smell like a delicious fall day, this is the recipe to try. I baked these muffins with the twins in the afternoon and later when John walked in the door, the first thing to come out of his mouth was, "oh my gosh it smells good in here!" Mission accomplished.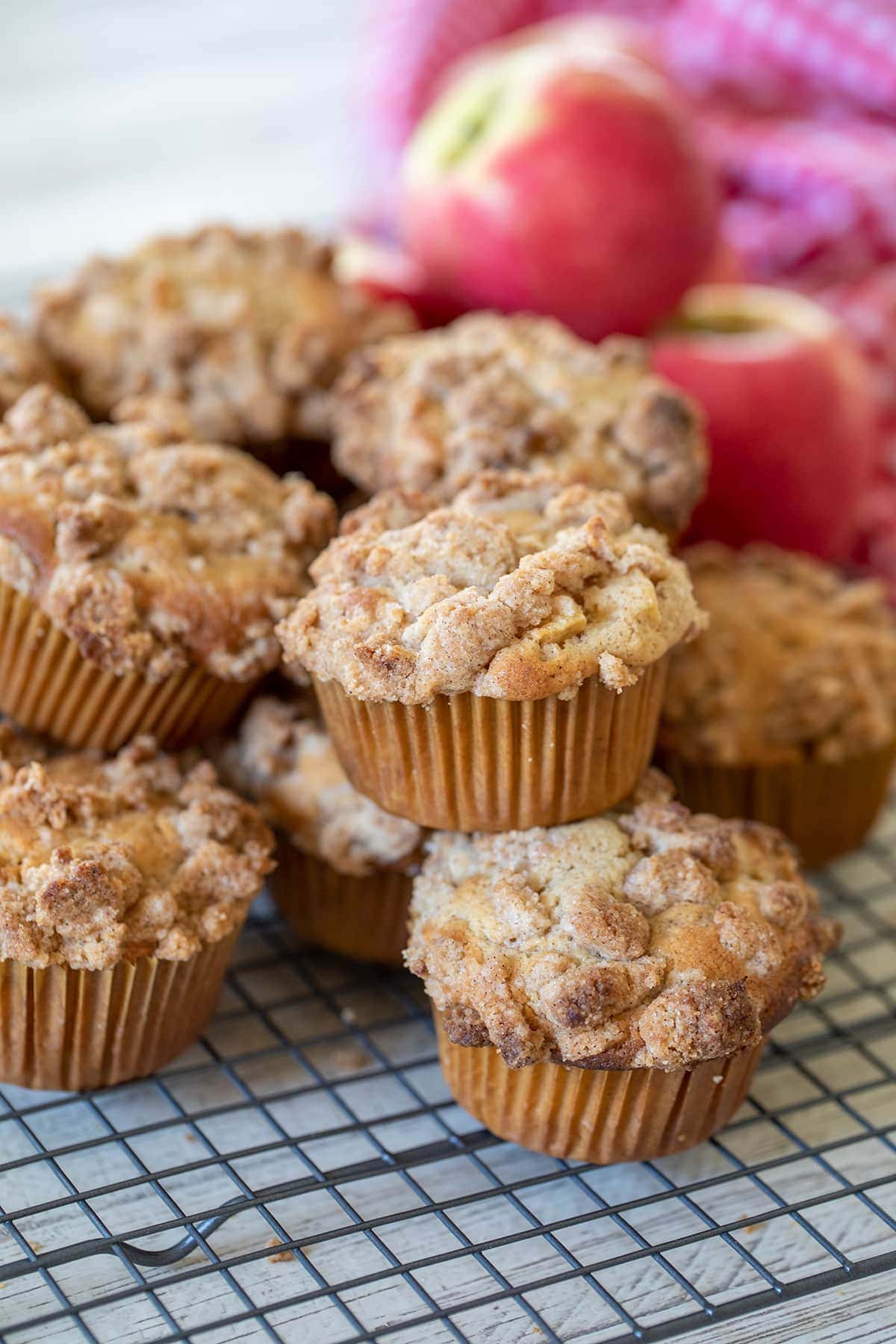 If you are feeling a little extra you could finish these muffins with a light dusting of powdered sugar or a drizzle of vanilla glaze. You can find the vanilla glaze recipe in my Cherry Crumb Muffin Recipe.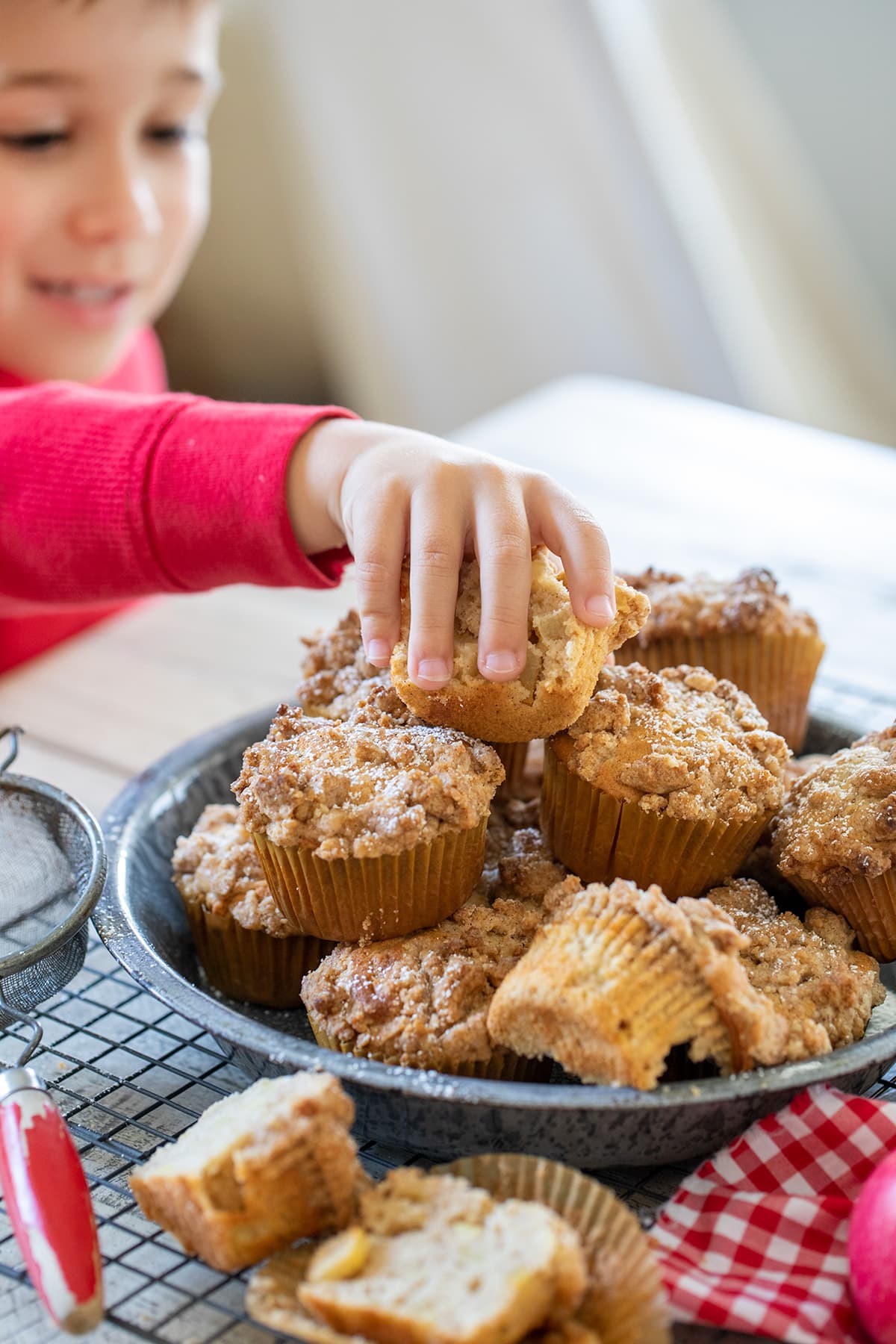 The hardest thing about baking with kids in the house is keeping them away long enough for the goods to cool. Once they were on the cooling rack it didn't take long before the twins were sneaking tastes of the streusel and begging me eat one. I can't blame them. Once you smell these muffins you will have the same issue with patience.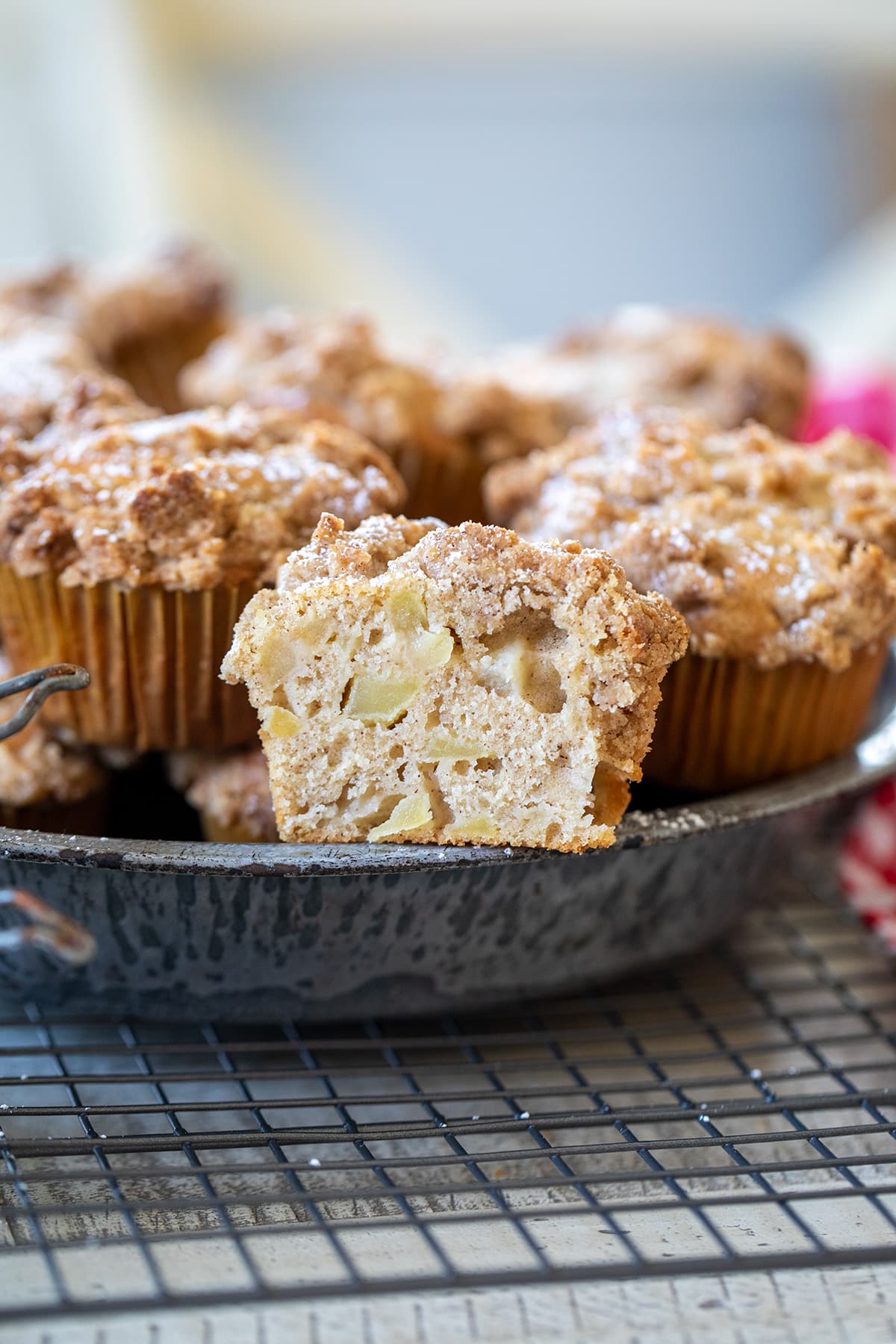 Cutting these muffins open is a treat in and of itself! Chunks of soft baked apple give these muffins so much moisture, flavor and added texture. It the dreaminess of apple pie baked right into a muffin and because of it's name, completely acceptable to eat for breakfast.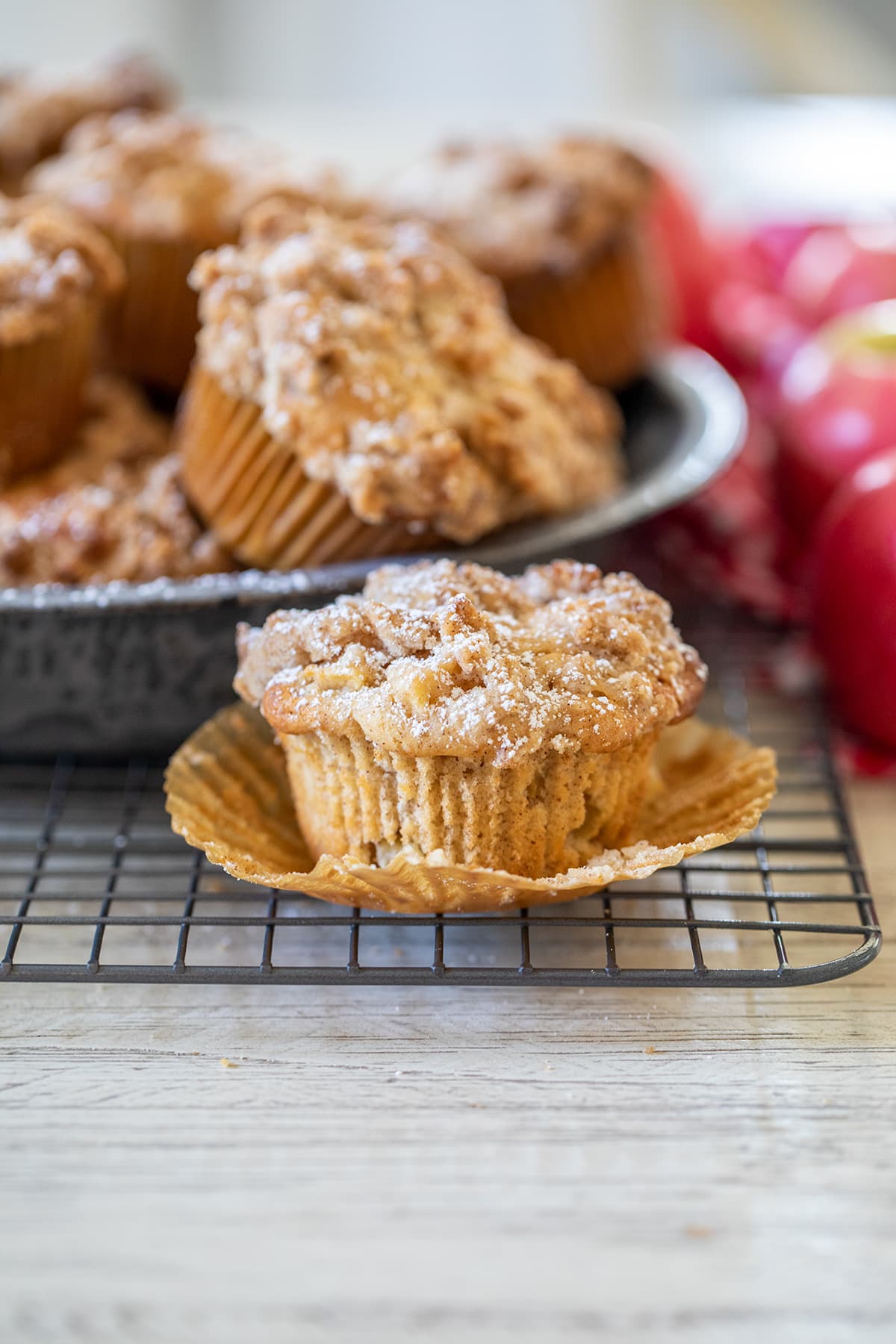 More Fall Baking Recipes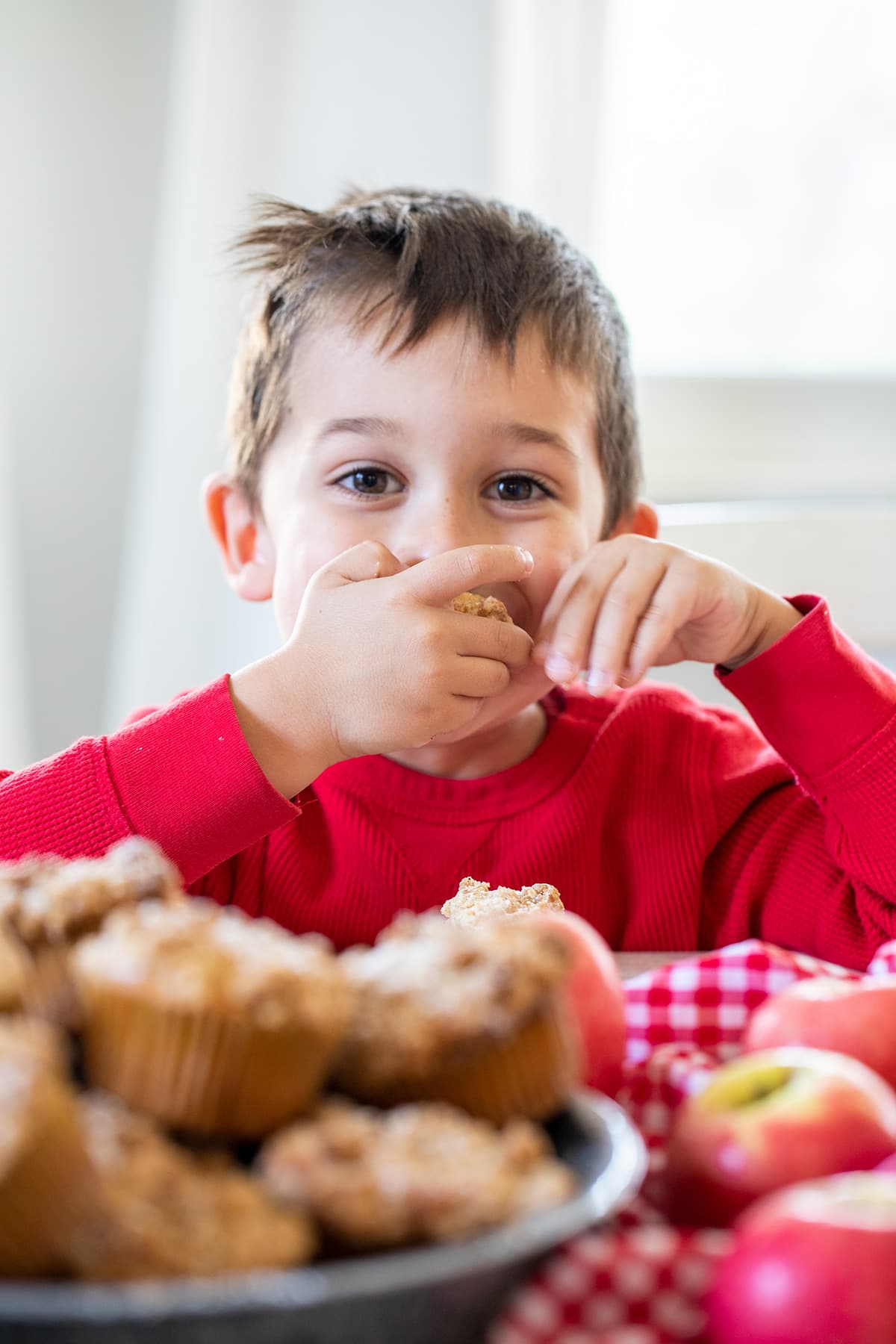 I hope you and your family will enjoy these muffins as much as we do! If you make them, please come back and leave a comment and a rating in the box below. Happy Baking!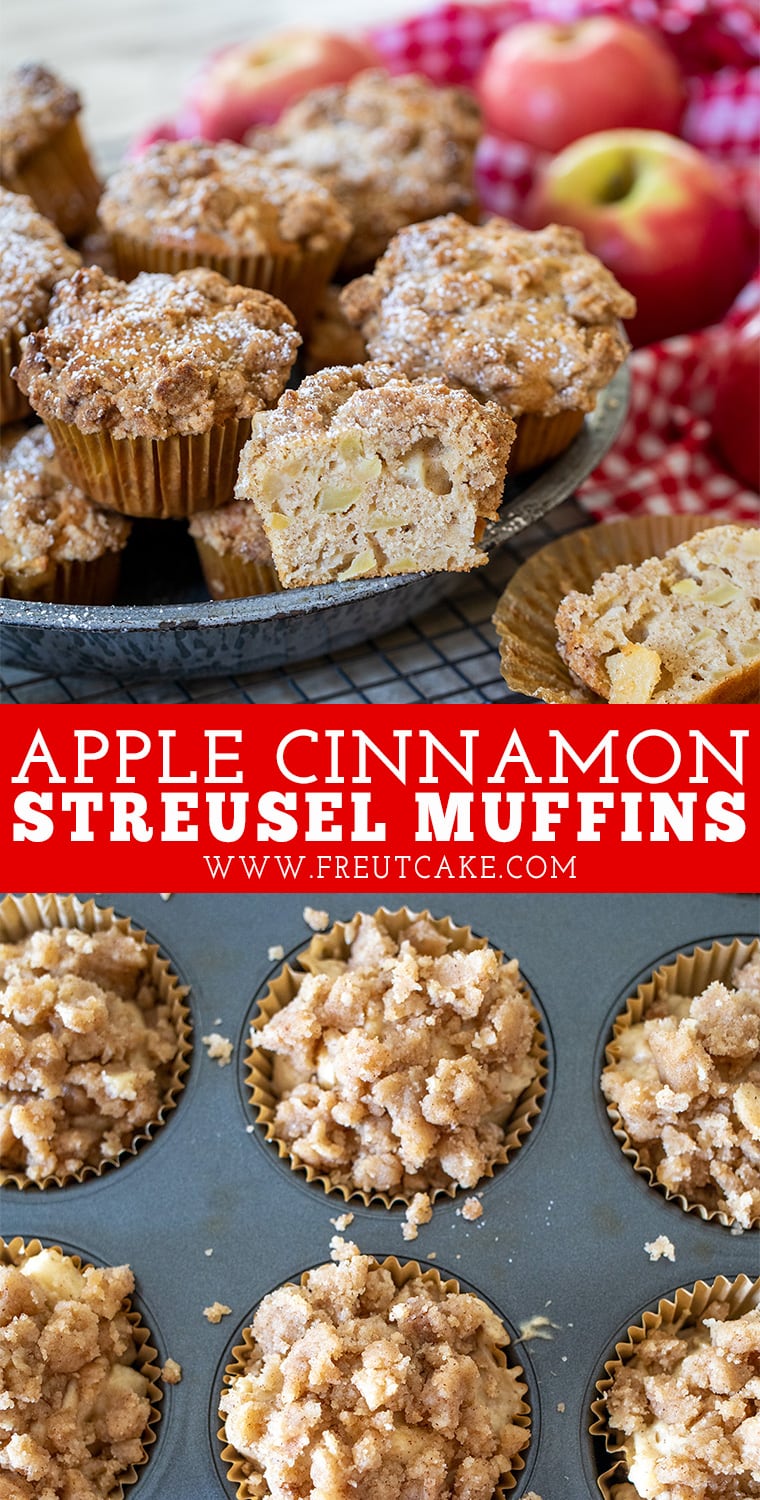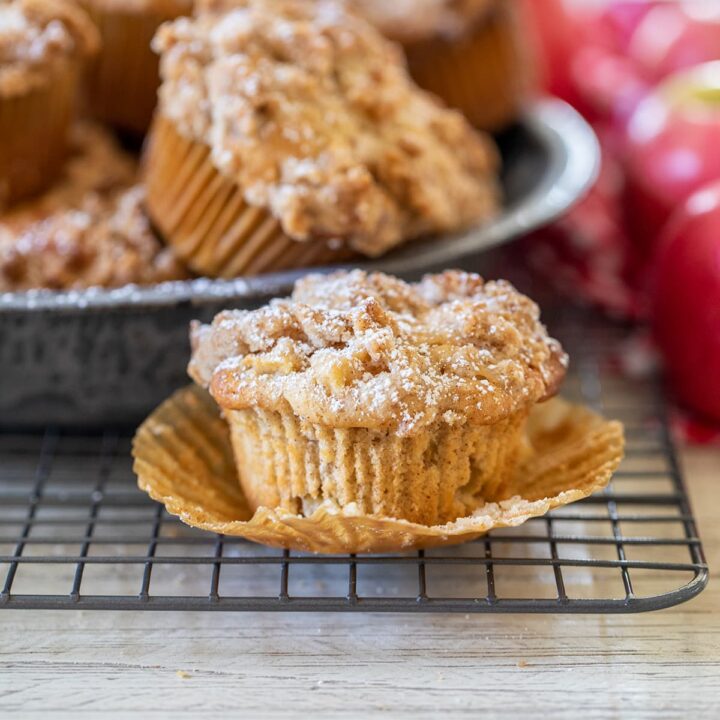 Apple Cinnamon Streusel Muffins
Additional Time:
10 minutes
Sweet cinnamon sour cream muffins studded with fresh chunks of apple and topped with a buttery cinnamon streusel crumb topping.
Ingredients
½ cup unsalted butter, at room temperature
½ cup granulated sugar
¼ cup light brown sugar
2 large eggs
2 teaspoons vanilla extract
2 cups all-purpose flour
2 teaspoons baking powder
½ teaspoon salt
1 teaspoon cinnamon
¼ teaspoon nutmeg
½ cup whole milk
¼ cup sour cream
2 cups small diced apple, cored and peeled
Crumble Topping:
1 cup all-purpose flour
⅔ cup granulated sugar
1 stick salted butter, melted
1 teaspoon cinnamon
pinch of nutmeg
Instructions
Preheat your oven to 375°F. Line 14 muffin cups with paper liners and set aside. You will need two pans or make two batches.
In a large mixing bowl, beat together the butter and sugar until they're light and fluffy. Add the eggs one at a time, beating well after each addition.
Add the vanilla and stir to combine.
In a separate bowl, whisk together the flour, baking powder, salt, cinnamon and nutmeg.
Add half of the dry ingredients to the butter mixture, and beat well.
Stir in the milk, and sour cream and then the remaining dry ingredients.
Fold in the chopped apples.
Fill the muffin cups ¾ to almost full, using all of the batter. It will look like a lot of batter...see photos in the blog post for an example.
Make the Streusel: In a bowl combine flour, sugar, melted butter and cinnamon and mix together with a fork. Divide between the muffin cups piling the crumble on top of each muffin. You may have a little bit left over. See photo in post.
Bake the muffins for 20-25 minutes, until they're very light golden brown. Note: Check after 20 minutes and bake longer if needed. Muffins will be done when a toothpick inserted in the center comes out clean.
Carefully remove muffins to a cooling rack to cool. I use a large spoon to do this.
Serve warm or room temperature. Muffins can be stored at room temperature in a sealed container.
Nutrition Information:
Yield:

14
Serving Size:

1
Amount Per Serving:
Calories:

326
Total Fat:

15g
Saturated Fat:

9g
Trans Fat:

0g
Unsaturated Fat:

5g
Cholesterol:

65mg
Sodium:

215mg
Carbohydrates:

44g
Fiber:

1g
Sugar:

22g
Protein:

4g