If you missed this post last week, I am starting a new series for summer full of bright ideas for healthy eating and a few of my favorite ways to balance out the sweets. Today I am starting off with a satisfying breakfast idea that will fill you up and make you feel good. Are you a breakfast eater? I find that on days I spend a little more time preparing myself a healthy breakfast, I eat better all day. Not only does eating breakfast give your metabolism a boost, it also gives you the chance to treat yourself to this yummy recipe for Quinoa Breakfast Cereal with Blueberries & Toasted Pecans!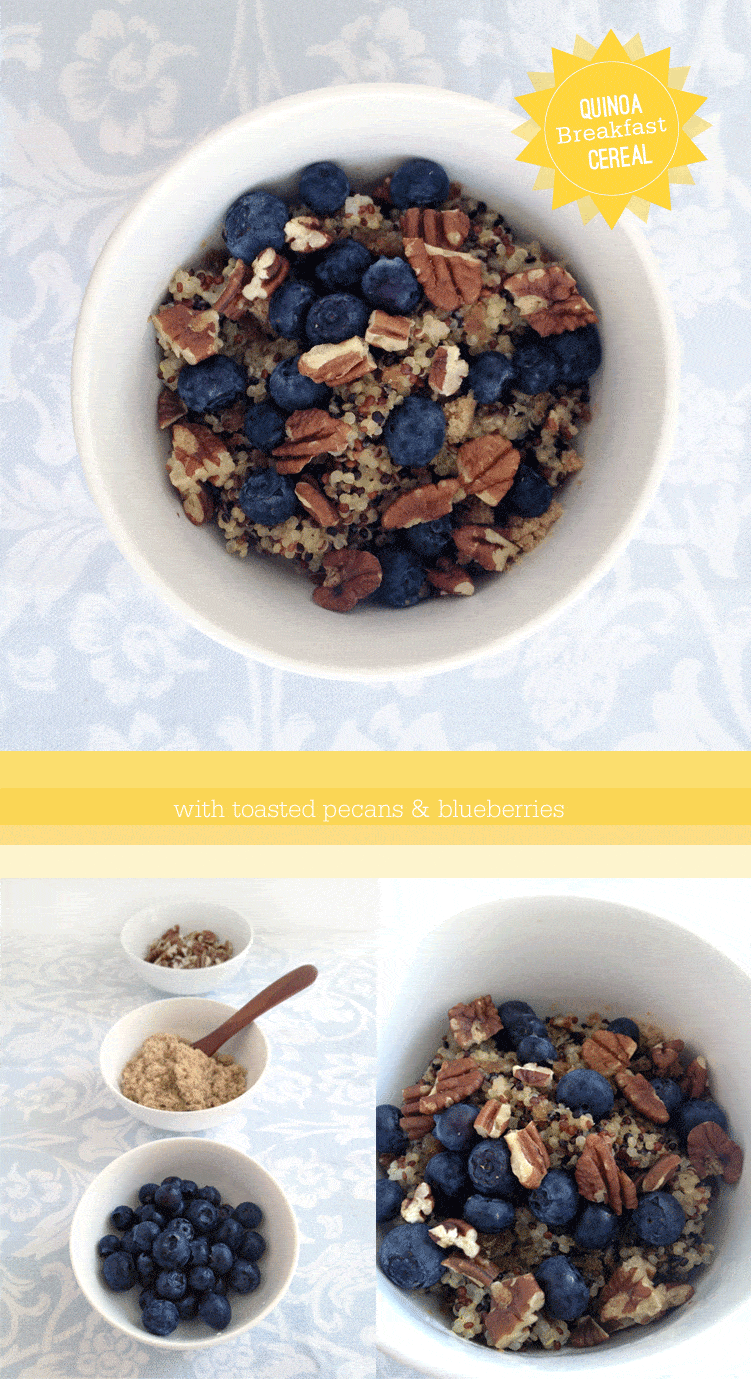 Quinoa Breakfast Cereal- adapted from Martha Stewart
Serves 2

1 cup low-fat milk
1 cup water
1 cup quinoa, rinsed
2 tablespoons light-brown sugar, optional
⅛ teaspoon ground cinnamon
1 cup organic blueberries
¼ cup chopped raw pecans or walnuts
Directions
1. Combine milk and water and bring to a simmer (almost to a boil) in a small saucepan. Add quinoa, and return to a boil. Reduce heat to low, and simmer, covered, until three-quarters of the liquid has been absorbed, about 15 minutes.
2. Stir in sugar and cinnamon. Cook, covered, until almost all the milk has been absorbed, about 8 minutes. Serve topped with fresh blueberries and toasted pecans.
3. To toast pecans, place them in a dry pan over medium heat. Stir nuts occasionally. Nuts are done when they begin to smell toasted.

Quinoa (pronounced as KEEN-WAH)
A seed that is considered to be a whole grain food. Quinoa is rich in fiber, protein, essential amino acids and is naturally gluten free.
Organic Blueberries
Considered a superfood because they are high in antioxidants. They're also low in calories and add vitamin C, vitamin E and fiber to your daily diet.
Raw Nuts (I used pecans but walnuts or almonds are great as well)
Nuts have many health benefits and are a source of protein, fiber, monounsaturated fats, vitamins and minerals.
Nutrition Fact Sources: You can read more about quinoa here, blueberries here, and healthy nuts here.

* Please note: I am not a dietician. All statements about healthy eating are based on my own research and opinions. If you have questions or concerns I recommend doing your own research or asking your doctor. None of this information is intended for weight loss but rather for healthy living eating whole foods.