Can we all agree that it isn't Thanksgiving without mashed potatoes? Every year I make mashed potatoes the same way, with butter, cream cheese and either milk or half and half because it's the way my Mama makes em' and that makes it right!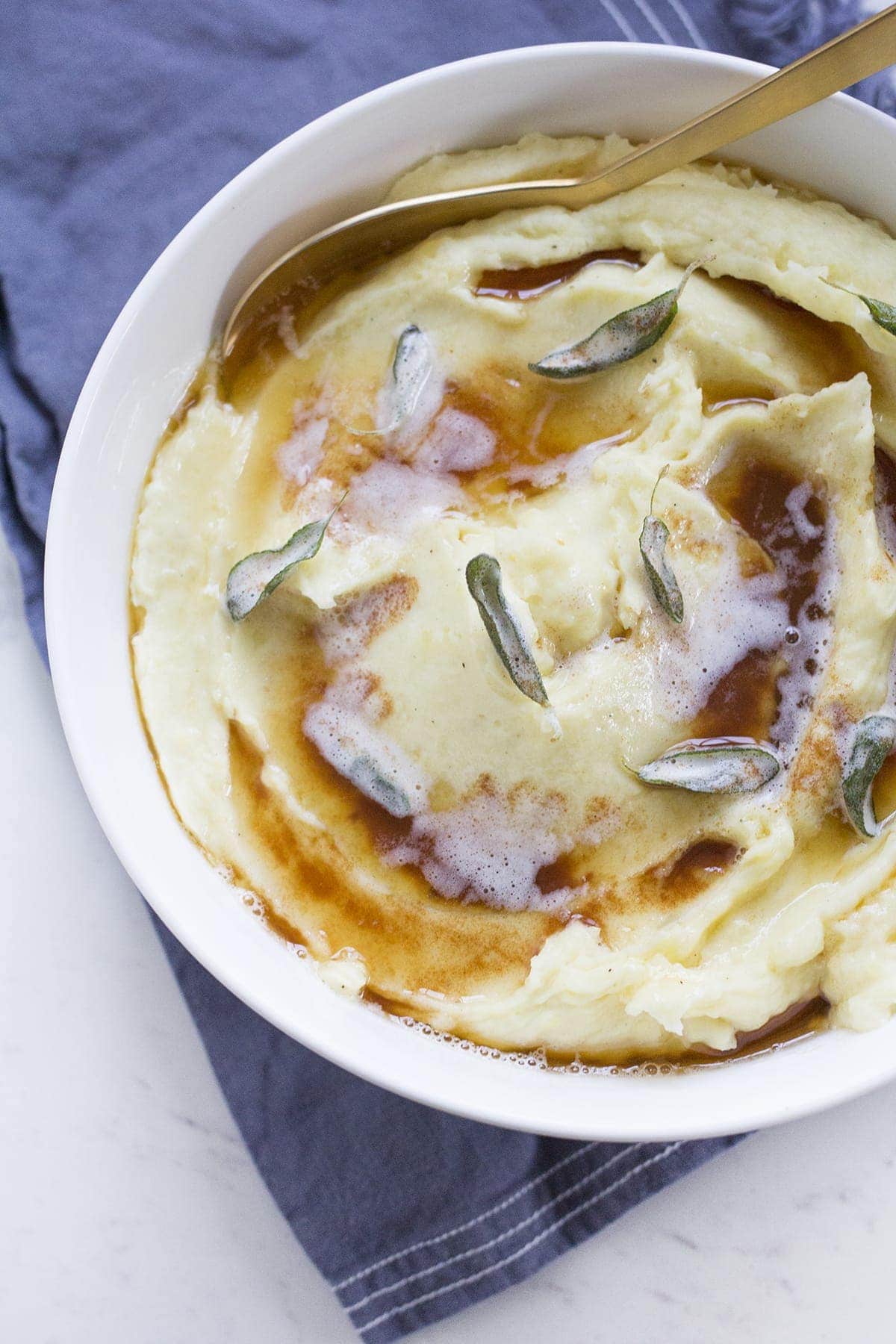 Ok, really it's because those three ingredients are like the trifecta of flavor and make for the creamiest most delicious spuds.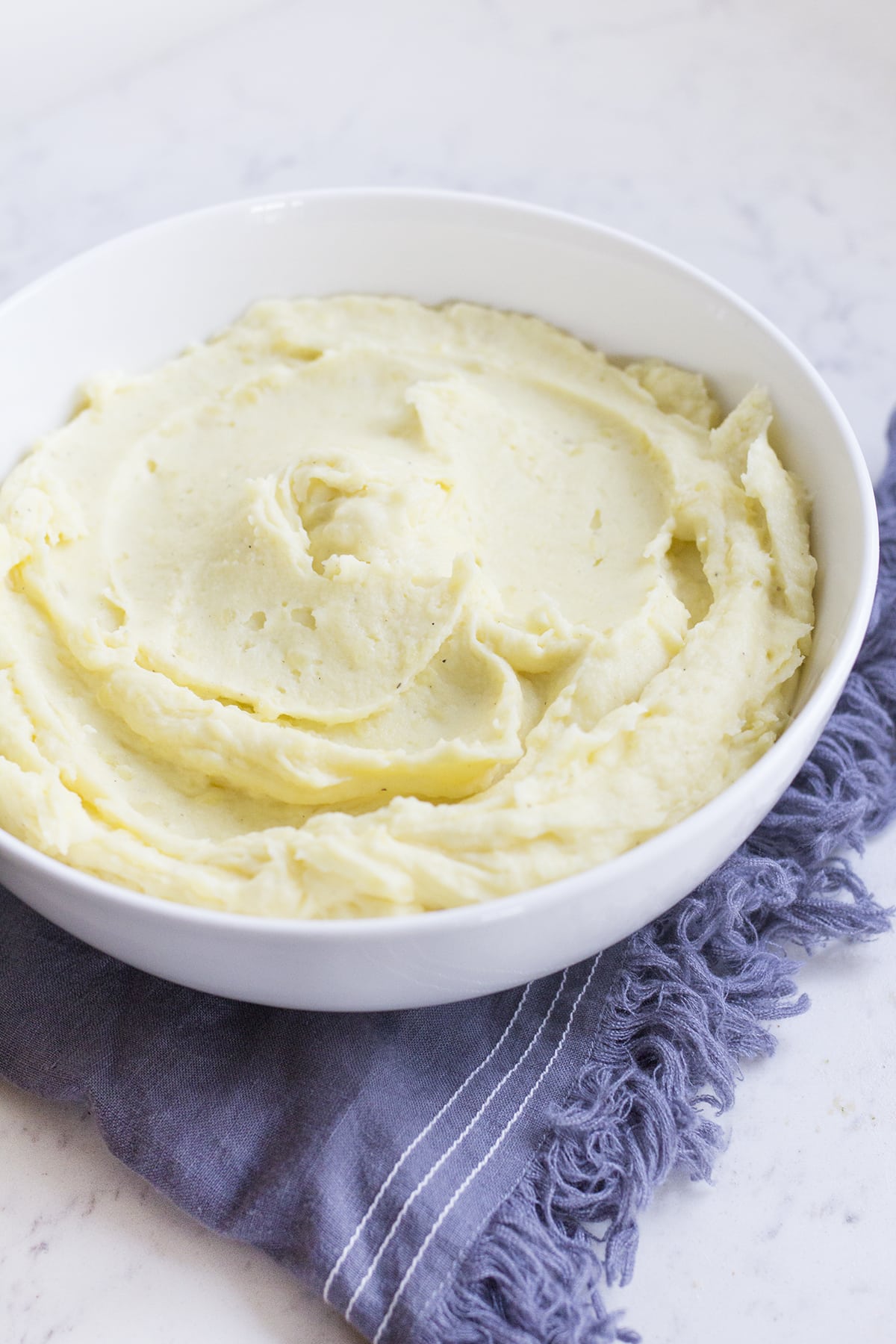 Well this year, I'm topping my taters with salty, nutty brown butter that's been cooked with sage. Pour that luscious brown butter and fried crispy little sage leaves all over the top of your steaming hot potatoes and you've got an all-star Thanksgiving side.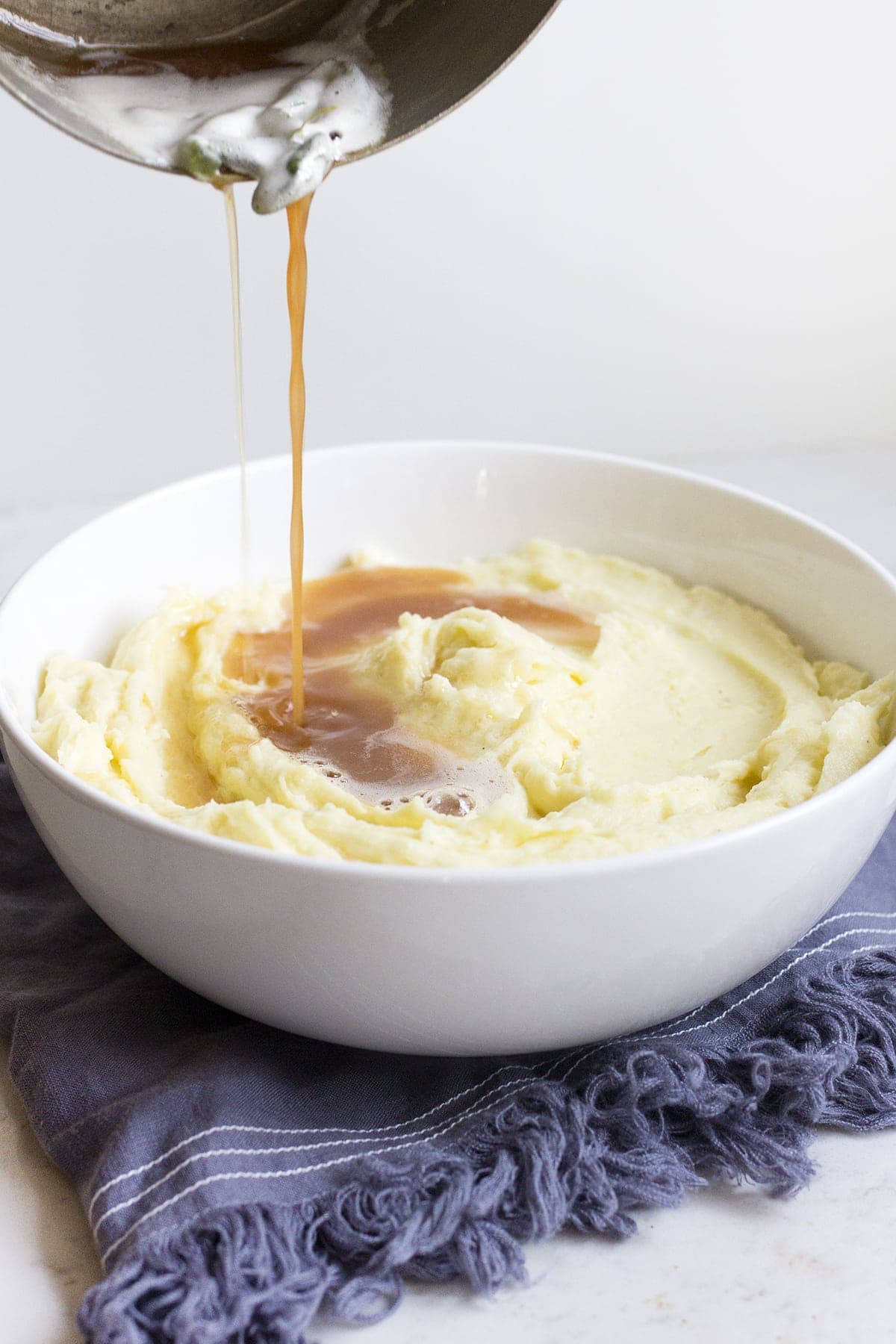 I mean seriously...no one is even going to notice the stuffing on their plate. Well, ok, that might be pushing it but these potatoes are the bus-iness!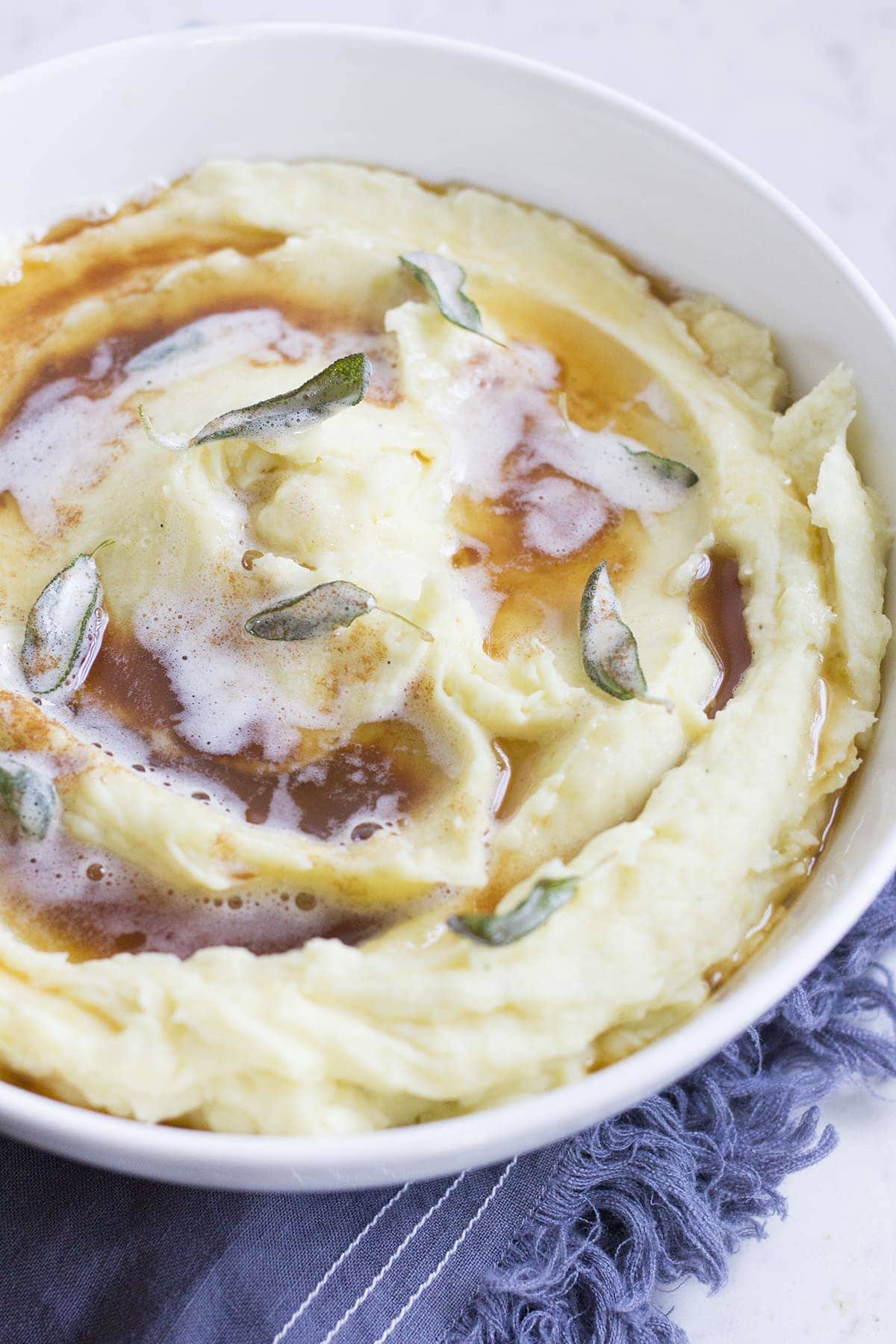 And now that we're on the subject of stuffing vs potatoes, who's side are you one? Get it, side? Like side-dish...har, har. Well anyway, leave me a comment letting me know how you feel about potaters, mashed potaters with brown butter that is! I'm dying to hear your thoughts, questions, burning Thanksgiving desires. Ok, but really, stuffing or mashed potatoes? Personally I'm a get-a-little-bit-of-both-on-my-spoon kind of gal. You?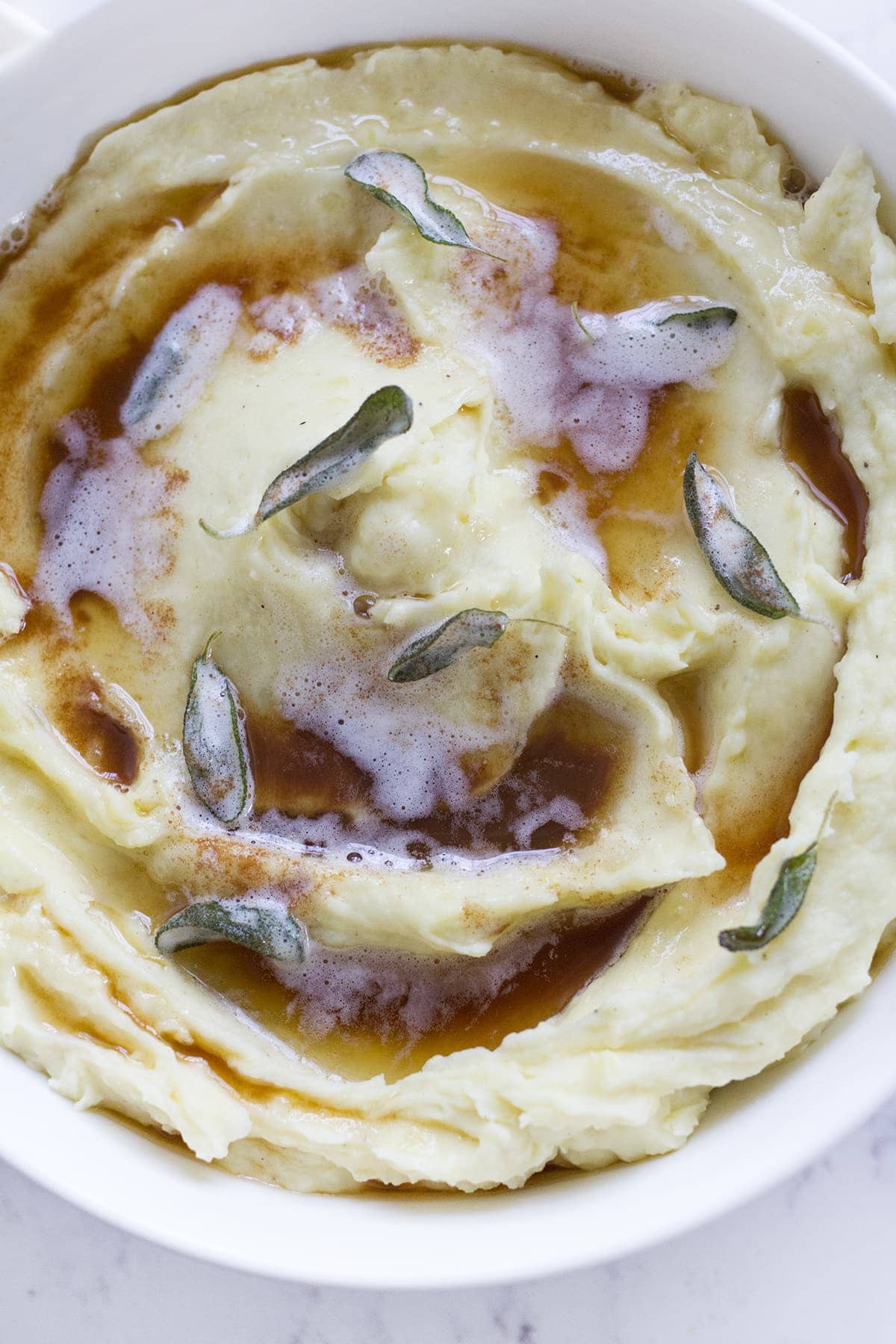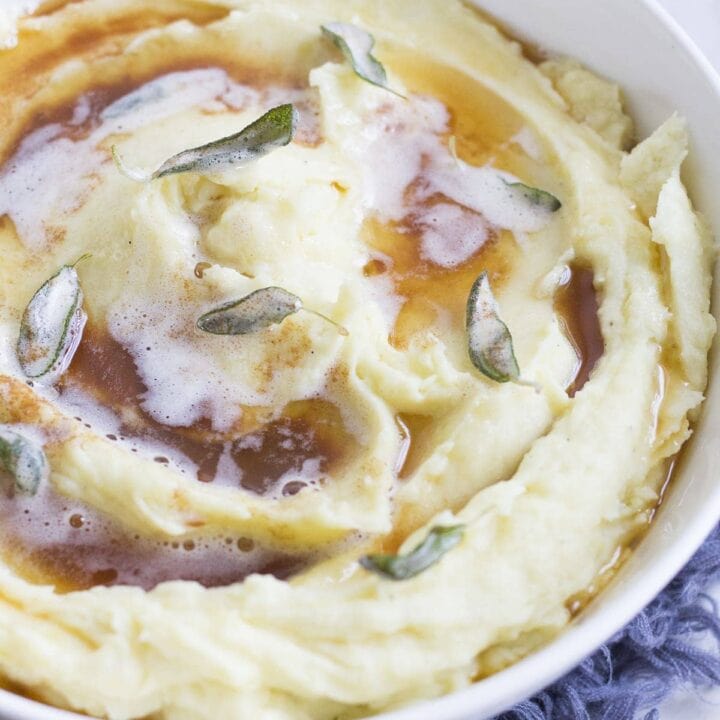 Brown Butter Mashed Potatoes
Creamy mashed potatoes topped with brown butter and fried crispy sage.
Ingredients
2.5 lbs. Yukon Gold Potatoes
1 stick salted butter, divided and softened
4 oz. cream cheese softened
¼ cup whole milk or half-and-half + more
7 fresh sage leaves
salt and pepper
Instructions
Fill a large pot with cold water and set aside.
Wash, peel and quarter potatoes and drop them into the cold water.
Place pot on the stove and bring to a boil over high heat.
Boil stirring occasionally about 30 minutes or until potatoes fall apart when poked with a fork.
Drain potatoes in a large colander and return potatoes to the pot. Return to the stove and place over low heat. Using a potato masher, mash potatoes over low heat until smooth.
After potatoes are mashed and dried out a bit, add butter, cream cheese, and milk and stir until creamy and well combined. Taste for seasoning and season with salt and pepper to taste. *Remember that you will be adding more salted butter on top so go easy on extra salt at this point.
Turn off the heat and cover to keep warm.
In a small sauce pan melt ½ cup salted butter over medium heat. Add in sage leaves and continue to cook swirling the pan over the flame until the butter begins to turn a golden brown and foam up. Remove from heat continuing to swirl.
Transfer potatoes to a serving bowl and pour brown butter and sage over mashed potatoes. Just before serving, stir in the browned butter.
Save
Save
Save
Save
Save