Browned butter sage, melty mozzarella, salty prosciutto crostini...is there really more to say? Yesterday I shared this recipe for one of my favorite appetizers (of all time) on Glitter Guide. It's a mouthwatering pair of flavors that I honestly can't get enough of. And the best part about this appetizer, it's hearty enough to keep guest's hunger at bay while still elegant and refined enough to be a show stopper. It's my go-to holiday appetizer and when you make it, and taste it, you will see why!
But I simply can't take credit for inventing this lovely little bite...this recipe was first served to me by my dear friend Amanda and her Mom Robin. Thanks ladies!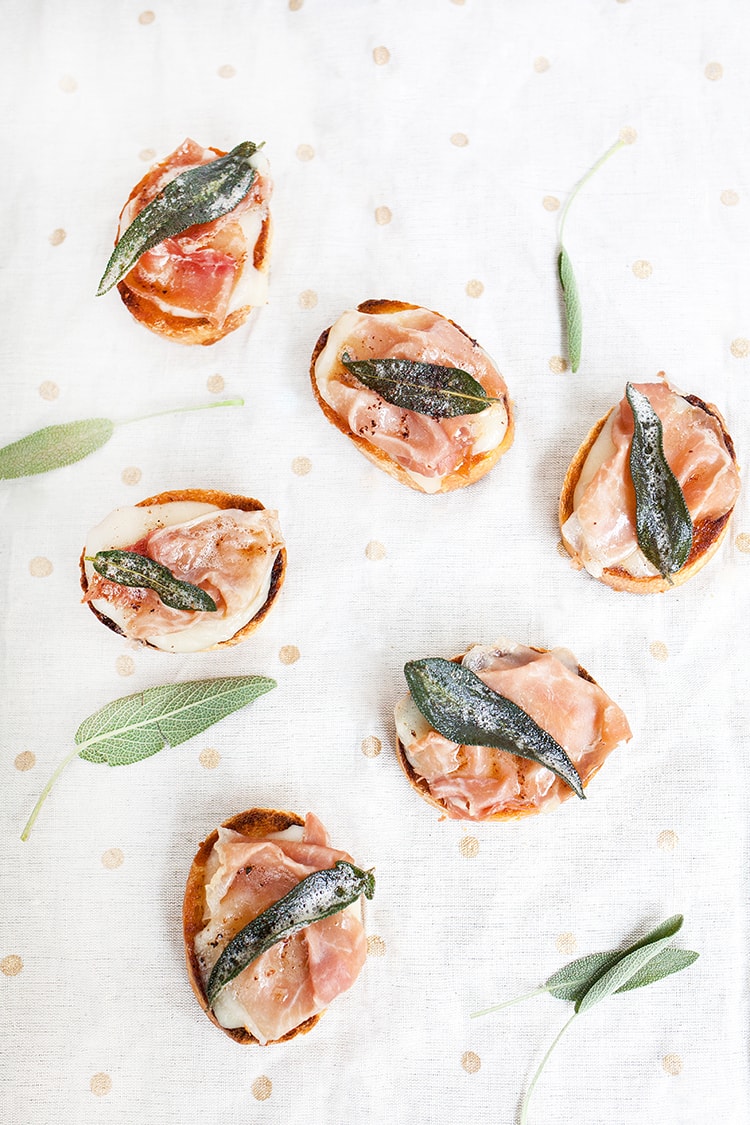 photos by Joanne Pio for Glitter Guide
Browned Butter Sage Crostini- via Two Chums
French baguette, sliced and toasted
Prosciutto
Buffalo mozzarella, sliced thin
Fresh sage leaves
Salted Butter
Directions:
1. Butter slices of French baguette and toast under the broiler until golden. Set aside.
2. Preheat oven to 375 degrees.
3. In a small skillet melt butter over medium low heat. Add fresh sage leaves and cook until sage is crispy and butter begins to brown in bits on the bottom of the pan. (you may need to remove sage before butter is browned).
4. Top toasted bread with prosciutto and cheese. Bake at 375 until cheese begins to melt.
5. Remove from oven and spoon browned butter over crostini. Top each with a crispy sage leaf or two.
6. Serve while hot! Enjoy.