Burnt Sugar Ice Cream Sandwiches are basically a fancy way of saying, creamy homemade caramel ice cream nestled between two salty chocolate chip cookies. Is your mouth watering yet? Well it should be because this decadent combination is everything in the whole wide world that is good and decent about dessert.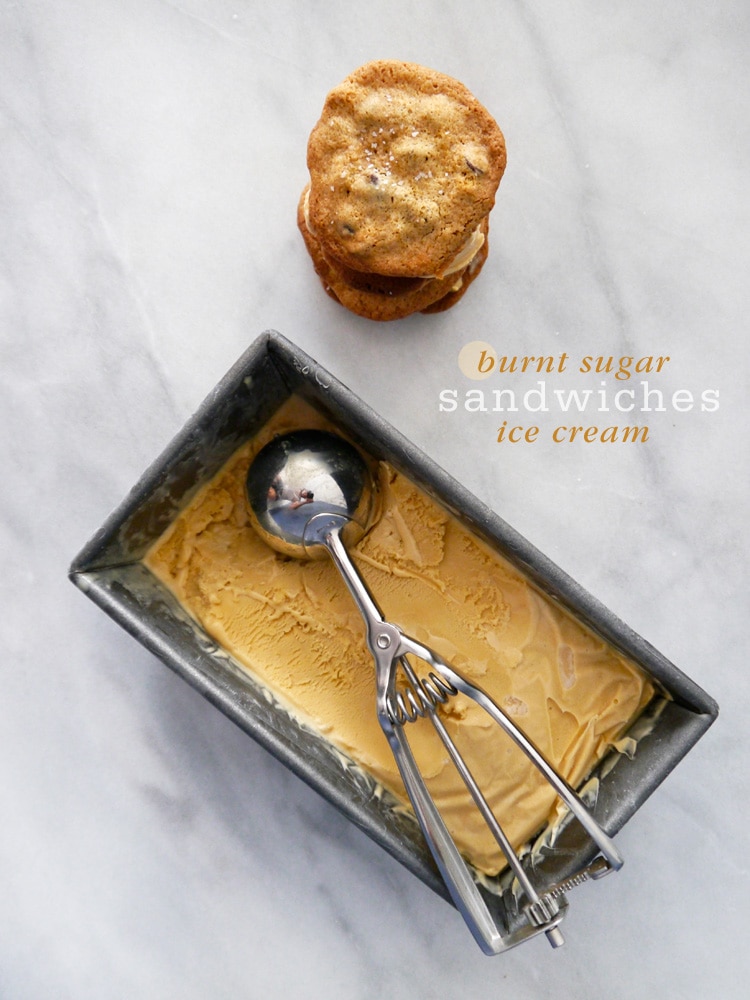 Although if I am being quite honest, there is nothing decent about this completely hedonistic dessert. Yes, burnt sugar ice cream would be delightful on it's own but why eat a scoop of ice cream when the possibility of a sandwich awaits? I sincerely hope you will make this dessert. It's my new guilty pleasure and I'm quite sure it will soon be yours as well!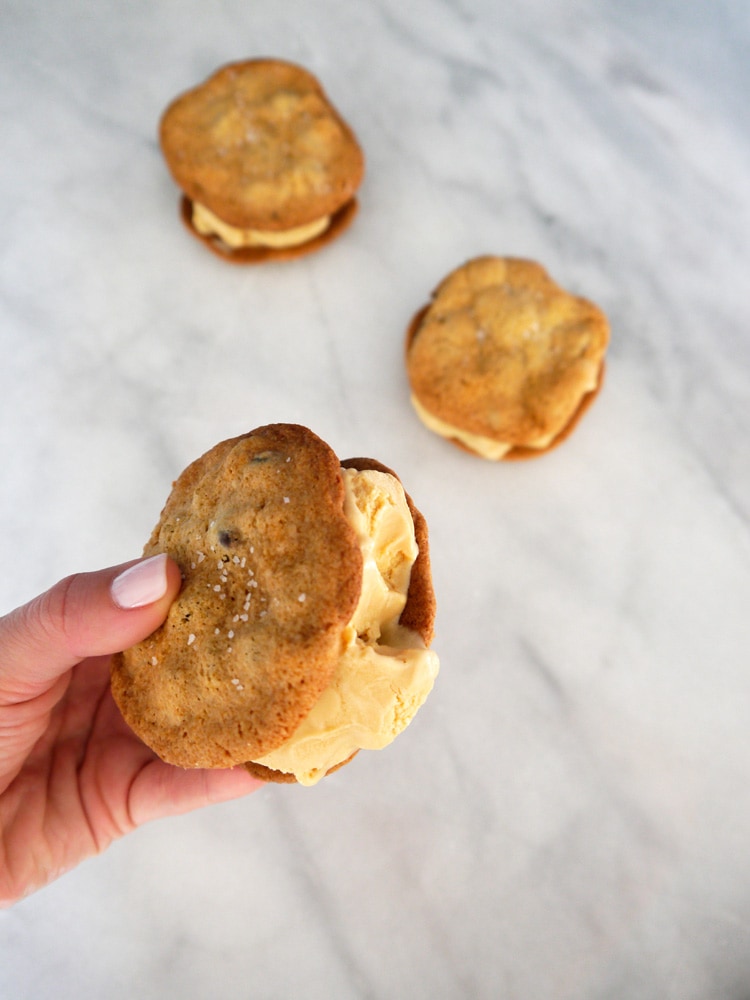 Photos by Leah Bergman
Burnt Sugar Ice Cream- adapted from Dorie Greenspan via Tartelette

½ cup granulated sugar
2 tablespoon water
2 cups whole milk
1 cup heavy cream
5 egg yolks
pinch of salt
Directions:
1. Stir the sugar and water in a saucepan and cook over medium heat until the sugar dissolves. Increase the heat and cook until it becomes a caramel of deep amber color. Lower the heat and add the milk. It will bubble like mad but continue stirring until the mixture is smooth, remove from the heat. Add the cream and stir until combined.
2. In a large bowl, whip the egg yolks and salt until pale and thick. Slowly pour the hot milk mixture over it and whisk to temper the yolks. Put the mixture back into the saucepan and cook until it coats the back of a spoon.
3. Let cool completely and refrigerate until very cold (preferably overnight). Process the ice cream according to your ice cream maker manufacturer's instructions. Freeze for 2 hours or more or until firm to scoop.
Salted Chocolate Chip Cookies
2 ¼ cups all-purpose flour
1 teaspoon baking soda
1 teaspoon salt
1 ½ sticks salted butter
¾ cups granulated sugar¾ cups brown sugar
1 teaspoon vanilla extract
2 large eggs
2 cups (12 oz) chocolate chips
Directions:
1. Combine flour, baking soda and salt in a small bowl and set aside.
2. In the bowl of a mixer fitted with the paddle attachment, cream together butter, sugar, brown sugar, and vanilla extract.
3. Add eggs, one at a time and beat until well combined.
4. Gradually beat in the flour mixture just until combined. Stir in chocolate chips.
5. Drop cookie dough by rounded Tablespoon full onto baking sheets covered in parchment paper. Bake 9-11 minutes or until golden brown.
6. Sprinkle with sea salt straight from the oven. Cool on baking sheet 2 minutes and then completely on a cooling rack.
To assemble ice cream sandwiches:
1. Place cookies on a cookie sheet and freeze until hard.
2. Scoop burnt sugar ice cream onto every other cookie and top with second cookie.
3. Freeze sandwiches until firm.