Caramel Apple Monkey Bread is what everyone wants to eat on Christmas morning, I can guarantee it!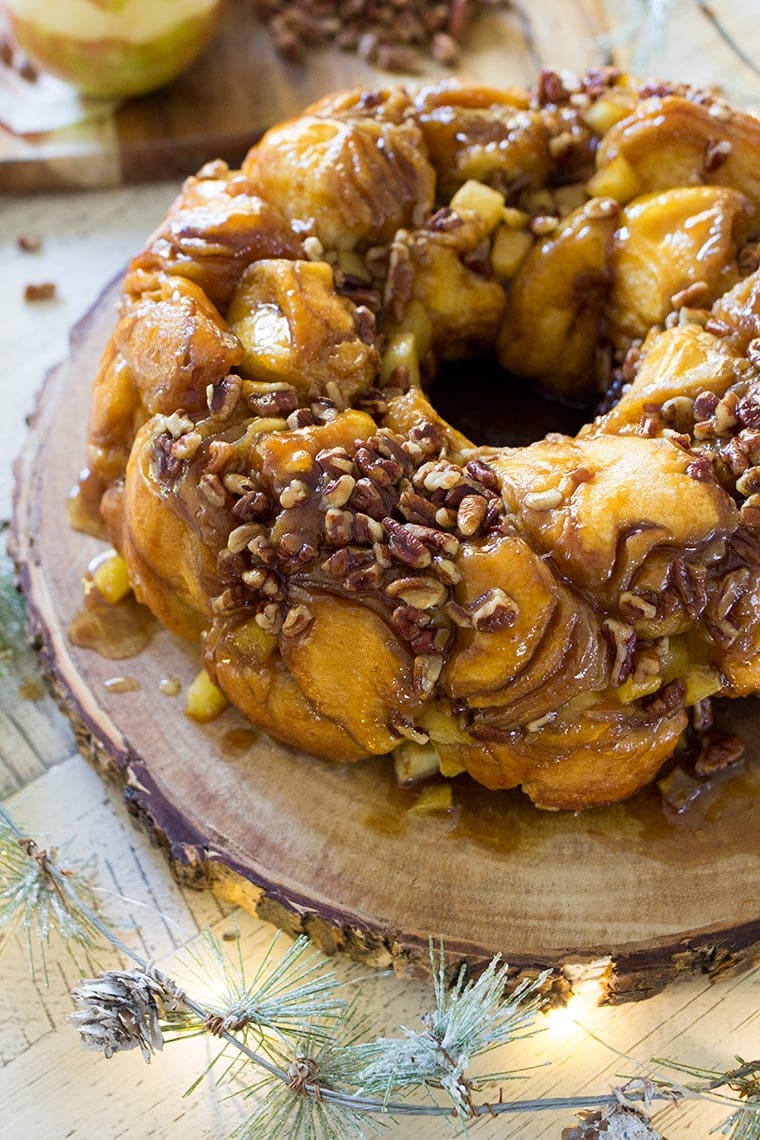 Caramel Apple Monkey Bread
In my house, it simply wouldn't be the holidays without at least one batch of ooey, gooey, Monkey Bread. Classic Sticky Toffee Monkey Bread is always a winner but this year I'm making Caramel Apple Monkey Bread stuffed with fresh apples, pecans and oozing with an apple butter caramel sauce. Delish!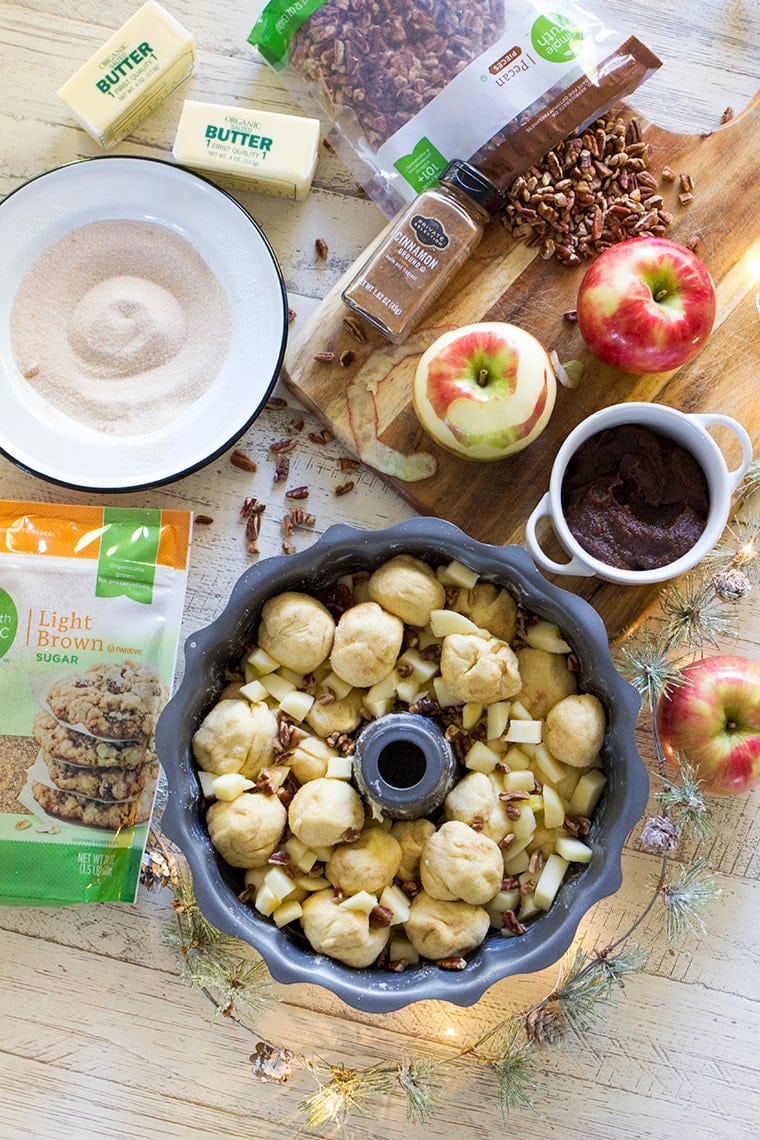 Biscuit Dough Monkey Bread Recipe
Traditional monkey bread calls for a homemade yeast dough which I quite honestly have never bothered to make. It's just so simple to use a biscuit dough monkey bread recipe which calls for a couple of cans of store-bough biscuits. This short cut significantly cuts down on time and still produces a delicious monkey bread that everyone will love. Plus it means getting the bread in and out of the oven a whole lot faster and into everyone's bellies.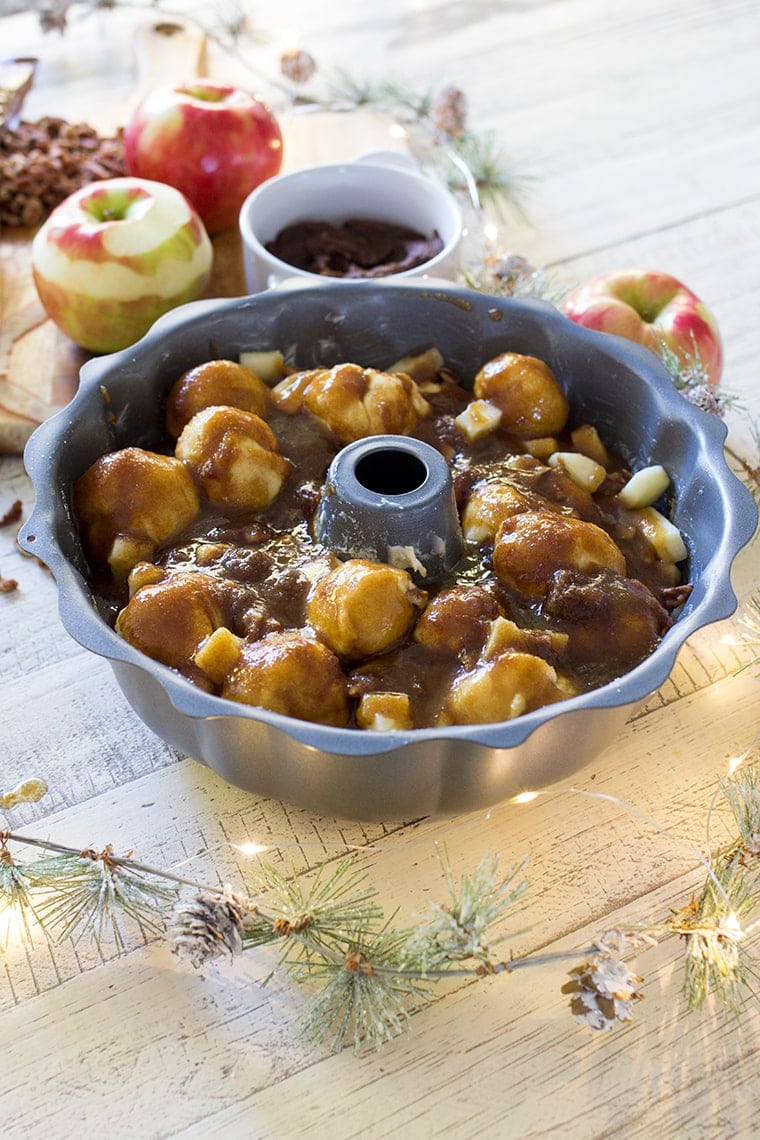 How to Make Monkey Bread
The process for how to make monkey bread is easy. Roll pieces of dough into balls, give them a quick toss in cinnamon sugar and pop the balls into a buttered bundt pan along with chopped apples and pecans (in this case). Next a quick "caramel" is made with melted butter, brown sugar and apple butter and poured on top. During the baking process the butter and sugar combine to create a sticky caramel sauce throughout the bread.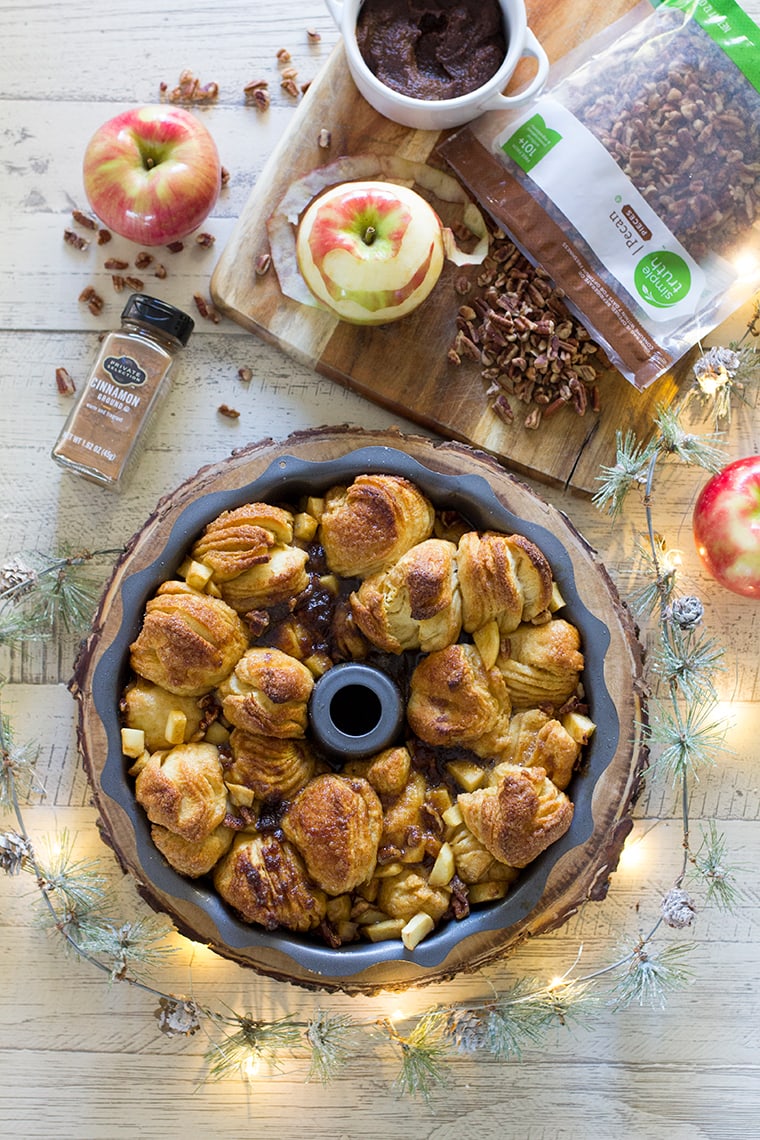 How to Serve Monkey Bread
When the bread is puffed, bubbling, and deep golden brown on top it's time to invert and serve. This part can be a little bit daunting but don't be scared, Monkey Bread is so forgiving. Here's how to do it. Remove the bundt pan from the oven with oven mitts (of course) and place a large rimmed platter directly on top.
Using your mitts, grab both the edges of the bundt pan and the platter and quickly flip. The monkey bread should release naturally from the pan if you greased it well right onto the platter. If a few balls of bread stick, it's no big deal. Just replace them by hand. What did I say, this is a forgiving bread!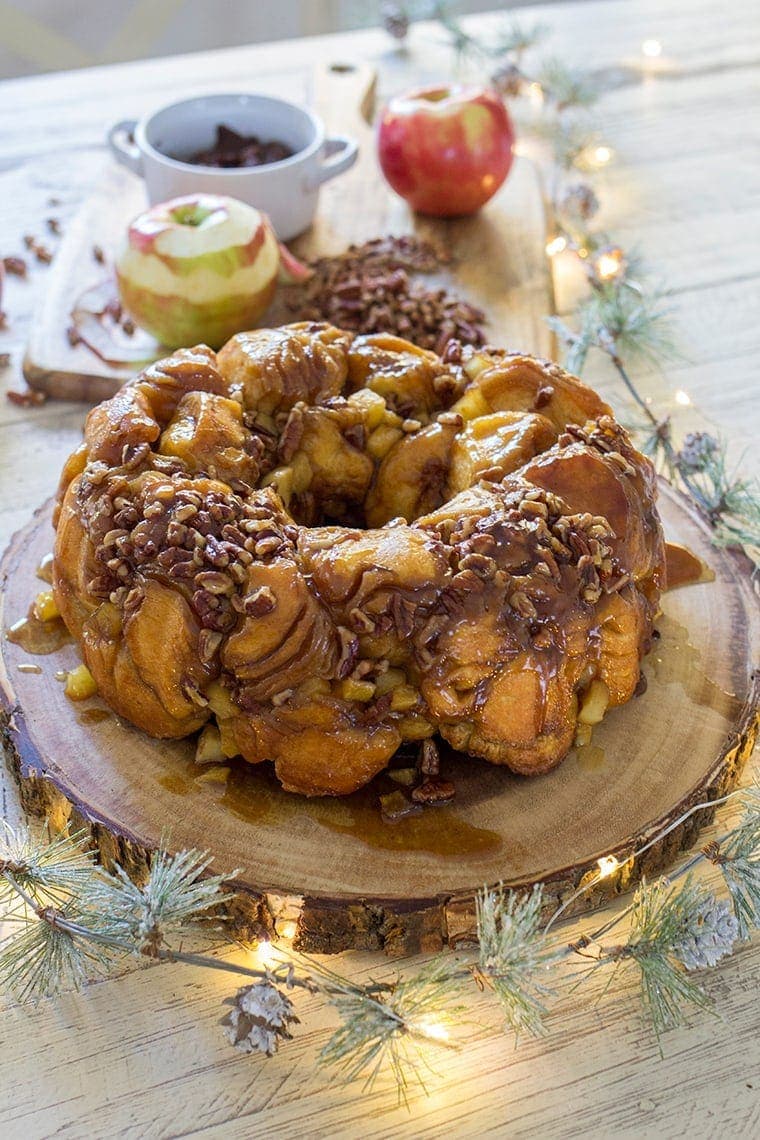 And while this wooden platter I used was beautiful to look at, I would not recommend using a flat platter unless you don't mind caramel sauce dripping all over your table. Sticky, delicious, and very messy!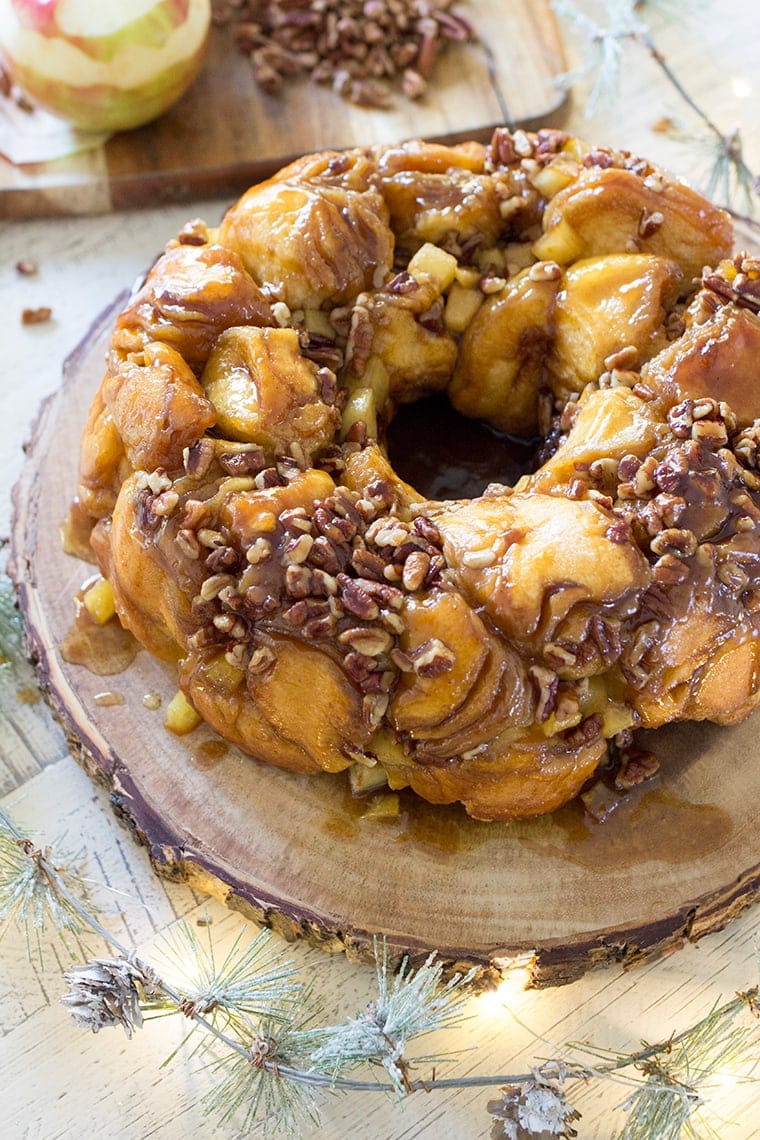 Next, all that's left is to dig in! I recommend serving it while it's still hot and gooey. Set out a stack of small plates and let family pull apart the bread and serve themselves. WARNING! The caramel will be blazing hot so mention that to those being served. This makes a simple, delicious and impressive Christmas morning breakfast served with hot coffee and maybe even a platter of bacon. It's time to open presents!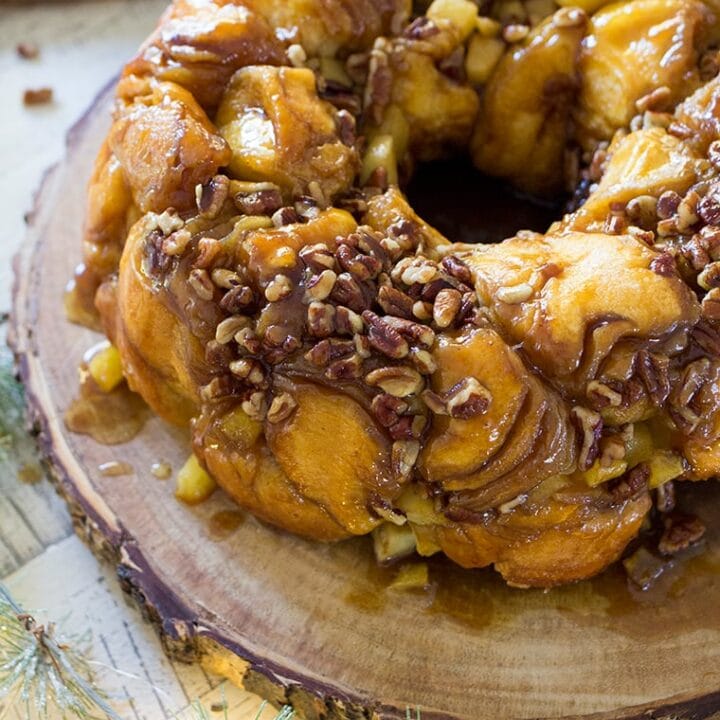 Caramel Apple Monkey Bread
Total Time:
1 hour
5 minutes
A delicious caramel apple and pecan filled Monkey Bread perfect for serving on Christmas Morning as an easy and delicious holiday treat.
Ingredients
2 packages (16 oz. each) refrigerated biscuit dough
½ cup granulated sugar
1 teaspoon ground cinnamon
1 cup apple, peeled and diced
½ cup pecans, chopped
¾ cup butter, melted
1 cup packed brown sugar
2 heaping tablespoons apple butter
Instructions
Heat oven to 350°F. Lightly grease a 12-cup fluted tube pan with nonstick cooking spray. Cut each biscuit into quarters.
In a small bowl, combine the granulated sugar and cinnamon. Roll each quarter into the sugar mixture and arrange in the prepared pan, while adding the apple and pecans among the biscuit pieces.
Combine the melted butter, brown sugar and apple butter in a small bowl, then pour over the biscuit pieces.
Bake 30-35 minutes, until golden brown. Allow to cool in pan for 10 minutes.
Turn upside down onto a serving plate and pull apart to serve.