There is something so sweetly "summer" about sweet dark cherries. Juicy and dark with the occasional rogue tart cherry in the mix. It's a little time consuming to standing pitting them but what else do you have to do on a long summer afternoon? Ha! Let's just slow things down and make some muffins...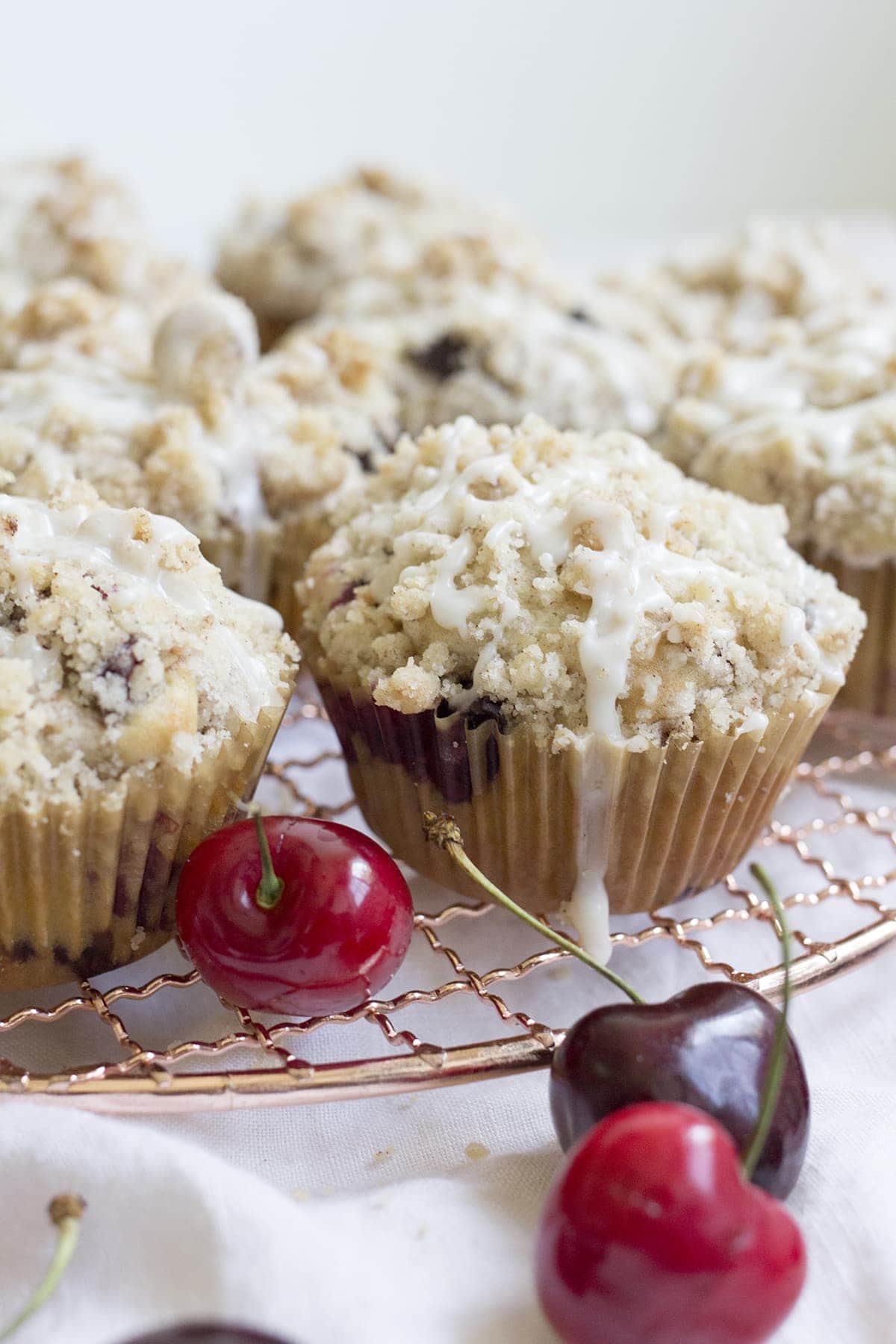 Cherry stained fingers and Sam Cooke playing softly in the kitchen while you bake…is that just me? I use a pastry tip to pop the pits right out, a trick I learned from a reader because I don't actually own one of those fancy-shmancy cherry pitters.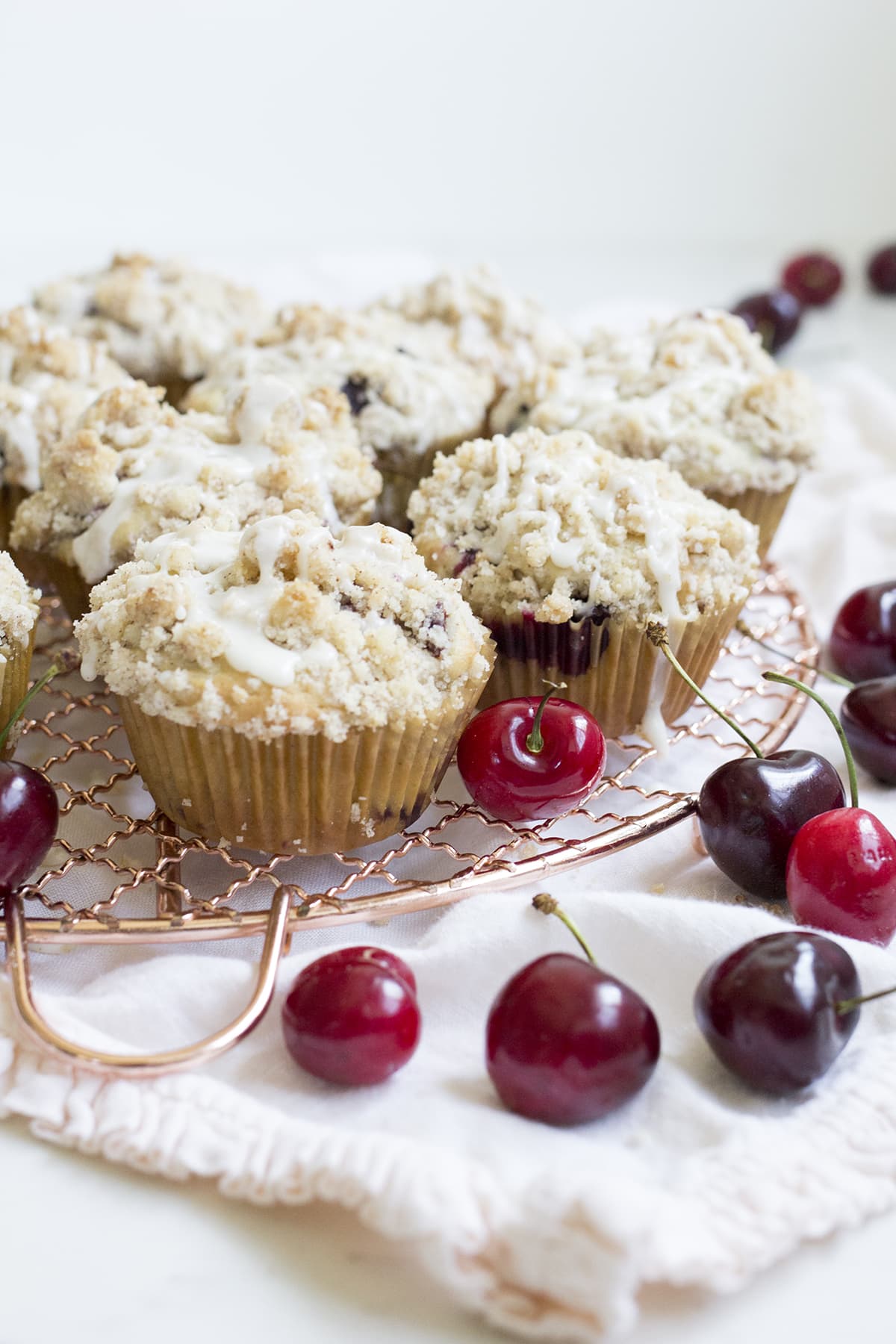 I'll pit one, eat one, and so it goes until the pile is large enough to chop and fold into this luscious muffin batter. Cherry Crumb Muffins are hot out of the oven and now is where patience comes into play.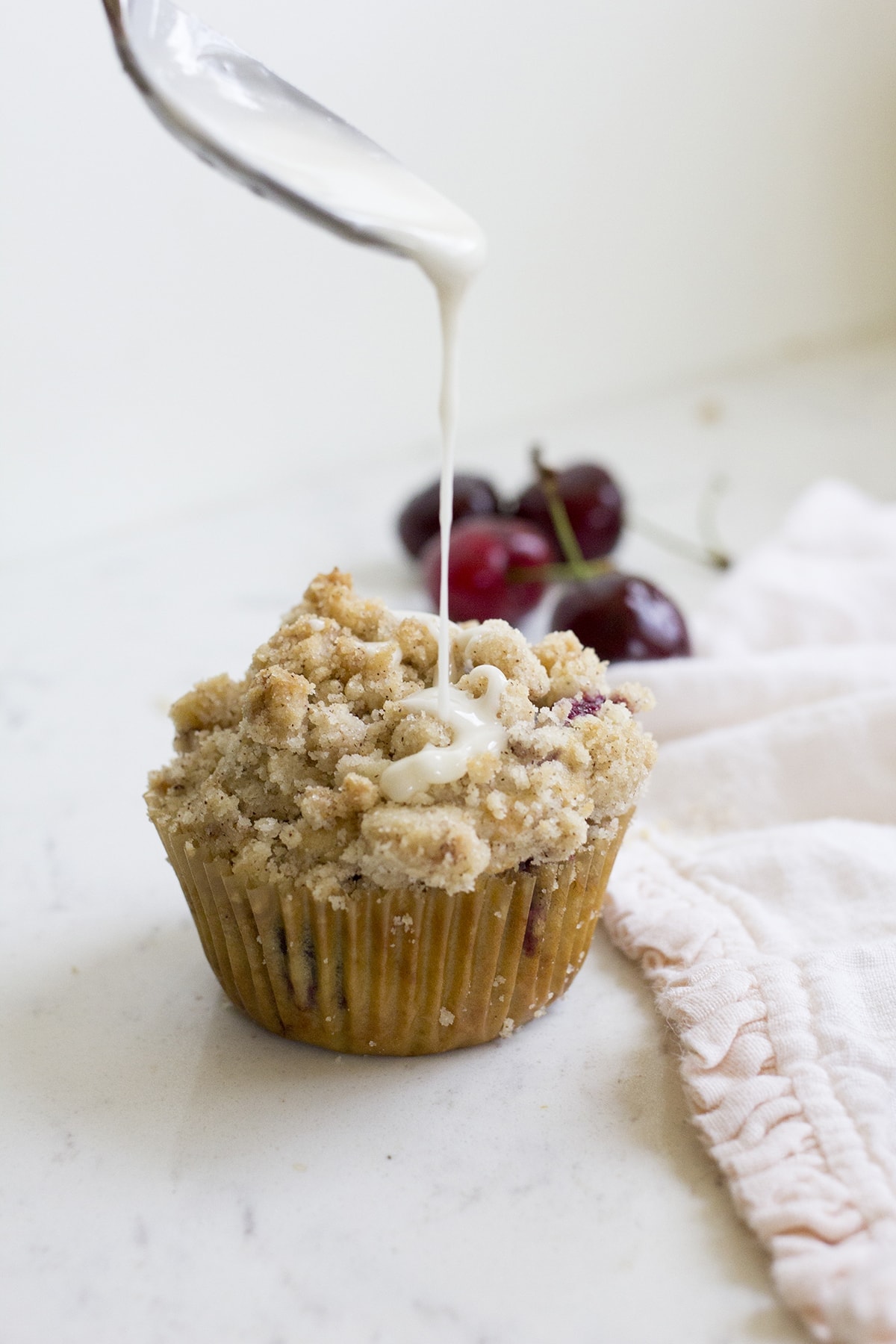 I sneak little tastes of the crispy cinnamon crumb topping that has fallen on the cooling rack and set about to clean up the kitchen before making the glaze. A final sweet drizzle of vanilla glaze over the top of the cooled muffins and these sweet babies are all ready to eat.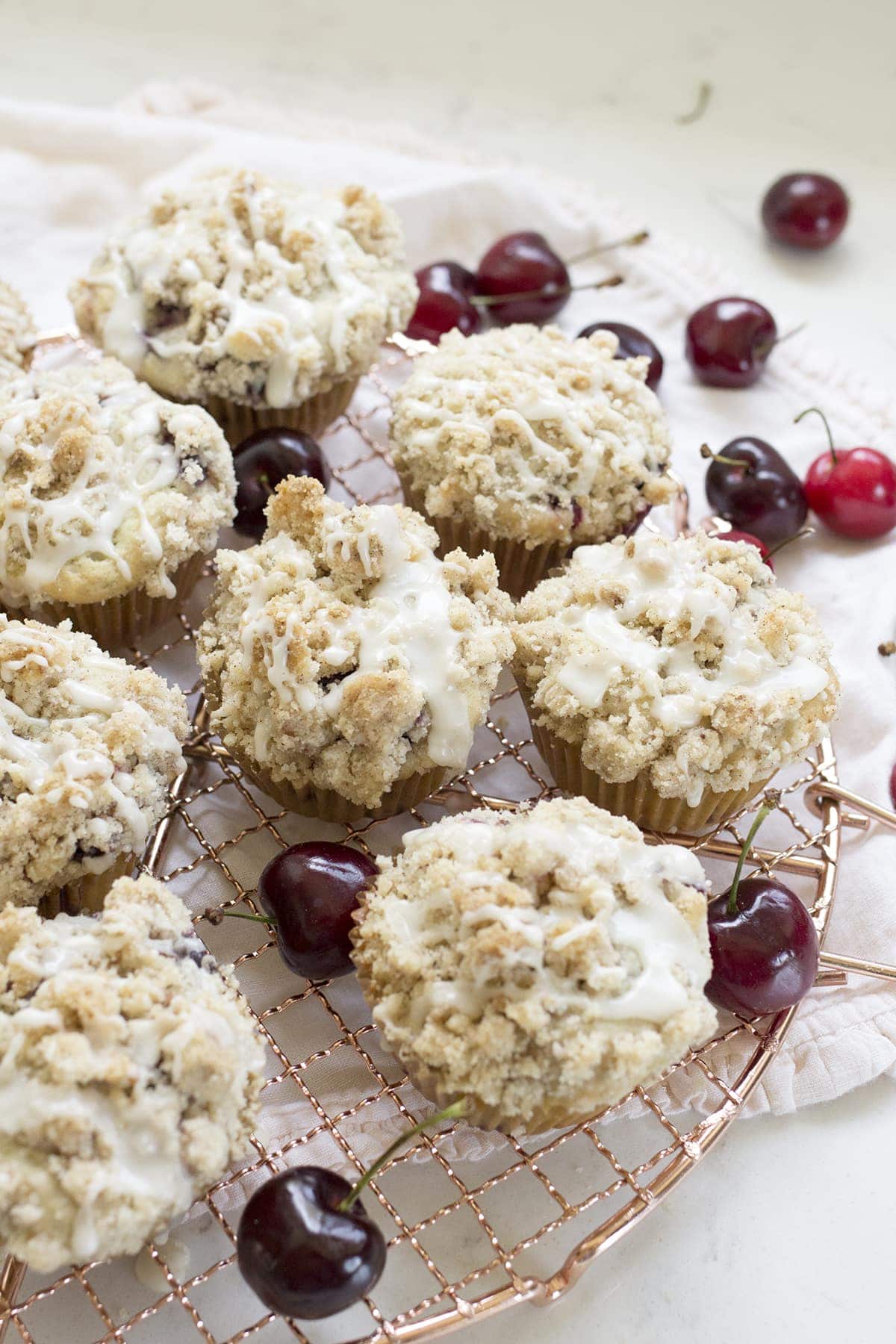 The cherries have softened and baked and taste like pie…they are, in my opinion the very best part and of course I pick them out and eat the cherry parts first. Who's coming over for breakfast tomorrow? Happy Summer!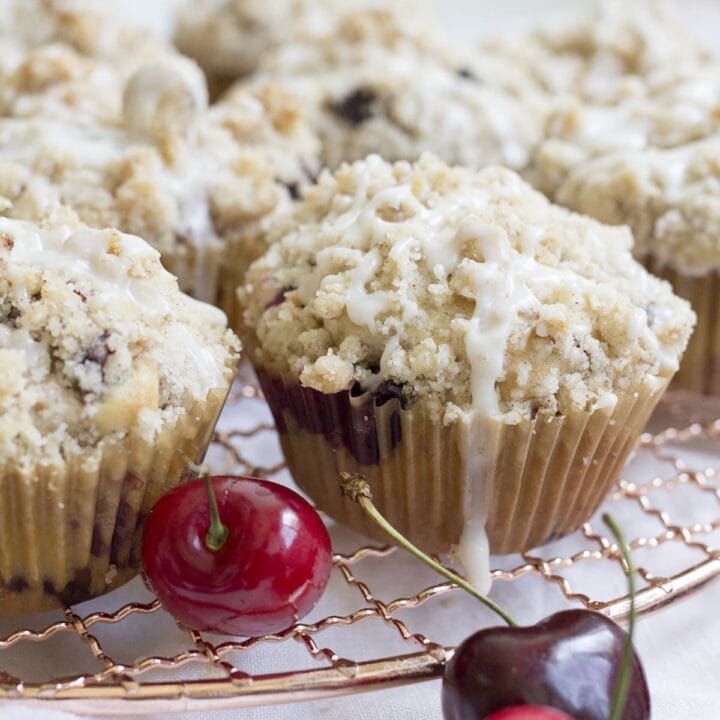 Cherry Crumb Muffins
Ingredients
6 tablespoons butter
¾ cup sugar
2 large eggs
2 cups all-purpose flour
2 teaspoons baking powder
½ teaspoon salt
½ cup whole milk
2 teaspoons vanilla extract
2 cups pitted and chopped fresh cherries, ½ cup reserved
Crumble Topping:
1 cup all-purpose flour
⅔ cup granulated sugar
1 stick salted butter, melted
1 teaspoon cinnamon
Glaze:
1 cup confectioners sugar
1 teaspoon vanilla extract
2-3 teaspoon milk (more or less to desired consistency)
Instructions
Preheat your oven to 375°F. Line 14 muffin cups with paper liners and set aside.
In a large mixing bowl, beat together the butter and sugar until they're light and fluffy. Add the eggs one at a time, beating well after each addition.
In a separate bowl, whisk together the flour, baking powder and salt.
Add the dry ingredients to the butter mixture, and beat well. Stir in the milk, and vanilla extract, mixing only until smooth.
Wash and dry cherries on a dish towel or paper towels. Pit and roughly chop. In a bowl, toss cherries with about 1 Tablespoon of flour. Gently fold 1½ cups of the cherries into the batter. Reserve the remaining ½ cup for adding on top later.
Fill the muffin cups ¾ to almost full, using all of the batter. Divide remaining cherries between muffin cups pressing gently into the batter.
In a bowl combine ingredients for the crumble topping; flour, sugar, melted butter and cinnamon and mix together with a fork. Divide between the muffin cups piling the crumble on top of each muffin. Don't worry if it looks too full.
Bake the muffins for 25 to 30 minutes, until they're very light golden brown. Note: Check after 25 minutes and bake longer if needed. Muffins will be done when a toothpick inserted in the center comes out clean.
Cool muffins on in the pan on a cooling rack just until they are cool enough to handle and remove.
Cool completely before adding the glaze.
In a bowl whisk together confectioners sugar, vanilla and 1 teaspoon of milk at a time until the consistency is able to be drizzled. Drizzle over muffins, and enjoy!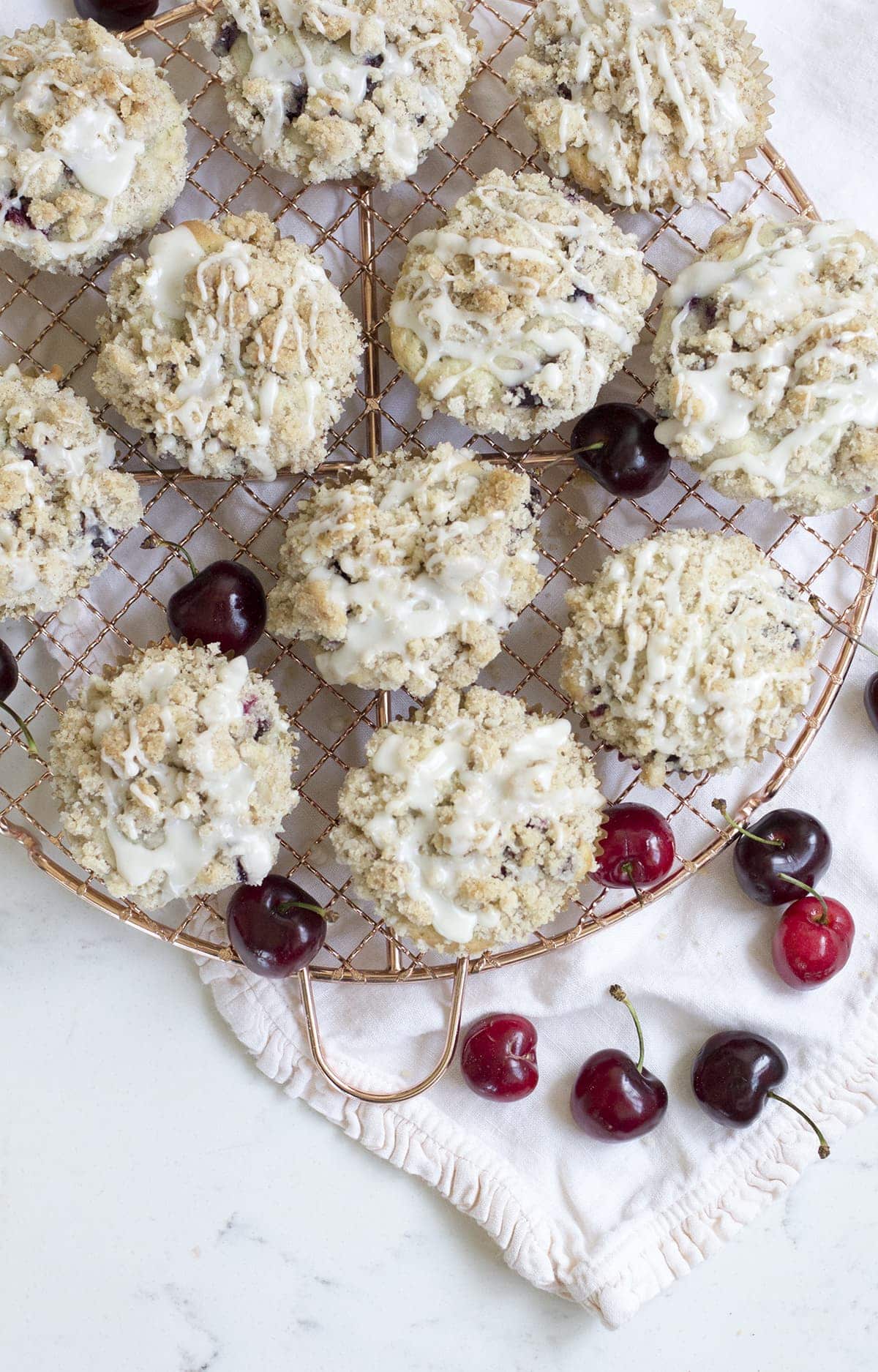 Save
Save
Save
Save