Do you remember when working at Hot Dog on a Stick was really, really cool? Ok, so maybe it was just really cool to me as a little girl to see those big kids with their tall striped hats pounding out lemonade by the bucket-fulls.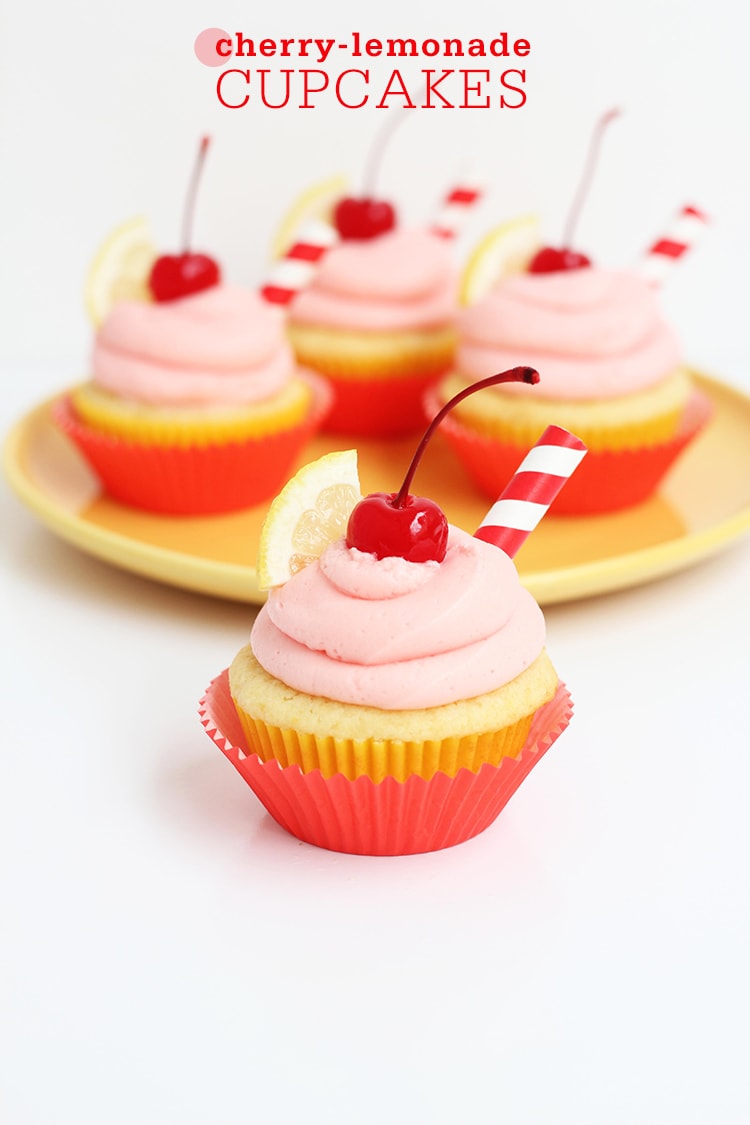 Every summer my Mom would pack me and my sister into the car and drive to Santa Monica Beach for a full day of sunbathing. Our first stop, before making the long hot walk across the sand, was to grab a cherry lemonade and a corn dog from Hot Dog on a Stick. There was nothing cooler in the world to my sister and me than a day at the beach and cherry lemonade. All of these memories for me are still synonymous with summer and Cherry Lemonade Cupcakes bring it all back...minus the sand in my food and the sunburns that is.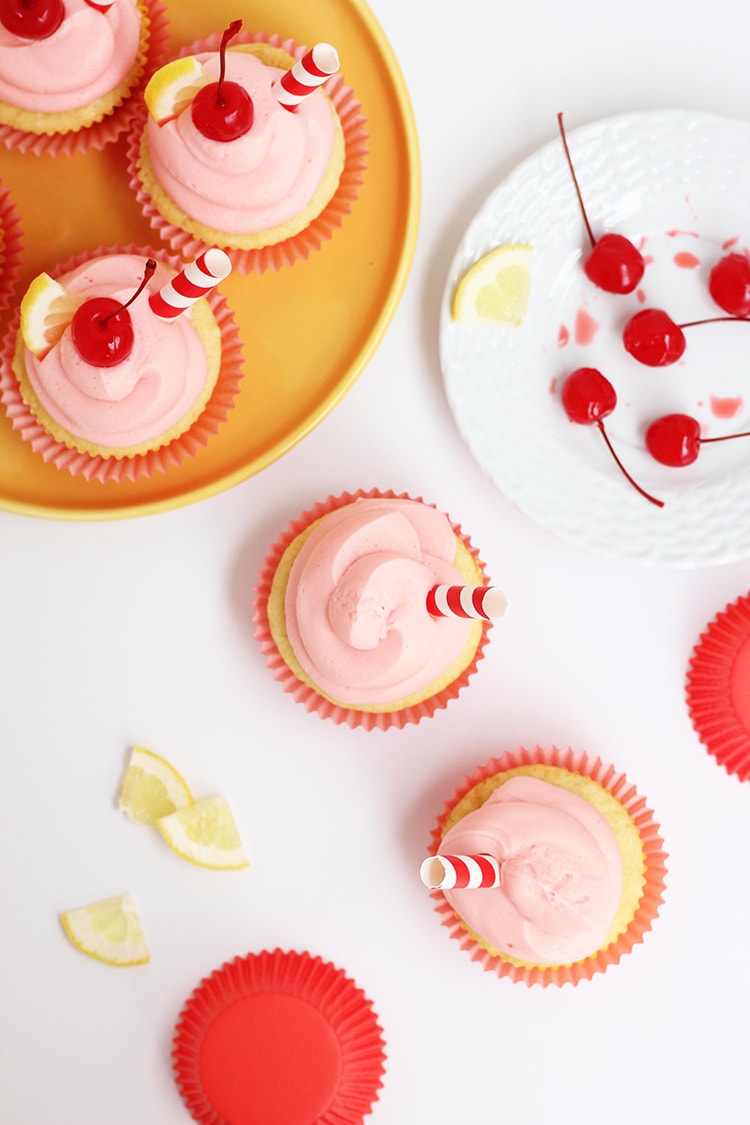 Whether you make these cupcakes for the 4th or July, a summer barbeque, or just to feel like a kid again, these Cherry Lemonade Cupcakes are a sweet must try recipe! I promise they will bring a smile to your face. Do you have any fond summer beach memories?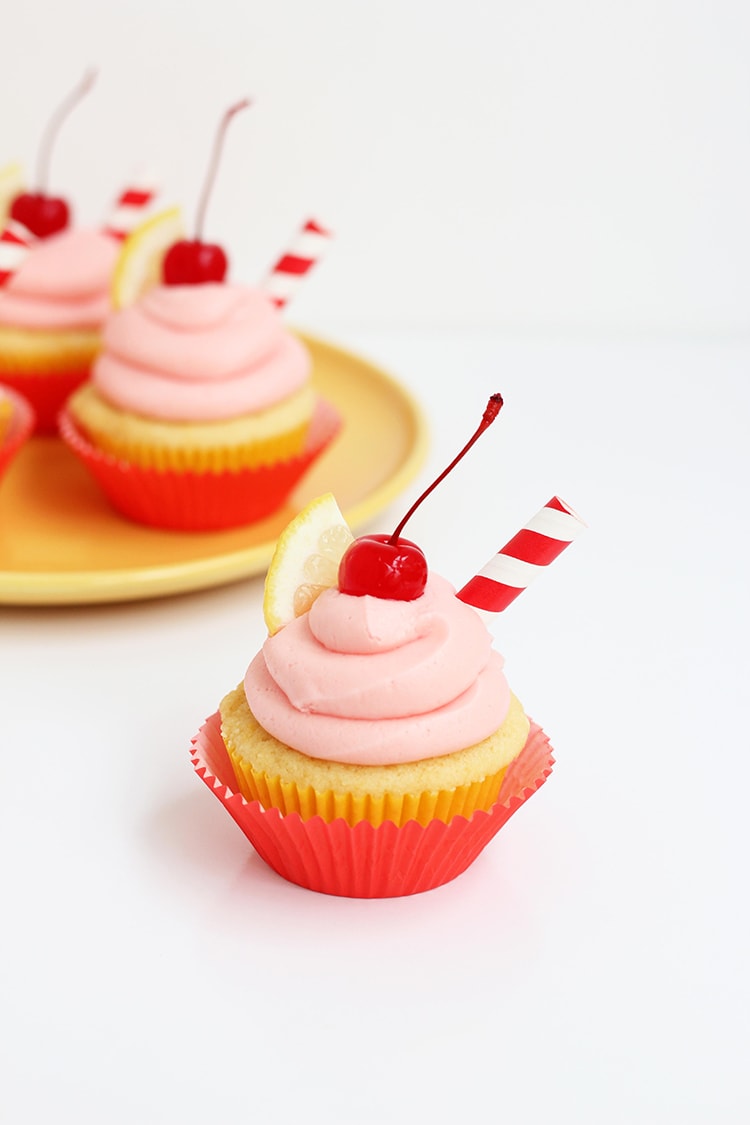 photos by Leah Bergman
Cherry-Lemonade Cupcakes
makes 24-28 cupcakes
Lemon Cake
Note: the original cupcake recipe says it makes 24 cupcakes however I had enough batter to make about 28 standard cupcakes.
3 cups all-purpose flour
1 tablespoon baking powder
½ teaspoon salt
1 cup (2 sticks) unsalted butter, room temperature
2 cups sugar
4 large eggs, room temperature
Finely grated zest of 3 lemons (about 3 tablespoons), plus 2 tablespoons fresh lemon juice
1 teaspoon pure vanilla extract
1 cup buttermilk
Directions:
1. Preheat oven to 325 degrees. Line standard muffin tins with paper liners. Whisk together flour, baking powder, and salt.
2. With an electric mixer on medium-high speed, cream butter and sugar until pale and fluffy. Add eggs, one at a time, beating until each is until incorporated, scraping down sides of bowl as needed. Beat in zest and vanilla. Add flour mixture in three batches, alternating with two additions of buttermilk and lemon juice, and beating until just combined after each.
3. Divide batter evenly among lined cups, filling each three-quarters full. Bake, rotating tins halfway through, until golden brown and a cake tester inserted in centers comes out clean, about 25 minutes. Transfer tins to wire racks to cool completely before removing cupcakes. Cupcakes can be stored overnight at room temperature, or frozen up to 2 months, in airtight containers.
Cherry Buttercream Frosting
Makes: frosting for 24-28 cupcakes
2 cups butter, softened
½ cup shortening, softened
6-7 tablespoons maraschino cherry juice
6 cups powdered sugar
¼ teaspoon salt
Directions:
1. In an electric mixer fitted with the paddle attachment, beat butter and shortening on medium speed for 30 seconds. Gradually beat in powdered sugar on low speed. Beat 2 to 3 minutes longer or until light and fluffy.
2. Slowly add in salt and maraschino cherry juice. Beat to combine.
3. Fill a piping bag with frosting or a large ziplock bag cutting a hole in one corner for piping.
How to Assemble:
cooled cupcakes
cherry frosting
maraschino cherries with stems
small lemon slices
large striped red paper straws cup into ½" sections
Directions:
1. Pipe a generous amount of frosting onto each cooled cupcake starting at the outside edges and spiraling inwards and up.
2. Top each cupcake with a maraschino cherry that you have dried off with a paper towel, a small slice of lemon, and a mini straw for garnish.