Layered Strawberry Jello Poke Cake made with strawberry cake, strawberry Jell-O, and a layer of whipped cream and fresh strawberries is light and airy but also moist and full of berry flavor. This summer dessert is perfect for serving chilled on the 4th of July or for any summer holiday or celebration.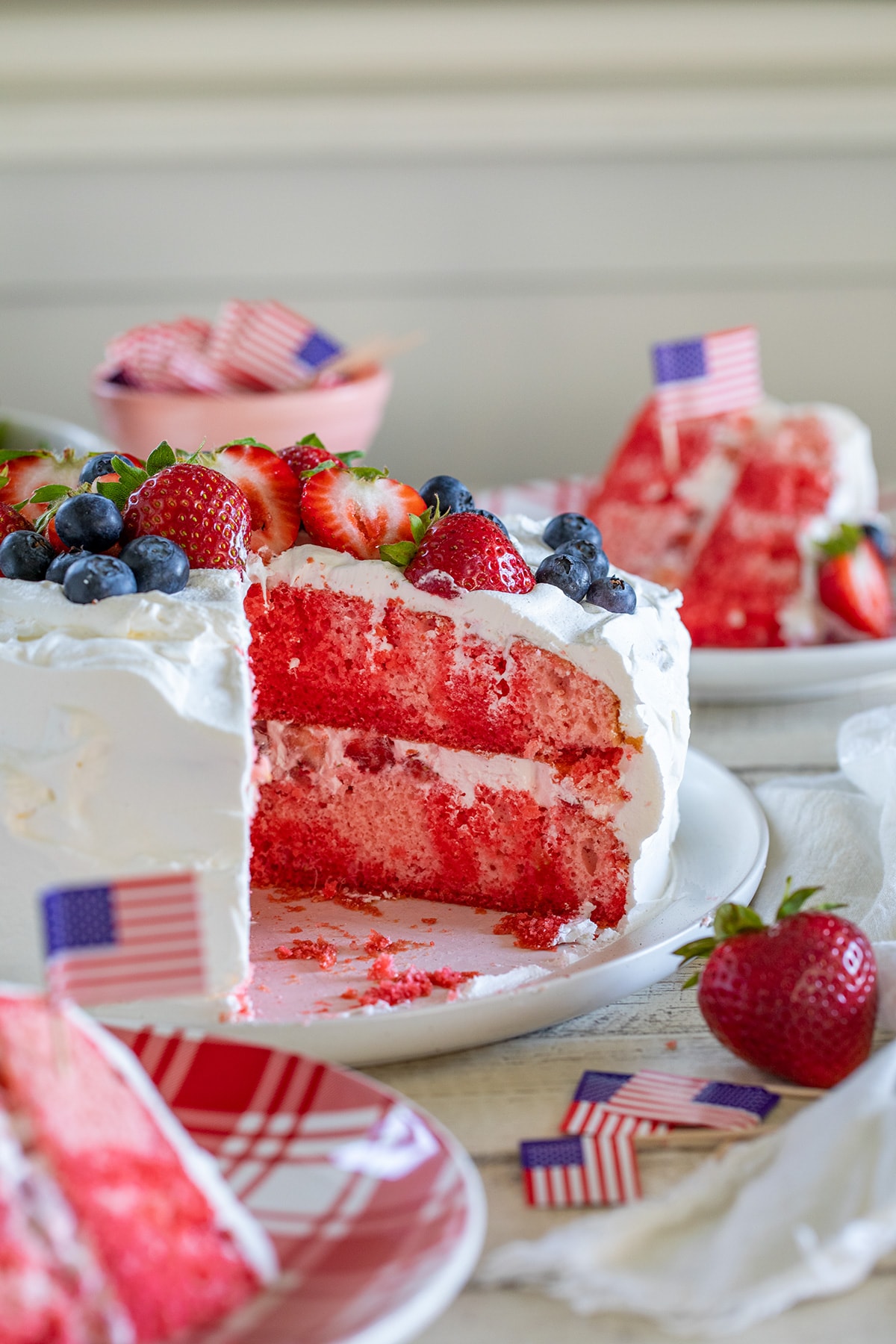 Strawberry Jello Poke Cake
If you are looking for an easy, crowd pleasing summer dessert, this Strawberry Poke cake is it! You will love this recipe it because it only requires a simple ingredients including boxed cake mix, Jell-O, whipped topping and fresh berries. It's right up there with No-Churn Strawberry ice cream and Mini Strawberry Rhubarb pies as a contender for least fussy desserts.
Served cold from the refrigerator and decorated with more berries, this jello cake is a must make for the 4th of July or any summer barbecue.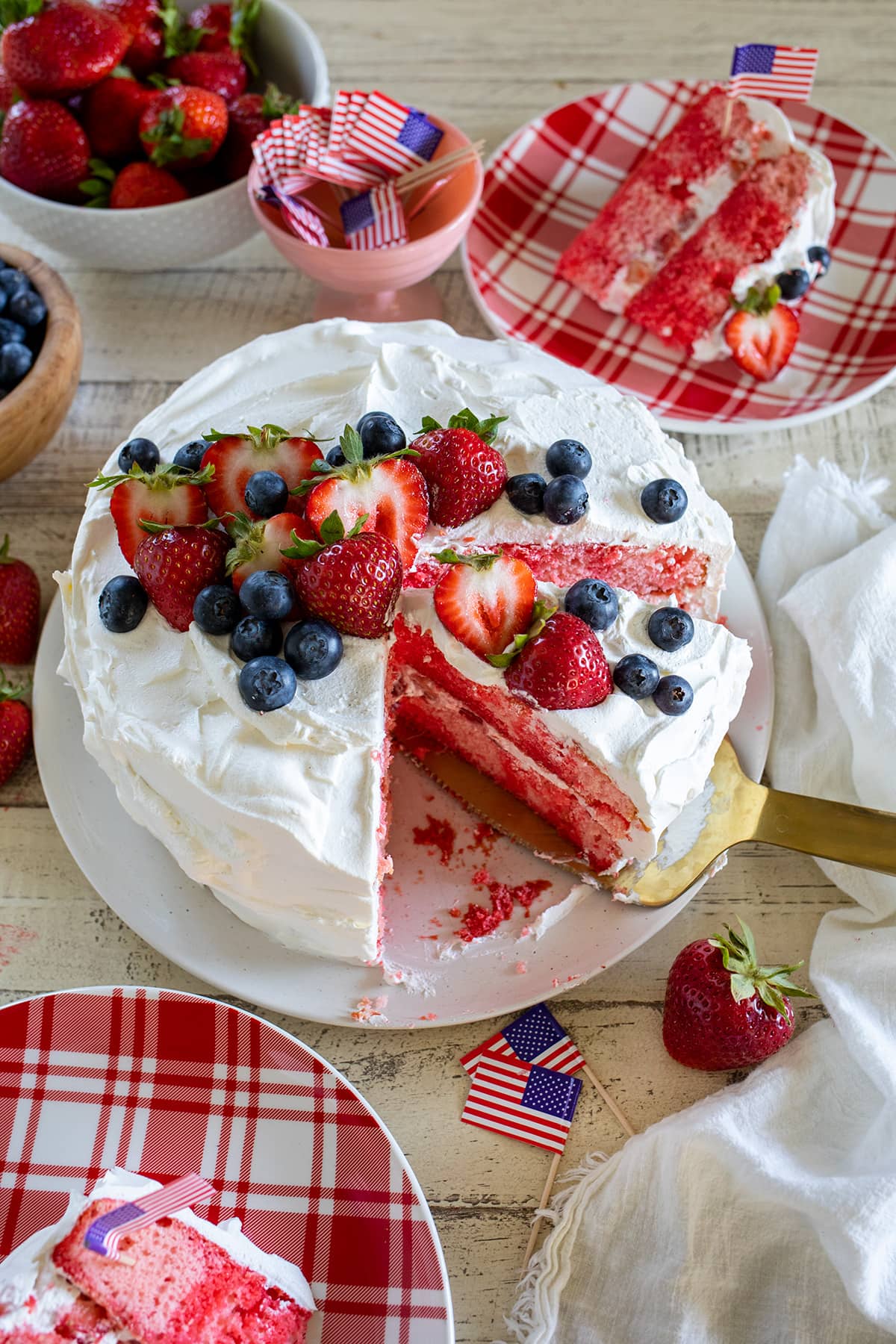 What is a Poke Cake?
What in the world is a poke cake?! If your family didn't make poke cake, join the club, because mine certainly did not. However, as an adult I've found these to be a fun and nostalgic American dessert that my twins love!
Poke cake originated in the 1970's when Jell-O began publishing recipes for Poke Cakes in American magazines as a way to boost sales of their Jell-O. They are traditionally made with white boxed cake mix, any flavor of Jell-O you like and topped with Cool Whip or Dream Whip.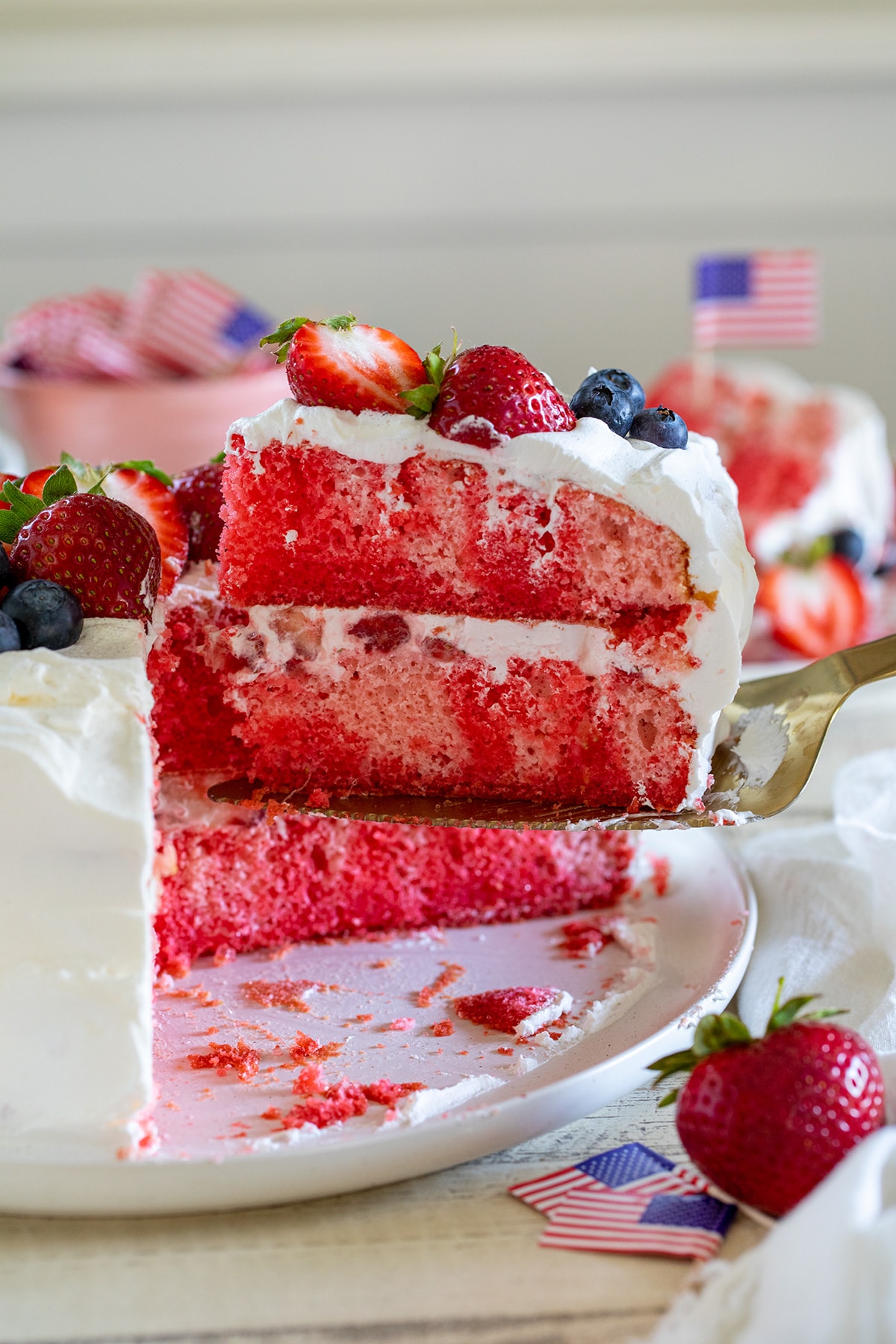 The term Poke Cake comes from the fact that you poke holes in the baked cake with a wooden spoon, fork, or chopstick (in my case,) to create holes for the Jell-O mixture to fill. Once chilled and sliced, this process creates a pretty zebra pattern in the cake.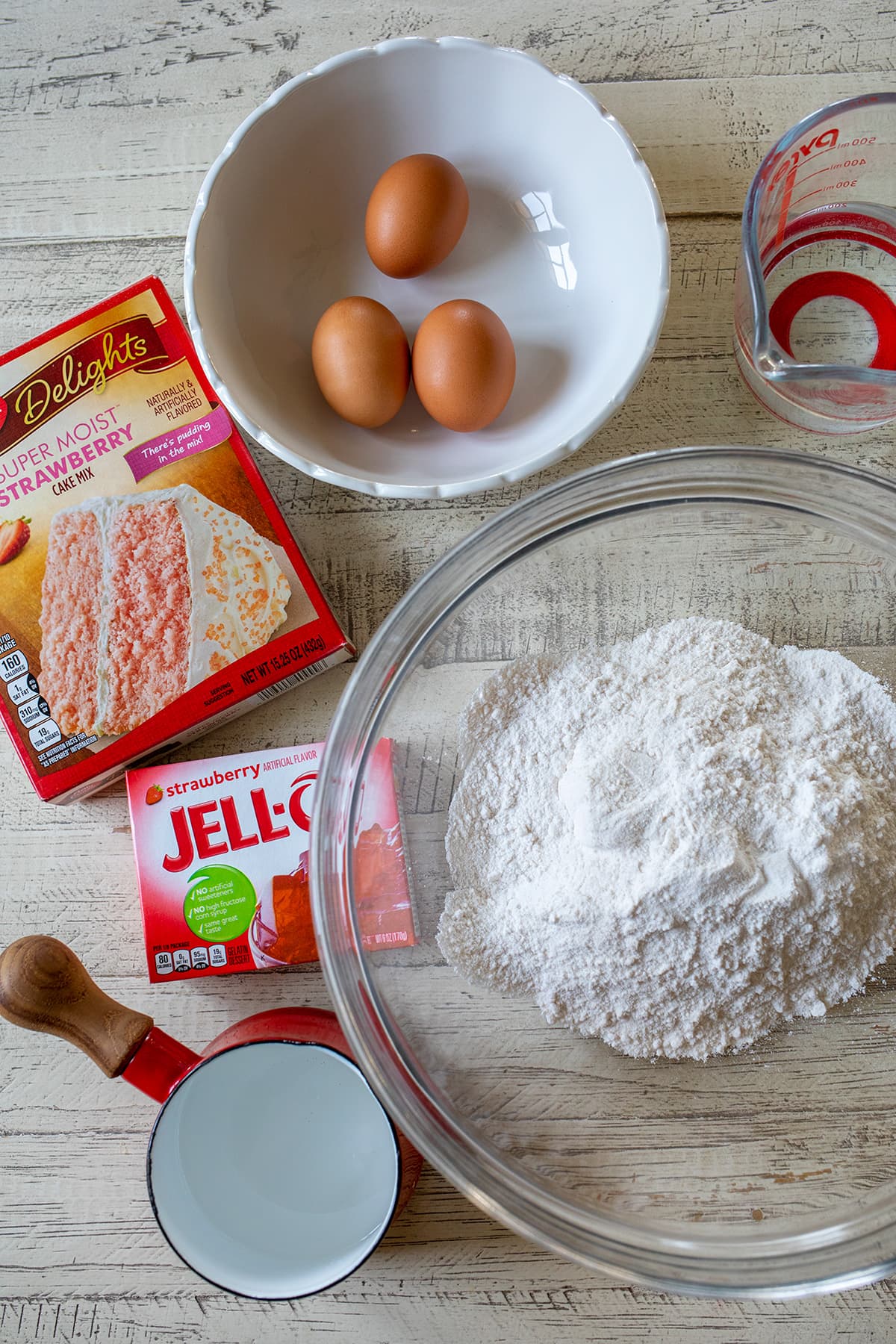 Jell-O Cake Ingredients
Boxed Cake Mix - I used Betty Crocker Super Moist Strawberry Cake mix but Duncan Hines Perfectly Moist Strawberry Cake Mix is also delicious!
Jell-O - Strawberry Jell-O adds so much flavor and also color to this cake.
Eggs - this will be according to the boxed cake mix you use, mine called for 3 eggs.
Oil - I used melted virgin coconut oil instead of vegetable or canola because I personally love the flavor and it's a bit healthier.
Water - for both the Jell-O and cake mix, according to the box instructions of course.
Cool Whip - not pictured here but used to fill and frost the cake! I recommend Cool Whip Extra Creamy or Original.
Berries - fresh strawberries and blueberries. Strawberries are in the filling and also used for garnish along with blueberries.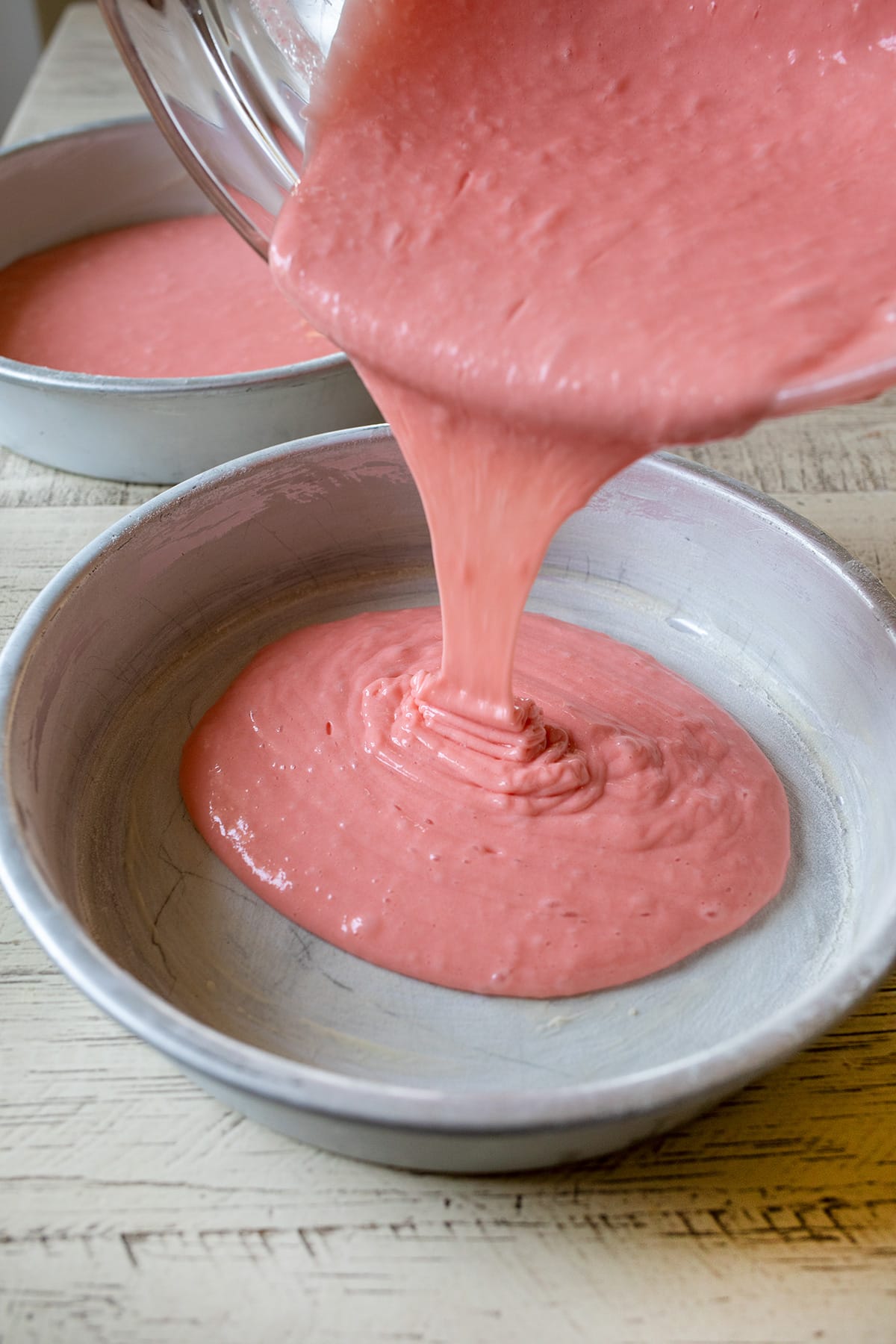 How to Make a Poke Cake
Prepare the Cake - Bake boxed cake mix according to the directions. You can bake two round 9" cakes like I did here or one 9x13" cake. I will get into the sizes more in the variations section of this post.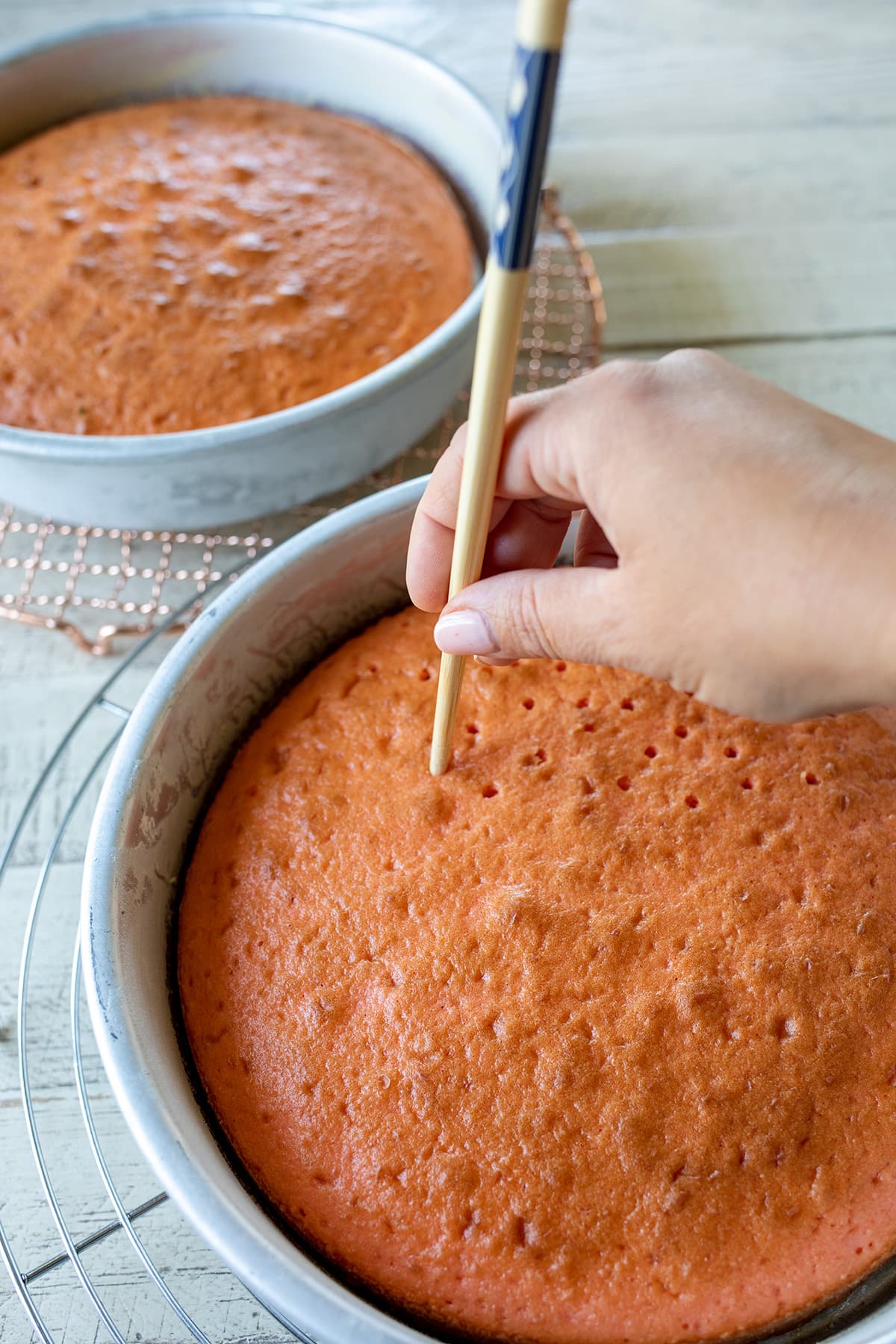 2. Poke Holes - after the cakes have cooled completely, poke holes in the cake using a wooden chopstick, skewer or wooden spoon handle. TIP: I've found that the texture of the cake is better when you poke smaller holes. A chopstick seems to be the perfect size. You can also use a fork for this.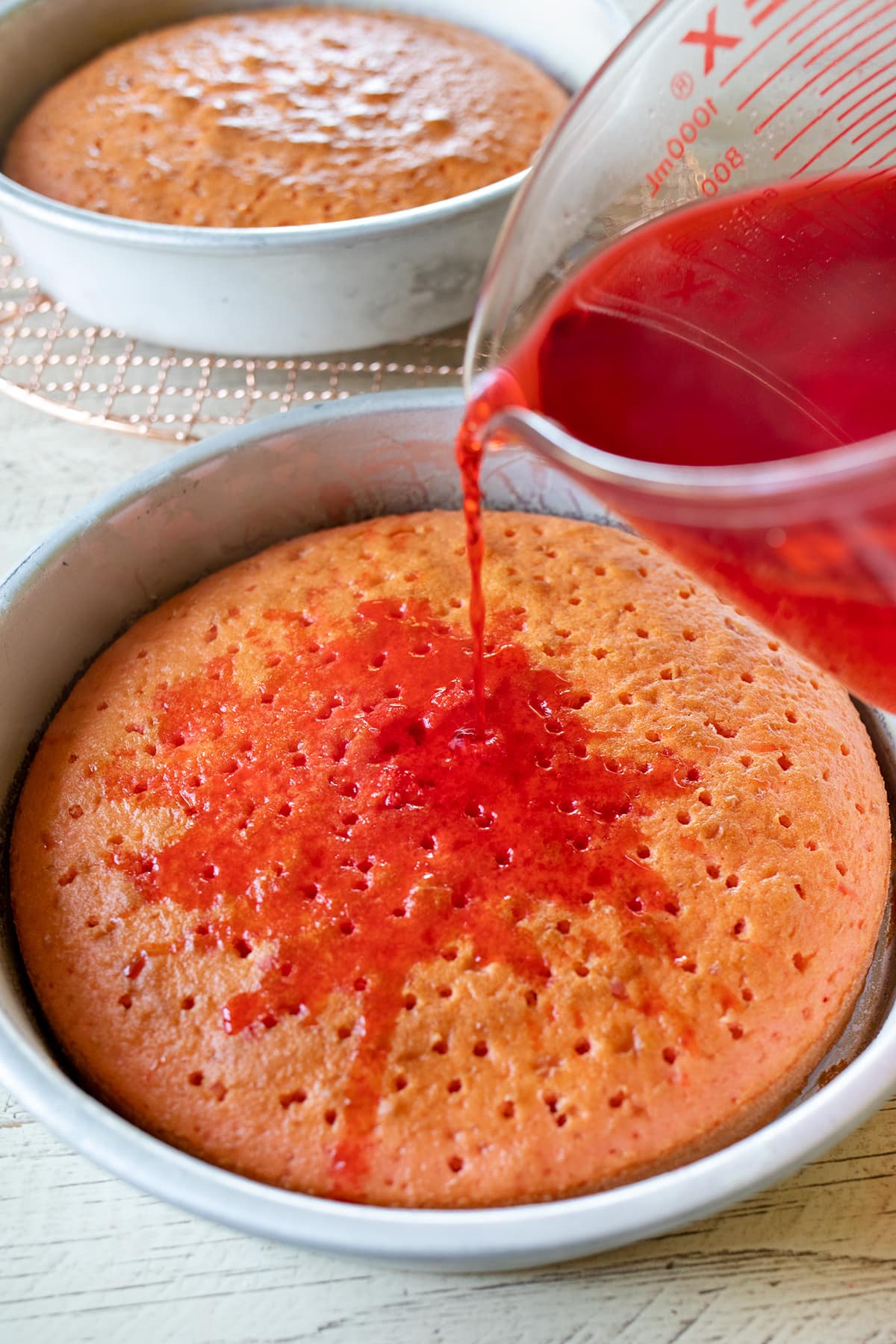 3. Add Jell-O to the Cake - Prepare Strawberry Jell-O with only the boiling water (so half of the usual amount of water) and slowly pour over the cooled and poked cakes. It will look like too much liquid at first but the cake will absorb all of it. Chill these layers until completely cool and the Jell-O is set.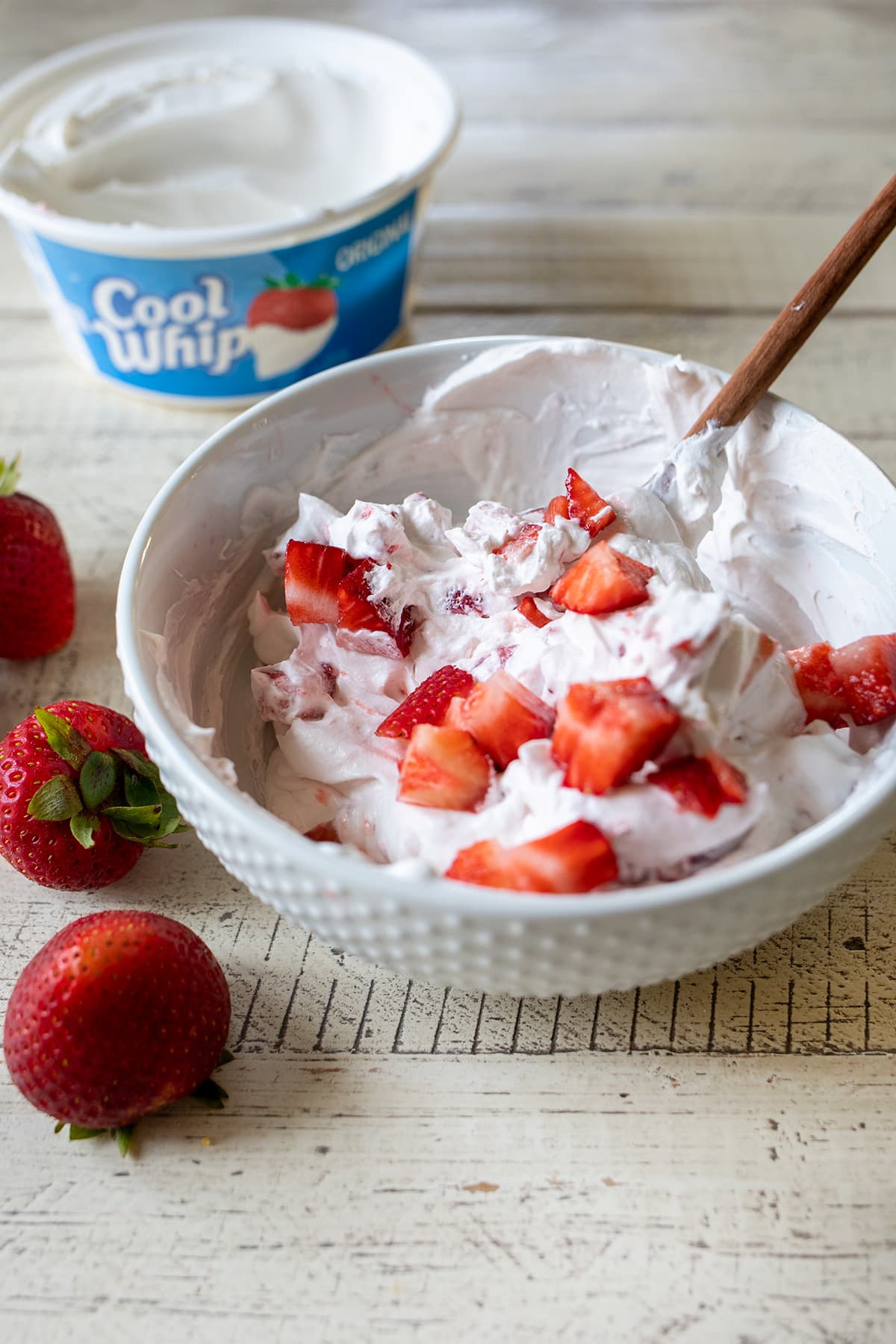 4. Make Strawberry Filling - Fold together Cool Whip and chopped fresh strawberries to make a simple filling for the cake layers.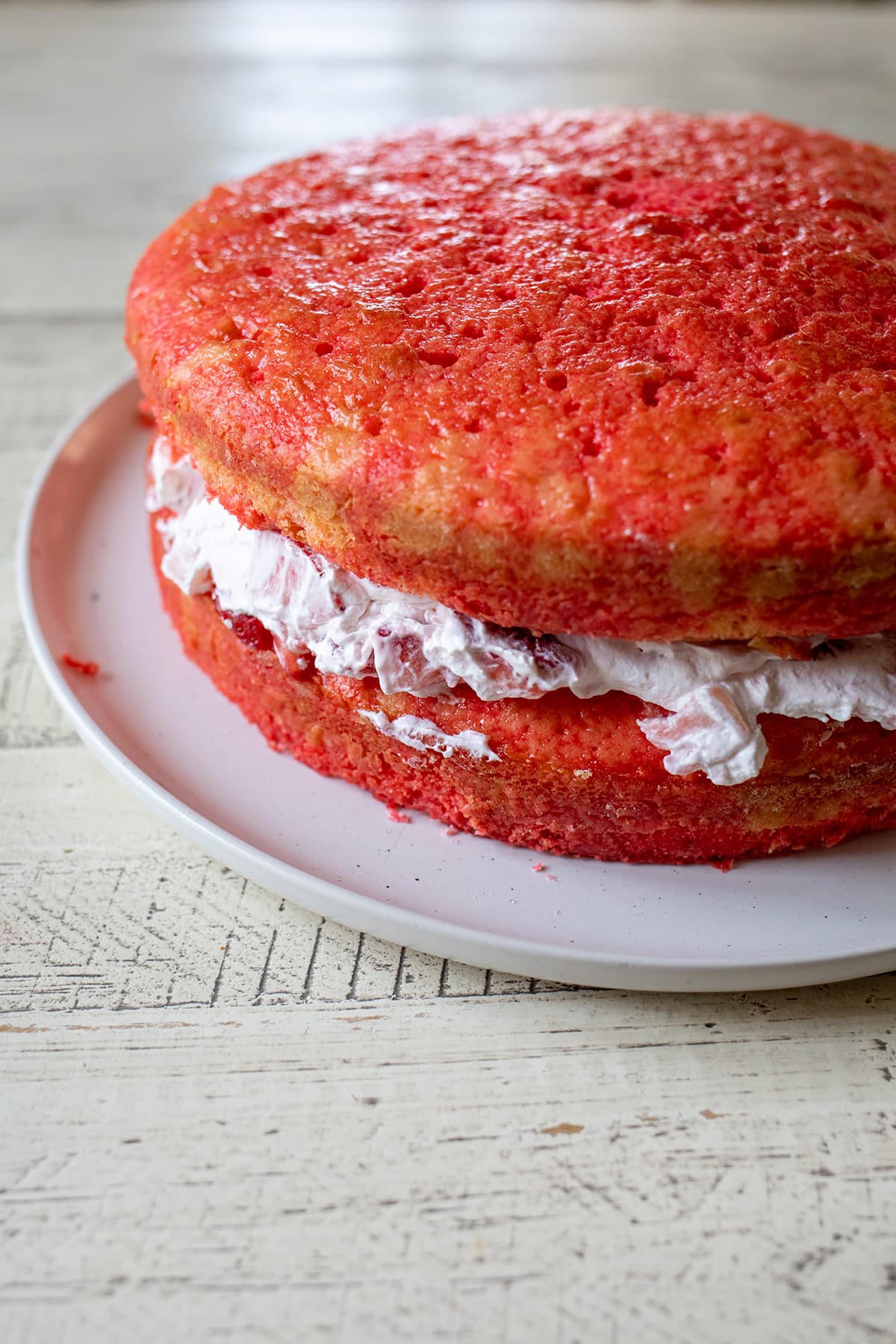 5. Assemble Cake - Layer chilled cake then strawberry whipped cream filling then another layer of cake.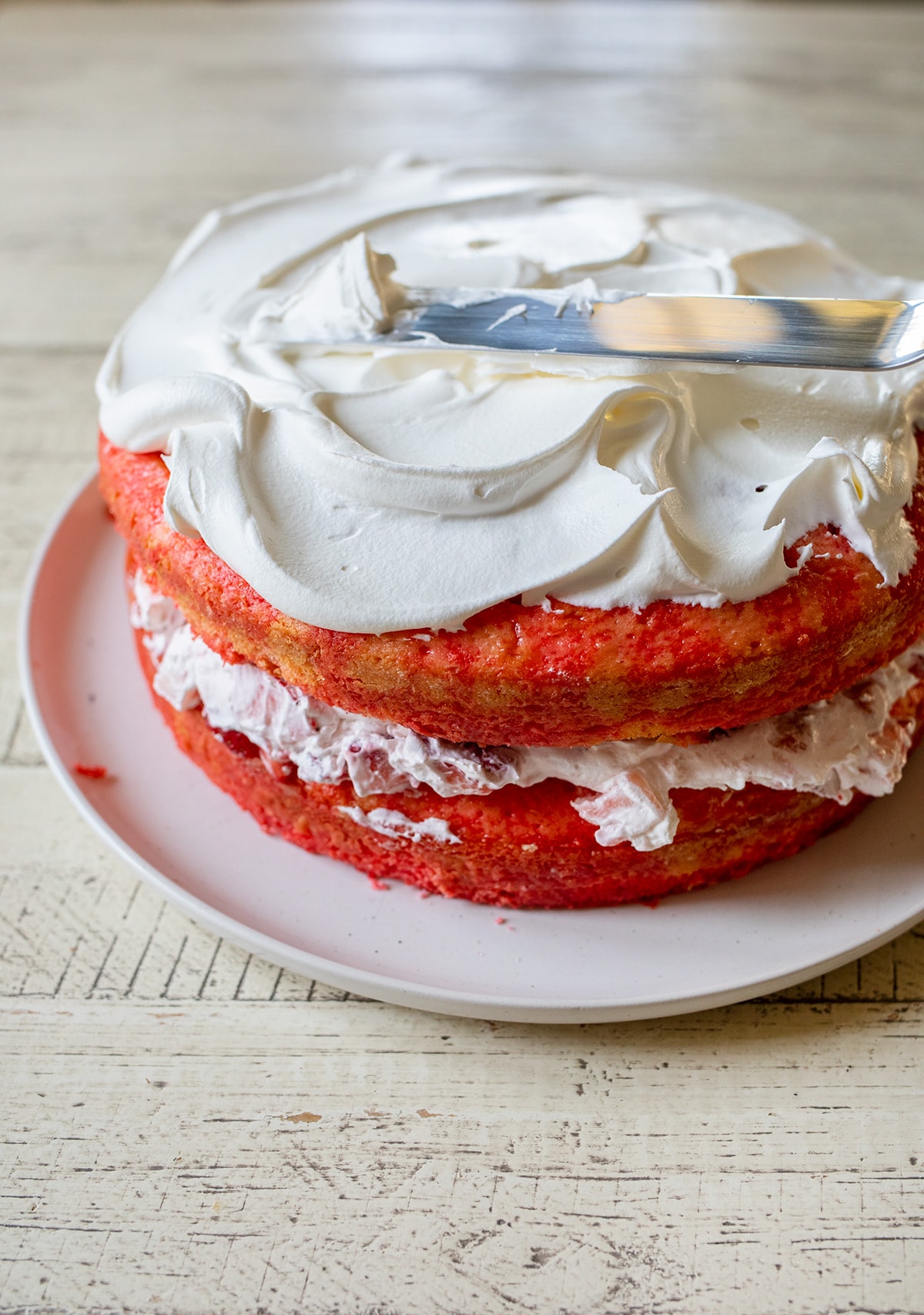 6. Frost the Cake - By frost I mean, cover completely in the remainder of Cool Whip. This step does not have to be perfect and in fact it looks very pretty with large swirls of whipped topping. You can use a butter knife or spatula for this. Chill until ready to serve.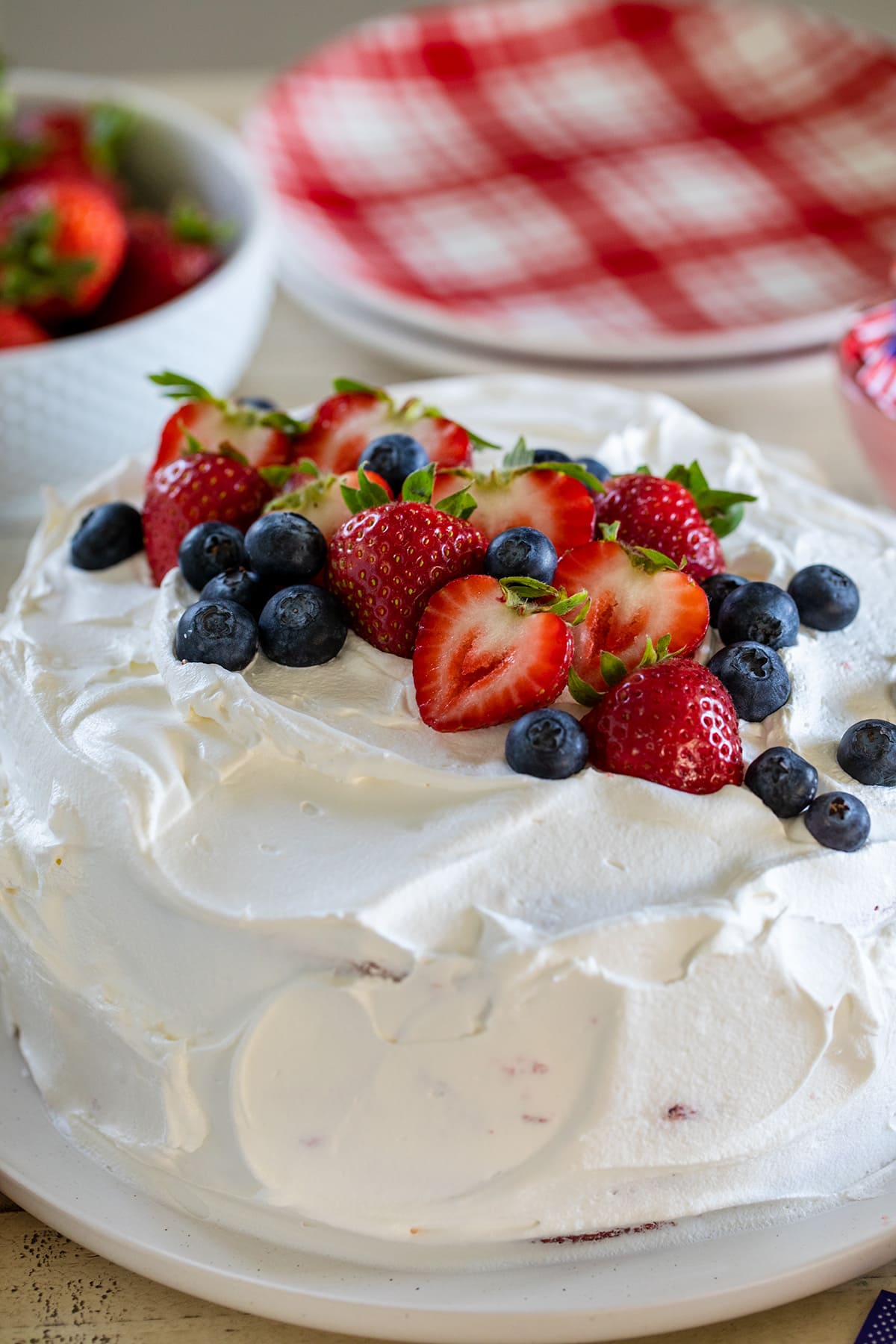 7. Decorate - Just before serving, decorate with fresh cut strawberries and blueberries. I don't recommend placing the fruit on top in advance because it tends to loose freshness in the refrigerator.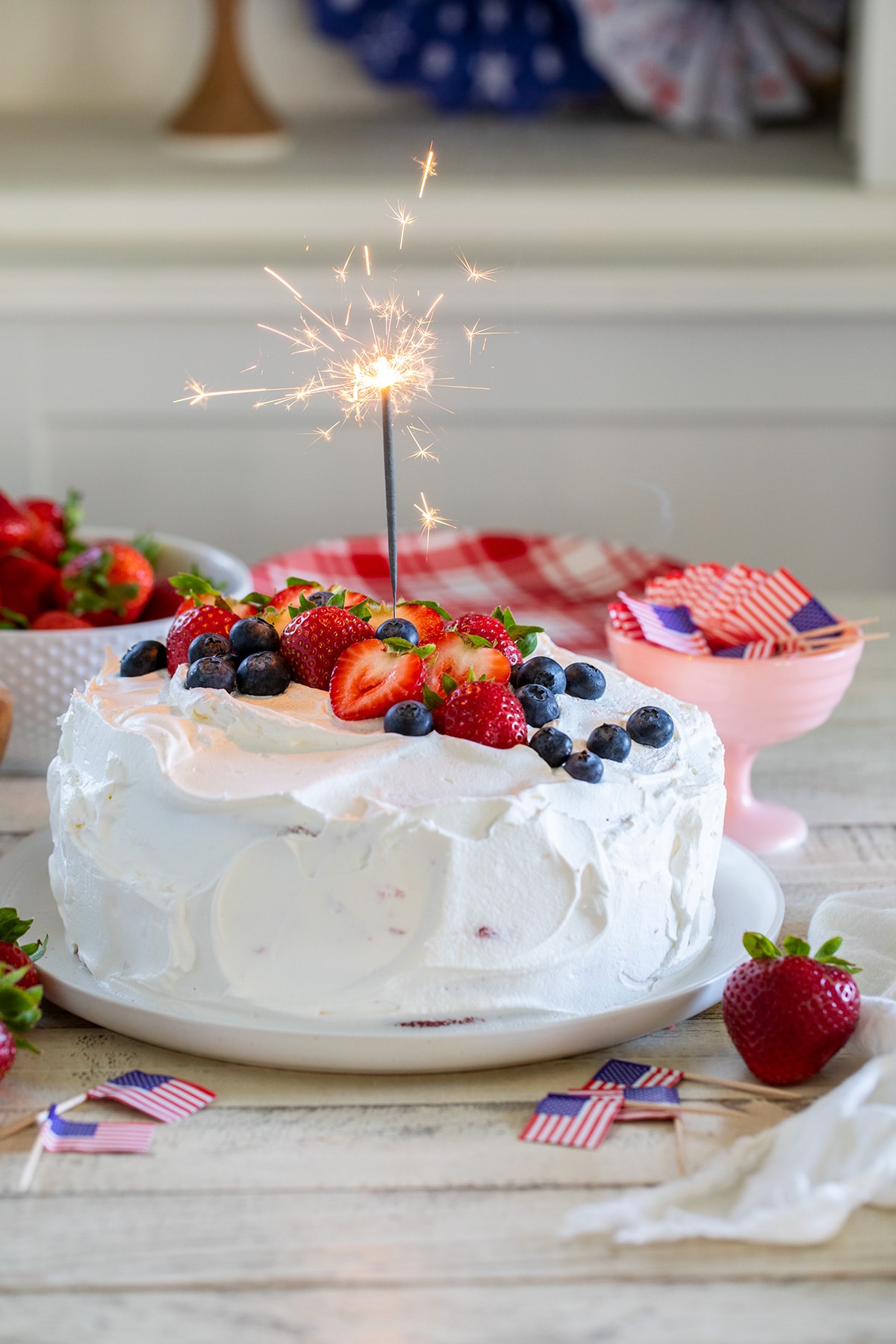 Can Poke Cake Be Made Ahead?
Yes! In fact, this cake needs time to chill in the refrigerator with each step and is best served cold, so it's a great make ahead dessert. Leave the berries for garnish off until just before serving. Sliced strawberries wilt rather quickly in the refrigerator.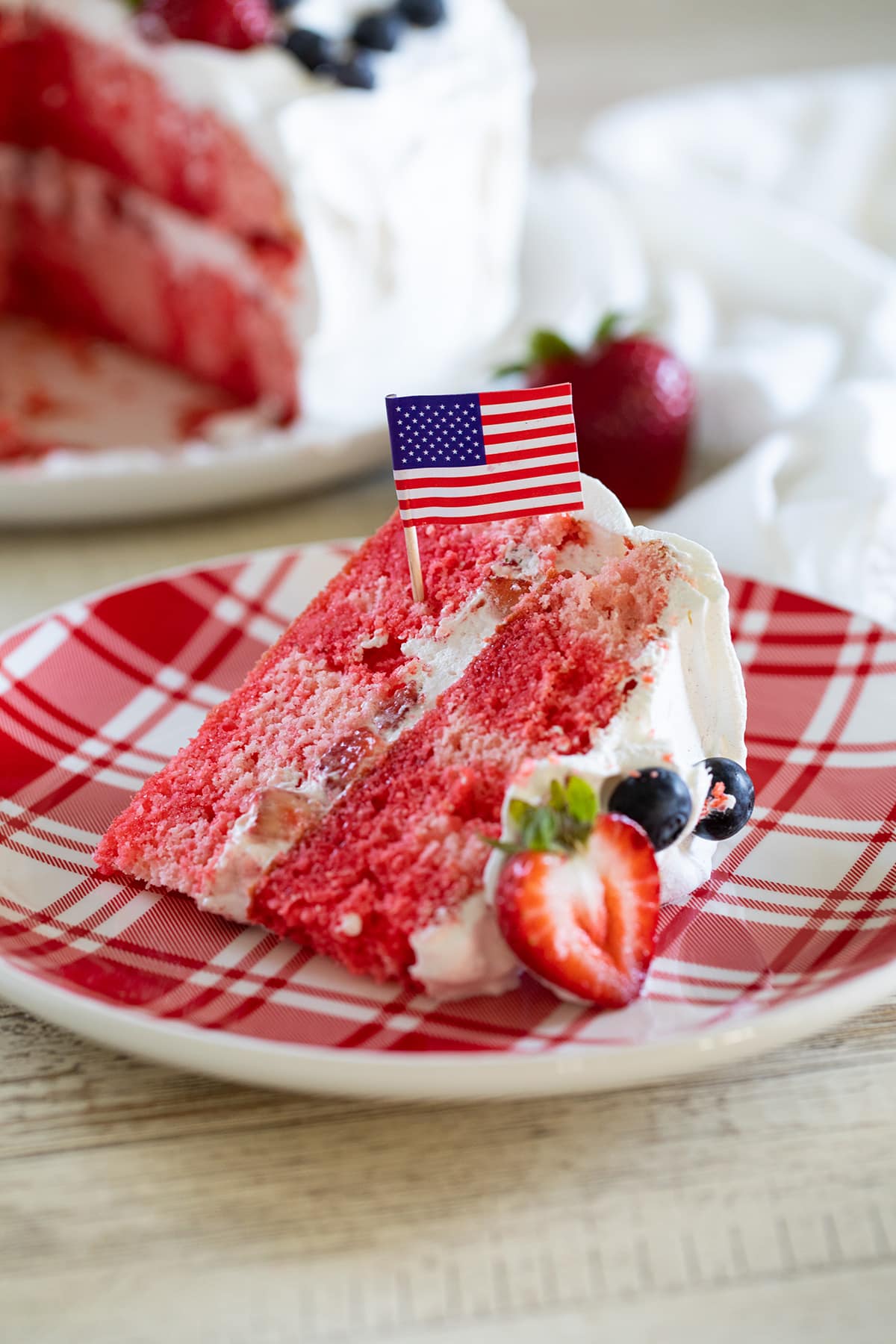 Possible Substitutions:
The substitutions are really endless for this cake since it can be made with any boxed cake mix and Jell-O flavor you like!
Change the Flavor - Switch up the flavor entirely by trying cherry or lemon Jell-O and a white cake mix or lemon cake mix.
Pan Size - If a layered cake is too complicated, you can make this same recipe in
9x13 pan! I would either leave out the chopped fresh strawberries or mix them into all of the Cool Whip before frosting. Either way it will be just as tasty.
Jell-O - If you happen to be reading this post but are not a Jell-O fan, you can also make this cake with pudding mix in place of Jell-O for an entirely different dessert.
Cool Whip - You can substitute the Cool Whip for homemade whipped cream if you would like to make that from scratch!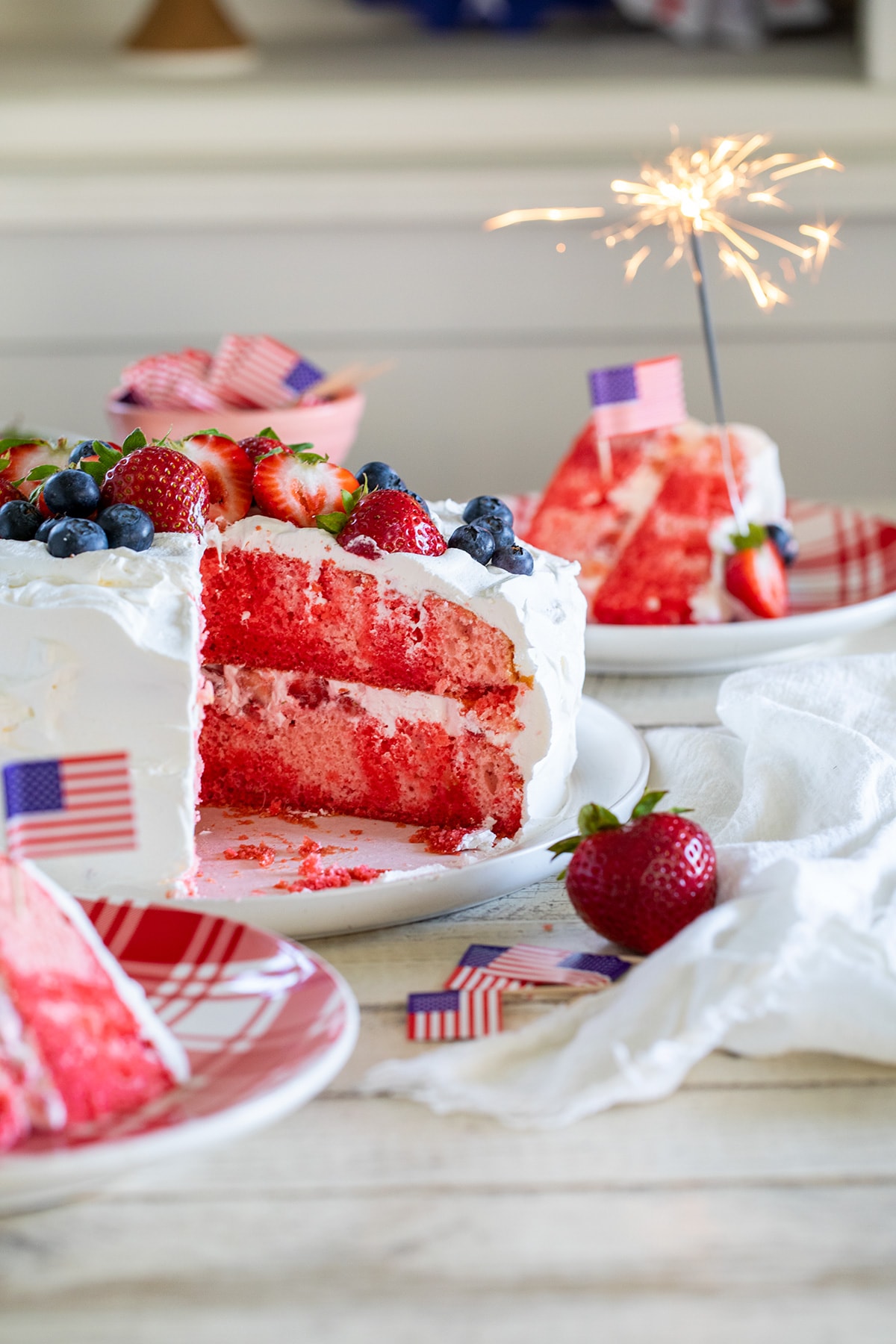 More Desserts You Might Enjoy!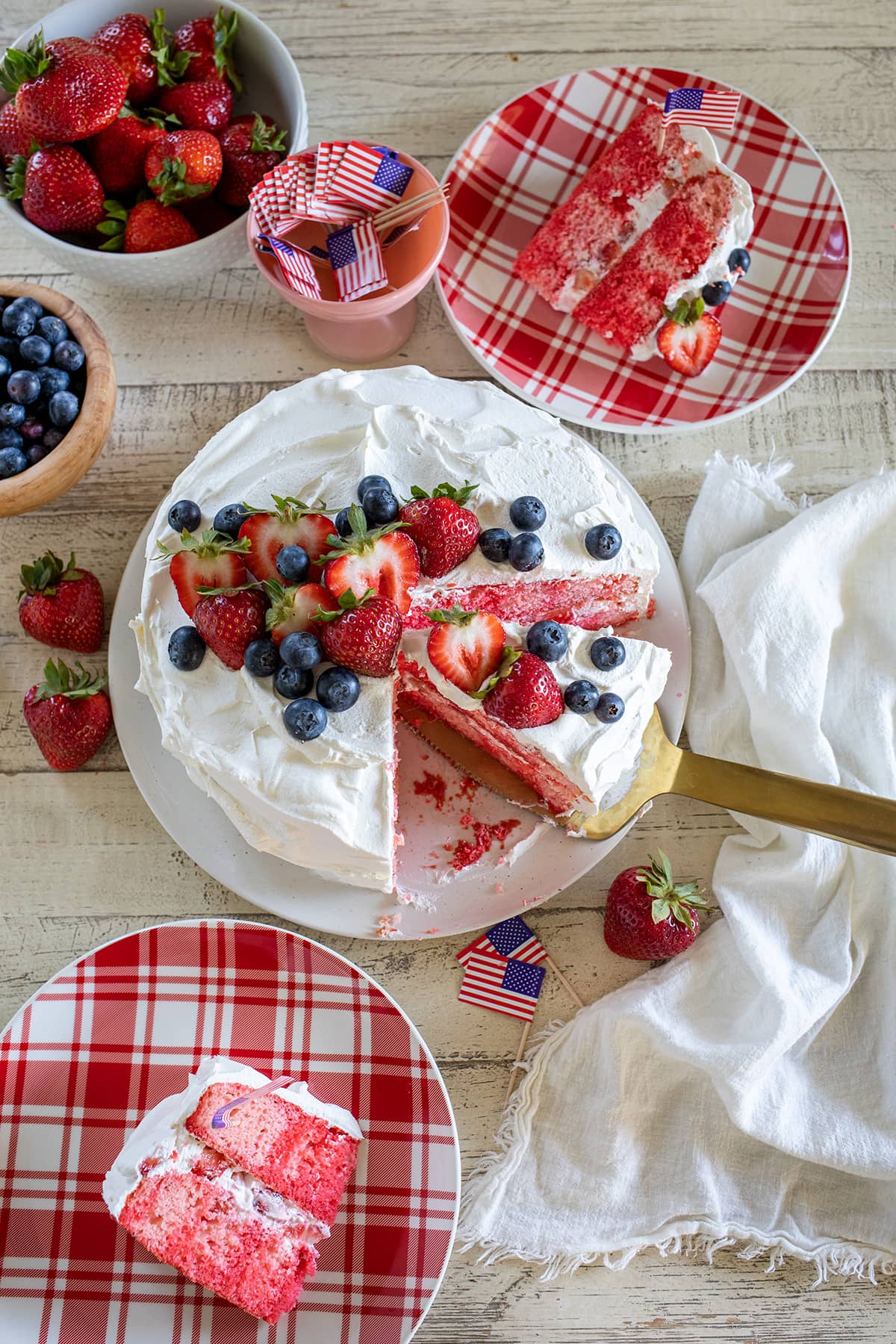 I hope you and your family enjoy this Strawberry Jello Poke Cake as much as my family has! I recently took this cake to a family dinner and my Mom, Dad, brothers, sister and Grandma all gave it rave reviews. It's light and delicious and packed with strawberry flavor. This is a NEW (to our family) summer classic.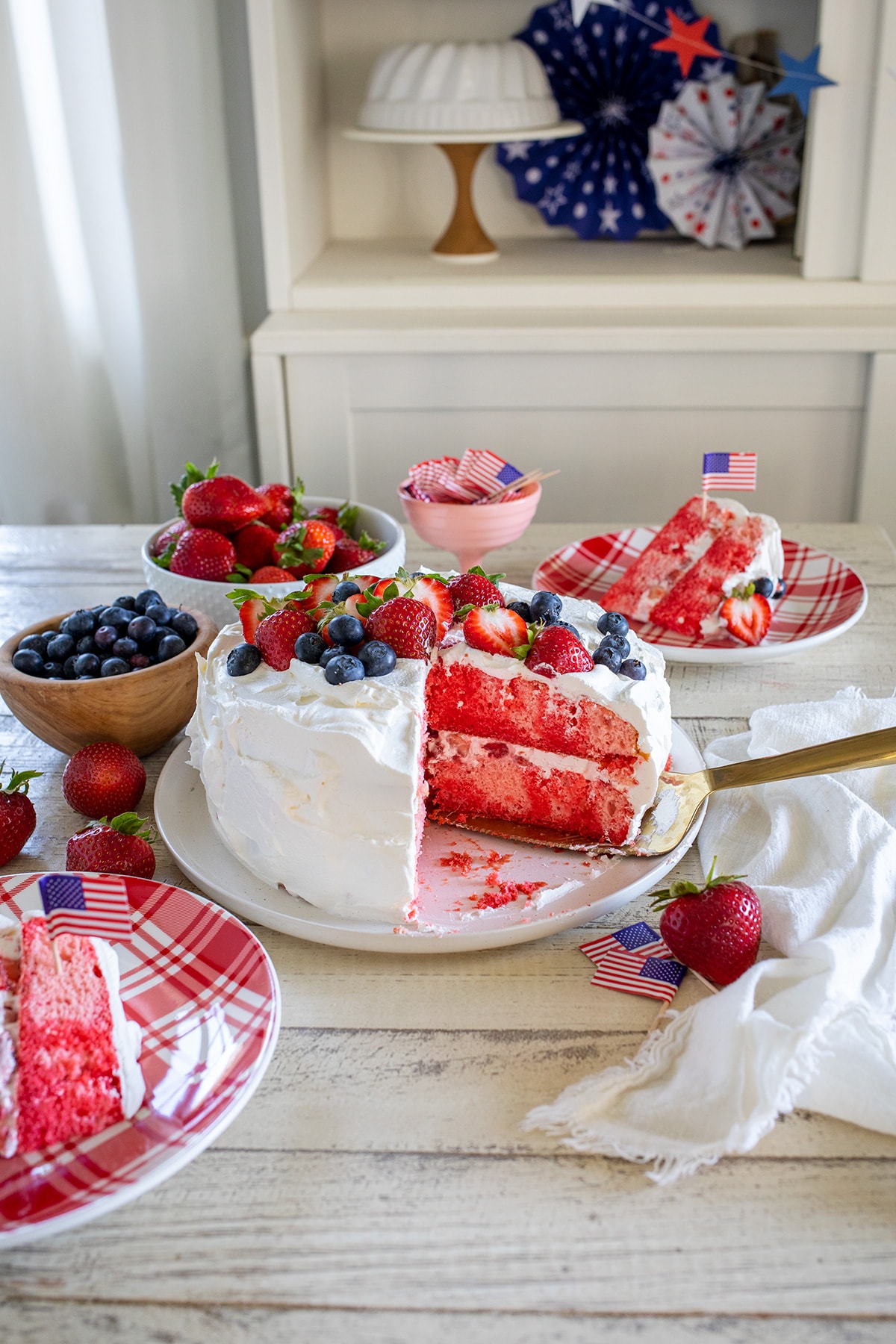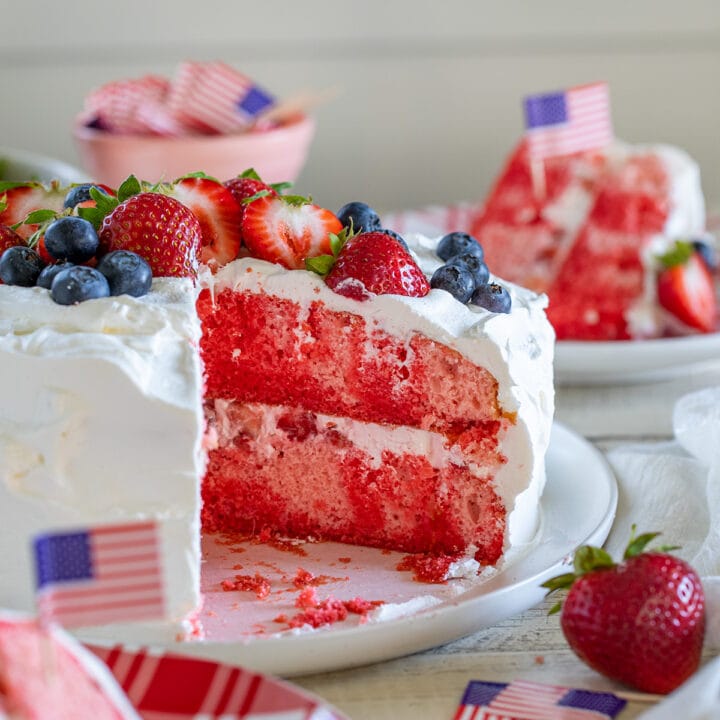 Strawberry Jell-O Poke Cake
Total Time:
1 hour
50 minutes
Double strawberry Jell-O Poke Cake made with boxed strawberry cake, strawberry Jell-O, Cool Whip and fresh berries is a light and delicious summer dessert!
Ingredients
1 - box Strawberry Cake Mix
Water and Eggs - according to box directions
Coconut oil - amount according to box cake mix directions. Note: I substitute coconut oil for canola or vegetable oil in this cake.
1- 6oz box Strawberry Jell-O
2 cups boiling water
1 cup chopped fresh strawberries
8 oz tub Cool Whip
strawberries and blueberries for garnish
Instructions
Pre-heat oven to 350°F. Butter and flour two 9" round cake pans or spray with non-stick cooking spray.
In large bowl combine cake mix, water, oil and eggs and beat with an electric mixer for 2 minutes until combined.
Pour evenly into pans and bake 28 minutes or until toothpick inserted in center comes out clean. Cool on cooling rack, in pans for 20 minutes.
Once cakes are cooled, poke all over with a chopstick to create holes.
In a large Pyrex measuring cup combine Jell-O and 2 cups boiling water. Stir until gelatin is dissolved. Carefully pour strawberry gelatin evenly over tops of both cakes.
Cool completely, about 1 hour in the refrigerator until cakes are cold and Jell-O is absorbed and set.
Mix 1 cup of Cool Whip with 1 cup diced strawberries to create a quick filling.
TIP!!! Remove cakes from pans by placing in a shallow dish of warm water for 30 seconds. This will help release them and you should be able to gently remove with the help of a rubber spatula.
Spread strawberry whipped cream filling on one cake round and top with the second round of cake.
Frost the entire cake with the remaining Cool Whip. Refrigerate until ready to serve.
Just before serving, garnish with halved strawberries and fresh blueberries.
Notes
If your coconut oil is solid, melt over low heat before measuring.
Nutrition Information:
Yield:

12
Serving Size:

1
Amount Per Serving:
Calories:

339
Total Fat:

13g
Saturated Fat:

8g
Trans Fat:

0g
Unsaturated Fat:

4g
Cholesterol:

28mg
Sodium:

373mg
Carbohydrates:

53g
Fiber:

1g
Sugar:

33g
Protein:

3g