Strawberries and Rhubarb…one final ode to summer before I throw in the towel on all things sunny and stock up on pumpkin. Blazing heat? Who cares, I'm ready for fall you guys!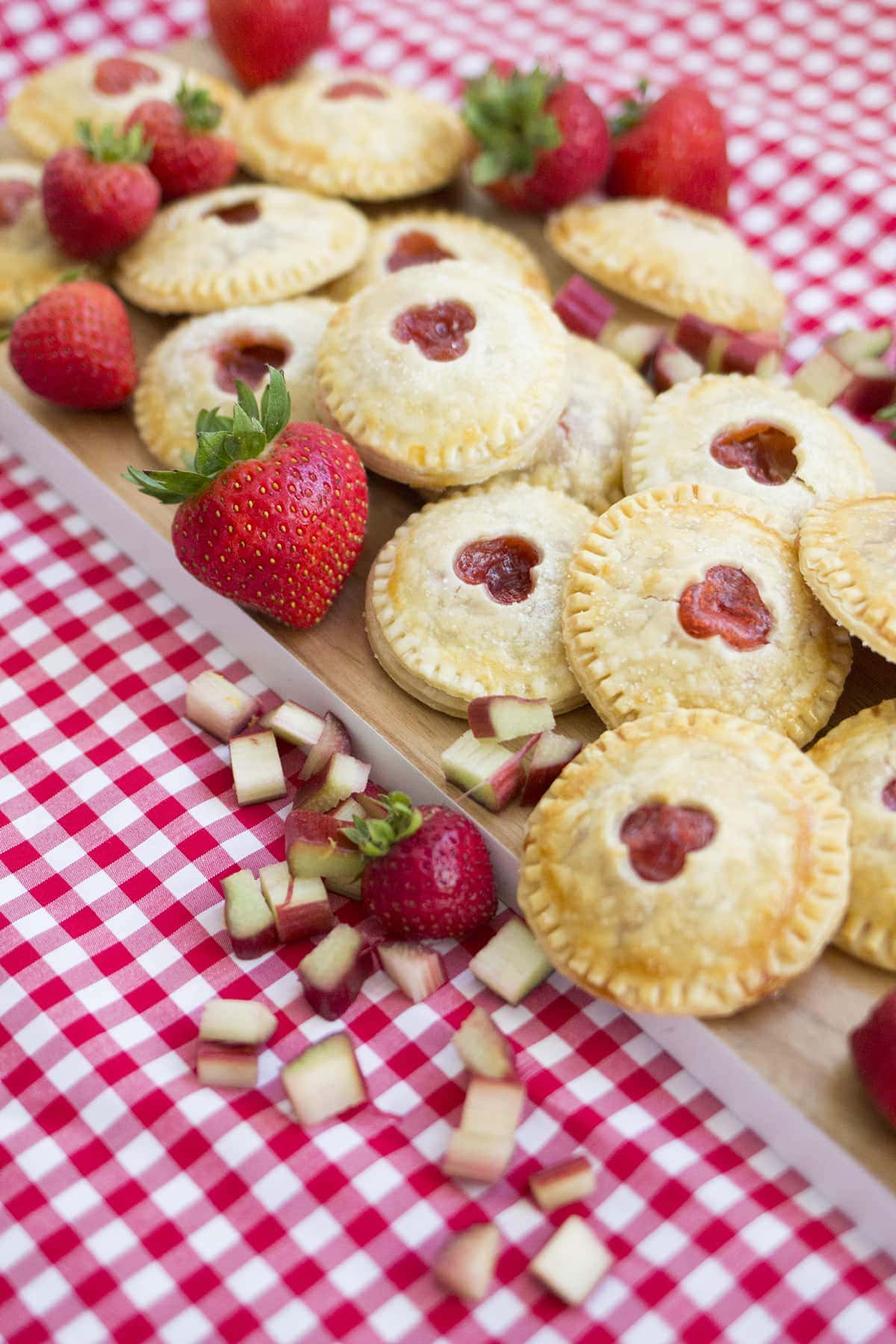 But before I start sprinkling Pumpkin Pie Spice on everything, I thought I would share just one more recipe to savor the sweet flavors of summer. These Mini Strawberry Rhubarb Hand Pies are sweet and perfect bites of fruity goodness.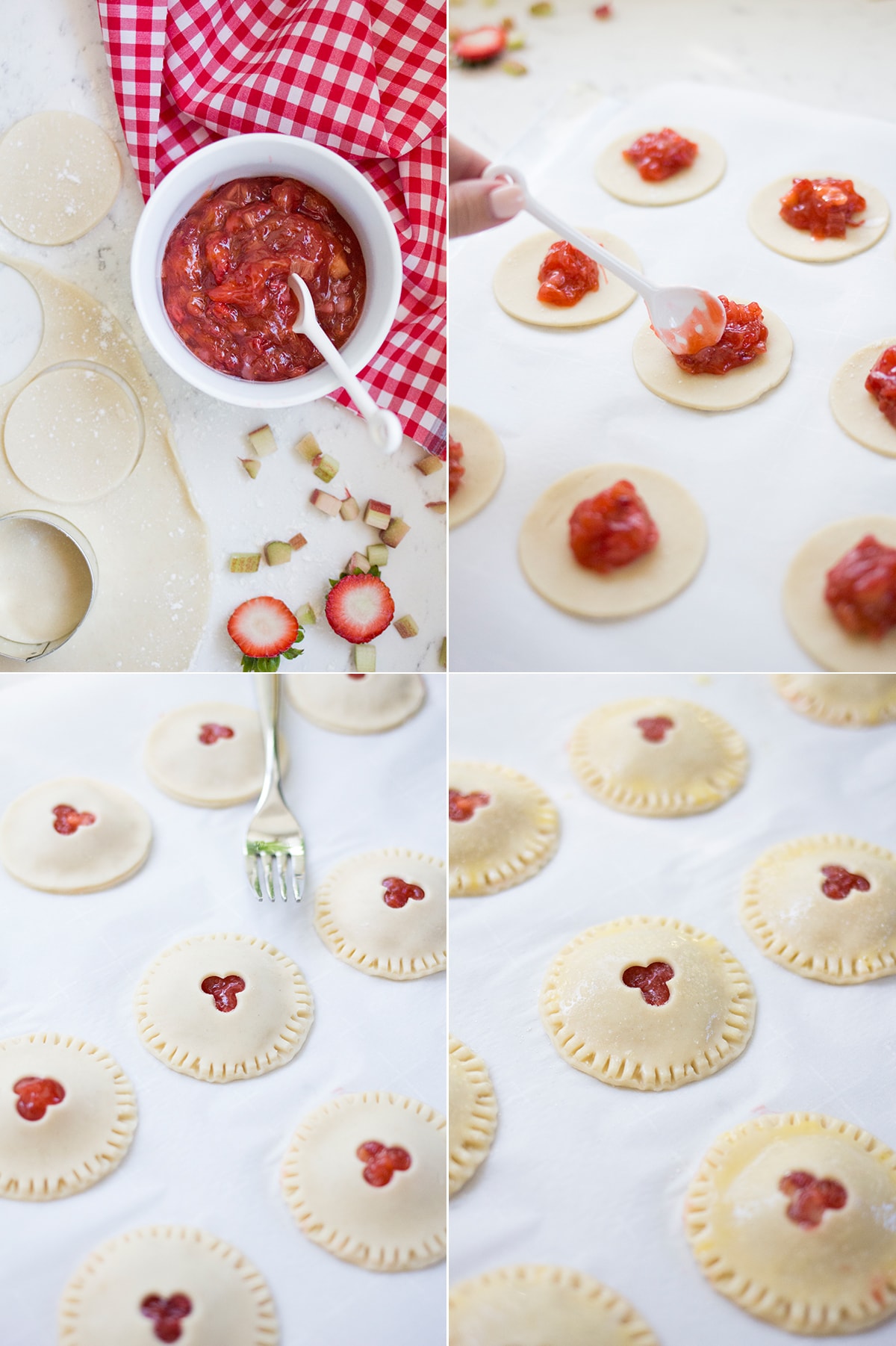 Cook together fresh strawberries, rhubarb, lemon zest, sugar and corn starch until it's bubbly and thickened. Try your best not to eat it with a spoon while you roll out the dough, and in less than an hour, you will have one of these sweet pies in your hot little hands. Really, it's that easy, I promise!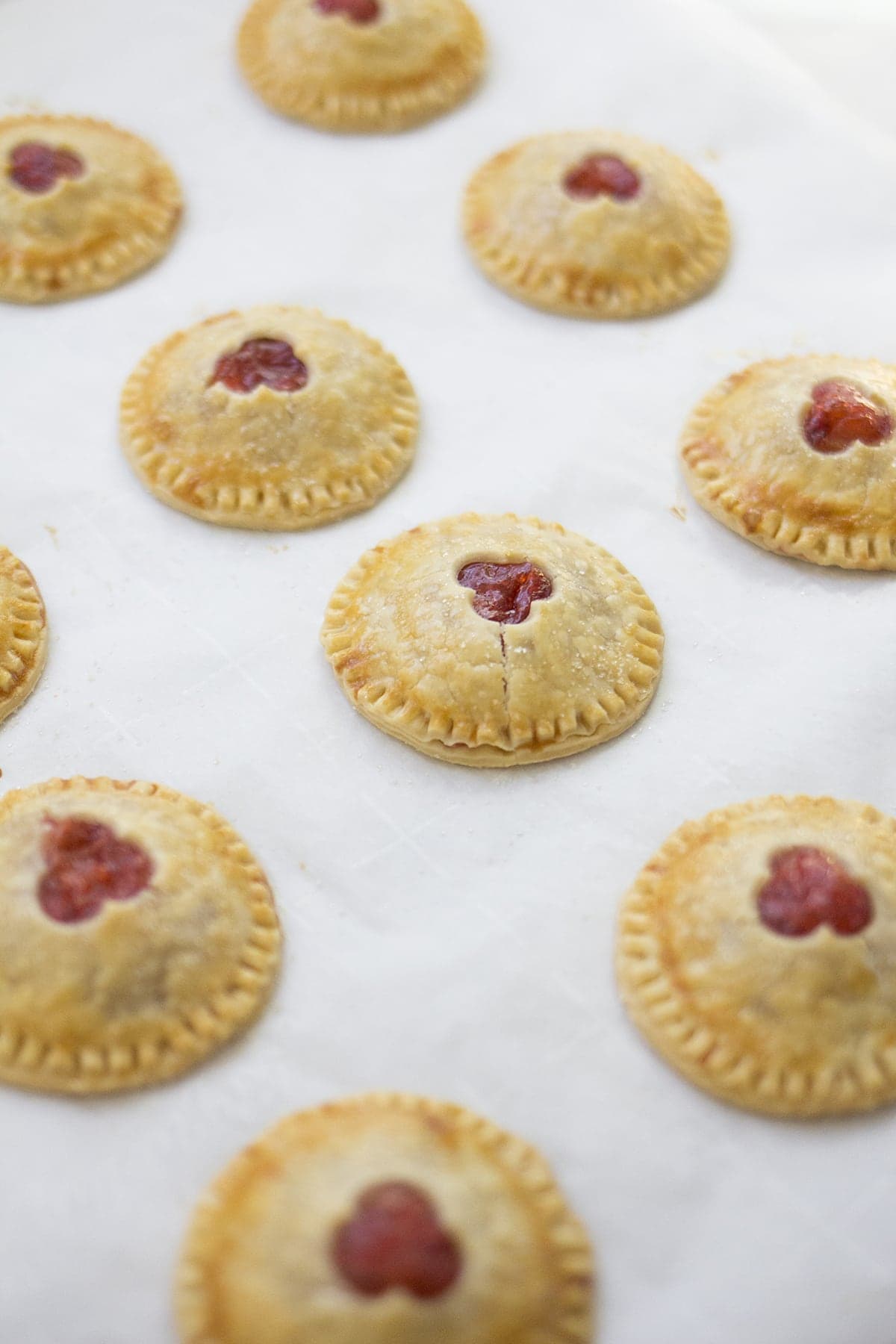 Of course you could always make your own pie crust but with mini hand pies I always use store bought dough. Leave the homemade stuff for Thanksgiving (I say) and take some help from the grocery store for this one. Trust me, the filling is delicious enough. So, are you ready for fall or are you still savoring summer? I hope you will give these pies a try and let me know what you think. Up next…pumpkin season!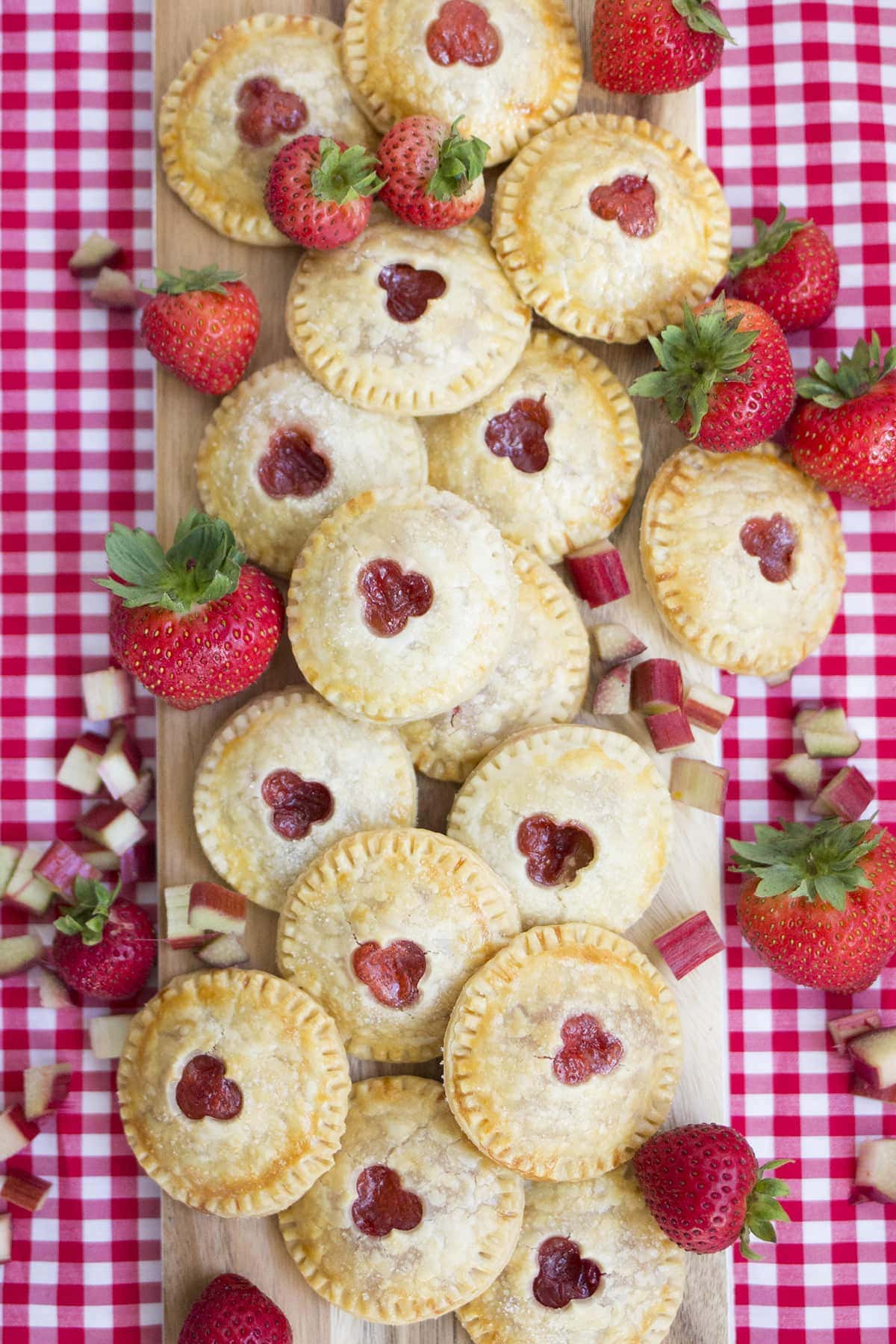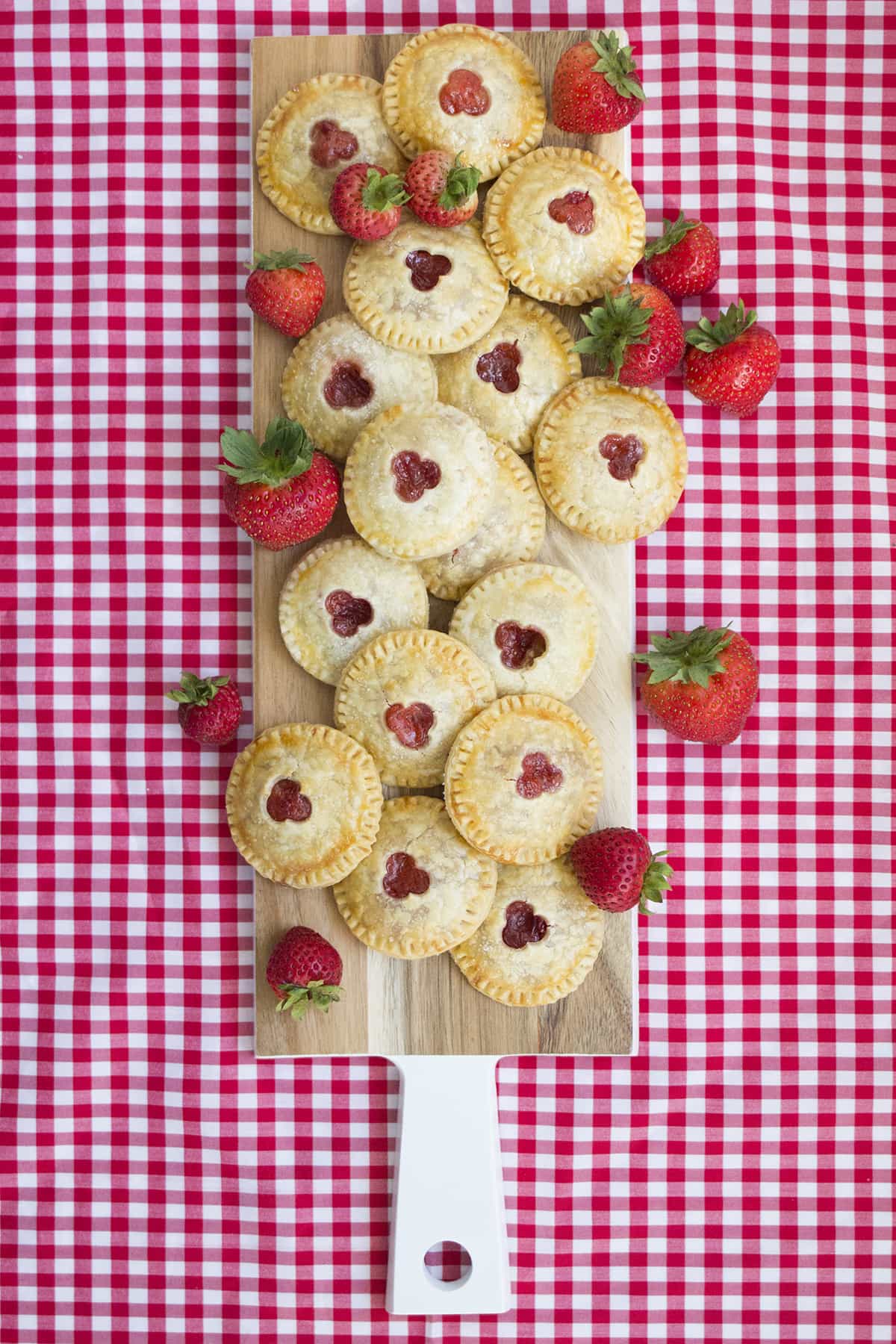 Mini Strawberry Rhubarb Hand Pies
2016-08-17 22:37:36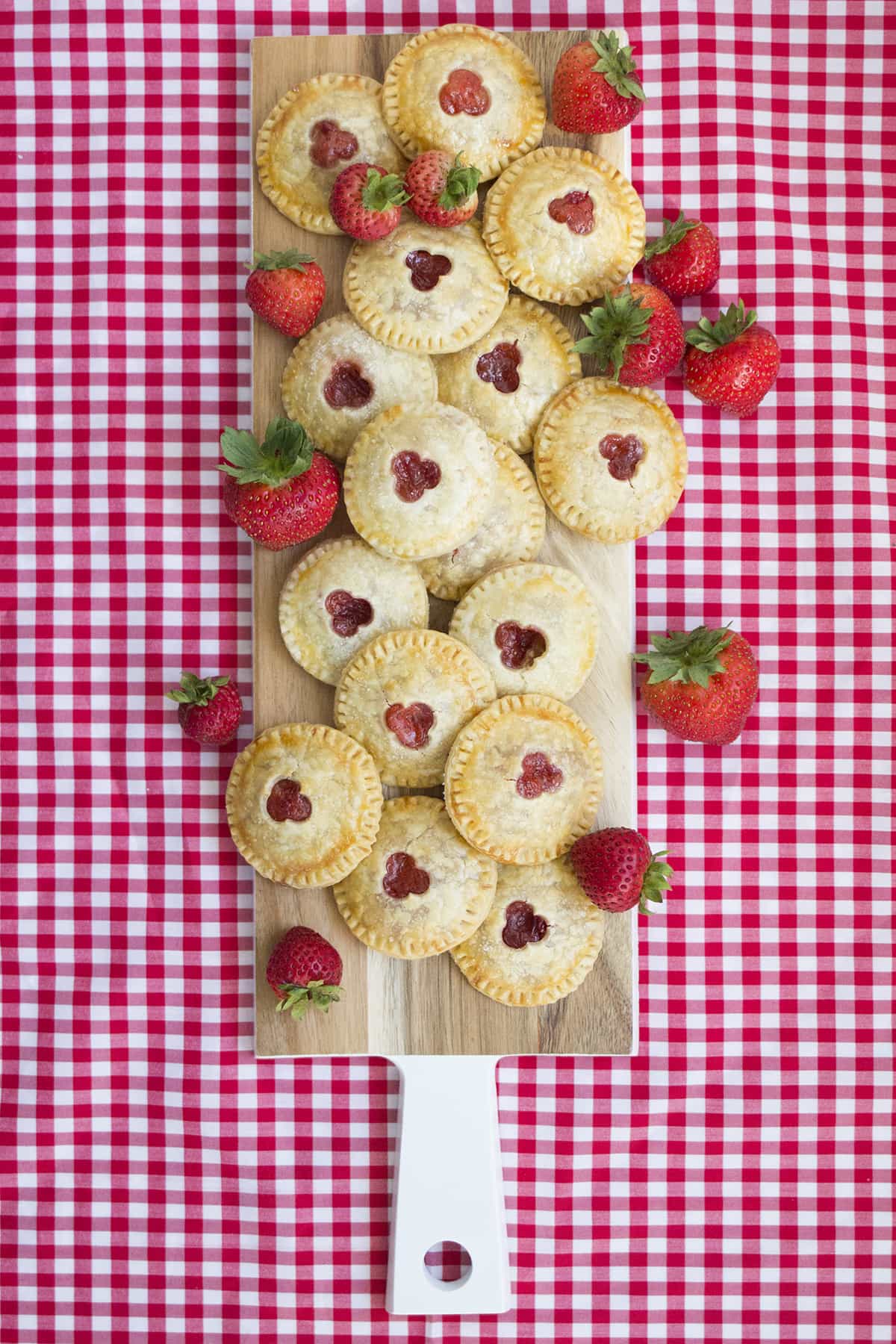 Serves 18
Ingredients
3/4 cup finely chopped fresh strawberries
3/4 cup finely chopped fresh rhubarb
1/2 cup sugar
2 tablespoons cornstarch
1 1/2 teaspoons lemon zest
1 box Refrigerated Pie Crusts, softened as directed on box
1 egg
Instructions
Heat oven to 375°F. Line cookie sheet with cooking parchment paper. In 2-quart saucepan, mix strawberries, rhubarb, 1/2 cup sugar, the cornstarch and lemon zest. Cook over medium heat 6 to 8 minutes, stirring constantly, until bubbly and thickened. Cool slightly.
Remove pie crusts and unroll on lightly floured work surface. With 2 1/2-inch round cookie cutter, cut 14 rounds from each crust; re-roll scraps. Cut small shapes out of half of the rounds; these will be the tops. On cookie sheet, place half of the dough rounds 2 inches apart. Top each with 2 teaspoons fruit mixture. Brush crust edges with water; top with remaining dough rounds. Press edges firmly with fork to seal. Cut slits in top of each round.
In small bowl, beat egg; brush over tops of pies. Sprinkle with 2 teaspoons sugar.
Bake 20 to 25 minutes or until lightly browned. Serve warm or at room temperature.
Freutcake https://www.freutcake.com/
Save