This post was created in partnership with Truvia, a product that I genuinely love!
Citrus Rum Shrimp is sweet, tangy, and the perfect dinner for two on Valentine's Day. If you, like me, plan to stay home this year to celebrate V-Day, this dinner grills up in no time and is super delicious. Plus I'm sharing a recipe for Skinny Strawberry Mojitos to wash it all down. Who's ready for dinner?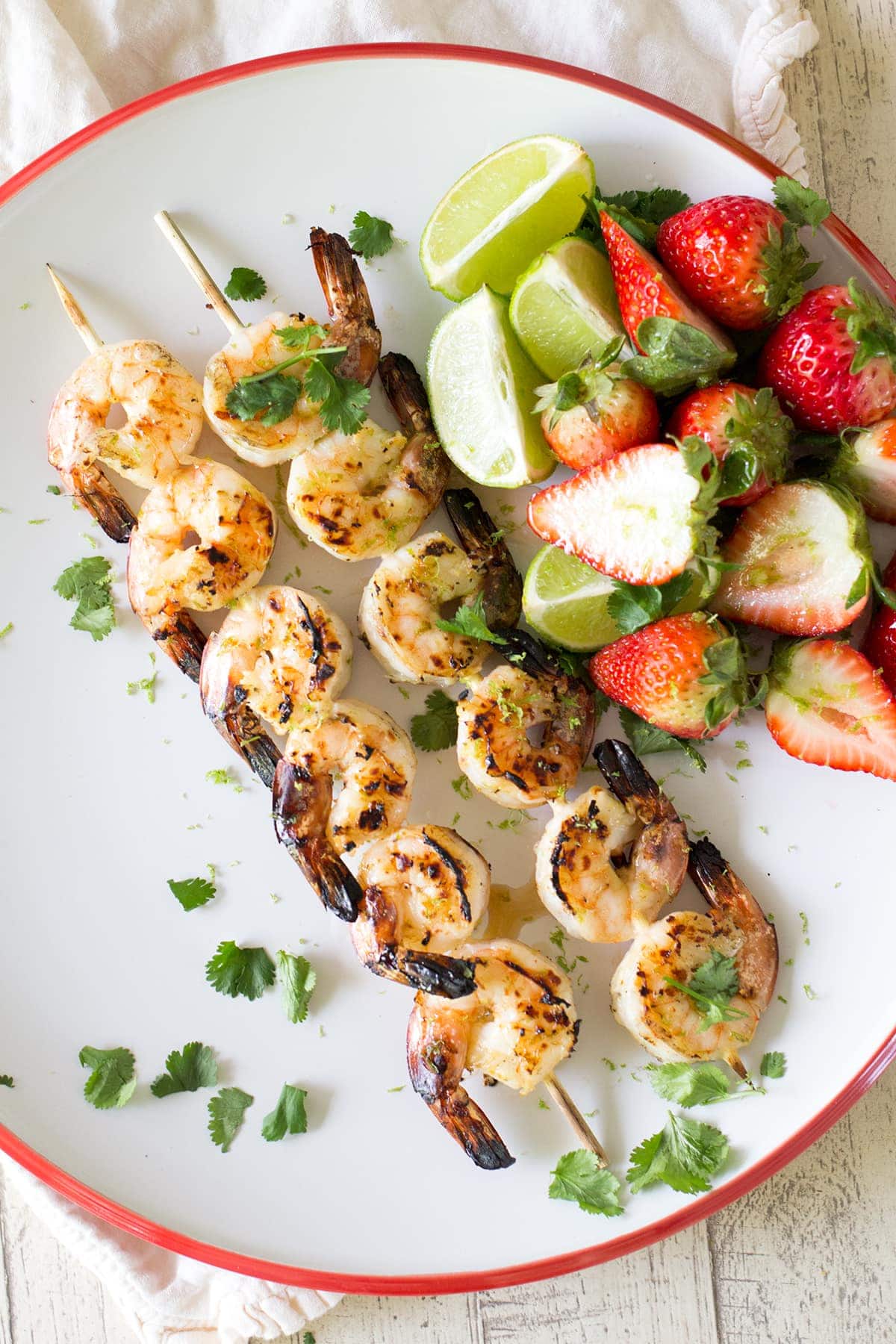 If there is one thing I know about men, it's that they never seem to complain about the opportunity to grill. Get your guy to heat up the coals while you marinate the shrimp and muddle up a round of mojitos. He's doing the dirty work and you get to make cocktails, this Valentine's dinner is working out quite nicely!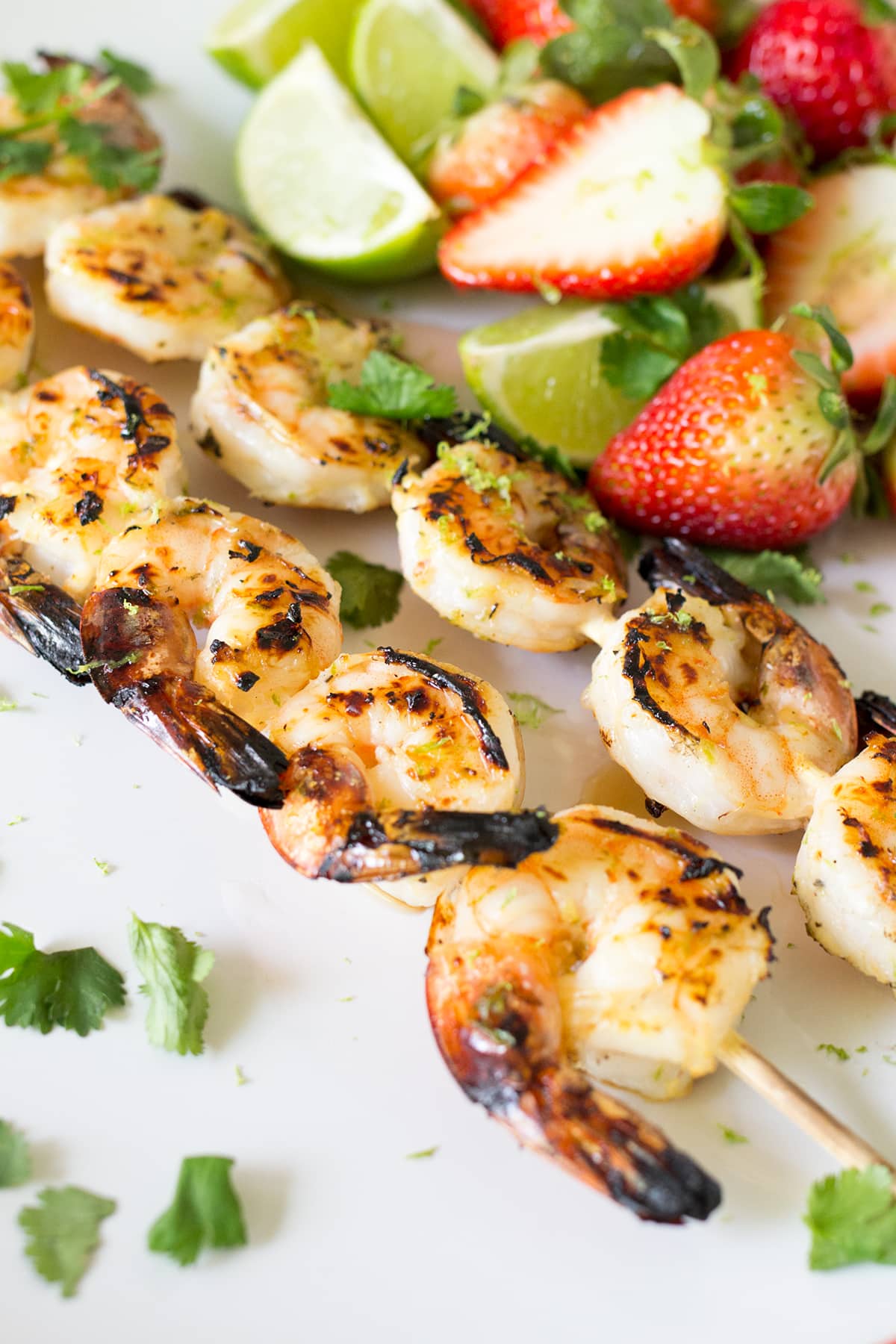 For the Citrus Rum Grilled Shrimp, start by marinating a dozen or more jumbo raw shrimp in orange and lime juice, lime zest, Truvia Nectar for a sweet honey flavor with half the calories of full-calorie honey, fresh garlic, ginger and rum. Let the shrimp get nice and boozy while the charcoals get hot and the drinks get made.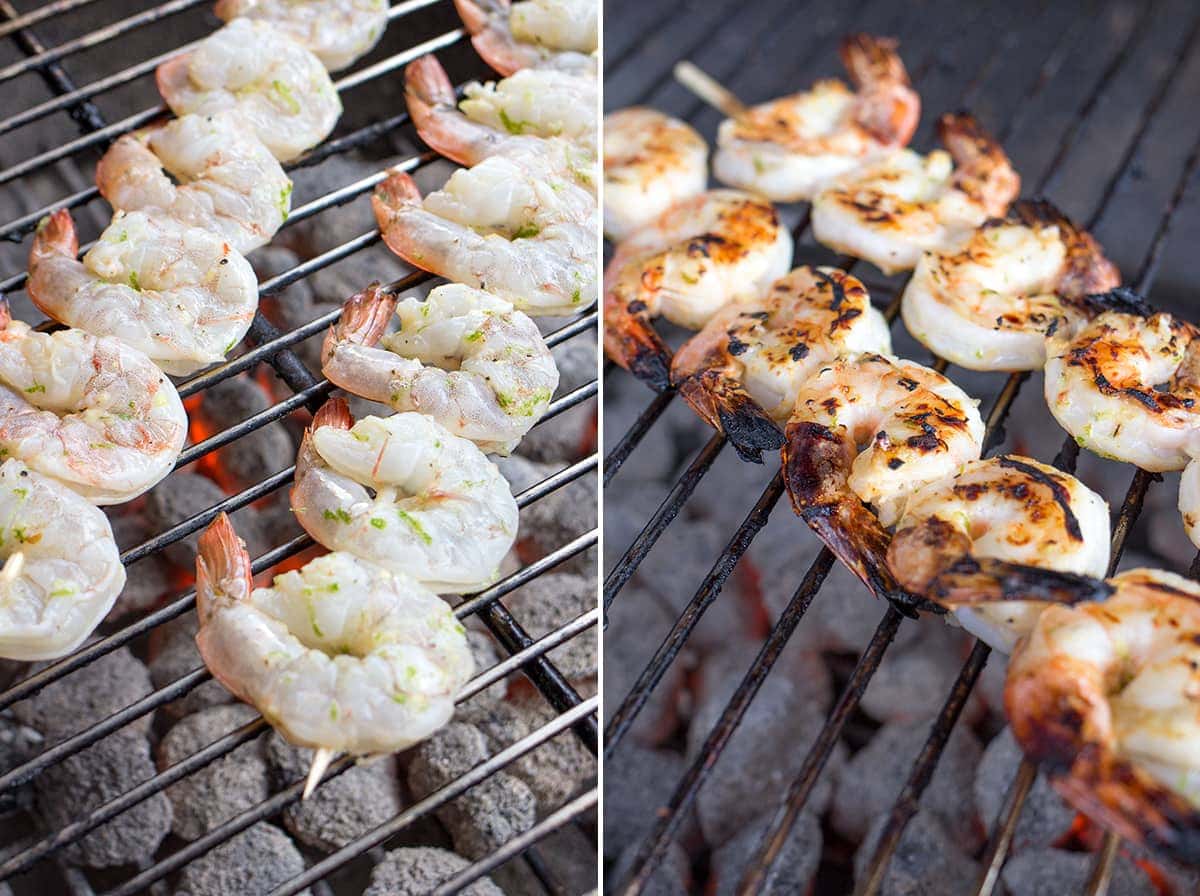 Skinny Strawberry Mojitos pair perfectly with the shrimp and compliment the flavors with more rum, lime juice and Truvia Nectar for sweetness. As you know, I love a good mixed drink but I also feel guilty drinking all of that sugar and simple syrup. Truvia Nectar is blended with honey, stevia leaf extract and sugar, so it tastes just like honey but with 50% fewer calories per serving, making it great for cocktails! Just ½ tablespoon of Truvia Nectar is equal to 1 tablespoon of honey and adds such a delicious floral-honey flavor to cocktails and food. You will literally be licking it off of your fingers…or is that just me?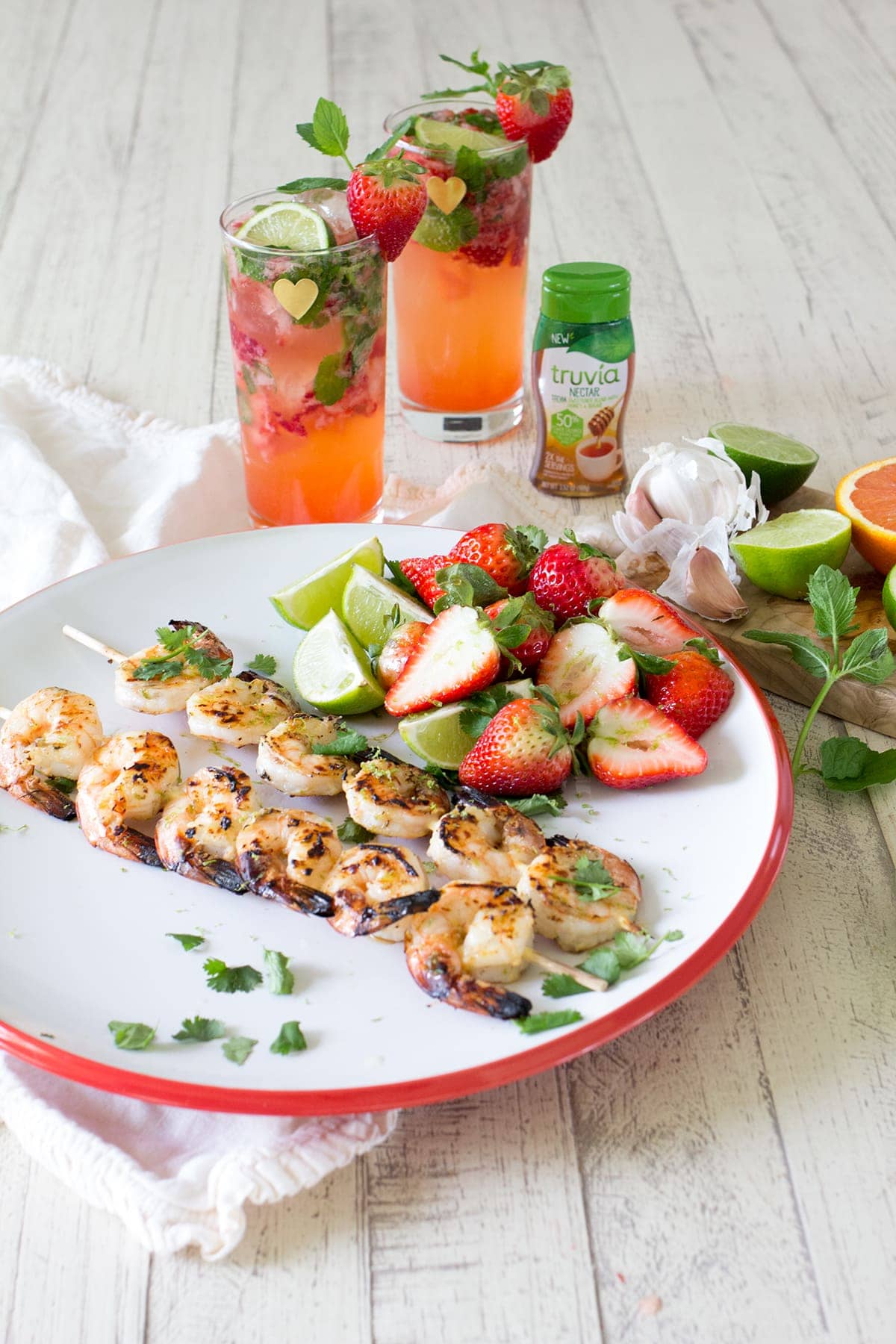 Start by adding about three large ripe strawberries (chopped) to the bottom of each cocktail glass with a bunch of fresh mint. Squeeze in ½ tablespoon of Truvia Nectar, or as much as you'd like, and muddle all together. The Nectar mixes with the strawberries to create a lovely syrup to flavor your mojitos and give them a pretty red color.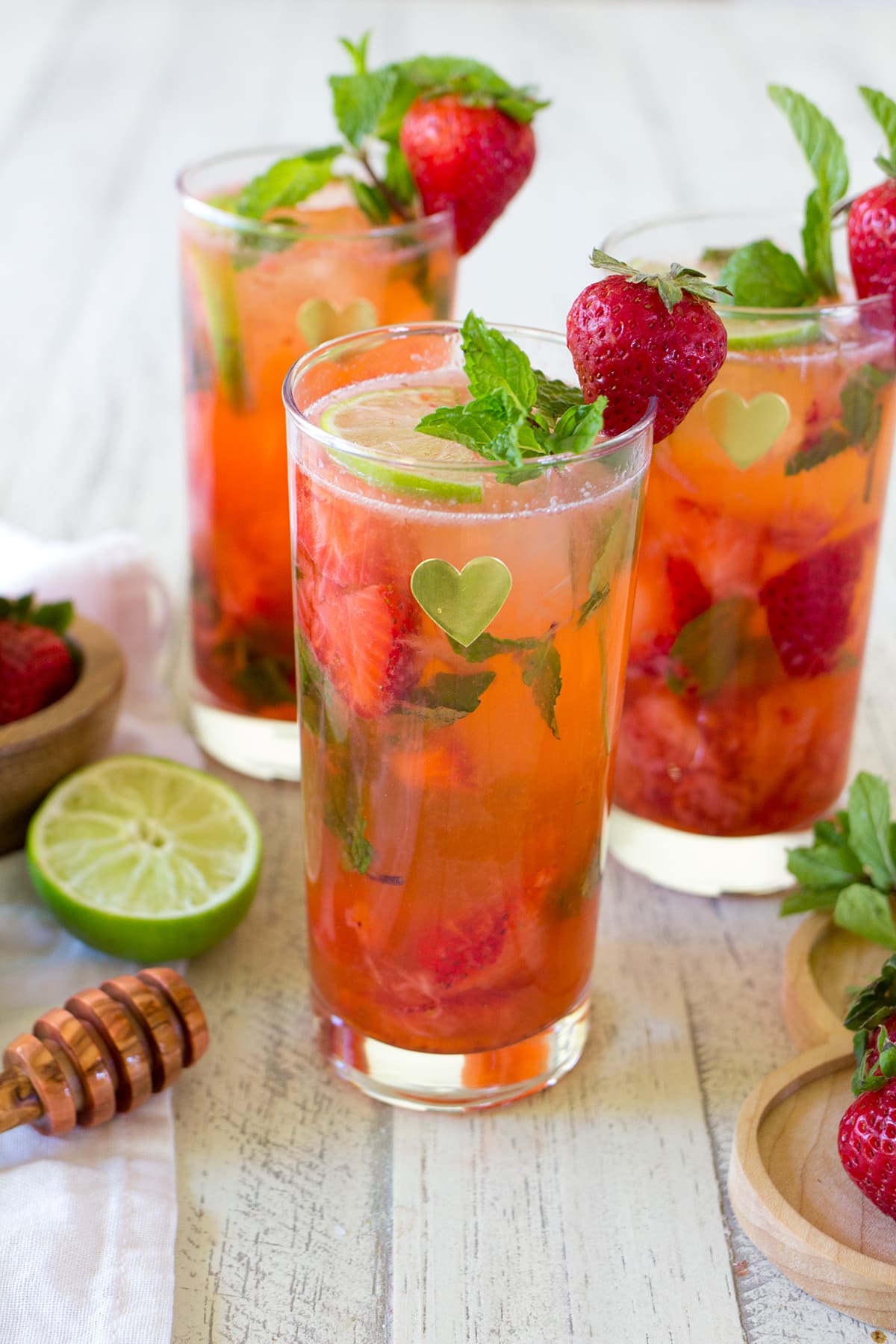 Next, add in white rum, a good squeeze of fresh lime juice and stir to combine. Fill the glasses with ice and top with bubbly club soda. Now you have a fizzy light and perfectly sweet strawberry mojito with less calories and just as much flavor! Garnish with more lime, mint and a strawberry if you feel like being fancy.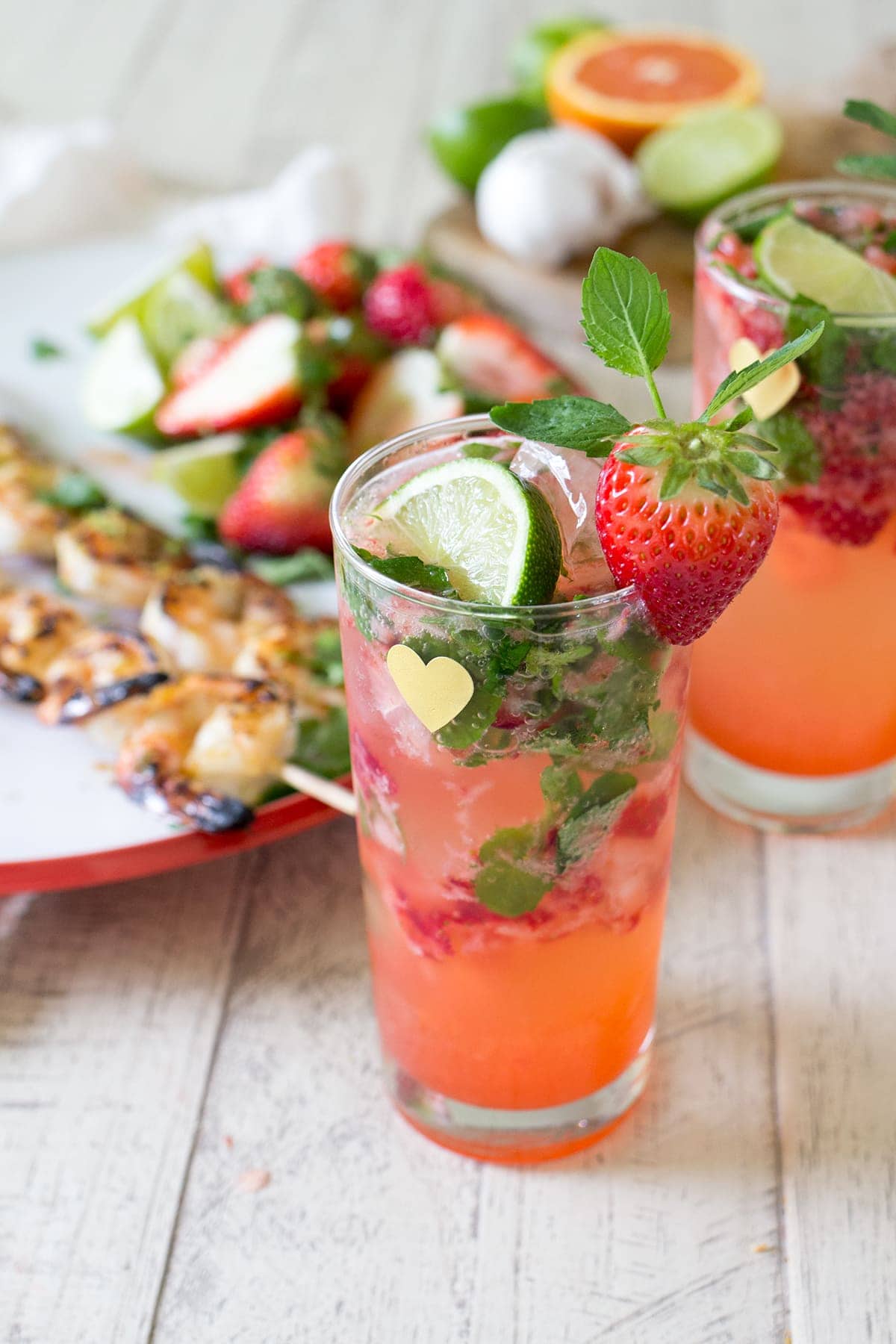 After the coals are hot and you and your sweetheart have a mojito in hand, it's time to grill the shrimp! Skewer the shrimp and add them to a well-oiled grill. While the shrimp is still hot, fresh off of the grill, give it a good squeeze lime juice, an extra drizzle of Truvia Nectar (trust me) and a sprinkle of more grated lime zest. It's time to dig in!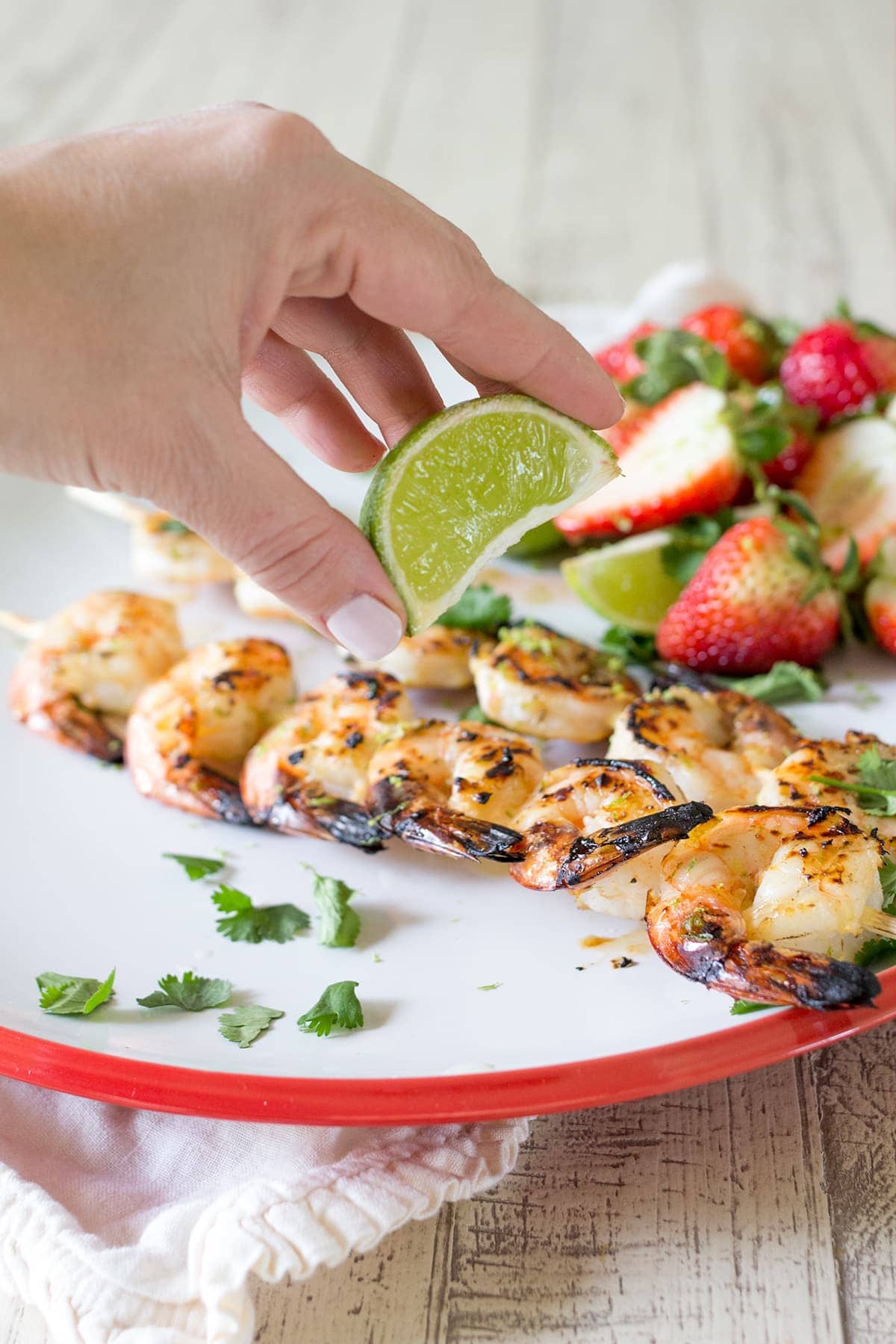 Serve over rice or a fresh salad and you have one de-licious Valentine's Day dinner for two. So, what are you planning to make for Valentine's Day? I hope you will give this dinner and cocktail pairing a try! This shrimp will definitely be a new favorite.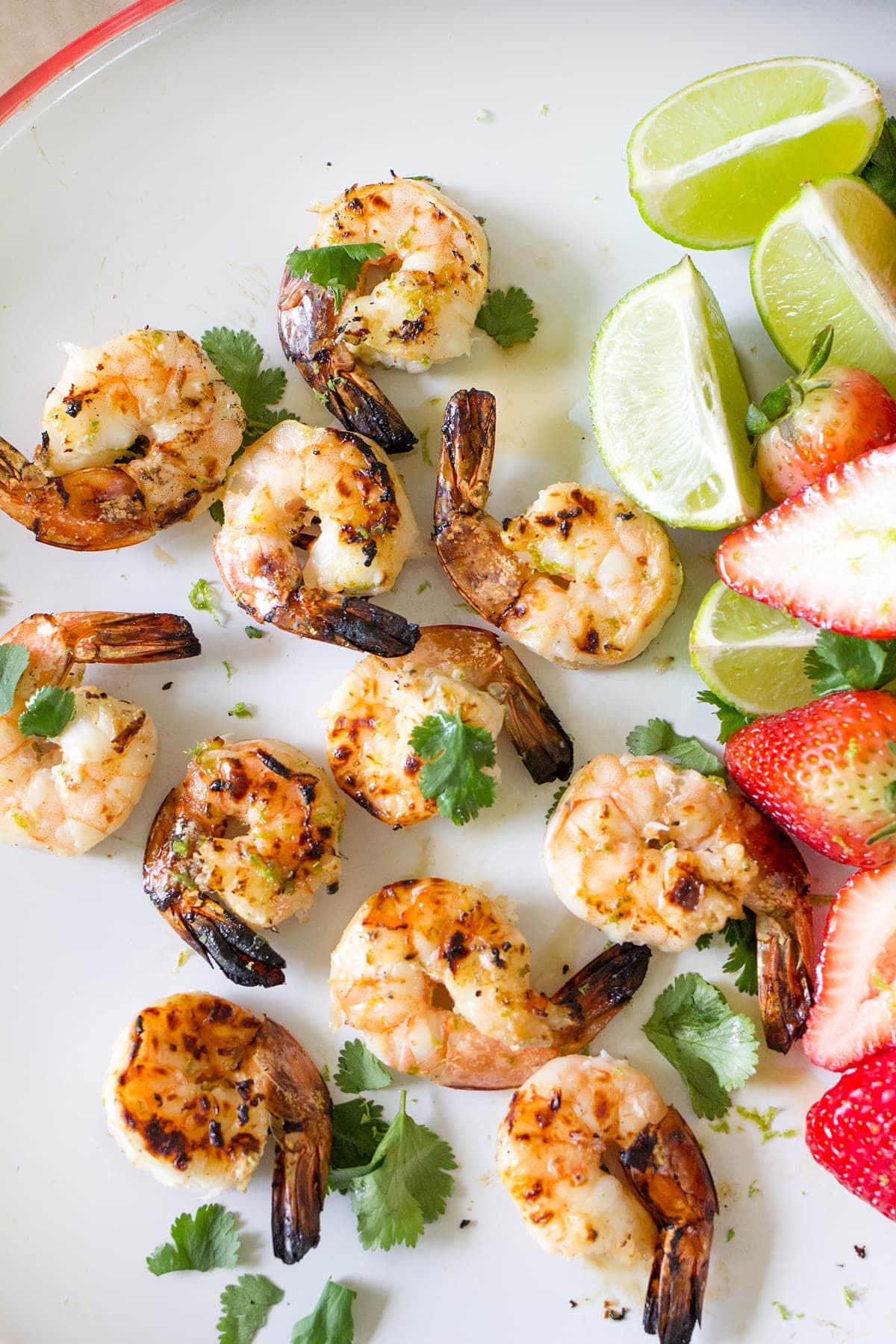 Citrus Rum Grilled Shrimp
Author:
Prep time:
Cook time:
Total time:
Rum and citrus marinated shrimp perfect for the grill.
Ingredients
1 dozen jumbo raw shrimp, tails on
¼ cup white rum
1 Tablespoon Truvia Nectar, plus more for drizzle

juice of half an orange
zest and juice of one lime
2 teaspoon grated fresh ginger
2 clove garlic minced or grated
pinch of salt and pepper
bamboo skewers
Instructions
In a bowl whisk together rum, Truvia Nectar, orange juice, lime zest and juice, ginger, and garlic. Season to taste with salt and pepper.
Rinse shrimp in cold water and toss in marinade. Cover tightly with plastic wrap and allow to marinate while you prepare the grill.
When grill is ready, oil the grates.
Skewer shrimp on bamboo skewers (6 shrimp per skewer)
Grill about 4-5 per side just until pink and cooked through and nicely charred. The time will depend on how hot your coals are but shrimp cook very quickly!
Remove shrimp to a platter and immediately drizzle with a small amount of Truvia Nectar, a squeeze of more fresh lime juice and a grating of fresh lime zest. Serve immediately.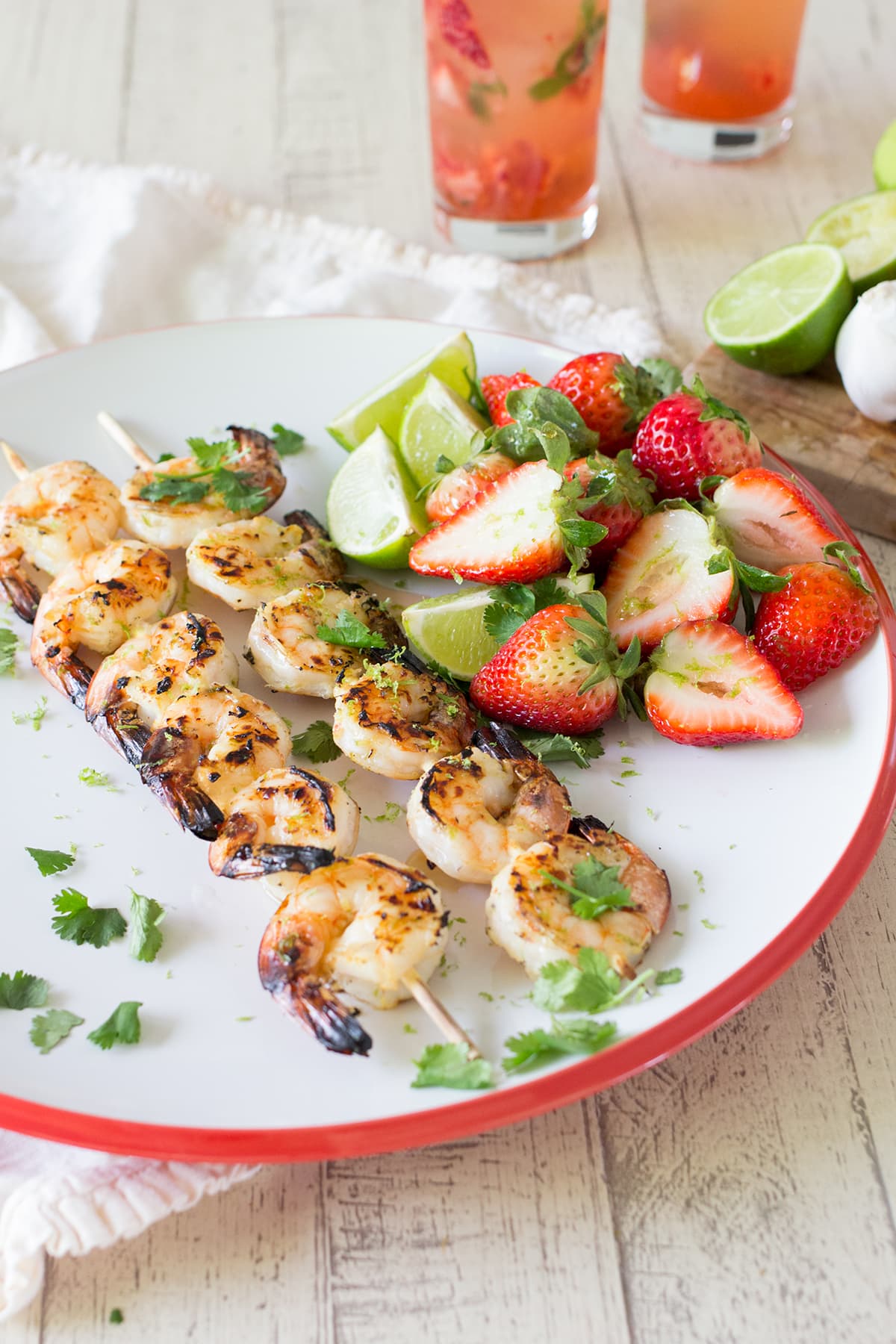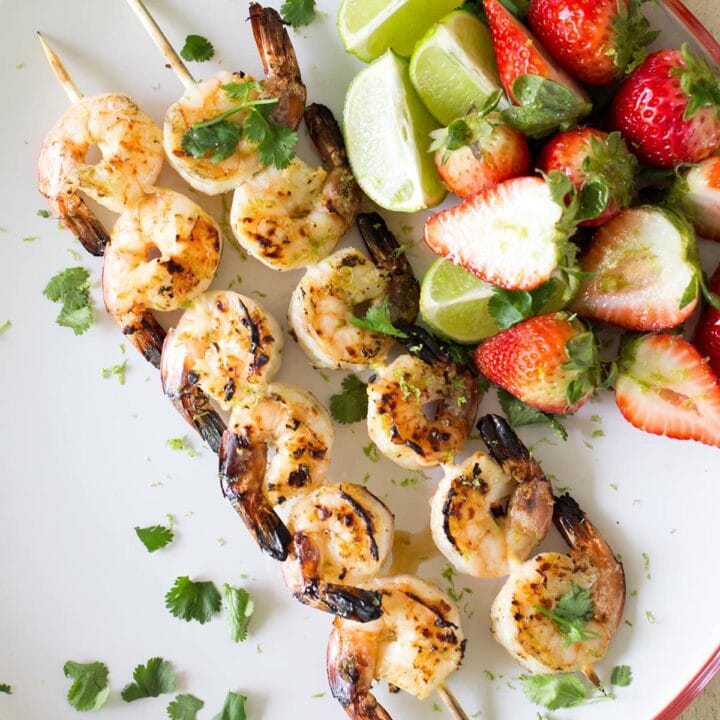 Skinny Strawberry Mojitos
A lighter strawberry mojito sweetened with Truvia Nectar.
Ingredients
6 large strawberries + more for garnish
handful of fresh mint + more for garnish
1 Tablespoon Truvia Nectar

4 ounces white rum
2 ounce fresh squeezed lime juice + more limes for garnish
club soda
ice
Instructions
Divide strawberries and mint into two tall cocktail glasses.
Add in ½ Tablespoon Truvia Nectar to each glass and muddle well until strawberries are broken down.
Add in 2 oz of rum and 1 oz of lime juice to each glass. Stir to combine.
Fill glass with ice and top with club soda.
Garnish with a strawberry, a sprig of mint and a slice of lime.