As Jason and I sat at our kitchen table, in silence, savoring our brownies and glasses of cold milk...I posed a question to myself. Why does anyone EVER make brownies out of a box when recipes this easy and delicious exist? Bon Appetit magazine boasts that these are "some of the best brownies we've ever had". Big words considering the source don't you agree? They are dense and fudgy with a slightly nutty flavor brought on by the browned butter. What is browned butter you ask? It's pure flavor heaven.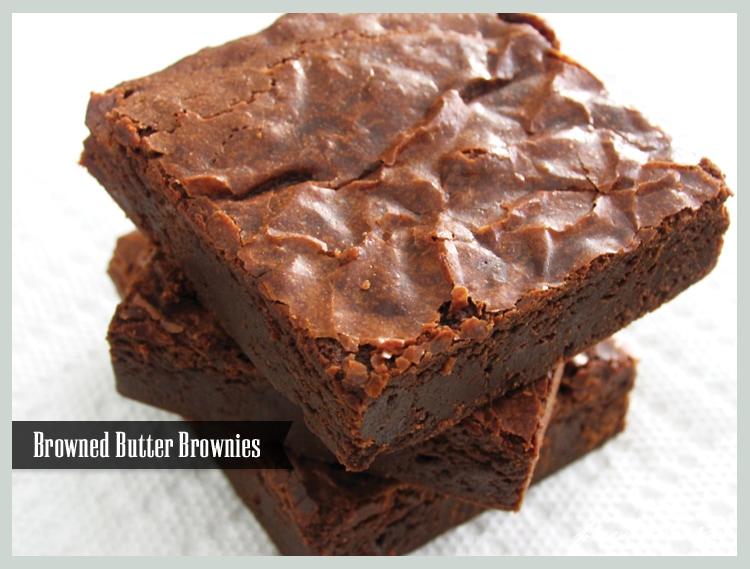 Photo: Freutcake Design Studio
Brownies with Browned Butter:
Via bon appetit magazine. also seen sans nuts on Craving Chronicles. Original Recipe by Alice Medrich
Ingredients:
Nonstick vegetable oil spray
10 tablespoons (1 ¼ sticks) unsalted butter, cut into 1-inch pieces
1 ¼ cups sugar
¾ cup natural unsweetened cocoa powder (spooned into cup to measure, then leveled)
1 teaspoon vanilla extract
2 large eggs, chilled
⅓ cup plus 1 tablespoon unbleached all purpose flour
1 cup walnut pieces- I left out the walnuts, but they are included in the original recipe.
Preparation
Position rack in bottom third of oven; preheat to 325°F. Line 8x8x2-inch metal baking pan with foil, pressing foil firmly against pan sides and leaving 2-inch overhang. Coat foil with nonstick spray. Melt butter in medium saucepan over medium heat. Continue cooking until butter stops foaming and browned bits form at bottom of pan, stirring often, about 5 minutes. Remove from heat; immediately add sugar, cocoa, 2 teaspoons water, vanilla, and ¼ teaspoon (generous) salt. Stir to blend. Let cool 5 minutes (mixture will still be hot). Add eggs to hot mixture 1 at a time, beating vigorously to blend after each addition. When mixture looks thick and shiny, add flour and stir until blended. Beat vigorously 60 strokes. Stir in nuts if added. Transfer batter to prepared pan.
Bake brownies until toothpick inserted into center comes out almost clean (with a few moist crumbs attached), about 25 minutes. Cool in pan on rack. Using foil overhang, lift brownies from pan. Cut into 4 strips. Cut each strip crosswise into 4 brownies.