No matter how busy my week becomes, I always try to make time for our weekly Wednesday night family dinners. Each Wednesday my sister, Mom, and I take turns hosting and cooking dinner for our family. It feels like a mini holiday when we get together between the wine, story telling, and of course the home cooked food!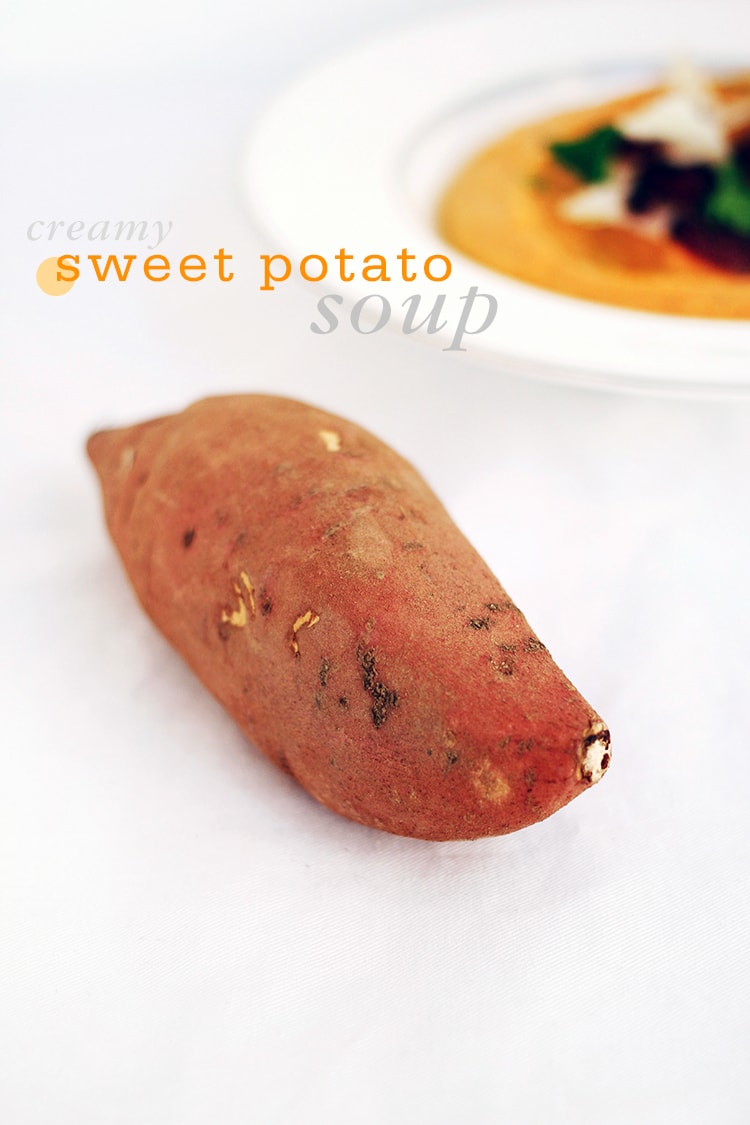 Yes, contrary to what this blog may portray, I do cook savory meals just as frequently as I bake the sweet stuff! Last week It was my turn to host family dinner and I made a large pot of Creamy Sweet Potato Soup topped with Parmesan cheese and apple wood smoked bacon. I don't always have a lot of time on weeknights but what this recipe lacks in slow cooking it makes up for in flavor! You would never know it's quick and easy.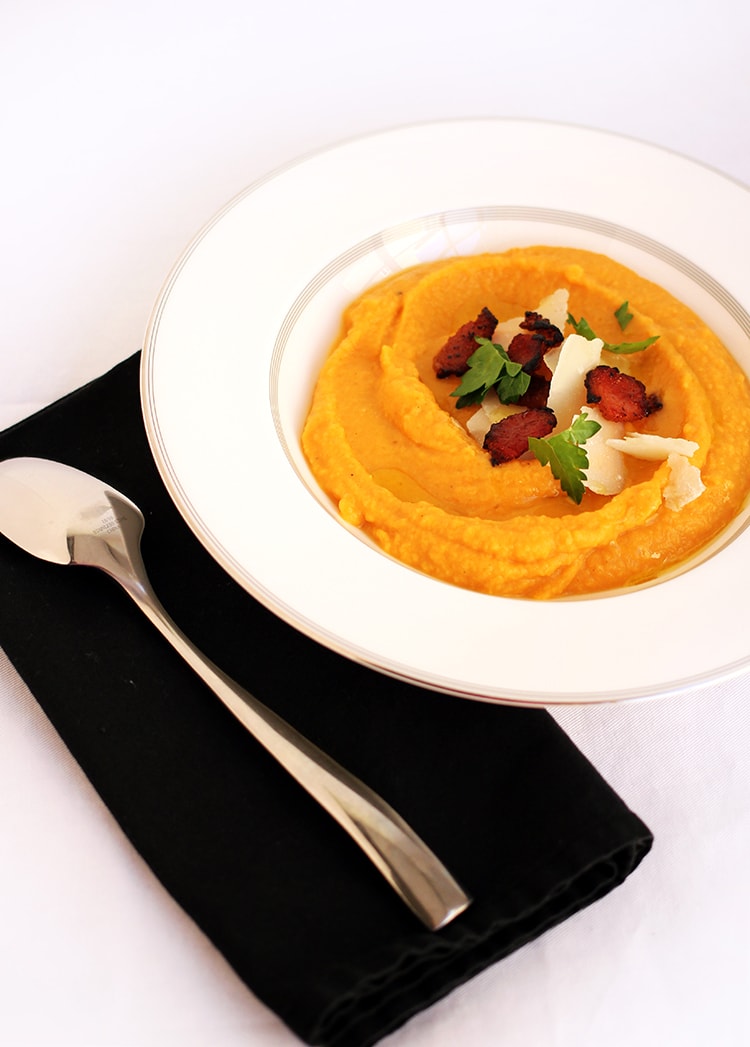 I served the steaming bowls of Sweet Potato Soup with a Fall salad topped with candied walnuts and cranberries, and plenty of crusty French bread and butter. Dessert was simple, vanilla ice cream and store-bought dark chocolate almond bark. Simple, satisfying and delicious!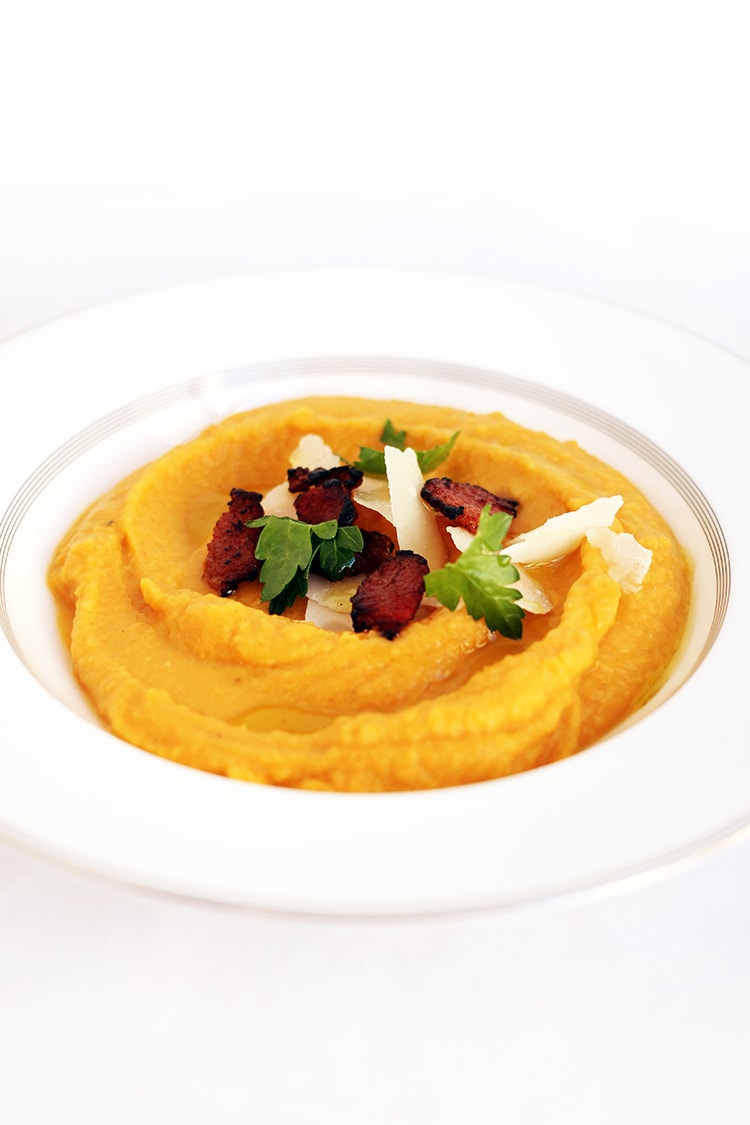 photos by Leah Bergman
Do you have any weeknight traditions? Also, would you like to see more savory recipes on Freutcake? If so, I'd love to hear it!
Creamy Sweet Potato Soup
serves 4
time: 30 minutes
2 tablespoon butter1 cup chopped onion
1 large garlic clove minced
2 lbs sweet potatoes peeled and cubed (5 cups)
4 cups chicken stock
½ teaspoon cinnamon
¼ nutmeg
½ teaspoon cumin
¼ teaspoon salt
6 slices of thick cut applewood smoked bacon, cubed
Shaved Parmesan cheese
dash of cream (optional)
Fresh basil or parsley (optional)
Directions:
1. Peel and cube the sweet potato. Cube the onion and mince the garlic. Set aside.
2. In a medium pot melt the butter over medium heat and saute the onion for 5 minutes until soft. Add in the garlic and cook 30 seconds until fragrant.
3. Add sweet potato, chicken stock, cinnamon, nutmeg, and cumin; bring to a boil.4. Reduce and simmer uncovered 20 minutes. While soup simmers, cook bacon until crisp and set aside.
5. Puree the soup with an immersion hand blender (I use this one) or in batches in a standard blender with a kitchen towel covering the lid to prevent hot splatter. When smooth, stir in a dash of cream and salt to taste.
6. Garnish each bowl with bacon, parmesan and fresh herbs. Enjoy!