There are two types of people in the world, the kind who order a cherry on their ice cream sundaes and those who don't. I'm the kind of gal who orders two, and eats Jason's as well! So, when Valentine's Day rolls around I love to bake this maraschino cherry cake or Old Fashioned Cherry Cake as I like to call it. A family recipe that makes the prettiest pink cake all studded with bright red cherries and topped with a cherry rum glaze…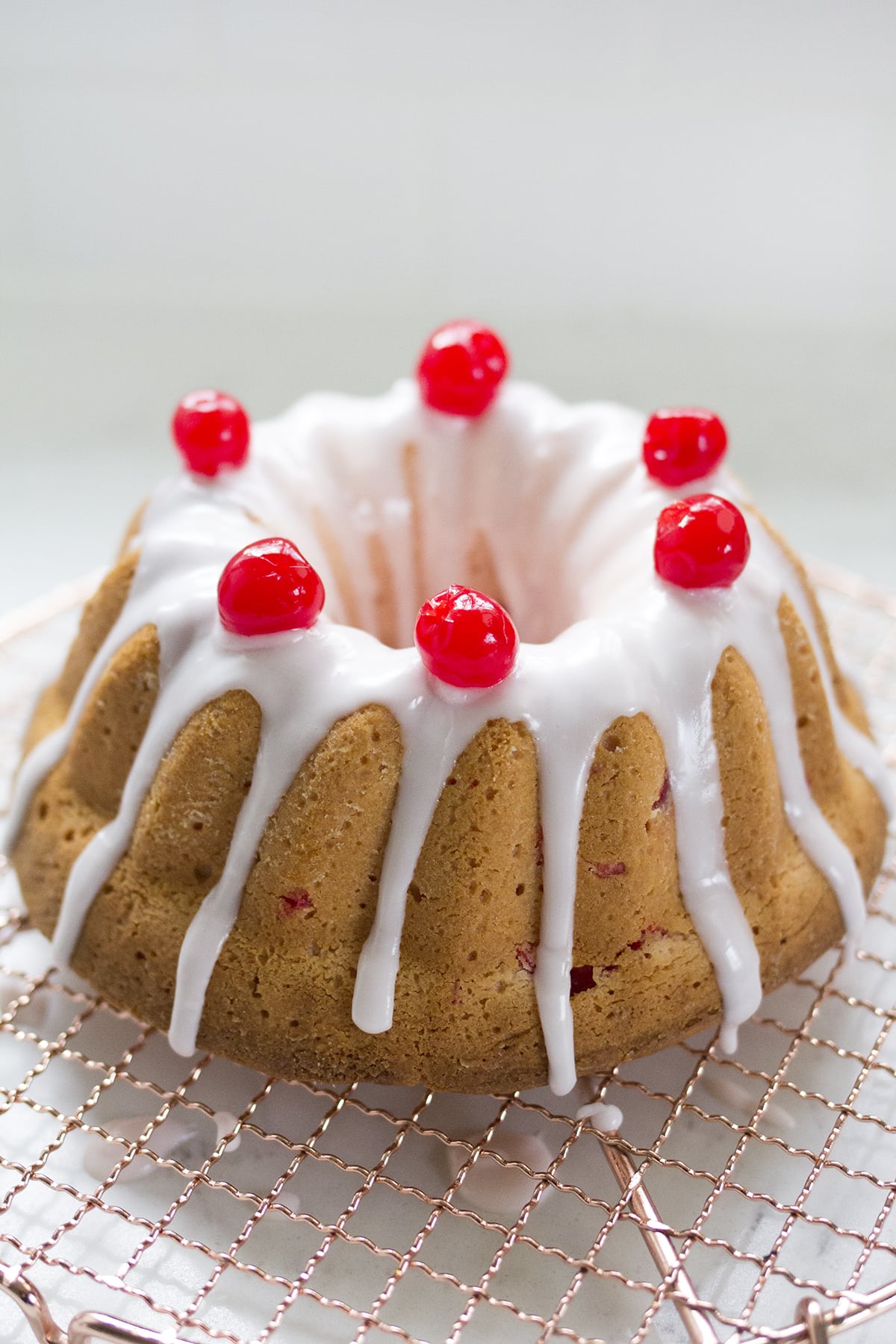 The rum glaze is my own adaptation of the original recipe but I think it finished off the cake nicely, especially if you bake it in bundt pan like I did.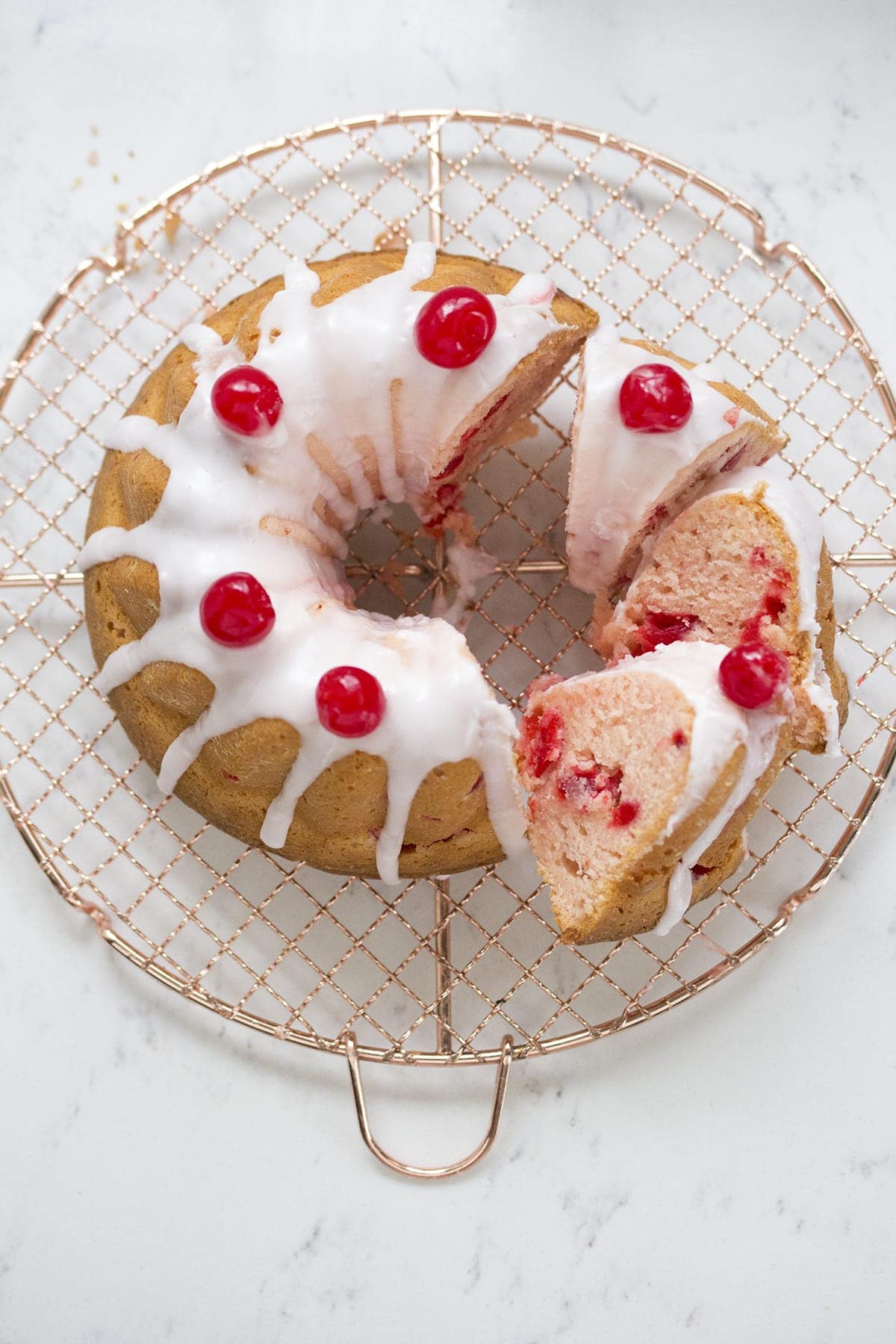 Once the cake has cooled completely, drizzle the light pink glaze over-top and decorate with more cherries. A crown of maraschinos! This really is the stuff that nostalgia is made of.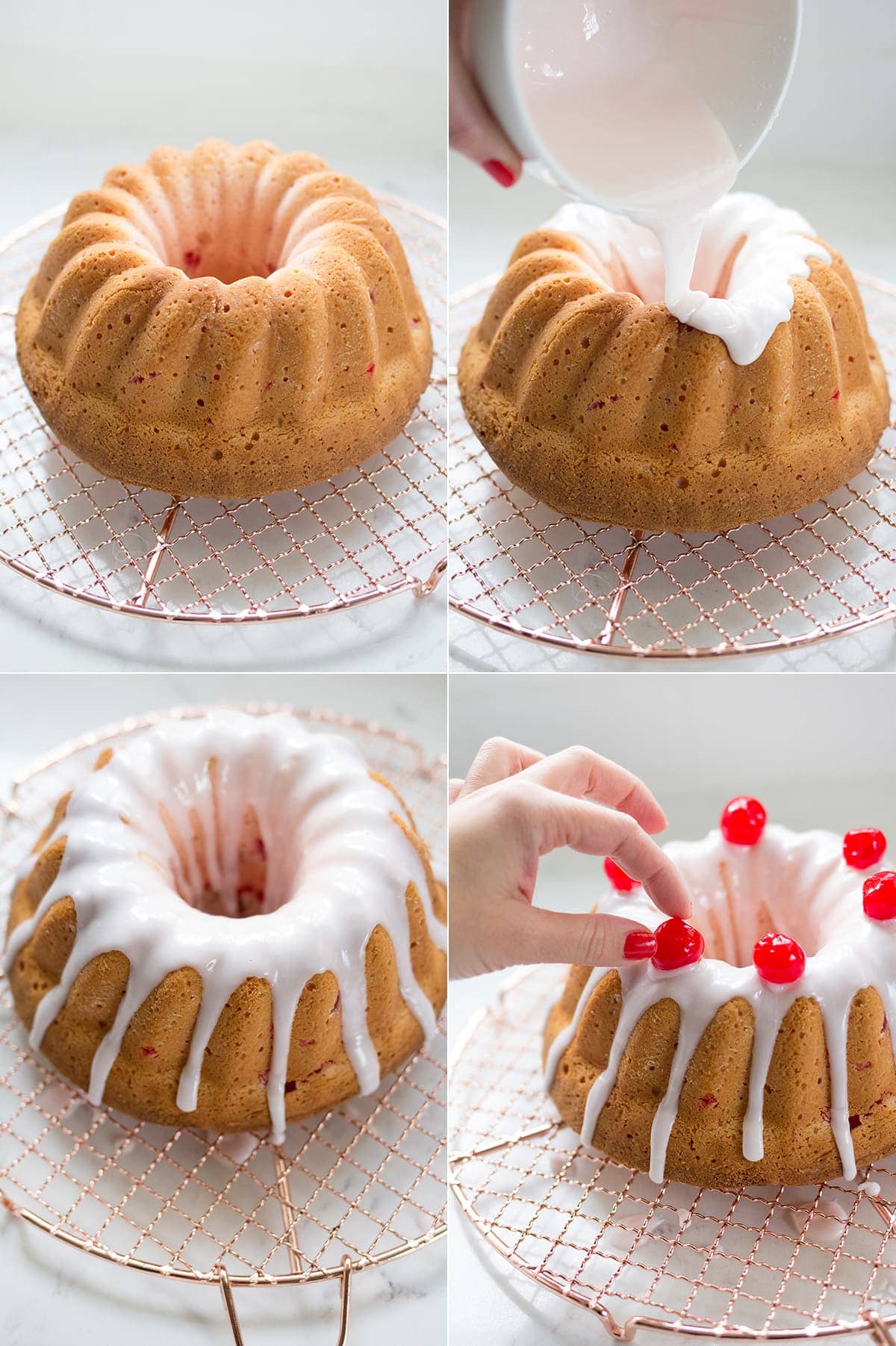 The original recipe calls for nuts, 3/4 cup of chopped walnuts to be exact, but I prefer it without. Also, I add a little rum extract to the batter to enforce that old fashioned rum cake flavor, it goes so well with the cherries. Sort of like the flavor of rum nougat from See's candy. Have I mentioned my little old lady tendencies lately?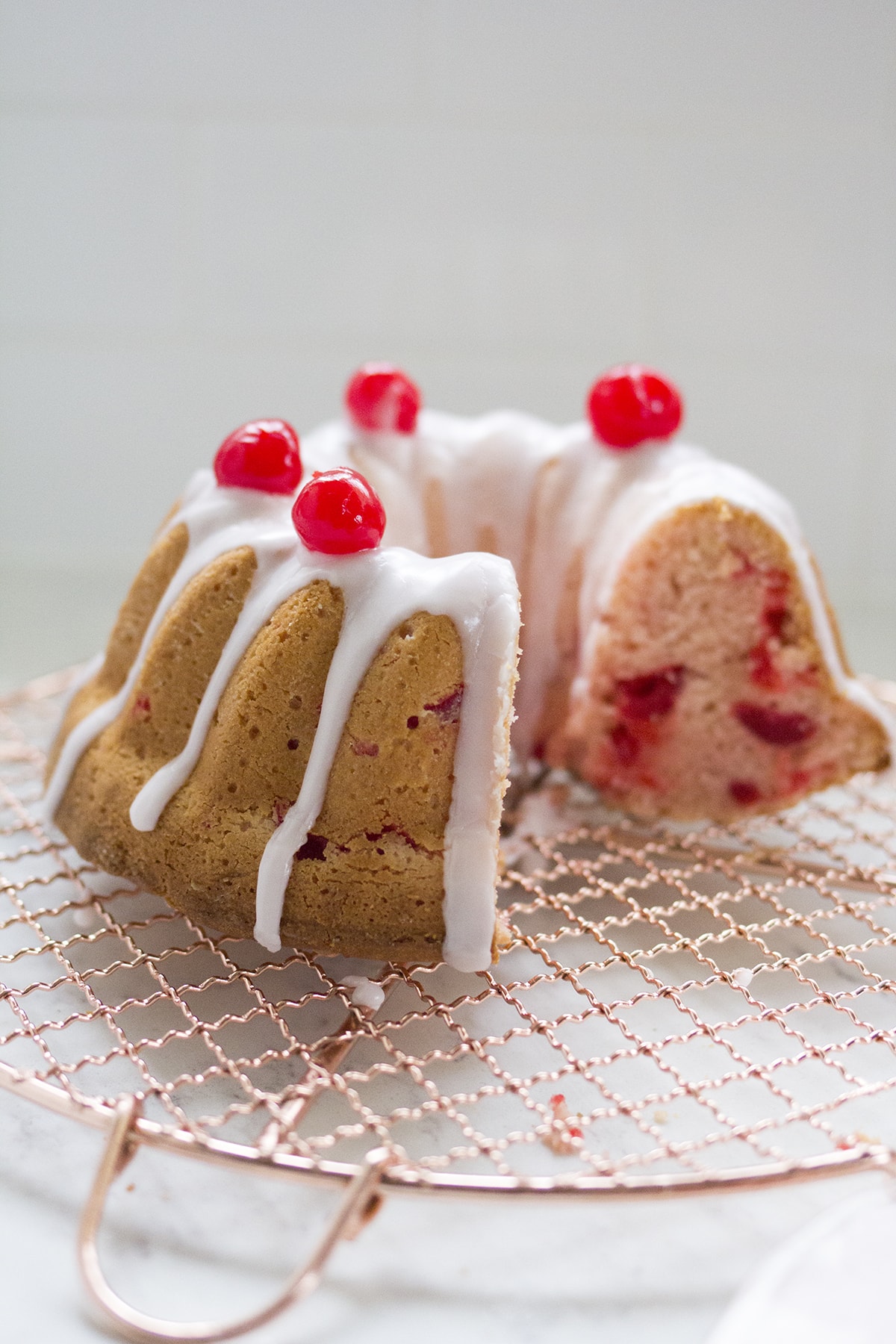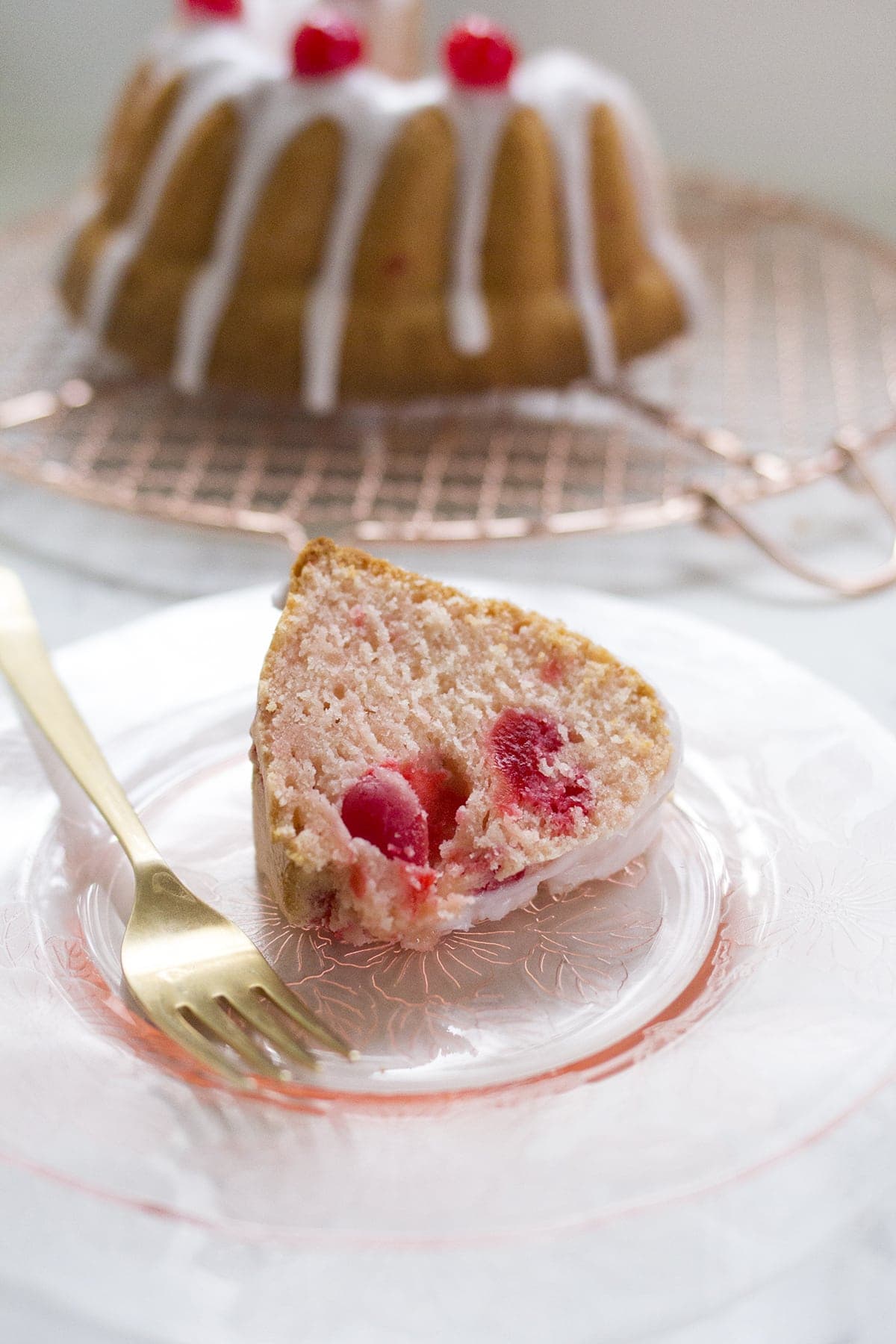 Yes, this cake has Valentine's Day written all over it…well that and little old lady from Pasadena, but let's just stick with Valentine's Day, shall we? I hope you will give this fun pink cake a try and let me know what you think! I'm sure there is a jar of maraschino's in your fridge just waiting to fulfill their Valentine's Day destiny!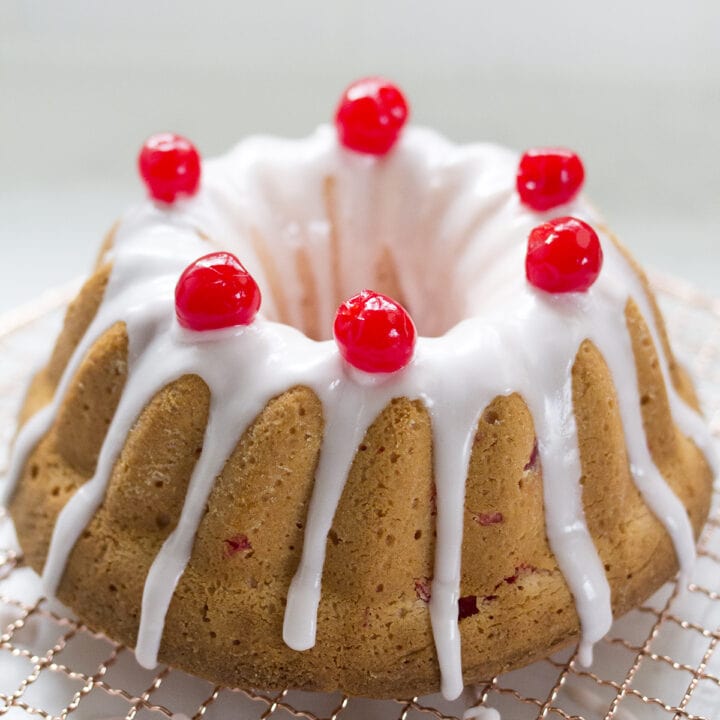 Old Fashioned Cherry Cake
Old fashioned cherry cake with a cherry rum glaze
Ingredients
2 1/2 cups all-purpose flour
1 cup granulated sugar
1/2 tsp salt
2 tsp baking powder
1/2 cup unsalted butter (room temperature)
3/4 cup chopped maraschino cherries
2 eggs
1 tsp rum extract
1/2 cup whole milk
1/4 cup maraschino cherry juice
1/2 cup sour cream
Cherry Rum Glaze:
1 cup confectioners sugar
1 tsp rum extract
1 tsp maraschino cherry juice
2 tsp milk + more if needed to pour.
Instructions
Butter and flour a standard 9″ loaf pan or a small bundt pan.
In the bowl of a stand mixer fitted with the paddle attachment; cream butter and sugar.
Add eggs, rum extract, and sour cream beating until combined. Scrape down sides.
In a separate bowl, whisk together flour, salt and baking powder.
In a liquid measuring cup combine milk and cherry juice.
With mixer on low slowly add flour mixture and milk mixture alternating in multiple batches starting and ending with flour. Mix until just combined.
Stir in cherries and nuts with a spatula making sure to evenly mix through batter.
Scrape batter into prepared pan and bake at 350 degrees for 60-70 minutes (begin checking at 60) or until lightly golden and a toothpick inserted into the middle comes out clean.
Cool for 10 minutes in pan before removing to cool completely on a cooling rack.
Once cake is completely cool, pour glaze over top and garnish with more cherries.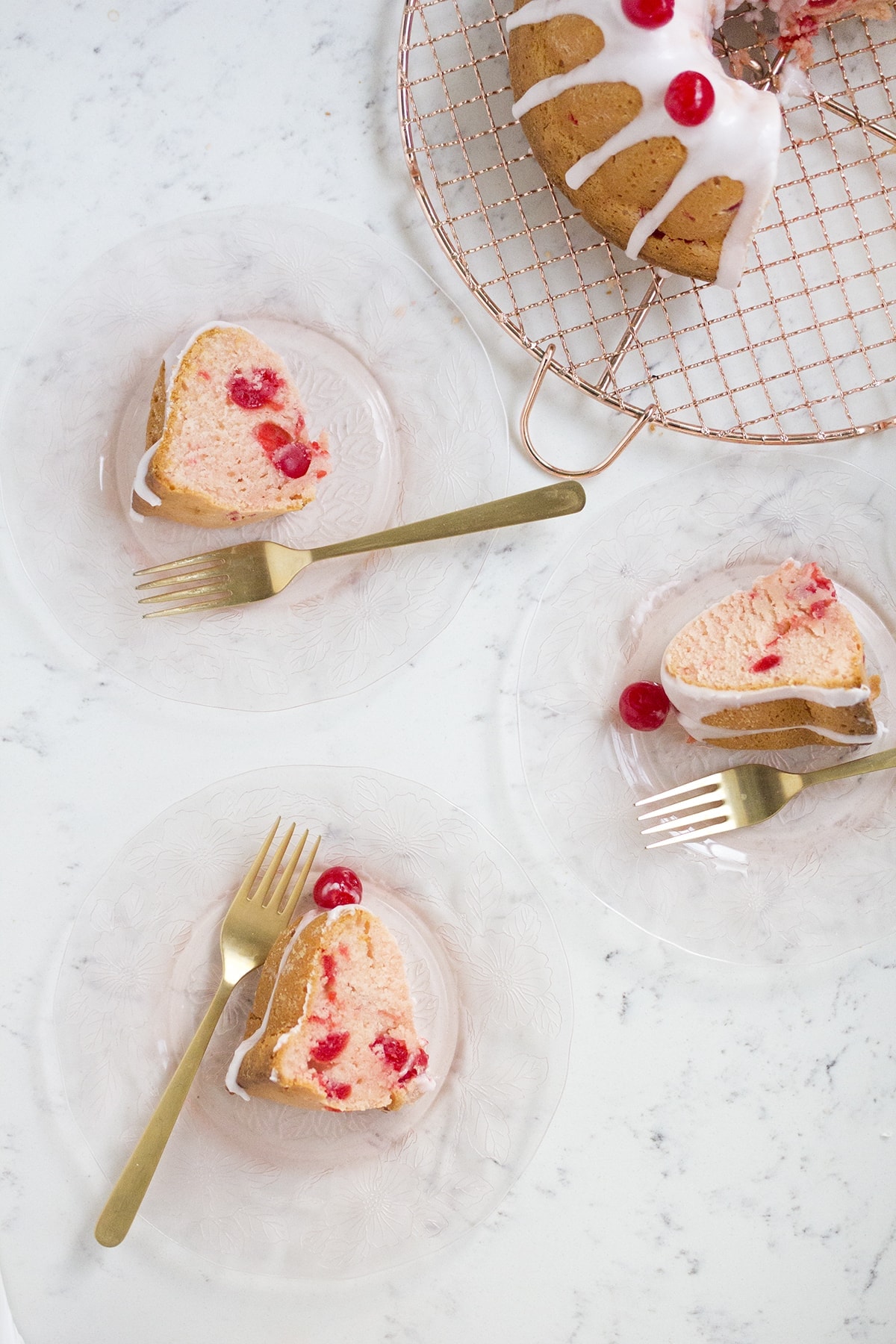 Save
Save
Save
Save
Save
Save
Save
Save