Apple Cider Cupcakes with Cider Buttercream Frosting might just be the most quintessential fall cupcake. Chunks of real apple are scattered in a cider flavored cupcake topped with a spiced cider buttercream frosting and a drizzle of salted caramel. Flavor wise, it doesn't get more perfectly fall than that!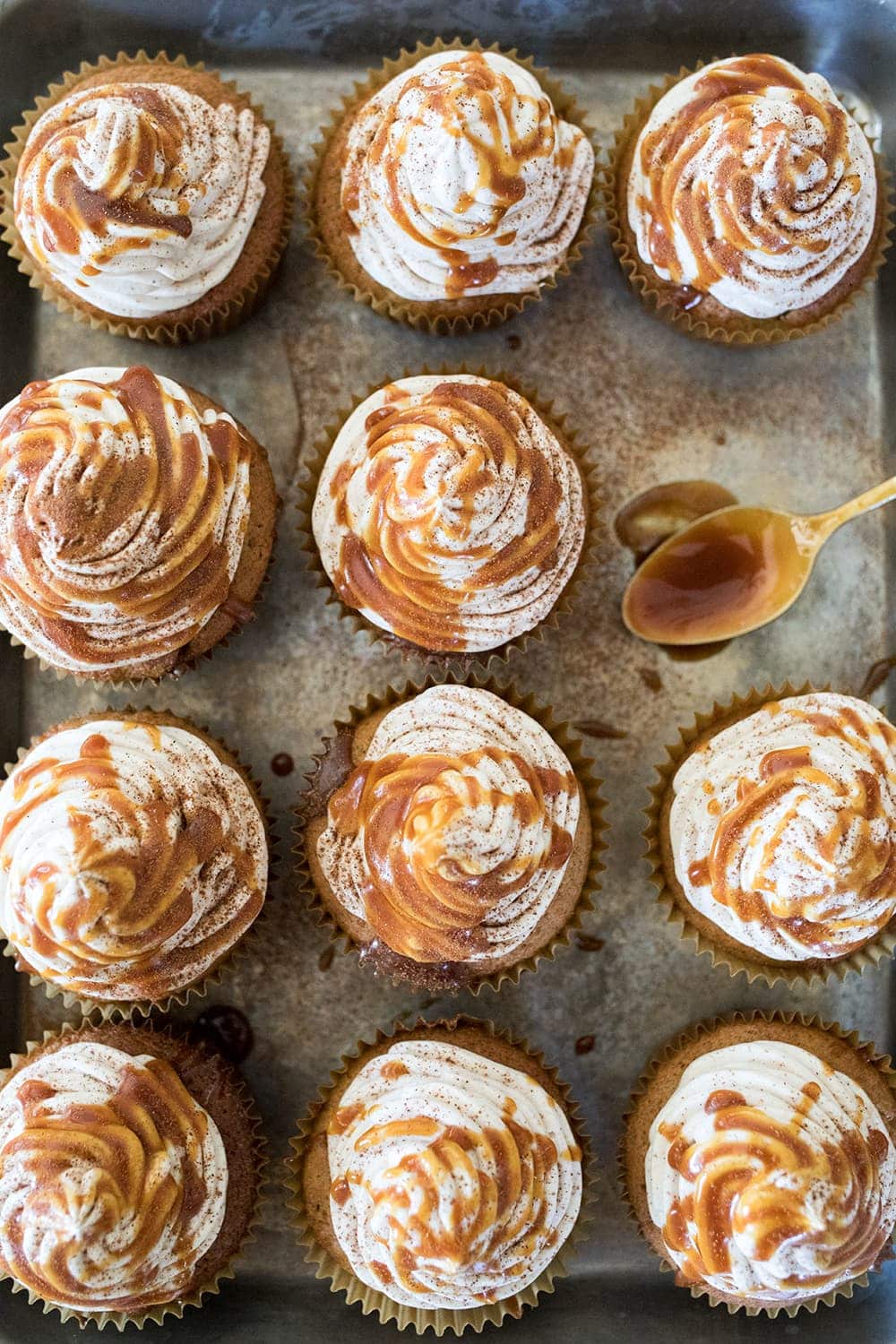 Apple Cider Cupcakes with Cider Buttercream Frosting
My apple cider cupcakes are not too sweet, not too tart, and packed with lots of cinnamon-cider flavor. While little chunks of apple give a sweet bite and crisp texture to these cakes which I love.
I chose to use a variety of crisp pink apples that have a nice tart bite to them to ensure my cupcakes weren't overly sweet but any crisp red apple will work nicely.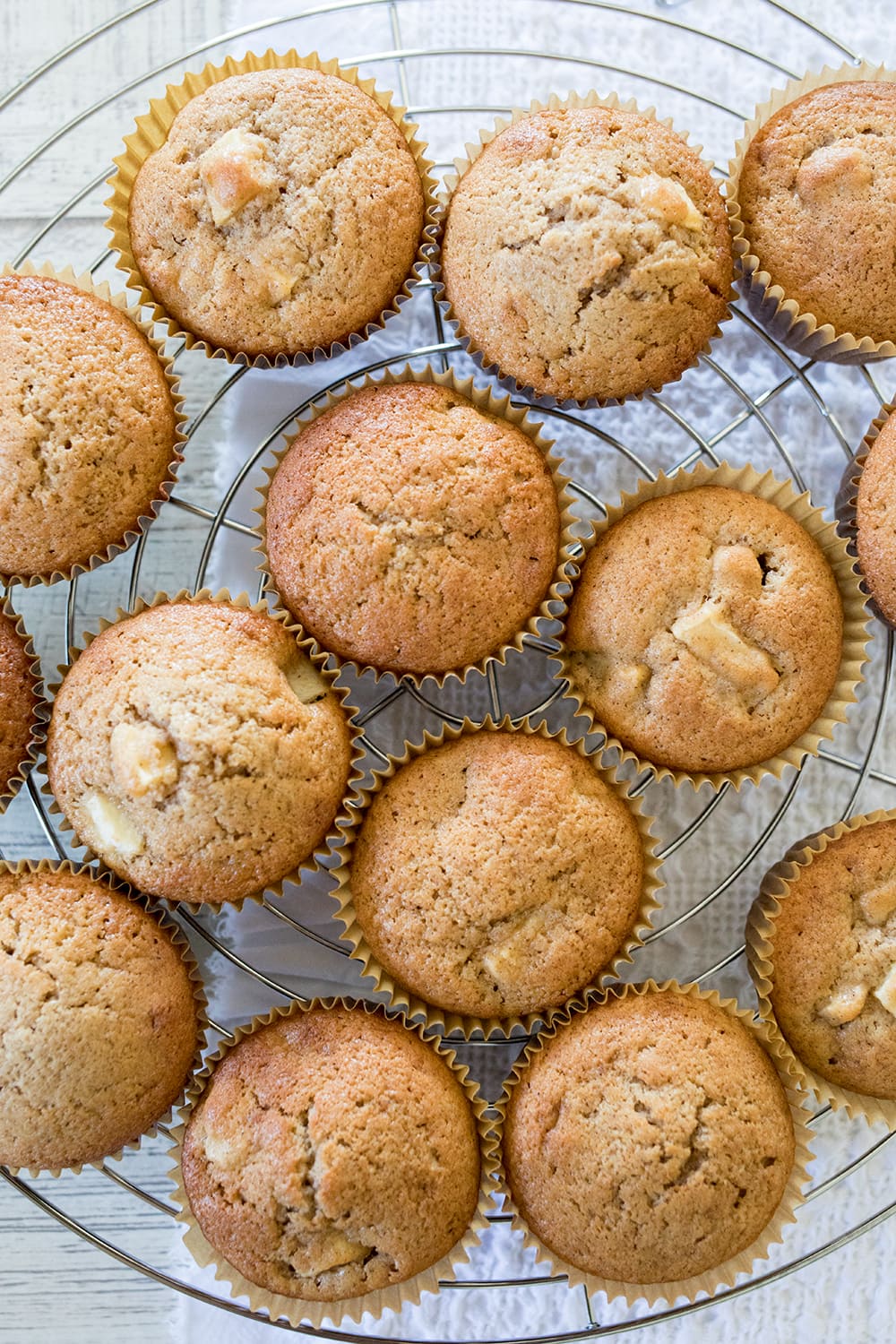 BAKING TIP: When baking cakes, cupcakes, quick breads or muffins, the trick to keeping pieces of fruit from sinking in the batter while baking is simple: toss them in flour first!
Before folding apple pieces into your batter, toss them in about a tablespoon of flour to ensure that they are well scattered throughout the cupcakes.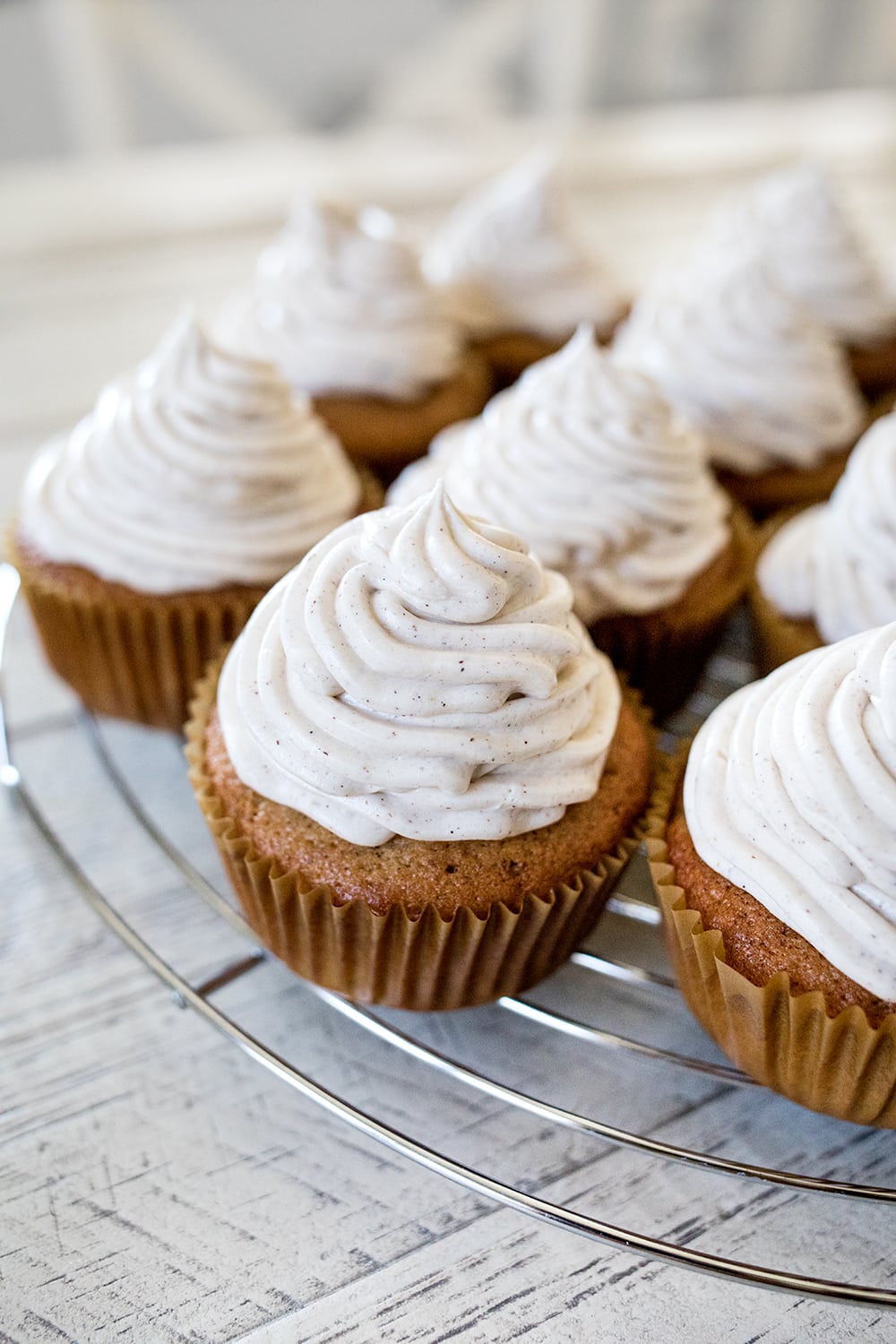 Ingredients in Apple Cider Cupcakes
Butter - unsalted and room temperature butter works best! You don't want it melty soft but softened enough to whip.
Brown sugar - light brown sugar gives a delicious flavor to these cupcakes
Eggs - I always use large or extra large eggs in my baking as it results in a better rise!
Salt - you have to add salt to bring out the sweet.
Baking powder & baking soda - these are your leavening agents.
Cinnamon & nutmeg - to give the cupcakes that classic fall spice flavor.
Flour - all-purpose white flour works best!
Spiced apple cider - I buy my spiced apple cider from Trader Joe's.
Apple - any crispy red or pink apple works well. I would not use a red delicious however. Try honey crisp or pink lady.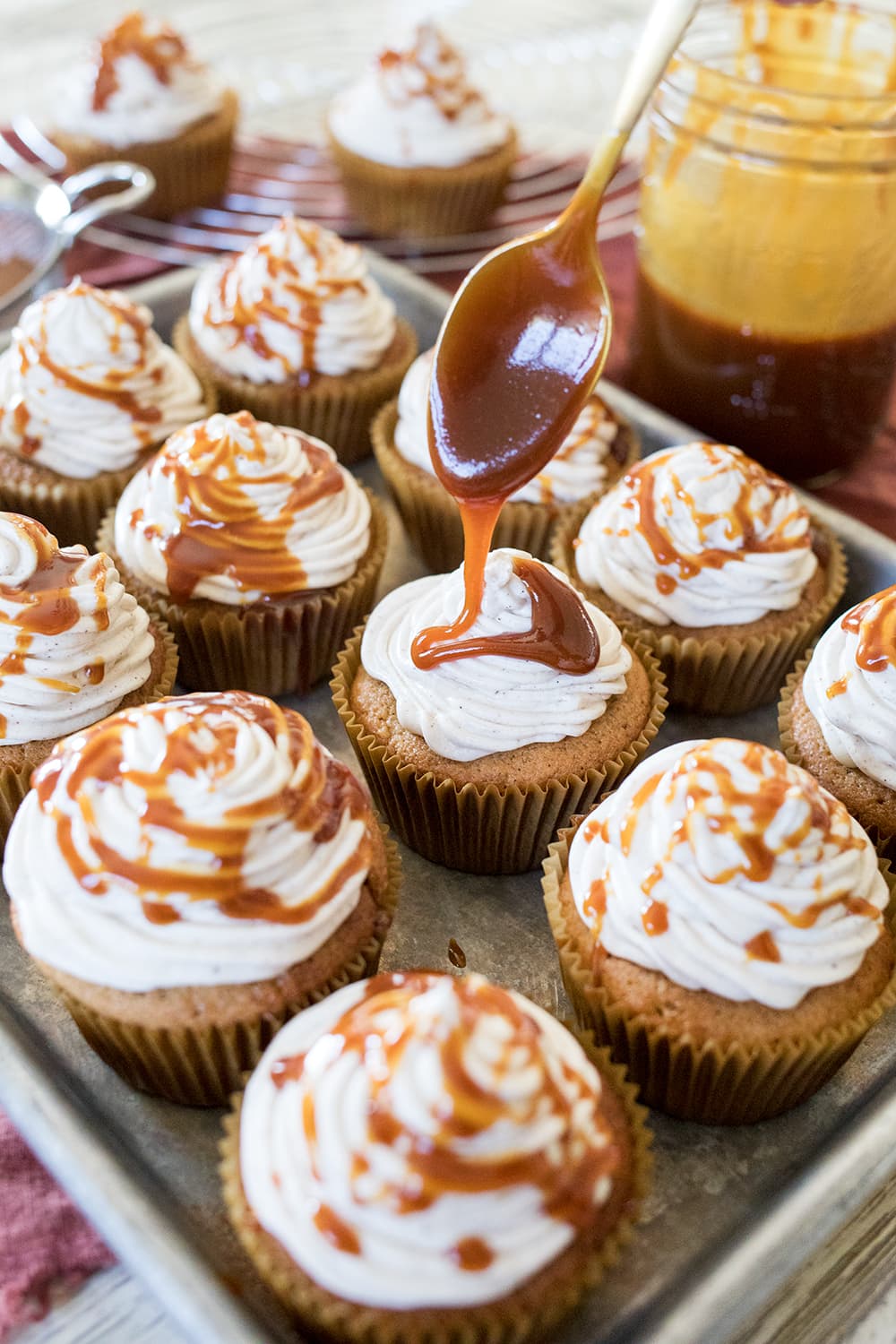 How to Make Apple Cider Buttercream Frosting
Apple Cider Buttercream Frosting is so easy to make thanks to the nifty trick of reducing down spiced cider to a concentrate. It take less than ten minutes and keeps your frosting cider-flavored without adding too much liquid.
If you don't have a piping bag, fill a large ziplock bag, cut off the corner with scissors, fill it with your homemade frosting and pipe away!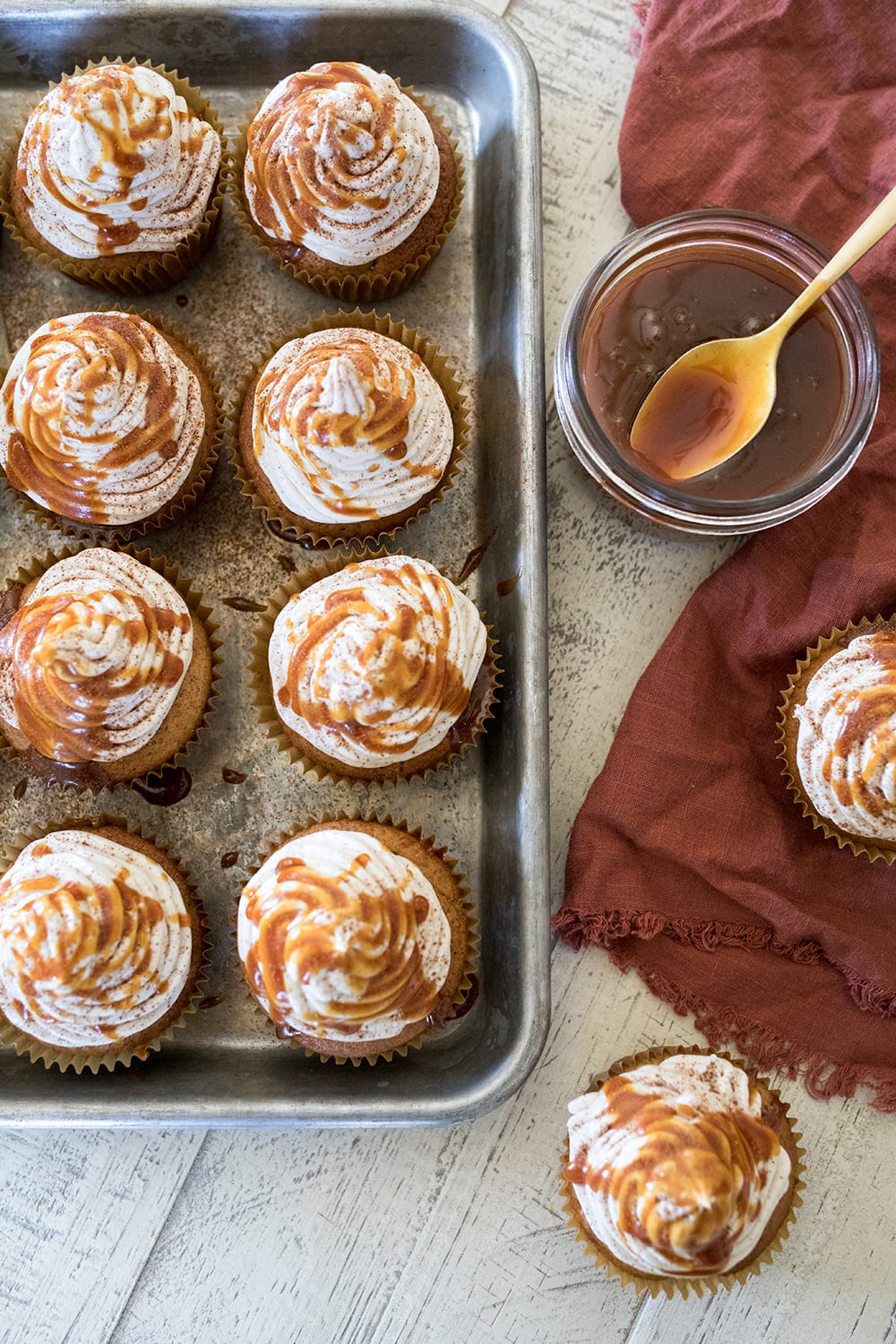 Apple Cider Buttercream Frosting
In a sauce pan boil down 1 cup of Spiced Apple Cider until it reduces to about ¼ cup. Reducing it will cause the cider to take on a syrupy consistency which is perfect for frosting.
Next, let the syrup cool completely until you are ready to mix it into your buttercream frosting. This will prevent hot syrup from melting the butter and making a soupy mess.
Once the cider reduction has cooled, you can whip it into your buttercream frosting to create a fluffy and flavorful frosting perfect for any fall cake.
The Best Homemade Salted Caramel Sauce
Let's face it, most recipes are improved by a drizzle of salted caramel sauce and these cupcakes are no exception! They really are delicious on their own but the added layer of flavor takes these cupcakes to a new level of fall flavor.
You can find my favorite recipe of Homemade Salted Caramel Sauce here.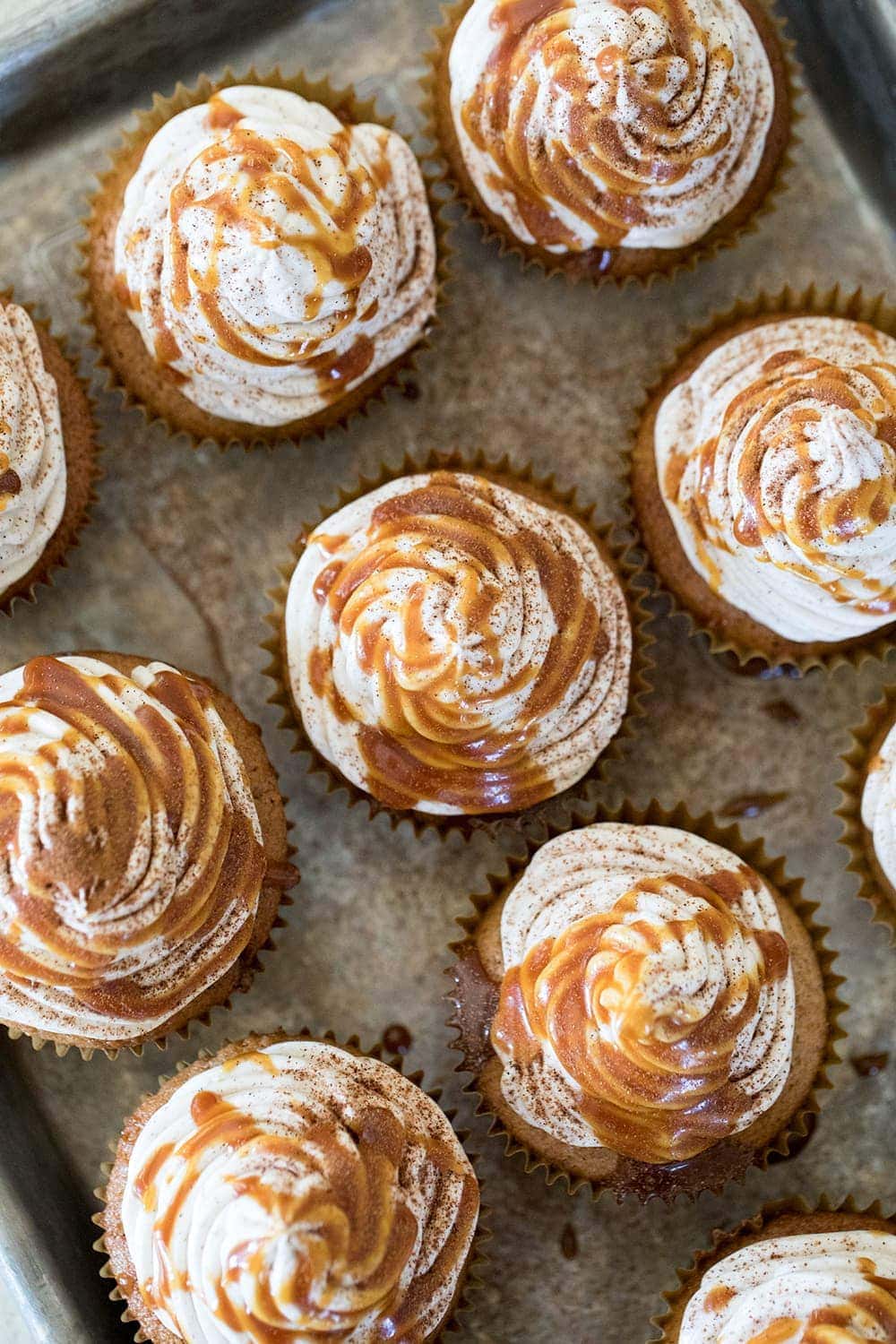 The weather is crisp and the days are becoming short. The cravings for caramel and apples and all of these fall flavors have definitely arrived and my Apple Cider Cupcakes satisfy all the cravings.
I hope you will try this recipe and let me know what you think in the comments below! Happy fall baking.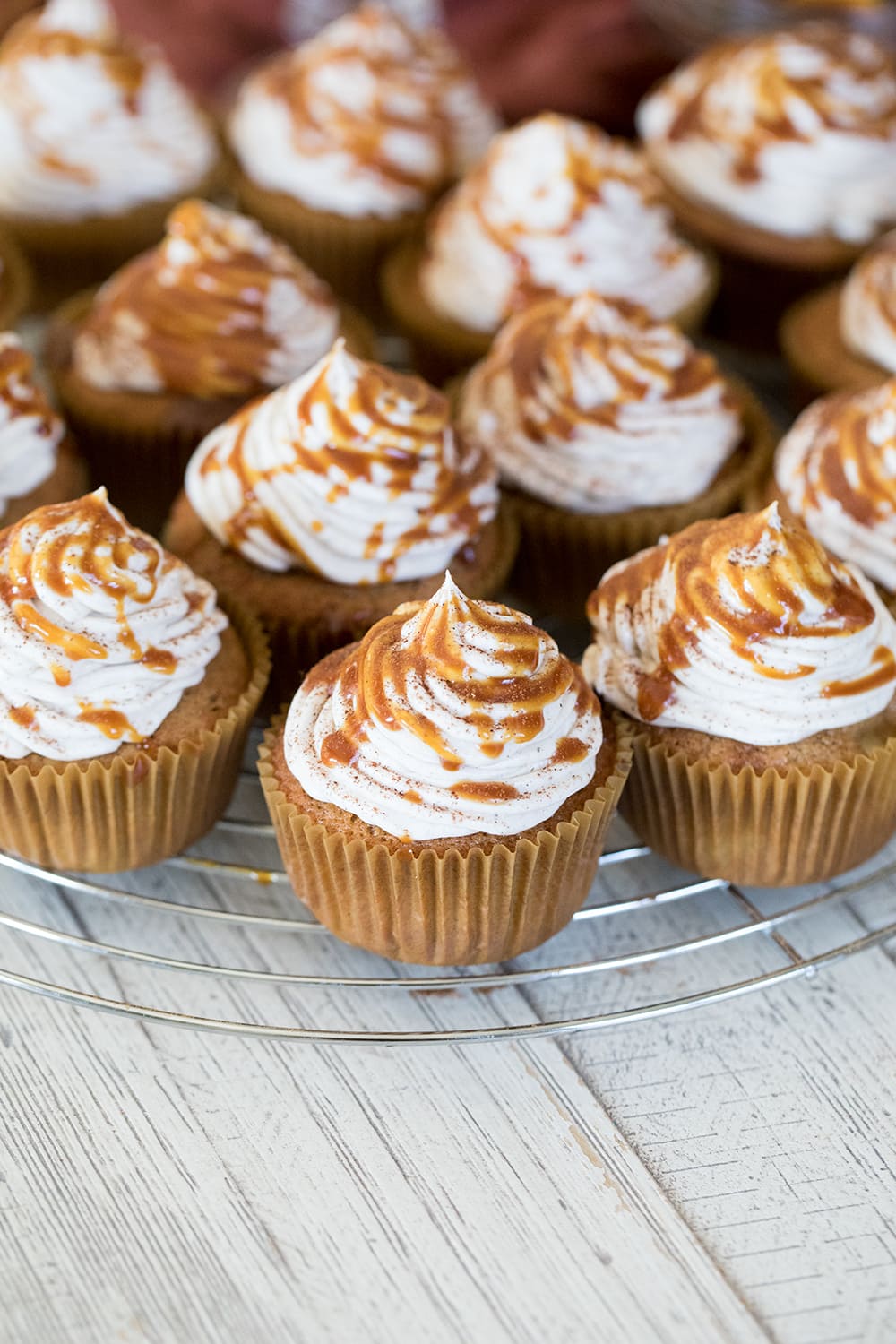 Hungry for More Apple Recipes?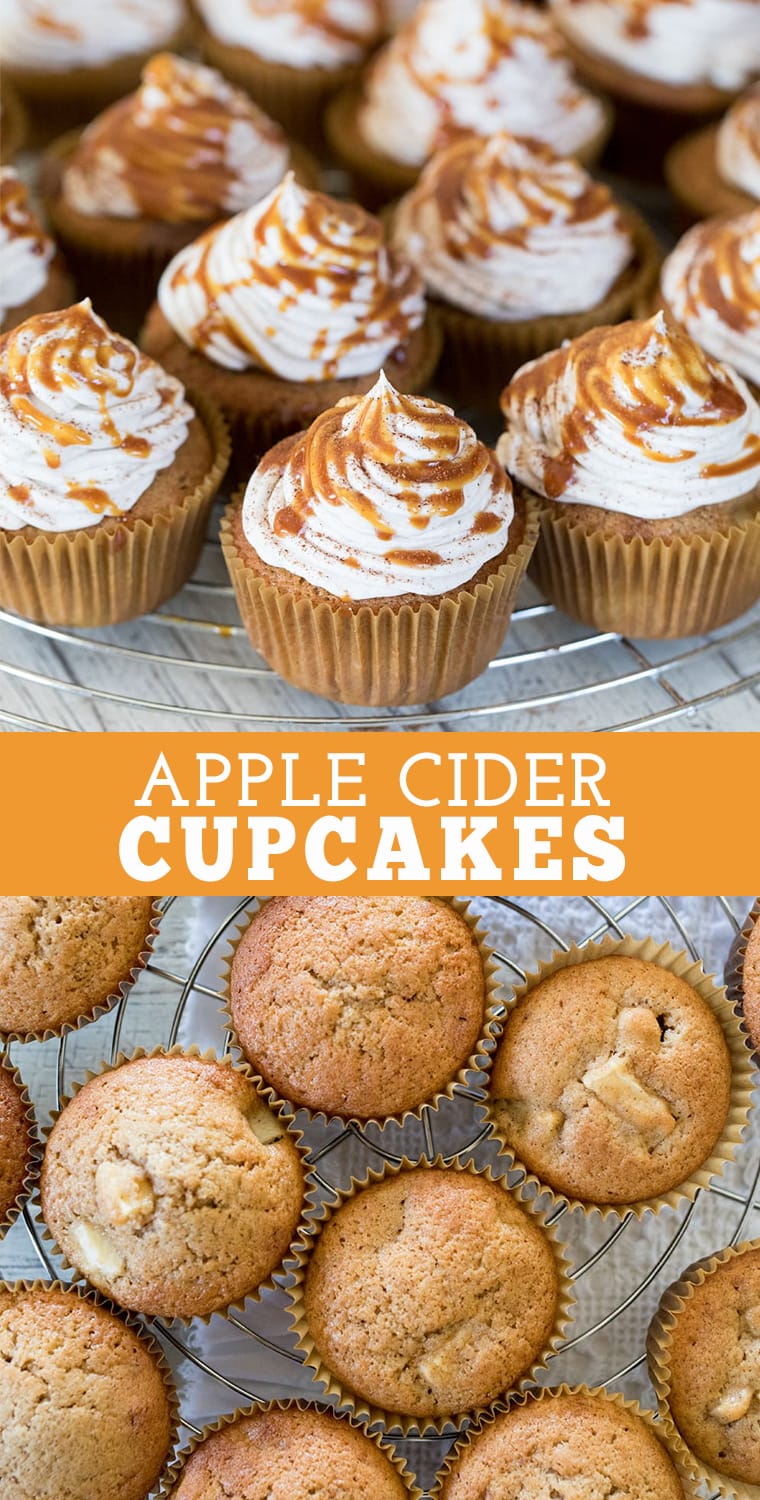 Must Make Quick Bread Recipes: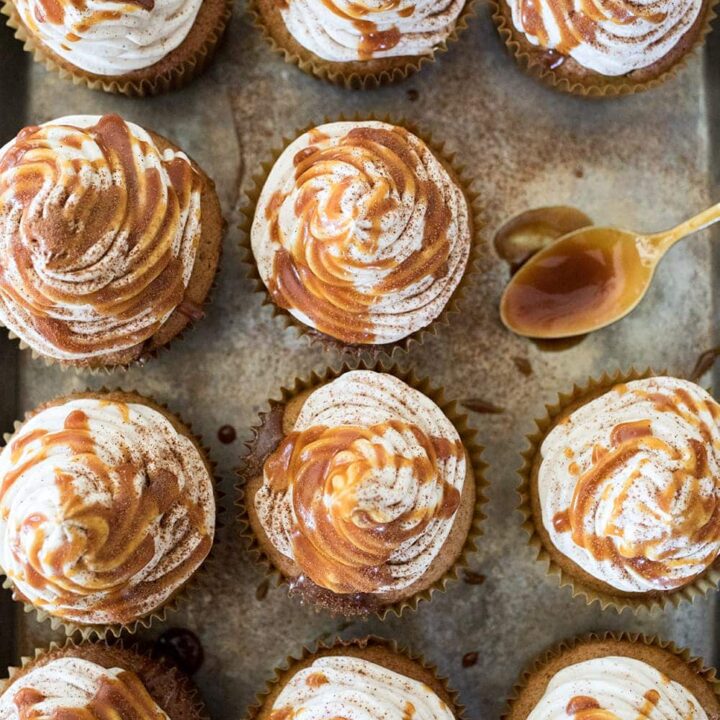 Apple Cider Cupcakes with Cider Buttercream Frosting
Apple Cider Cupcakes with an Apple Cider Buttercream Frosting and salted caramel drizzle.
Ingredients
½ cup unsalted butter, at room temperature
⅔ cup light brown sugar
2 large eggs, at room temperature
½ teaspoon salt
1 ¼ teaspoons baking powder
¼ teaspoon baking soda
1 teaspoon cinnamon
¼ teaspoon nutmeg
1 ½ cups all purpose flour + 1 Tablespoon reserved
¾ cup spiced apple cider
1 cup peeled and diced apple
FROSTING:
1 cup spiced apple cider, reduced *see directions
½ cup unsalted butter, at room temperature
⅛ teaspoon salt
½ teaspoon cinnamon
¼ teaspoon nutmeg
½ teaspoon vanilla bean paste
3 cups confectioners sugar
Instructions
REDUCED CIDER: In a small saucepan add 1 cup spiced apple cider for the frosting and bring to a boil. Boil reducing about 7 minutes or until the cider is reduced to ¼ cup and thickened slightly into a syrup. Remove to a heatproof glass measuring cup to make sure you have ¼ cup and allow to cool completely.
CUPCAKES: Preheat oven to 375 degrees with rack in the center of the oven. Line two cupcake tins with papers (16 total) and set aside.
In the bowl of an electric mixer, cream butter and sugar together until the mixture is light and fluffy.
Beat in the eggs one at a time scraping down sides of the mixing bowl.
In a medium bowl whisk together dry ingredients: salt, baking powder, baking soda, cinnamon, nutmeg and flour. (reserving the 1 tablespoon flour for later)
Alternate mixing in dry ingredients and apple cider into the butter mixture in four batches ending with the dry.
Toss peeled and diced apples in reserved 1 Tablespoon of flour and fold into batter by hand.
Scoop batter into cupcake tins and bake for 15-17 minutes or until a cake tester comes out of the center clean.
Remove to a cooling rack to cool completely.
FROSTING: In the bowl of an electric mixer, cream butter until it's light and fluffy. On low speed begin adding in the confectioners sugar one scoop at a time. Don't worry if it looks dry, we will be adding in liquid!
Mix in salt, cinnamon, nutmeg, vanilla bean paste and beat well.
Slowly drizzle in cooled and reduced apple cider until the frosting comes together and is thick and creamy but smooth. I use the entire ¼ cup but you might need less. If it's too dry, add a small amount of (unreduced) apple cider. If it's too wet, add more confectioners sugar.
Frost cupcakes, drizzle with cooled caramel sauce (hot sauce will melt your frosting) and a sprinkle of cinnamon.
Nutrition Information:
Yield:

16
Serving Size:

1
Amount Per Serving:
Calories:

280
Total Fat:

12g
Saturated Fat:

7g
Trans Fat:

0g
Unsaturated Fat:

4g
Cholesterol:

54mg
Sodium:

154mg
Carbohydrates:

42g
Fiber:

1g
Sugar:

31g
Protein:

2g