Back To School No. 2 Pencil Cupcakes are the perfect sweet treat to celebrate the start of the school year.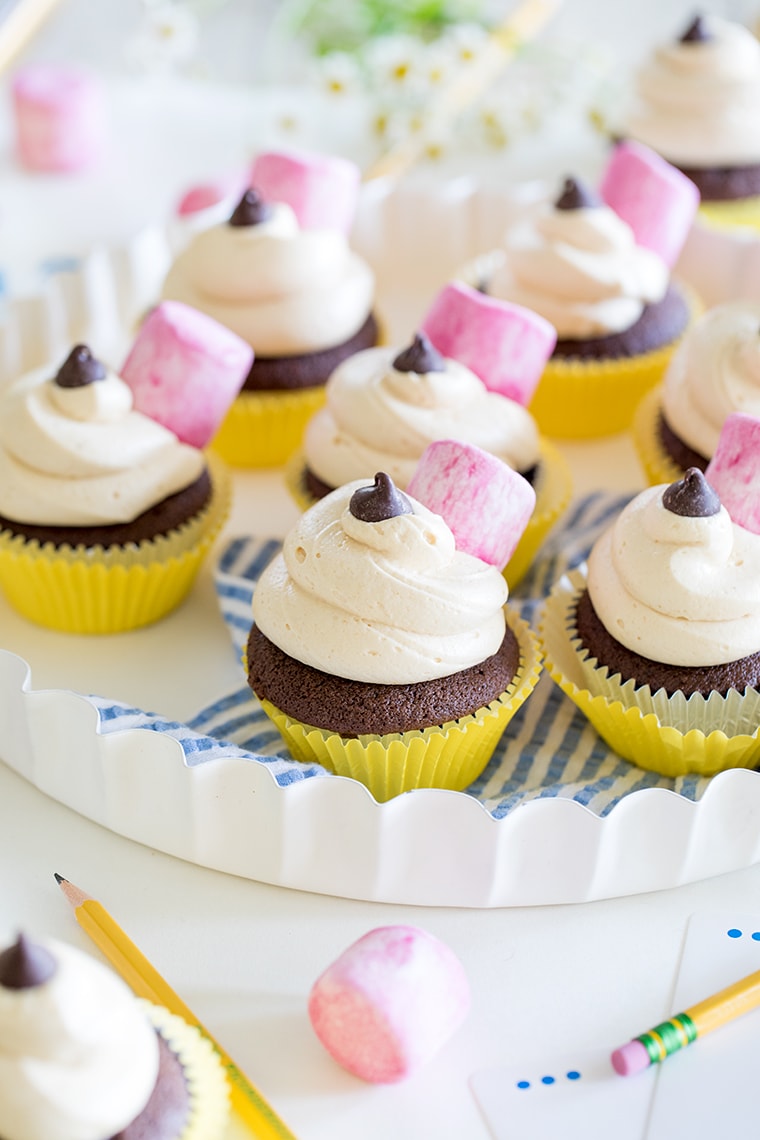 Back-to-School Cupcakes
Have your kiddos gone back to school? The twins go back to preschool the first week of September but I feel like we might be the only kids not already back in class. I don't mind the longer summer, especially now while they are young. It's nice to have them home a little bit longer, savor the last few weeks of summer, and make Back-to-School Cupcakes with them!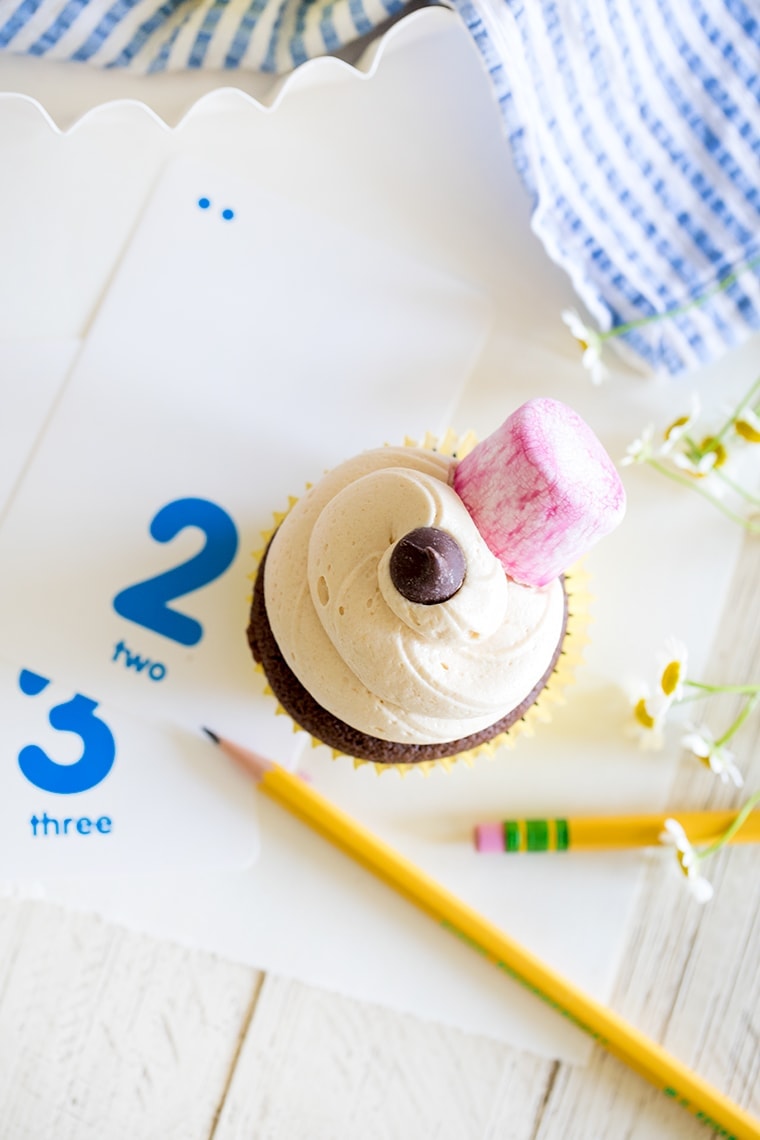 The Best Chocolate Cupcakes
These might be one of the the best recipes for chocolate cupcakes. It's an old classic I've been making for years from the Martha Stewart Cupcakes cookbook and is technically a devil's food cake recipe. The butter is melted down with the sugar and cooled and it gives the batter and cake an extra richness and depth of flavor. If you are short on time you could definitely grab a box of chocolate cupcake mix but if can, I would love for you to try this recipe from scratch!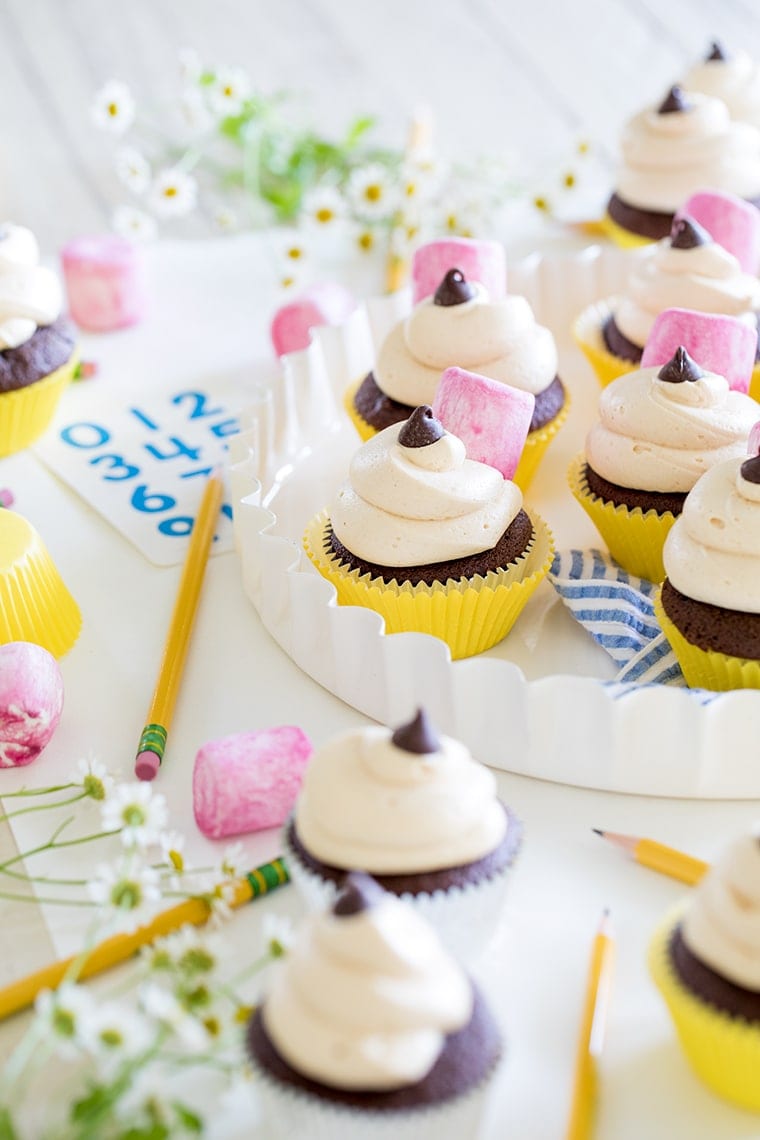 Peanut Butter Buttercream Frosting
I guess it's pretty controversial to use any sort of nut butter in a school related recipe nowadays but considering these cupcakes were't ACTUALLY journeying into a classroom, I felt fine about doing it. I imagined these as more of an after school treat than something you would send to school. If you are bringing these to class you can experiment with substituting in sunflower seed butter. I'm sure that would be absolutely delicious as well!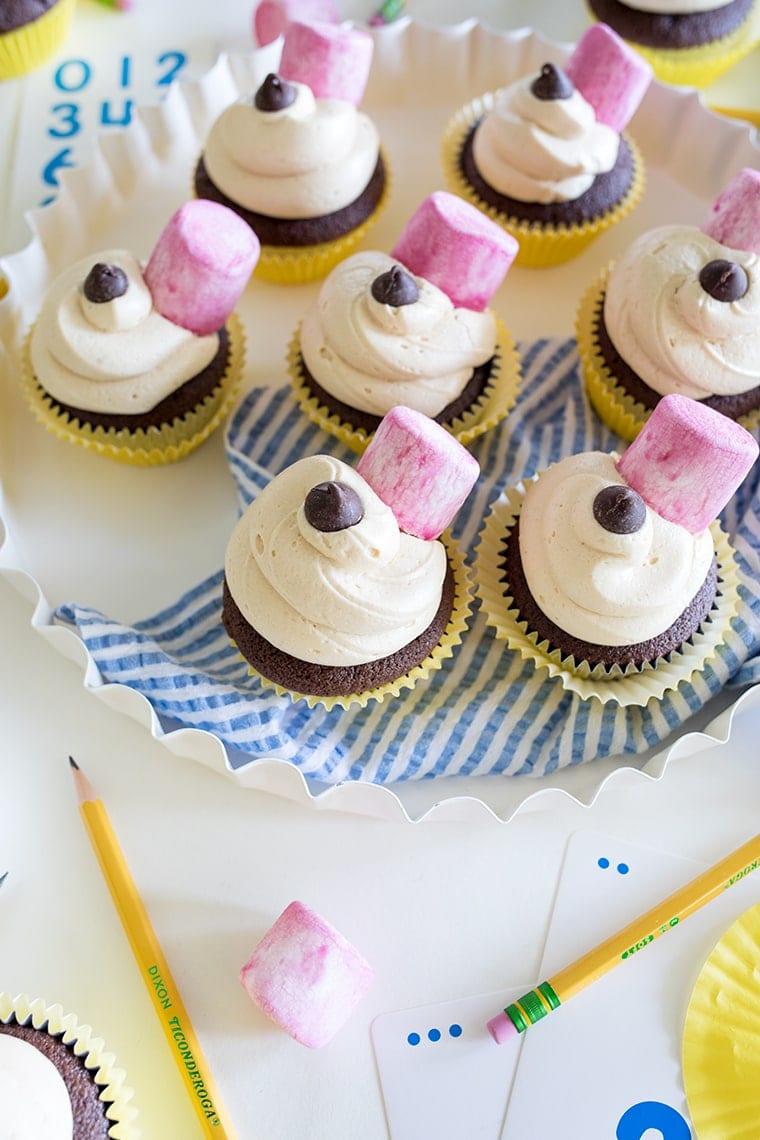 Decorating No. 2 Pencil Cupcakes
I knew I wanted to create a cupcake inspired by back-to-school and the idea of a classic yellow pencil complete with pink eraser was my ultimate inspiration. The end result is pretty hilarious if you ask me and very abstract but the twins DID NOT CARE what they looked like. They got to eat a frosted chocolate cupcake with a pink marshmallow, score!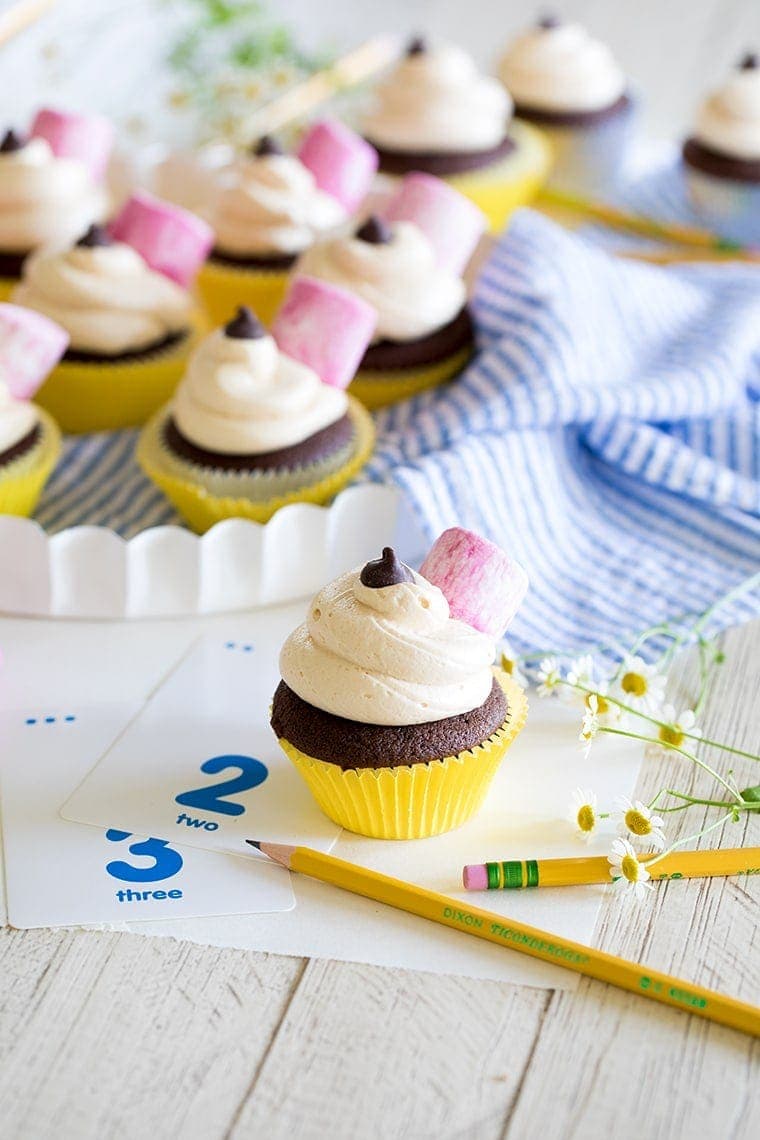 How to Frost Cupcakes Without a Piping Bag
I've shared this tip on Instagram but it's so convenient that it's definitely worth noting here as well. How to frost cupcakes without a piping bag is actually super easy! You will need a large Ziplock Bag, a pair of scissors and a large glass or liquid measuring cup. Start by placing the ziplock down into the glass to hold it in place and spoon in your frosting. Next squeeze all of the frosting down to the corner of the bag and use your scissors to snip of just a small amount from the corner of the ziplock to create a hole to pipe your frosting through. Next, twist the top of your ziplock to close and frost away!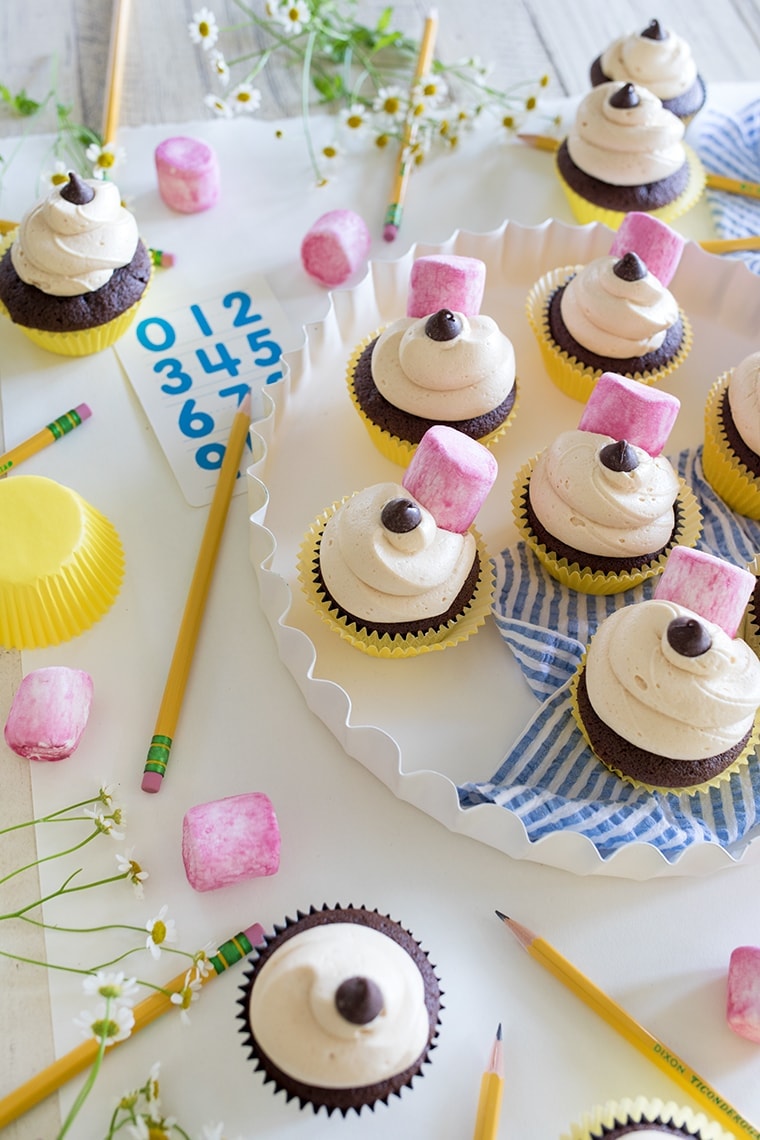 Pink Marshmallows
To create our pink "erasers," Millie and I painted marshmallow with a mixture of natural food coloring and cherry juice! We used a clean watercolor paintbrush and she loved painting the marshmallows for me. I let them all dry completely on a cooling rack before placing on the cupcakes. They will be sticky at first while wet but will dry nicely.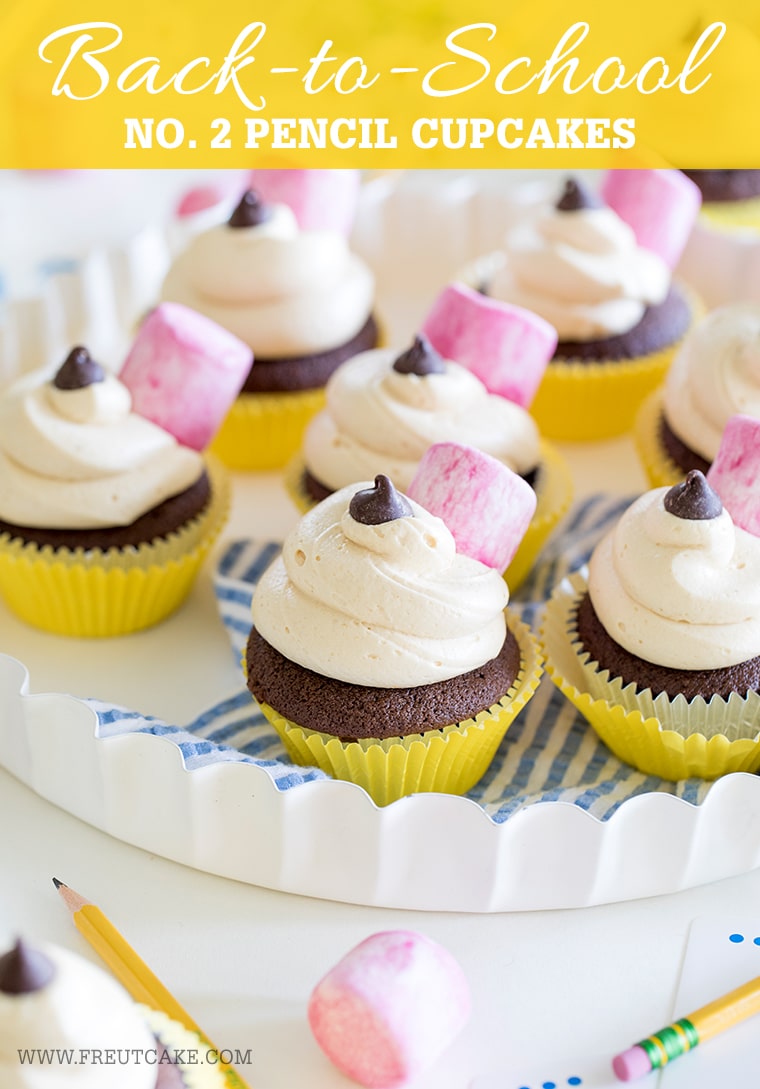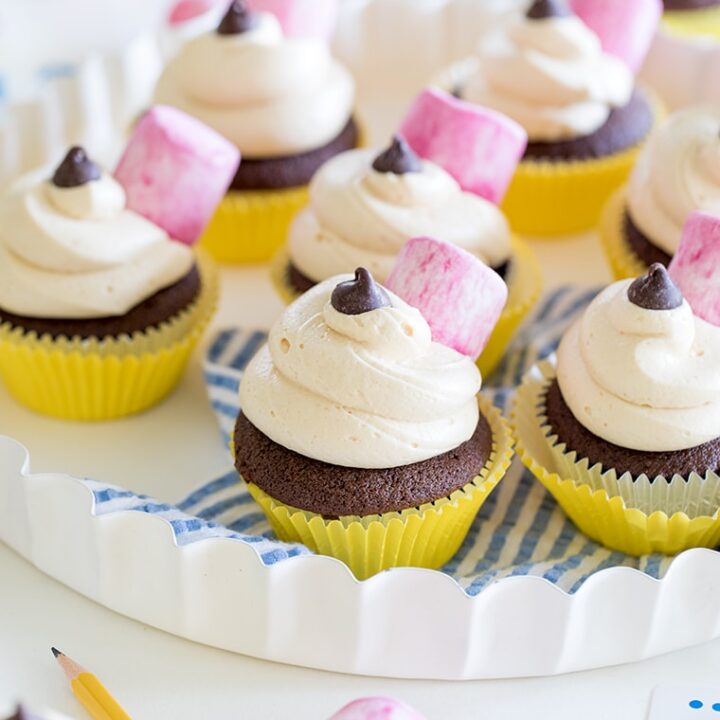 Devil's Food Cupcakes
A rich chocolate devils food cupcake recipe with peanut butter frosting.
Ingredients
¾ cup unsweetened Dutch-process cocoa powder
¾ cup hot water
3 cups all-purpose flour
1 teaspoon baking soda
1 teaspoon baking powder
1 ¼ teaspoons coarse salt
1 ½ cups (3 sticks) unsalted butter
2 ¼ cups sugar
4 large eggs, room temperature
1 tablespoon plus 1 teaspoon pure vanilla extract
1 cup sour cream, room temperature
FROSTING:
6 Tablespoons (¾ stick) unsalted butter at room temp
¾ cup smooth peanut butter
1 cup powdered sugar
pinch salt
Instructions
Preheat oven to 350 degrees. Line standard muffin tins with paper liners. Whisk together cocoa and hot water until smooth. In another bowl, whisk together flour, baking soda, baking powder, and salt.
Melt butter with sugar in a saucepan over medium-low heat, stirring to combine. Remove from heat, and pour into a mixing bowl. With an electric mixer on medium-low speed, beat until mixture is cooled, 4 to 5 minutes. Add eggs, one at a time, beating until each is incorporated, scraping down sides of bowl as needed. Add vanilla, then cocoa mixture, and beat until combined. Reduce speed to low. Add flour mixture in two batches, alternating with the sour cream, and beating until just combined after each.
Divide batter evenly among lined cups, filling each three- quarters full. Bake, rotating tins halfway through, until a cake tester inserted in centers comes out clean, about 20 minutes. Transfer tins to wire racks to cool 15 minutes; turn out cupcakes onto racks and let cool completely. Cupcakes can be stored overnight at room temperature, or frozen up to 2 months, in airtight containers.
Make the frosting: In an electric mixer with the paddle attachment, cream the butter until light and fluffy. Add peanut butter and mix until combined. Slowly add the powdered sugar and salt with mixer on low and blend until combined. Whip on high for 30 seconds. Frost cooled cupcakes with a piping bag or a ziplock bag. See post for more details.
Decorate with a chocolate chip and marshmallow eraser.
Notes
To make the "erasers" paint marshmallows with red food coloring and a clean paintbrush and allow to dry.
Nutrition Information:
Yield:

32
Serving Size:

1
Amount Per Serving:
Calories:

204
Total Fat:

8g
Saturated Fat:

3g
Trans Fat:

0g
Unsaturated Fat:

4g
Cholesterol:

35mg
Sodium:

203mg
Carbohydrates:

30g
Fiber:

1g
Sugar:

18g
Protein:

4g