Christmas Wreath Cookies are not only one of my favorite holiday treats but are also easy to make, kid-friendly and the perfect cookie to leave out for Santa!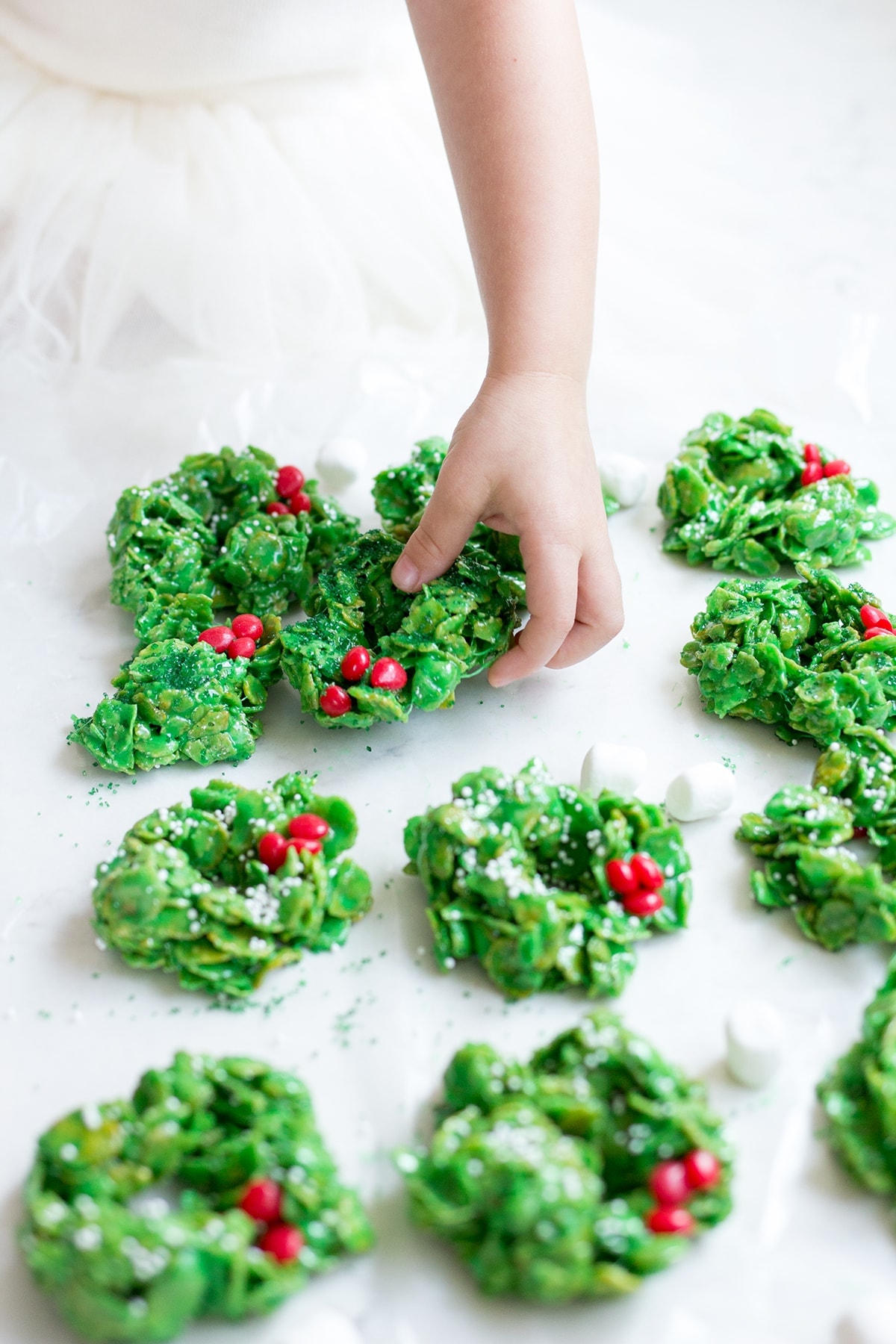 I'm partnering with Munchkin today to share this recipe because it's a great cookie to make with kids. Last week I decided to start a new tradition by making a batch with Millie. She is always so excited to "help" me in the kitchen and this was a fun cookie to make with her.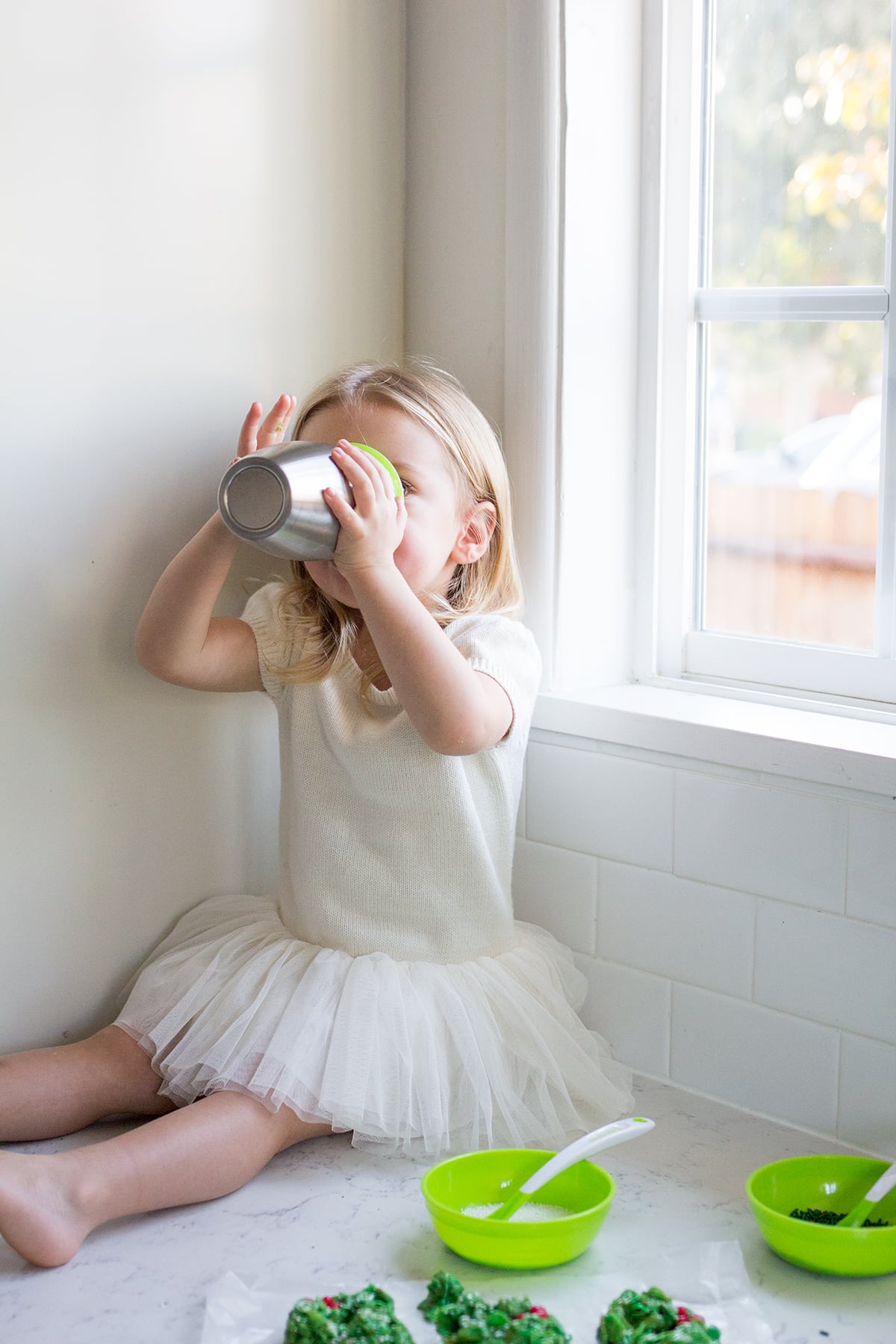 Similar to Rice Krispies treats, these wreaths have just a few simple ingredients: cereal, marshmallows, butter, green food coloring and red candies.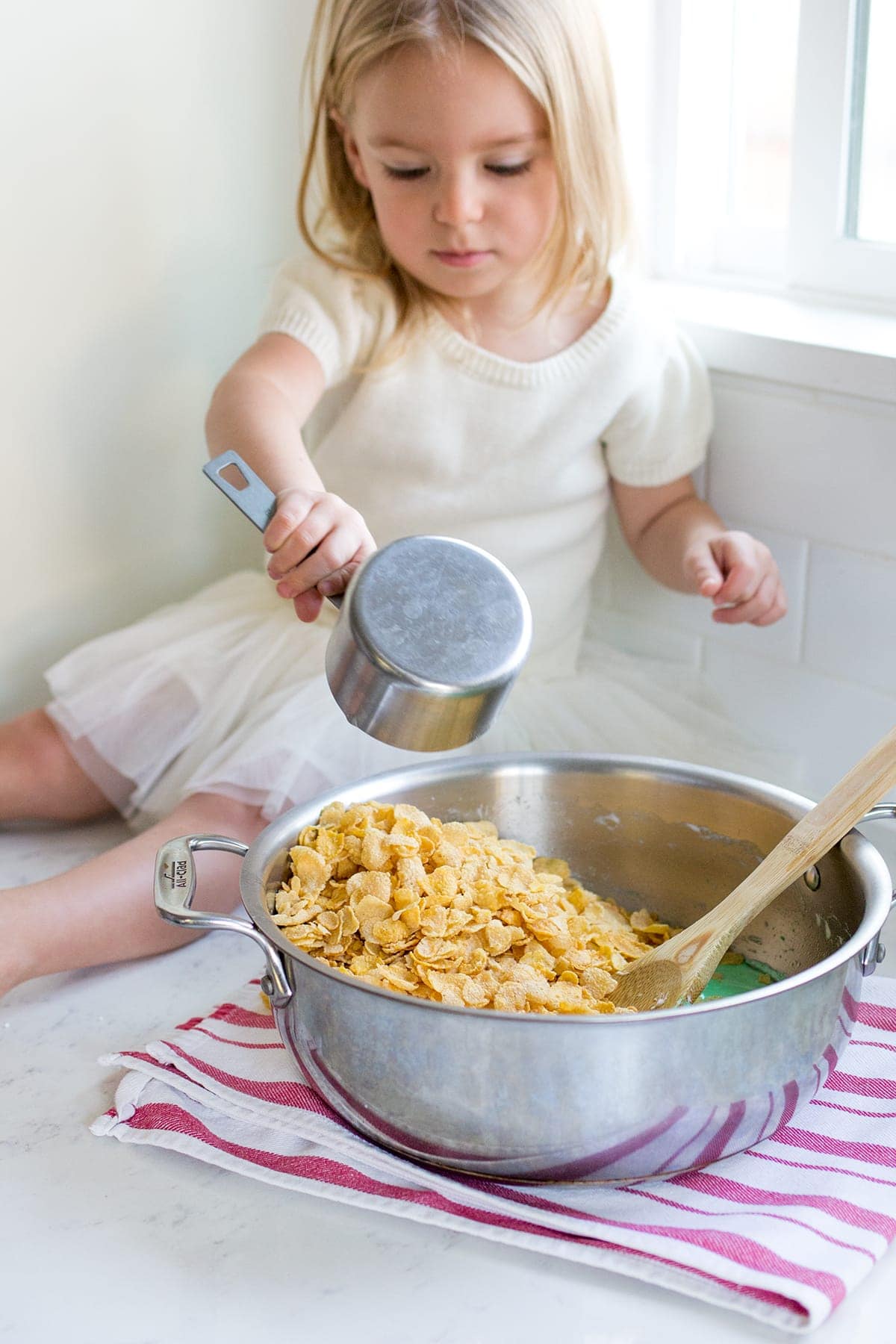 Traditionally these wreaths are made with cinnamon candies but you can use mini red chocolate candies if you want a "less spicy" alternative. The corn flakes give a nice crisp texture and make the wreaths look like holly.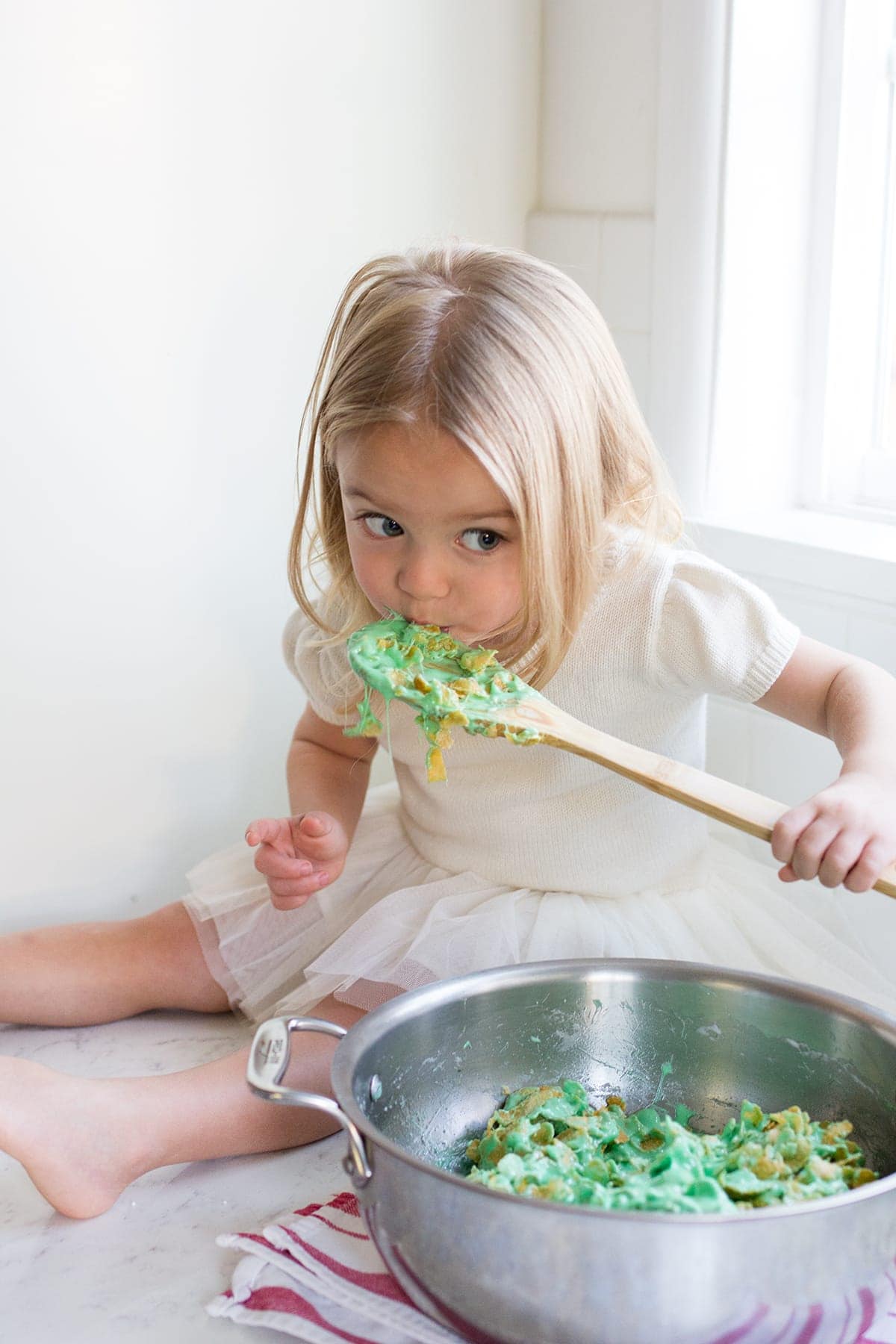 Just a splash of green food coloring gives them their green color and the red candies look like berries when you nestle them down in the leaves.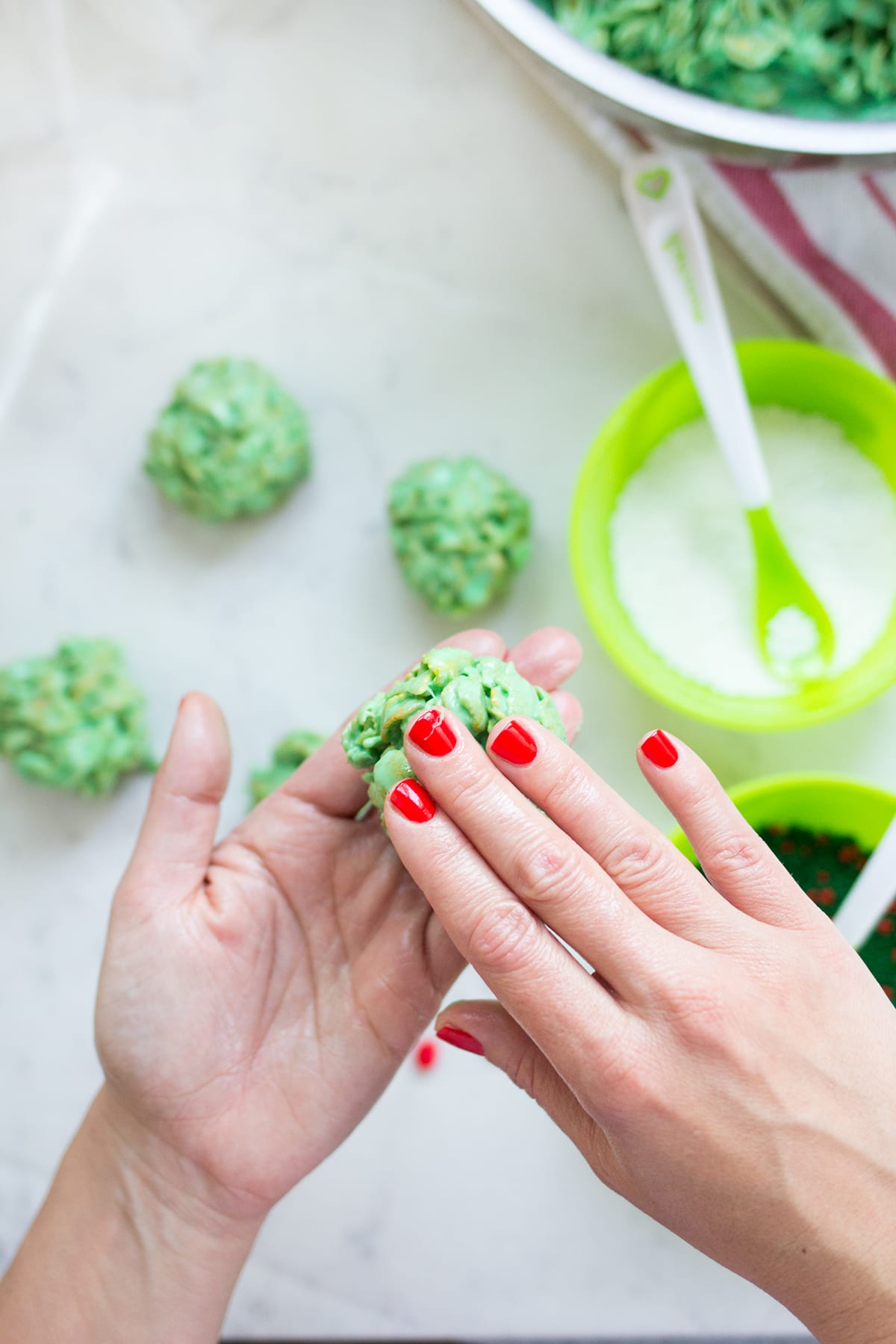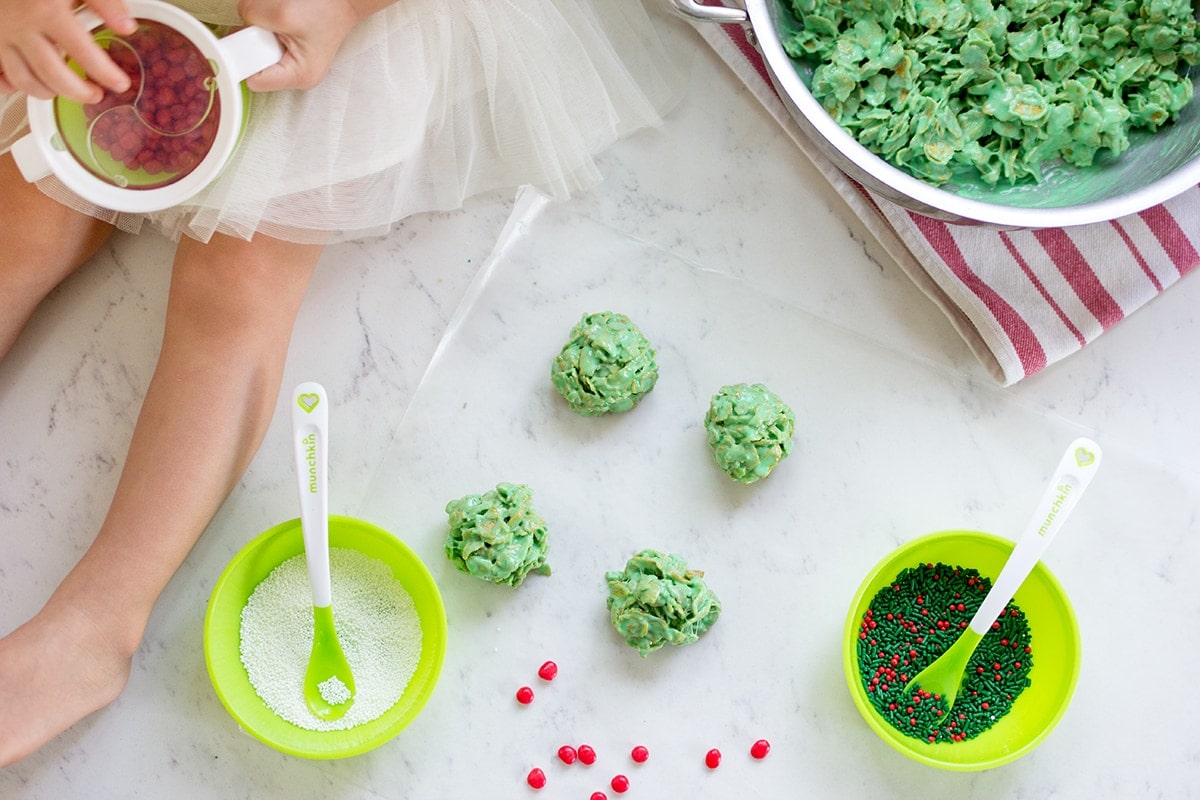 In order make it easy for Millie to help make the cookies, I set out a large sheet of waxed paper to make the wreaths on as well as different sprinkles and nonpareils in my Munchkin Love-a-Bowls.™ She helped me mix the melted marshmallows, measure and add the corn flakes and shape the wreaths.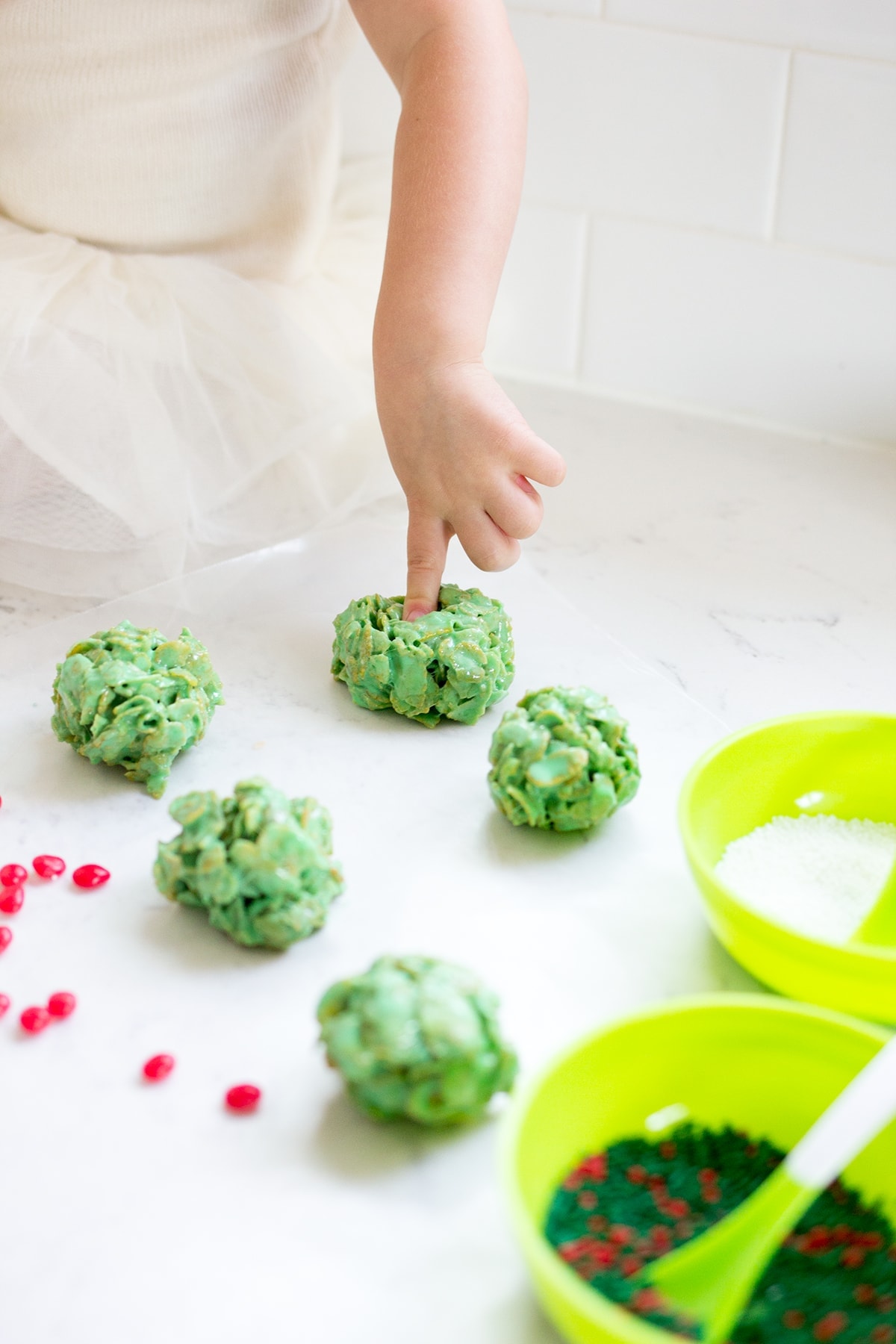 Depending on the age of your child, they can be more or less involved in the shaping process. I rolled the mixture into balls and had Millie flatten and poke holes in the center of each to create the wreath shape.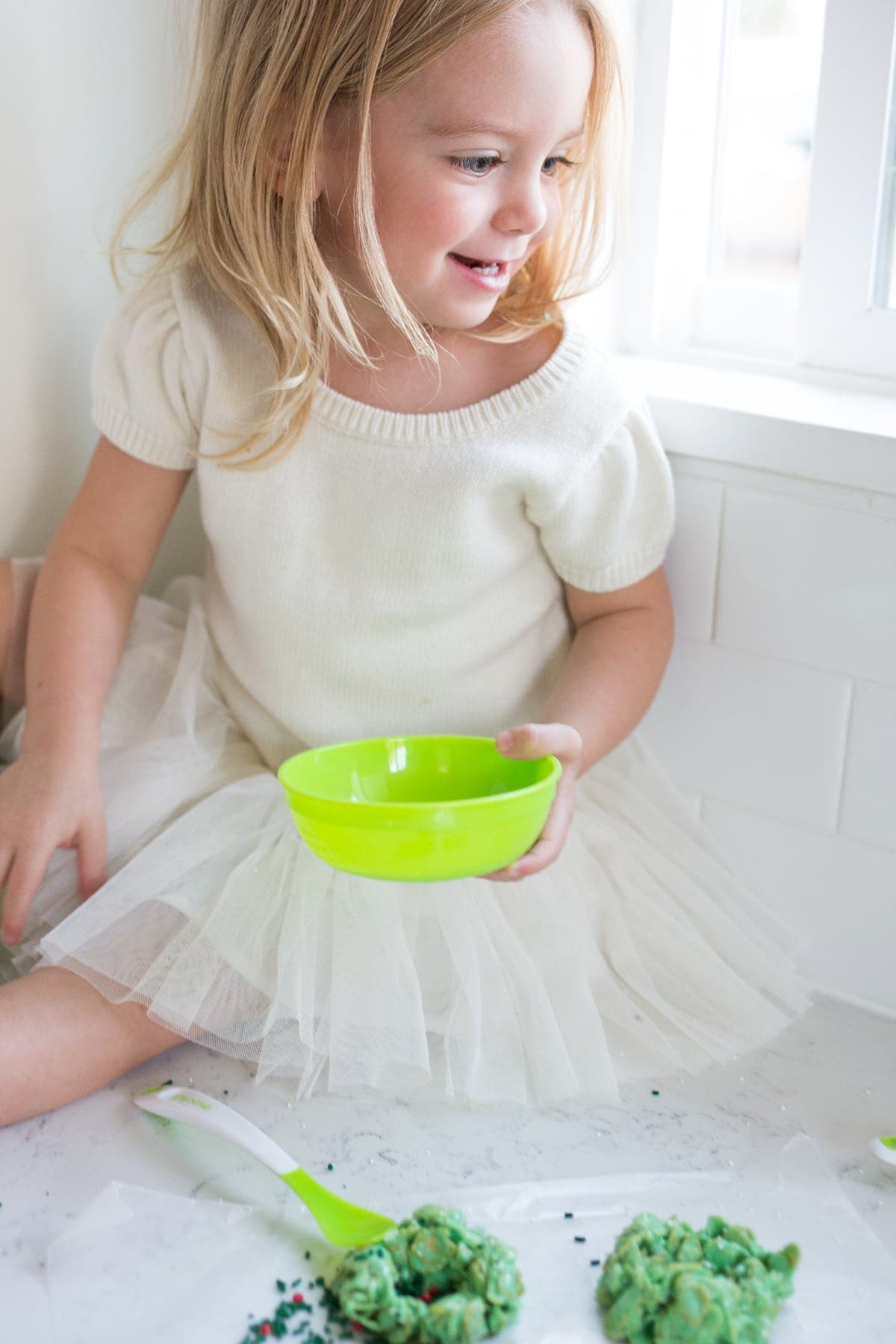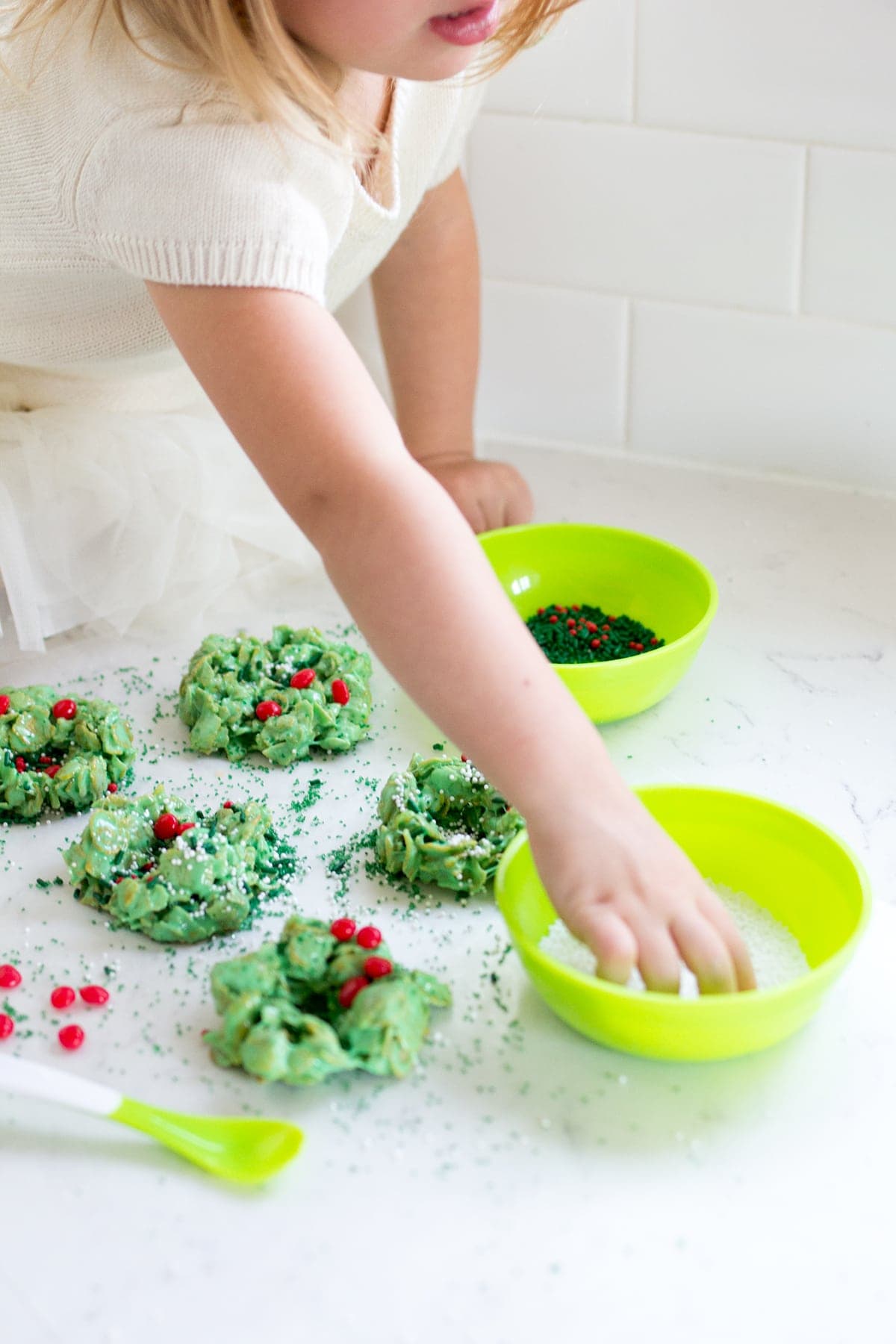 Then I let her decorate away! I placed the cinnamon candies in a Munchkin Snack Catcher so that they didn't spill all over the counter which was so helpful. She loved using the little spoons to sprinkle on white nonpareils to look like snow.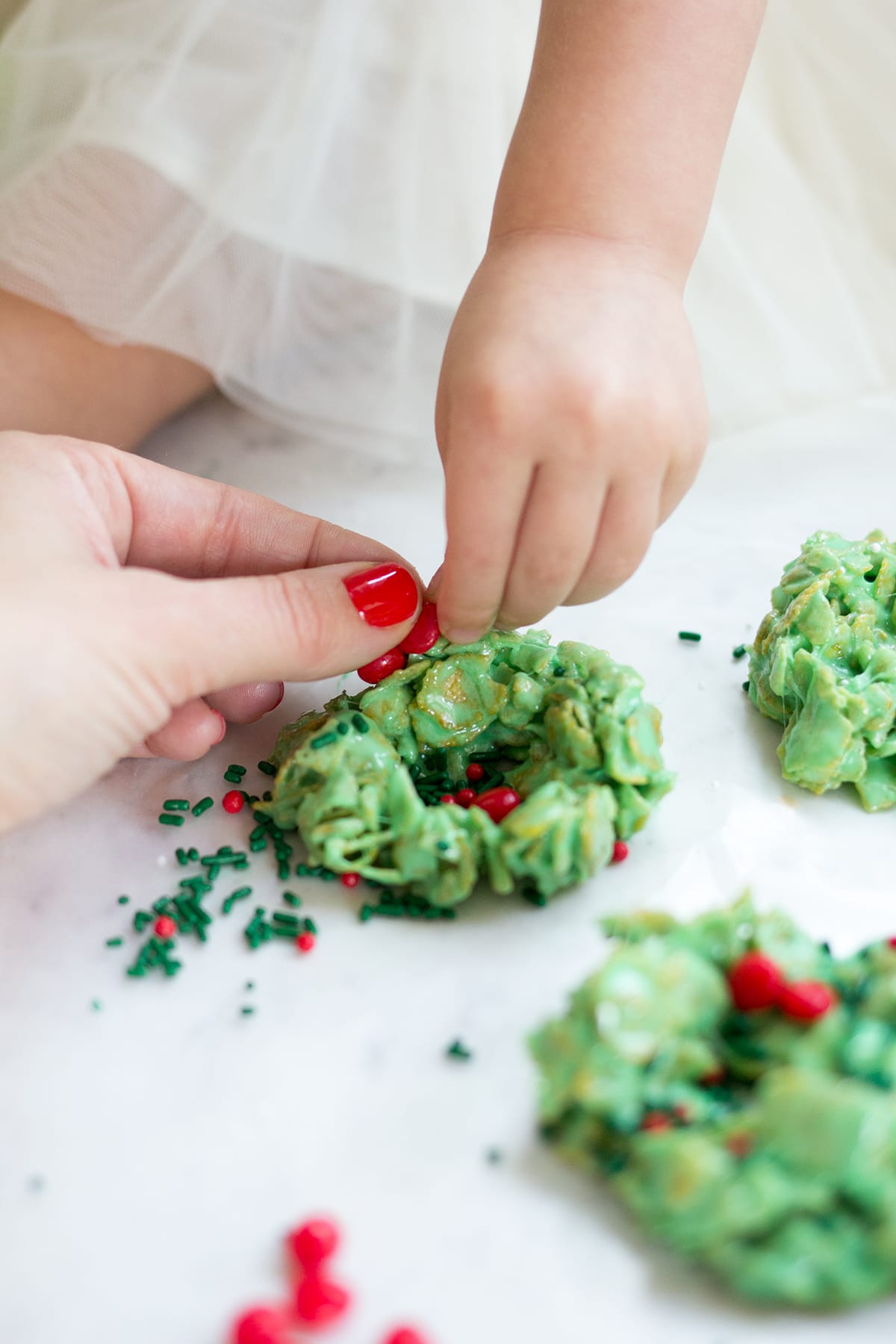 Sprinkles and candies, lots of snacking on cereal along the way, and even a bit of marshmallow in her hair. It was a messy fun time and I was so glad we made that memory together. We'll definitely be making these wreaths to leave out for Santa on Christmas Eve!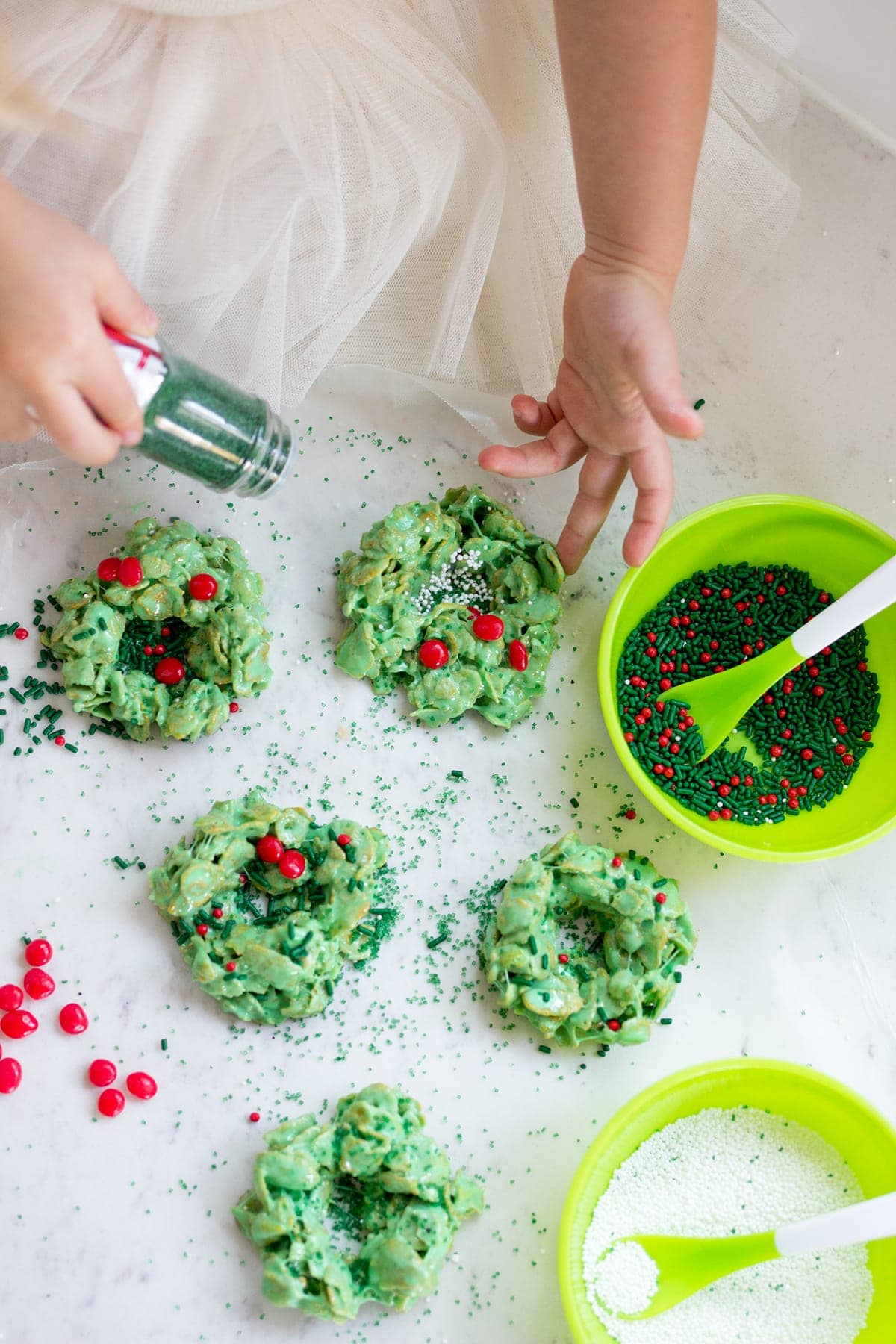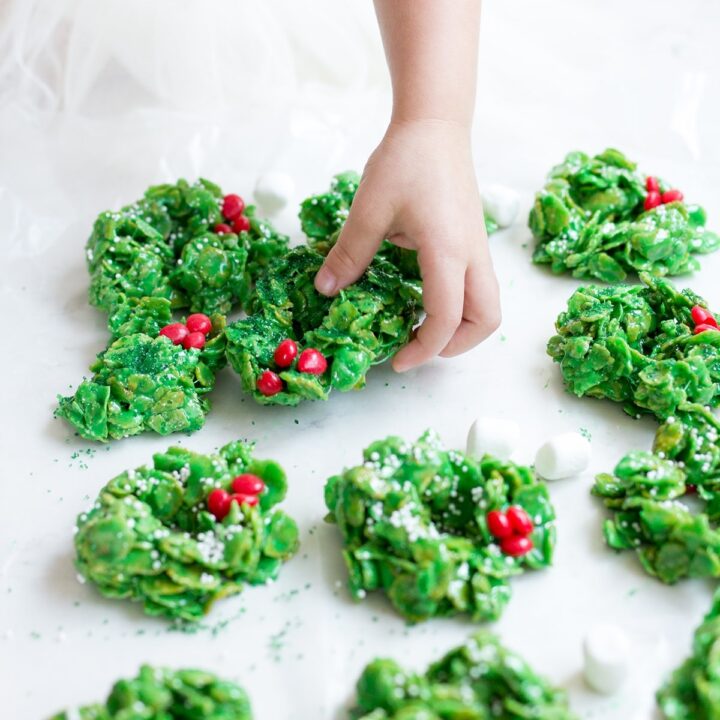 Christmas Wreath Cookies
Classic Christmas Wreath Cookies made with corn flakes and cinnamon candies, also know as holly wreath cookies, are perfect for making with kids and leaving out for Santa!
Ingredients
1 bag mini marshmallows
5 cups corn flakes
1 stick (½ cup) salted butter
green food coloring
red cinnamon candy
sprinkles and nonpareils (optional)
non-stick cooking spray
Instructions
Line a cookie sheet with waxed paper and set aside.
In a large pot melt butter and marshmallows over low heat, mixing frequently. Add in a green food coloring until you've reached a green color that you like for your wreaths and mix until all of the melted marshmallow is evenly colored.
Remove from heat and fold in corn flakes with a wooden spoon until all of the flakes are coated.
Allow mixture to cool slightly until it is able to be handled.
Spray hands with non-stick cooking spray and gather mixture up rolling into small balls.
Place on cookie sheet and flatten slightly. Poke a hole in the center and shape into a wreath.
Decorate with 3 cinnamon candies and any additional sprinkles or sanding sugar.
Cool until hardened before serving.
Disclosure: This post was sponsored by Munchkin, one of my favorite brands for all things toddler. Thank you for supporting my sponsors!