Hot Chocolate Marshmallow Linzer Cookies are classic cocoa cookies sandwiched around fluffy marshmallow creme and dusted with powdered sugar. These magical cookies taste like a sip of hot chocolate with melted marshmallow and are a beautiful addition to any Christmas cookie plate.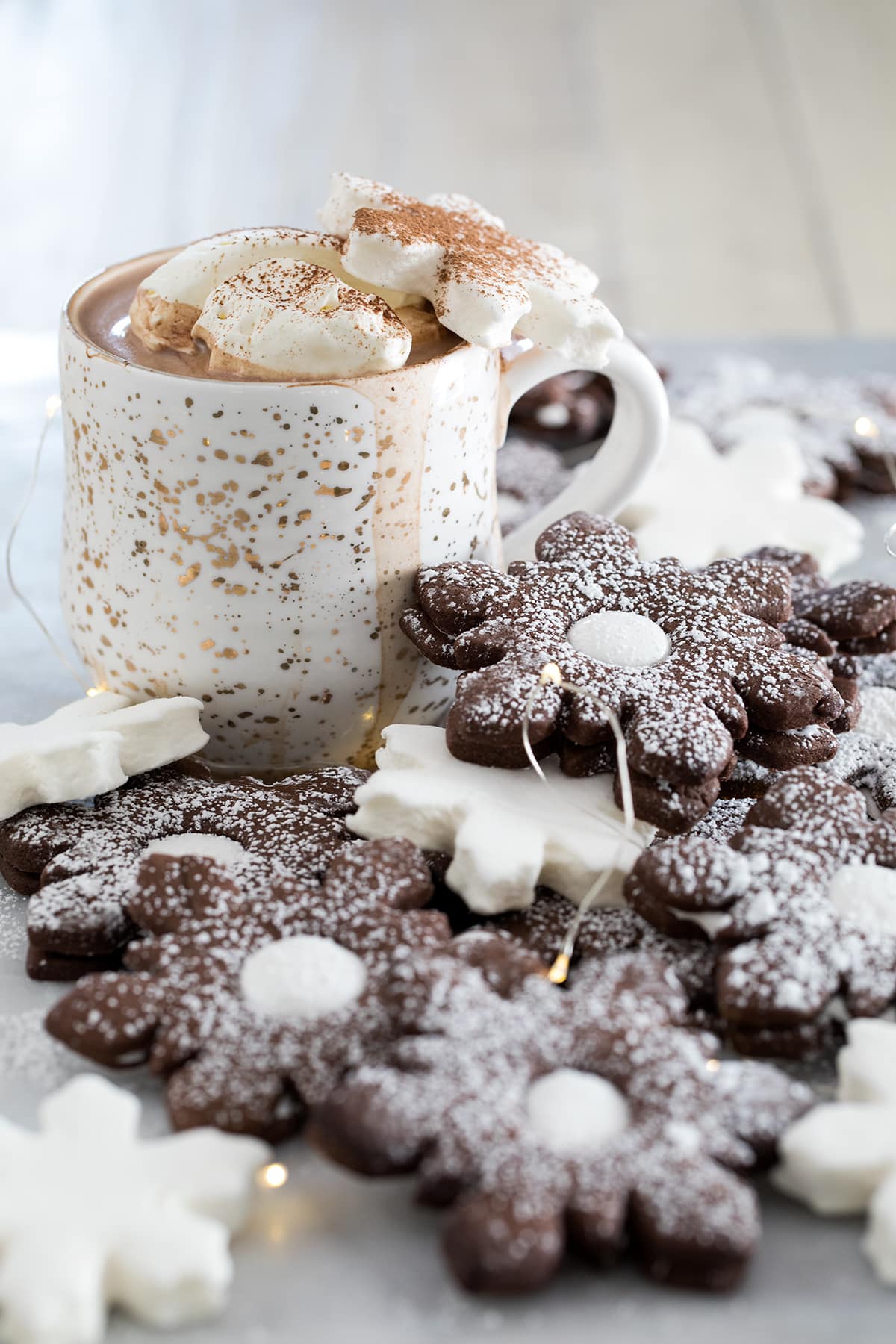 Hot Chocolate Linzer Cookies
What is your favorite Christmas song? One of mine is The Waltz of the Snowflakes from The Nutcracker Ballet. We've been listening to a lot of The Nutcracker over the last week and while I was baking these cookies, the etherial Waltz of the Snowflakes was playing in my head. I couldn't help but imagine snowflakes swirling and falling as I dusted the Hot Chocolate Linzer Cookies with powdered sugar. Baking is one of those magical, creative, wonderful activities that has the ability to transport you to another place if you let it.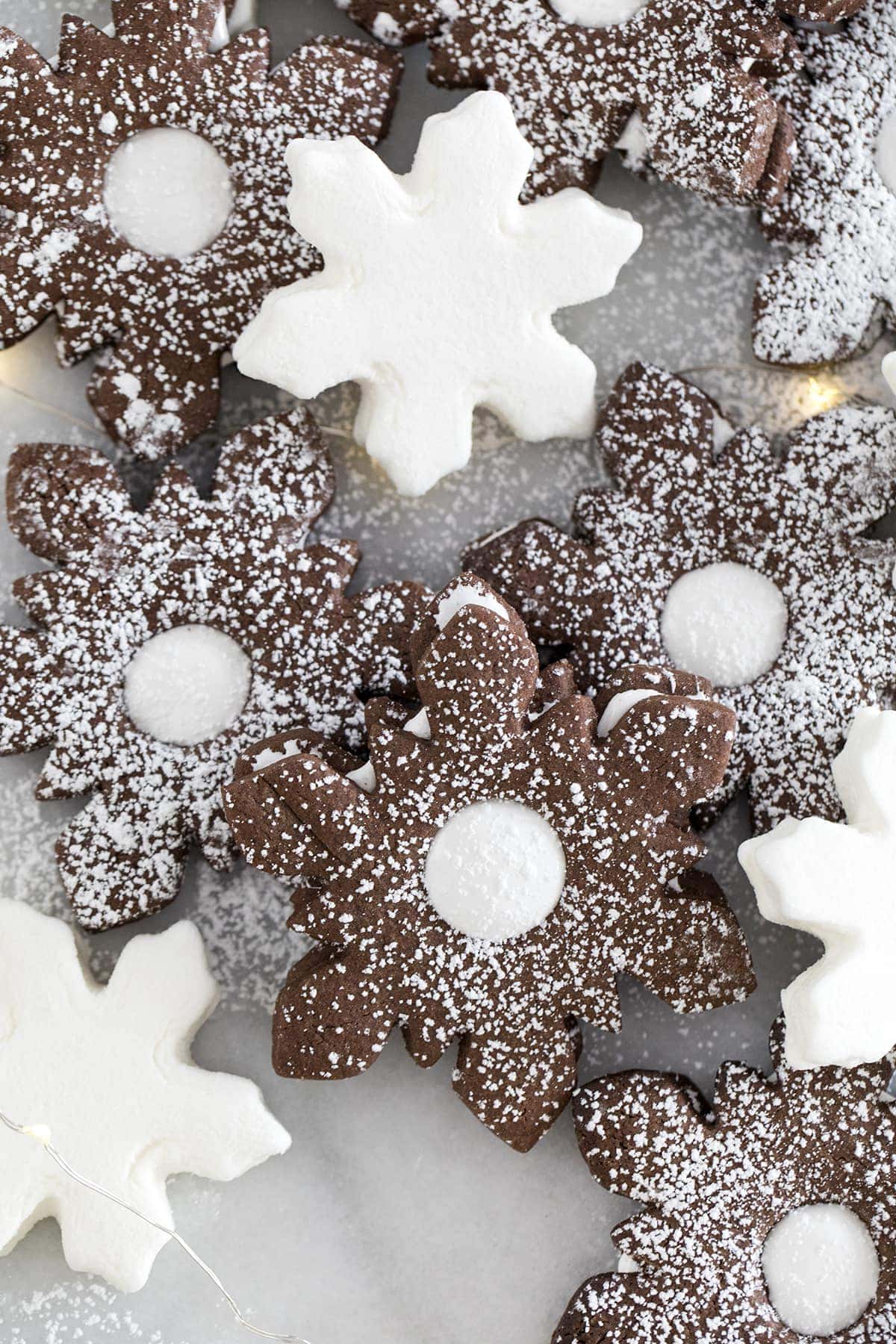 The Best Blogger Cookie Recipes
For the FOURTH year now, my friends and I have shared some of our favorite Christmas Cookies with you in an annual Christmas Cookie round-up across all of our sites. We call our little group the #ChristmasCookieSquad and I look forward to seeing what everyone creates from year to year. Last year I shared my Classic Frosted Cutout Sugar Cookies and this year it's these hot chocolate beauties. If you are looking for some delicious recipes to try this holiday season, here's what my friends are making...
More Christmas Cookie Recipes to Love:
Rudolph Nose Dough Balls - Julie Blanner
Chocolate Cherry Chunk Cookies- Sugar and Charm
Chai Spice Sugar Cookies with Vanilla Bean Drizzle - Lovely Indeed
Christmas Sugar Cookies - Paper & Stitch
Reindeer Truffle Cookies - Pizzazzerie
Peppermint Kiss Cookies - Inspired By Charm
Boho Rainbow Gingerbread Cookies - The Proper Blog
Now onto my contribution, Hot Chocolate Marshmallow Linzer Cookies...
Chocolate Linzer Cookie Dough
Linzer cookies are traditionally a fairly crisp and thin cut out cookie with a small window to show just a peek at the filling. This chocolate Linzer cookie dough is very similar to a classic Linzer dough but it has just a bit more of a soft pillowy texture. I flavored it with unsweetened cocoa powder, a hint of cinnamon and vanilla, just how I like to drink my hot chocolate. The beautiful thing about this dough is that it doesn't spread. It requires about an hour of chilling in the beginning but after that it bakes up beautifully and holds it's shape after being rolled, cut, and placed on cookie sheets.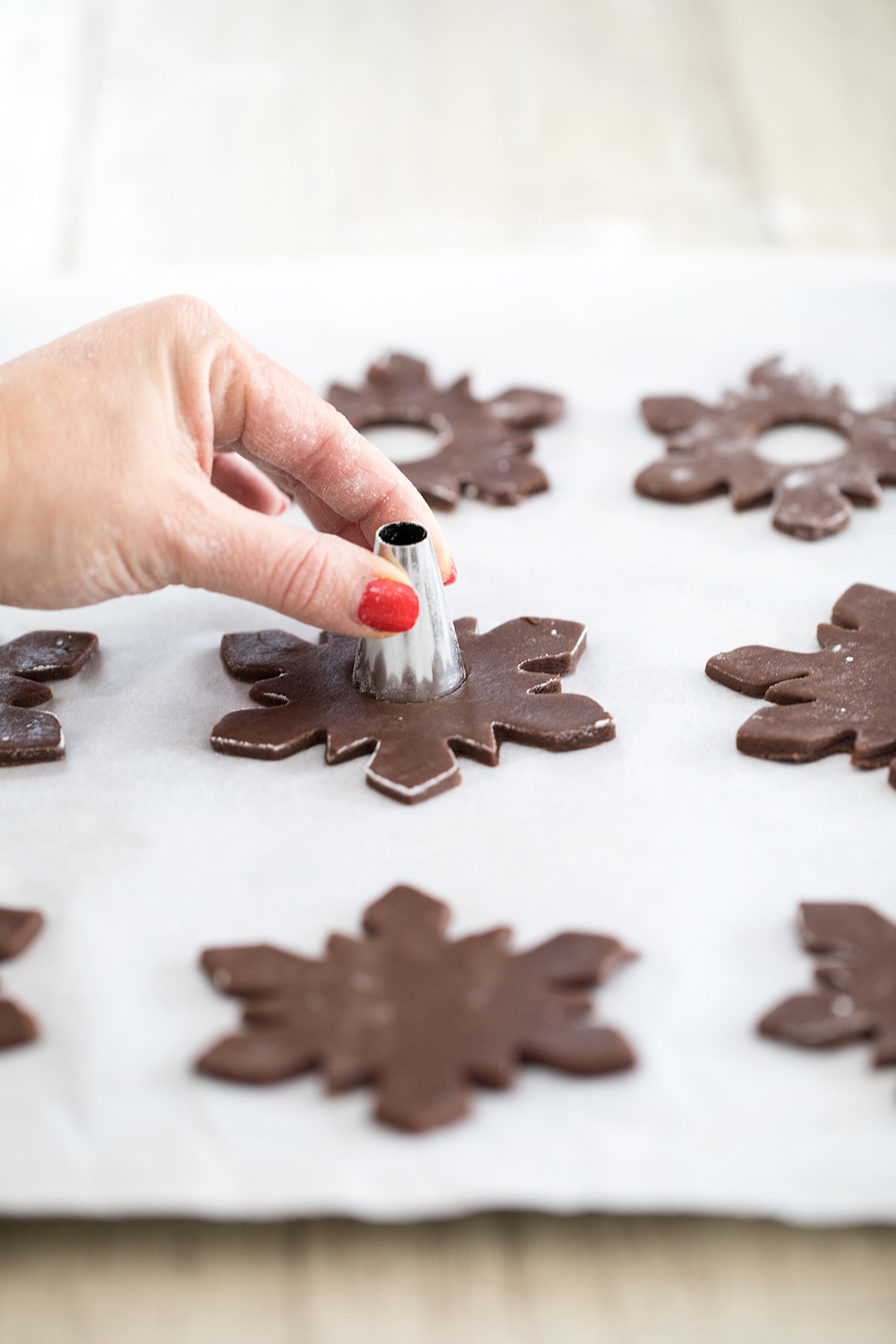 Tips for Perfect Linzer Cookies
Line cookie sheets with parchment paper to prevent sticking. This is really a tip for all cookie making but I figured I would include it here as well as it helps so much.
Roll dough out to about ⅛" thick for nice thin cookies. Because this is a sandwich cookie, you don't want to dough to be thick.
After rolling out the dough, use your cookie cutter to cut as many cookies out as possible all at once and then carefully pull away the extra dough leaving just your cookies on the board. This will help keep their shape. Then carefully transfer them using a spatula to a cookie sheet. Reshape them if necessary once they are placed on the cookie sheet.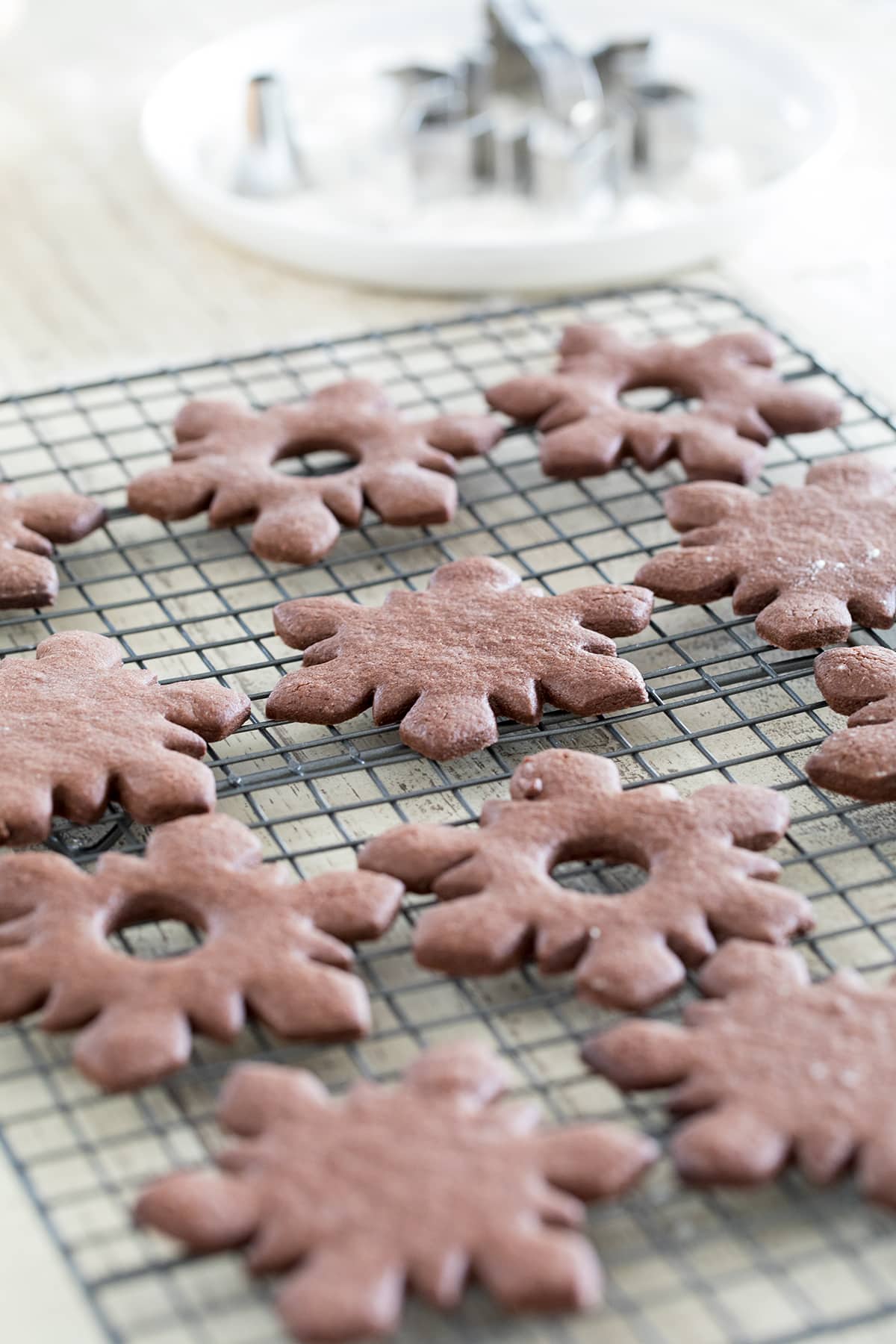 Tips for Perfect Linzer Cookies Continued...
4. Cut Linzer windows with a small cookie cutter once the cookies are already on the cookie sheet. This helps create a perfectly shaped cut out.
5. If your dough has become warm during the rolling and cutting process, place your cookies in the fridge for 30 minutes before baking. This will help maintain the cookies crisp shape. With this dough, I find that it's really not necessary but if you are having any spreading, this is what I recommend.
6. Add the filling to the flat side of the cookies so that they fit together nicely. (The photo below is a perfect example of how NOT to do it. Ha!)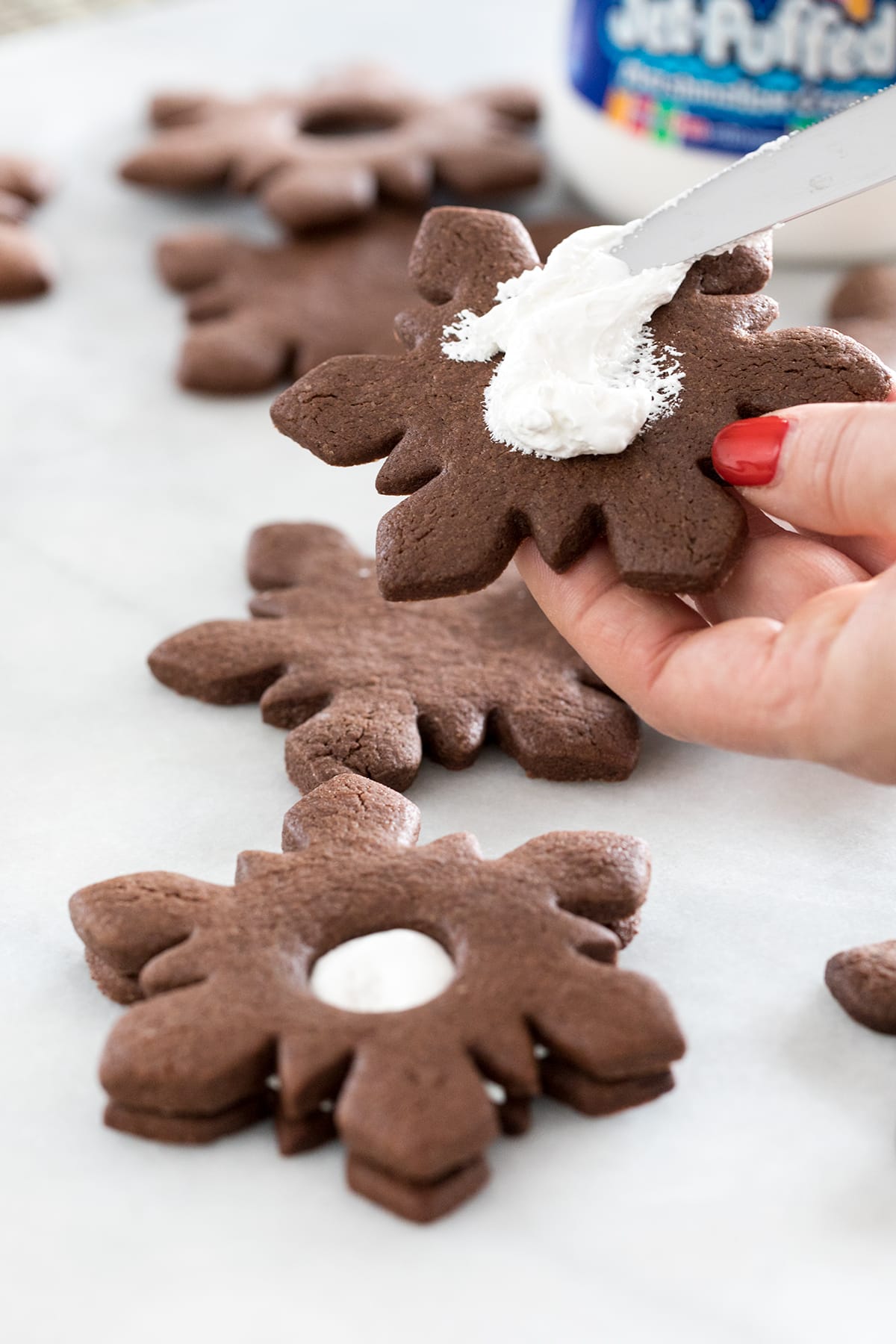 Marshmallow Creme Filling for Cookies
Want to hear a secret? I use store bought Marshmallow Fluff Creme for the filling of these cookies and it's my favorite. I'm sure you could make a homemade marshmallow frosting but if you don't have time for all that, try Fluff! I love the way that it spreads out perfectly smooth in the center of the cut out windows. They really do look like perfection without much effort! Just spread it on with a knife and let the Marshmallow Fluff do the rest. Plus the twins love sticking their fingers into the gooey marshmallow centers.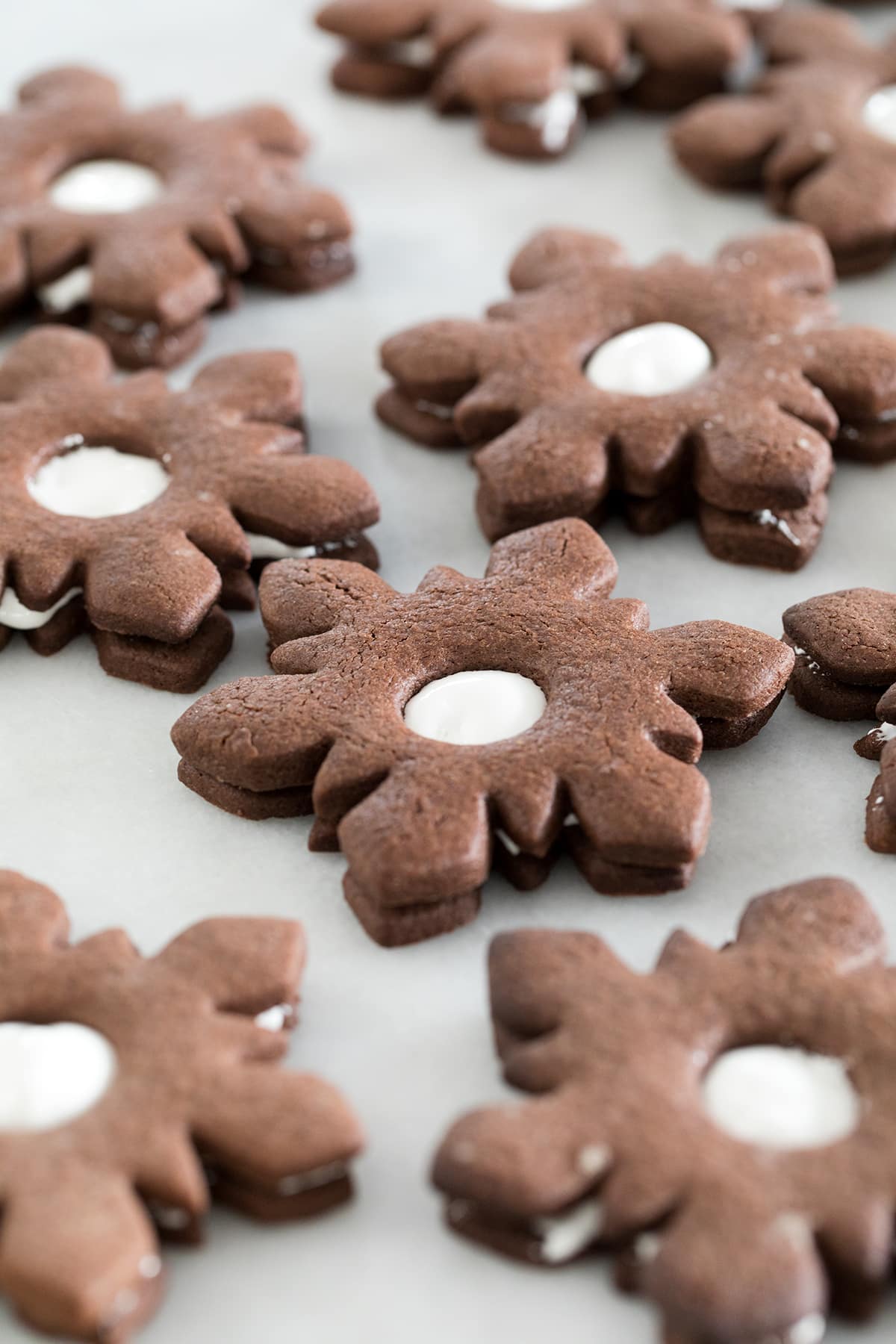 Other Fillings for Linzer Cookies
If marshmallow creme isn't your filling of choice, you can definitely substitute it for another filling. The most classic Linzer Cookie filling is jam or preserves. I think raspberry jam would be a delicious flavor combination with these chocolate cookies. Not a fruity fan, try dulce de leche!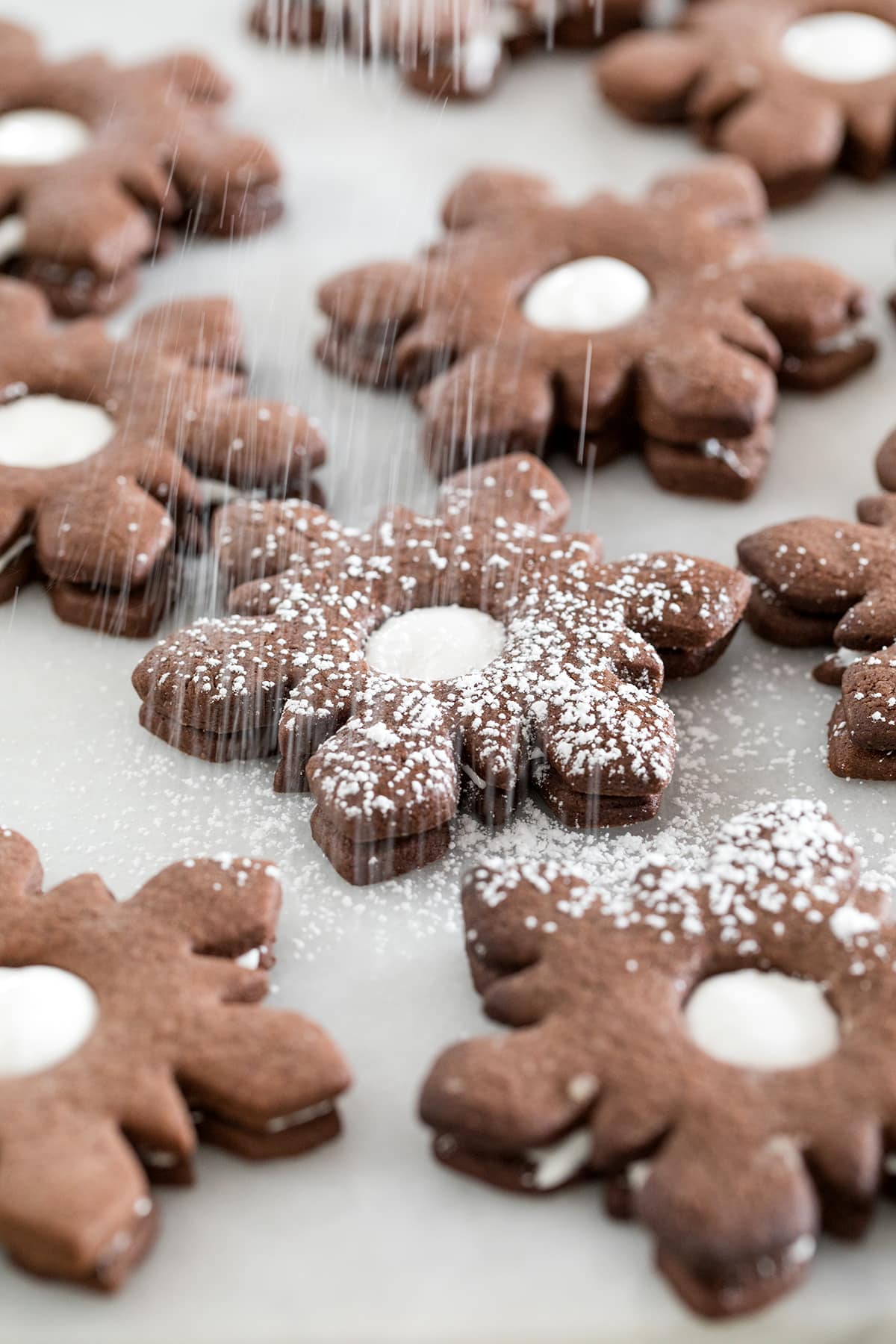 Freezing Linzer Cookies
Yes, you can freeze Linzer Cookies! If you are making them ahead of time, simply bake the tops and bottoms of the cookies, cool completely, and place them in an airtight container to freeze for up to one month. When you are ready to serve, bring the cookies to room temperature before filling and dusting with powdered sugar.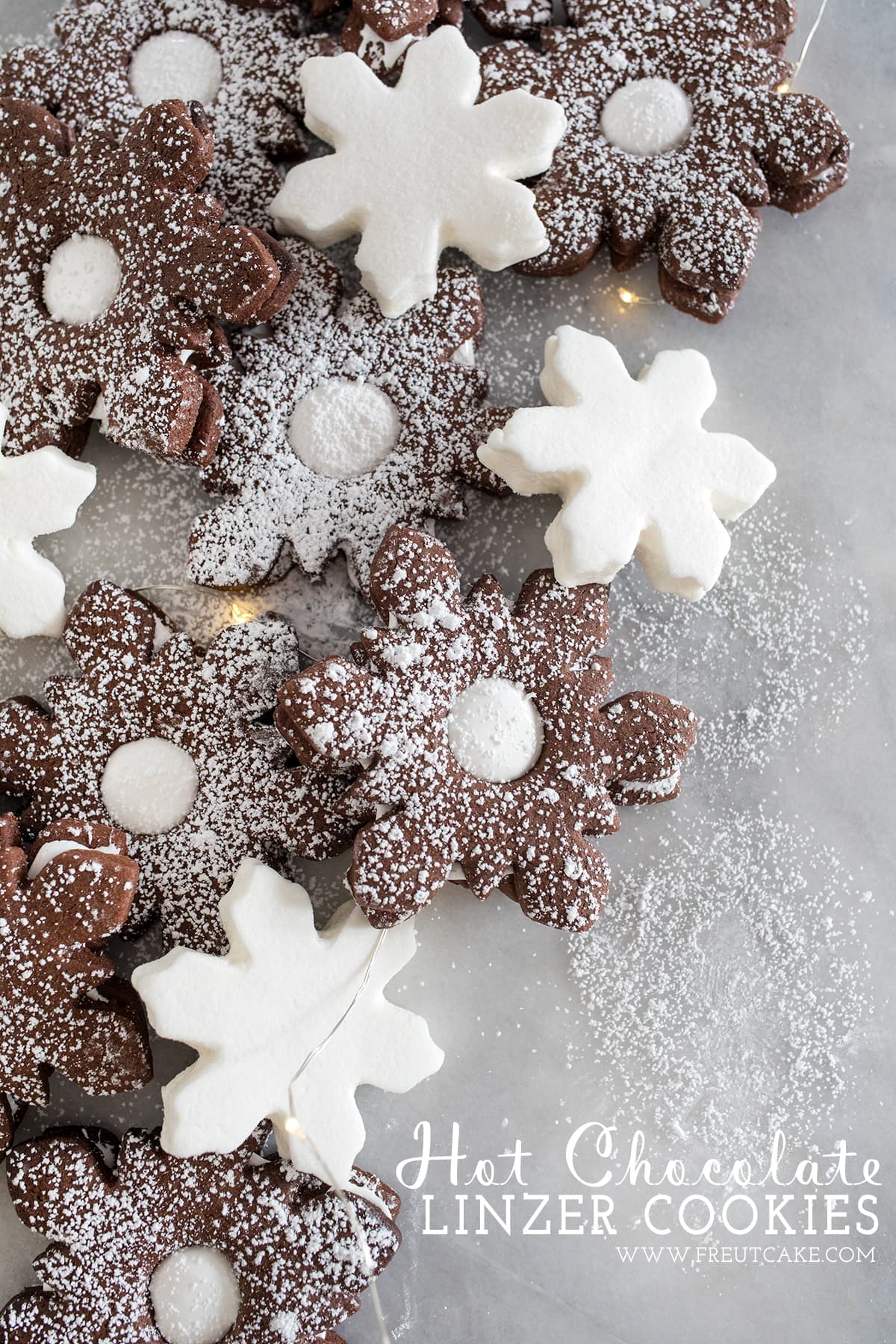 Hot Chocolate Marshmallow Linzer Cookies are so magical. Like sipping hot cocoa in freshly falling snow or dashing into a New York dessert bar for a Frozen Hot Chocolate amongst twinkle lights and a dozen puffy coat clad tourists. Does any of that make sense?
If the answer is no, I hope you will still try these cookies and let me know how you like them. The cocoa cookies and marshmallow creme are such a familiar combination and the dusting of powdered sugar on the snowflake cookies is purely delightful. Happy baking!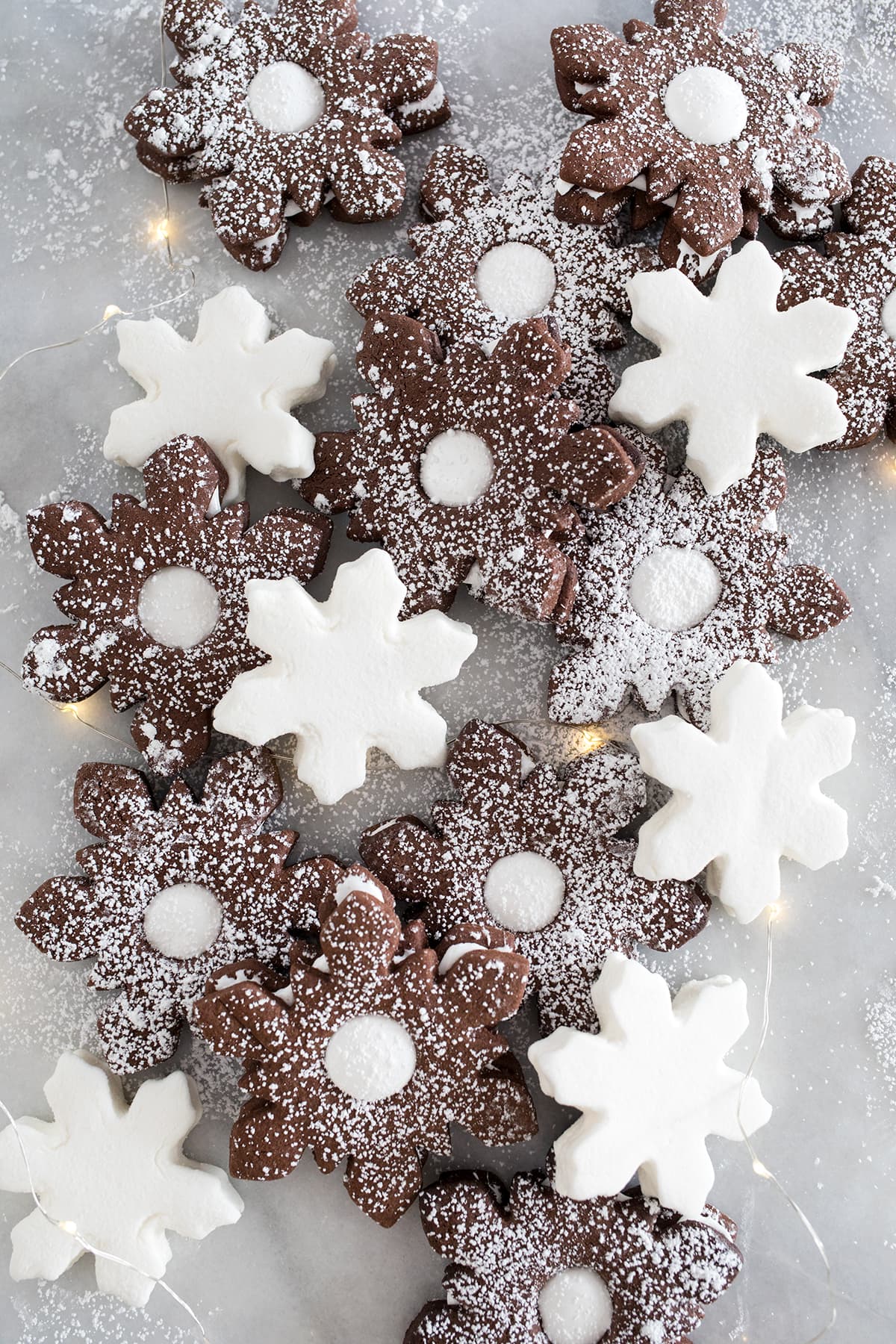 More Christmas Cookie Recipes: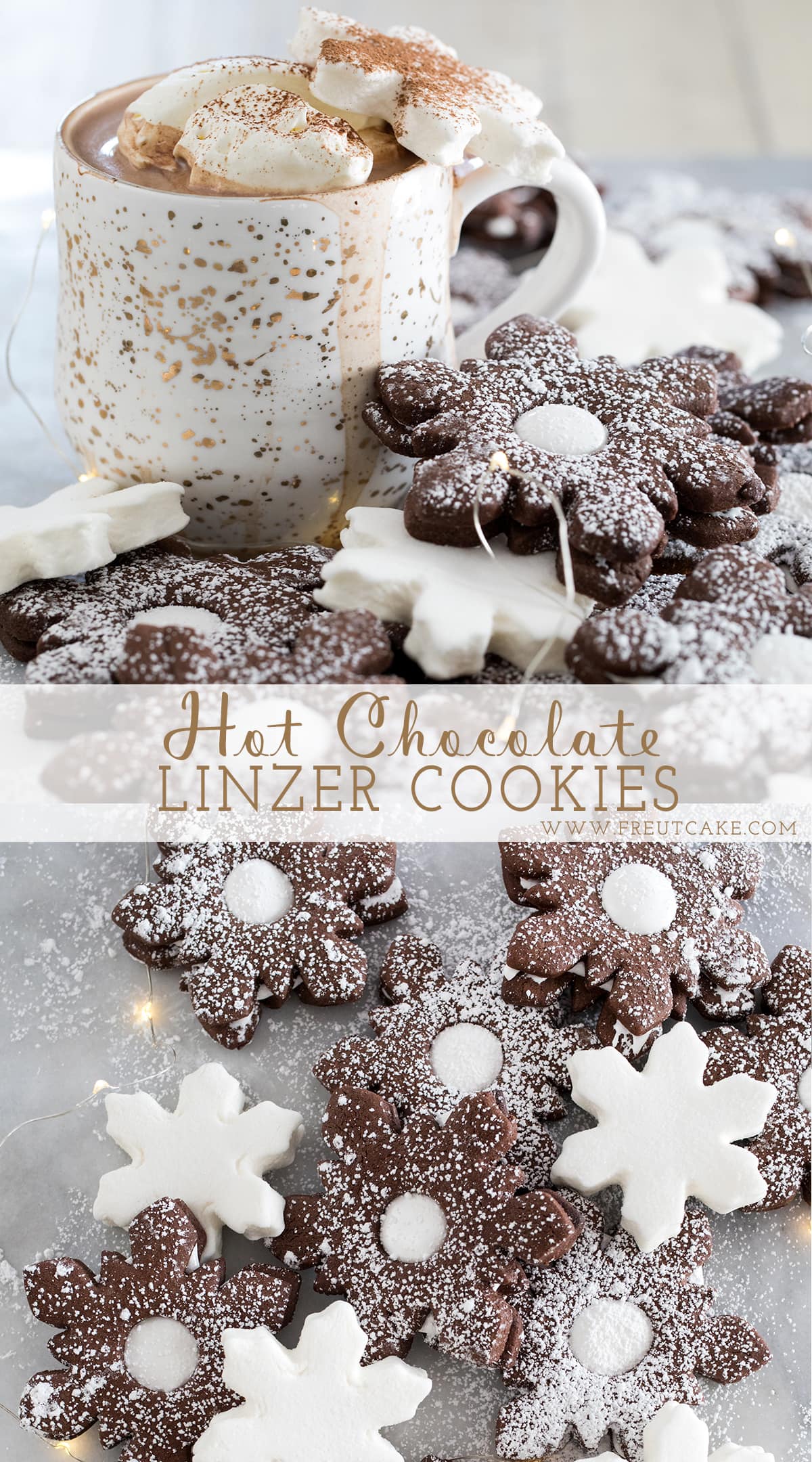 More Holiday Hot Chocolate Recipes: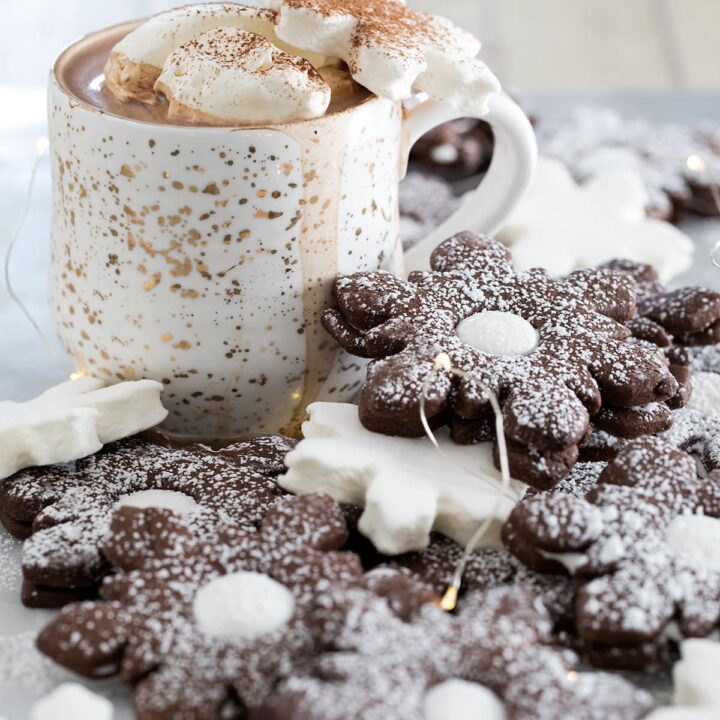 Hot Chocolate Marshmallow Linzer Cookies
Total Time:
1 hour
38 minutes
Chocolate Linzer sandwich cookies with a soft marshmallow creme filling.
Ingredients
⅔ cup unsalted butter, softened
¾ cup granulated sugar
1 egg
1 teaspoon vanilla extract
1 Tablespoon whole milk
½ cup unsweetened cocoa powder
1 ¼ cups all-purpose flour, plus more for the board
1 ½ teaspoons baking powder
¼ teaspoon salt
½ teaspoon cinnamon
Marshmallow Fluff
Confectioners sugar, for dusting
Instructions
In the bowl of an electric mixer fitted with the paddle attachment, cream together butter and sugar until just combined. Scrape down the sides.
Beat in egg, vanilla and milk until combined.
In a bowl, whisk together cocoa powder, flower, baking powder, salt and cinnamon.
Add dry ingredients to the butter mixture and beat on low speed until dough comes together. Scrape down the sides and mix by hand to finish combining. Don't over mix your dough.
Split dough into two equal parts, wrap in plastic wrap and chill 1 hour or until dough is easy to work with.
Preheat oven to 375 degrees and line cookie sheets with parchment paper.
On a floured surface, roll out one portion of cookie dough to ⅛" thick.
Using a 4" snowflake cookie cutter, cut dough out into snowflake shapes and place 1" apart on prepared cookie sheets.
Use a Wilton 2A pastry tip to cut small centers out of half of the cookies.
Reroll scraps as needed.
Bake 6-8 minutes (7 was perfect in my oven) or until cookies are set but not completely crisp. They will harden up a bit as they cool so don't over bake them.
Allow to cool for 1 minute on the cookie sheet before moving to a cooling rack to cool completely.
Turn over all of the "solid" cookies (without cut outs) and add about 1 tablespoon of Marshmallow Fluff, spreading it out with a knife. Note: make the marshmallow thin at the edges as it spreads and leave more in the center to fill the window.
Top with cut out cookies and dust with powdered sugar. Linzer cookies should be served immediately (within a few hours) for the best texture and flavor. See notes in the post about freezing.
Notes
Using a 4" cookie cutter I got 24 cookies resulting in 12 sandwiches. Using a smaller cookie cutter will result in more cookies.