Classic Frosted Cutout Sugar Cookies are a Christmas must have cookie topped with fluffy cream cheese frosting and just the right amount of sprinkles.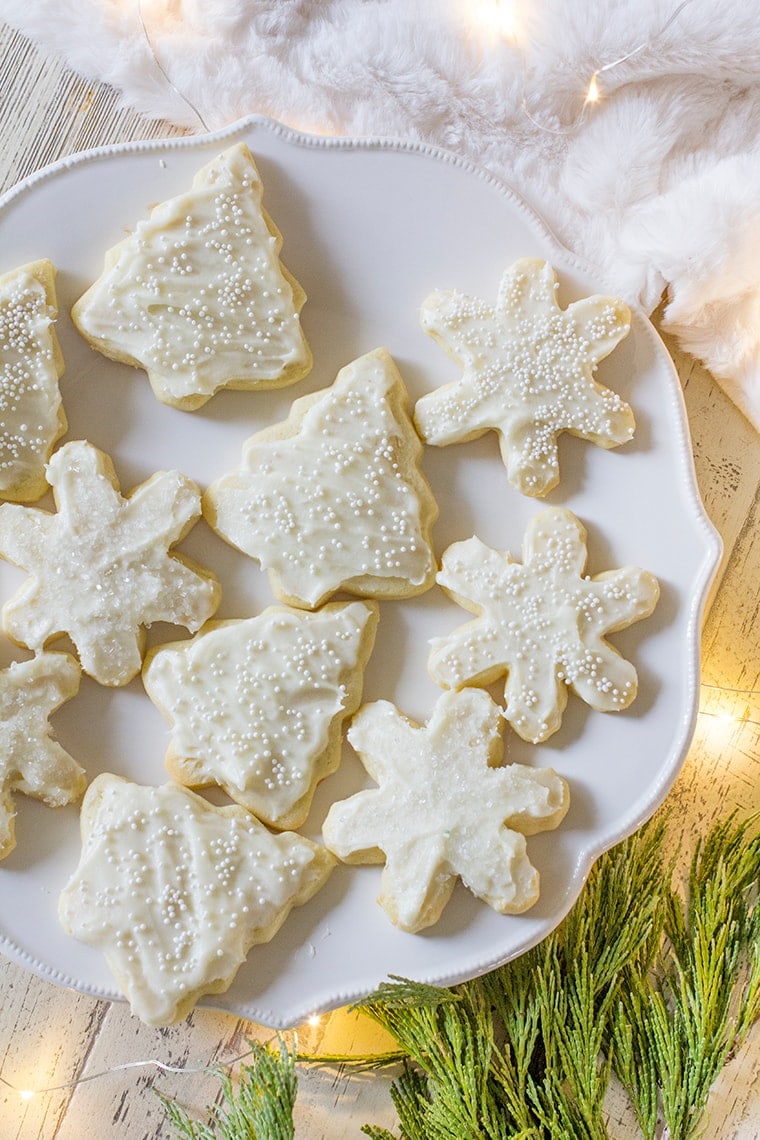 Classic Frosted Cutout Sugar Cookies
My Classic Frosted Cutout Sugar Cookies are completely kid friendly and easy to make plus I'm sharing the secrets to keeping them from spreading all over the place. Topped with fluffy cream cheese frosting, these were a hit with the twins and with me! Also, in honor of cookie season my best blogger friends and I are once again joining forces to share our must make holiday cookie recipes with you! You won't need to pick up a holiday cookie magazine this year because my friends and I have you covered. With 10 cookie recipes in total to chose from, I'm sure you will find a few must try cookies. You can take a look at last year's virtual cookie swap here!
Here's a look at what everyone is making this year: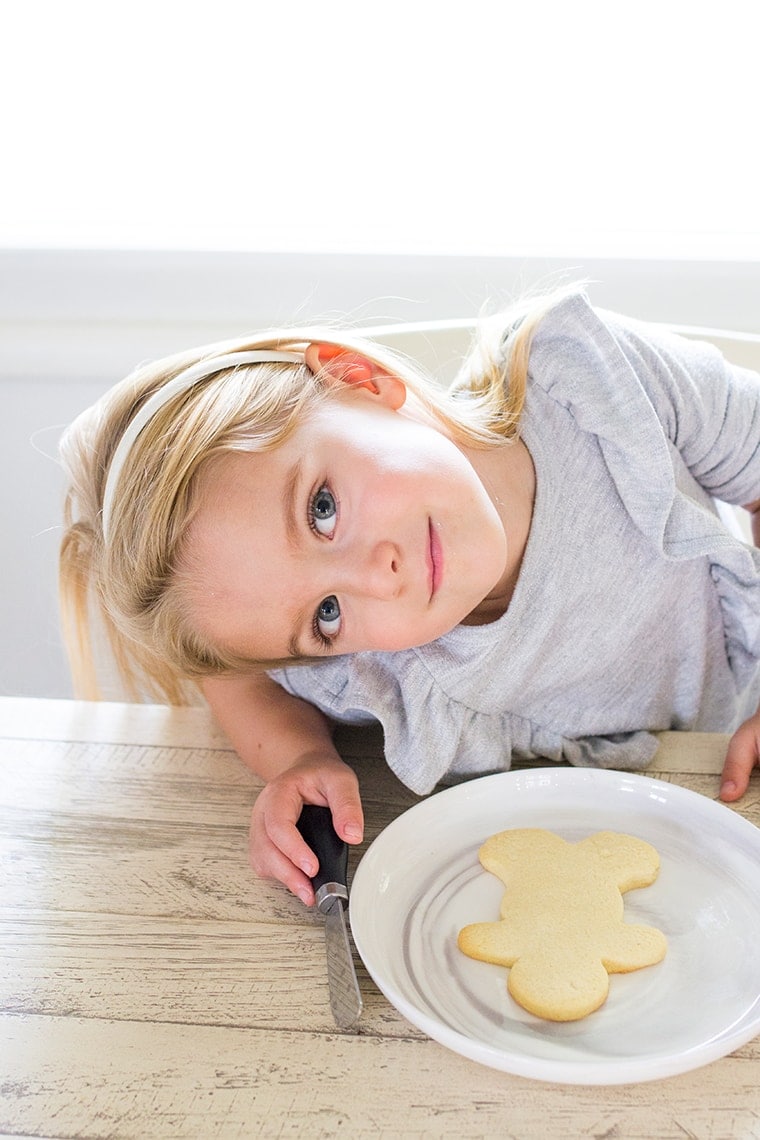 Cutout Sugar Cookies that Don't Spread
One of my biggest issues with sugar cookies is how much most recipes spread. I've been on the hunt for years for a recipe for Cutout Sugar Cookies that Don't Spread but also stay relatively soft. I mean, they don't have to be cake-like but I definitely don't want a crisp sugar cookie.
With most recipes, they look adorable as cutout shapes of dough on the cookie sheet but pop them into the oven and they turn into shapeless cookie blobs. So, when a girlfriend of mine shared her old family recipe for sugar cookies I was really excited to try them and eager to see if they spread. They did puff and spread a but more that I would have liked but I didn't give up on the recipe that easy. The cookies were tasty and the recipe made a beautiful, workable dough so I made a few tweaks and tried again...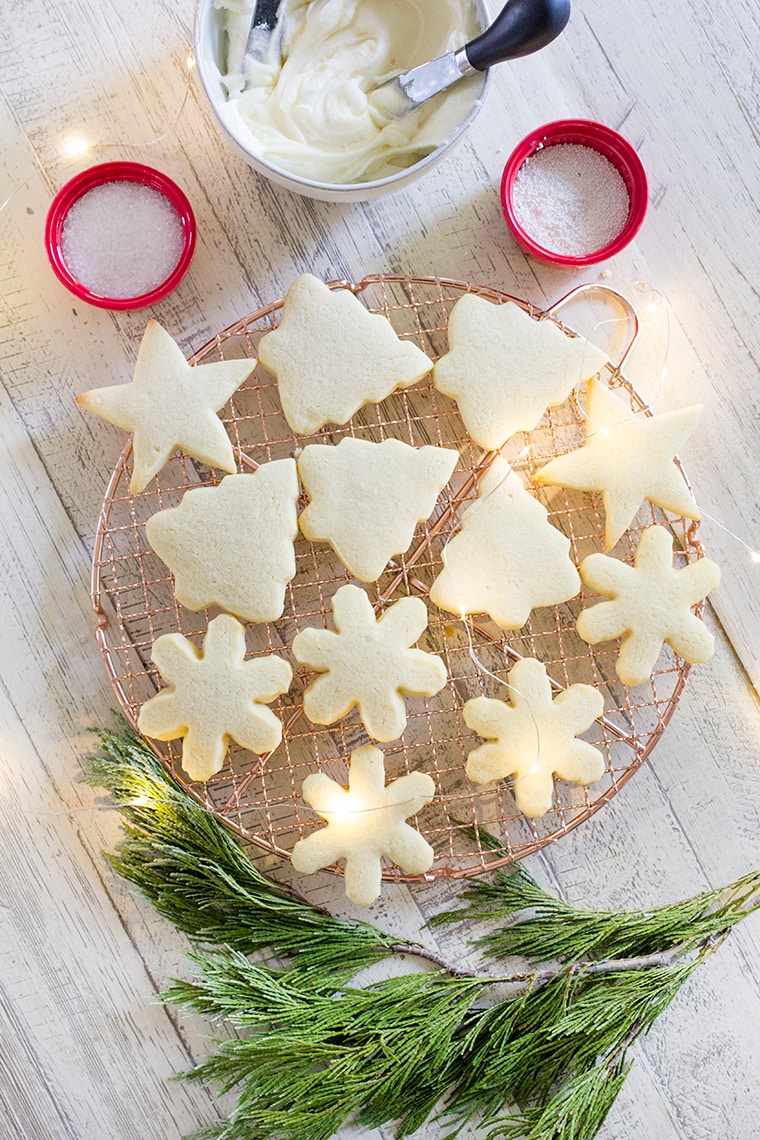 How to keep Sugar Cookies From Spreading
Remove the leavening: This means, remove the baking powder. Of course! This is what makes cookies puff and expand. Definitely a deal breaker when it comes to keeping a cookie cutter shape, so I removed it.
Chill the dough: This was a step I already knew but I took it one step further. According to Cook's Illustrated, one of the tips to "better sugar cookies" is to plasticize the butter and sugar. That simply means to mix them together while the butter is still cold versus bringing it to room temperature. This keeps the dough a whole lot colder resulting in a shorter chill time and less spreading.
Bake them hot and quick: The recipe I used already called to bake at 400 degrees so that was no problem. In 6-8 minutes I had soft sugar cookies that hadn't spread into piles of goo.
Add cornstarch: I don't exactly know the science behind WHY this works, but gosh darn it, it works. These cookies were soft while staying put in their neat little shapes.
*Full disclosure: My cookies still spread a tiny bit but they held their cutout shapes so well that I didn't mind it. The texture is soft throughout with just a tiny bit of crisp on the edges (although you can under-bake them a little if you want to eliminate this) and they are still sturdy enough to pick up and frost. That's a win-win in my book!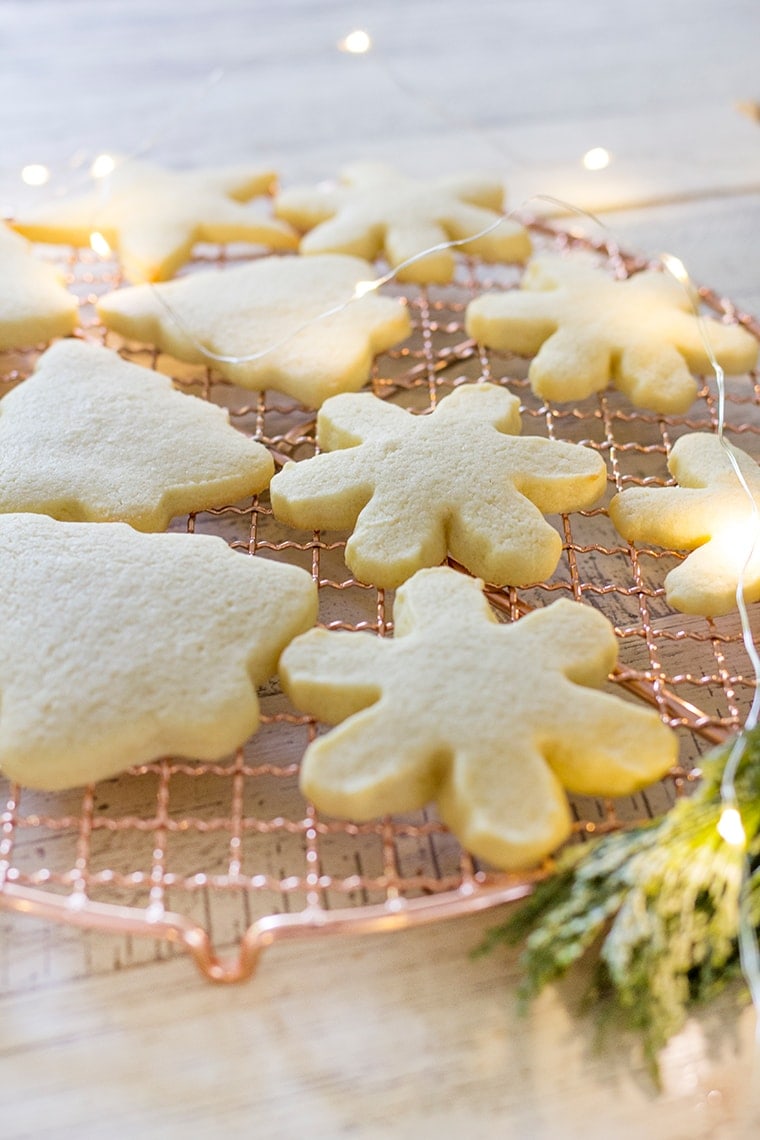 Just look at those pretty edges! I can't wait to make this recipe again and again for other holidays and with other cookie shapes.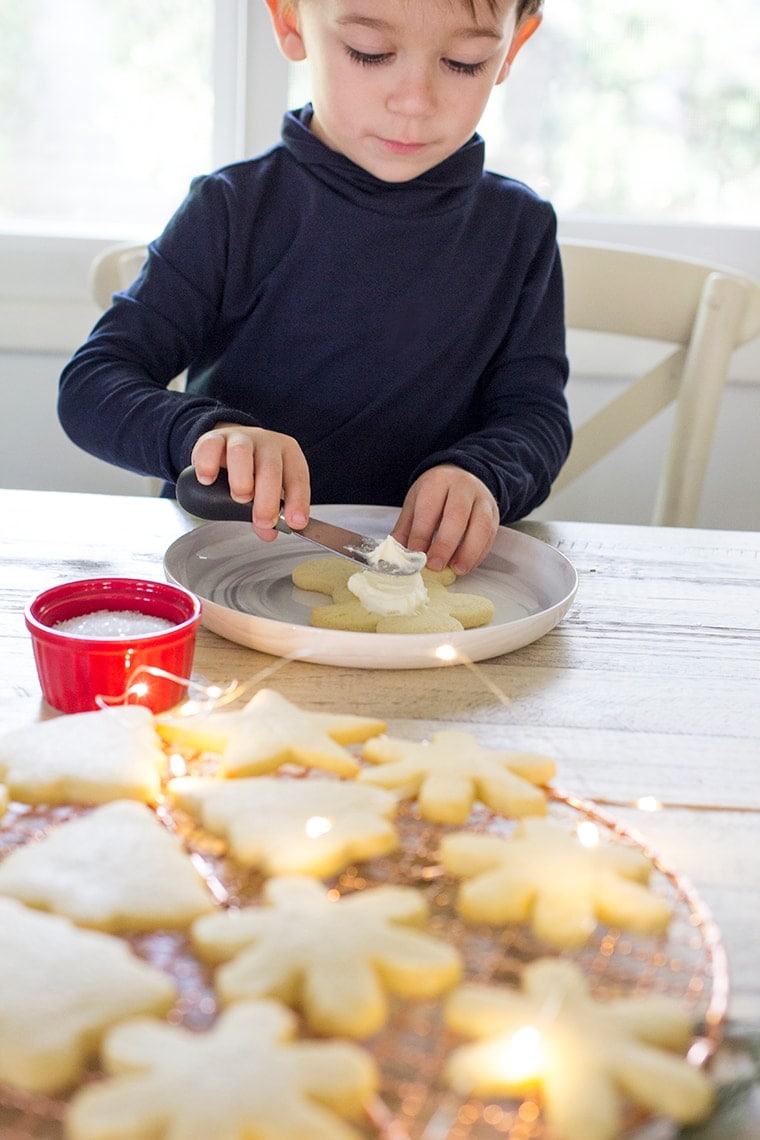 Cream Cheese Frosting Recipe for Cookies
For the frosting I kept it simple with a classic cream cheese frosting recipe perfect for cookies. Butter, cream cheese, vanilla and powdered sugar get beat together until fluffy and spreadable. I plan to use the same frosting for sugar cookie bars I'm making next week! I set out a small bowl of frosting for the twins as well as sprinkles and let them go to town decorating.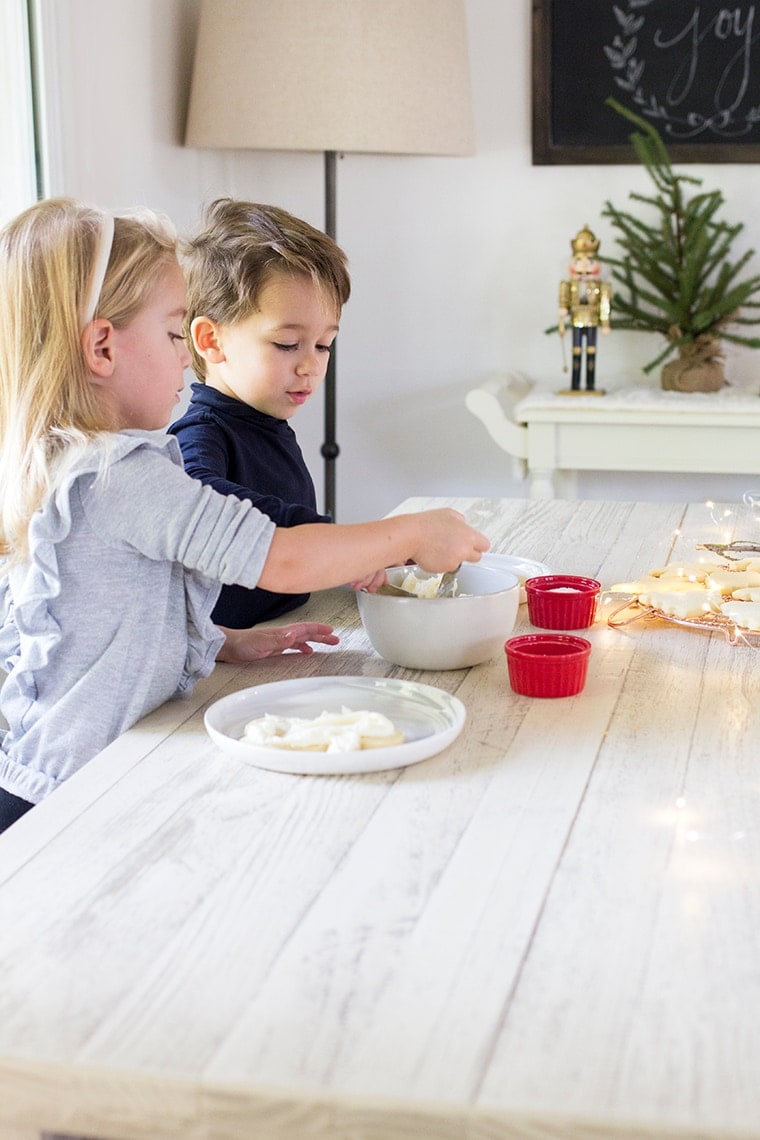 Tiny cheese spreaders make the perfect frosting tool for little hands and the twins really enjoyed smearing the frosting and taking tiny pinches of nonpareils and sanding sugar to sprinkle overtop. I stuck with an all white theme but I'm sure they would have gone nuts for colored sprinkles and Christmas candy had it been offered. Maybe next week...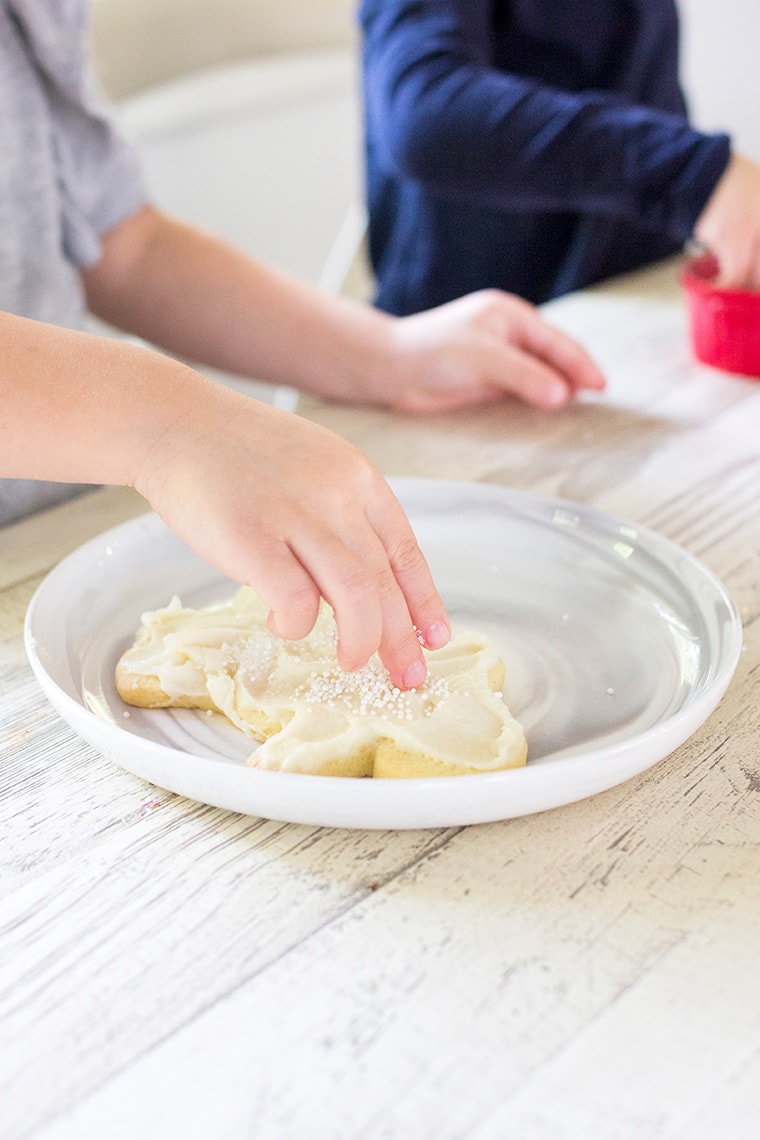 Butter vs Shortening in Cookies
Now let's talk for a second about the difference between butter vs shortening in cookies and why I love the combination of both! You may notice that this recipe calls for equal parts butter and shortening while many sugar cookie recipes simply call for butter. Recently I read an article that explained it all really well but here's the short and sweet of it. Fat (butter or shortening) is essential in cookies because it creates a flavorful and tender cookie.
Cookies made with butter spread more and are flatter and crisper if baked long enough because of butter's water content. However, they are more flavorful than cookies made with shortening. Cookies made with shortening, which has zero water, bake up taller and are more tender, but aren't as flavorful.
So, in my opinion, a sugar cookie that combines both butter and shortening is going to give you the best of both worlds. The butter flavor we all crave with the fluffy height and tenderness we desire.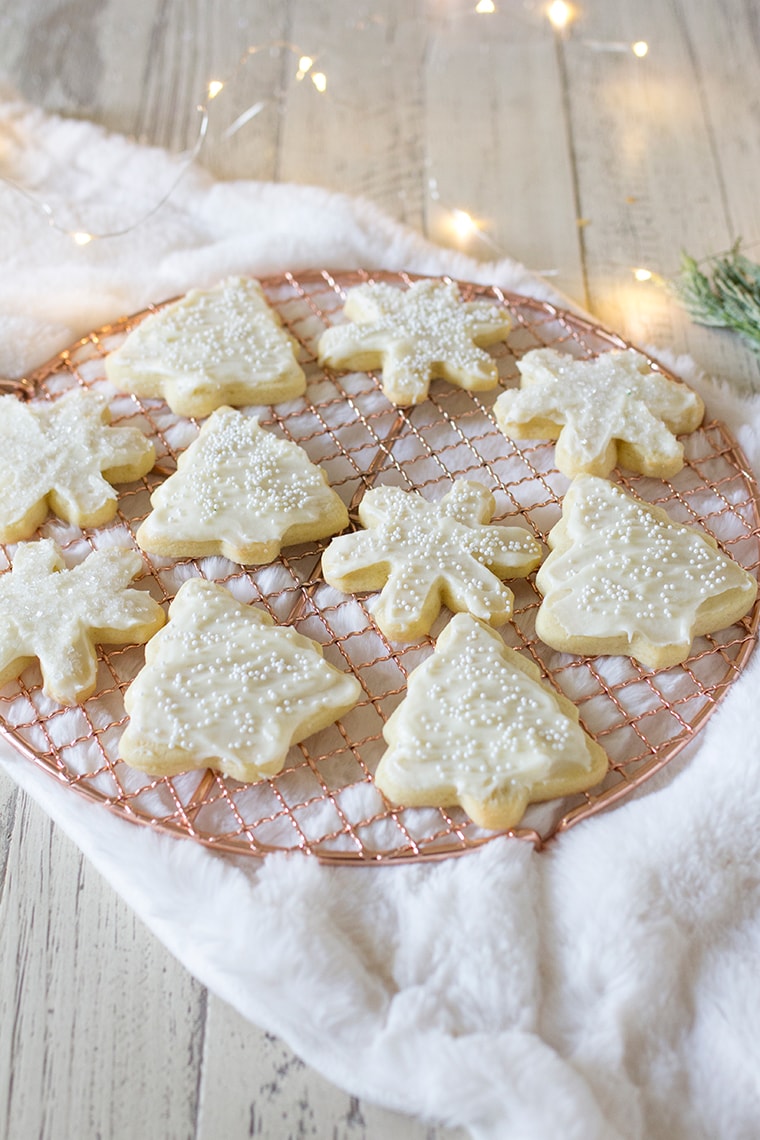 So, who's trying these sugar cookies? You really can't go wrong with a classic. Also, make sure to scroll back up and grab all of my friend's Christmas Cookie recipes as well. Happy Baking!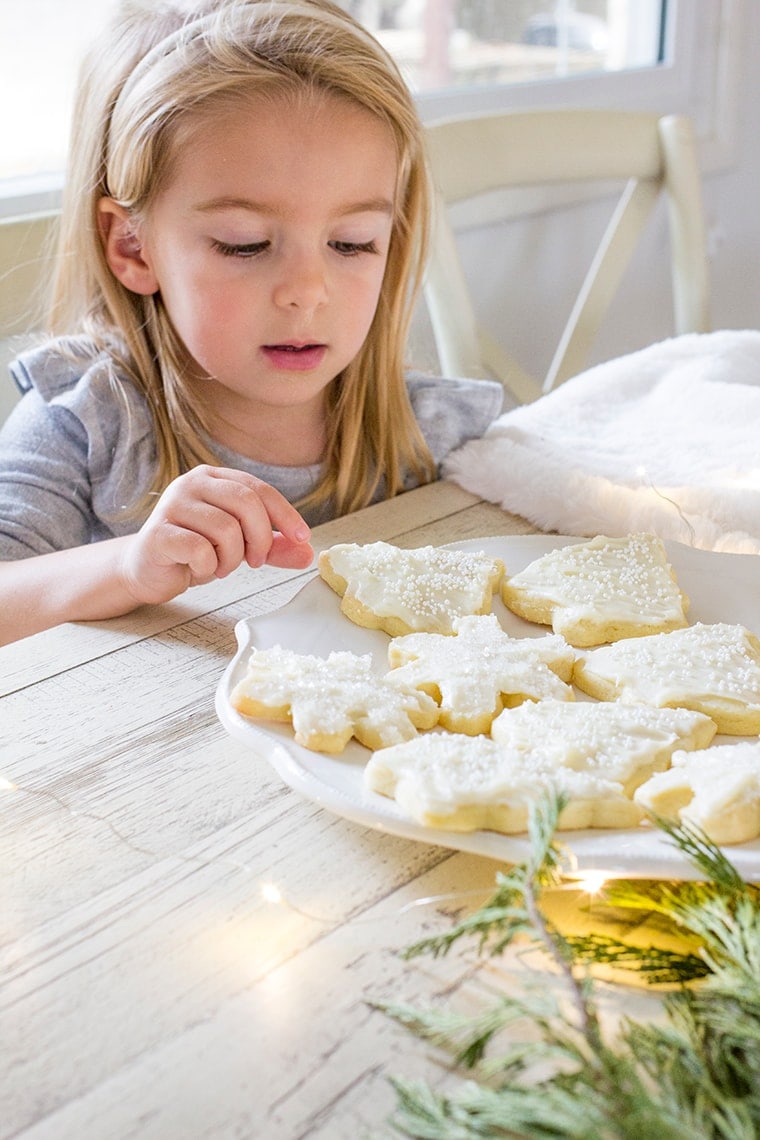 For more Christmas cookies, check out these recipes from some of my blogger friends:
#ChristmasCookieSquad
Julie: Latte Joy Espresso Cookies
Cyd: Fudge Dipped Double Chocolate Peppermint Cookies
Chelsea: Mini Gingerbread Alphabet Cookies
Brittni: Gingerbread Egg Nog Cookie Sandwiches
Michael: Christmas Sprinkle Cookie Cups
Courtney: Iced Vanilla Bean Sugar Cookies
Jen: Chocolate Linzer Cookies
Lexy: How to Decorate Store-bought Macarons
Ashley: How to Make Holiday Wreath Meringue Macarons
A big thank you to my friend Lisa Leaf for sharing her family sugar cookie recipe with me and for inspiring this post!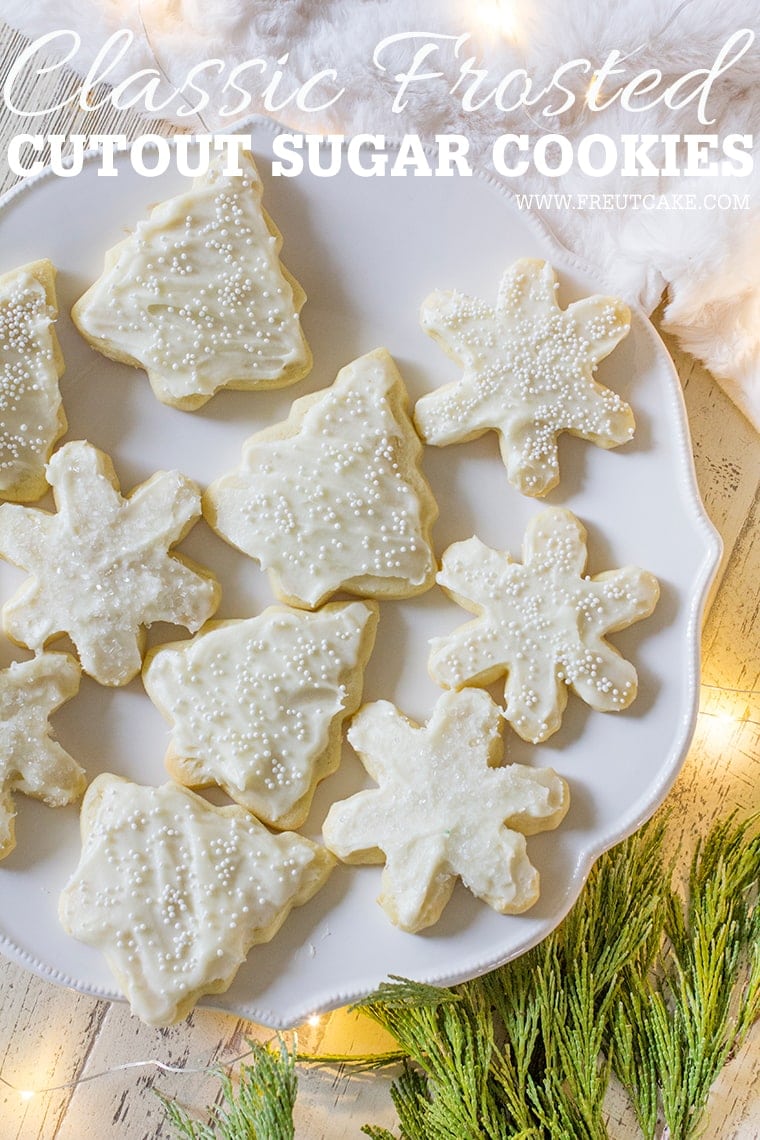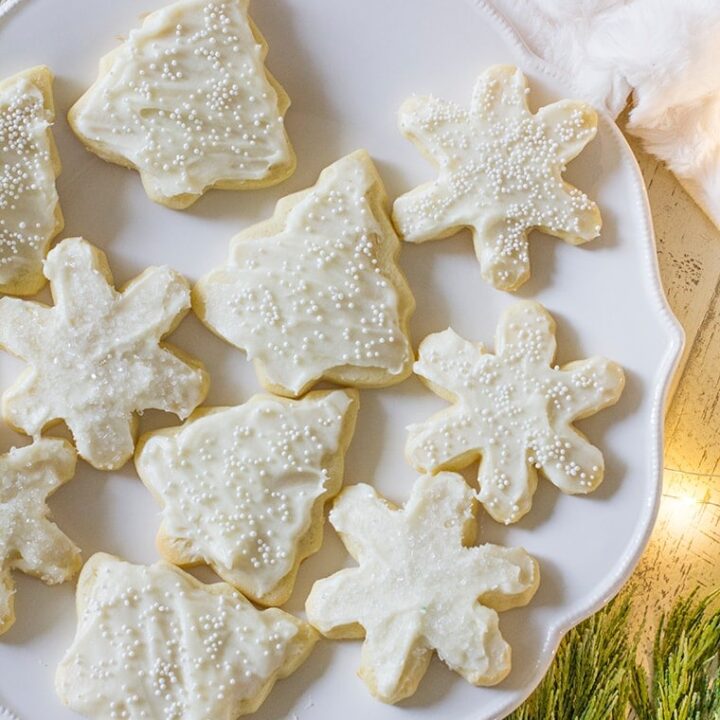 Classic Frosted Cutout Sugar Cookies
Prep Time:
1 hour
30 minutes
Total Time:
1 hour
36 minutes
Classic Frosted Cutout Sugar Cookies Recipe Easy to Make with No Spread and Fluffy Cream Cheese Frosting
Ingredients
6 Tablespoons salted butter, cold
6 Tablespoons shortening, cold
1 cup granulated sugar
2 large eggs
1 ½ teaspoons vanilla extract (or 1 teaspoon almond extract)
2 ¼ cups all-purpose flour
¼ cup cornstarch
Cream Cheese Frosting:
8 oz cream cheese at room temperature
¾ cup salted butter at room temperature
1 teaspoon vanilla extract
3 cups confectioners sugar
Instructions
In a bowl whisk together flour and cornstarch and set aside.
Chop cold butter and shortening into cubes and add to the bowl of an electric mixer along with 1 cup of sugar. Blend starting on low and working your way up to high speed until butter and sugar are combined and smooth. Scrape down sides with a spatula and mix again.
Beat in eggs and vanilla extract until smooth.
Add in flour mixture and beat until dough is smooth and combined, scraping down sides.
Dump mixture out onto a piece of parchment paper and cover with another sheet of parchment. Use a rolling pin to flatten dough (through the paper) into a flat disk. Refrigerate 1 hour or more if you have the time. *this is essential to prevent spreading so do not skip this step!
Meanwhile, line cookie sheets with parchment paper and set aside. Preheat oven to 400 degrees.
Once dough is chilled, remove from refrigerator and continue to roll out dough (between parchment) to about ¼" thickness. This will produce a nice soft, thick sugar cookie.
Remove top layer of paper, dip cookie cutters in flour and cut out shapes. Use a spatula to quickly transfer them to a lined cookie sheet.
Bake 6-8 minutes or just until set but not golden. Under-baking just slightly will result in soft cookies!
Allow to cool 2 minutes on cookie sheets before removing to a cooling rack.
Make the Frosting:In the bowl of an electric mixer combine cream cheese and butter and whip on high until creamy and well combined.
Mix in vanilla extract and scrape down the sides. Mix again.
Slowly mix in confectioners sugar a little bit at a time until you get the desired consistency you want. If it gets too thick you can add just a tiny bit of milk. If it's too thin, more confectioners sugar. Beat until fluffy and well combined without any lumps.
Frost cookies and top with sprinkles.
Note: Excess dough can be gathered up, re-rolled between parchment and chilled between baking batches.