Buckets of Halloween candy haunting your house? It's time to take that leftover Halloween chocolate and turn it into Monster Cookies. A brown sugar cookie dough full of chunks of chopped halloween candy bars and finished with candy eyeballs.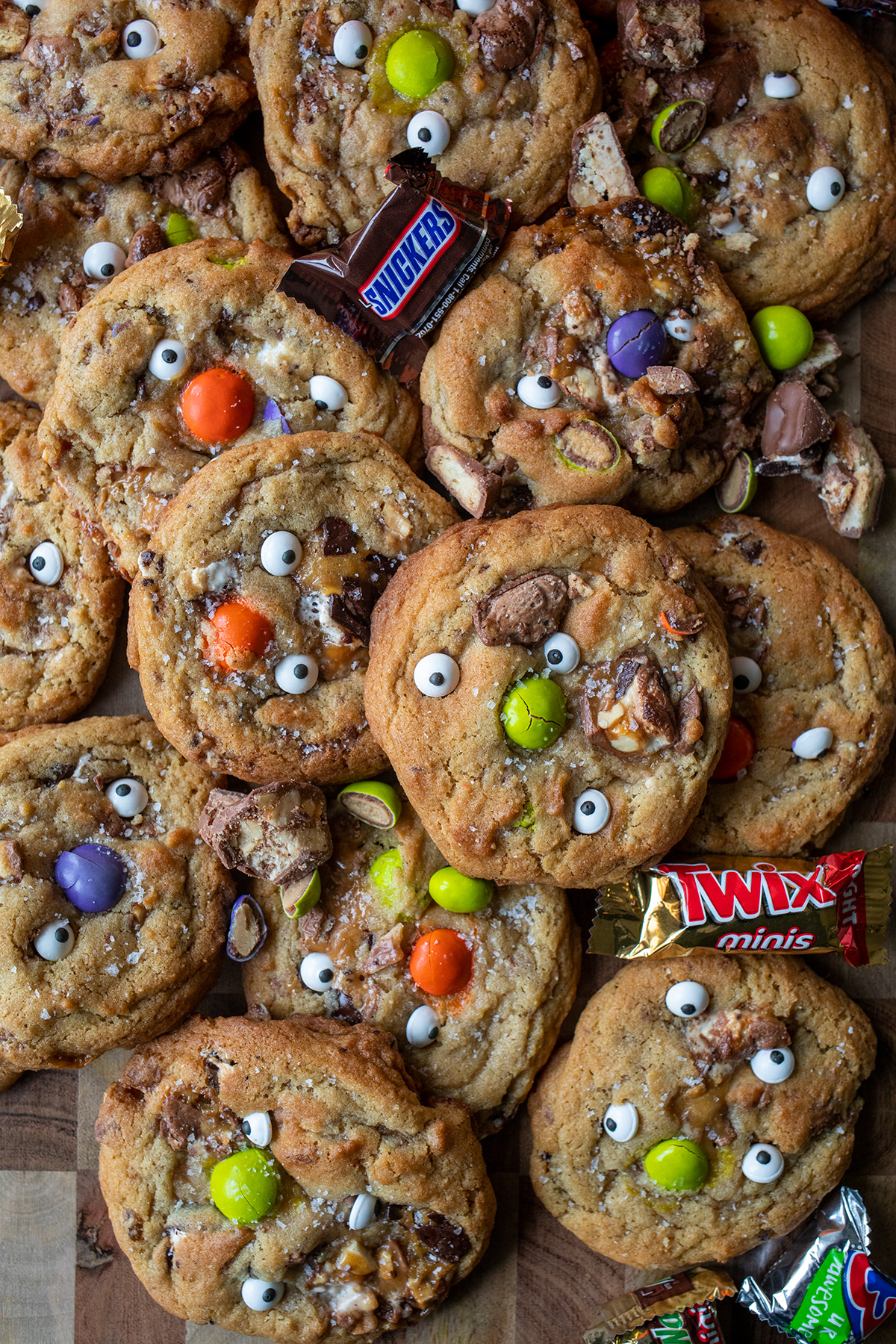 Leftover Halloween Candy Cookies
One of my favorite cookies to make is my Salted Brown Sugar Chocolate Chip Cookies but this time of year I substitute the chocolate chips for something far more indulgent, chopped candy bars.
These cookies are chewy and thick and absolutely stuffed with ooey gooey candy bars from Milky Way to Three Musketeers, Snickers and Twix.
A few peanut butter M&M's get thrown in there for color and more peanutty flavor and the entire cookie gets a generous sprinkle of sea salt right out of the oven to balance the sweet.
Stud these cookies with candied eyeballs for one last Halloween scare and your kids, neighbors and friends will go nuts for this fun and festive treat.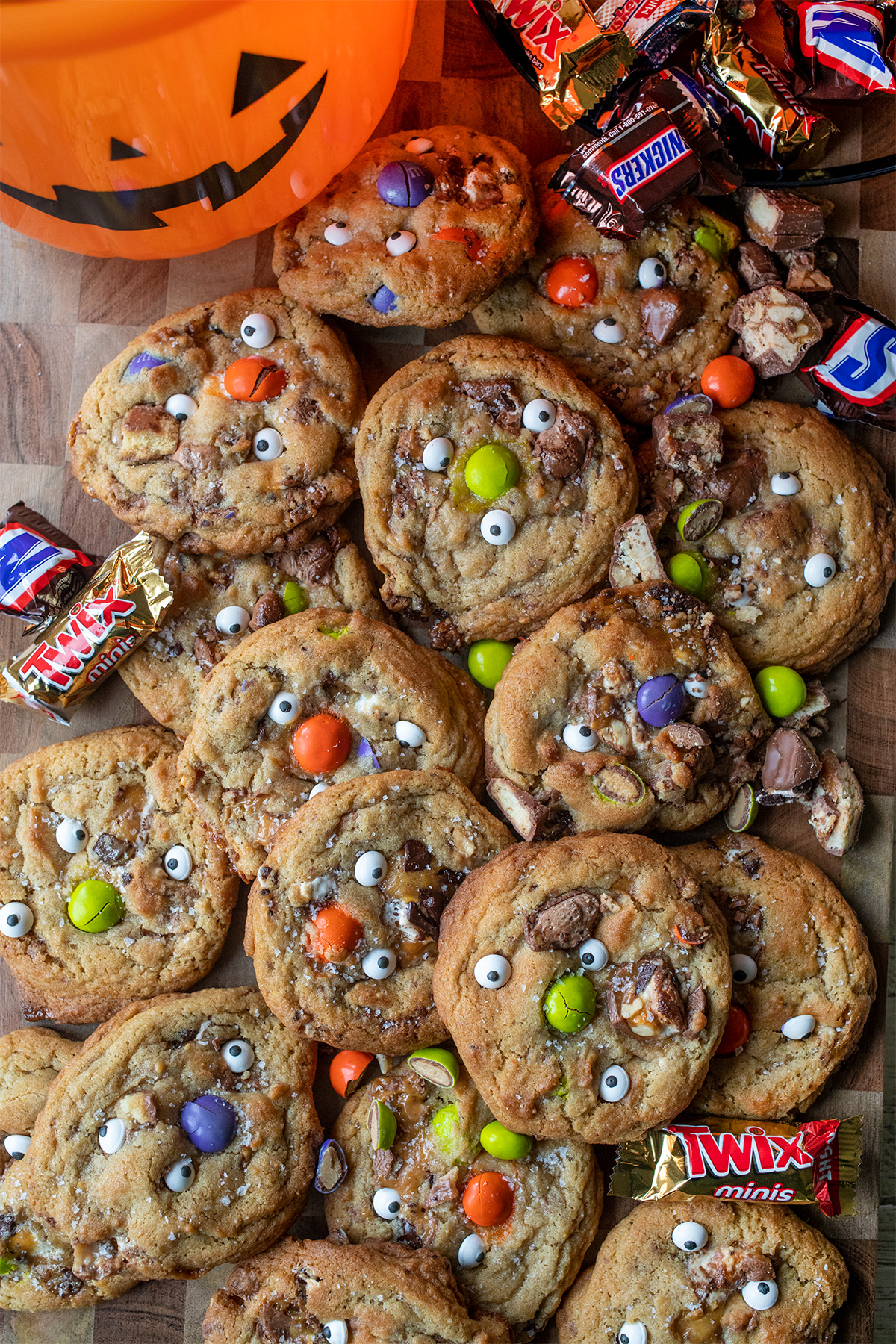 What to do with Halloween Candy
In past years I've tried everything from donating candy to our troops, dropping off bags at our local fire station and even leaving on the porch for the "Switch Witch" to come and swap them out for toys. If you don't know about that fun tradition, it works great for very young kids.
But no matter what I do to remove the candy from my house, I always, ALWAYS, end up with more. So, if your house is bursting at the seems with Halloween treats, this recipe is definitely for you.
Ingredients in Halloween Candy Cookies
Butter - I have used both salted and unsalted butter in this cookie recipe although I prefer salted.
Sugar - using brown sugar is what gives these cookies their incredible flavor!
Vanilla - only the good stuff, pure vanilla extract.
Flour - all purpose white flour is what I prefer for these cookies.
Soda & Powder - gotta have both for these cookies.
Salt - I know, we already used salted butter but trust me, the salty/sweet factor is so good!
Eggs - a must for structure in these cookies.
Halloween Candy - I prefer to use chocolate candy bars and chocolate candy pieces for these cookies.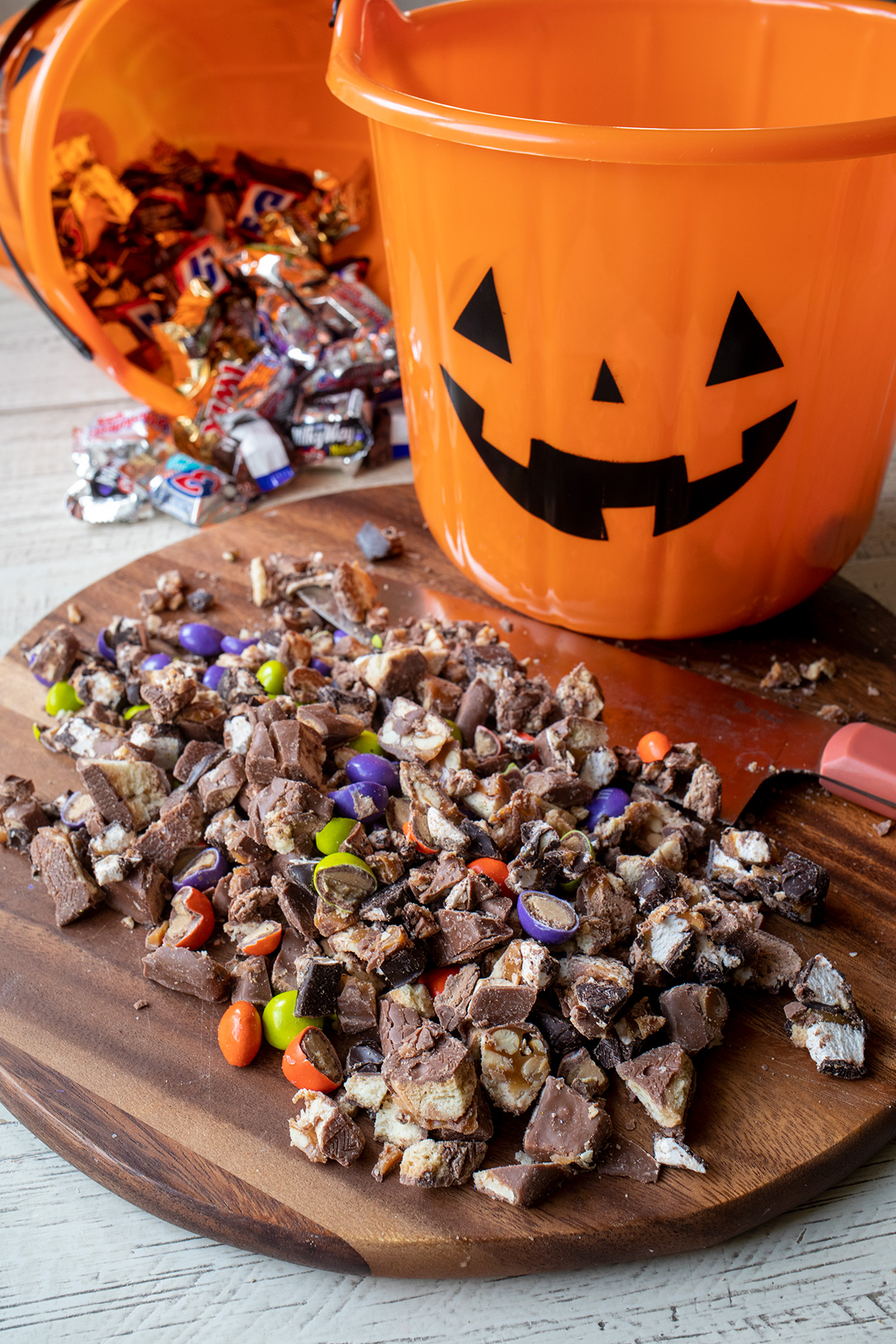 Best Halloween Candy to Use in Cookies
This is completely up to your own personal preference but I recommend using chocolate candies such as:
Milky Way
Snickers
Three Musketeers
Twix
Kit Kat
M&M's, any variety
Reeses Peanut butter cups
Reeses Pieces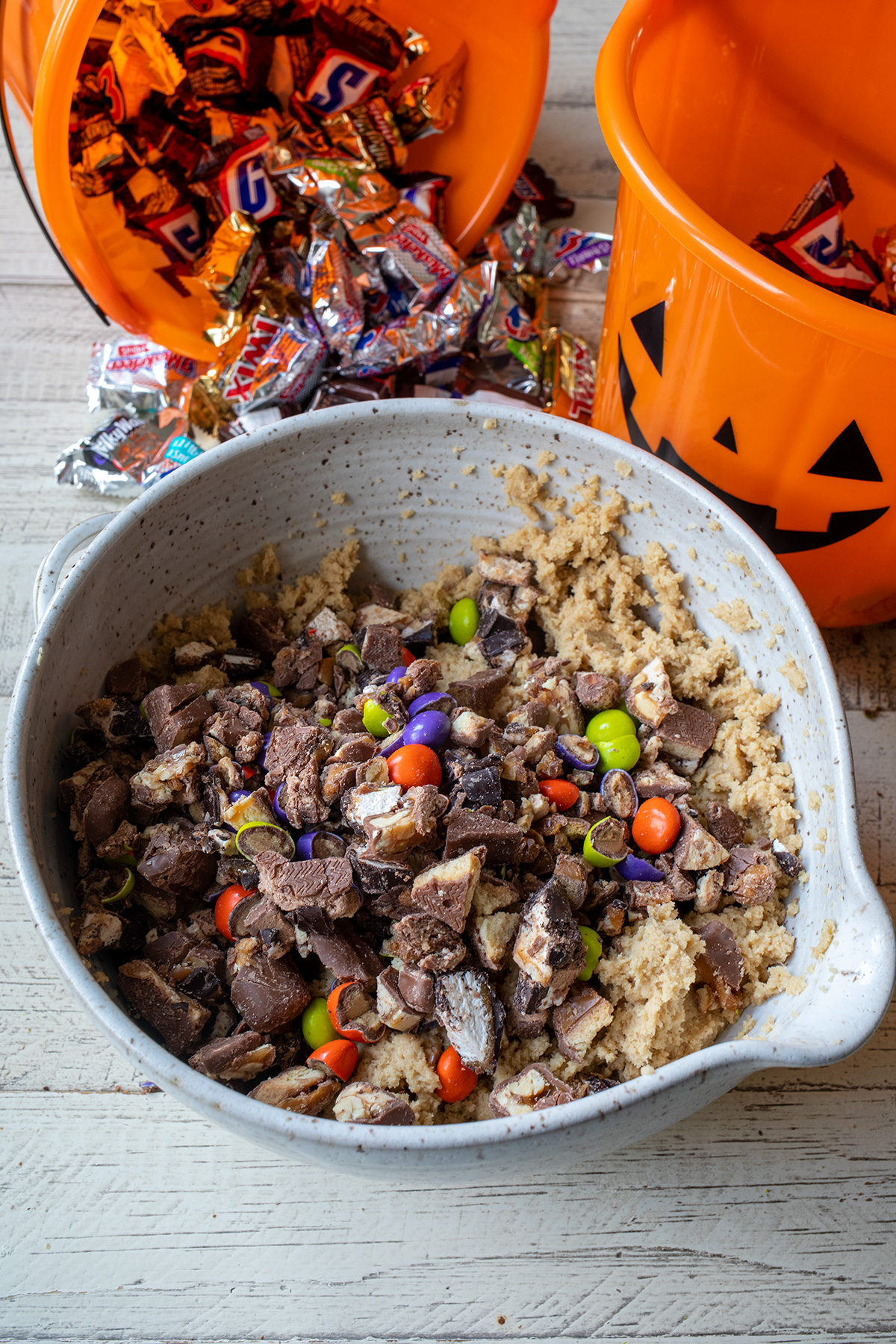 How to Make Cookies with Leftover Halloween Candy
Choose your candy. You'll need about 2 cups total of chopped candy. Tip: reserve a small amount of candy to press into the top of the cookies before baking.
Cream butter and sugar, add eggs and vanilla.
Mix your dry ingredients of flour, baking powder, baking soda and salt and mix the dry ingredients into the butter mixture.
Fold in chopped candy.
Scoop and place on lined cookie sheets.
Press additional chopped candy on top and refrigerate for 30 minutes while oven preheats.
Bake 375 for 10 minutes.
Sprinkle with sea salt straight out of the oven and press candy eyeballs into the cookies.
Cool 5 minutes before removing to a cooling rack.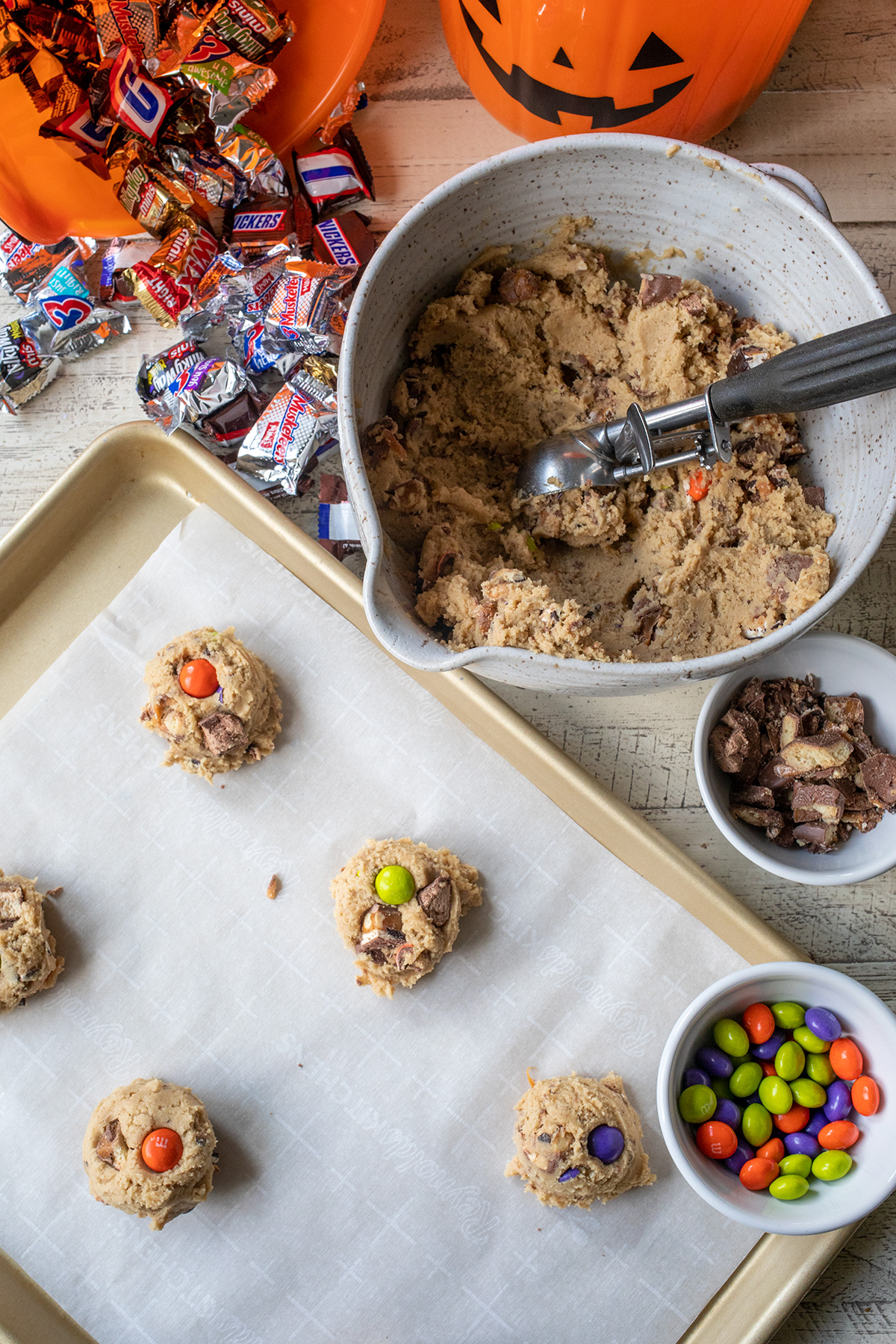 Tips for Baking Cookies
Use salted butter - this really is one of the secrets to the most flavorful cookies!
Don't over-beat your eggs - mix just slightly after each egg addition but don't over beat your batter or you won't achieve a soft cookie.
Line your cookie sheet with parchment paper - this is a must with any cookie baking! Never worry about them sticking again.
Use an ice cream scoop- using a small ice cream scoop to portion out very large rounded Tablespoons of dough onto the cookie sheet is the best way to create uniform sized cookies.
Don't over bake - look for the cookies to just start browning around the edges and a tiny bit on the top before removing from the oven. If the center still looks a tad bit soft, it's ok! Cookies will firm up more as the cool on the pan before removing them to a cooling rack.
Sprinkle with salt while hot - flaked Maldon Sea Salt or Kosher salt sprinkled over the top of cookies straight out of the oven is my secret to the best cookies.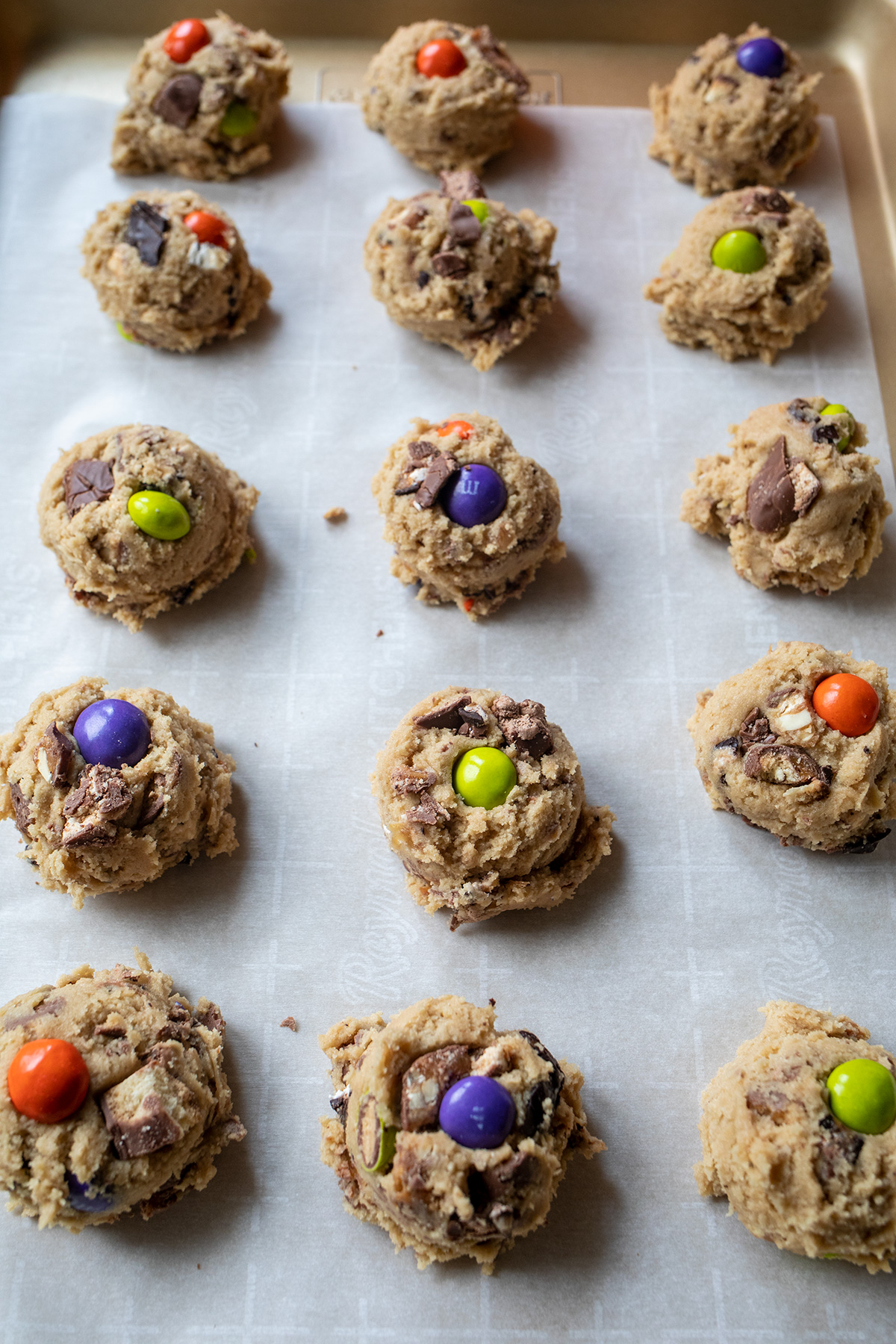 Can You Freeze These Cookies?
You definitely can! I personally always prefer to freeze the cookie dough over freezing the baked cookies but again that's a personal preference. I wrote a whole section on how I freeze my cookie dough in this post.
Fresh baked cookies are always the best and having cookie dough in the freezer makes that easy.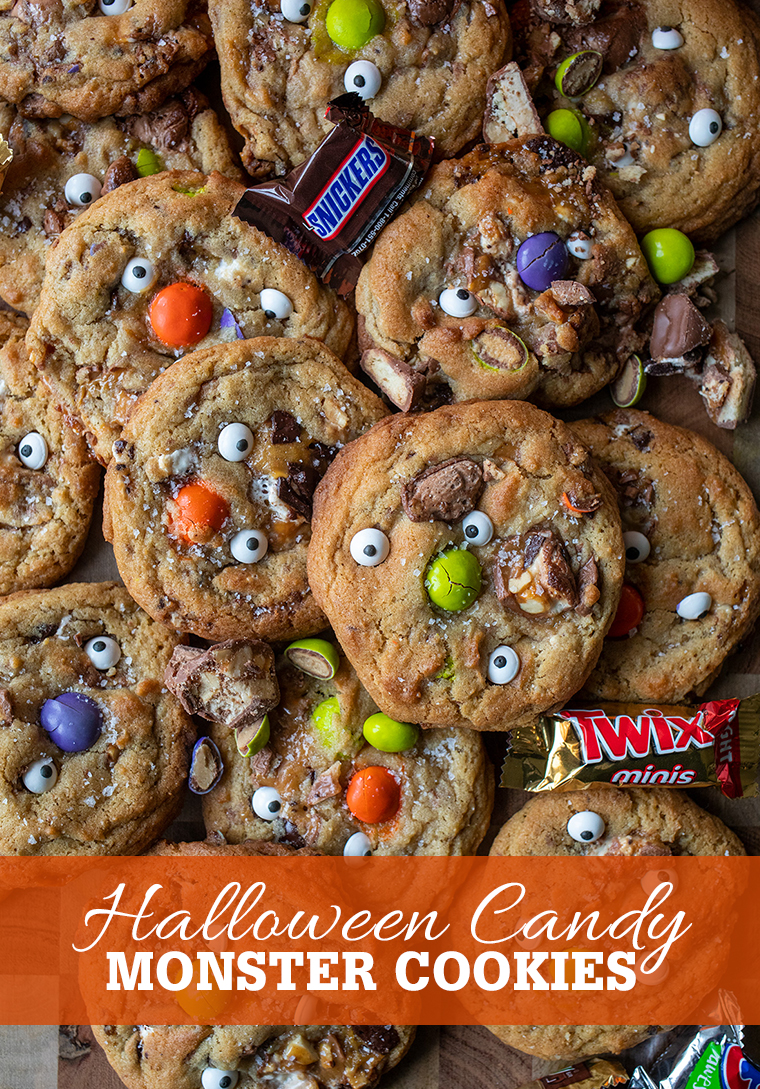 Leftover Halloween Candy Monster Cookies make a great gift for co-workers, neighbors, teachers or friends! These cookies are sure to keep the Halloween spirit alive for a few more days.
More Halloween Recipes to Make: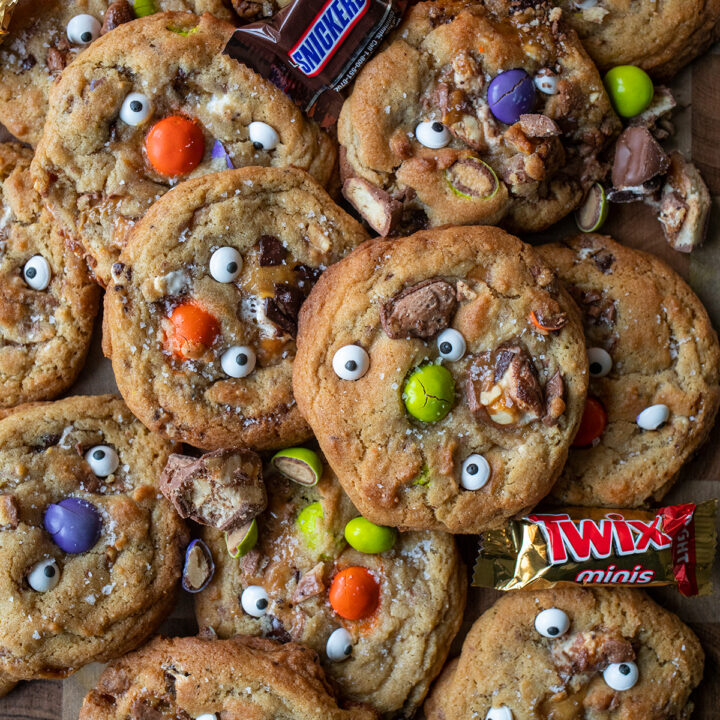 Halloween Candy Monster Cookies
A brown sugar cookie dough full of chunks of chopped halloween candy bars and finished with candy eyeballs. 
Ingredients
1 cup salted butter, at room temperature
2 cups light brown sugar
1 teaspoon vanilla
2 ¾ cups all purpose flour
1 teaspoon baking soda
1 teaspoon baking powder
1 teaspoon kosher salt
2 eggs
2 cups, chopped Halloween candy
Kosher salt for sprinkling
Instructions
Unwrap and chop Halloween candy until you are left with small chunks, set aside.
In an electric mixer, cream together butter, brown sugar and vanilla until light and fluffy.
Add eggs and cream until smooth.
In a bowl, mix all the dry ingredients: flour, baking soda, baking powder and salt.
Add dry mixture to the creamed butter and mix just until combined.
Reserving about ¼ of chopped candy. Add the remaining chopped candy pieces and fold into batter.
Scoop dough out using a small cookie scoop about 2 tablespoons at a time onto a parchment paper lined baking sheet.
Press a few additional pieces of candy into the top of each scoop.
Refrigerate for 30 minutes while the oven preheats.
Bake in a preheated 375 degree oven for 9 – 10 minutes or just until they begin to brown. (If you are using a larger scoop increase time to 10-12 minutes).
Remove from oven and give a light sprinkle with kosher salt immediately. Carefully press 2-3 candy eyballs into each cookie. Careful, they will be hot. Allow to cool on the cookie sheets for 5 minutes.
Transfer to a cooling rack.
Notes
Candy eyeballs are completely optional but they are a fun addition.
Best Halloween Candy to Use in Cookies
This is completely up to your own personal preference but I recommend using chocolate candies such as:
Milky Way
Snickers
Three Musketeers
Twix
Kit Kat
M&M's, any variety
Reeses Peanut butter cups
Reeses Pieces
Nutrition Information:
Yield:

24
Serving Size:

1
Amount Per Serving:
Calories:

259
Total Fat:

8g
Saturated Fat:

5g
Trans Fat:

0g
Unsaturated Fat:

3g
Cholesterol:

36mg
Sodium:

217mg
Carbohydrates:

44g
Fiber:

0g
Sugar:

27g
Protein:

2g