I've always loved the look and taste of Classic Spritz Cookies. Buttery, delicate and melt in your mouth good. They really are one of the most classic Christmas cookies.
Until this year I had actually never made Spritz cookies because I didn't have a cookie press. I found a vintage press online and absolutely love how beautiful the pressed cookies turned out. It was surprisingly easy to make beautiful cookies; little trees, hearts and flowers.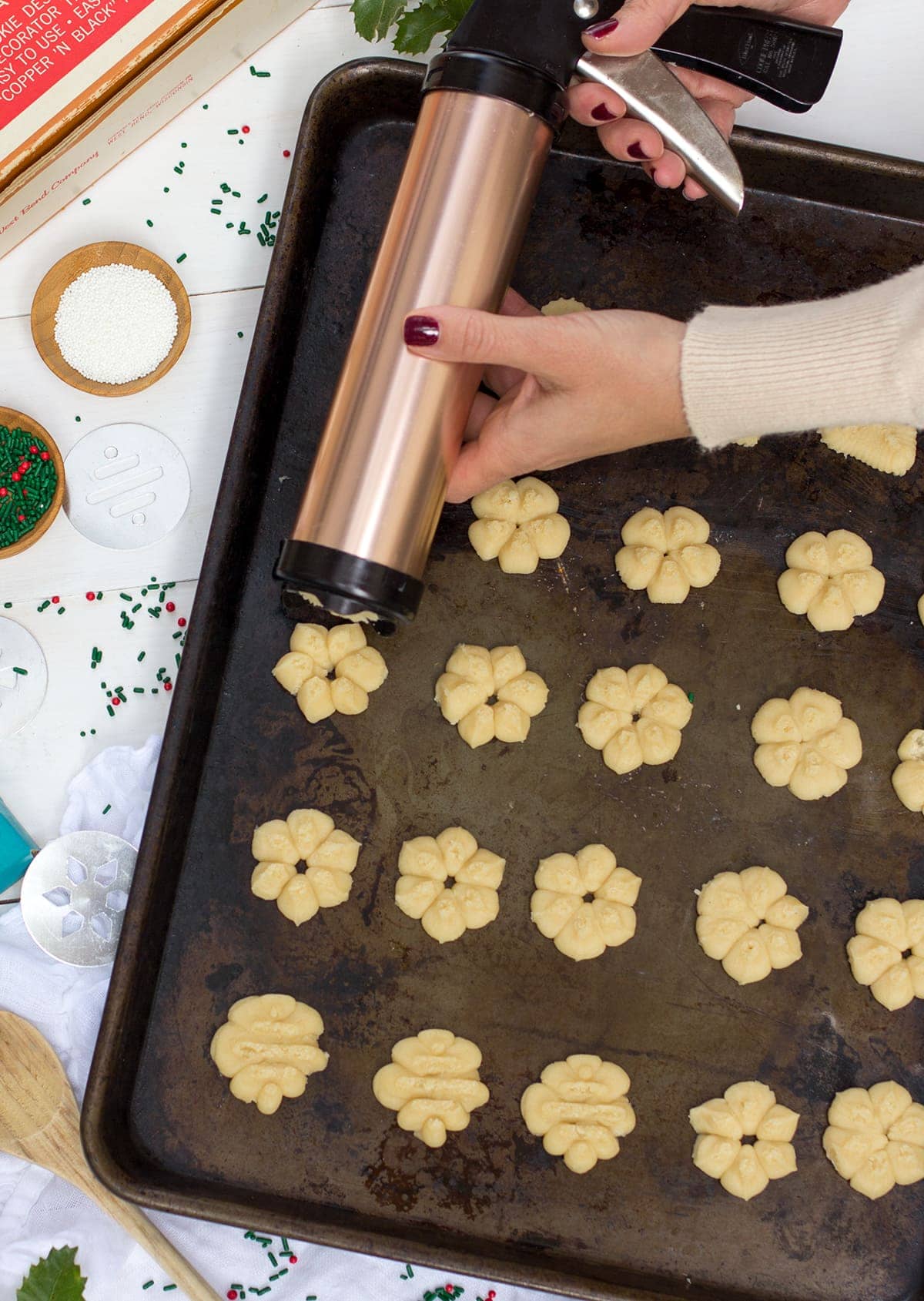 The trick is to keep the dough at the right temperature so that it doesn't stick to the press. If your kitchen is rather warm, chill the dough (in your mixing bowl) until it's slightly chilled. If the cookies are spreading too much and loosing shape once they are baked, try chilling the pressed cookies on their sheet pan for a few minutes before baking.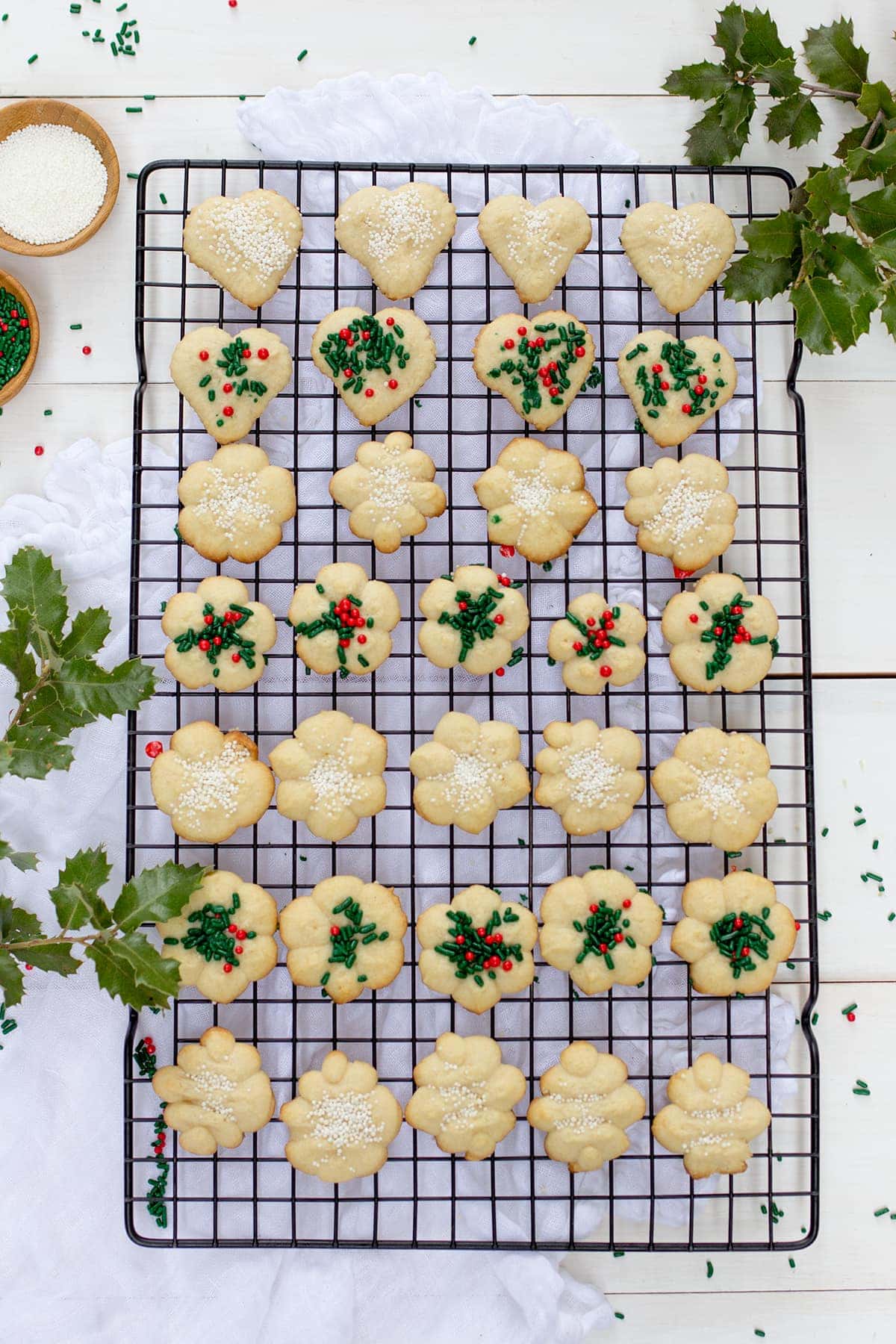 As for decorations, decorating sugar or nonpareils work best! Sprinkle over the unbaked cookies before baking. I had nonpareils and sprinkles on hand so that's what I used. The sprinkles melted a bit so next time I will definitely use colored decorating sugar.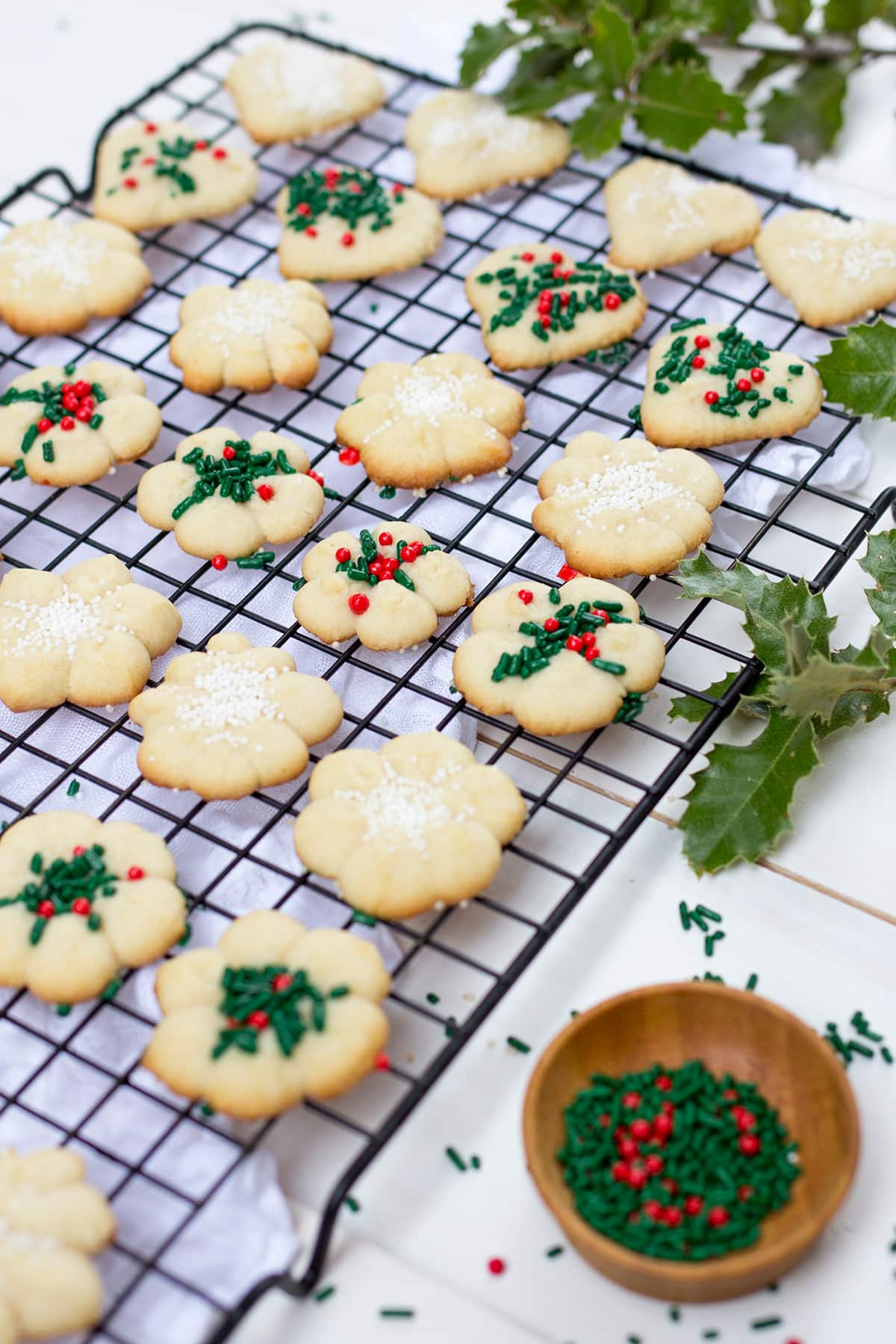 These are definitely a new favorite Christmas cookie and I'm excited to make them again with the twins! The cookie press makes these cookies extra kid friendly.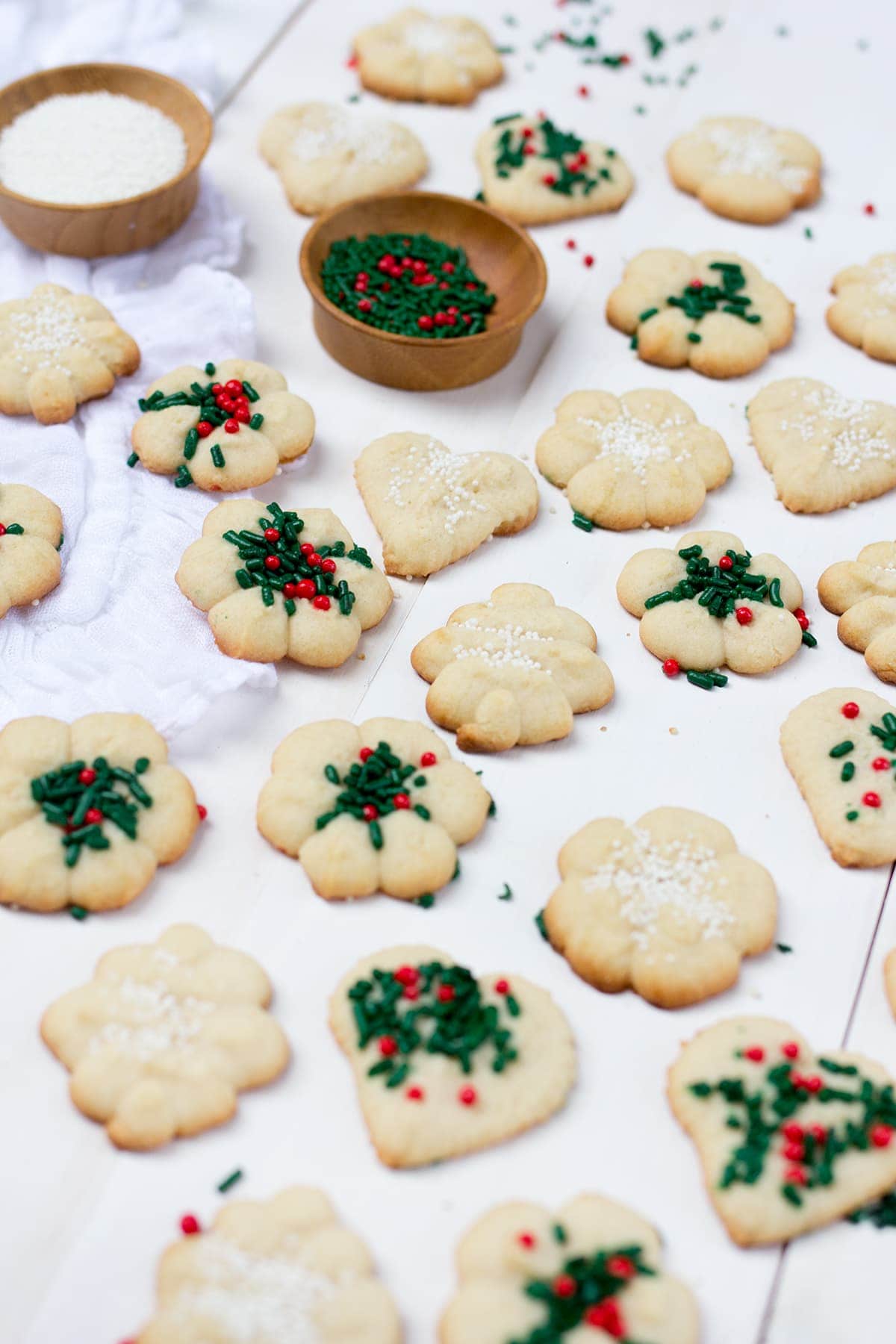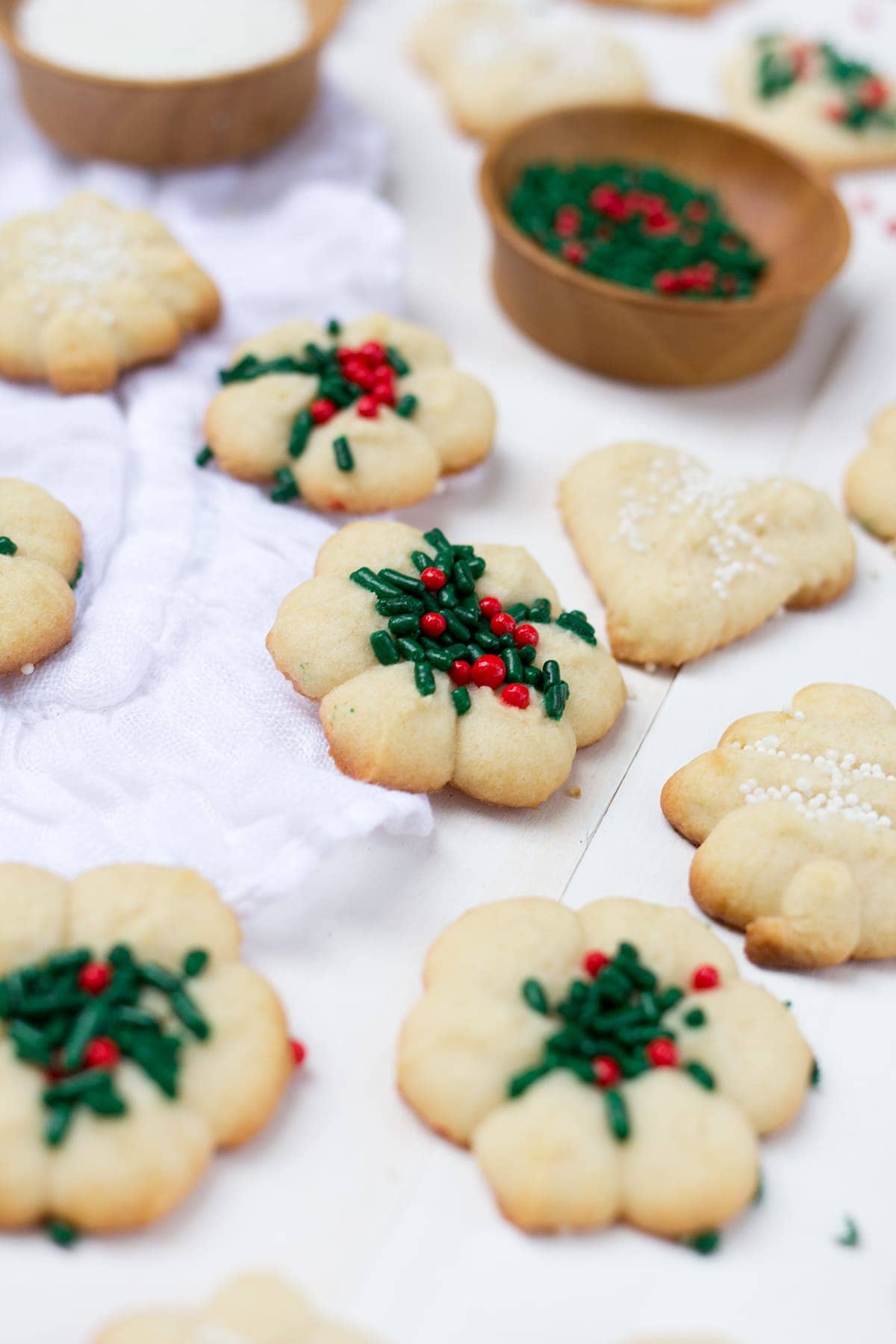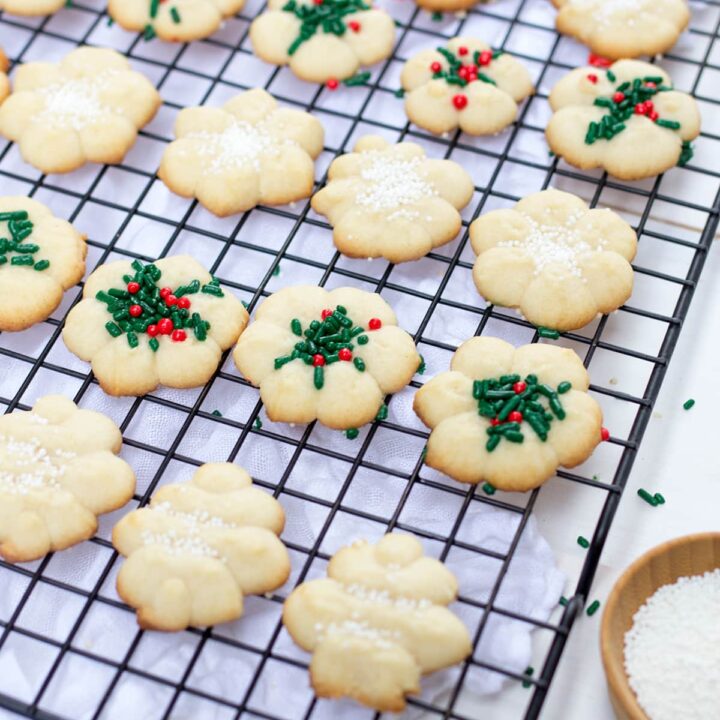 Classic Spritz Cookie Recipe
Classic spritz cookie recipe that is buttery rich and pressed into a variety of designs using a spritz cookie press.
Ingredients
1 cup butter, softened
⅔ cup sugar
1 large egg
2 teaspoon vanilla extract
2 ¼ cups all-purpose flour
½ teaspoon salt
Decorating sugar or nonpareils
Instructions
Heat oven to 400°F.
Combine butter, sugar, egg and vanilla extract in bowl. Beat at medium speed, scraping bowl often, until creamy. Add flour and salt; beat at low speed until well mixed.
Fit cookie press with desired template. Fill with dough. Press dough into desired shapes 1 inch apart onto ungreased cookie sheet. Sprinkle with decorator sugar. Bake 8-14 minutes or until edges of cookies are very lightly browned. Time will be different for every oven so check at 8 minutes to start. My oven took 10 minutes.
Tip: If the dough is too warm and sticking to the cookie press, chill dough in the fridge until easier to press. Chill dough in bowl not in press or it will stick.