Orange Gumdrop Bars are probably the most unique Christmas cookies you will ever try. Chewy cinnamon spiced nut cookies stuffed full of chopped orange gumdrop candies and topped with a fresh orange glaze while the bars are still hot. The result is a sticky Christmas treat that has been a favorite recipe in my family for generations. Today a group of my fellow blogger buddies and I are sharing some of their favorite Christmas cookies in a virtual cookie-recipe swap. I'll link to all of their recipes at the end of this post...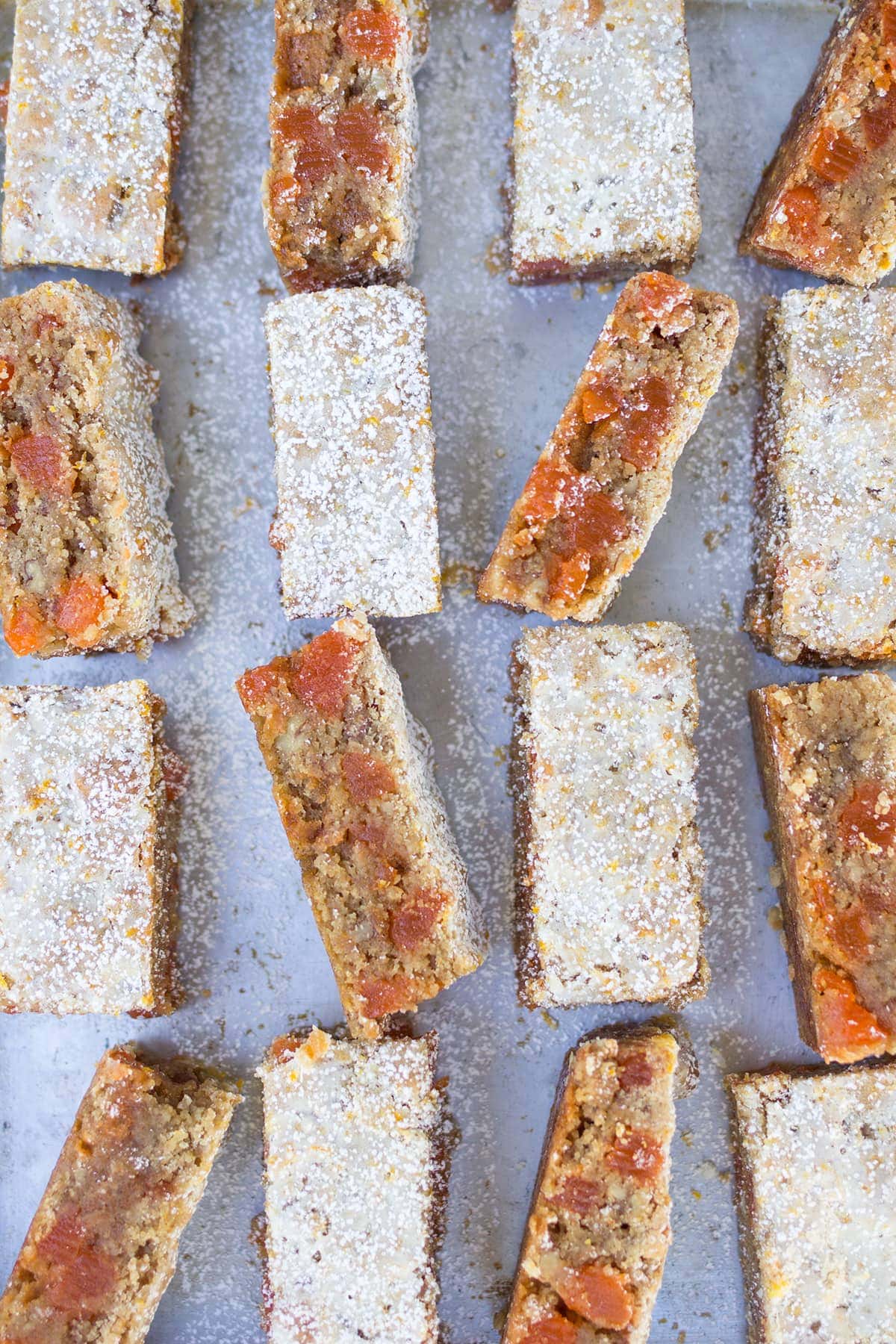 Passed down from my Great Grandma Ollie to my Grandma Elaine and now to me, these are not only my Dad's favorite Christmas cookie but my Aunt Alice's as well! It's a well know fact that family Christmas cookies are top-secret on my Dad's side of the family so when my Grandma and Aunt gave the ok to share this recipe, I felt down right proud to write this post and share the recipe with all of you.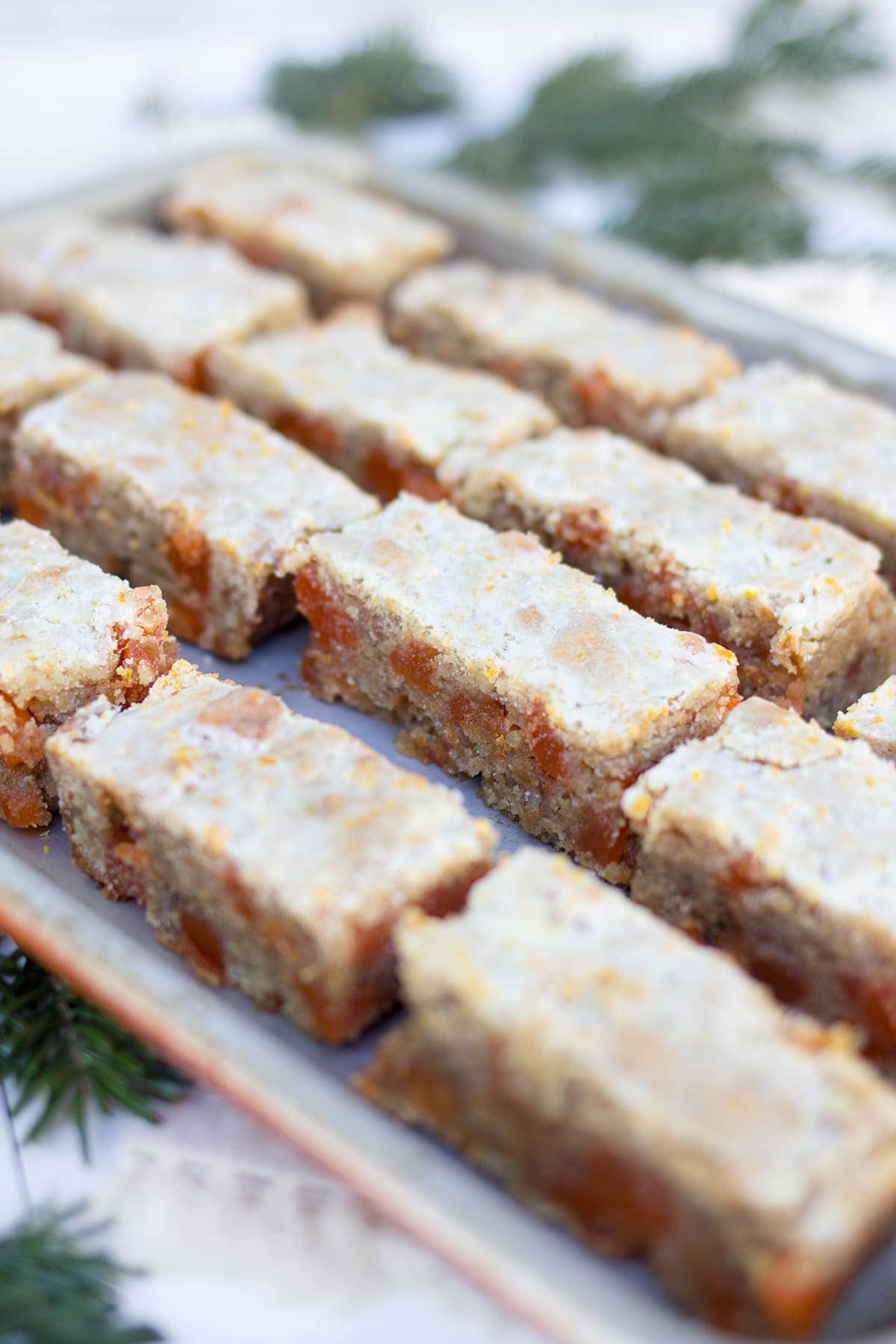 Like any family recipe, everyone has their own (slightly different) way of doing things. According to the original recipe card, my Great Grandma added the orange glaze to the top of the bars while the cookies were still hot so that it melted down into the actual cookie leaving just a thin layer behind. When my Grandma Elaine makes them, her icing is much thicker on top because she doubles the amount of glaze allowing it to cool much thicker. I on the other hand think they look pretty with a thin glaze and just a sprinkle of dusted powdered sugar over the top. We all have our own ways of doing things. When you make these gumdrop bars for yourself, you can decide just how you like to finish them! I'll include notes on the different glaze options at the end of the recipe.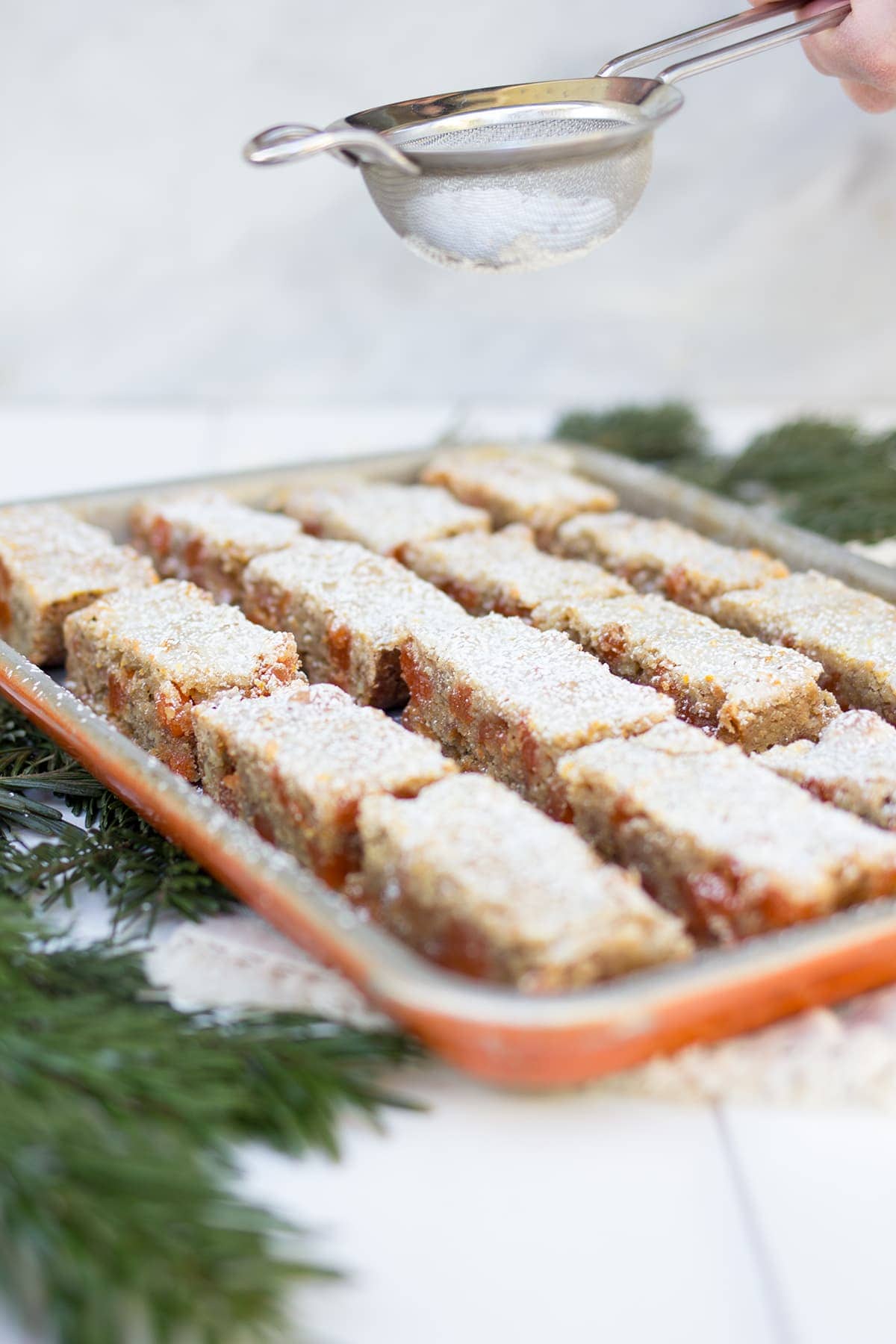 Now let's get to talking about gumdrops! When my Grandma first gave me this cookie recipe over the phone she emphasized two things: use Land O' Lakes butter (because it's the only butter she bakes her Christmas cookies with) and make sure your orange gumdrop candies are fresh. My family uses the little sugar covered orange segment shaped candies available in the candy aisle or in the fresh bulk section of the grocery store. Grandma Elaine would have me (and all of you) "squeeze the bag" to make sure the gummies are fresh and soft. Using soft candies makes the chopping process a whole lot more time-consuming but the results are worth it. Just make sure you buy a little more than the 1lb this recipe calls for; there will be snacking involved! How could there not be when you're cutting up an entire pound of fresh orange candy?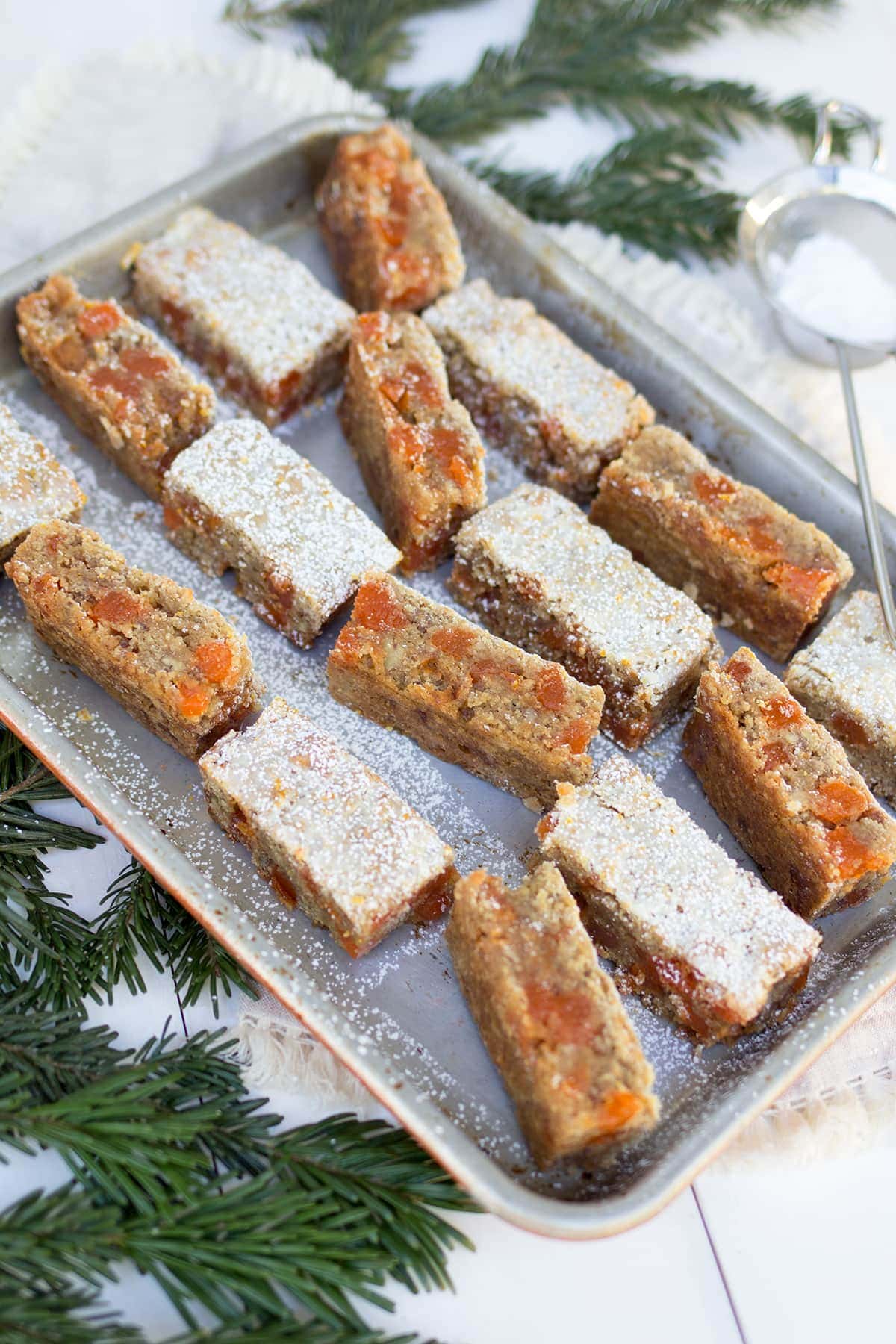 Mix all of the ingredients: eggs, brown sugar, flour, salt, cinnamon, orange gumdrops, and chopped nuts together in one mixing bowl then stir in the cream of tartar & water mixture. The dough will be thick, which is how it should be, and it's helpful to use your hands to press it into your prepared pan before baking.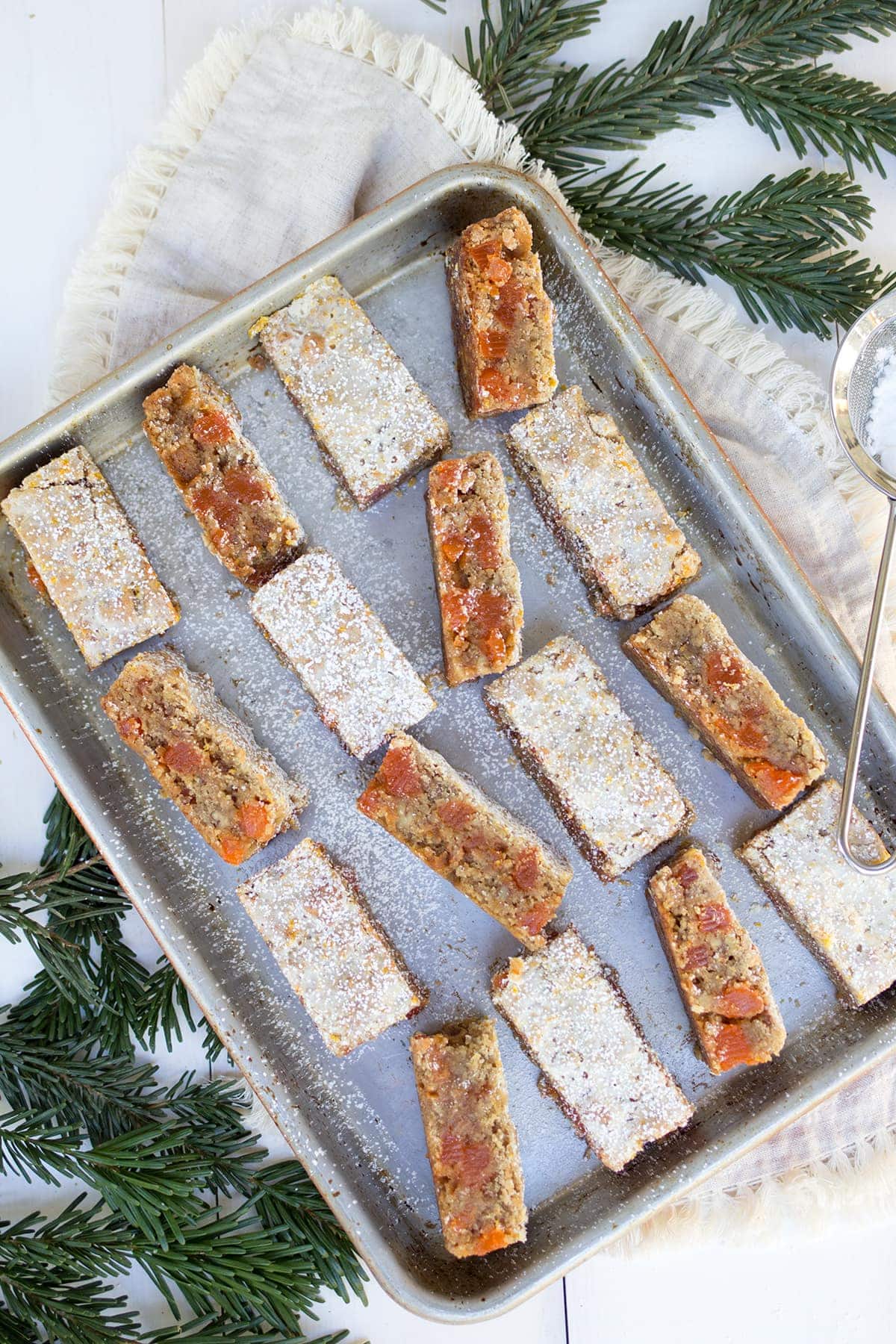 While the bars bake, mix your icing. With real orange zest, melted butter, orange juice and powdered sugar, this is one of the best glazes I've ever tasted! In fact, I can see why my Grandma Elaine choses to doubles the glaze recipe.
Once they're baked, these gumdrop bars look very unassuming. They make the house smell heavenly but the real beauty doesn't come until you've let them cool and cut into them to see all of the little bits of chopped pecans and gumdrops inside. My Grandma usually makes these cut into little squares but I choose to make them bigger. What can I say, I'm not about portion control when it comes to my favorite Christmas cookies!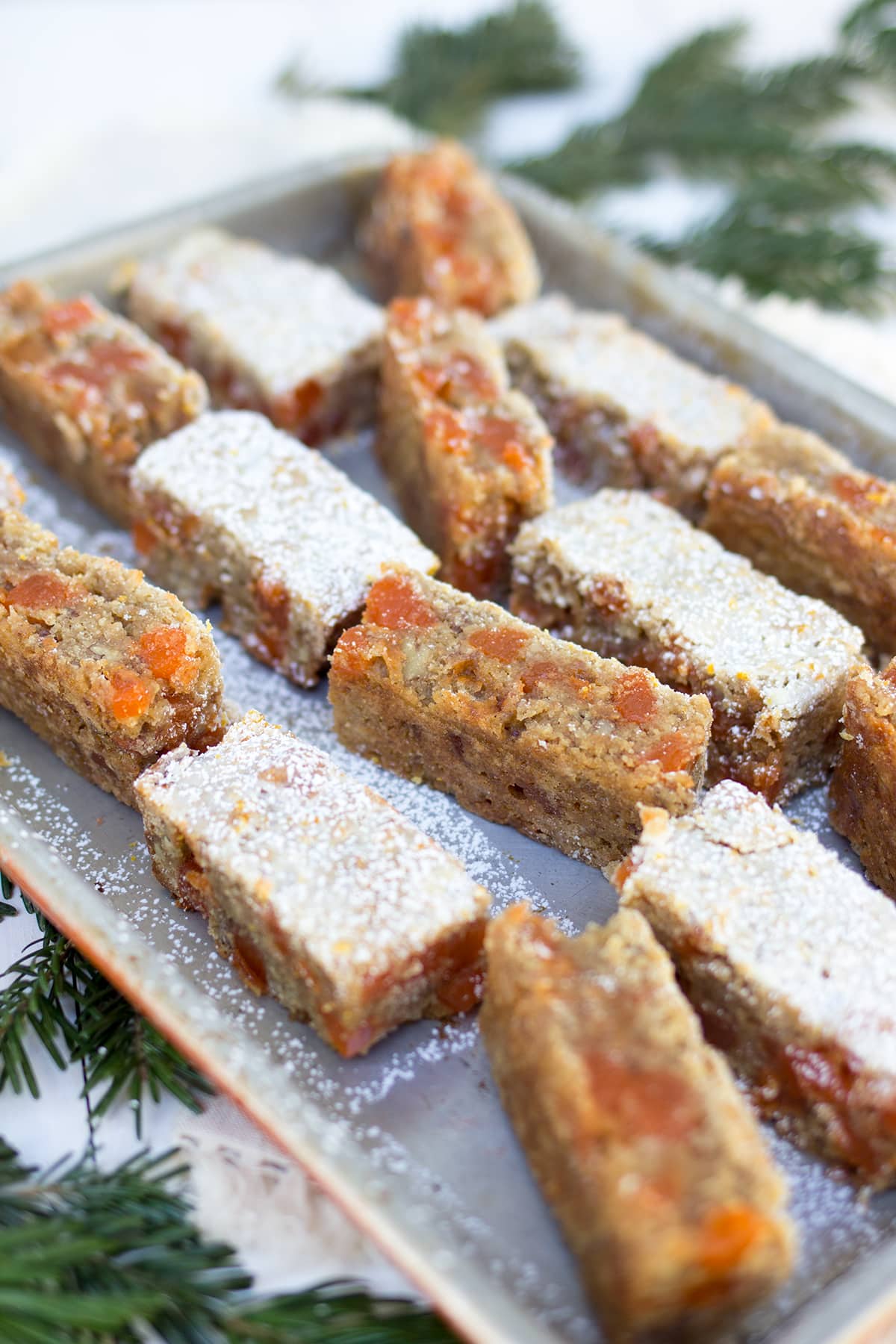 I hope you will give this family recipe a try and come back to let me know what you think! They really are a classic in my family and by far one of my favorite Christmas cookies. My Grandma Elaine reads almost every one of my blog posts and I'm sure she would be thrilled to see some of you trying this favorite recipe of hers. I hope your family will love them as much as mine does!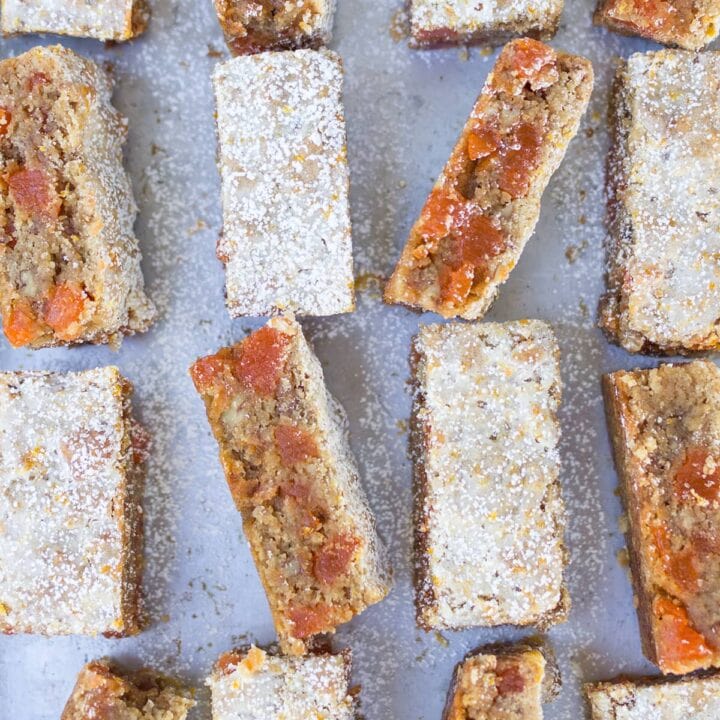 Grandma Elaine's Orange Gumdrop Bars
Total Time:
1 hour
20 minutes
My family recipe for orange gumdrop Christmas cookies.
Ingredients
4 eggs beaten
2 cups light brown sugar
2 cups sifted flour
½ teaspoon salt
1 teaspoon cinnamon
1 pound orange gumdrop slices, chopped
¼ pound (1 cup) pecans, chopped
1 teaspoon cream of tartar
1 Tablespoon cold water
For the Icing:
2 Tablespoons melted butter
3 Tablespoons orange juice
2 oranges zested
1 cup powdered sugar (plus more for garnish if desired)
Instructions
Preheat oven to 350 degrees.
Line a 9x14" glass baking pan with parchment paper and grease well with either butter or cooking spray.
Chop the orange gumdrop candy into small cubes and chop the pecans.
In a large mixing bowl, mix together: brown sugar, flour, salt, cinnamon and nuts.
Mix in the orange candy and using your hands, break up and clusters making sure that all of the gumdrops are separated and coated in the flour mixture.
Mix in the beaten eggs and stir well with a wooden spoon until combined.
Mix together the cream of tartar and water in a small glass and add to the batter, stirring well into incorporated.
Spread dough into prepared pan, you may want to use greased hands to press dough into pan evenly.
Bake at 350 degrees for 30-40 minutes or until the bars are set in the center and the top is golden brown.
While the bars bake, make the glaze.
In a bowl mix together butter, orange juice, orange zest and powdered sugar. Note: I used 1 cup of powdered sugar but the original recipe of my Great Grandma's says to add as much as needed. You can start off with less and work your way up until the glaze comes together and is about the consistency of white school glue.
Remove the bars from the oven and while still hot, pour the glaze overtop. Allow to cool and set completely before cutting.
Dust with powdered sugar if desired.
GLAZE NOTE: My Grandma doubles the glaze recipe by combining 4 Tablespoons melted butter, 5 Tablespoons orange juice, the zest of 2 oranges and powdered sugar.
For more Christmas cookies, check out these recipes from some of my blogger friends:

#ChristmasCookieSquad
Oatmeal Lace Cookies by Julie Blanner
Cream Horn Cookies (Lady Locks) by Michael of Inspired by Charm
The Best Peanut Butter Blossoms by Cyd of The Sweetest Occassion
Nordic Gingerbread Cookies by Melissa of The Faux Martha
Orange Gumdrop Bars by Freutcake