No-Churn Real Mint Chocolate Chip Ice Cream is made with fresh mint, real cream, and is going to be a new favorite in your house, like it is in mine!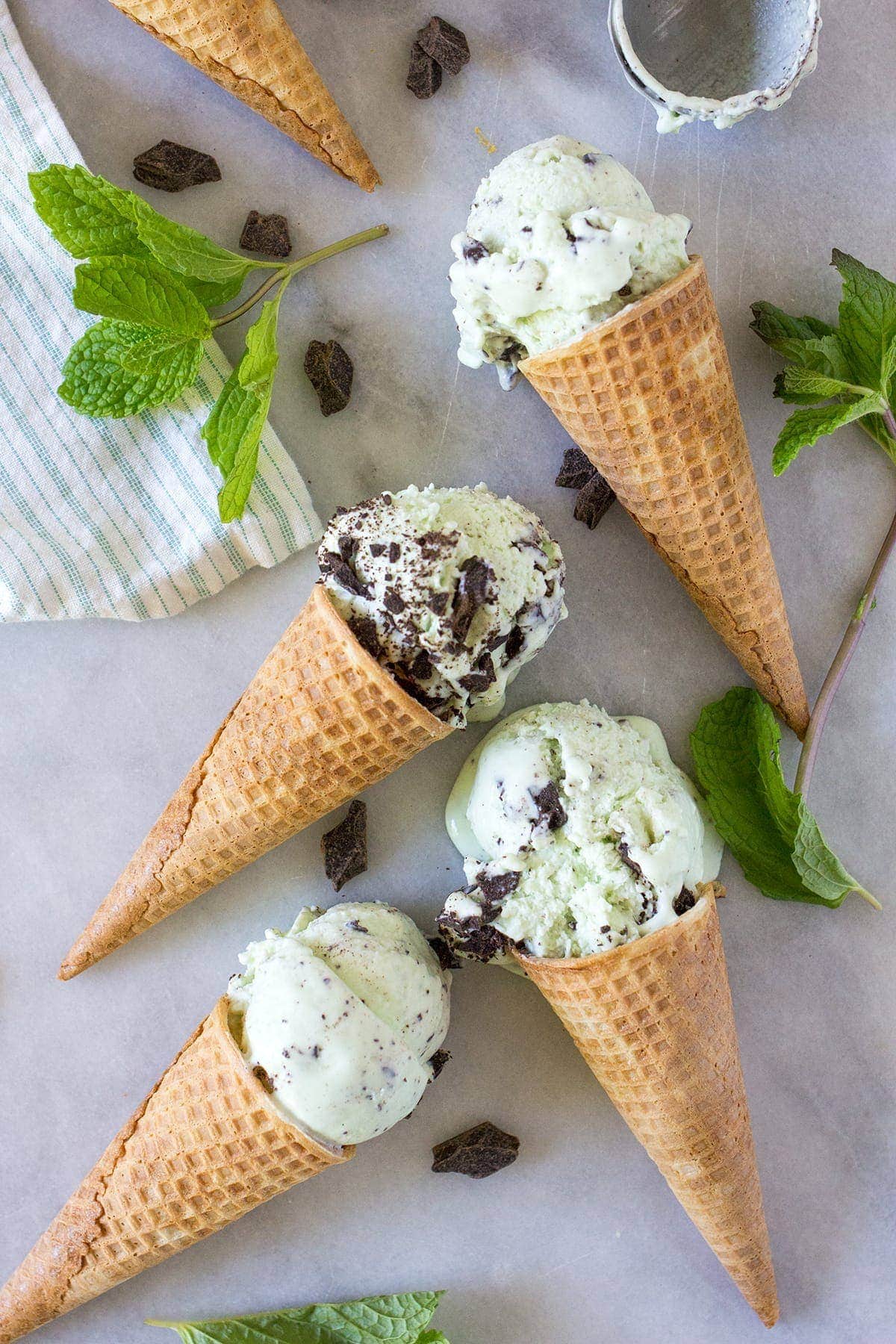 I'm pretty sure that the twin's obsession (and I mean OBSESSION) with "green ice cream" started just after Christmas time when they were given the Melissa & Doug Ice Cream Counter by their Grandma.
The "green ice cream" scoop on a cone with rainbow sprinkles became the combination to fight for. From that day forward, if asked what ice cream flavor they wanted, the twins would reply, GREEN!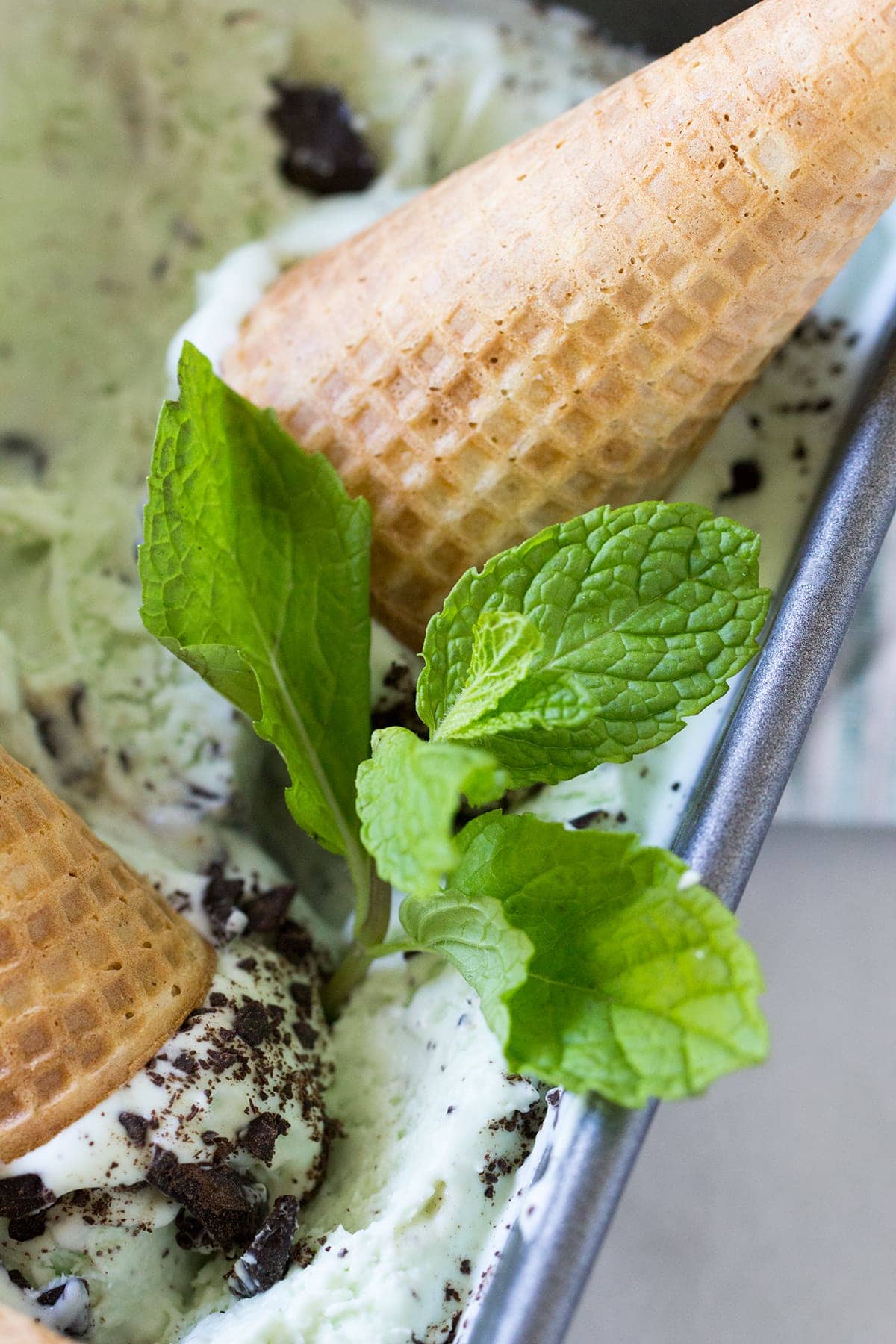 So, the only solution was to make my own mint chocolate chip ice cream at home and fast. I love no-churn ice cream because it's easy to make and doesn't require eggs. Nothing wrong with a classic custard based ice cream, but why even bother when this recipe is so delicious? Texturally, it is a bit fluffier than a dense egg based ice cream but I'll tell you what...kids DO NOT CARE, and honestly neither do I.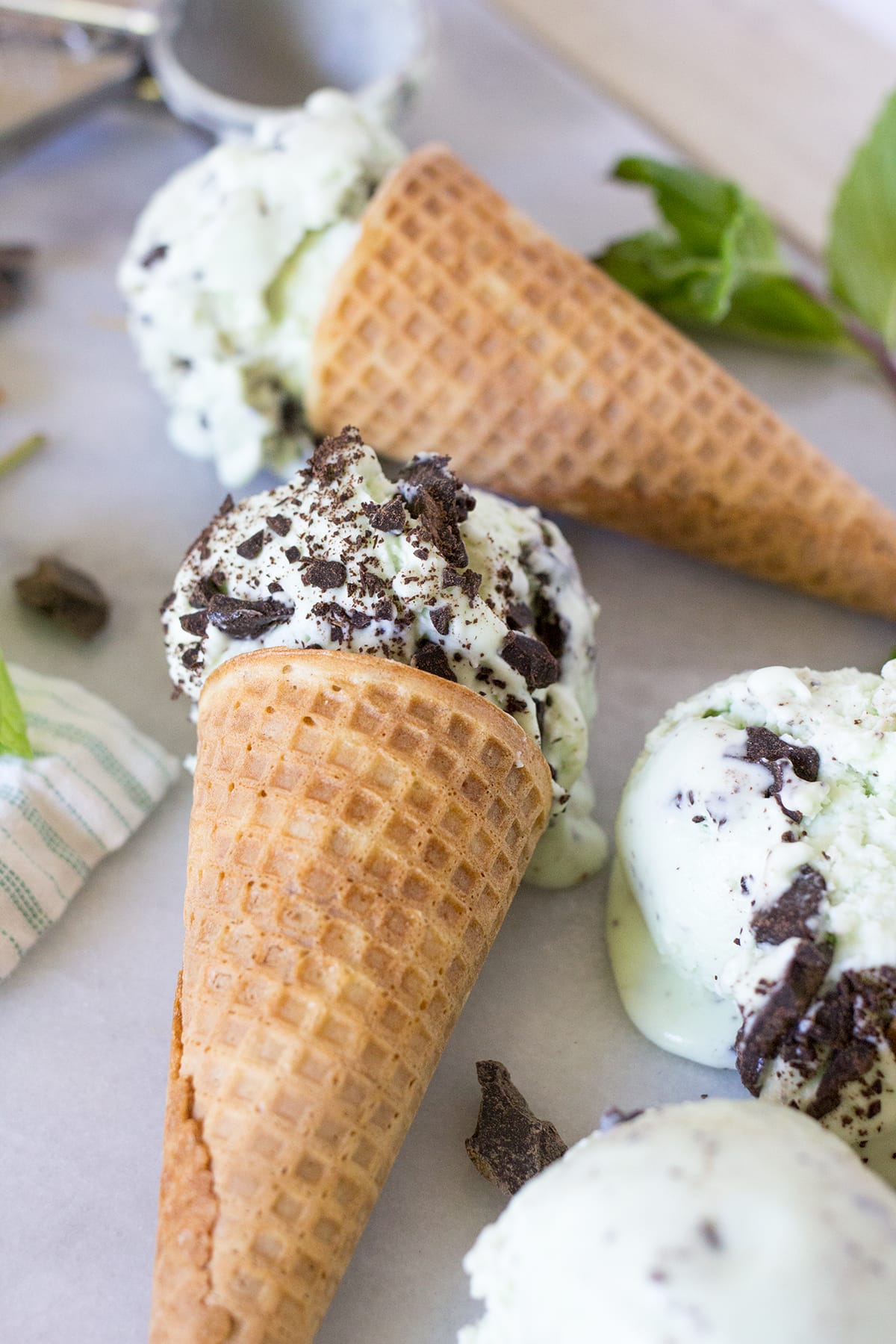 I upped the ante just a bit by steeping the cream with a whole bunch of fresh mint. I personally think the fresh mint flavor adds so much to this ice cream making it a whole heck of a lot better than the neon green stuff you buy at the big chain ice cream stores...you know the ones.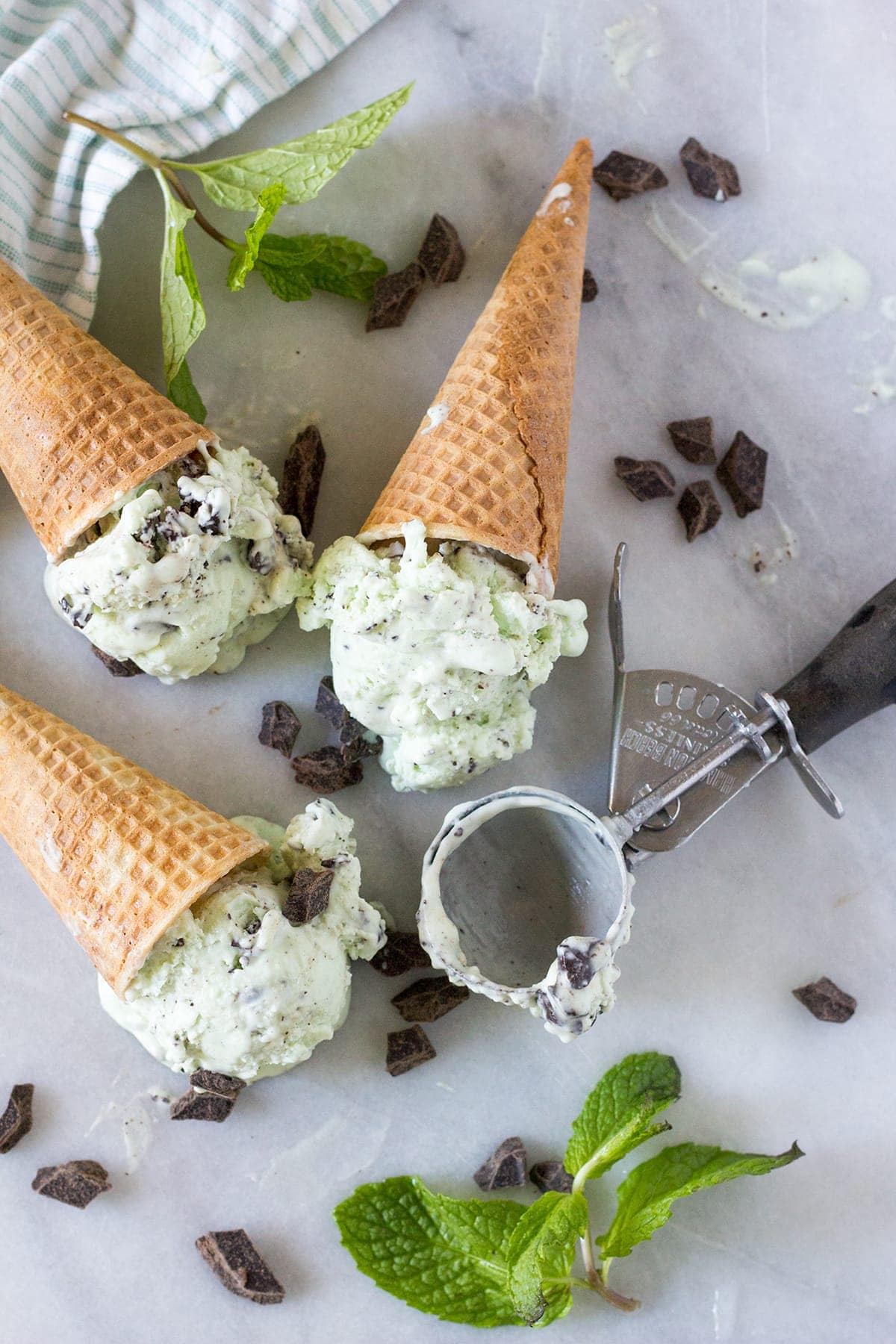 I did add in JUST a smidge (that's the technical measurement for ¼ tsp) of peppermint extract to boost the flavor but that's a personal preference. I also unwillingly added in three drops of green food coloring because my twins would likely complain if their green ice cream was, well, white. Ha! These little dictators, you've gotta love them.
So here's how you make this magical stuff...promise me you'll make this recipe and let me know what you (or your kids) think! It's a new favorite in our house. Looking for more no-churn recipes? This strawberry ice cream is my favorite!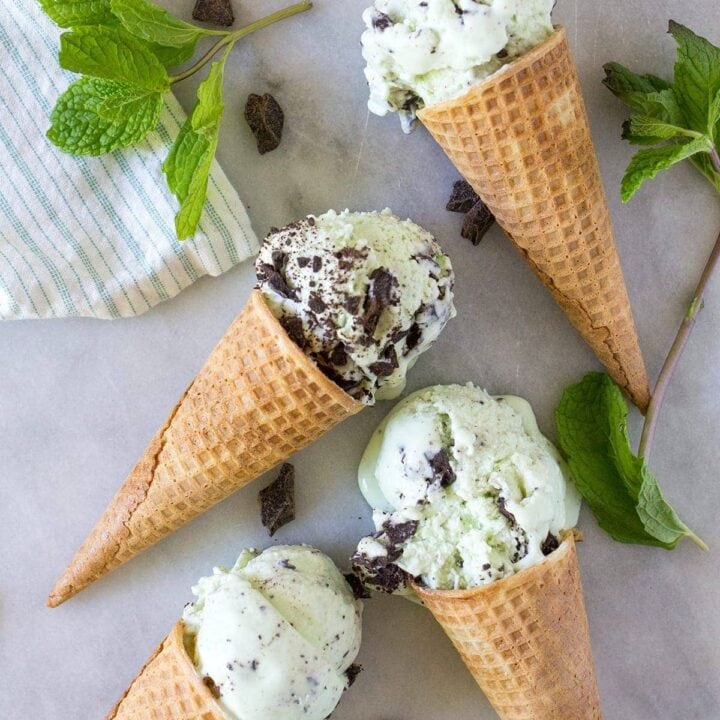 No-Churn Real Mint Chocolate Chip Ice Cream
Mint Chocolate Chip ice cream that is made with fresh mint and doesn't require an ice cream machine!
Ingredients
1 pint heavy whipping cream
1 15 oz can sweetened condensed milk
1 bunch of fresh mint (about 5-7 stems)
¼ teaspoon peppermint extract
3 drops green food coloring, optional
1 cup chocolate chunks, chopped fine
Instructions
In a sauce pan combine heavy whipping cream and fresh mint.
Heat over low until cream begins to slightly bubbly around the edges and steam, stirring. *Do not boil or simmer.
Remove pot from heat and allow mint to steep in the hot cream until cooled to room temperature.
Chill until very cold in the refrigerator.
Remove mint and transfer cream into the bowl of an electric mixer. Add in peppermint extract and green food coloring.
Whip on high until firm peaks form.
Fold in sweetened condensed milk and mix until completely incorporated.
Fold in chopped chocolate.
Transfer to a loaf pan and cover with plastic wrap, pressing to the top of the ice cream.
Freeze overnight or until hard.
Note: Half way through freezing you may want to remove the ice cream and stir gently to re-distribute the chocolate as it has a tendency to sink. Sprinkle with more chopped chocolate, cover and return to the freezer.