Have you ever heard of Transparent Pie? If you grew up in The South, chances are you have. For me, this was a new discovery sparked by a hand scribbled family recipe and a set of handmade tart tins. Let me tell you a story...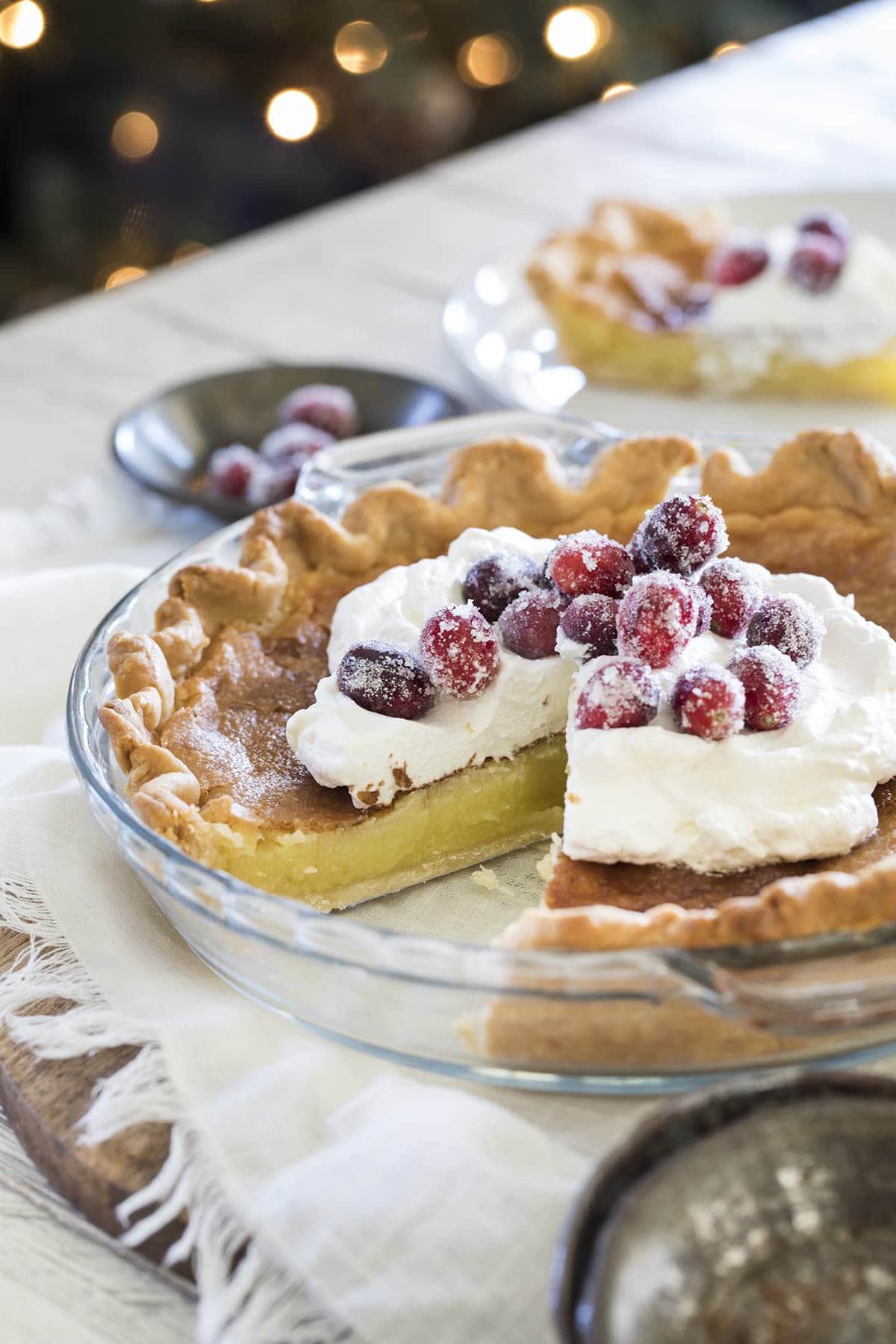 A Family Story
Growing up here in Southern California, we were far from family all located in other eastern states. I've mentioned it before but summers spent in West Virginia with my Grandparents were some of my best memories and really formed a love for Southern food and family history in me. Growing up away from family creates a longing to know more about them and a desire to dive into the traditions and history that you might have missed. At least that's the way I've always felt about it and it has shaped me in the way I look at food.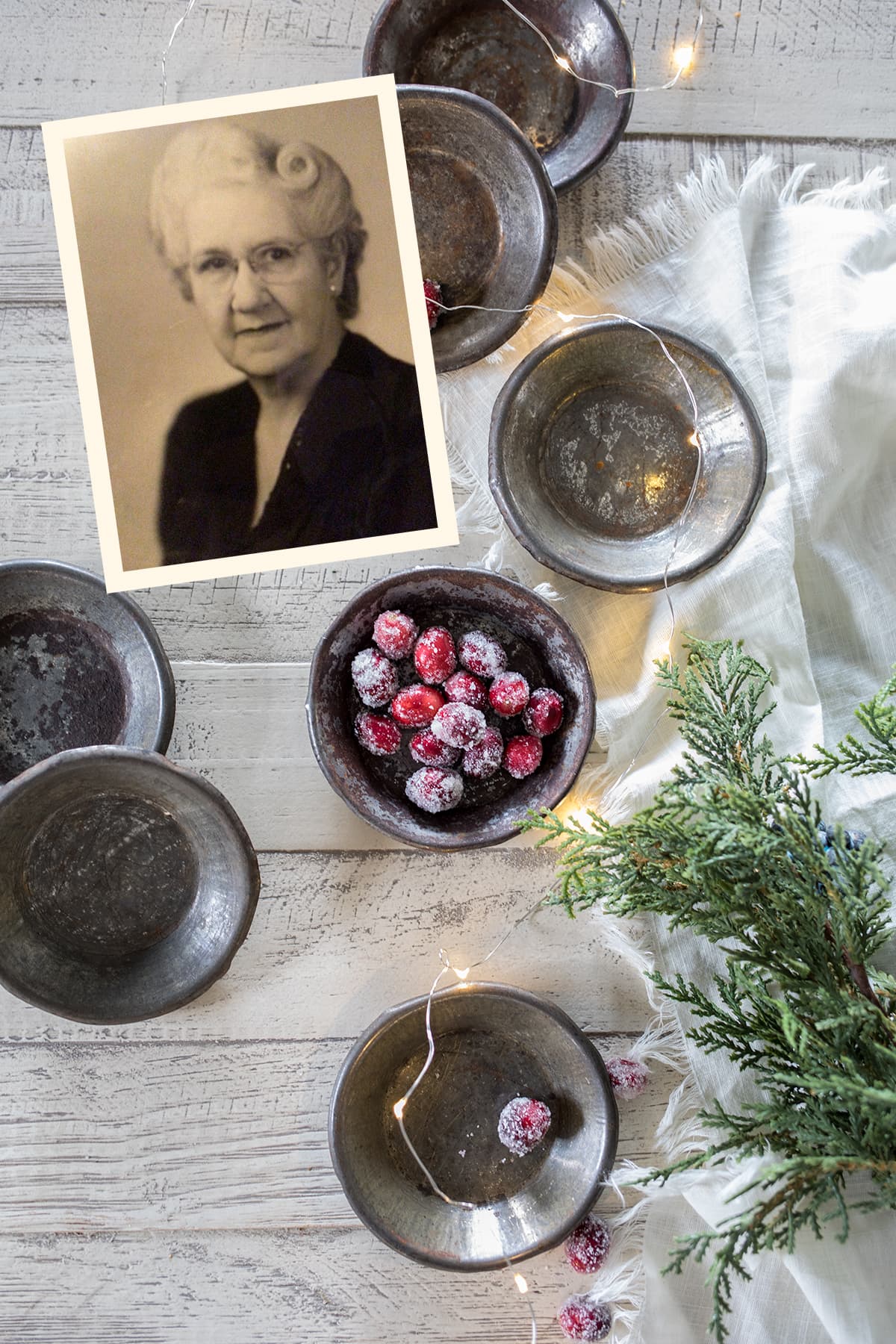 An Old Family Treasure
My Great-Great Grandmother's name was Daisy Cecelia Ross but the family called her Pom Pom. If that isn't the most adorable nickname, I don't know what is. As an adult and as my love for food and family recipes grew, my Aunt Alice sent me a set of Pom Pom's old tart tins. They were handmade by my Great-Great Grandfather along with a quickly scribbled note and accompanying recipe for her "Transparent Pudding." I had never heard of transparent pudding but the recipe was incredibly basic: butter, sugar, eggs, vanilla, lemon; and in true OLD recipe fashion, very little in the way of directions.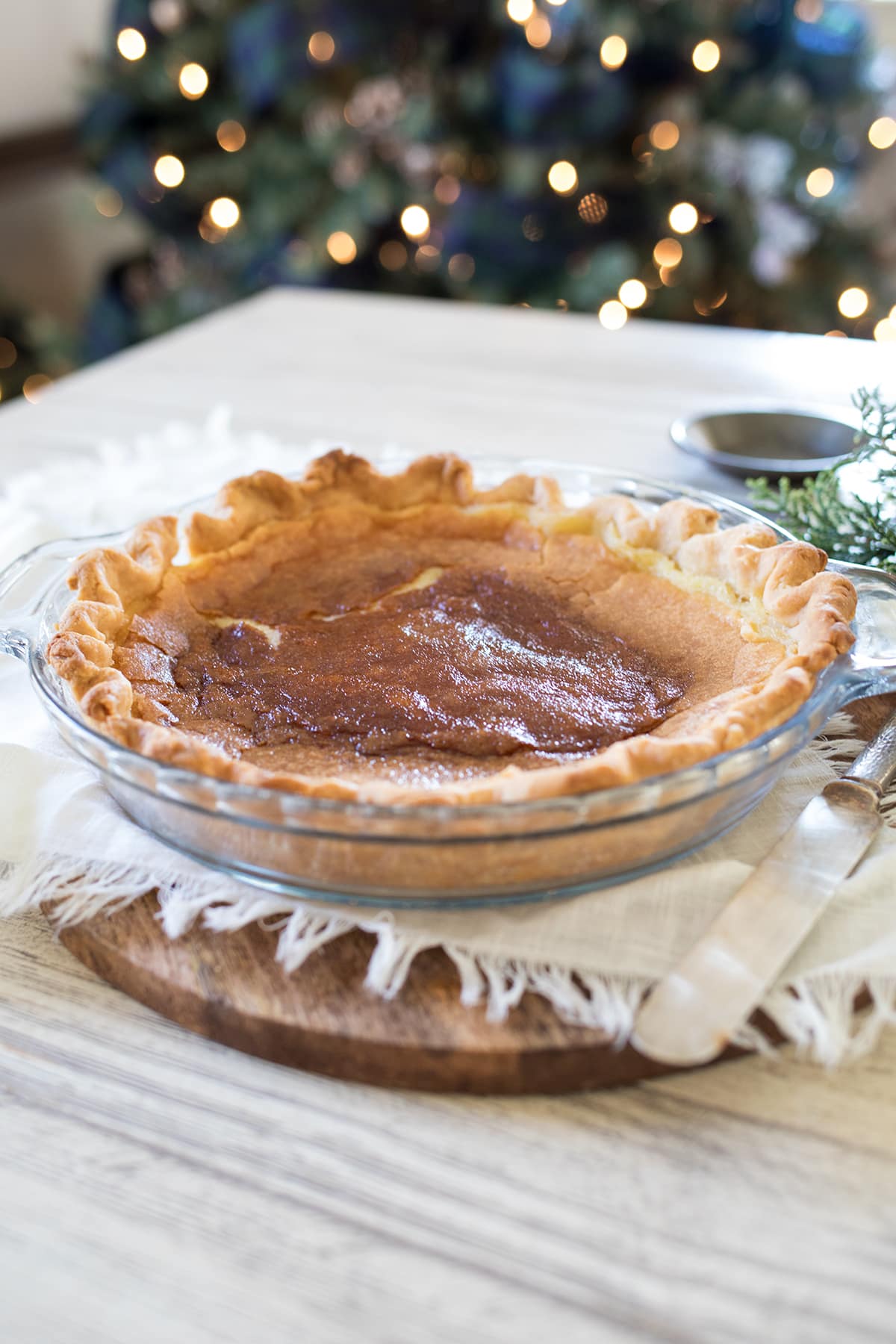 Transparent Pie
There were two things I know about this recipe:
First, I would not be baking in Pom-Pom's tins as they are seriously old and pretty rusty. Second, that the proportions in my Great-Great Grandmother's recipe seem small and might not be enough to make one whole pie. Also, there was no mention of a crust. It's cryptic to say the least!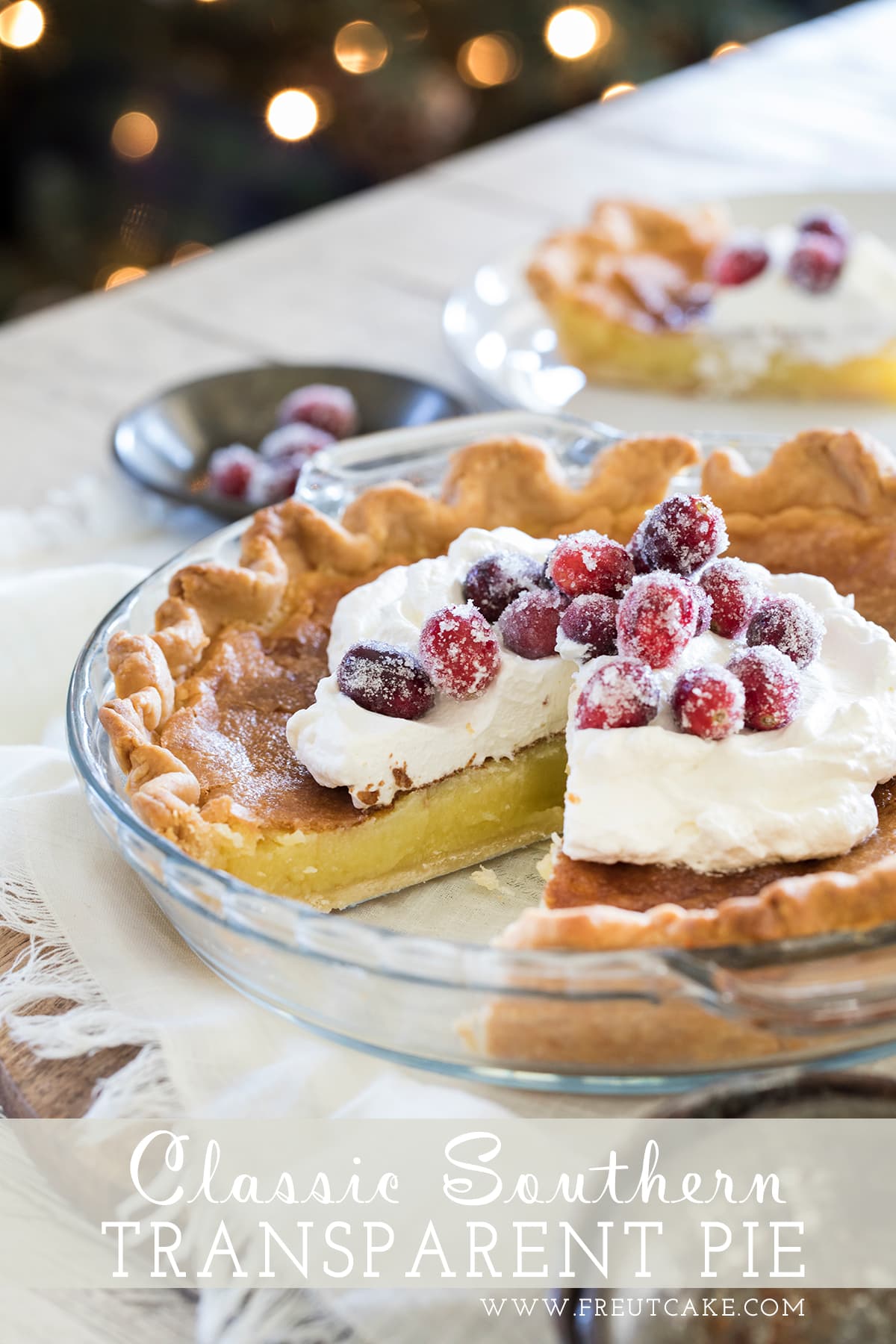 After doing a little research into Transparent Pie or Transparent Pudding, I discovered that they are basically one in the same. A very old Southern Pie Recipe similar to Chess Pie made famous in Virginia and Kentucky and traditionally served on Thanksgiving. In fact, the custard filling is such an old recipe that it's said to have inspired the base for many custard pies like Pecan Pie...one of my favorites!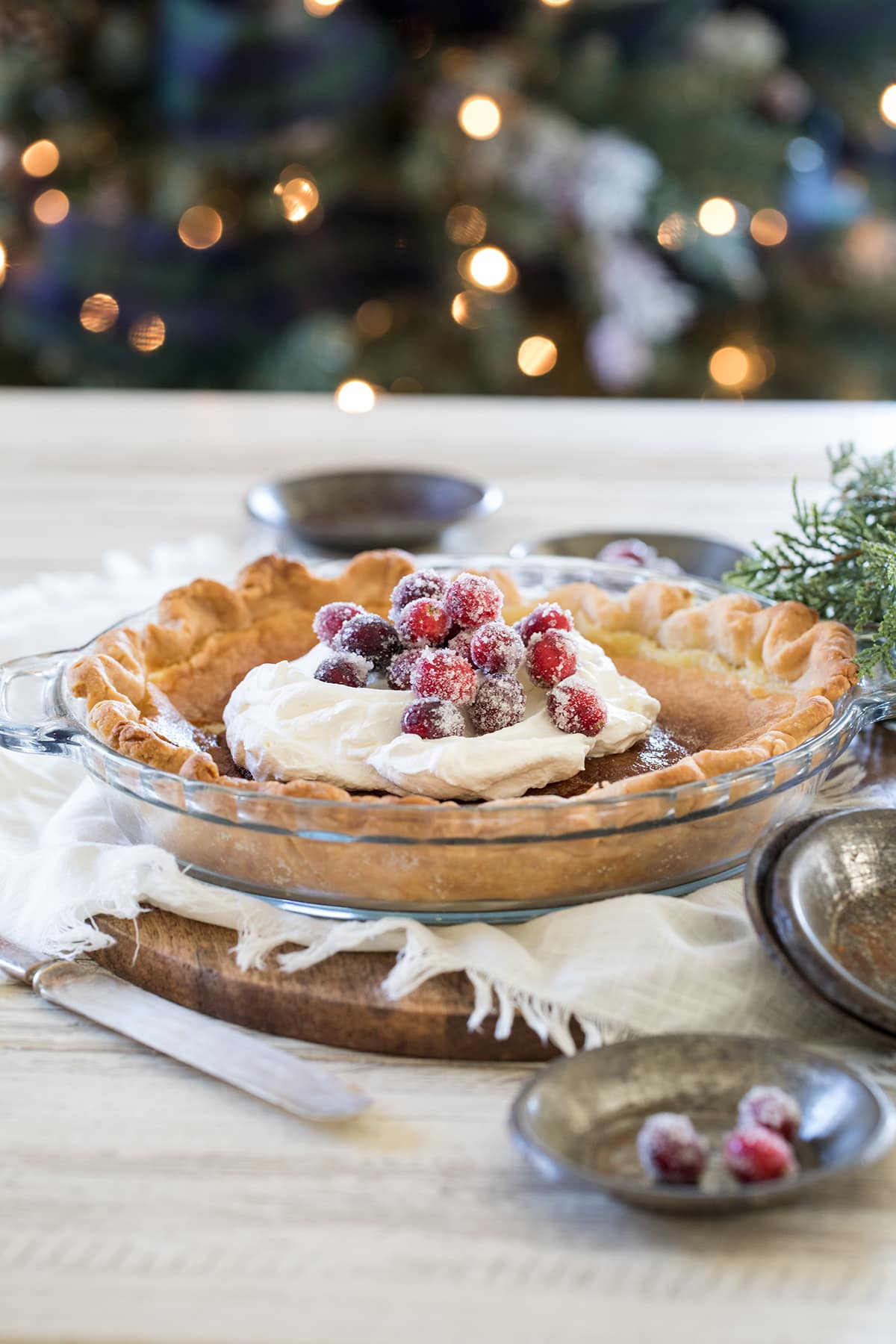 Classic Southern Transparent Pie
Needless to say, I was very intrigued by the idea of baking a Transparent Pie so when I found a recipe by Southern Living for this classic, I ran to make it. Classic Southern Transparent Pie has one the most simple fillings you will ever prepare with just a few ingredients of butter, sugar, milk, vanilla and eggs just like my Great-Great Grandmother's recipe. The custard is then poured into a par-baked pie crust and baked until set. It's far from a beauty queen and very simple to look at but the resulting flavors of sweet egg custard and subtle caramel are absolutely delicious!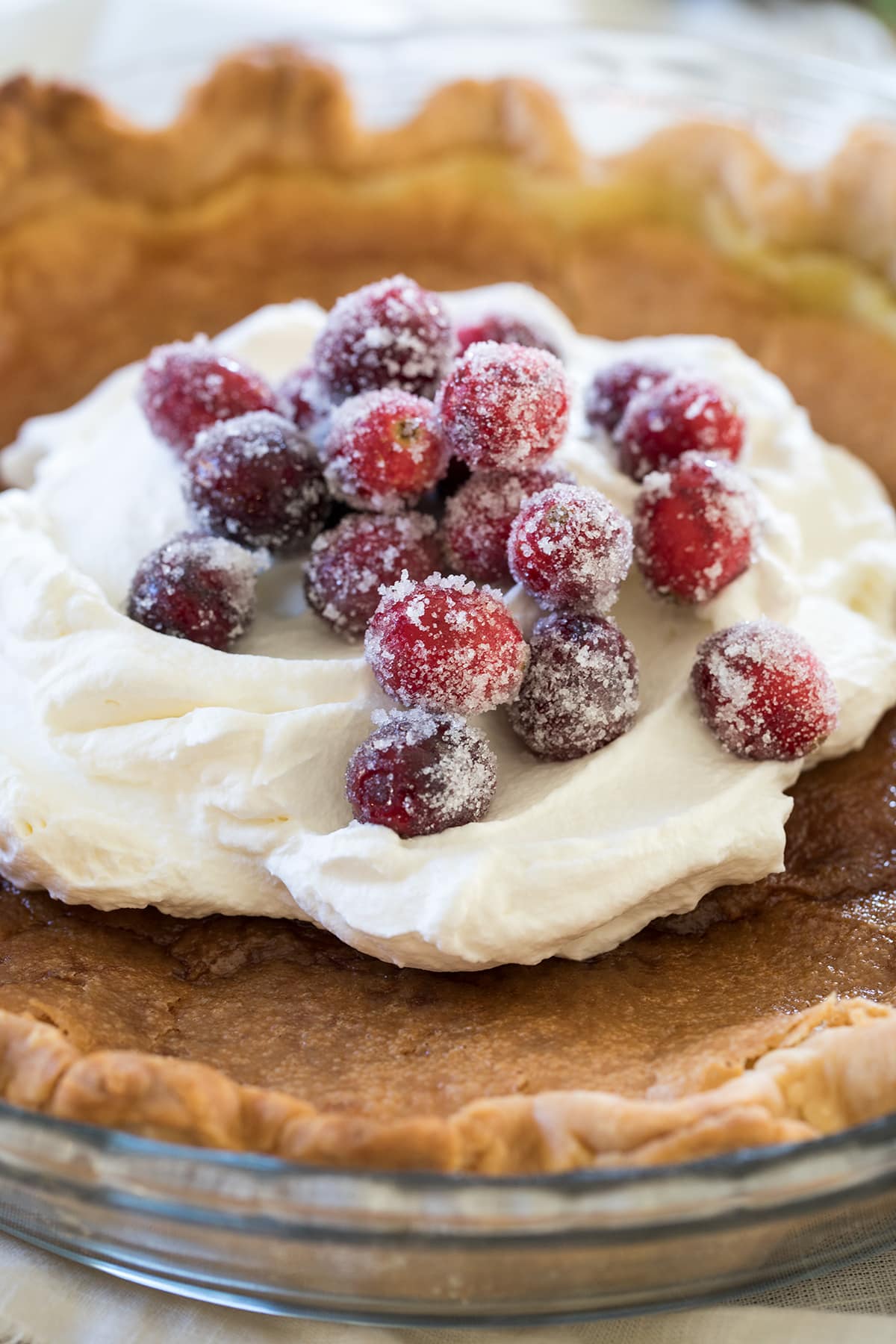 A Non-Traditional Topping
Although this topping is completely non-traditional, I topped my pie with a huge pile of homemade whipped cream and a pretty mound of sugared cranberries to make it a little more eye-pleasing. It really looks so festive decorated like this and would be lovely on your Thanksgiving or Christmas dessert table.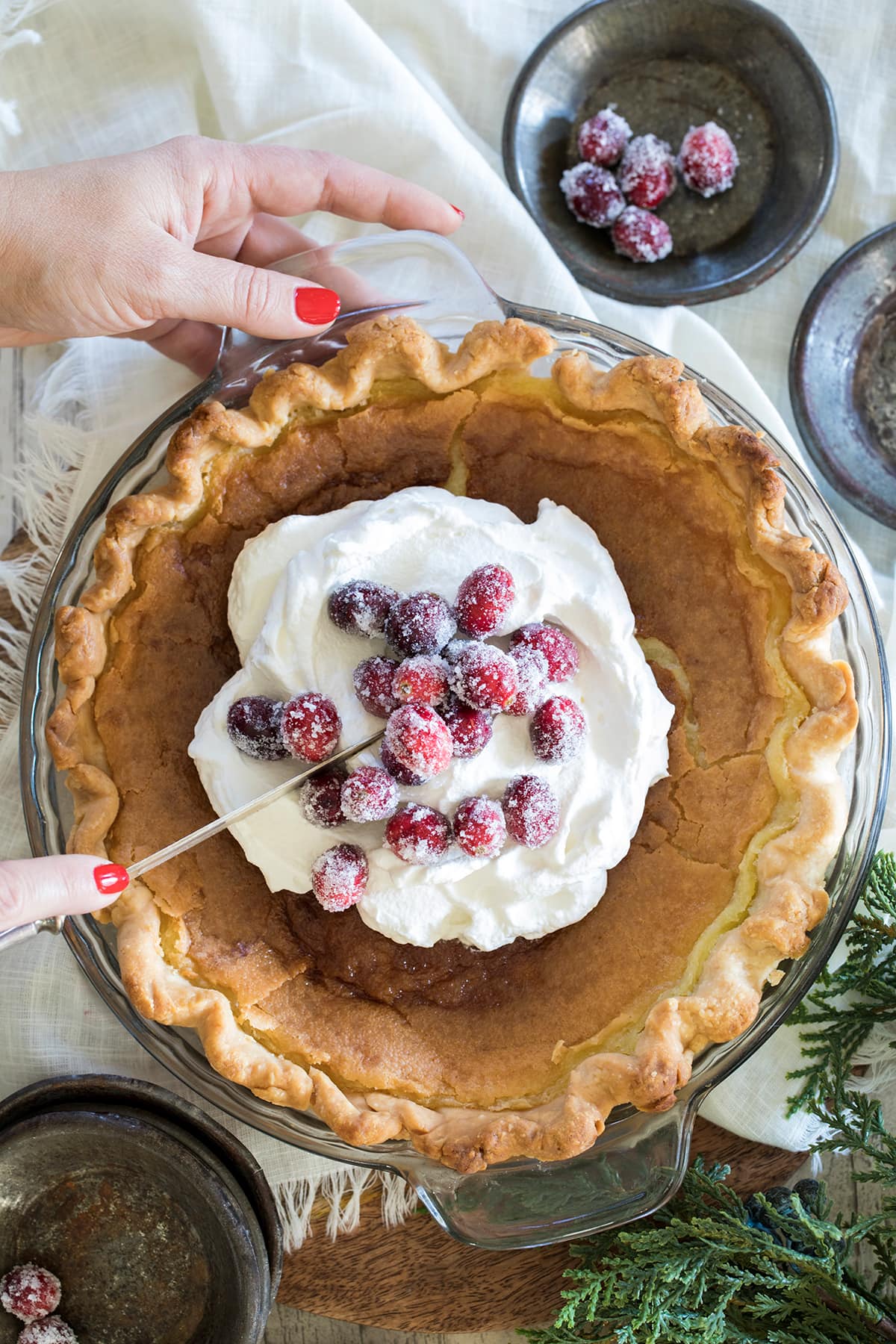 Cutting into this pie is really dreamy because the custard sets up firm and you can make beautiful clean slices. The perfectionist in me was thrilled. I wasn't thrilled however with the way the top of my pie cracked a bit. I think it was due to the fact that I took the pie out of the oven too early to cover the crust as it was browning faster than I liked and the changing temperature caused it to crack. You might have better luck with a smooth top if you are patient. I know I will be making this recipe again and I decided I wasn't worried about perfection because it tasted amazing. Next time I will likely tent the crust from the beginning and see if that helps.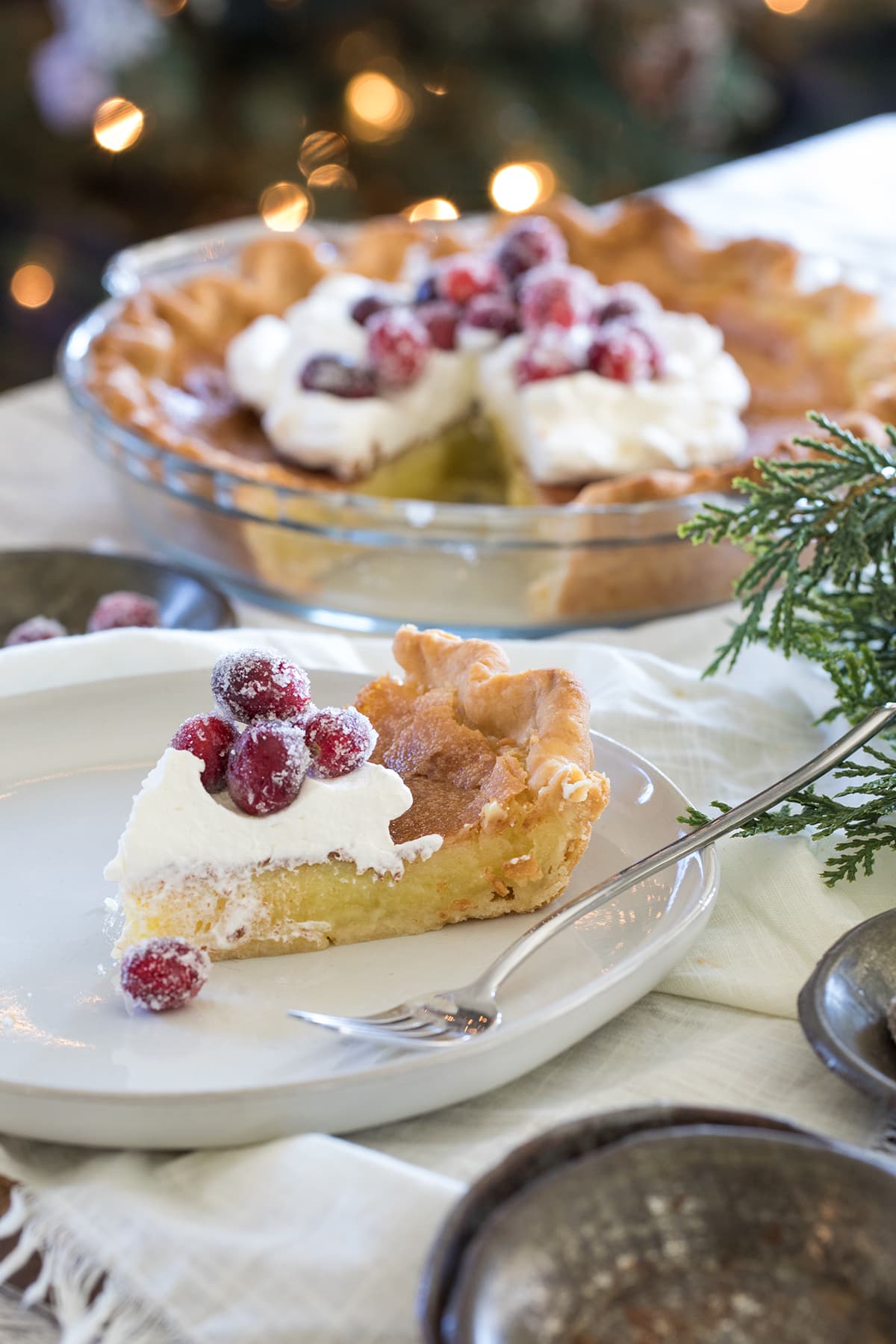 In Conclusion...
Often times as I'm looking through old family recipes, I stop and stare at the handwriting, the small side notes "my very favorite," and try to imagine when my ancestors made these recipes and who they might have made them for. I wonder if Pom Pom would be shocked to know that one day her Great-Great Grandaughter would treasure her tart pans. Would she think it was silly? Maybe! But to me, these treasures are part of a puzzle into our family history and I love them.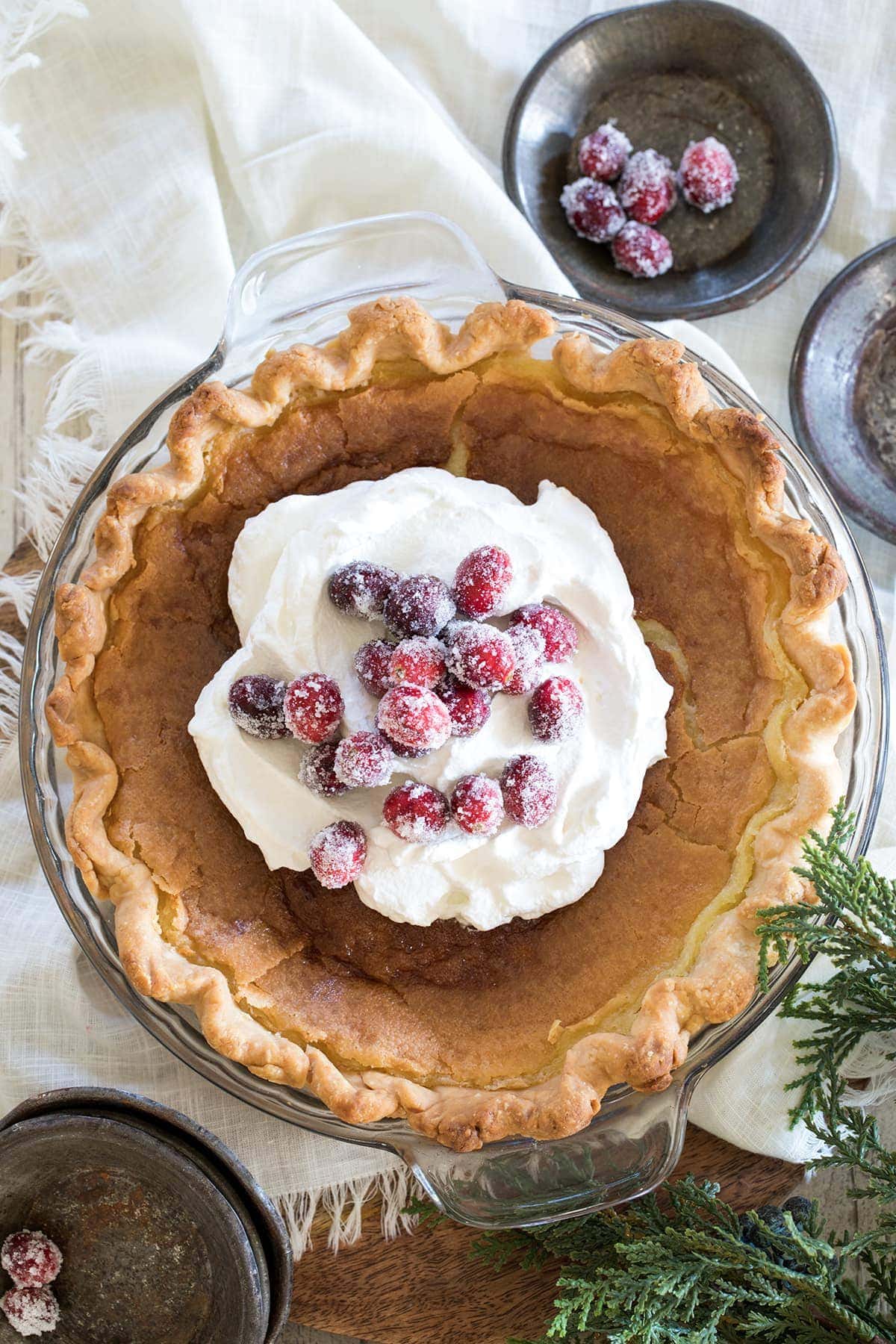 I do plan to make her Transparent Pudding and see how it turns out. I'll likely add a crust because I believe that's how it was intended. Stay tuned for the update, until then, try this Transparent Pie for Thanksgiving and let me know what you think. Do you have a family history of baking Transparent Pie? If you do, I'd love to hear it in the comment section below!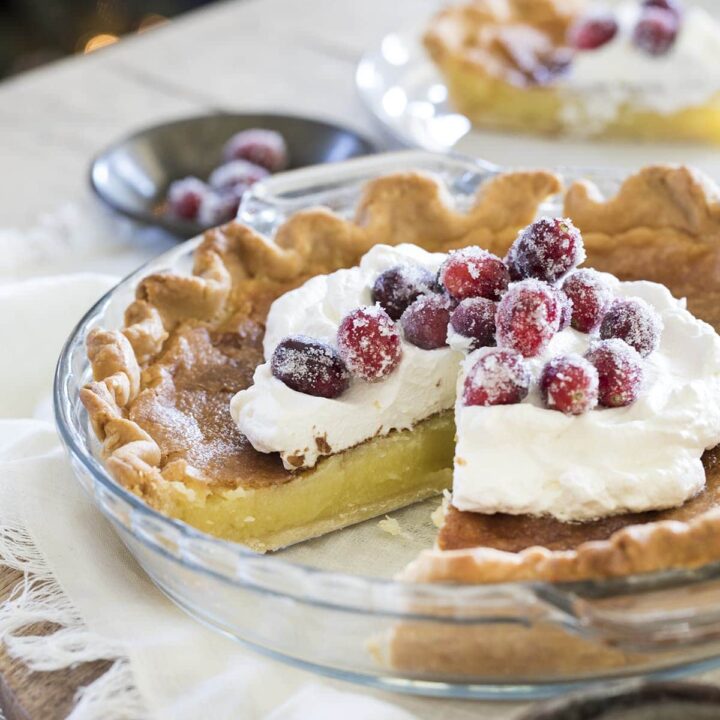 Transparent Pie
Total Time:
3 hours
35 minutes
A classic egg custard pie perfect for Thanksgiving topped with homemade whipped cream.
Ingredients
PIE CRUST
1 ½ cups all-purpose flour
½ teaspoon salt
6 tablespoons cold unsalted butter, cubed
2 tablespoons cold shortening, cubed
3 to 4 tablespoons ice water
FILLING
1 ½ cups granulated sugar
4 teaspoons all-purpose flour
⅛ teaspoon kosher salt
6 tablespoons unsalted butter, melted
3 large eggs
½ cup half-and-half or evaporated milk
½ teaspoon pure vanilla extract
Instructions
Prepare the Crust: Pulse flour and salt in a food processor until combined, 3 to 4 times. Add cubed butter and shortening, and pulse until mixture resembles small peas, 4 to 5 times. Sprinkle 3 tablespoons ice water over top of mixture. Pulse 4 times. Add up to 1 more tablespoon of water, 1 teaspoon at a time, pulsing after each addition until dough just begins to clump together.
Turn dough out onto a lightly floured work surface; knead until dough comes together, 2 to 3 times. Shape and flatten dough into a disk. Wrap in plastic wrap, and chill 2 hours or up to 2 days.
Preheat oven to 375°F. Unwrap chilled pie dough disk and place on a lightly floured surface. Let stand at room temperature until slightly softened, about 5 minutes. Sprinkle dough with flour, and roll into a 12-inch circle. Carefully fit dough circle into a 9-inch glass pie plate; fold edges under, and crimp. Line pastry with parchment paper, and fill with pie weights or dried beans.
Bake in preheated oven 15 minutes. Transfer crust to a wire rack; remove pie weights and parchment, and let crust cool, about 30 minutes. Increase oven temperature to 400°F.
Prepare the Filling: Whisk together sugar, flour, and salt in a large bowl. Add melted butter to flour mixture, stirring with a fork until mixture is combined and resembles damp sand.
Whisk eggs in a medium bowl until well beaten. Add half-and-half and vanilla, and whisk until well combined. Pour egg mixture over sugar-butter mixture, and whisk to combine into a smooth, thick, creamy yellow filling. Pour into prepared piecrust.
Bake at 400°F for 5 minutes. Reduce oven temperature to 375°F. Bake until edges puff up and center is fairly firm, wiggling only slightly when you gently nudge pie plate, about 30-35 minutes. NOTE: If crust begins to brown too quickly you may want to tent with foil.
Transfer pie to a wire rack, and cool to room temperature, about 2 hours.
Top with homemade whipped cream if desired!