Sweet brown sugar and oats baked into crispy goodness atop this tart and magnificent Strawberry Rhubarb Crumble.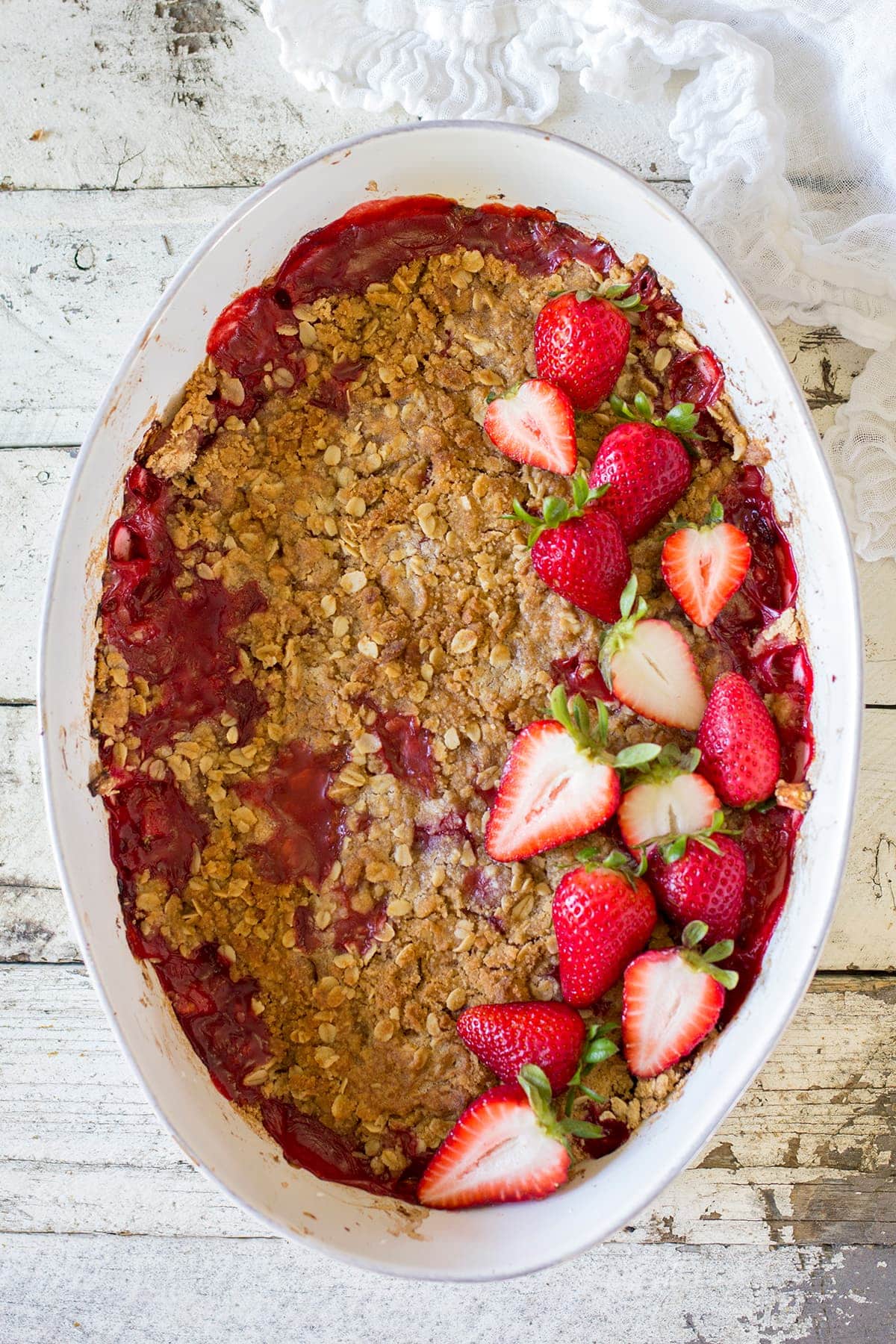 Yearly, just around this time, I start to stalk the produce section of our grocery store in search of rhubarb. Those bright red stalks result in me gasping allowed when they first appear in store.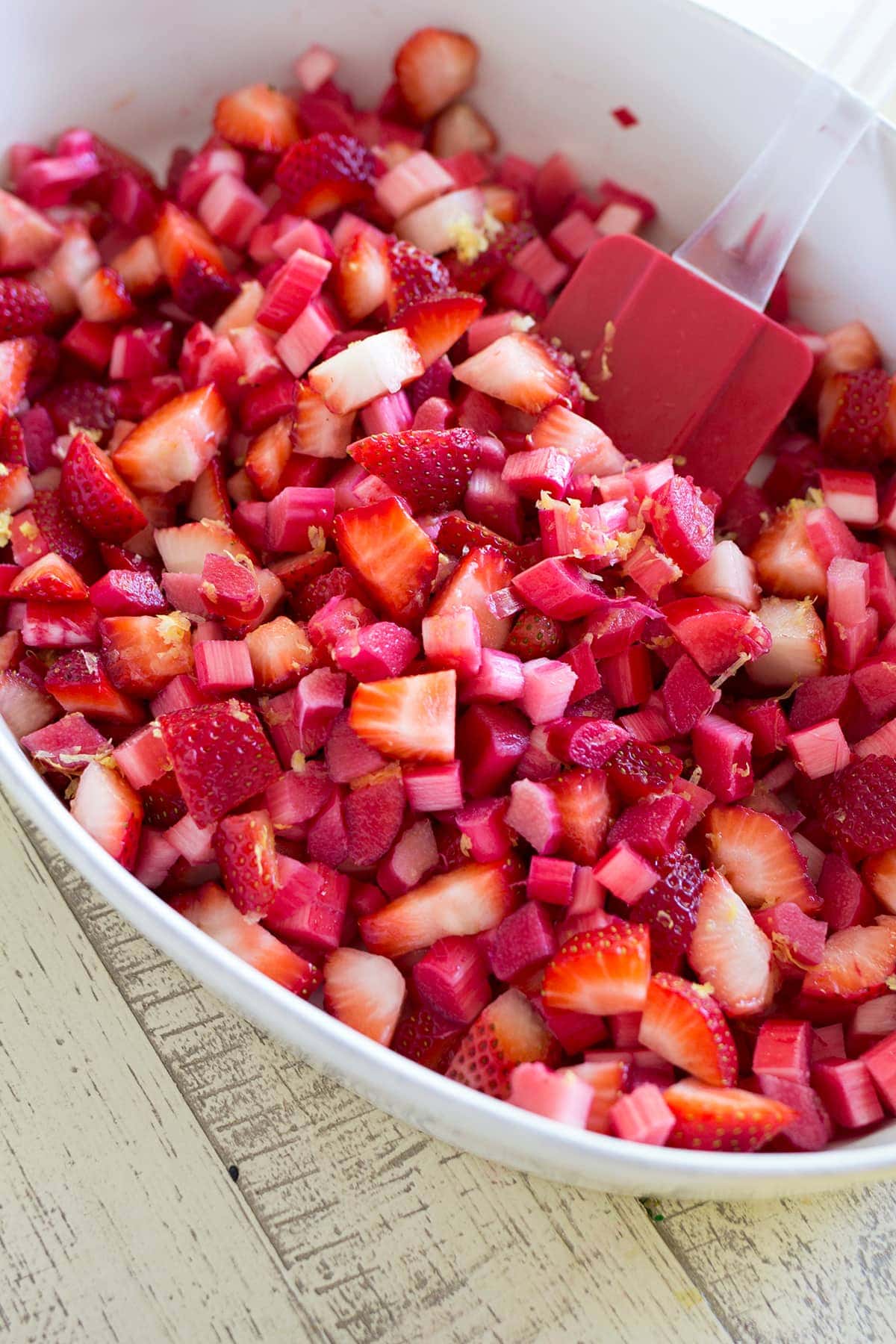 As the family story goes, my Great Grandma grew rhubarb in her backyard. Big beautiful stalks of it and she loved the taste. Sounds pretty magnificent and I would have enjoyed seeing her garden with those bright beauties growing there. I wonder what she made with them, aside from pie. Maybe some sort of preserves, I know she did a lot of canning. Here in urban southern California, I simply purchase mine from our large-chain grocery store, but it certainly would be a life goal achieved to one day try my hand and growing some.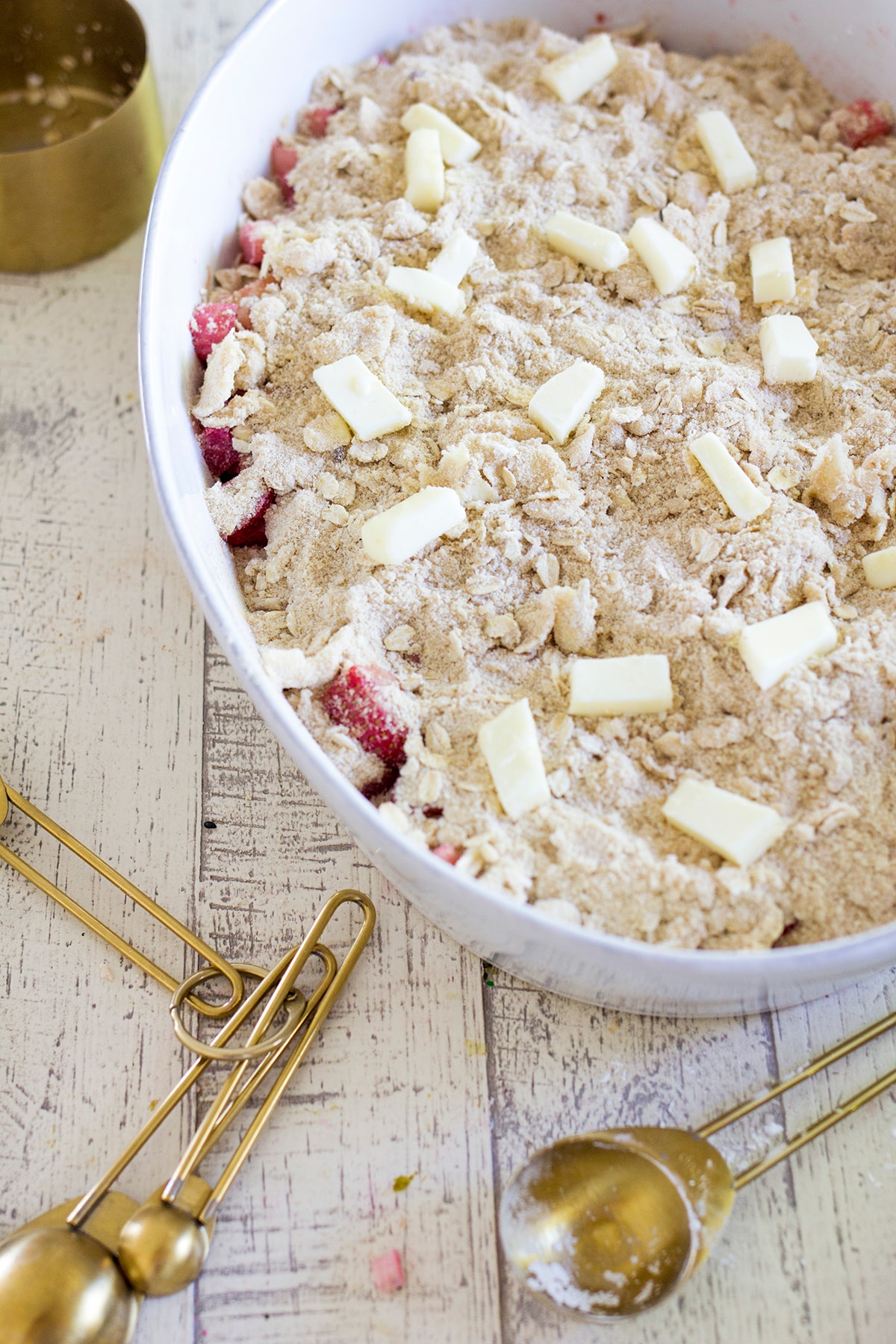 When it comes to making crumble, I keep it really simple. Just a bunch of good fruit tossed with sugar and spice, a squeeze of lemon juice and topped with an easy mix of butter, sugar, oats and flour. Of course there are a few more ingredients in there. It's basically a loose pie filling topped and baked until golden and bubbly, scooped up with a spoon and finished with vanilla ice cream.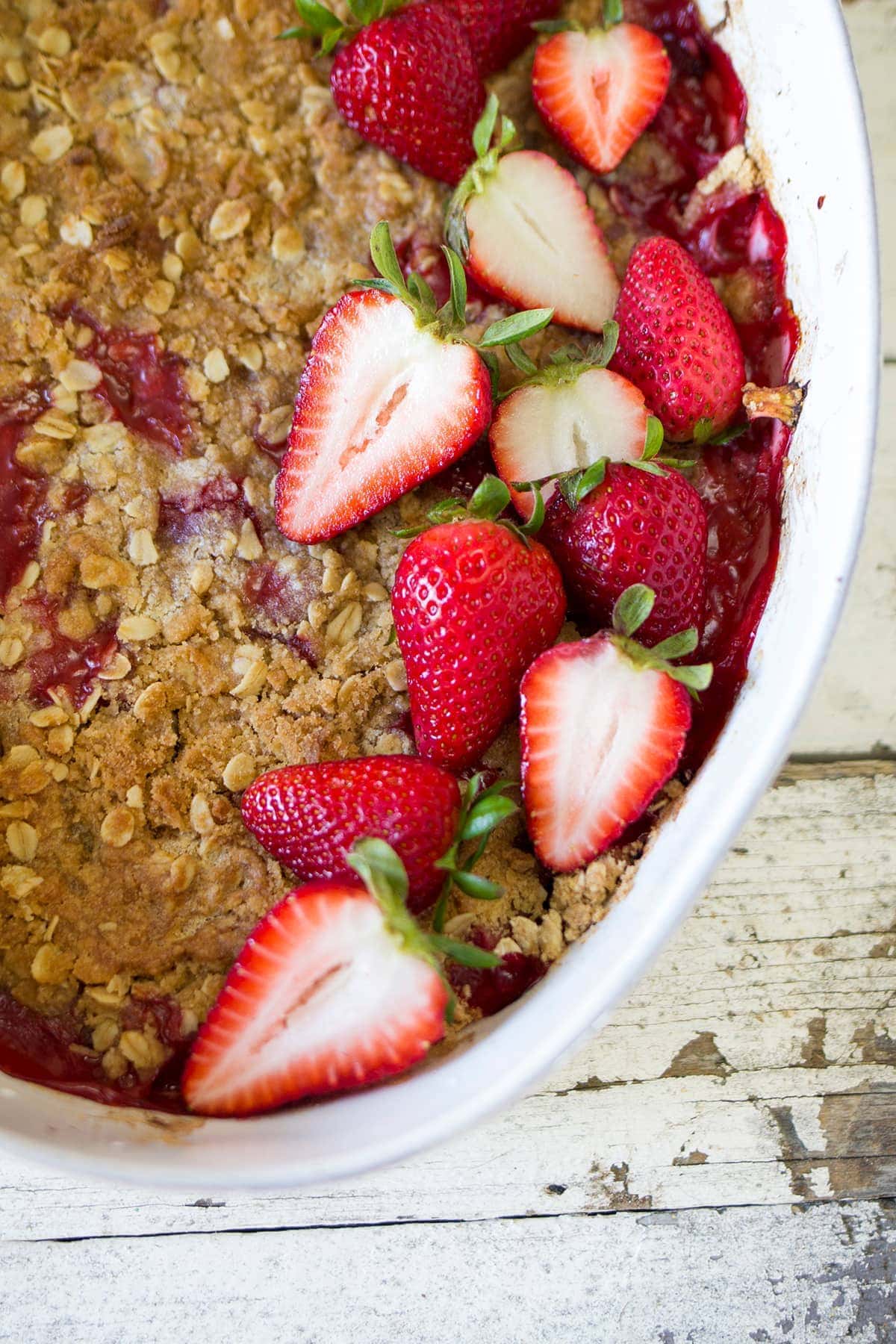 No fussy pie crusts, no worries. It won't look perfect and in that comes complete perfection.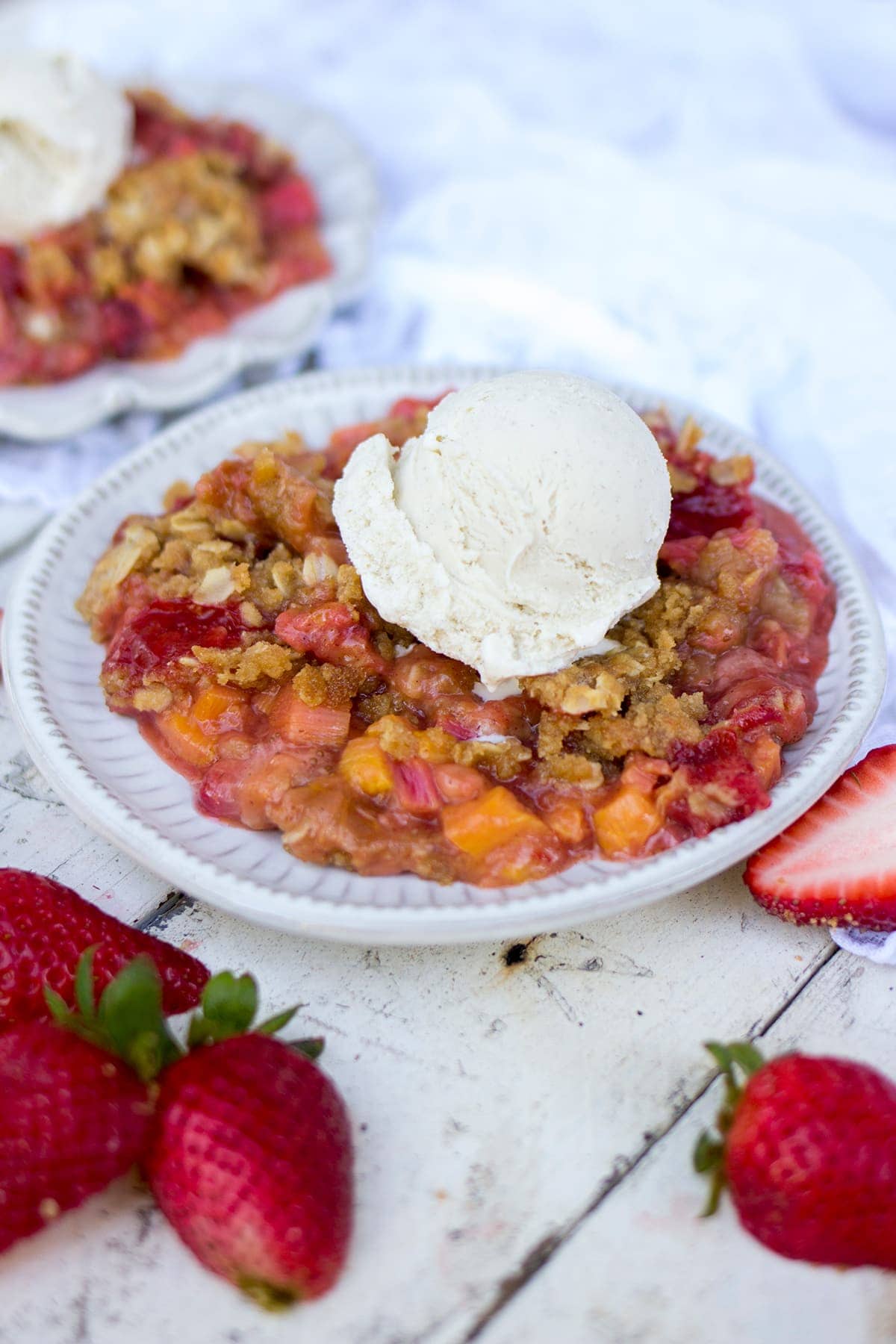 Serve it warm, resist tasting it straight out of the oven because you want your taste buds intact for this. Serve it up right there on the dining room table. Put little hands in charge of scooping ice cream and handing out spoons.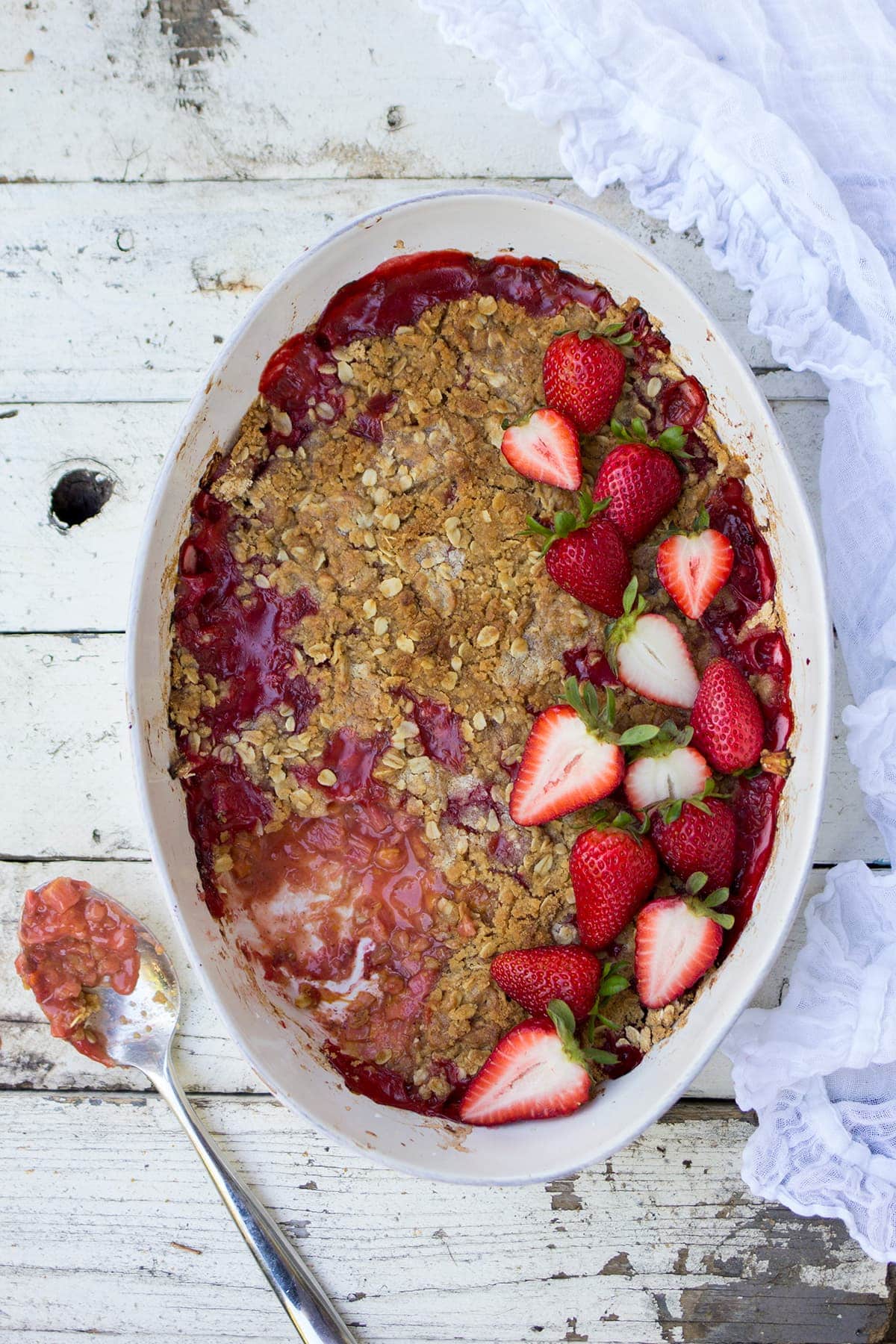 Crumble is unapologetically messy, delicious and amazing. It's the kind of dessert that makes you want to stay home all weekend long and just breath in some laid-back family time. I wish I could have made this dish with my Great Grandma, I'm sure she would have loved it as much as I do. Now to get on those rhubarb gardening goals!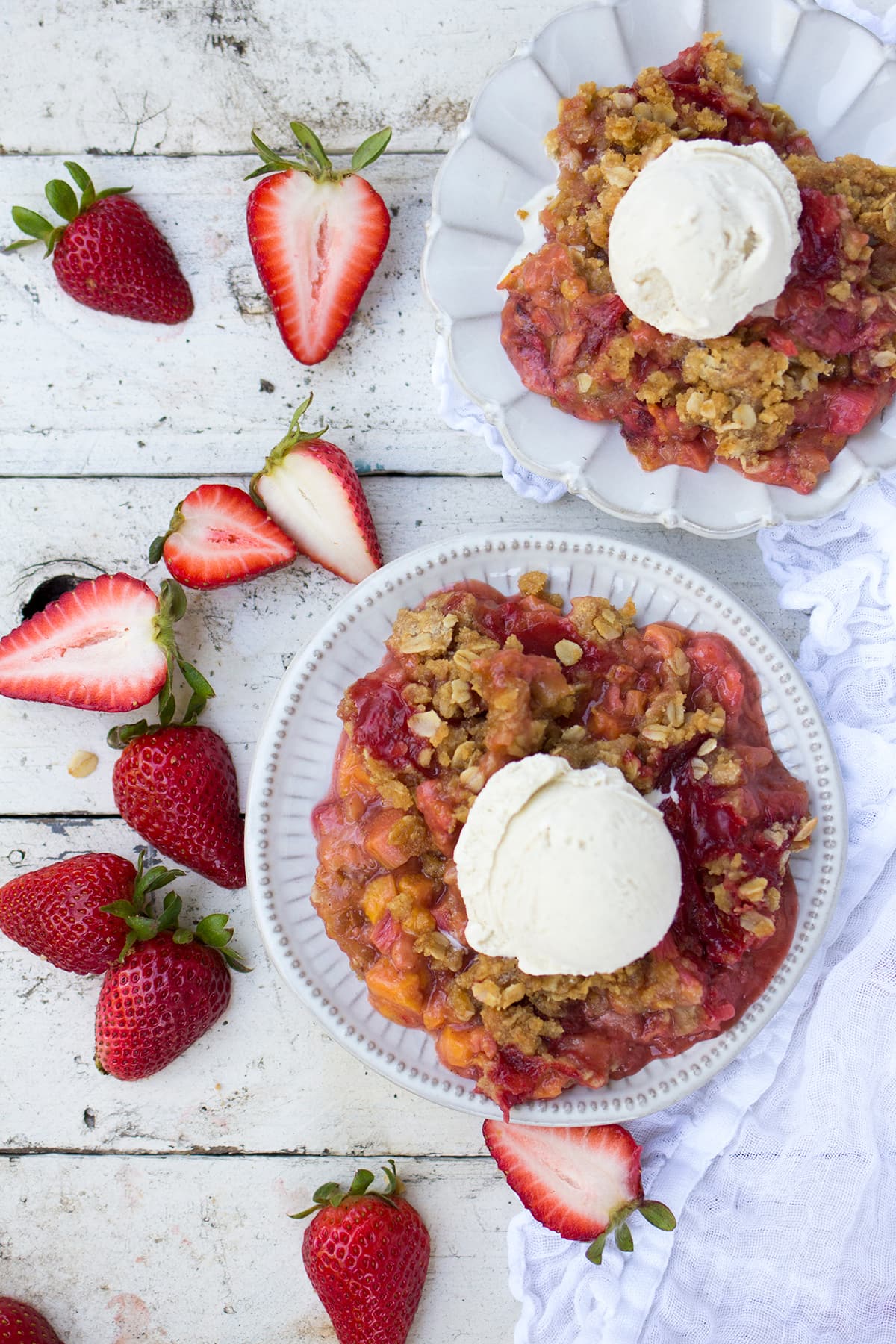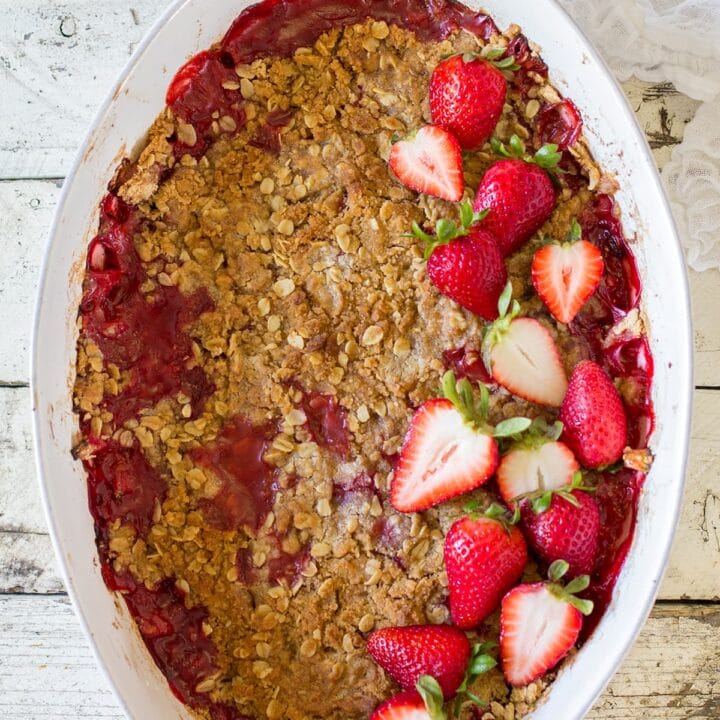 Strawberry Rhubarb Crumble
Total Time:
1 hour
5 minutes
A rustic sweet and tart strawberry rhubarb crumble with a brown sugar and oat topping.
Ingredients
1 cup all-purpose flour
1 cup brown sugar
½ cup old-fashioned oats
6 Tablespoons COLD salted butter, cubed + 2 Tablespoons for topping
4 cups diced rhubarb (about 1 lb)
4 cups diced strawberries
½ cup granulated sugar
zest of whole lemon
juice of ½ lemon
2 Tablespoons corn starch
½ teaspoon cinnamon
⅛ teaspoon nutmeg
pinch of salt
Instructions
Preheat oven to 375 degrees.
In a bowl combine flour, brown sugar, and oats. Using your hands, work the cold butter into the flour mixture until you have a crumble consistency. Big chunks are ok. Set bowl aside in the fridge to chill while you prep the filling.
Dice rhubarb and strawberries and combine them both in an 11x17" baking dish.
Add in ½ cup granulated sugar, lemon zest, lemon juice, cornstarch, cinnamon, nutmeg and a pinch of salt. Mix well until all of the fruit is coated.
Top with chilled crumble mixture and remaining 2 Tablespoons of chilled butter (cut into cubes.)
Bake for 45 minutes or until the center is bubbly and the crumble topping is golden brown.
Remove from oven and allow to cool slightly before serving.
Top with vanilla bean ice cream and serve warm or at room temperature.