If there's one thing I know for sure about Thanksgiving it's that the meal would not be complete without pecan pie. It's the great debate, pumpkin or pecan, but in my opinion both deserve a spot on the dessert table. If you are making pecan pie this year, let it be this Dark Chocolate Pecan Pie recipe.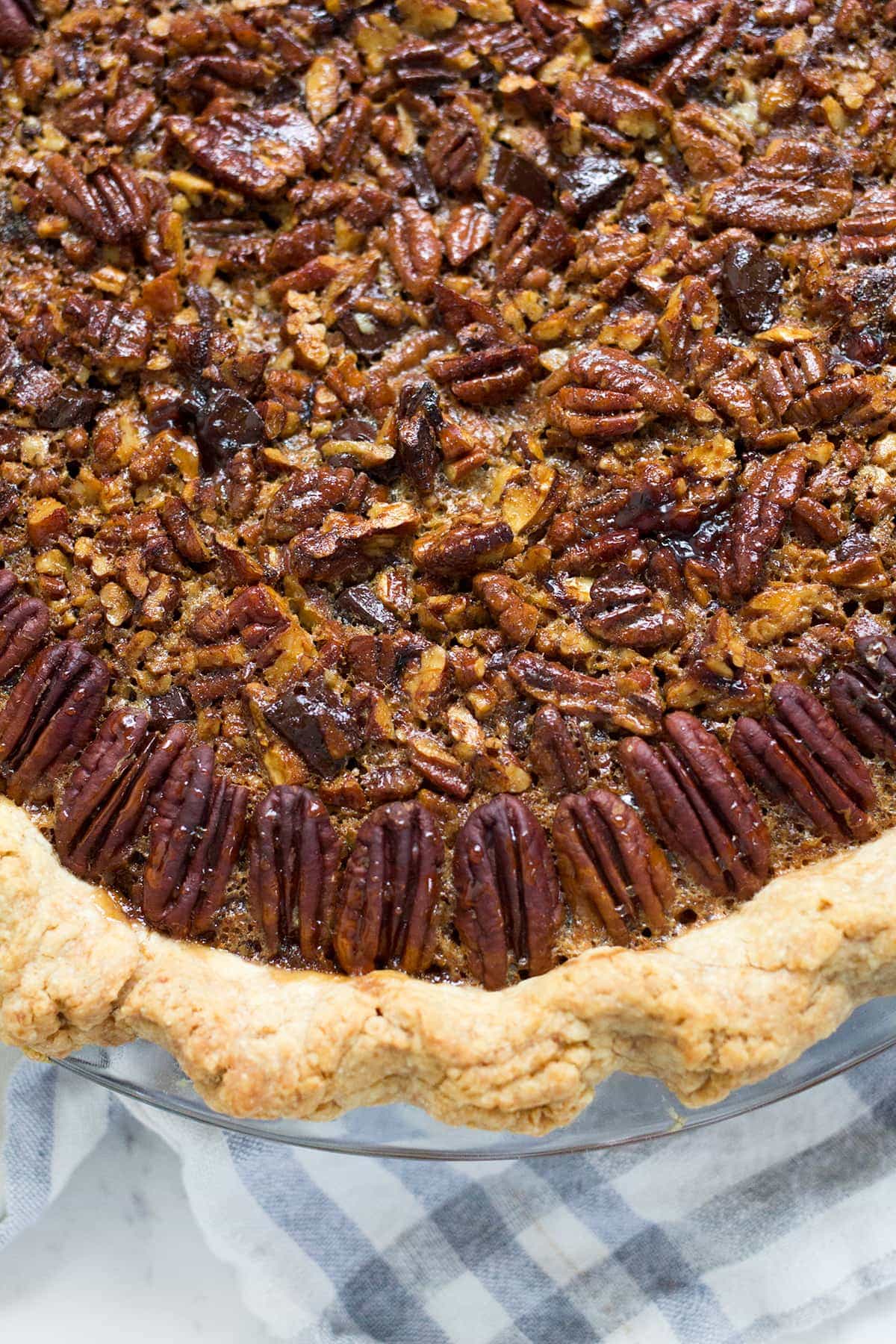 First, let's talk about crust for just a quick minute. I am all for taking a grocery store short cut and purchasing a pie crust, do your thing, but if you have time this crust is delicious. It's a family recipe and the crust I make for most everything savory and sweet! I use it for my savory Chicken Pot Pies and add just a tad bit of sugar for my sweet dessert pies. It's beautiful and flaky and buttery, oh my!
The filling is a classic pecan pie recipe but with the addition of dark chocolate chunks.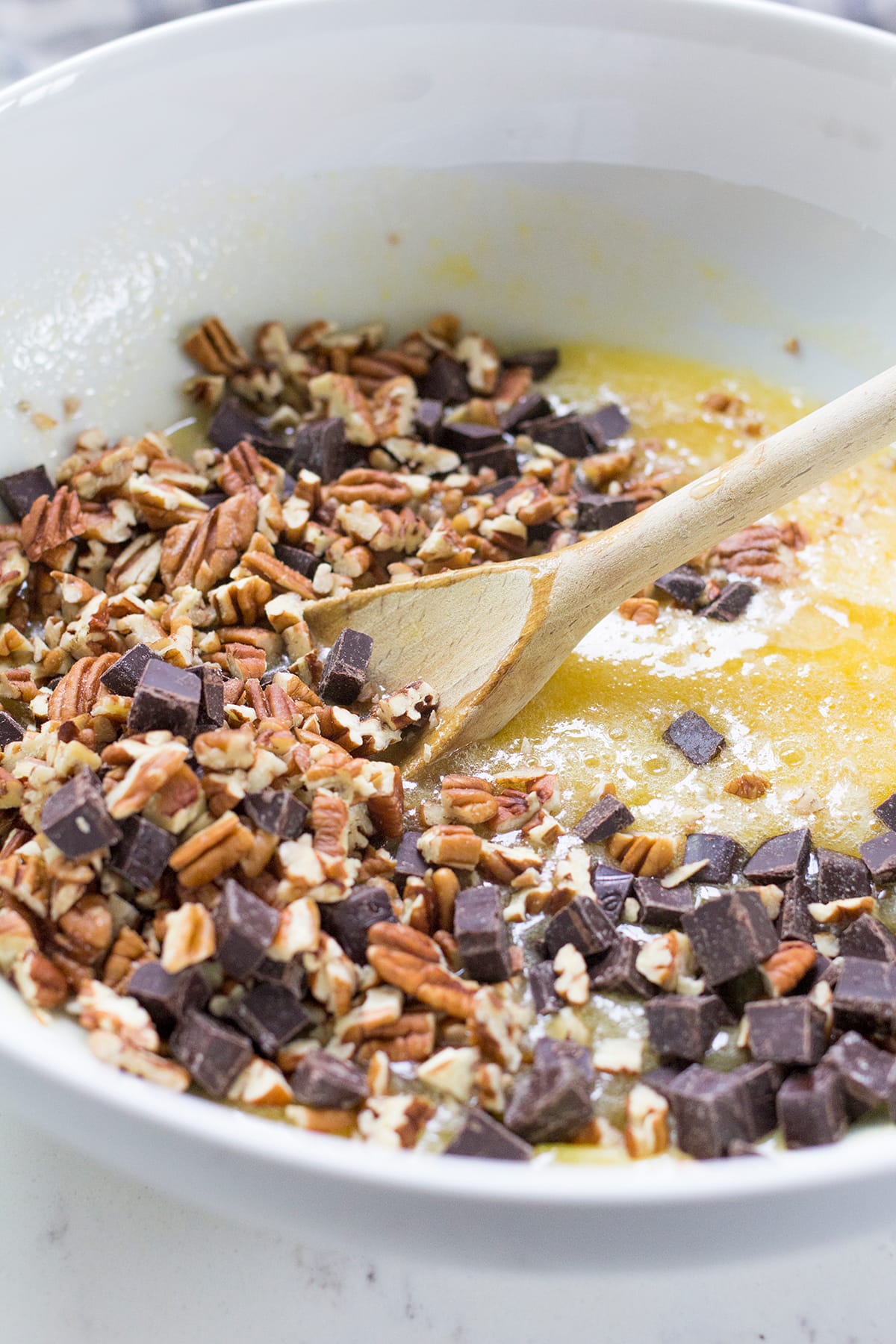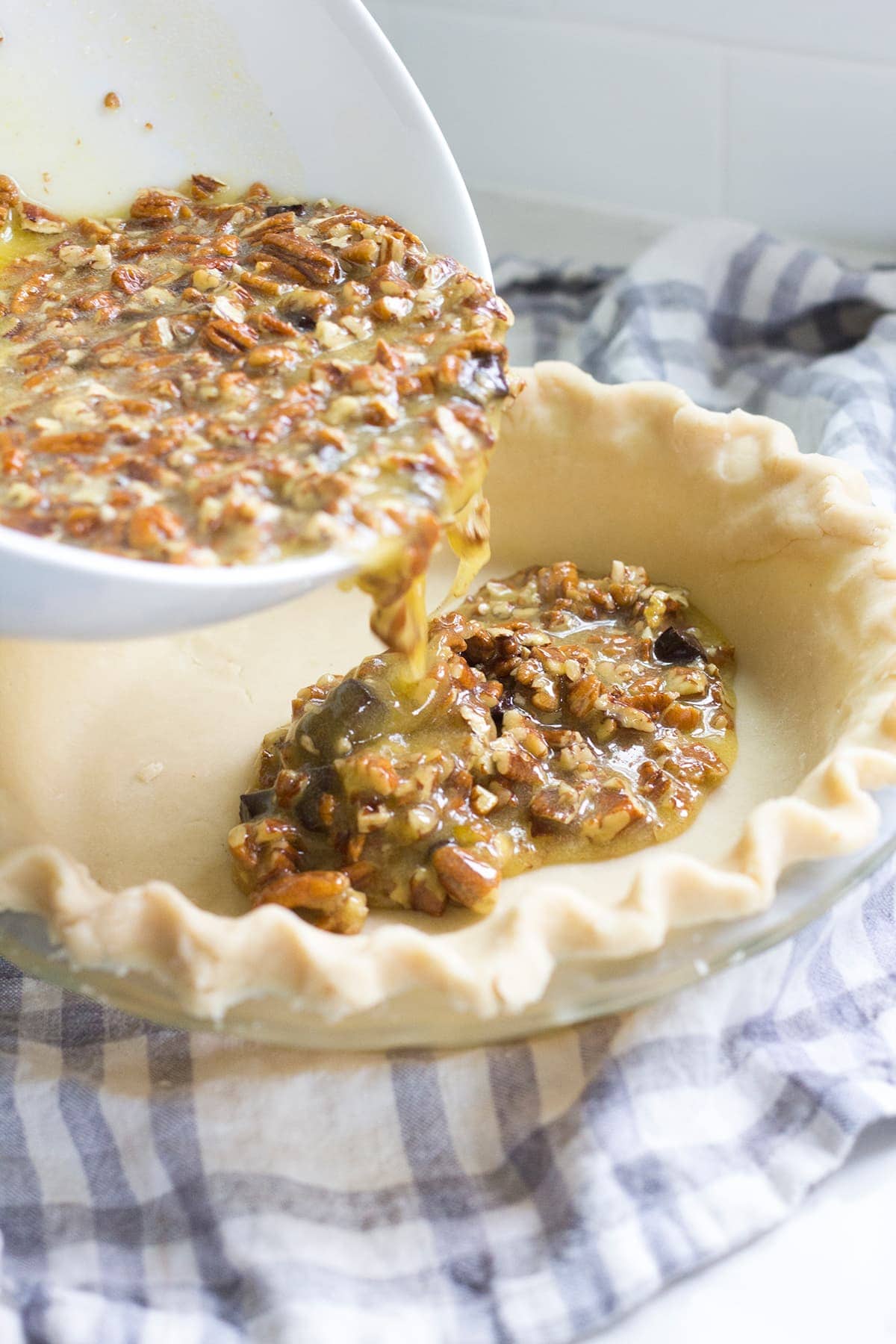 Are you a pie filling person? If so, pecan has to be one of your favorites. It's just so sweet, sticky and gooey with all of that good nutty crunch from the pecans...I'm drooling. The addition of creamy bitter dark chocolate really makes it extra decadent. You can also add a 3 tablespoons of bourbon if you like that flavor combo and let me tell you, it's a good one!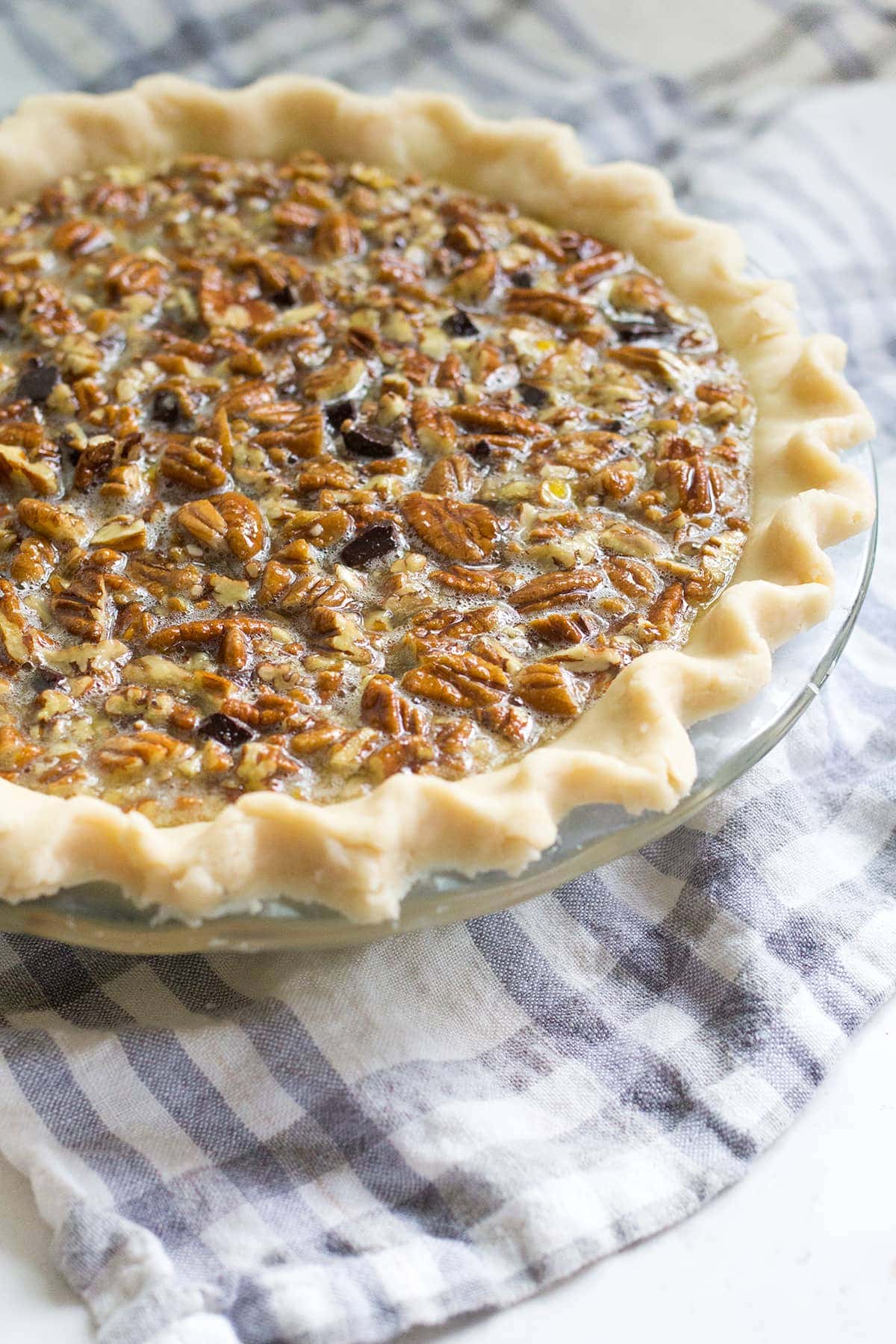 Bake until the filling is set, and the crust is golden. The trick with pecan pie is to cover the crust edges with aluminum foil to prevent it from browning too quickly while the filling bakes. This pie can take a bit of time in the oven so just be patient, it will be worth all of your efforts.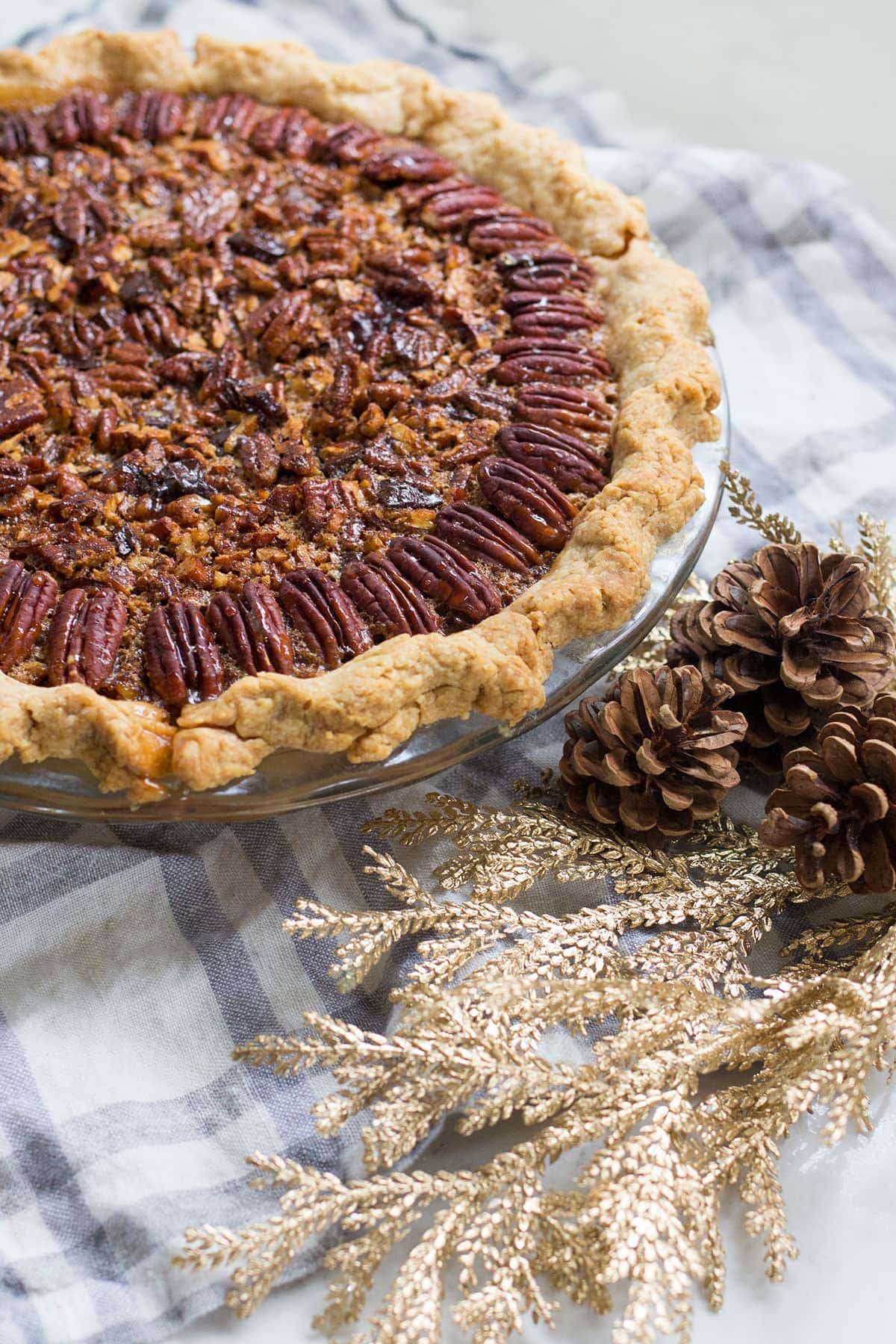 So, what is your favorite Thanksgiving pie? Are you a pumpkin fan or do you love pecan as much as I do? Recently, I polled readers on Instagram and the results were overwhelmingly in favor of pumpkin! I might just have to bake a pumpkin pie next.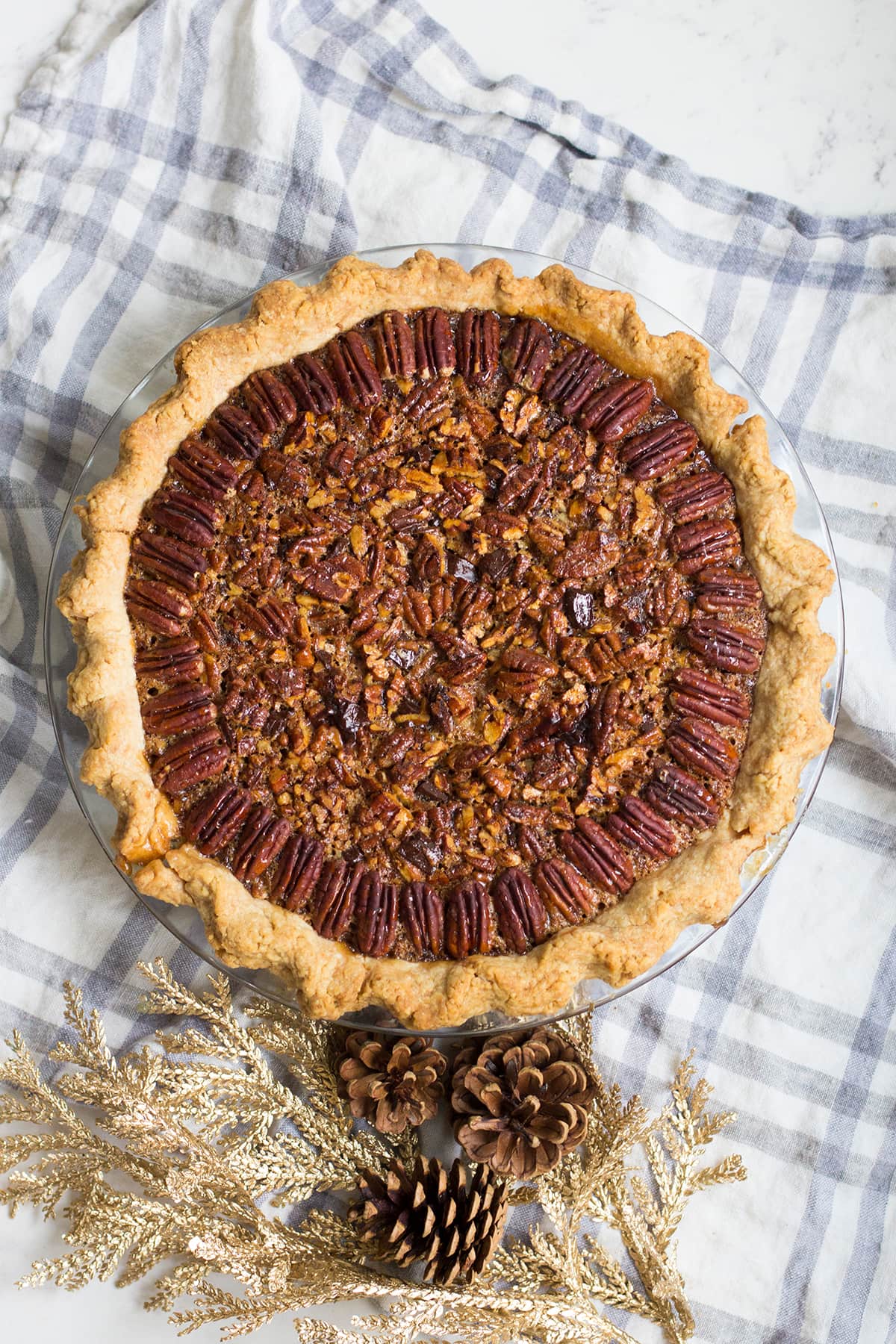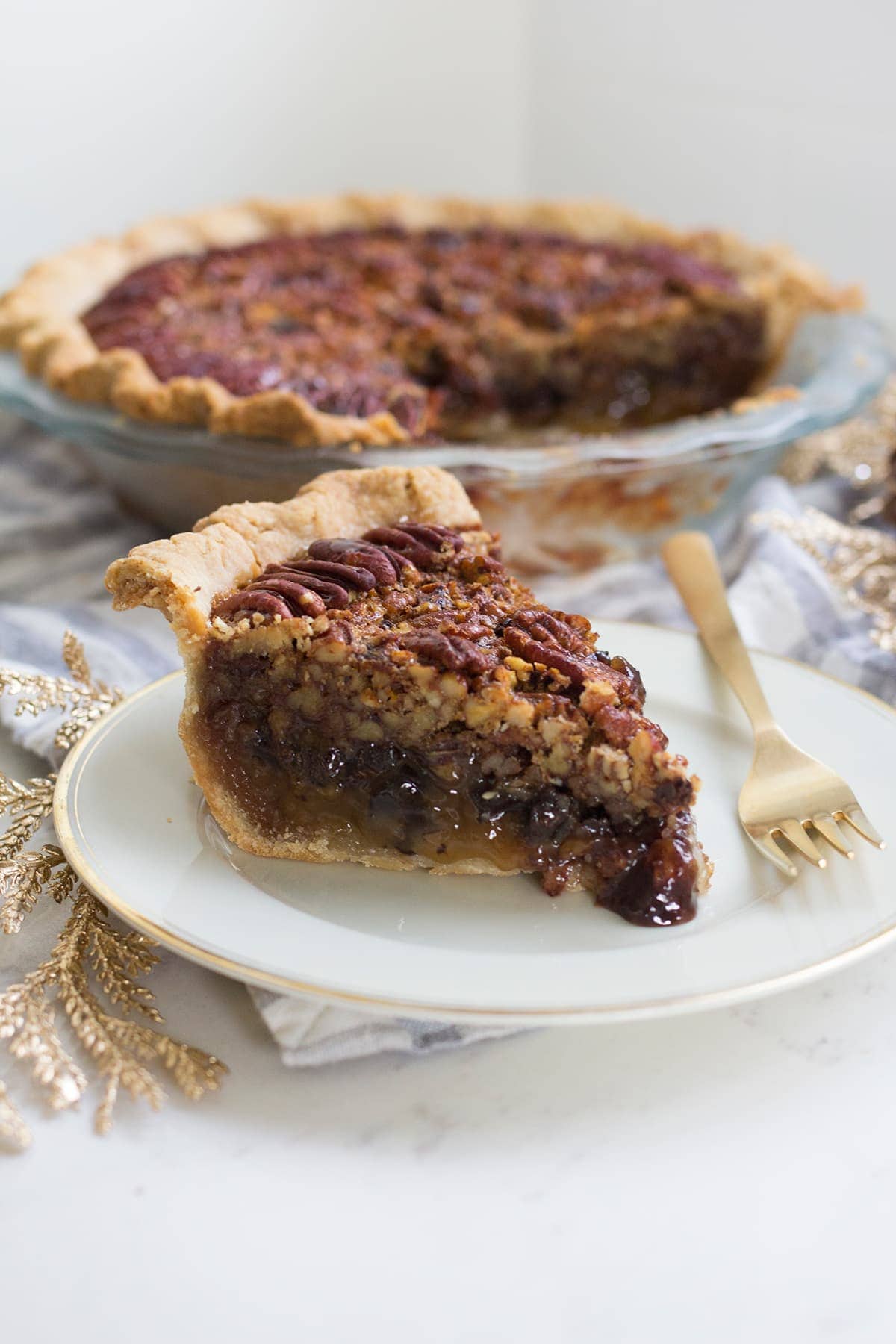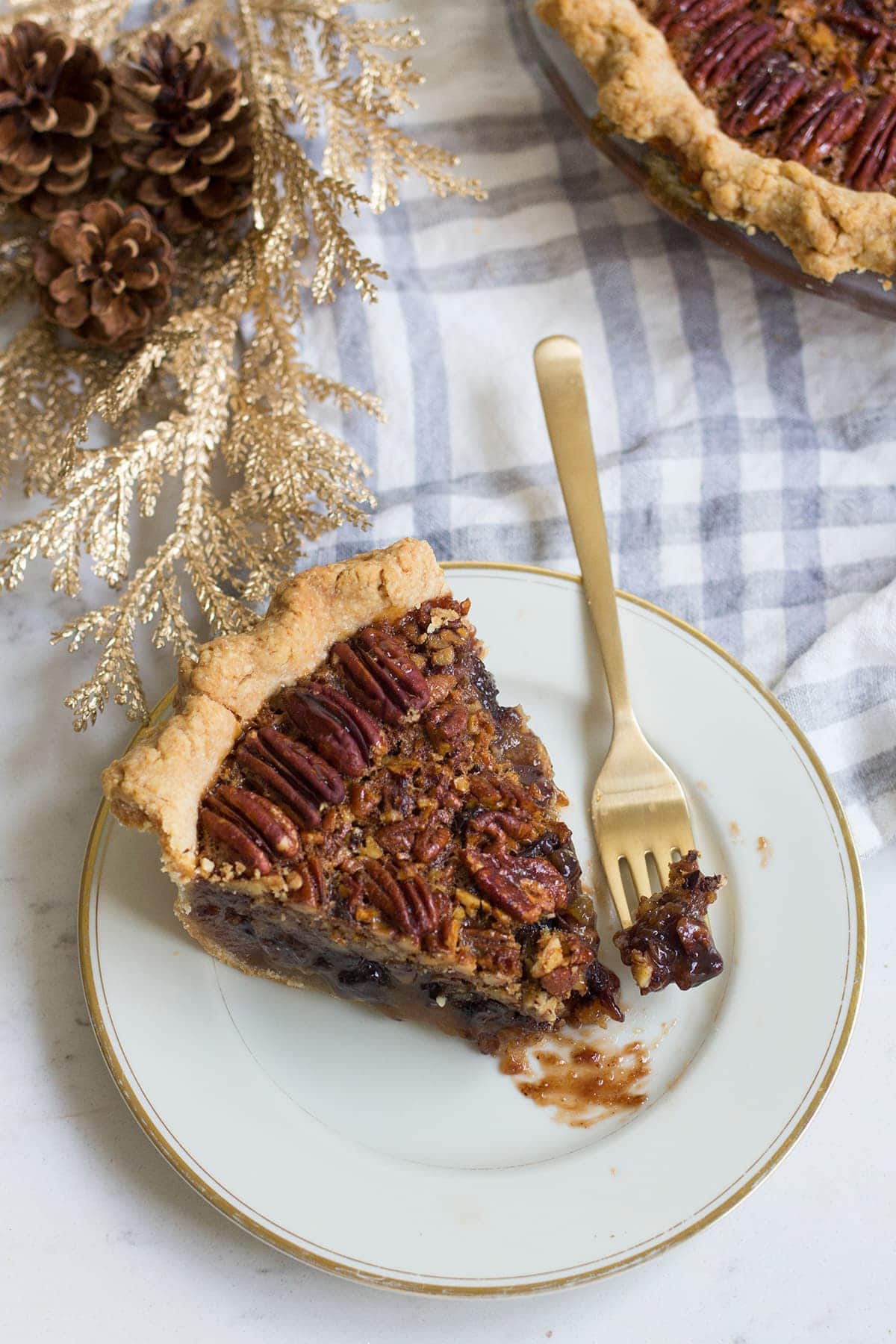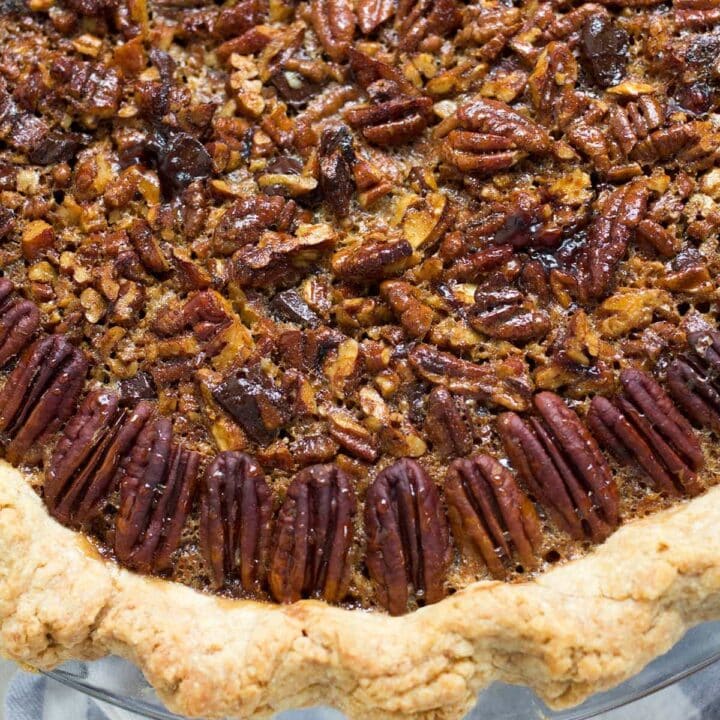 Dark Chocolate Pecan Pie
Classic pecan pie made extra gooey and delicious with chunks
of dark chocolate.
Ingredients
1 cup light corn syrup
3 eggs
1 cup granulated sugar
2 Tablespoons melted butter
1 teaspoon vanilla extract
½ cup chopped dark chocolate or dark chocolate chips
1 ½ cups chopped pecans + more for the top
1 unbaked pie crust in a 9" pie plate, crimped (recipe follows)
Pie Crust:
2 ⅓ cups all purpose flour
⅓ cup cold shortening
⅓ cup + 3 Tablespoons cold salted butter
¼ cup cold whole milk
Instructions
Make the Crust: In a large bowl cut shortening and butter into flour using a pastry cutter. Blend until mixture is granular. Add milk gradually and mix with hands or fork until combined. Gather together and wrap in plastic until until ready to roll out.
When ready to roll out, flour your work surface and rolling
pin. Gently roll dough out to a round larger than your pie plate. Carefully roll dough around rolling pin to transfer onto pie plate. Tuck edges under to create a thick rim. Crimp with finger or a fork. Chill until filling is ready.
Preheat oven to 350 degrees. In a large bowl combine corn syrup, eggs, sugar vanilla extract and melted butter. Mix with a wooden spoon until well combined. Fold in dark chocolate and pecans.
Pour into prepared pie crust and bake until center is firm
to the touch and pie does not jiggle when gently shook, about 70 minutes.
Cool for 2 hours before serving.


Notes
Pie is done when center springs back to touch. If you are using a 10" pie plate or deep dish pan, you can double the filling recipe (like I did in above photos) and bake an additional 20 minutes or more. Cover pie with foil half way through to prevent it from browning too quickly.