I've always loved Valentine's Day! I think of it as a day to spend wearing red, eating chocolate, and celebrating the people and things you love most…including yourself. Hey, if I were a single lady, you better BELIEVE I'd be spoiling myself with a spa day or something else fabulous and relaxing. Isn't it funny how you think of these daydreams after having children? I mean picture this: spa, chocolate, nap…um, yes please!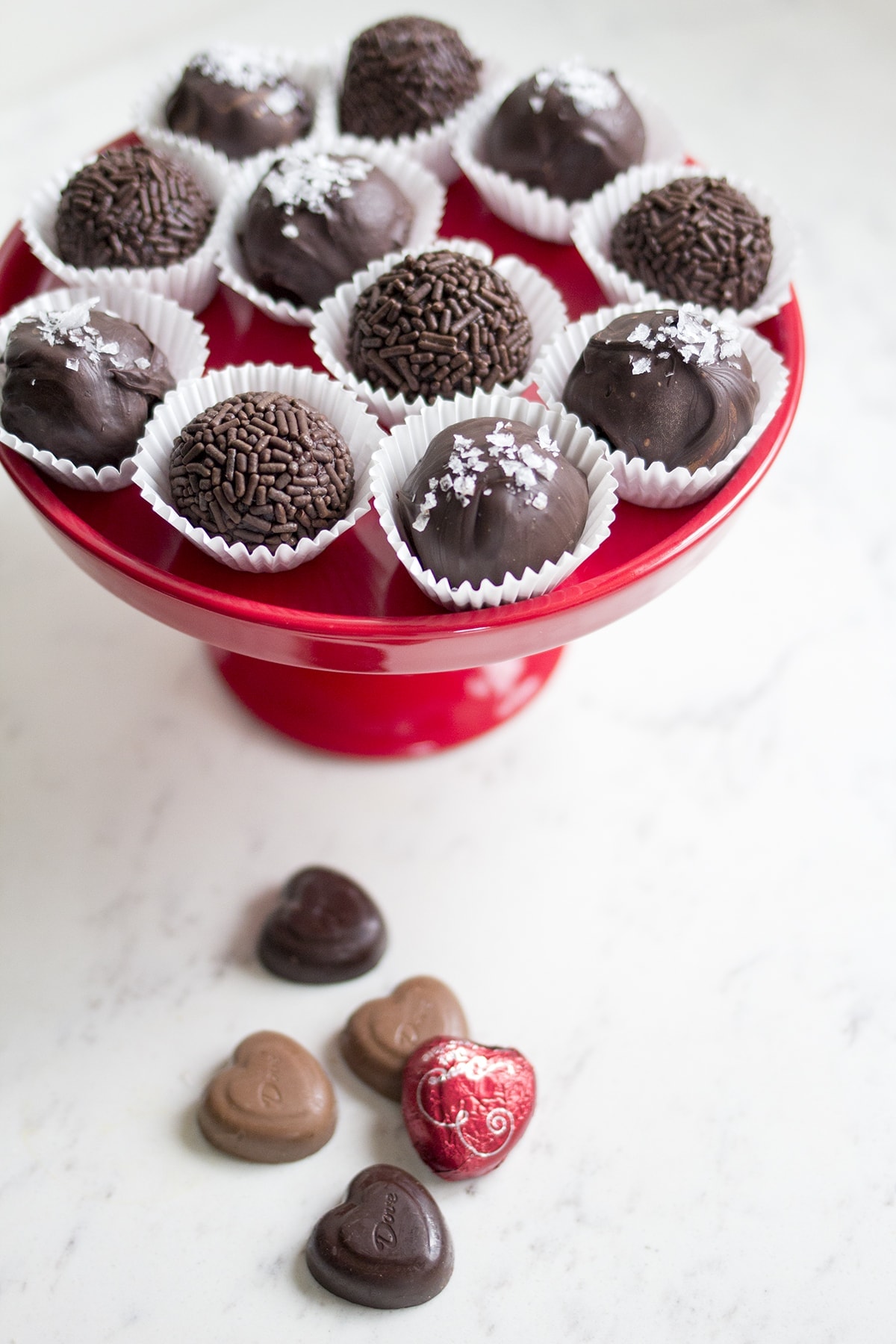 My partner DOVE Chocolate is all about spreading the message of self love this Valentine's Day, well that and chocolate of course! A very good reminder for a Mom like me. So, I'm making myself homemade Salted Chocolate Truffles with DOVE® Dark Chocolate PROMISES.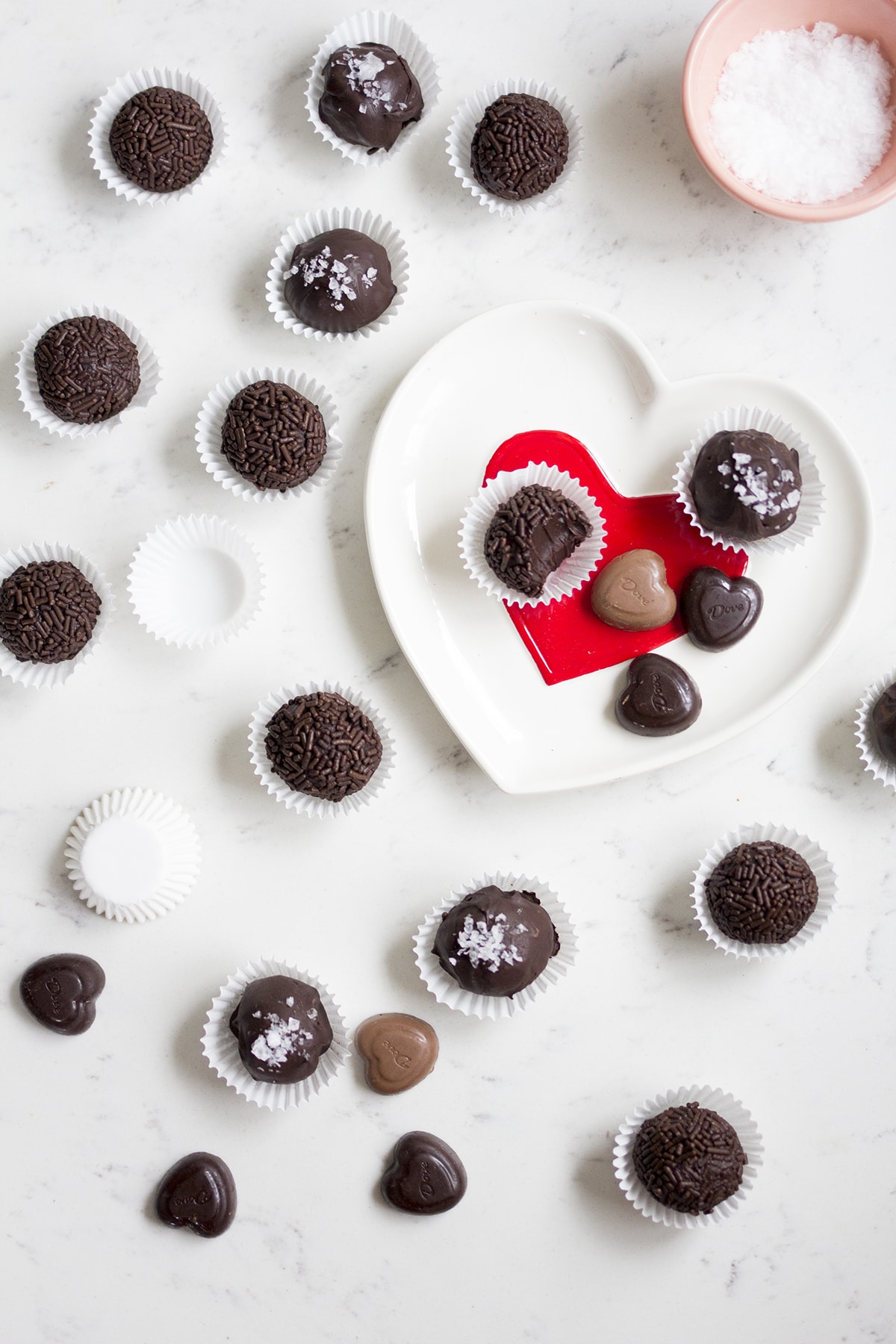 The smooth and creamy ganache center is absolutely decadent and the perfect way to say "I love you" to yourself in chocolate. You see, Jason isn't a truffle man so these are a little treat that I enjoy and a great way to spoil myself.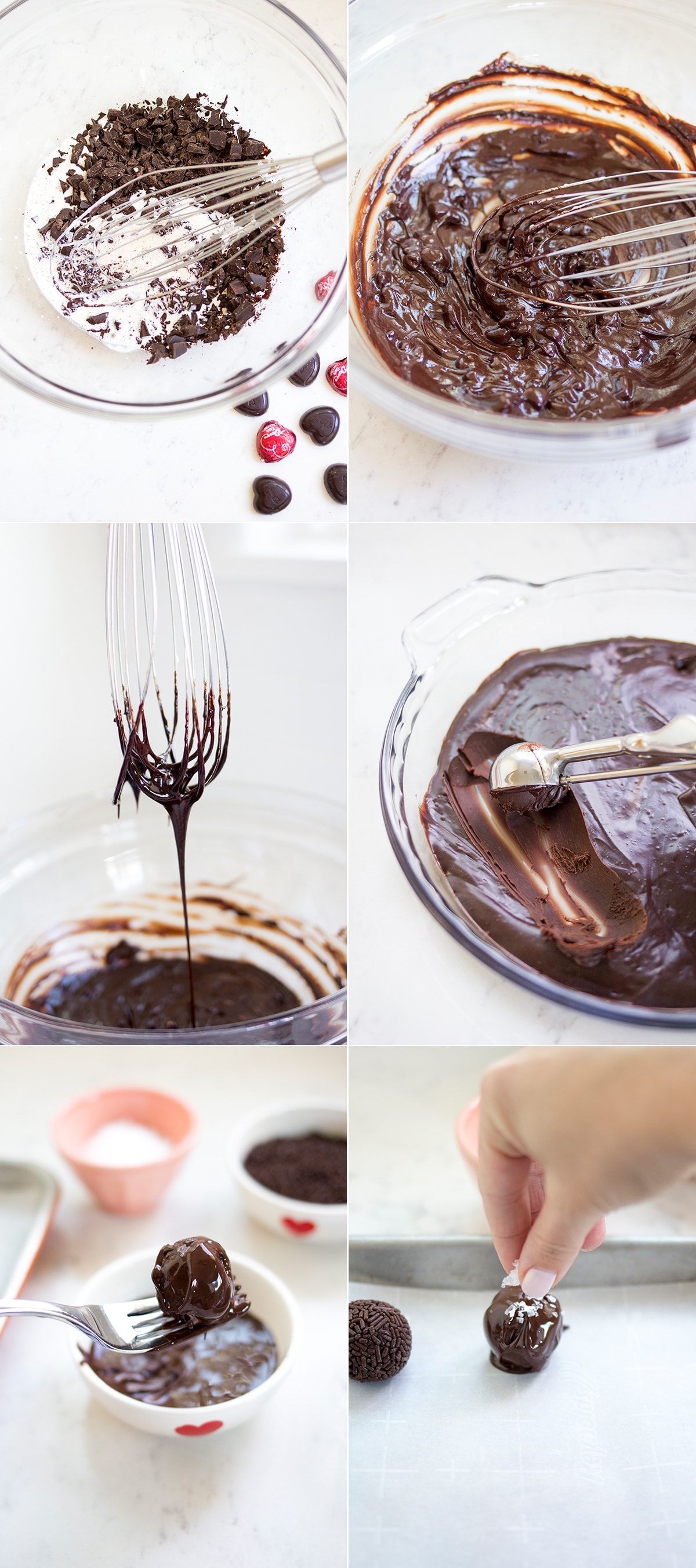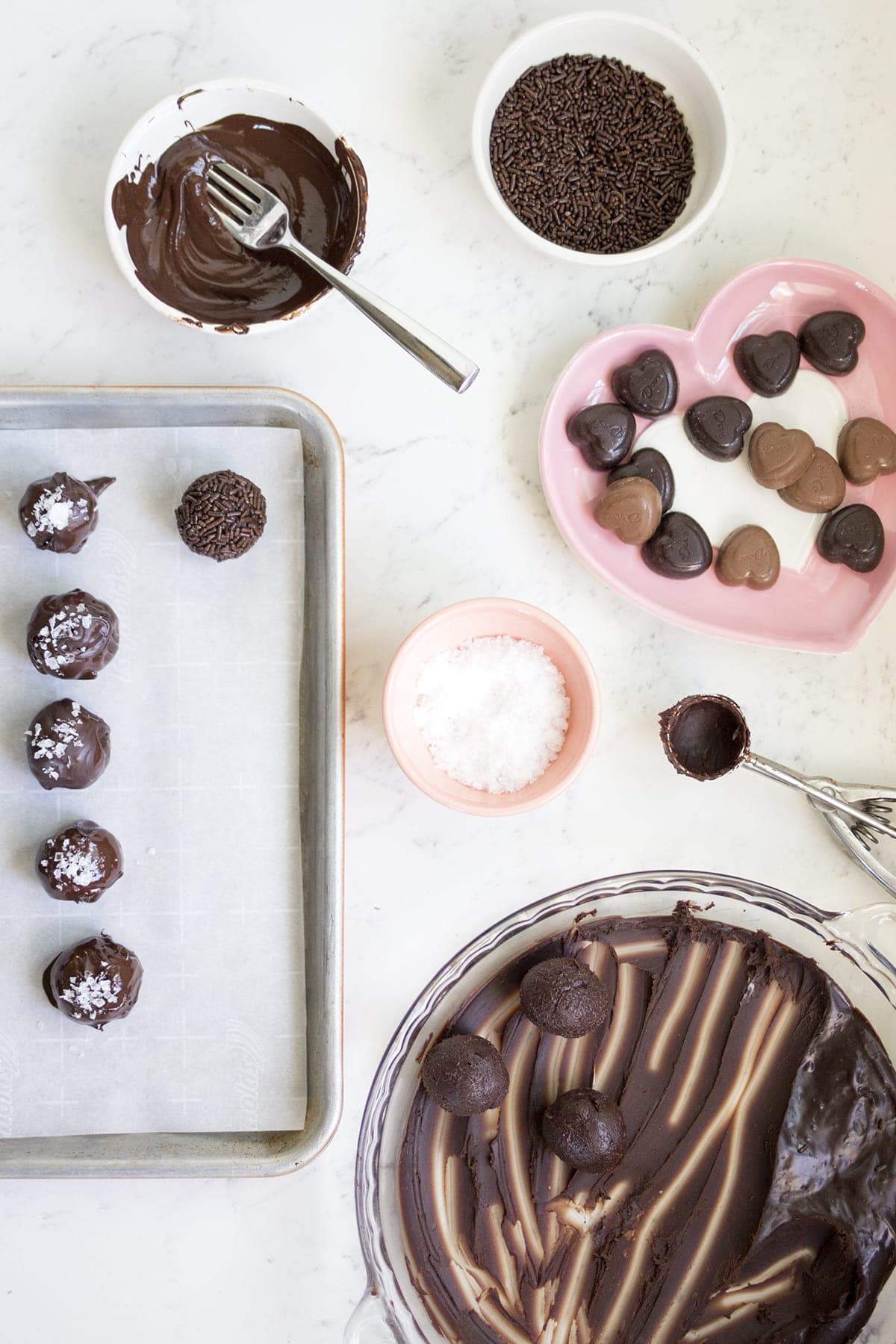 Dipped in more melted DOVE Dark Chocolate and sprinkled with flaked sea salt, or rolled in chocolate sprinkles, these truffles are delightfully easy to make.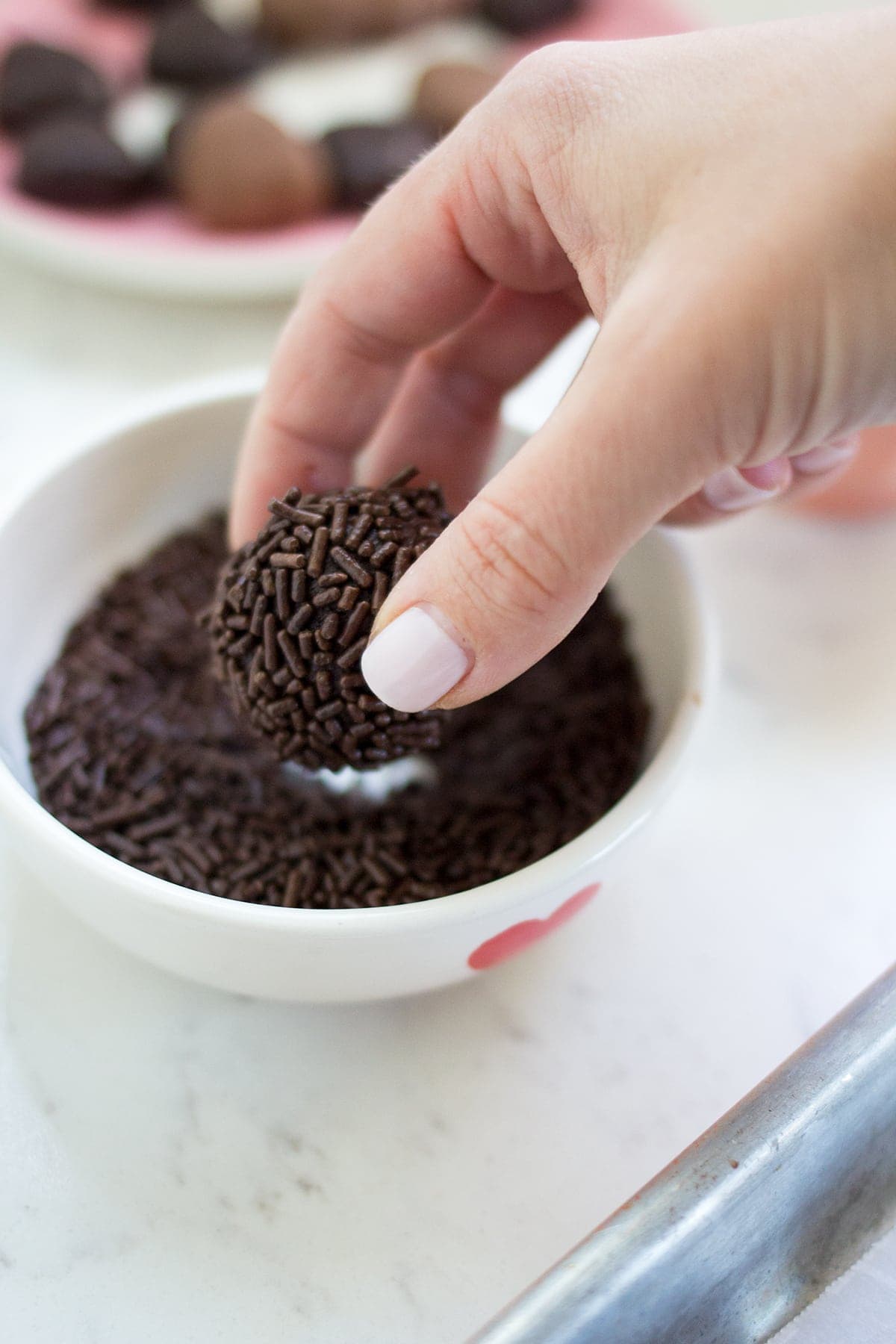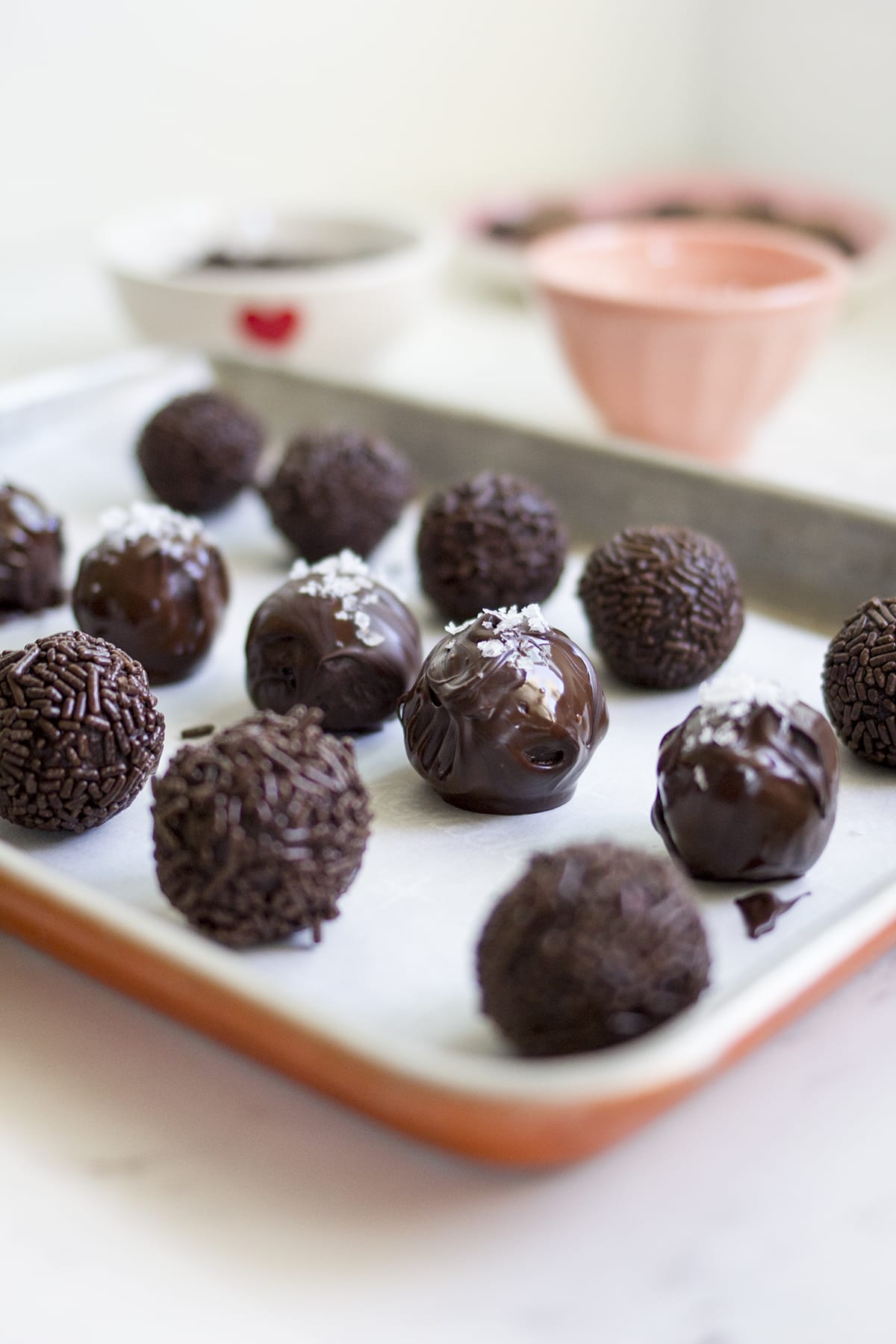 I tuck them into little individual paper cups so that they look straight out of a chocolate shop and they are beautifully finished. Now the only thing left to do is to take a bite of the fudgy deliciousness. These truffles will have you feeling the love alright!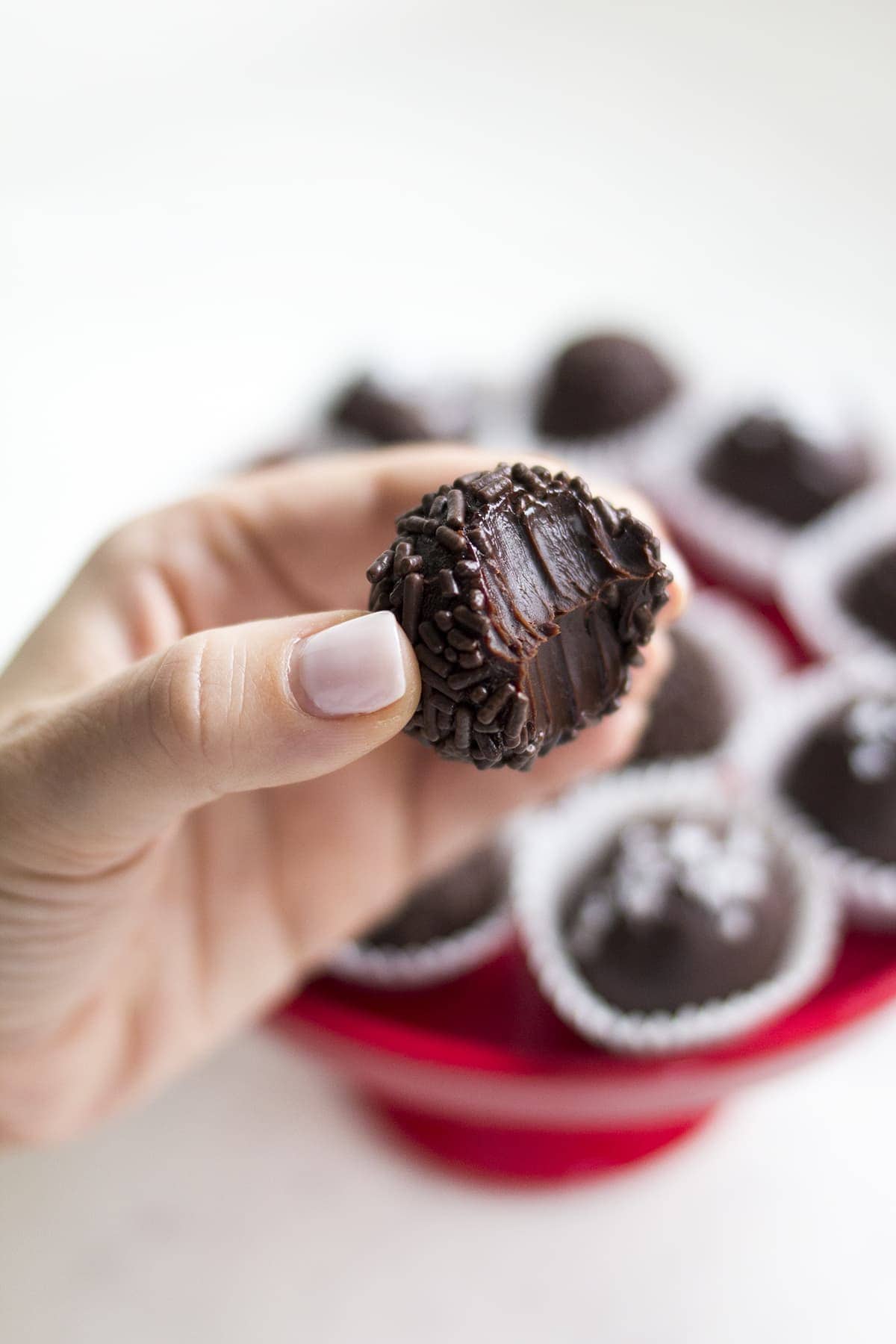 I hope you will treat yourself this Valentine's Day and make a batch! DOVE Chocolate and I would like to know, how do you #ChoosePleasure? Do you have any fun or relaxing plans for Valentine's Day? Let me know in the comments below!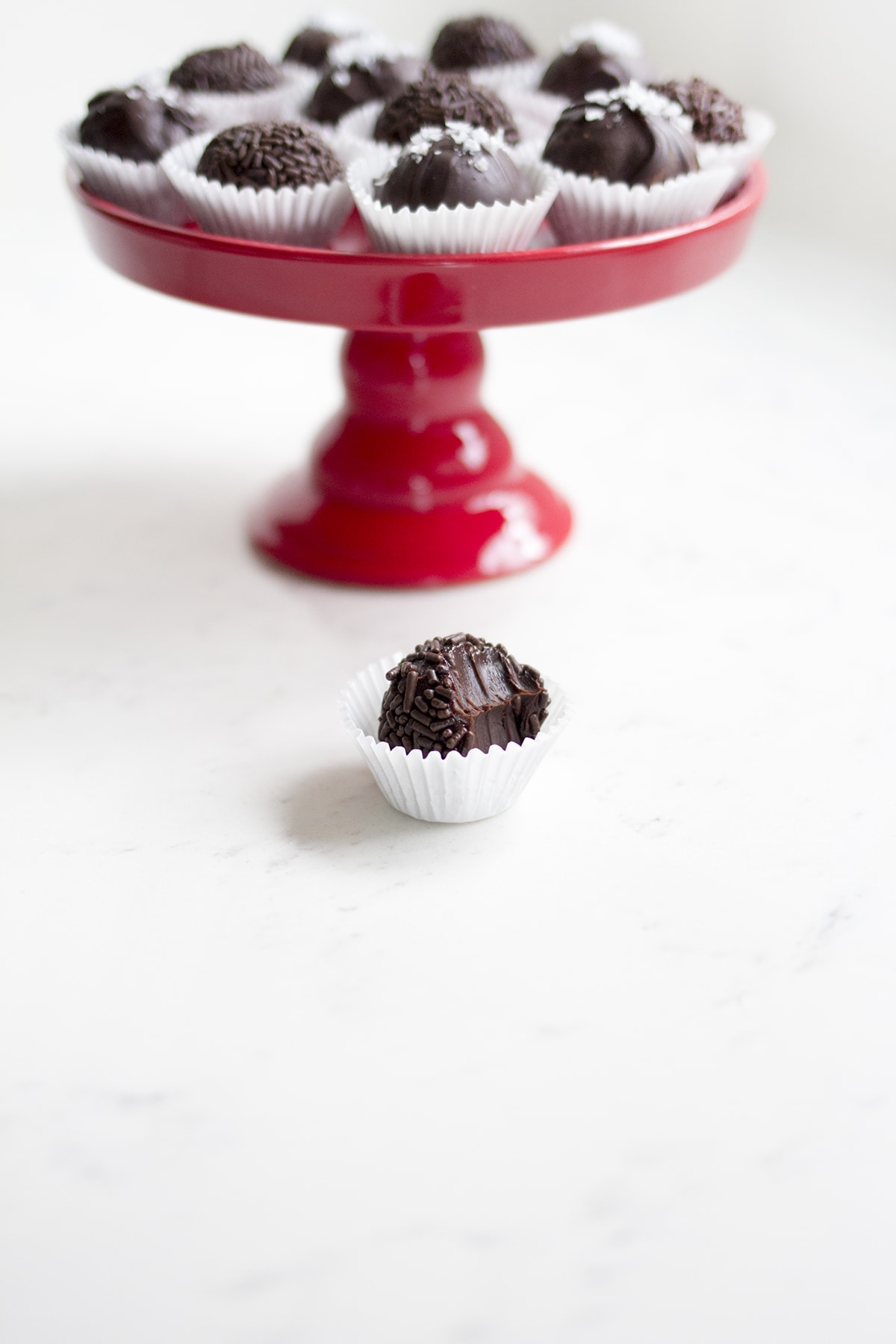 Disclosure: This post is sponsored by DOVE Chocolate however all opinions are my own. Be sure to stop by my partner @DoveChocolateOfficial's new Instagram for inspirational messages, delicious recipes and more! Thank you for supporting the sponsors who keep Freutcake delicious!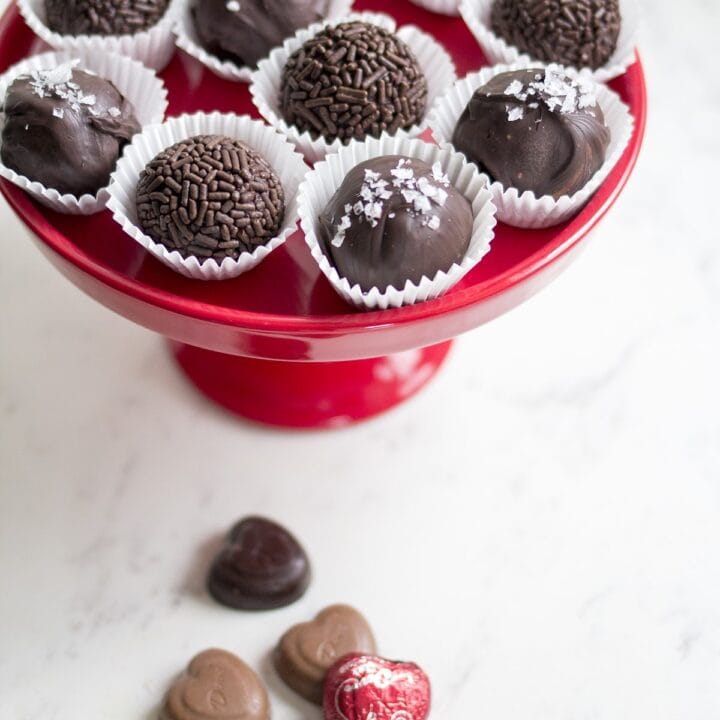 Salted Dark Chocolate Truffles
Salted Dark Chocolate truffles with a creamy ganache center rolled in melted chocolate and sprinkles.
Ingredients
2-8.87 oz. Bag DOVE® Dark Chocolate PROMISES, divided
⅔ cup Cup heavy cream
2 Tablespoons salted butter, at room temperature
pinch Pinch of sea salt
Maldon flaked sea salt for sprinkling
Chocolate sprinkles for rolling
Instructions
Line a baking sheet with parchment paper and set aside.
Finely chop 1 entire bag's worth of DOVE® Dark Chocolate PROMISES (8.87 oz. total) and place in a heat proof bowl.
In a medium saucepan, bring the cream to a simmer over medium heat. Watch carefully as you do not want to boil the cream. Once it is hot, steaming, and simmering, carefully pour over your chopped chocolate.
Add in the pinch of sea salt and whisk until chocolate is melted and smooth.
Next, whisk in room temperature butter until glossy and completely combined.
Transfer chocolate mixture to a shallow dish and refrigerate for about 1 hour or until ganache is firm but scoopable.
Meanwhile chop about 1 cup of additional DOVE® Dark Chocolate PROMISES and place in a microwave proof bowl. When you are ready to dip your truffles, melt the chocolate in 30 second intervals stirring each time until smooth.
When chocolate is firm enough to scoop, use a small spring loaded ice cream scoop to portion out 1-inch balls. You may need to scoop and then quickly roll between your hands to form even balls. Tip: Make sure your hands are cool and work quickly to prevent too much melting.
Roll truffles in chocolate sprinkles or dip them with a fork into melted chocolate and place on your parchment lined baking sheet. Sprinkle dipped truffles with Maldon flaked sea salt and allow to firm up completely before serving.
Storage: Truffles can be stored at room temperature or in the fridge covered for up to 1 week.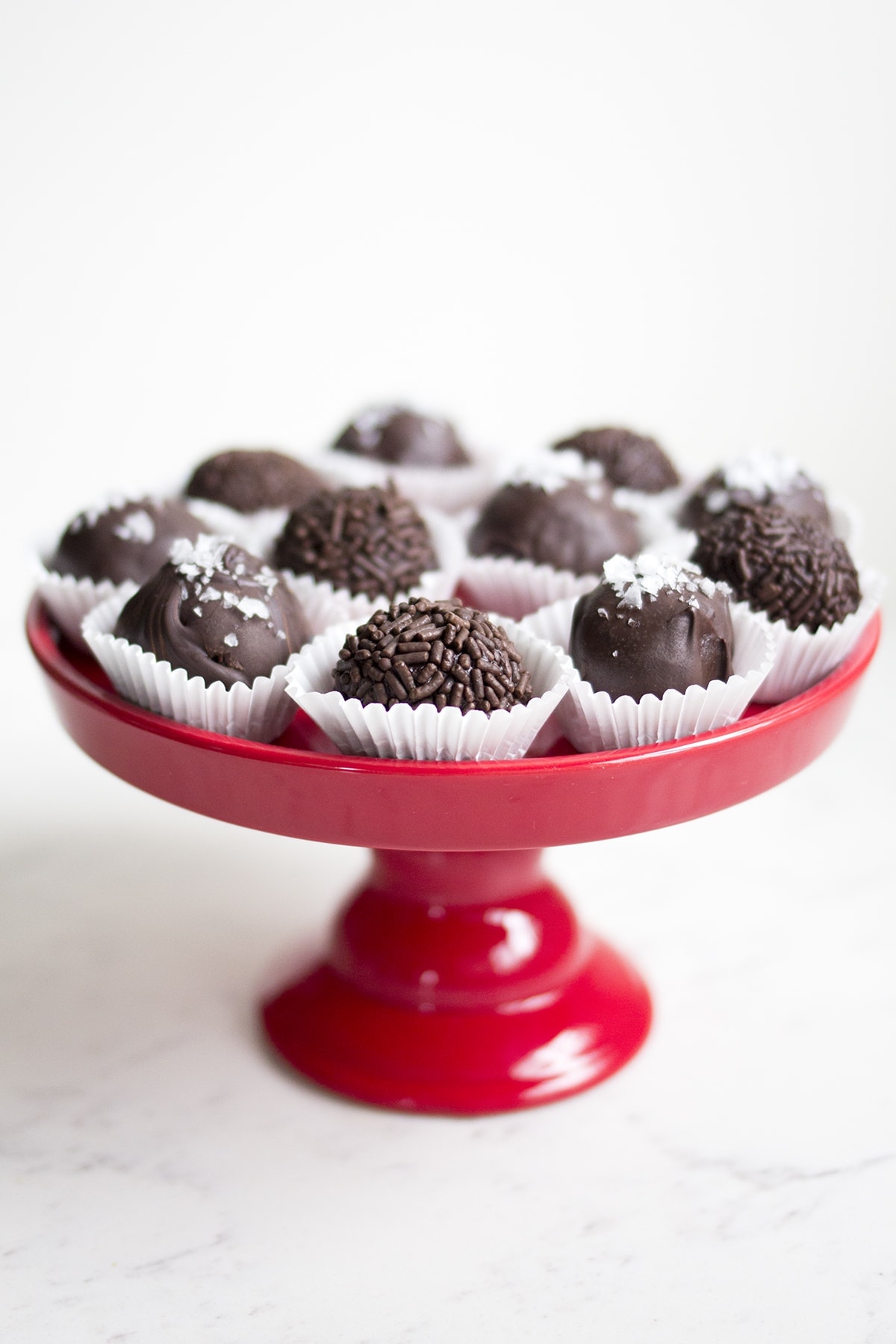 Save
Save
Save
Save
Save
Save