This past weekend I may have bribed a family member with homemade Strawberry Shortcakes in exchange for their lawn mowing services.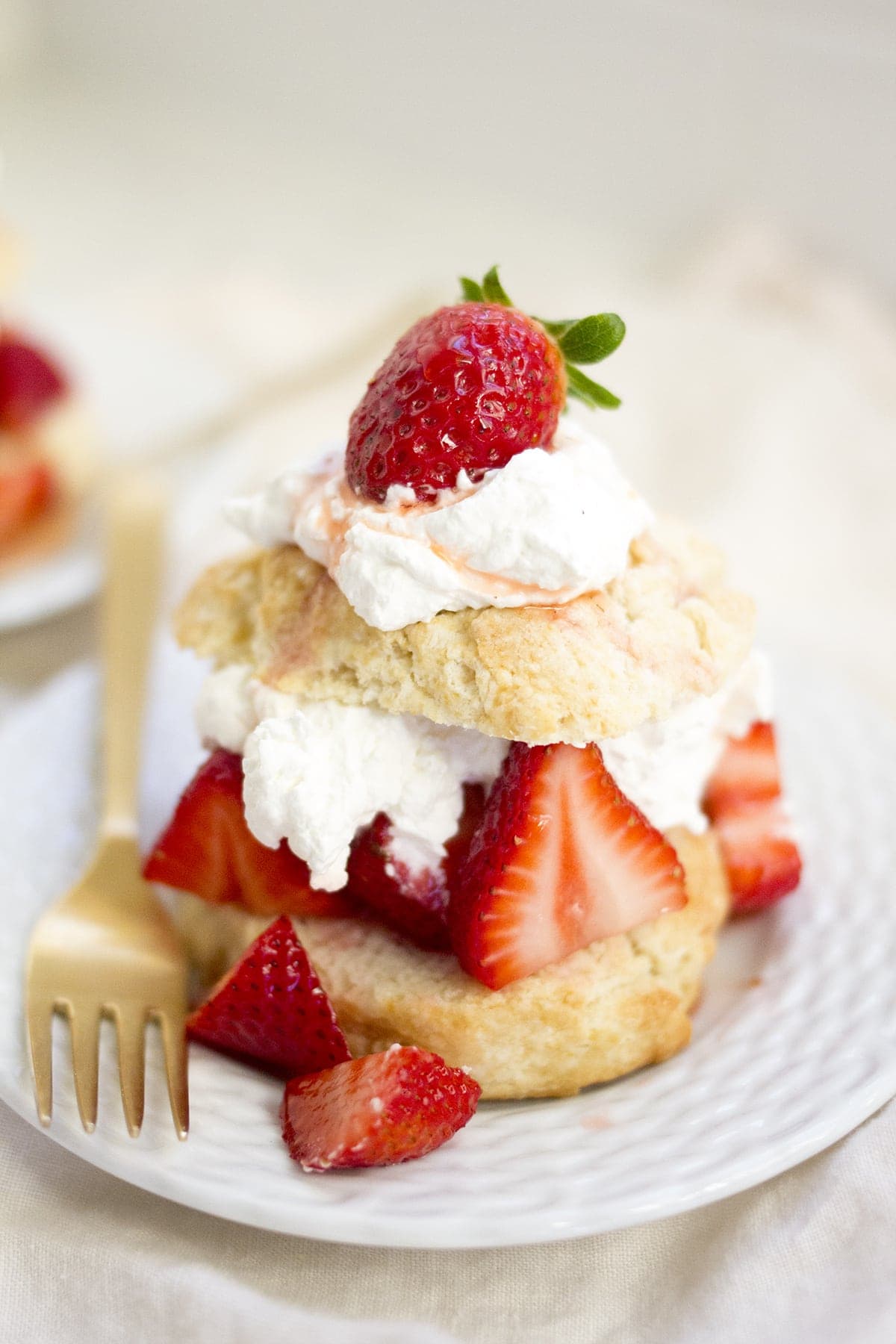 You see, we don't own a lawn mower quite yet. It's on the very long list of first time homeowner THINGS that we need to purchase…along with a hammock, a good drill, and a shed (in my opinion) and not in that order. A couple of months back, we replaced the concrete in the front of our house with a small yard for the twins to play in.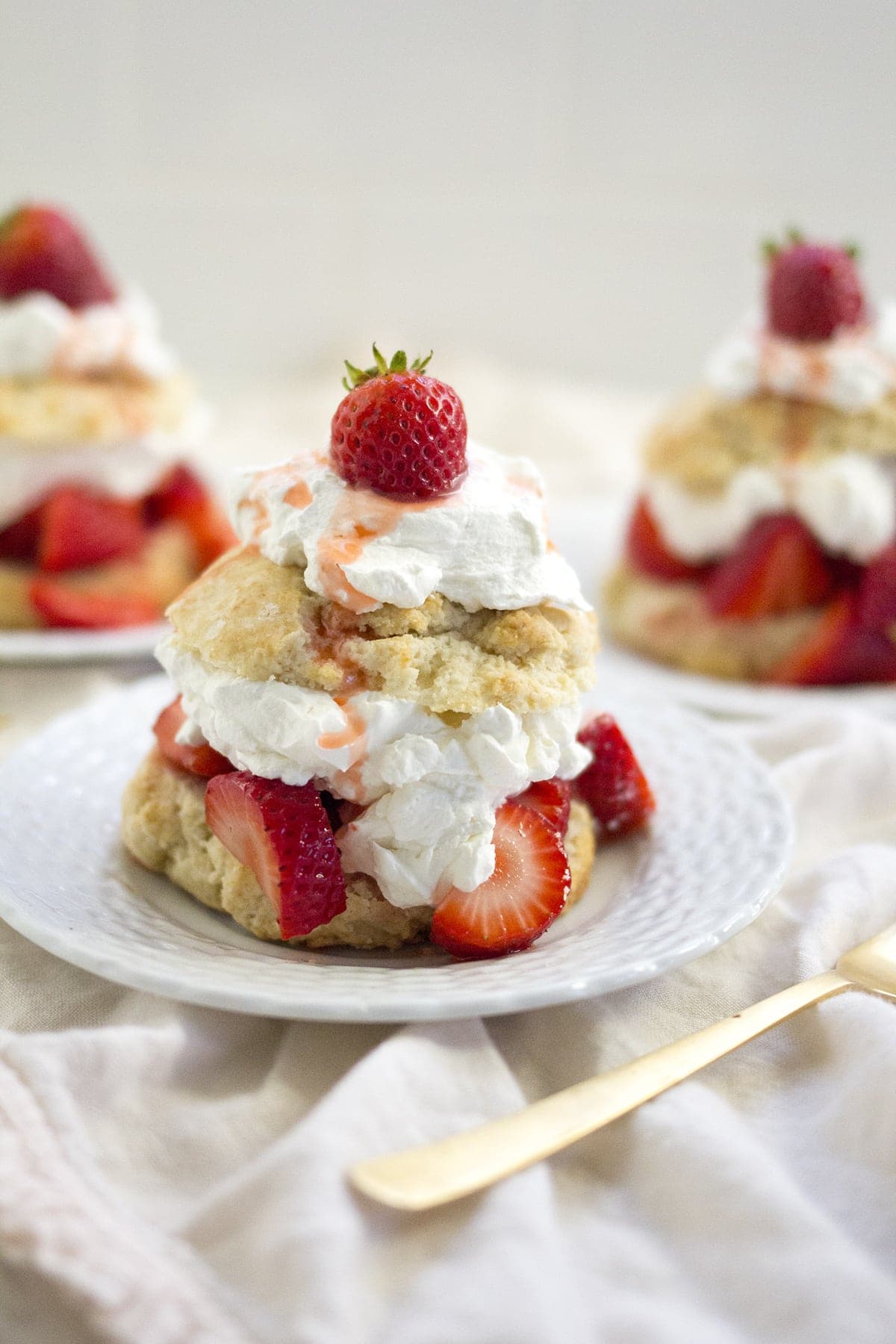 The sod was lovely and green and fluffy and in no time it needed to be mown…is mown the correct term for cutting grass? You get my gist. Now, months later and still mower-less I am quite literally BRIBING people for use of their mowers. Well, at least there was a reason to make Strawberry Shortcakes.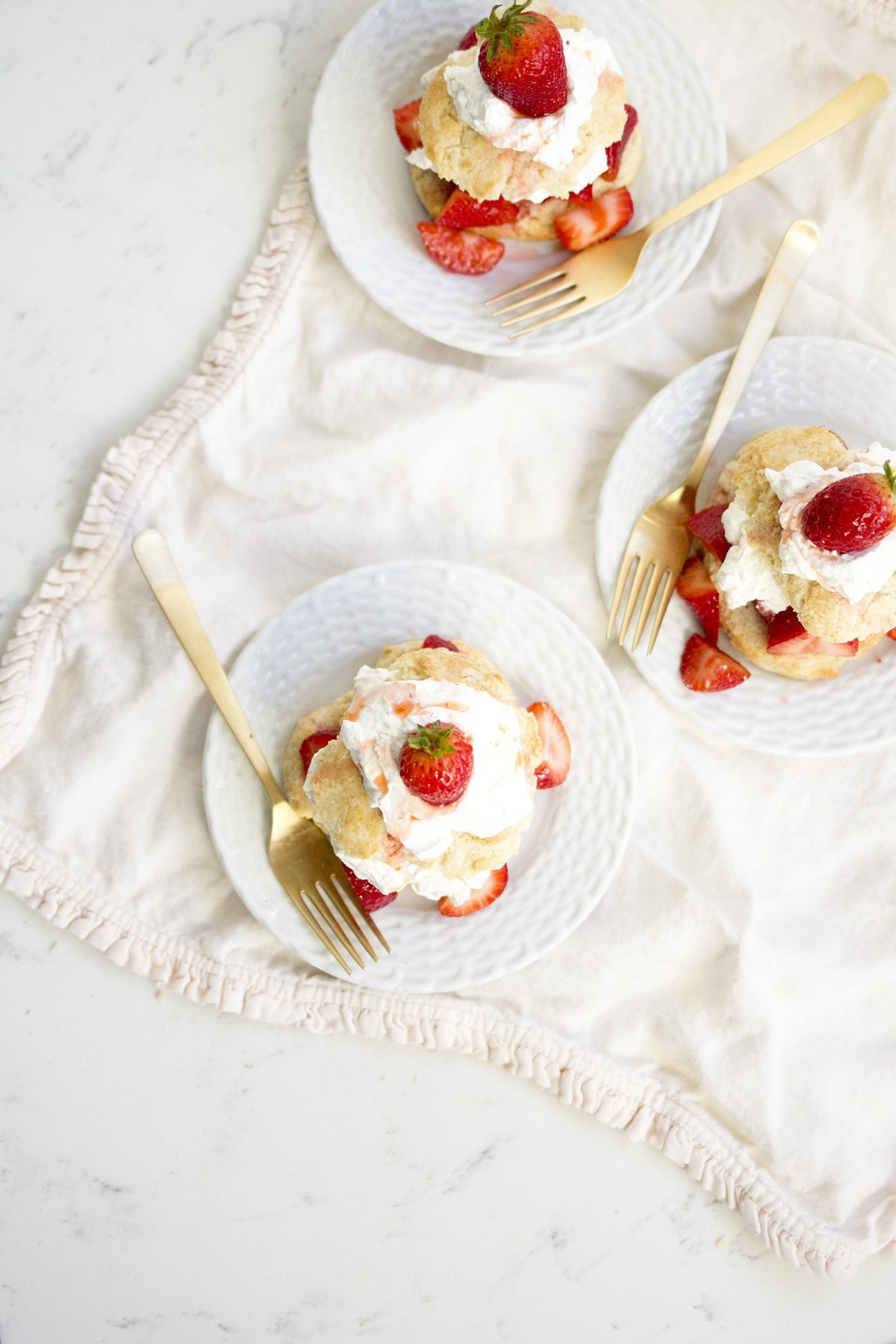 I might add that it makes an excellent bribe. I got my lawn mown in less than half an hour, I'd say that's record speed. Here's how I made it. First, it starts with homemade shortcakes which really (in all honesty) will make or break this dessert. I adapted a recipe from Epicurious slightly by making it a bit sweeter. I like that shortcakes are traditionally not very sweet but you can always add more sugar to your berries and cream if you enjoy super sweet desserts!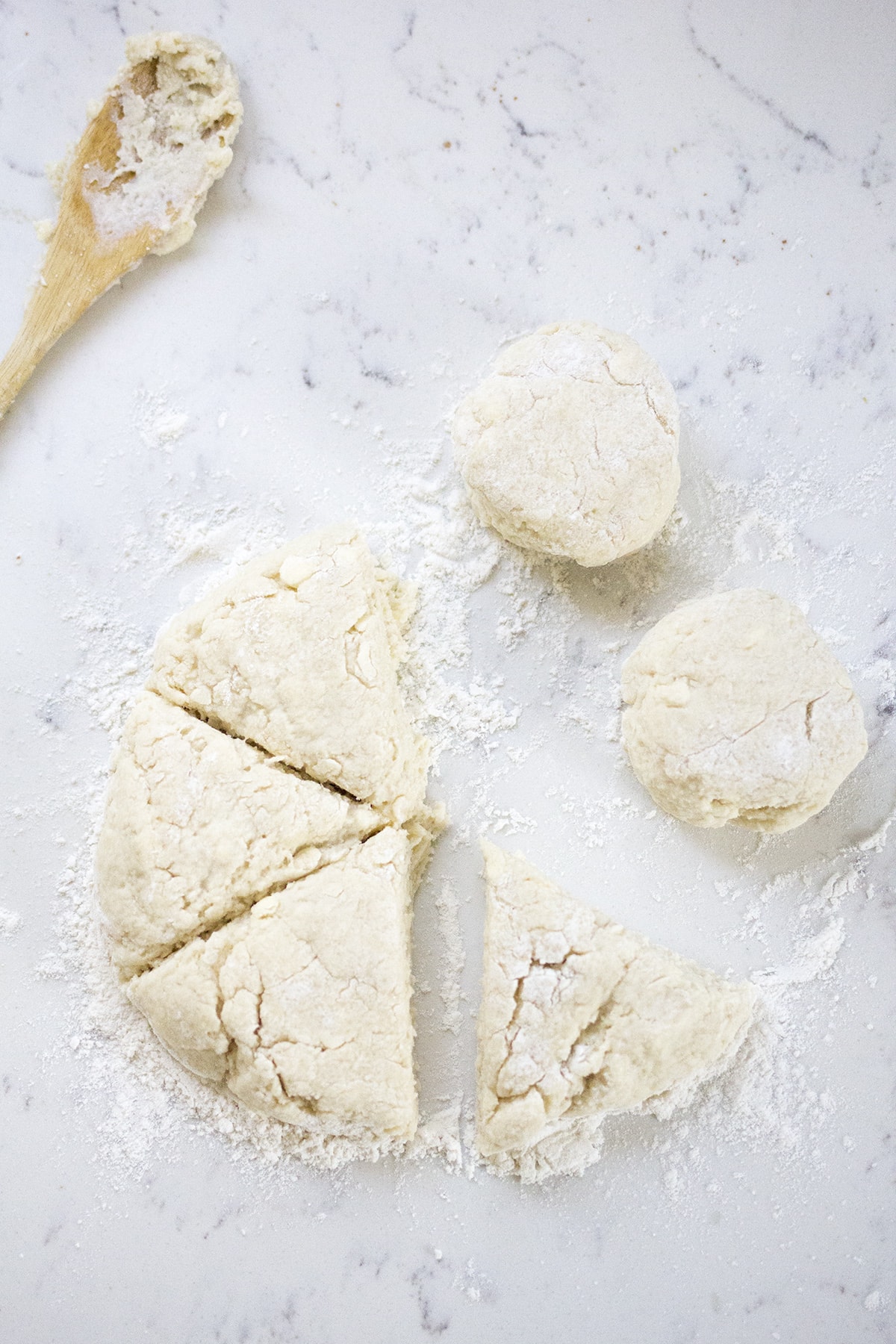 Next, homemade whipped cream. This recipe is simple so don't skimp on the essential parts by using the pre-made stuff, just don't do it! It couldn't be easier to make; whip up a pint of heavy whipping cream in a mixer with sugar and vanilla until nice and firm. Dollop that between halves of short cakes and top with plenty of macerated strawberries. Add a dollop more on top and a good drizzle of the strawberries juices.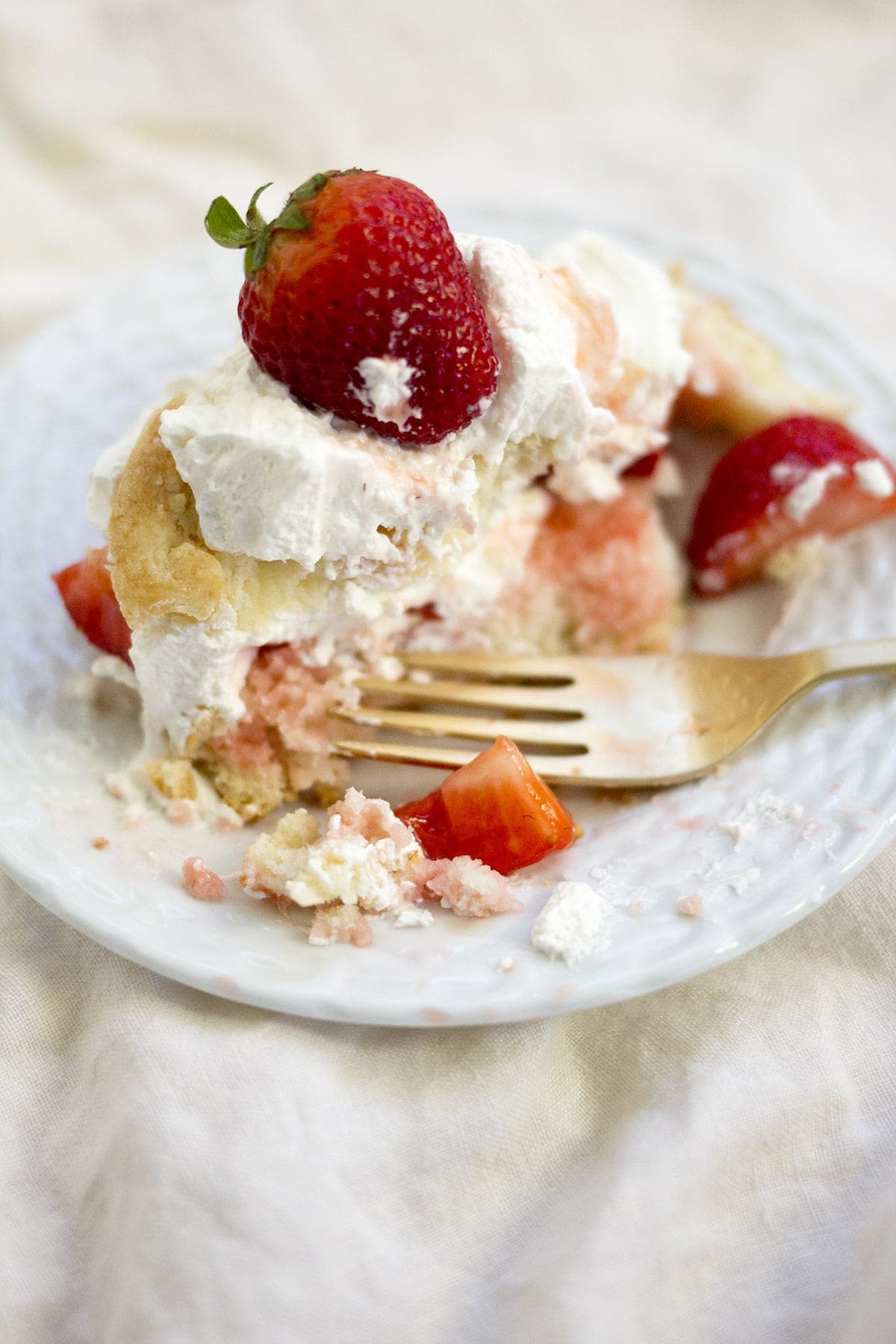 Eat immediately and quickly with a fork and leave not one crumb behind. That my friends, is homemade Strawberry Shortcake done right. Does your dessert get the lawn mown?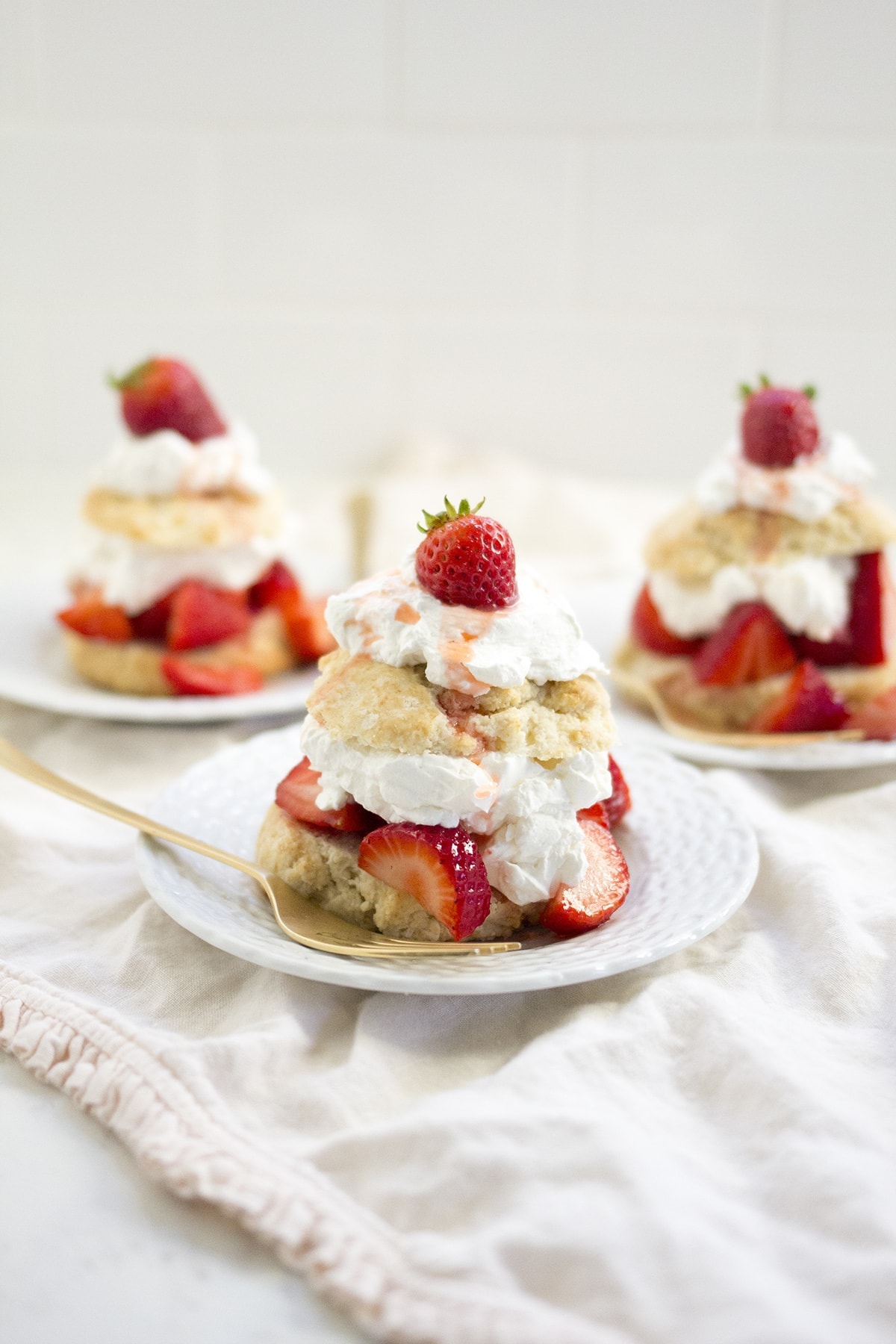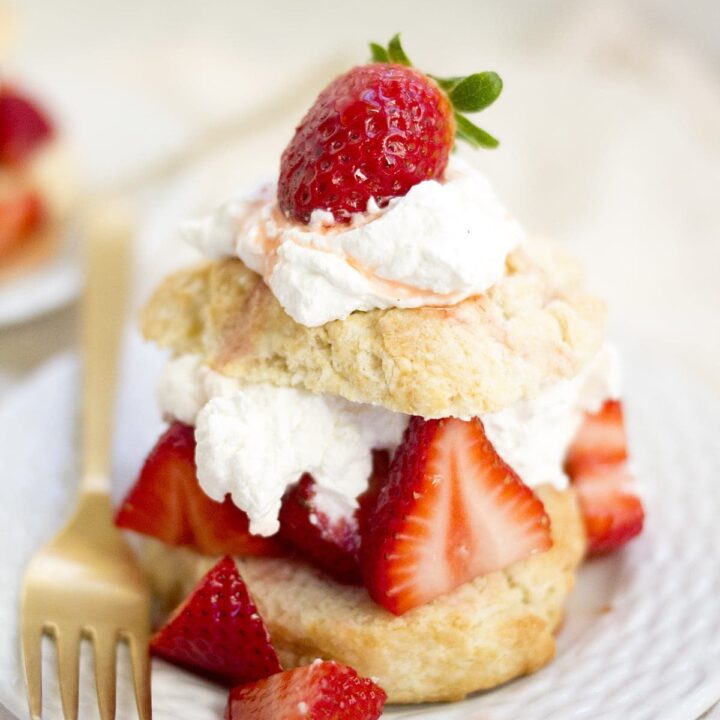 Strawberry Shortcakes
Homemade shortcakes layered with whipped cream and sweetened strawberries.
Ingredients
Strawberries & Cream:
5-6 cups strawberries, hulled and quartered
1 tablespoon fresh lemon juice
2-3 tablespoon sugar, depending on sweetness
1 pint heavy whipping cream
2 tablespoons sugar
1 teaspoon vanilla extract
more whole strawberries for garnish
Shortcakes:
2 cups all purpose flour
2 rounded teaspoons baking powder
4 tablespoon sugar
⅛ teaspoon salt
½ cup (1 stick) cold, unsalted butter, cubed
¾ cup milk
heavy cream, for brushing
Instructions
For the shortcakes:
Preheat the oven to 400°F. Grease a baking sheet.
Combine the flour, baking powder, sugar and salt in a bowl.
Add the butter. Using a pastry blender or your fingers, cut the butter into the flour mixture until it resembles a coarse meal. Stir in the milk until a very soft dough is formed.
Turn the dough out onto a very well floured surface and with well floured hands, gather it into a round. Cut into 6 equal portions and gently form them into round biscuit-like cakes. Place on the cookie sheet.
Brush the tops with cream and bake the shortcakes in the center of the oven for 15 to 20 minutes or until golden brown. Cool on a wire rack.
For the Strawberries:
Place strawberries in a bowl. Sprinkle with lemon juice and sugar, then gently toss. Let rest for 1 ½ to 2 hours for juices to develop.
To make the whipped cream combine 1 pint heavy whipping cream with 2 tablespoons sugar and 1 teaspoon vanilla extract. Whip until soft peaks form.
To serve, slice shortcakes in half. Place the bottoms on 6 dessert plates and top with berries and juice, plus a generous dollop of whipped cream. Cover with the top. Spoon over more berries and juice, then dollop with whipped cream. Garnish each with a whole berry and drizzle with any remaining juice.
Save