Do you ever bake your pasta? Well if you don't, you really should. Creamy Baked Sausage Rigatoni is a pan of creamy, cheesy, goodness. Short Mezzi Rigatoni noodles tossed with a creamy sauce, cheese, Italian sausage and fresh basil, baked with more mozzarella on top and finished with a sprinkle of more fresh basil. Delightful and easy.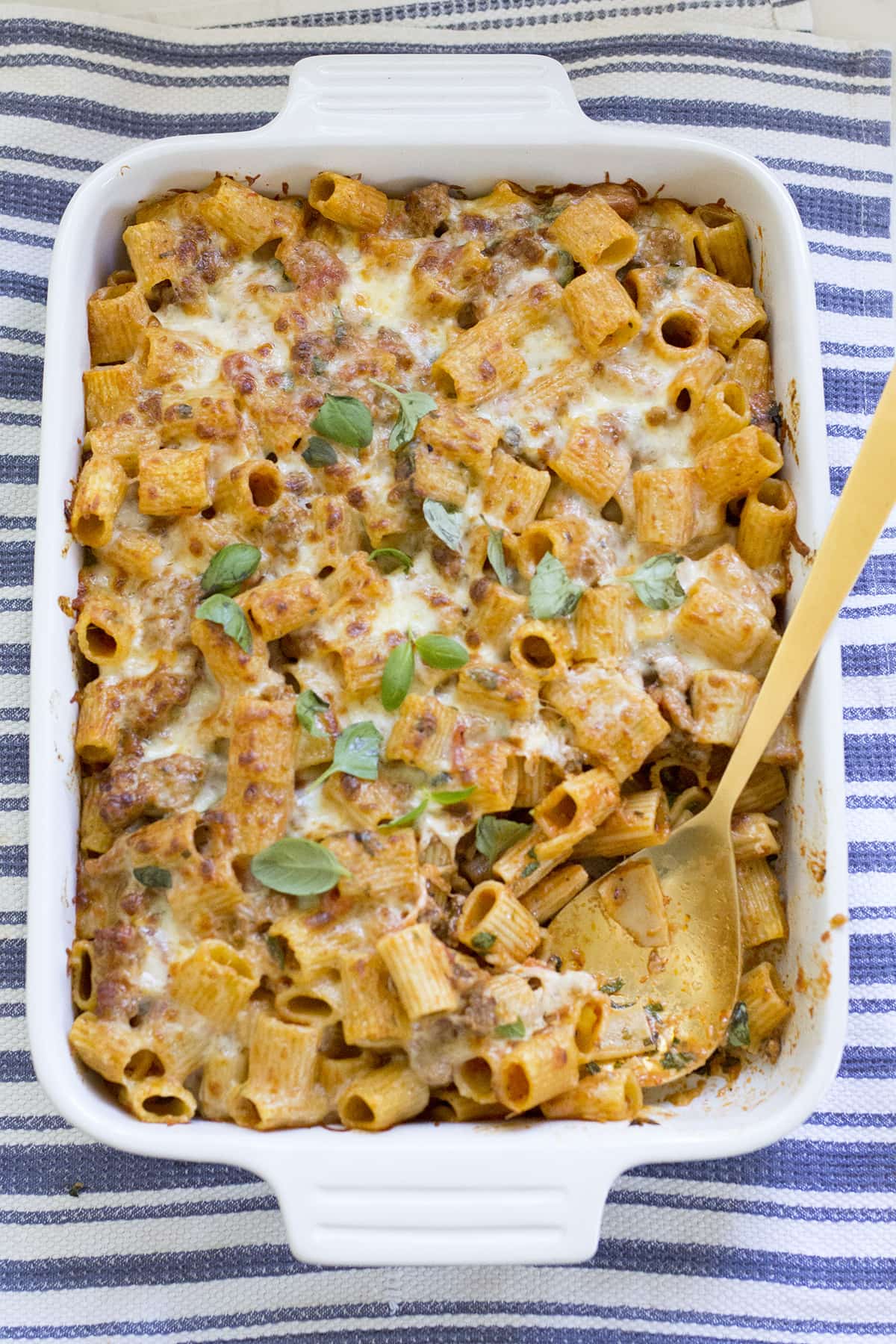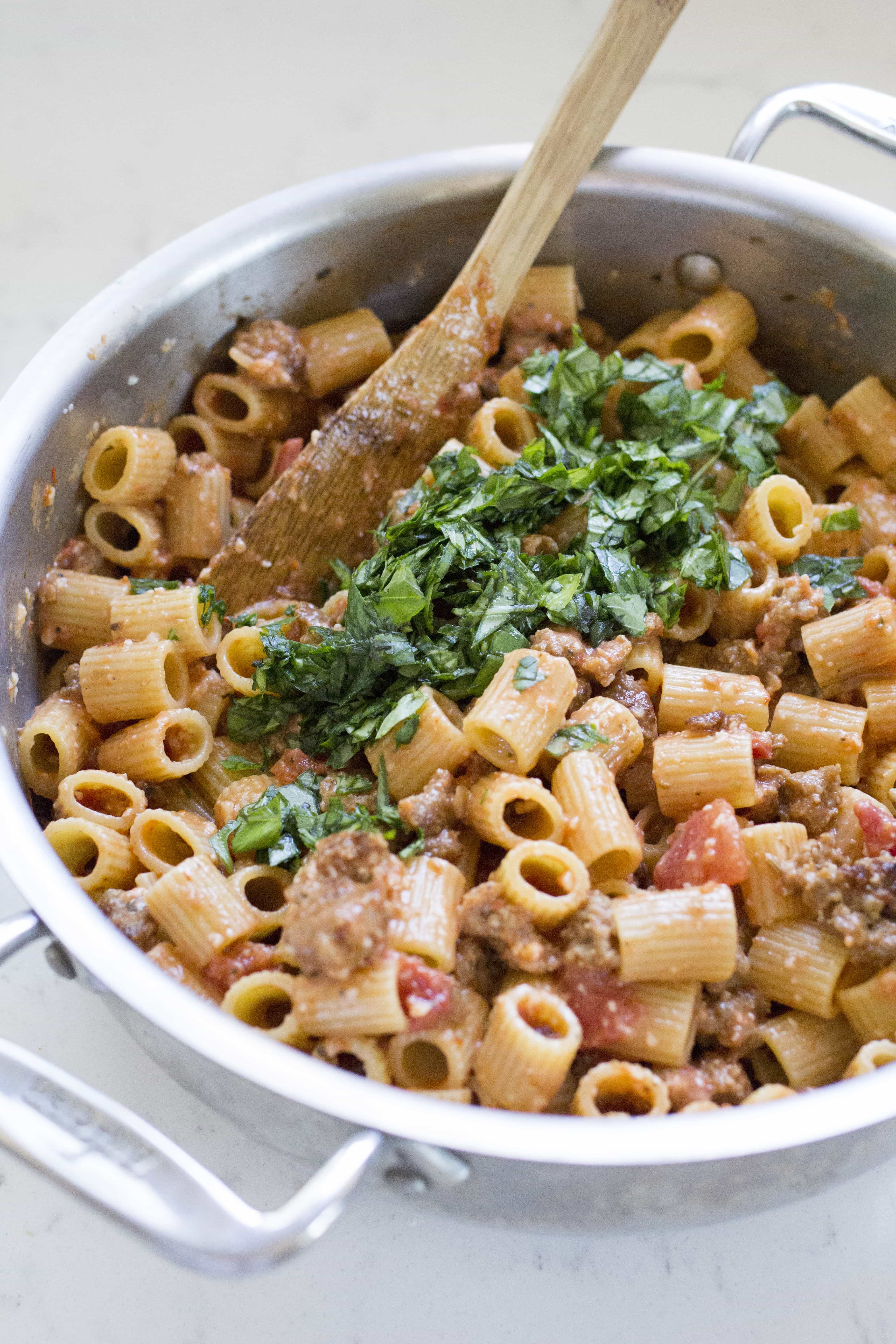 This is a comfort-food casserole you will make again and again. It's got all of the essentials needed to make the very best in foods that satisfy and comfort from the flavorful and rich Italian sausage to the creamy pink sauce made with heavy cream and of course plenty of cheese.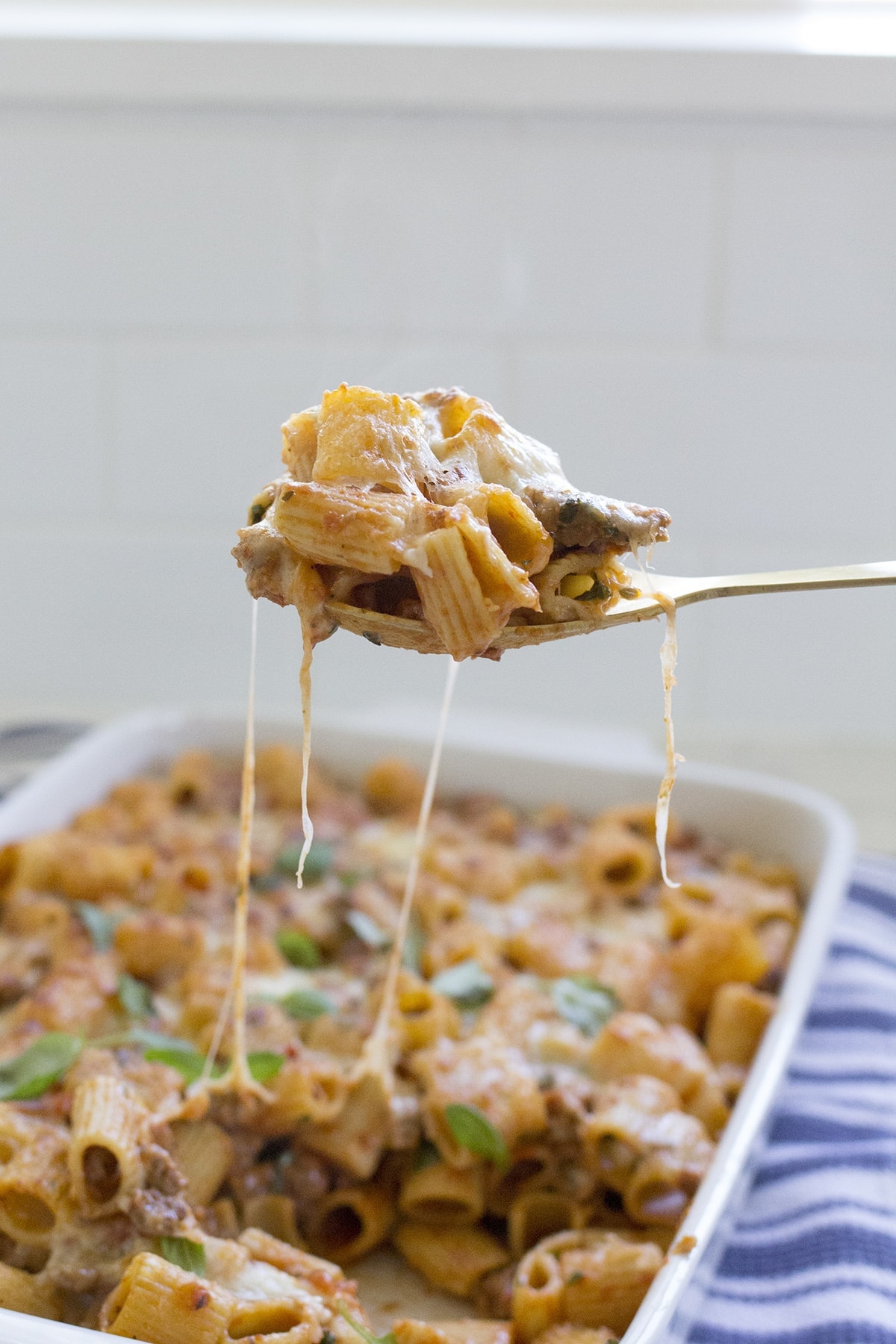 The Parmesan inside the pasta mixes with the cream and marinara to give that ooey-gooey quality to the dish. The Mozzarella on top helps you achieve the perfect "cheese pull" which frankly, makes this dish, am I right? Just a few minutes under the broiler at the end of baking and you'll have bubbly browned crust in no time.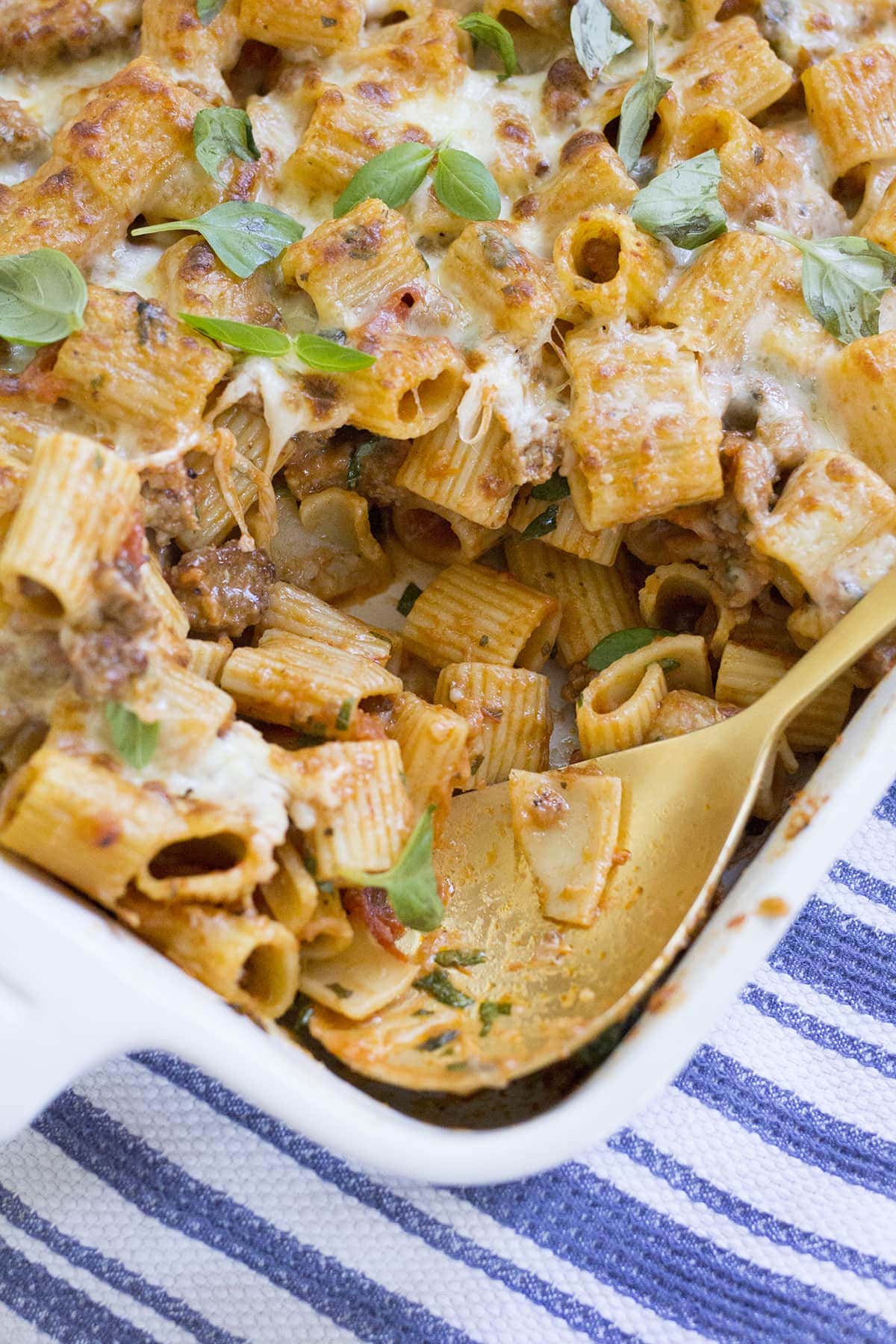 But the trick to baked pasta success is under-cooked noodles...way under-cooked. That way your rigatoni will finish cooking as it bakes and you won't be left with a soggy-noddle mess. This also means that Creamy Baked Sausage Rigatoni makes a great make-ahead meal! Prep the pasta and pop it in the fridge in the morning, by dinner time all it will need is a trip to the oven to finish baking. It doesn't get much easier than that!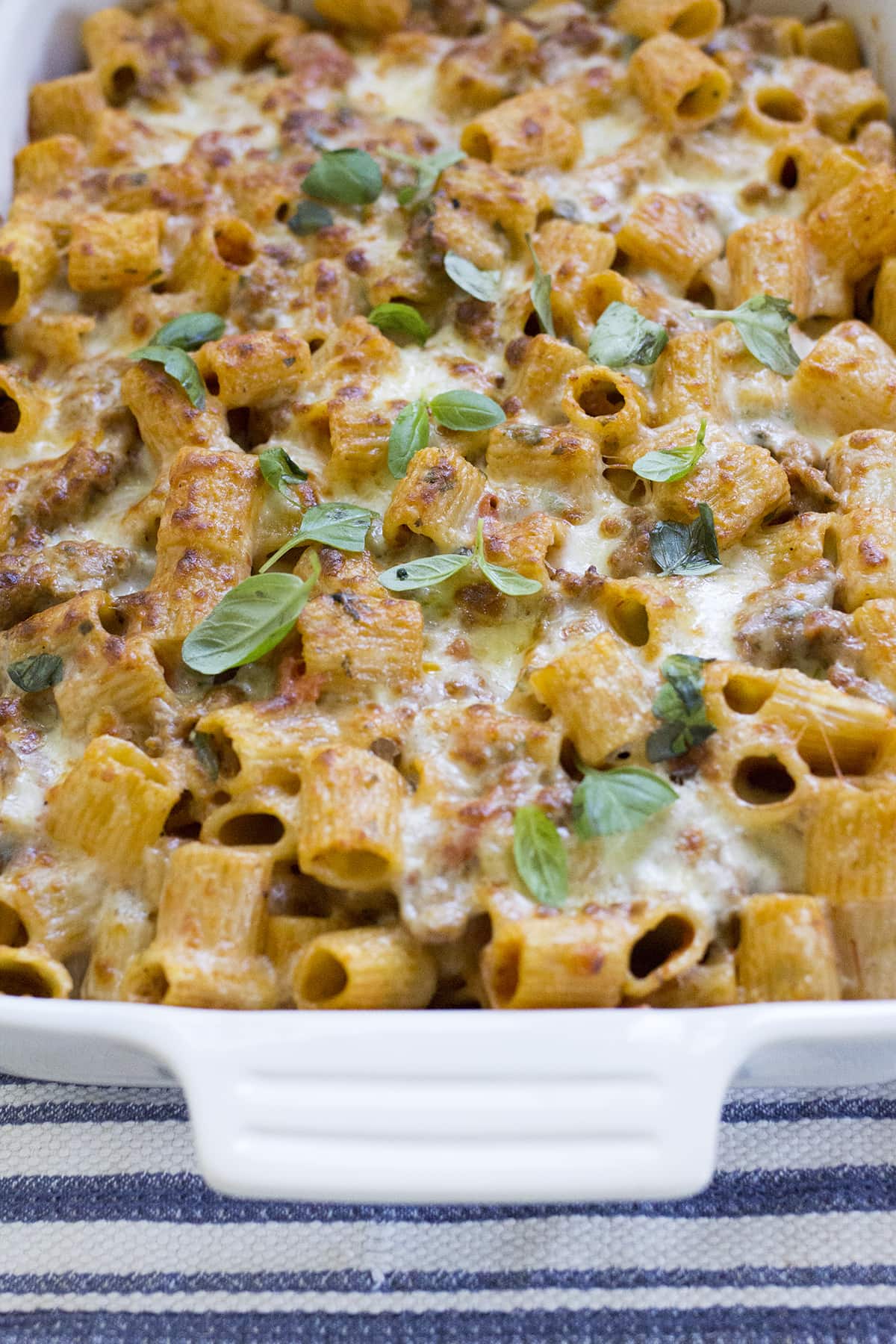 Creamy Baked Sausage Rigatoni
Creamy Baked Sausage Rigatoni is the ultimate in weeknight comfort food. Small Mezzi Rigatoni noodles in a rich and cheesy pink sauce, baked to perfection.
Ingredients
1-16 oz box Mezzi Rigatoni
1 lb Italian Sausage, removed from the casings
1 jar marinara sauce
1 cup half & half or heavy cream
1 cup grated Parmesan cheese
1 cup fresh basil chopped, plus more for garnish
salt and pepper to taste
6-8 oz grated mozzarella cheese
Instructions
Preheat oven to 350 degrees.
In a skillet, crumble and cook sausage until browned. Drain and set aside.
Undercook pasta until still very firm to the bite. I cooked my noodles for 6 minutes although the box called for 10 minutes. Drain and return to the pot.
To the hot pasta add sausage, marinara, heavy cream and grated Parmesan. Toss until well combined. Taste and season with salt and pepper as needed.
Gently toss in fresh basil and transfer to a baking dish.
Sprinkle with grated mozzarella.
Spray aluminum foil with non-stick cooking spray or rub with olive oil and cover dish (oiled side down) to prevent it from sticking to the cheese.
Bake 20 minutes or until the cheese is melted and the noodles are cooked.
Remove foil and place dish under the broiler for just a couple of minutes until the cheese is golden on top and bubbly. Watch carefully to prevent it from browning too quickly.
Remove and allow to sit about 5-10 minutes before serving.
Sprinkle with more torn basil just before serving.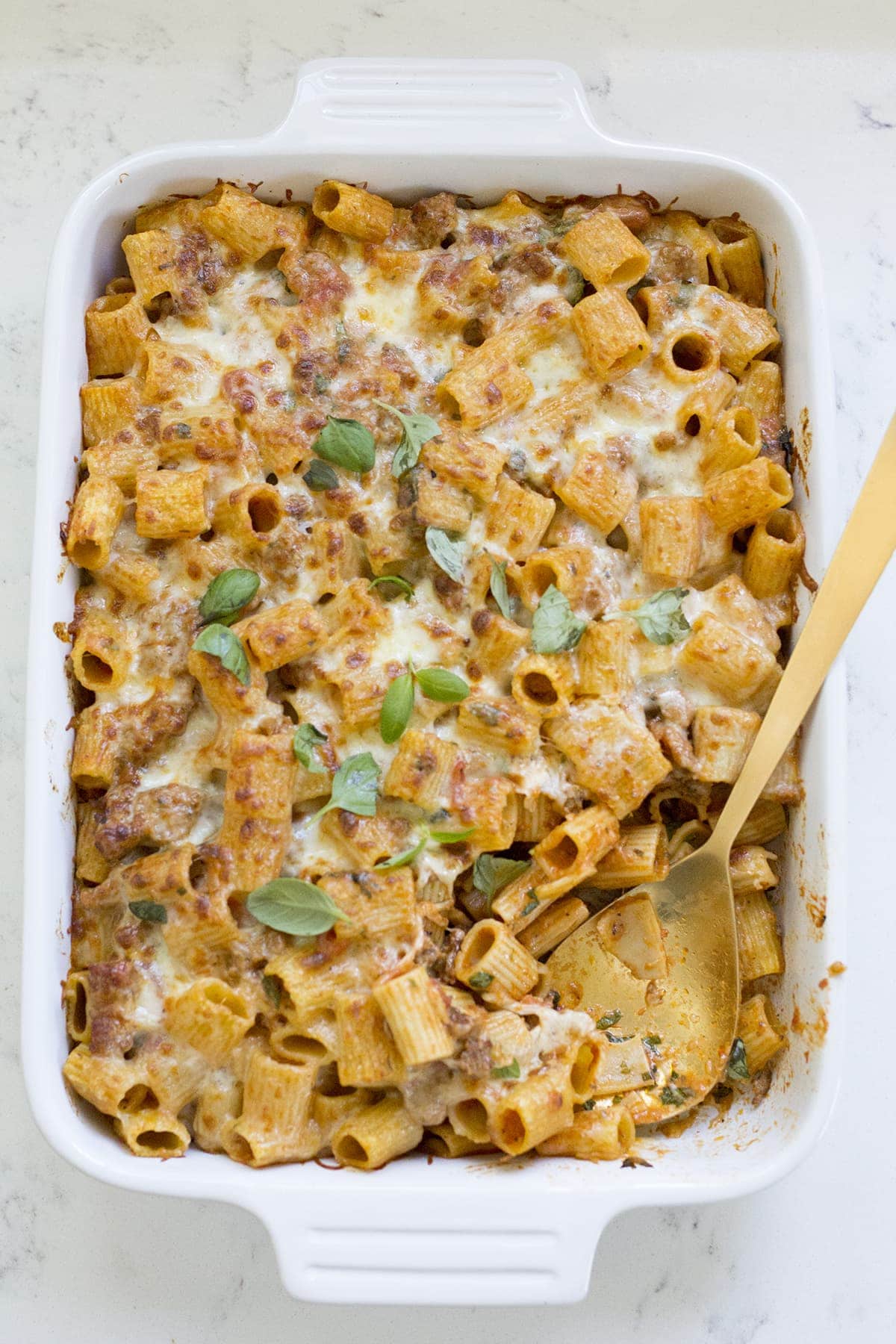 Save
Save
Save