This is a sponsored post written by me on behalf of Vons. All opinions are 100% mine.
One of the easiest meats cook on the grill is steak! It grills up quick and tastes delicious with the smoky flavor of fire and just a few simple seasonings. Finish it with garlicky herbed butter and you have the perfect grilled steak.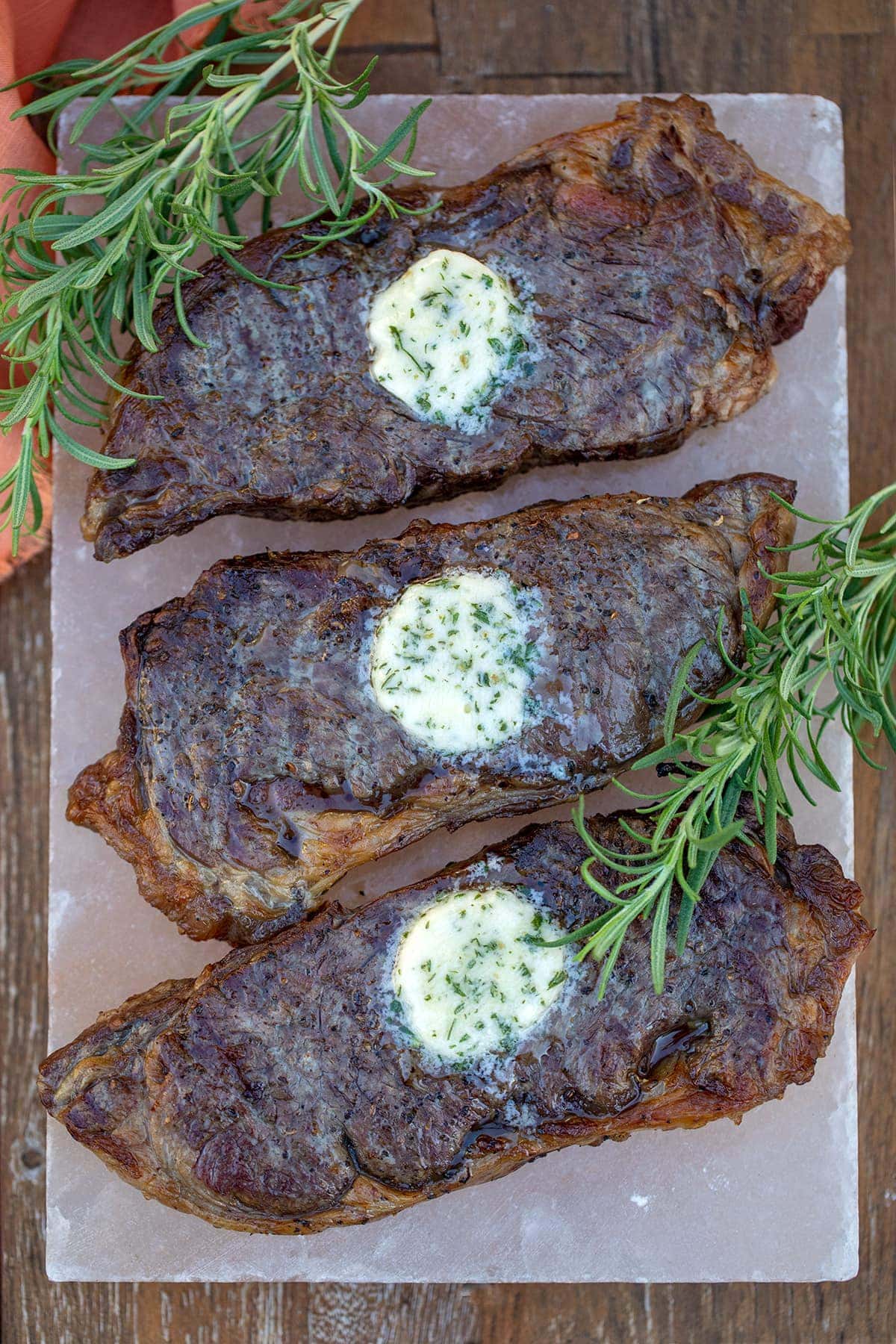 Perfect Grilled Steak
The trick to perfect grilled steak is picking the right cut of meat! I always find the best quality steaks from the butcher at Vons and we usually buy Open Nature Grass Fed Boneless New Year Strip Steak or Ribeye Steak because they have the best flavor. In the summer all you need to accompany grilled steak is a summer salad like my Grilled Summer Peach and Corn Salad.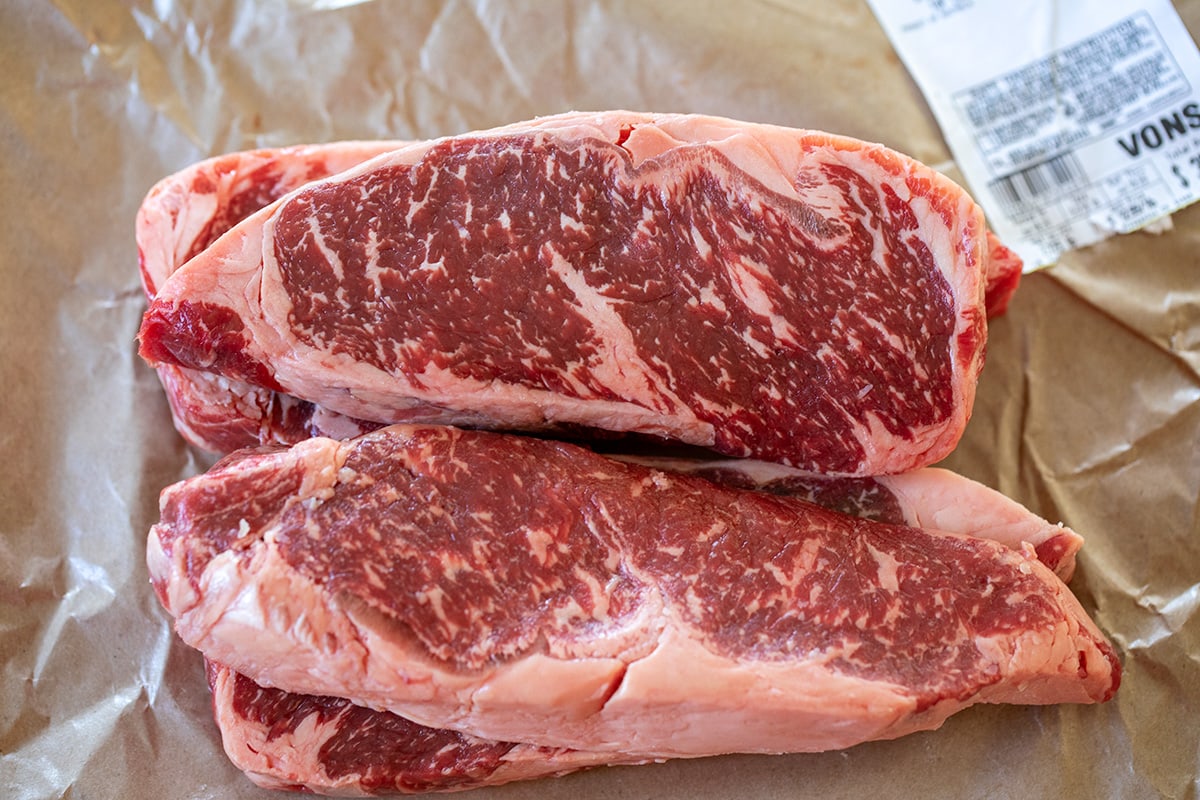 Things to Look For When Buying Steak
Marbling - marbling is the visible fat running through the muscle of the meat. Marbling in a grilling steak is good because it equals flavor and a juicier meat! Just look at the marbling on these Open Nature New Year Strip Steaks above, gorgeous!
Color - The flesh should have a rich rosy pinkish red color.
Moisture - The surface should be moist, but not wet or sticky.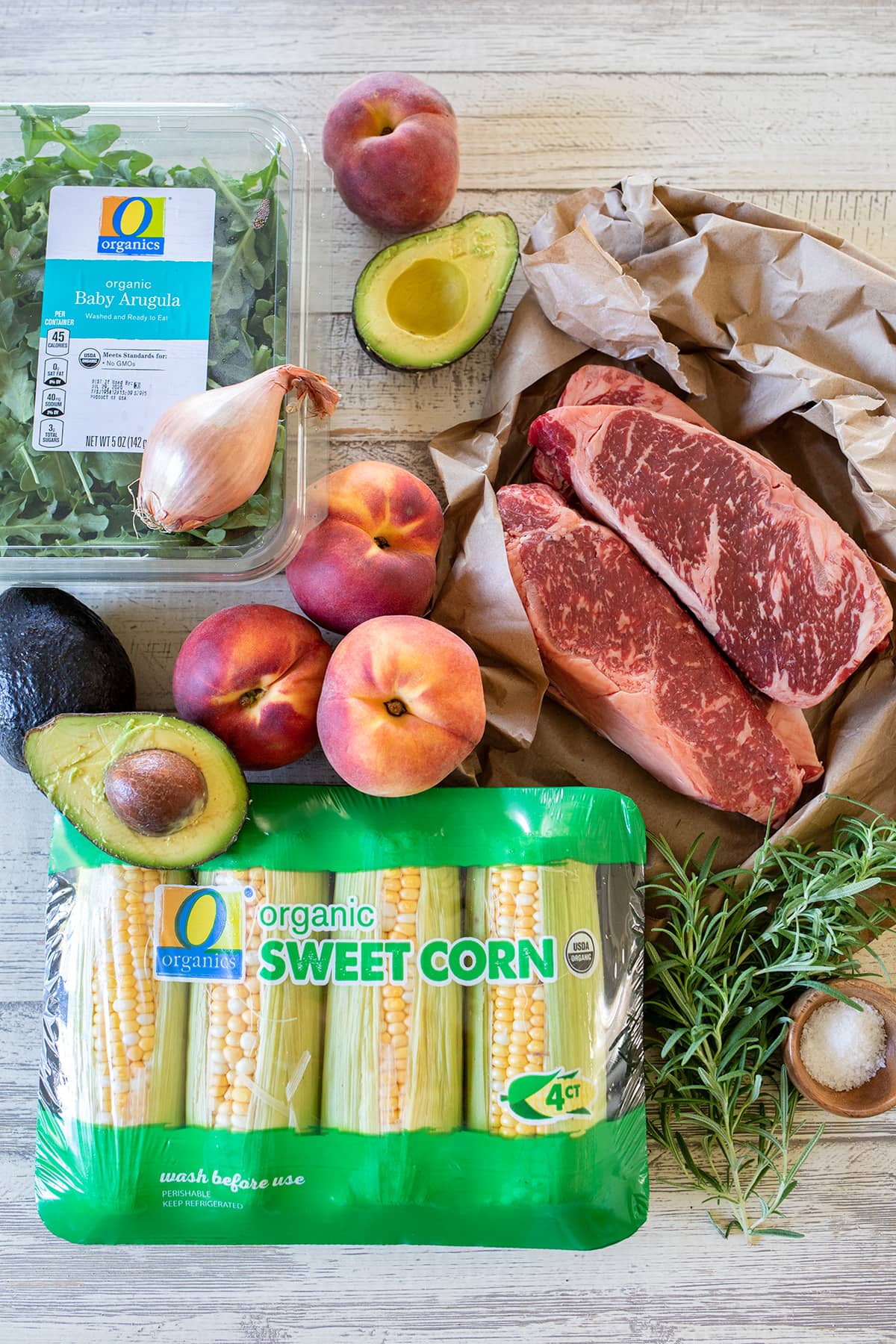 Grilled Steak Dinner Shopping List
During the summer months, this is one of my favorite meals to cook on the grill. Simple grilled steaks plus a big salad filled with fresh and seasonal produce all found at Vons. My grilled Peach and Corn Salad is perfect because you can throw the peaches and corn on the grill right alongside the steaks. Here's what you'll need to recreate this meal:
Open Nature Grass Fed Boneless New Year Strip Steak or Ribeye Steak
unsalted butter
fresh rosemary
kosher salt and coarse ground pepper
baby arugula
peaches
sweet corn
avocados
shallot
olive oil
apple cider vinegar
honey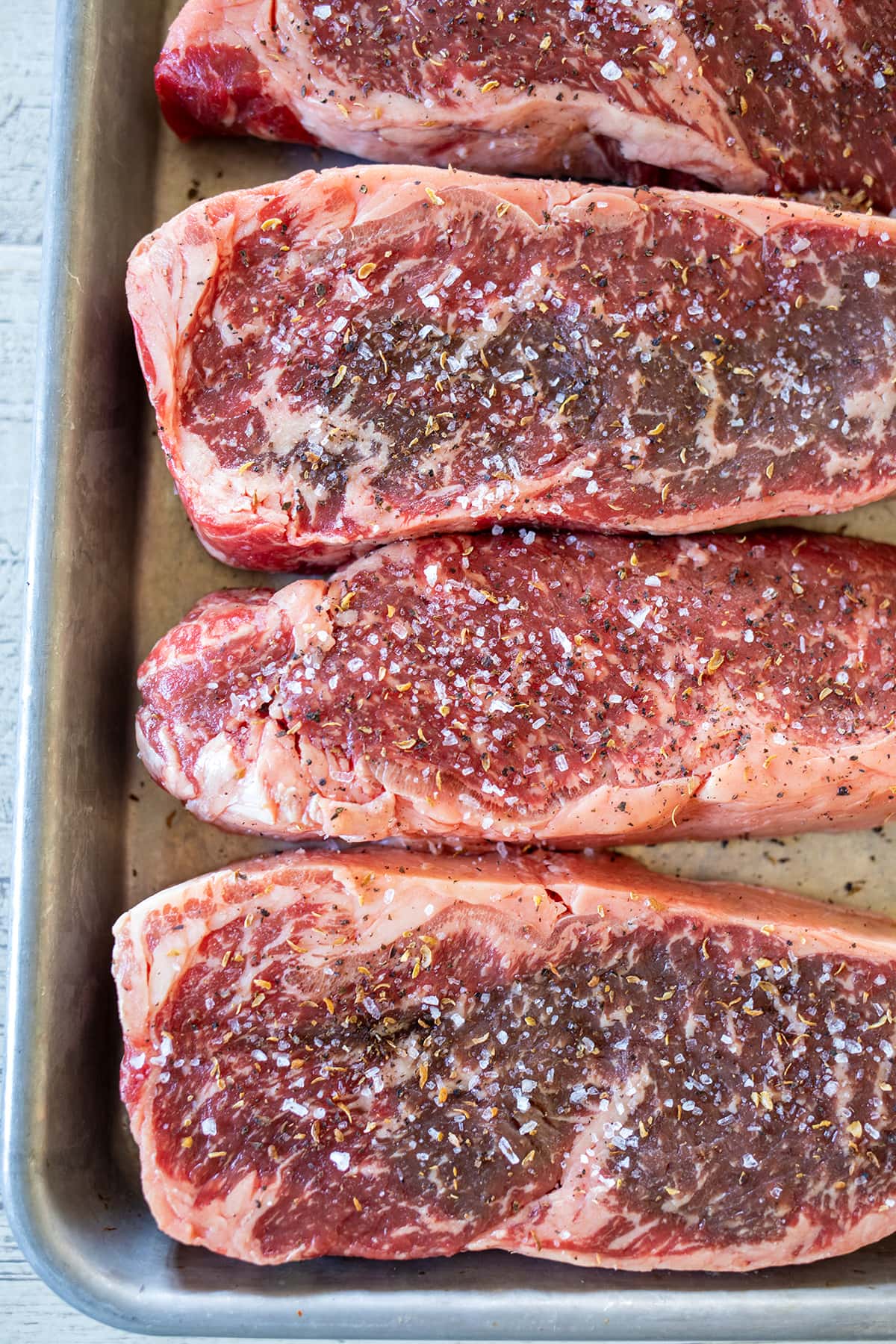 How to Prep Steaks for Grilling
I love the simplicity of a well seasoned steak with nothing more than kosher salt and freshly cracked black pepper or Timut Pepper. Before the steaks are ready to grill, allow them to spend some time at room temperature to give the meat to rest and relax. This will keep the steaks from curling up on the grill and will help them cook more evenly. Pat the surface dry and season both sides generously with coarse ground salt and pepper.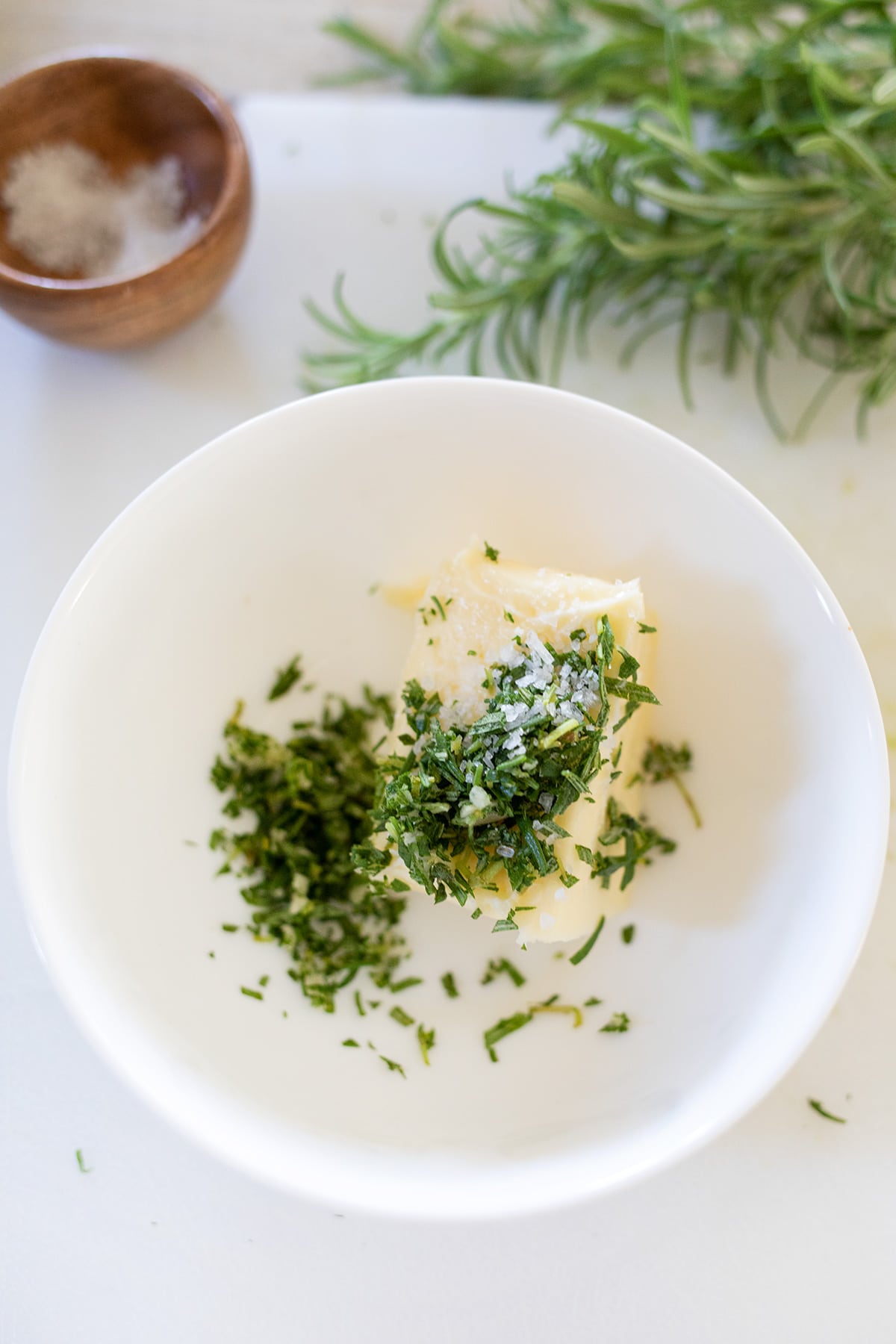 Garlic Herb Compound Butter for Steaks
Making a compound butter for steaks is simple and adds TONS of flavor to the final grilled steaks. In a small bowl mix together:
1 stick salted butter
1 Tablespoon minced fresh rosemary
1 clove minced or grated garlic
After the butter is mixed, I roll it into a short log using plastic wrap and refrigerate until firm enough to slice.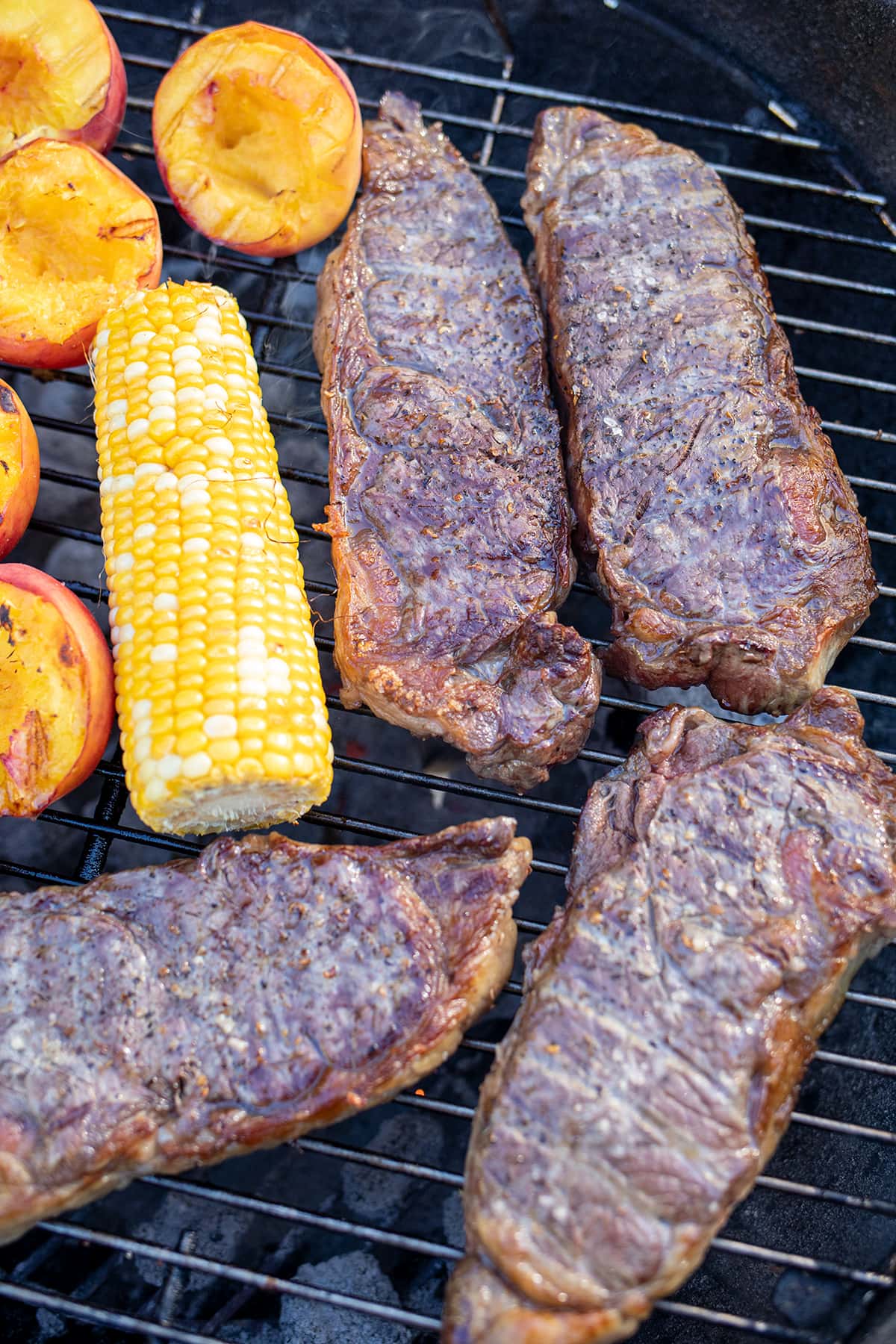 Tips for Grilling Steaks
Bring your steaks to room temperature.
Clean and oil your grill. Use a brush to clean the grate and an oiled paper towel to quickly oil the grate before cooking steaks to prevent sticking.
If you are using charcoal, make sure the coals are grey and hot but not visibly flaming before cooking. This helps prevent flare ups.
Place the steaks on the grill and leave them alone. No messing with them or moving them. You will only flip once. Flip and cook on the other side. I usually cook about 5 minutes per side for medium but it depends on the heat of your coals and the thickness of your steaks. Poke them with your finger to feel how firm they are before flipping.
Allow steaks to rest on a platter before slicing for the juiciest steaks.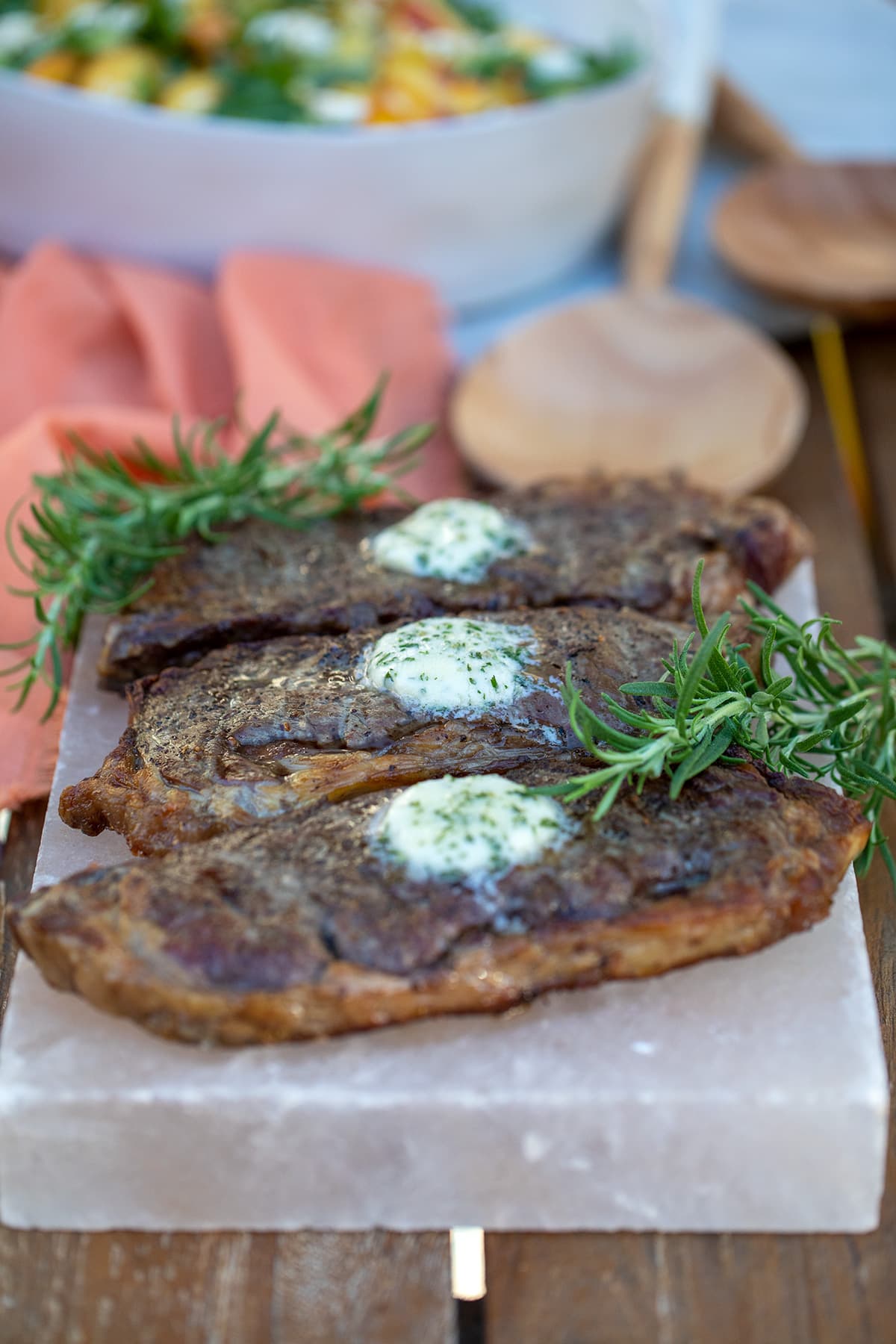 Don't Forget the Herbed Butter...
After the steaks are off the grill and resting, top them with slices of the garlic herb butter and let it slowly melt over the warm meat. I rest mine on a Himalayan Salt Plate and it gives even more delicious flavor to the meat.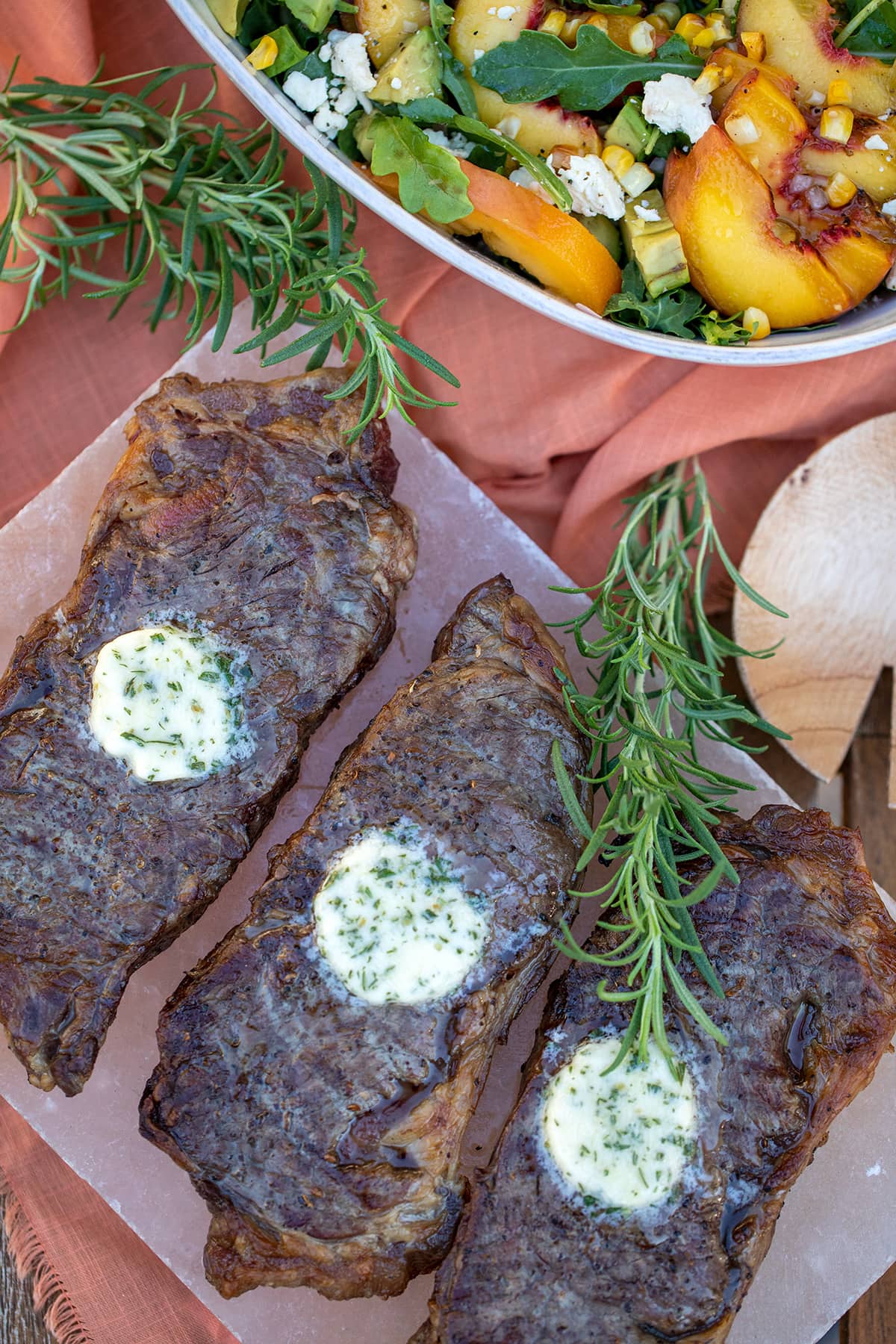 Fire up the grill this summer and elevate your next meal by shopping at Vons. Find the highest quality steaks, ground beef, pork ribs, chicken, fruits and vegetables available in the Los Angeles area exclusively at Vons stores. I hope you and your family will love these grilled steaks as much as mine does! Don't forget to check out my recipe for Grilled Peach and Corn Salad, the perfect summer side dish to serve with steak.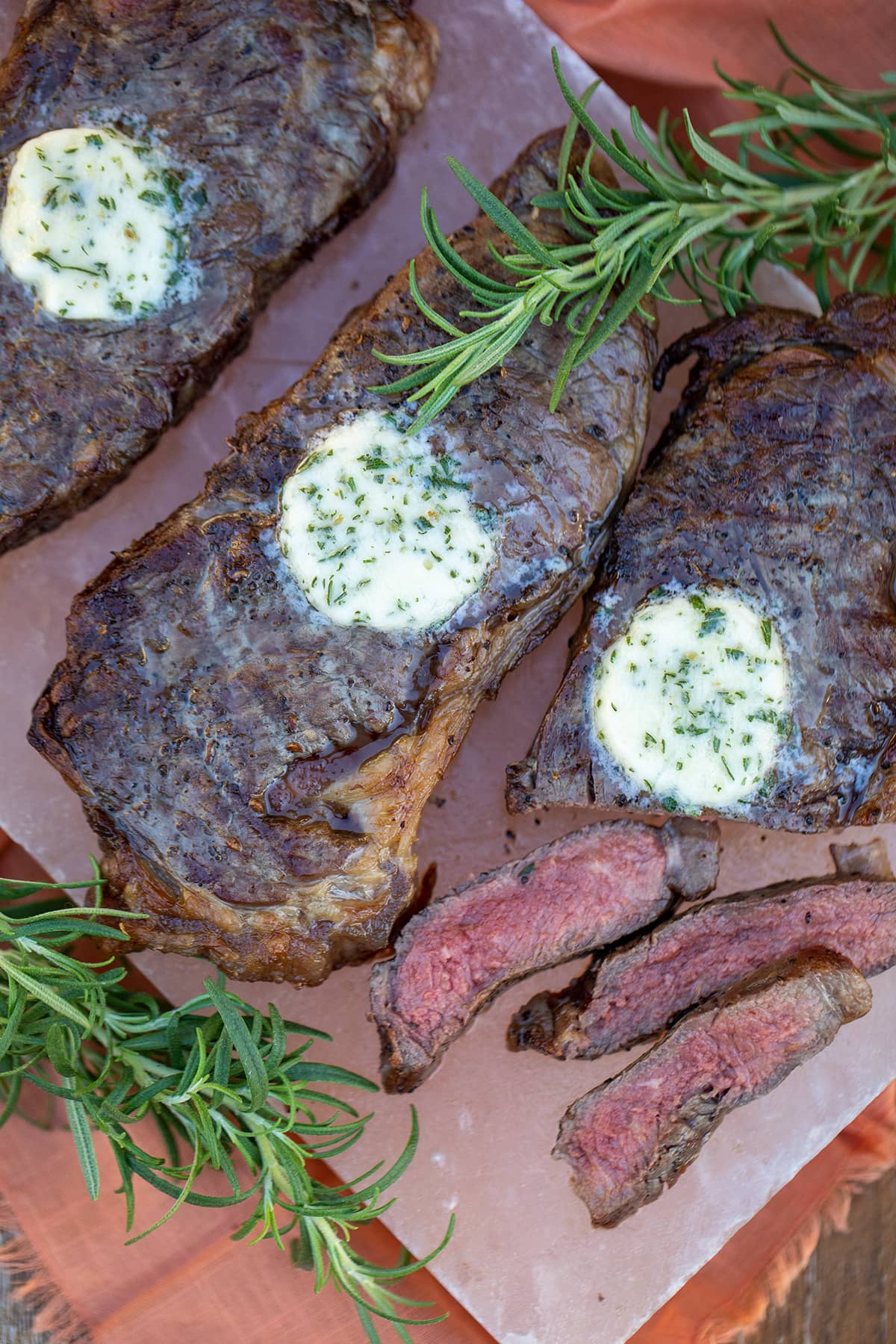 I shopped at Vons in my local area, but you can also find quality grilling and produce items at the Albertsons Companies family of stores, including Albertsons, Safeway, ACME Markets, Jewel-Osco, Randalls, Shaw's Supermarket, Star Market, and Tom Thumb. Vons also offers Grocery Delivery and DriveUp & Go™ for convenient ways to shop!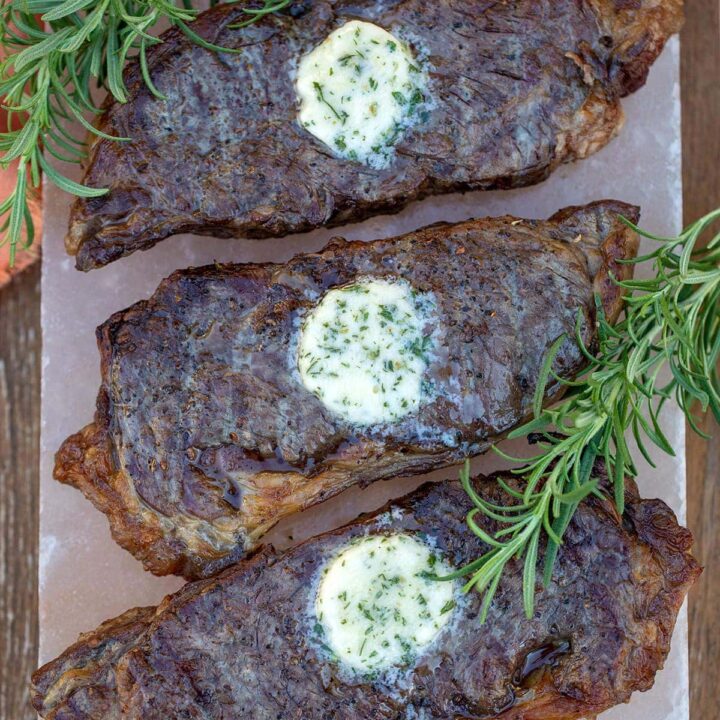 Perfect Grilled Steak with Garlic Herb Butter
Additional Time:
30 minutes
Perfectly grilled steaks topped with a garlic herb butter, great for summer grilling!
Ingredients
4 Open Nature Grass Fed Boneless New Year Strip Steak or Ribeye Steak
1 stick salted butter, at room temperature
1 Tablespoon rosemary, minced
1 clove garlic, minced
Kosher salt
Coarse ground pepper
vegetable oil, for the grill
Instructions
Make the compound butter by combining room temperature butter, rosemary and garlic in a bowl and mixing to combine. Transfer to a piece of plastic wrap and roll into a short log. Refrigerate until firm enough to slice.
Allow steaks to sit at room temperature for around 30 minutes while you prep and heat your grill or charcoal.
Clean the grill grates well with a wire grill brush.
Make sure you are cooking over a medium heat and that your charcoal is grey and hot but not on fire.
Pat steaks dry with a paper towel and season generously with salt and pepper on both sides.
Oil the grill and place steaks on the grill. Do not move or touch. Allow to cook 3-5 minutes (per side) for medium rare, 5-7 minutes for medium, and 8-10 for well done. Flip once and continue cooking the other side for the same number of minutes. This will also vary based on the thickness of your steaks and the heat of your grill.
Remove steaks from grill and allow to rest about 5-7 minutes before slicing. While they rest, top with slices of compound butter.
Nutrition Information:
Yield:

4
Serving Size:

1
Amount Per Serving:
Calories:

352
Total Fat:

34g
Saturated Fat:

18g
Trans Fat:

1g
Unsaturated Fat:

14g
Cholesterol:

95mg
Sodium:

351mg
Carbohydrates:

1g
Fiber:

1g
Sugar:

0g
Protein:

11g