It's always my goal to come up with delicious dinners that not only I want to eat but that the twins will eat as well. One meal for the entire family, that's the goal! Turkey Zucchini Meatballs with Mint Basil Pesto fit the bill. The twins love pesto on just about everything and these turkey zucchini meatballs are super kid friendly even though they are packed with veggies.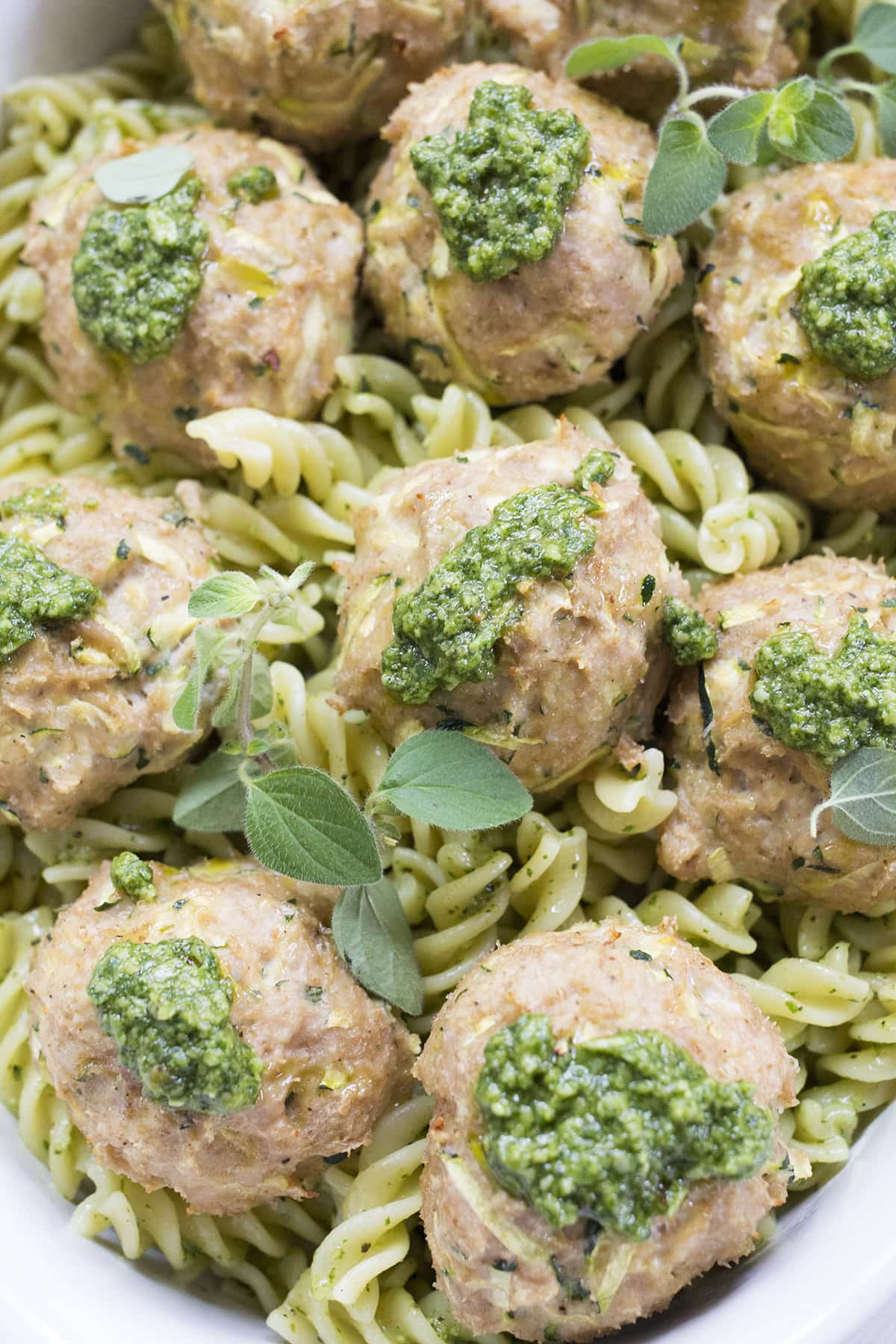 Serve them on top of your favorite pasta with more pesto sauce tossed in and you have an easy weeknight meal.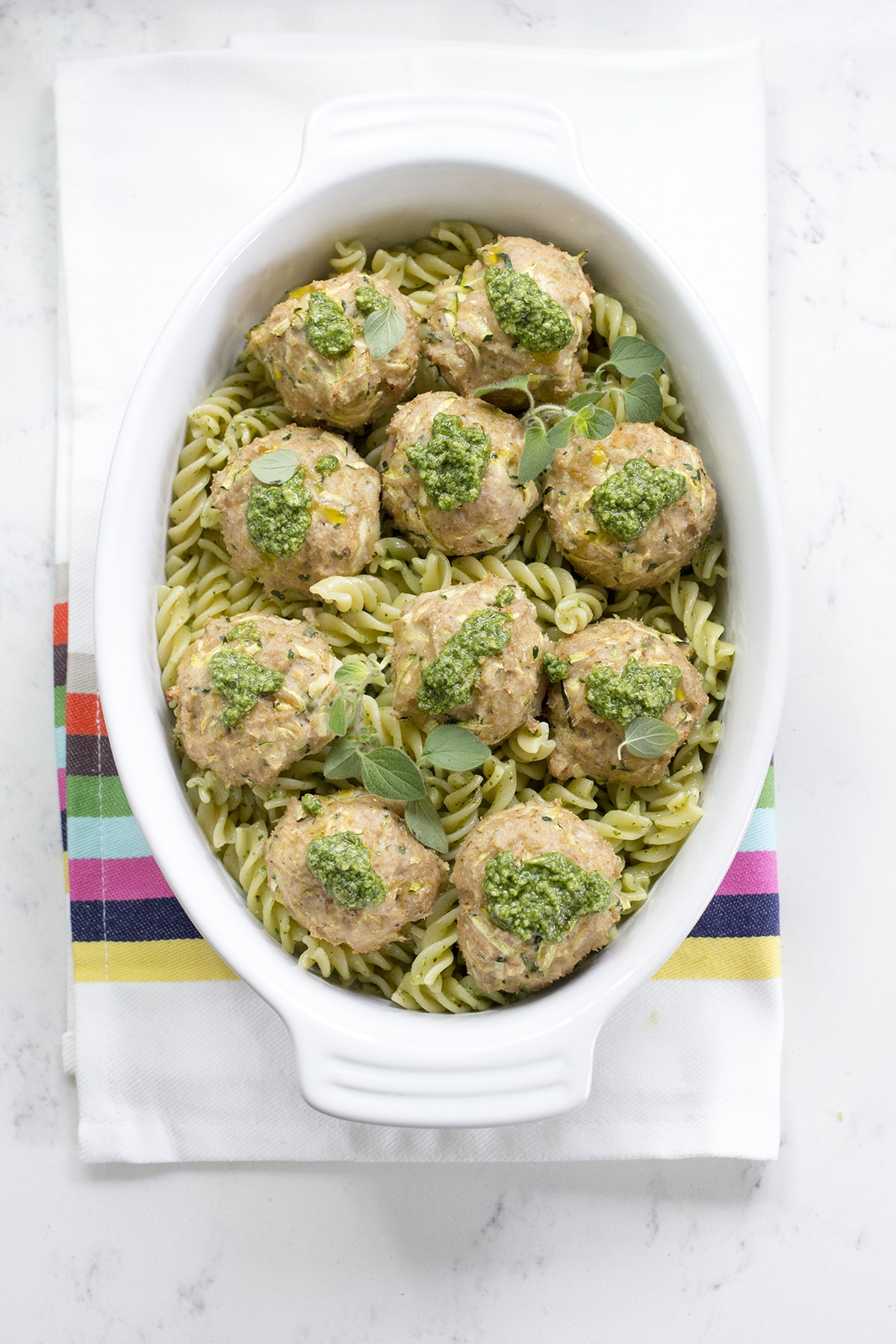 When it comes to pesto, I often just buy the refrigerated store-bought kind. It's not the greatest but it's so convenient to have on hand. Last night however, I made my own and it blows any store-bought kind out of the water. Two cups of fresh basil leaves, a quarter cup of mint, pine nuts, olive oil and lots of parmesan cheese. Sometimes I switch it up by adding spinach or arugula. Pesto is so versatile!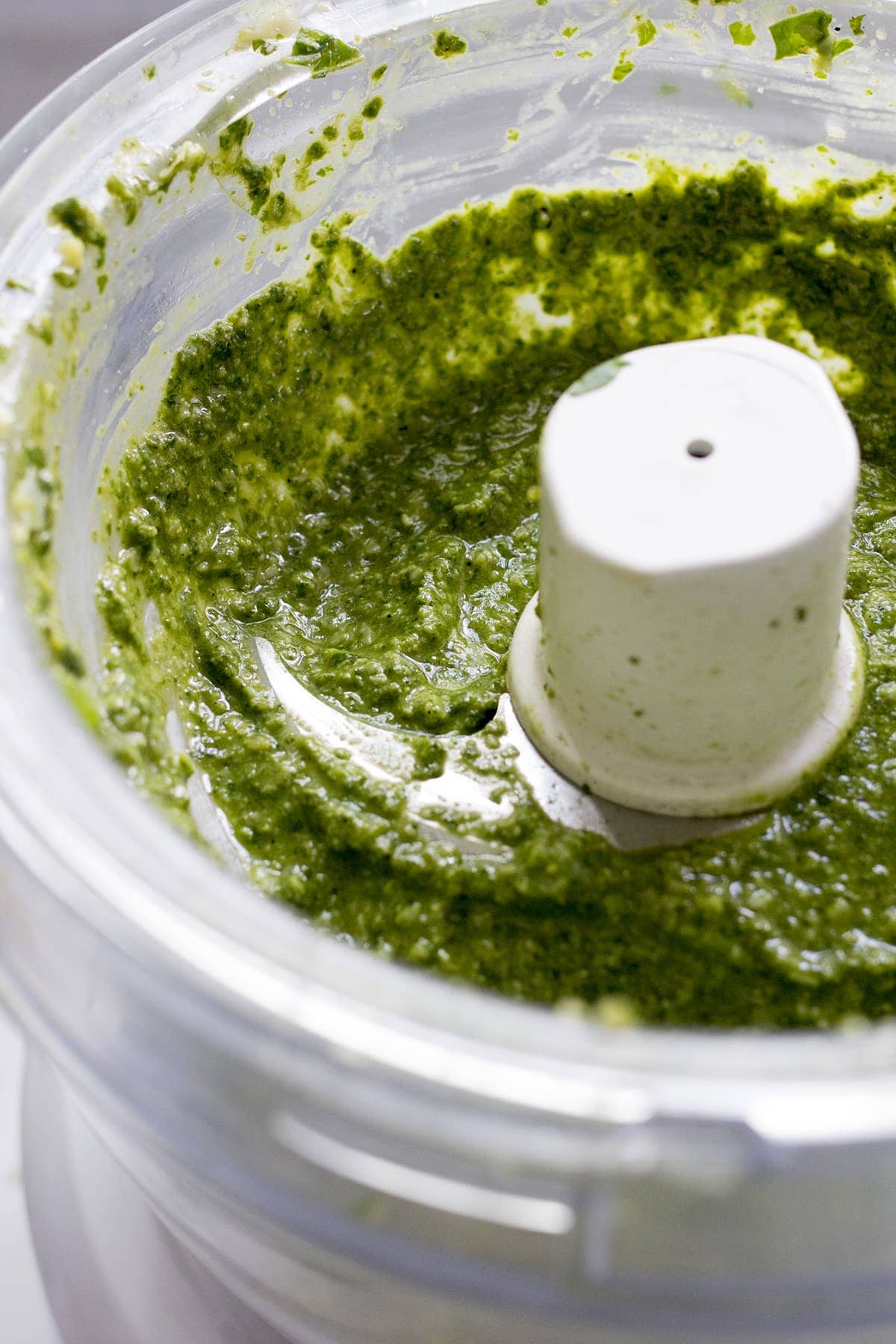 As for the meatballs, they couldn't be more simple. Ground turkey, I use the full fat kind, Italian bread crumbs, and egg to hold it all together, one large grated zucchini, garlic, salt, pepper and oregano. Scoop the mix out onto a sheet pan and bake. No need to get messy frying these meatballs up, they do just fine in a 350 degree oven for about 30 minutes or until the juices run clear in the center.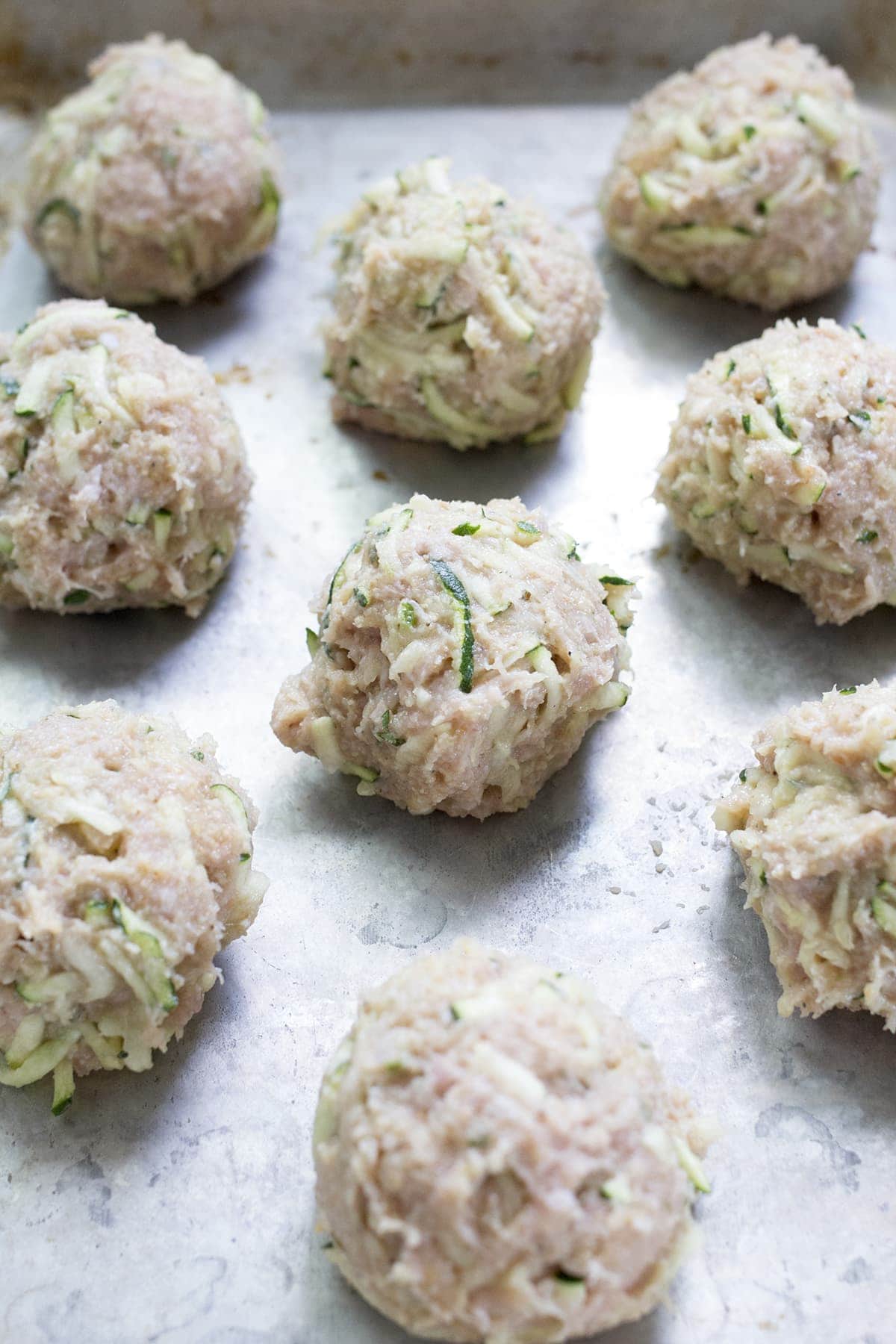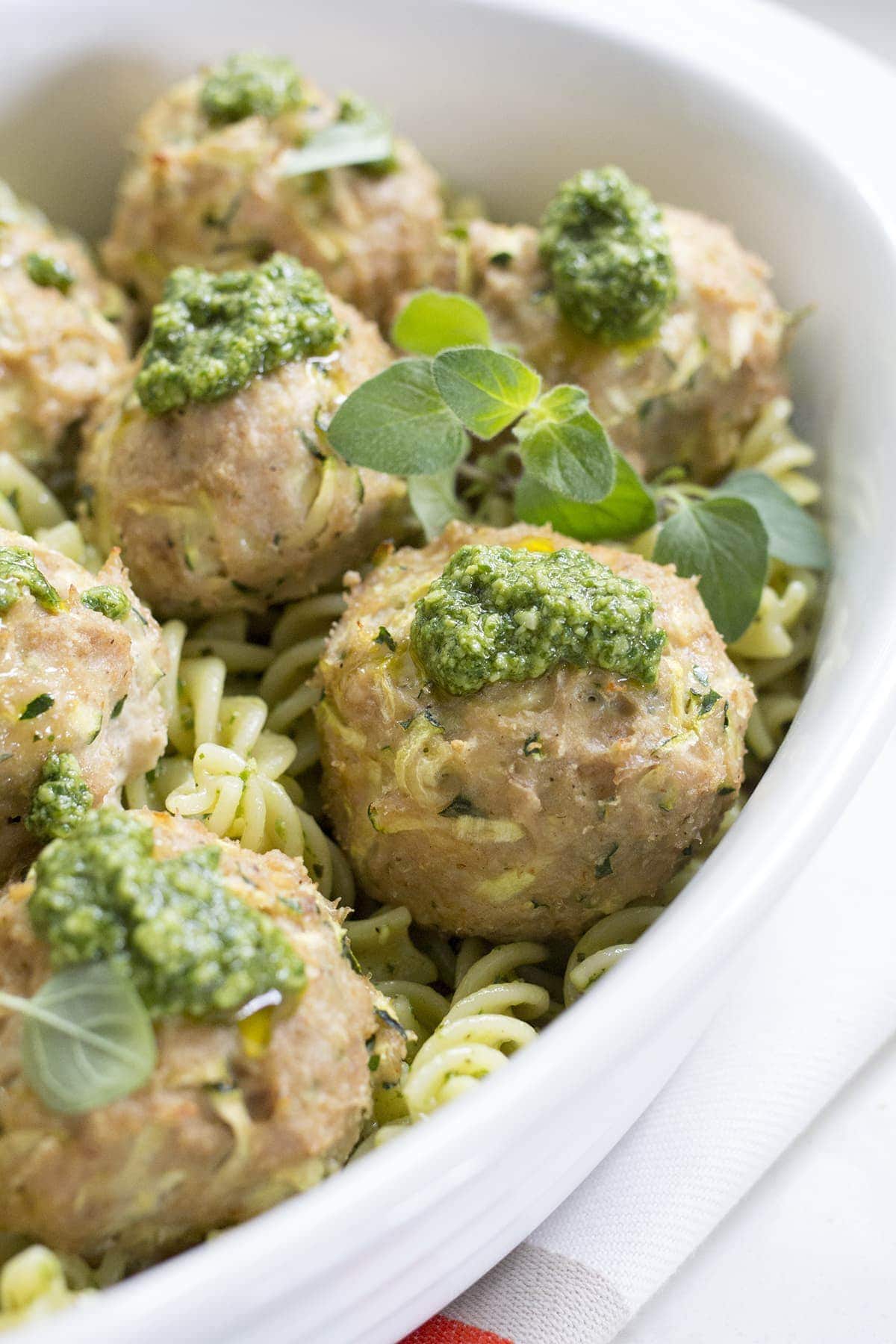 While they bake boil your pasta water and get those noodles a-cookin! This dinner is about to come together so quickly, just watch.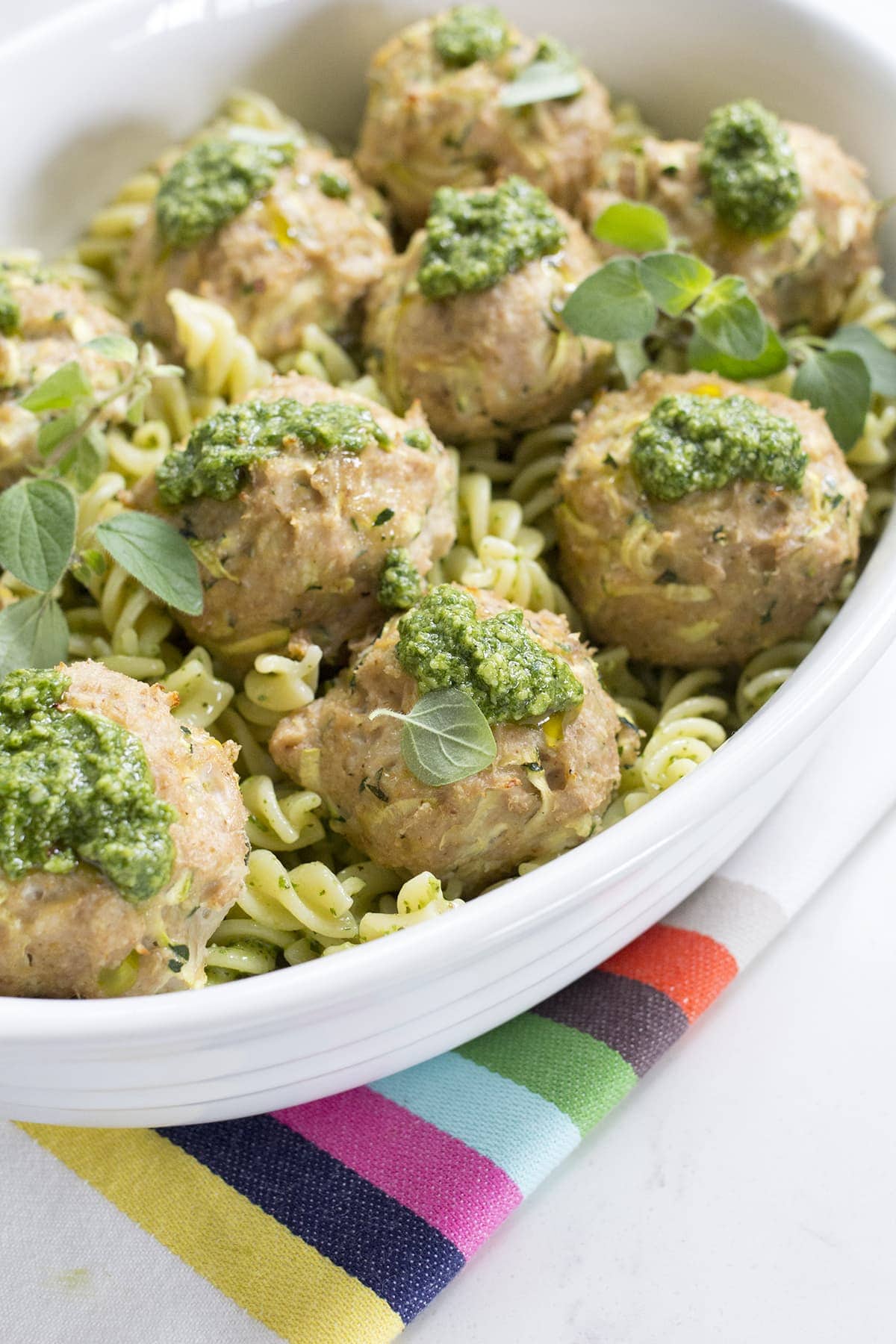 Toss hot pasta with a couple dollops of your homemade pesto and top with the meatballs. Just a little extra pesto and a sprinkling of oregano leaves over top is all you need. Dinner is served!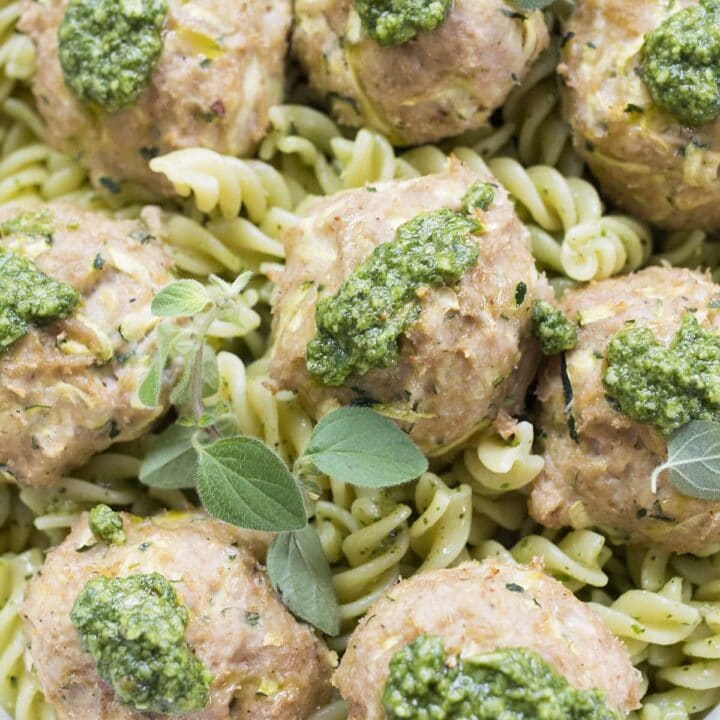 Turkey Zucchini Meatballs with Mint Basil Pesto
Turkey meatballs stuffed full of zucchini and topped with a homemade mint and basil pesto make a tasty weeknight family meal.
Ingredients
1 pound ground turkey
1 egg
1 ½ cups zucchini
½ cup Italian breadcrumbs
1 teaspoon fresh, minced oregano
1 clove garlic, grated
Salt and pepper
Mint Basil Pesto:
2 cups packed basil leaves
¼ cup packed mint leaves
½ cup extra virgin olive oil
⅓ cup pine nuts
½ cup freshly grated Parmesan cheese
¼ teaspoon of salt
dash of black pepper
Instructions
Preheat oven to 350 degrees.
In a large bowl combine all of the ingredients and mix together well with your hands or a wooden spoon.
Scoop out 12 meatballs and place on a greased baking sheet.
Bake 30 minutes or until the center is firm and the juices run clear.
Pesto:
In a food processor blend basil, olive oil, pine nuts, salt and pepper until finely chopped. Add cheese and pulse just until combined. Serve over pasta and store in a jar with tightly fitted lid in the fridge.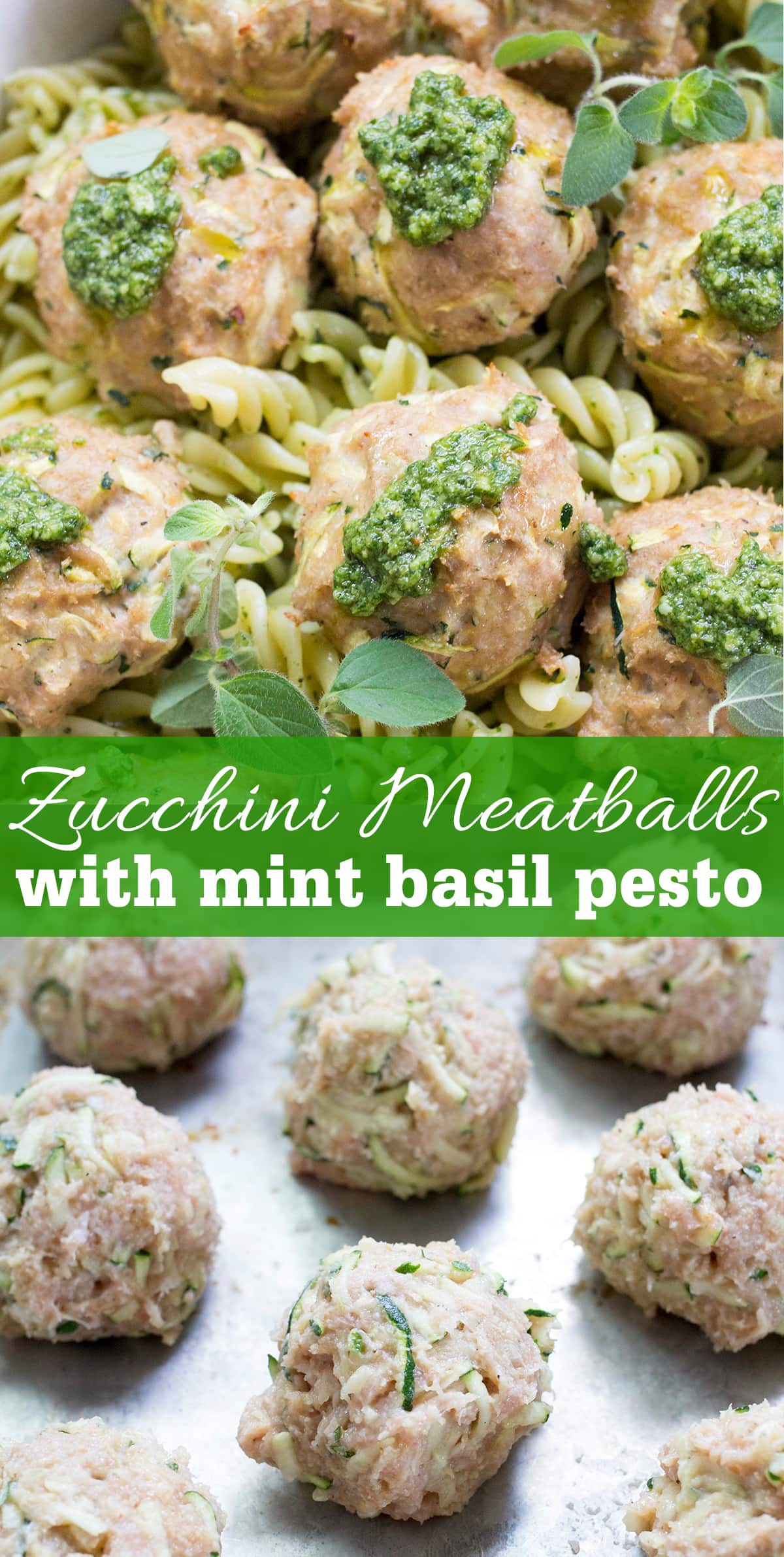 Save