With the new year comes a chance to renew our resolutions, refresh our minds, and most importantly reboot our bodies after all of the indulgences of the holiday season! If you're anything like me and are just coming off of a three-month long sweet and salty holiday food extravaganza, than the idea of dropping dessert cold turkey sounds down right impossible.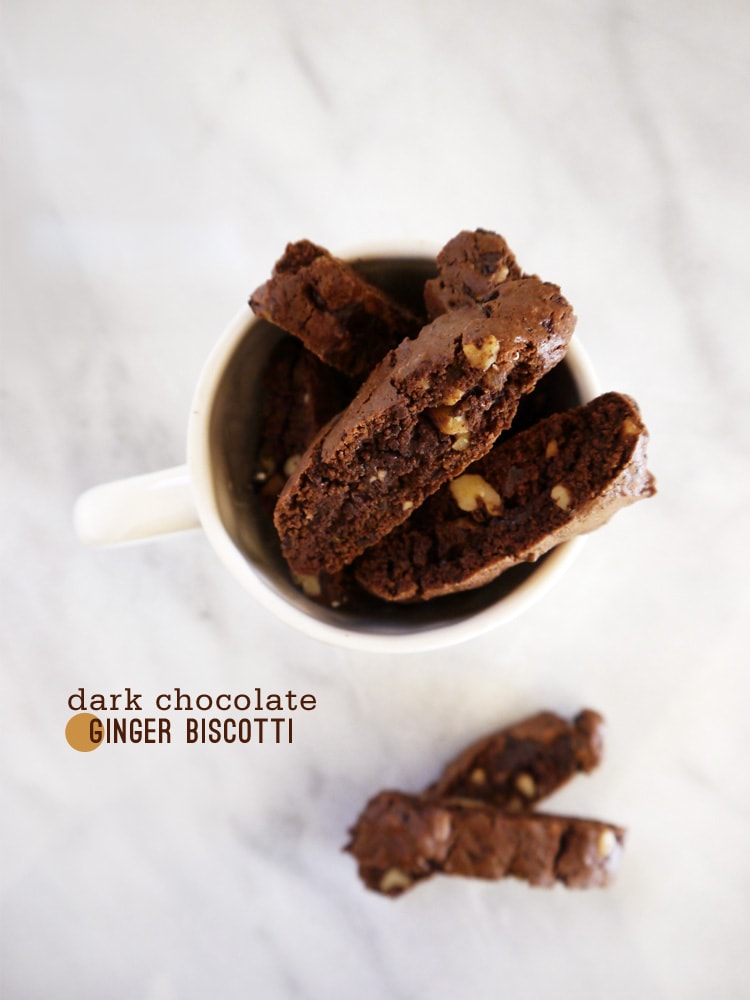 That's why I was excited to find this recipe for Double Dark-Chocolate and Ginger Biscotti from Whole Living. The perfect, not so bad for you, sweet treat to dunk in your evening cup of tea while pondering this year's resolutions.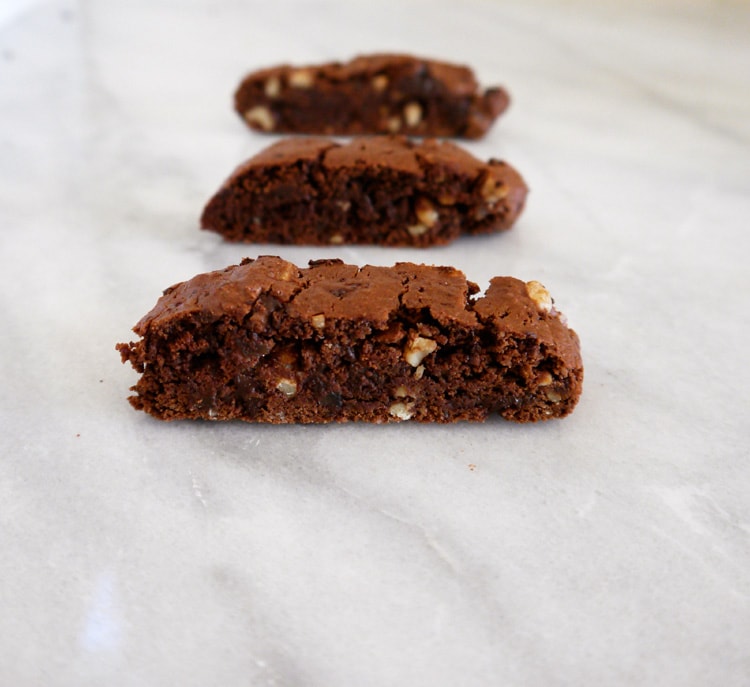 photos by Freutcake
Double Dark-Chocolate and Ginger Biscotti - Whole Living
1 cup all-purpose flour, spooned and leveled
⅓ cup unsweetened cocoa powder
1 ½ teaspoons baking powder
¼ teaspoon salt
1 large egg, plus 1 large egg yolk
½ cup sugar
1 teaspoon vanilla extract
¼ cup canola oil
½ cup walnuts, coarsely chopped
3 ounces dark chocolate, coarsely chopped (½ cup)
¼ cup finely chopped crystallized ginger
Directions
1. Preheat oven to 350 degrees. Line a large baking sheet with parchment paper.
2. In a medium bowl, whisk together flour, cocoa powder, baking powder, and salt until well combined; set aside. In the large bowl of an electric mixer, beat egg, egg yolk, and sugar until light and fluffy; beat in the vanilla and oil until well combined.
3. With the mixer on low, beat in dry ingredients until combined. Fold in walnuts, chocolate, and ginger with a rubber spatula (dough will be stiff).
4. With moistened hands shape the dough into 2 logs, each about 9 inches long and 2 ½ inches wide. Bake until set on top, about 20 minutes. Cool 10 minutes in pan. Reduce oven temperature to 325 degrees.
5. Transfer logs to a cutting board and, with a serrated knife, cut each log on the diagonal into 16 slices, each ½ inch thick. Bake until crisp, about 20 minutes, turning the biscotti over midway through. Cool 5 minutes on a baking sheet, then transfer to a wire rack to cool completely. Store in an airtight container for up to a week.