Have you jumped onboard the Kombucha train yet? For those who love it and drink it daily (like me) you will know that it's one of the greatest drinks on planet Earth...too much? Maybe. Ok, well today I'm sharing a Kombucha Mojito Cocktail Recipe and I'll tell you why...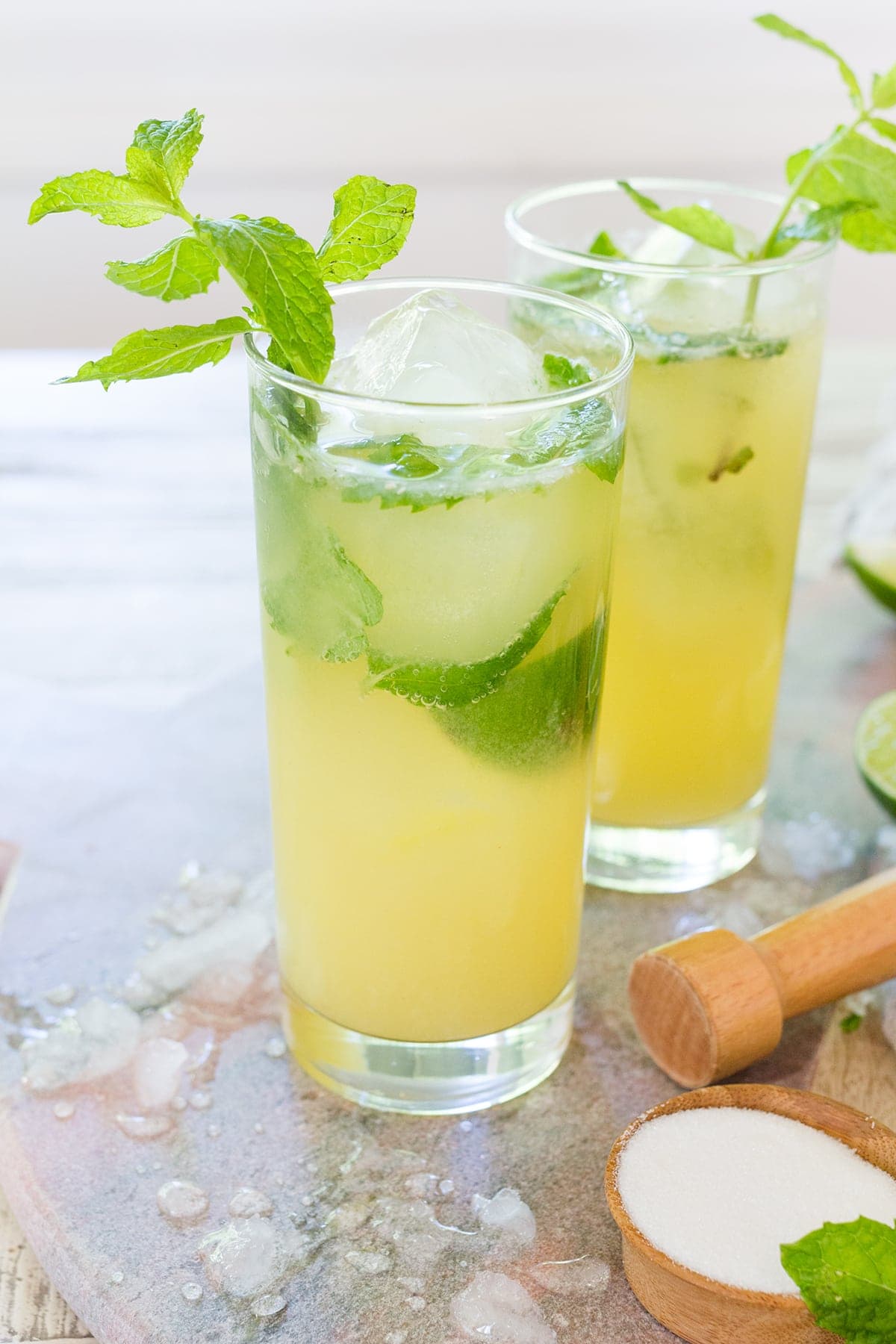 When I first started drinking Kombucha (and more specifically the brand Health-Ade Kombucha) a couple of years ago, I immediately fell in love with it. Not all brands of 'bucha are created equal as is the case with most things in life and I find that Health-Ade has the best flavor, effervescence and packs the most punch when it comes to the feeling I get from drinking it.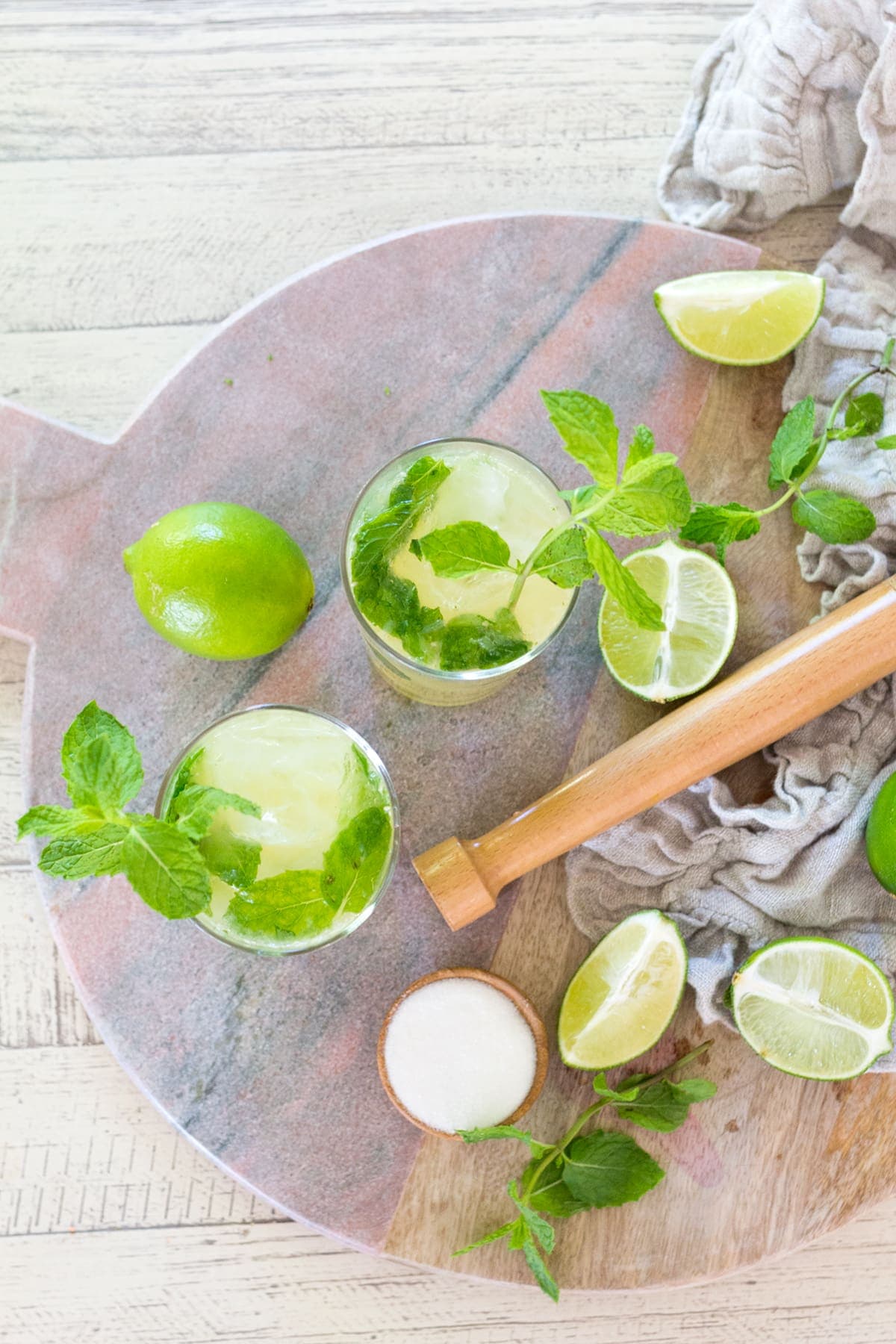 Kombucha has greatly improved my digestion and my gut health due to its probiotic benefits. It's a fermented black tea that has been used for health purposes and consumed for thousands of years. Here are just a few of the many health claims:
Detoxification.
Improved digestion.
Immune system stimulation.
Cholesterol reduction.
Energy enhancement.
Weight loss.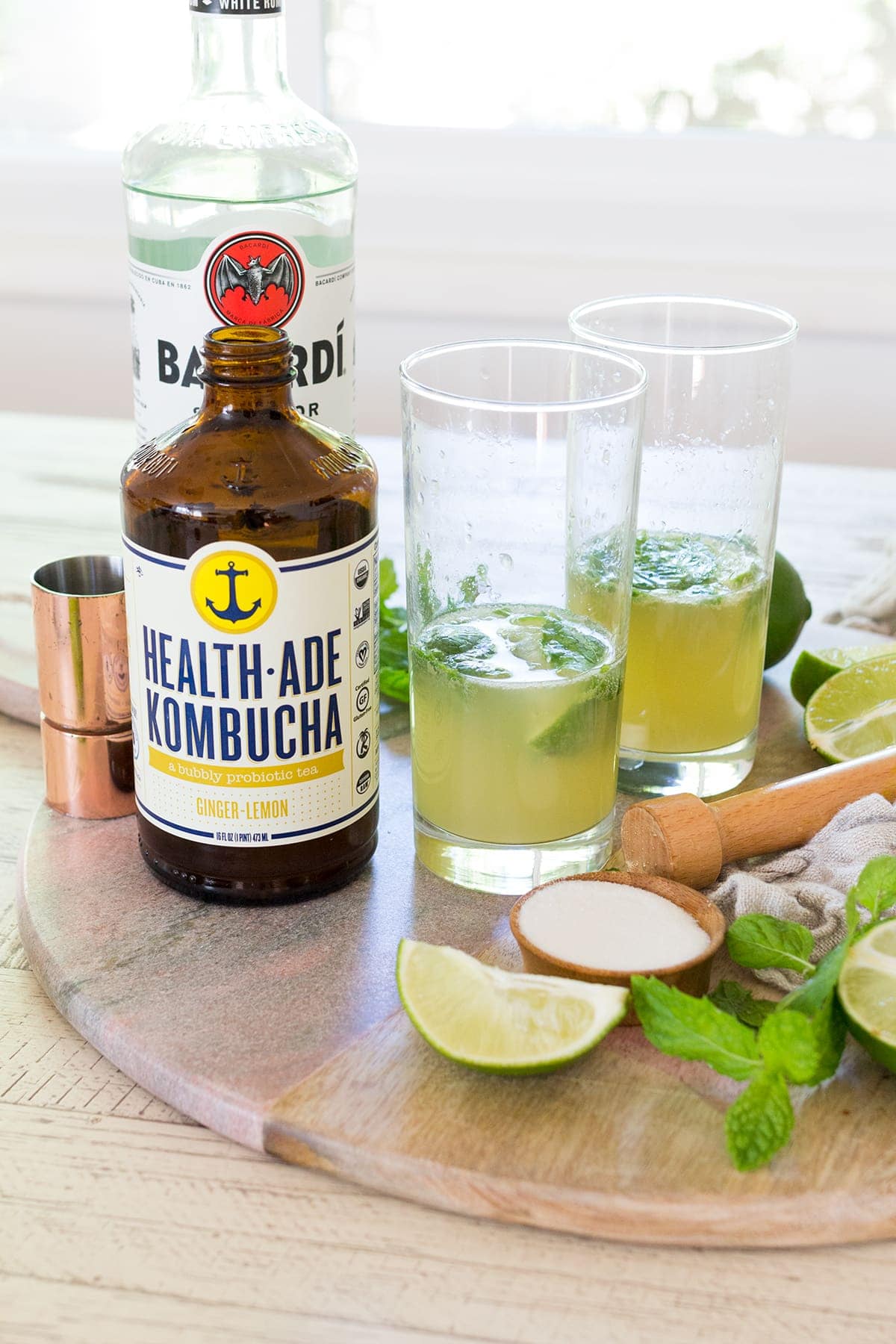 And while its still up for debate as to whether or not Kombucha really lives up the it's hype, I can personally attest to the energy enhancement, improved digestion and basic immune system strengthening. Plus, and most importantly, it tastes really darn good! It has a tangy almost "apple cider vinegar" like hint to it thanks to the fermentation that is down right addictive. So, why in the WORLD would you make a cocktail out of it, you might ask...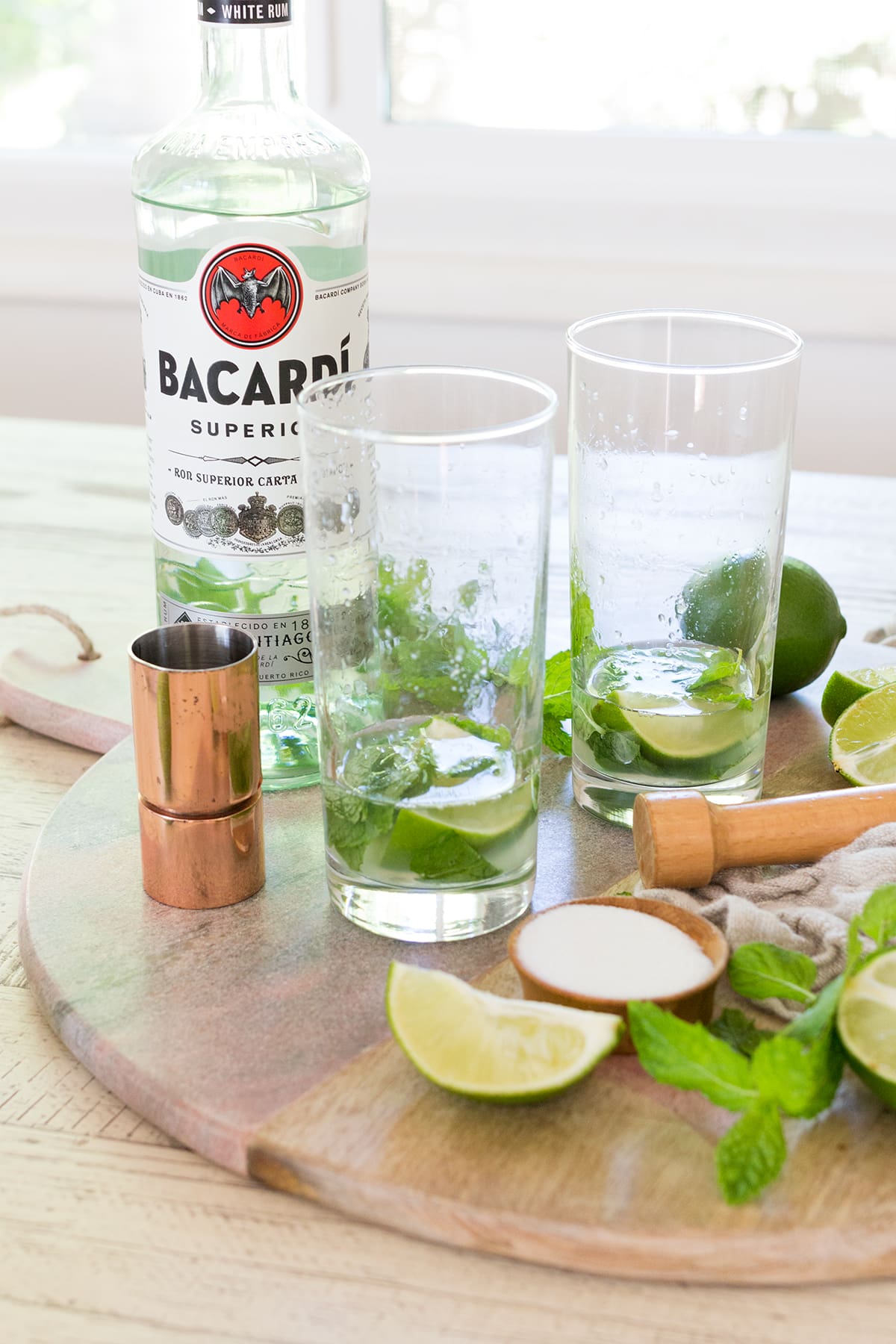 The answer is, why not? It's my own personal health tonic so why not drink the good stuff even if it's mixed with alcohol once in a while? I find that I feel a wee-bit healthier having a cocktail made with a Kombucha versus some sweet juice or mixer. And the idea is not originally mine either! Kombucha cocktails are becoming more and more popular. I actually posted a Kombucha Margarita recipe here if you are interested.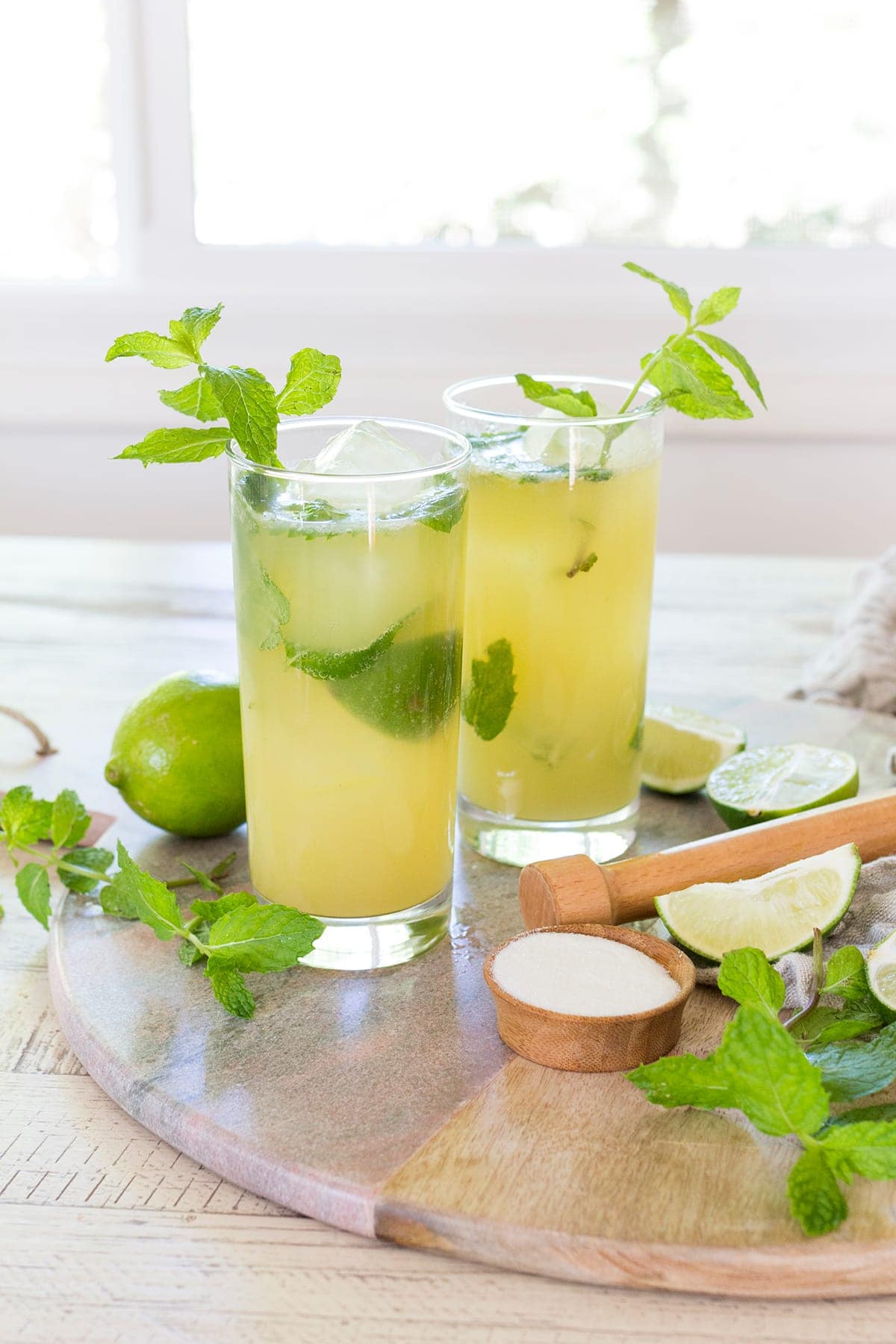 For this Mojito recipe, I used Health-Ade's Ginger Lemon Kombucha to give it a spicy kick but if you want more of a neutral flavor, try Health-Ade's Original Kombucha. The Original flavor is much milder and more conducive to letting the mint flavor of the mojito shine. So, have you ever mixed your cocktails with Kombucha? What's your favorite brand to drink?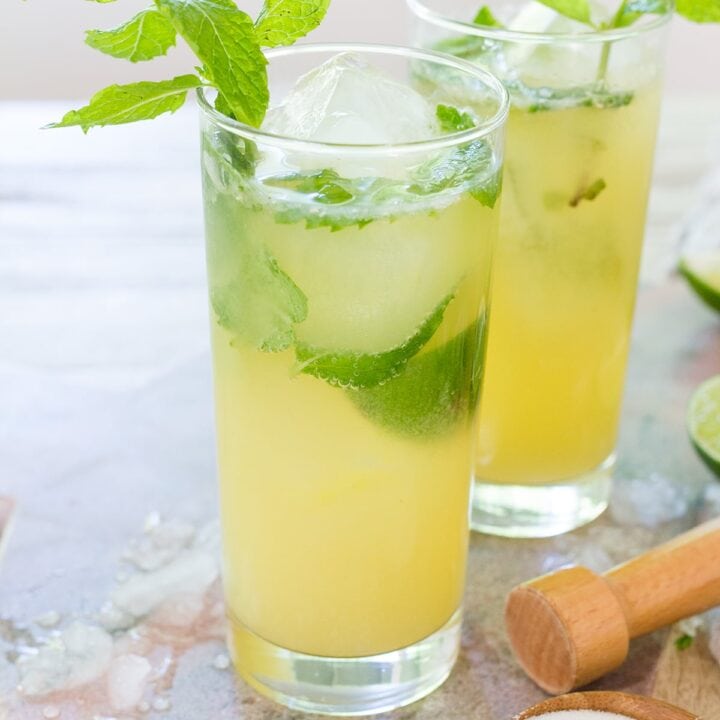 Kombucha Mojito Cocktail Recipe
A classic Mojito made new again with the addition of Kombucha!
Ingredients
2 oz white rum
1 teaspoon sugar
One lime cut in quarters
10 fresh mint leaves + more for garnish
Health-Ade Kombucha
ice
Instructions
In the bottom of a tall cocktail glass combine sugar and mint leaves. Muddle well breaking down the mint leaves as much as you can. You can use a wooden cocktail muddler or if you don't have one, the handle of a wooden spoon for this!
Next squeeze in the juice from ½ of your lime and drop in a slice or two, muddle some more.
Add in the rum and stir to combine.
Fill glass with ice and top with Kombucha, as much or as little as you like. Give it all a stir, taste and add more sugar or lime as needed to taste.
Cheers!