There is something so inspiring about the abundance of fall. The warmth of fall colors, the flavors, and seasonal fruits; they all lend themselves so nicely to a Fall Inspired Cheese Board.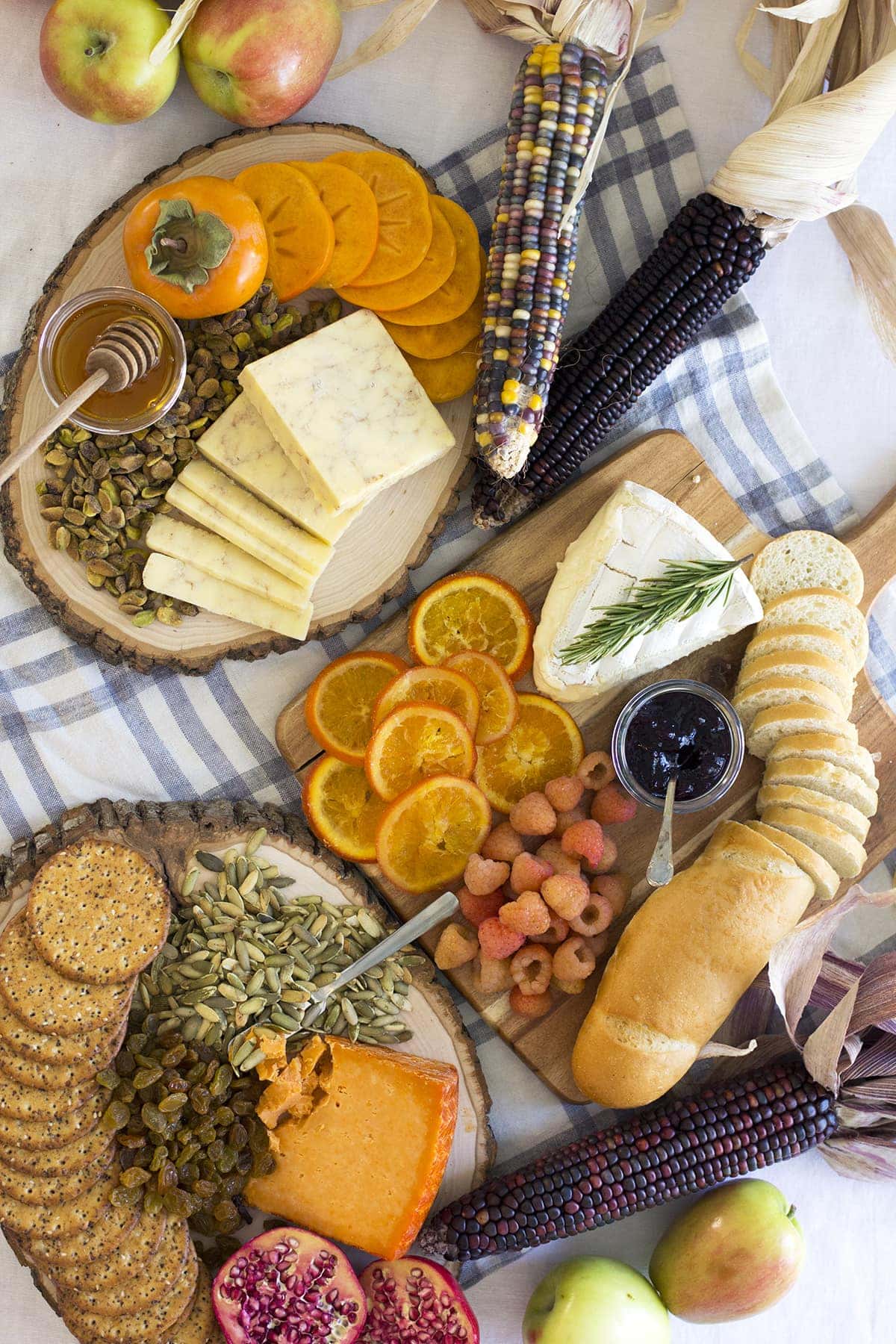 I absolutely love creating cheese boards for easy entertaining. They make the most beautiful centerpieces on any table and are the most uncomplicated appetizer offering you can possibly serve. But we've all see a rather blah and boring cheese board...let's be honest. So what's the secret? Variety and abundance...and not overthinking it! If you see fruit or nuts or crackers that inspire you in the store, grab them! Pile it high and fill in all of the nooks and crannies with goodies for guests to pick at. Here what I did...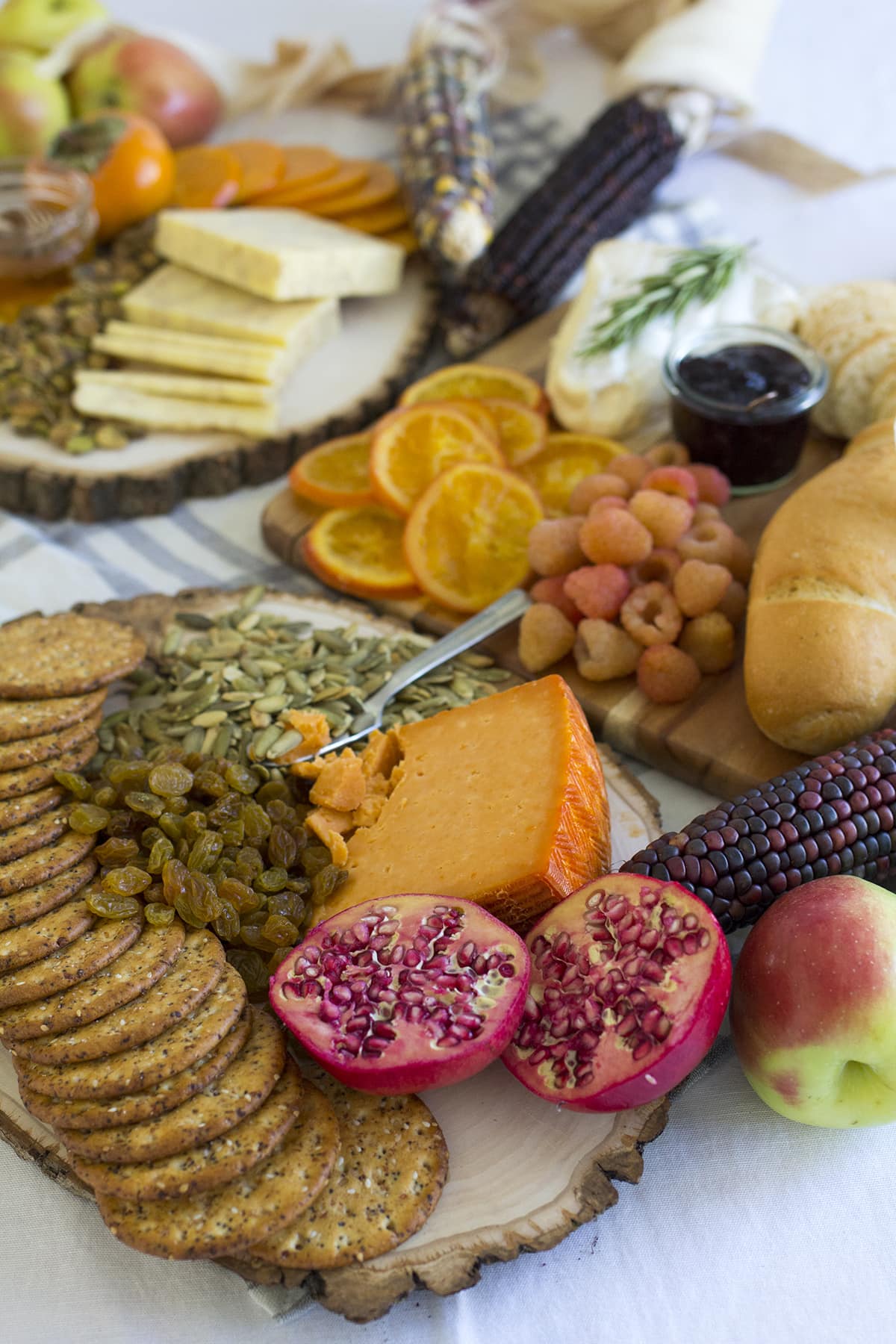 Cheese: When I'm shopping for a cheese board I always start with the most important part, the CHEESE! Usually one soft cheese like a triple cream brie or a soft blue cheese, one hard sheep's milk cheese, and one hard cow's milk cheese. But I also like to have fun with the cheese selection and try new things. I found an apple pie cheddar cheese at Trader Joe's that is to die for topped with a few pistachios and a drizzle of honey. It's perfect for a Fall Inspired Cheese Board. Paprika sheep's milk cheese is also fun and gives a beautiful bright orange color to board. Add a sprig of rosemary or a few nuts to the top of brie to dress it up.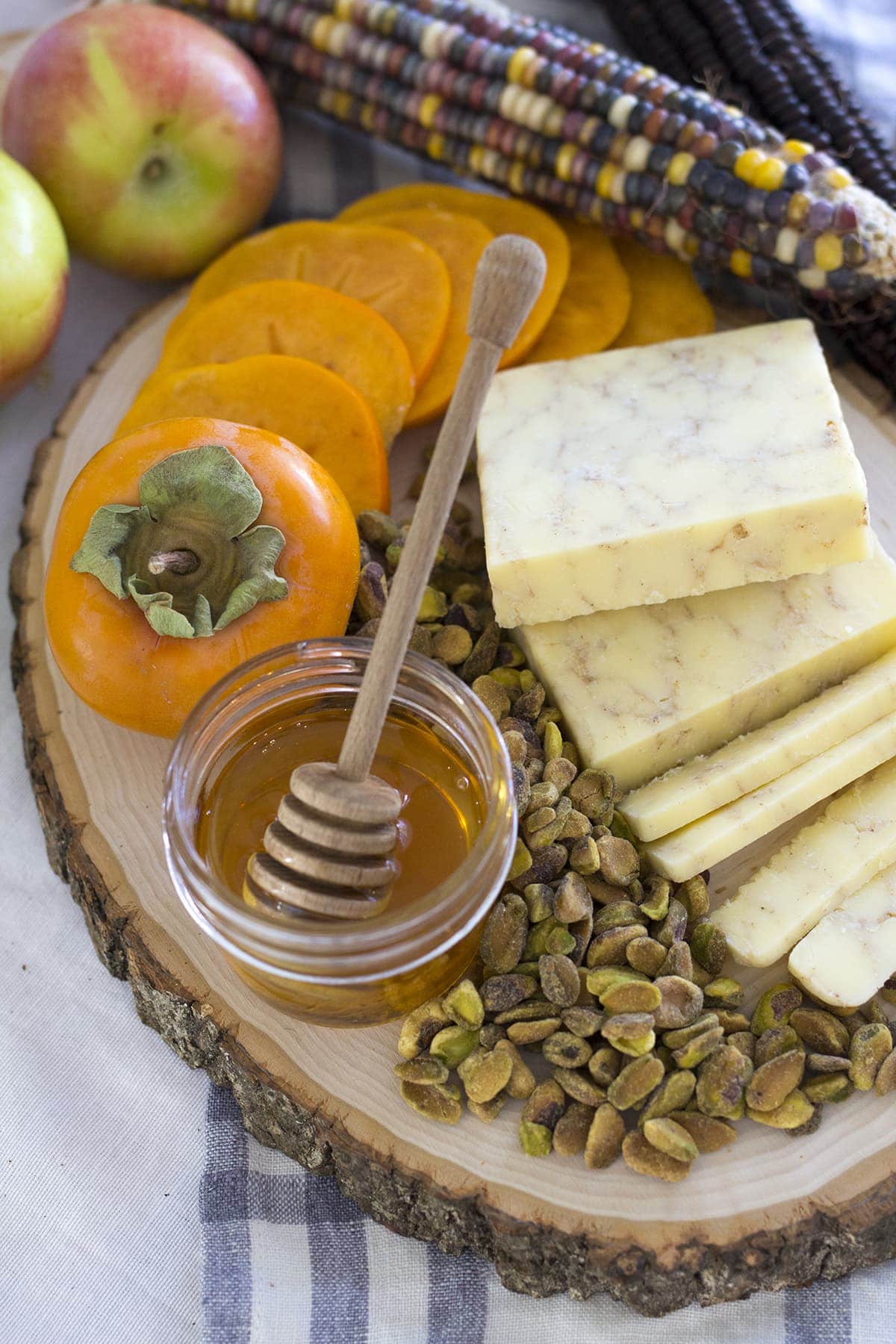 Crackers & Bread: Next, pick crackers and a baguette for slicing. Sliced baguette goes really well with soft brie while grainy whole wheat crackers are delicious with a hard cheddar. Bread sticks and flat bread are also nice!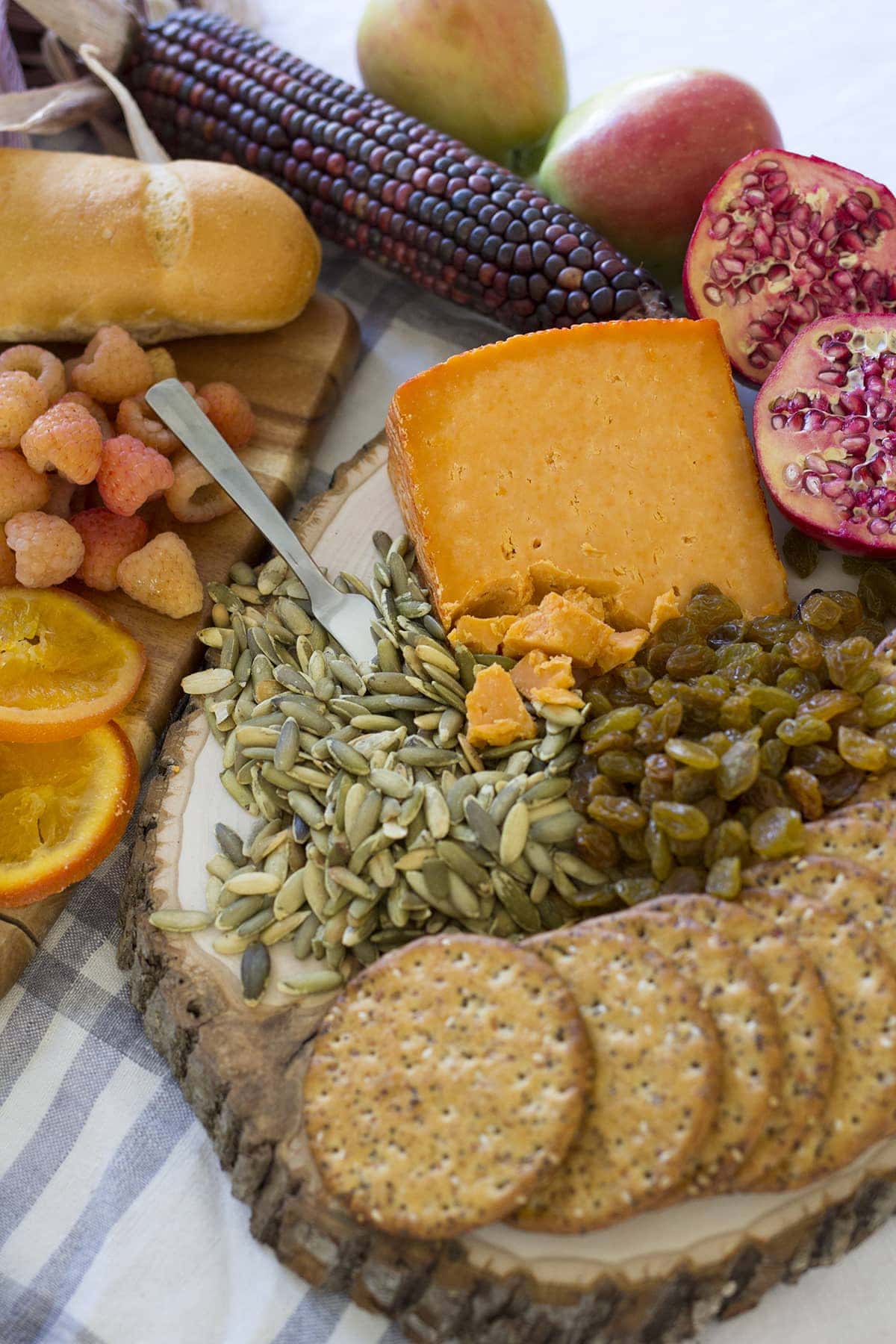 Dried Fruit, Nuts & Seeds: Fill in the spaces between the cheese and crackers with piles of pumpkin seeds, pistachios, and golden raisins. More is more! Dried orange slices are pretty and unexpected. Dried apricots, figs and pecans are other favorites of mine.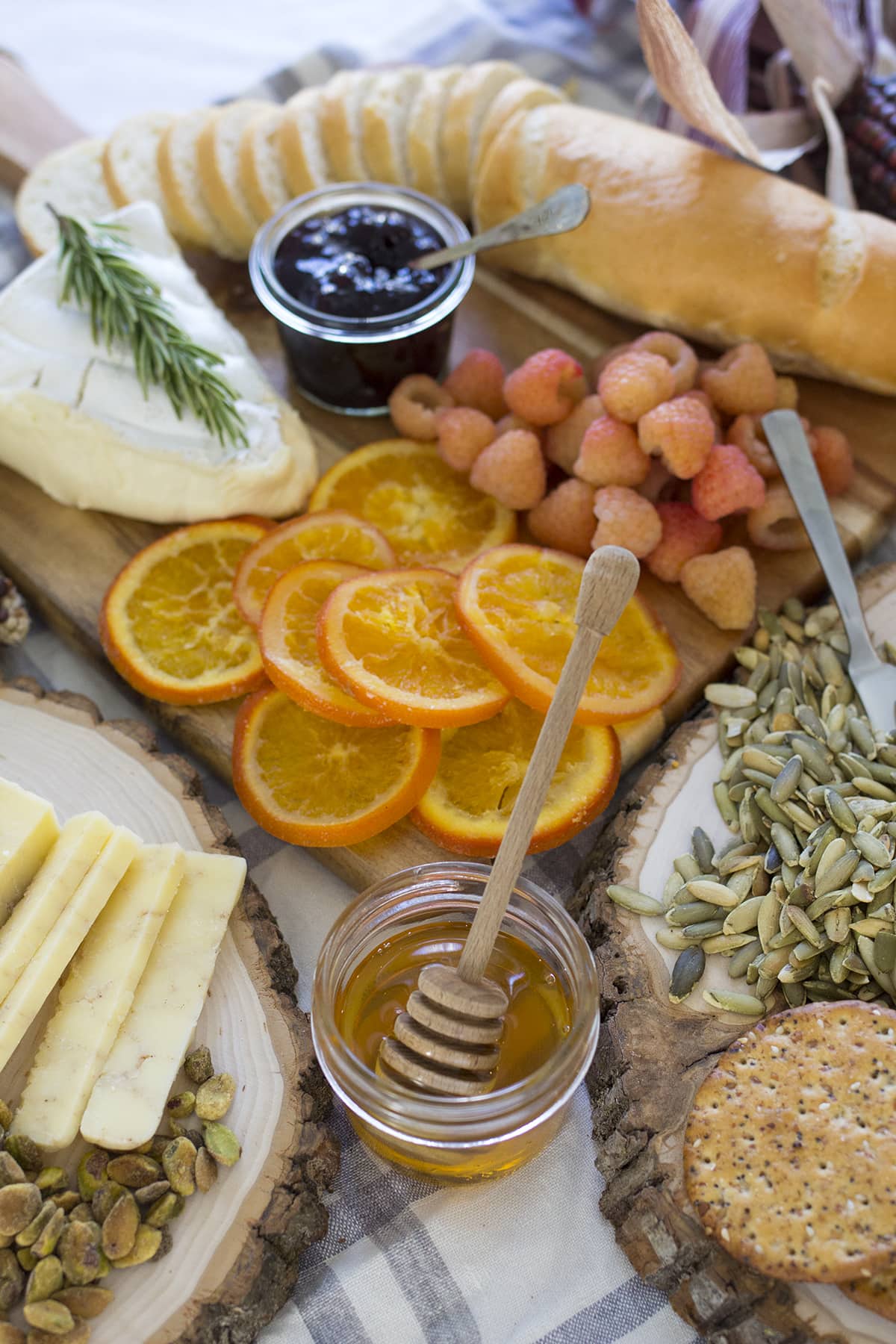 Fresh Fruits, Jam & Honey: Pick fruits that are in season like crisp apples for slicing, persimmons, and golden raspberries. Fresh figs are also lovely cut in half for a pretty presentation. Set out small jars filled with jam and honey for drizzling over the cheese and crackers.
Meats: I planned to include thinly sliced prosciutto on my cheese board but Mom-brain got the best of me and I left it in the fridge. Ah, well. I'll have a nice salty treat to snack on with my left over cheese!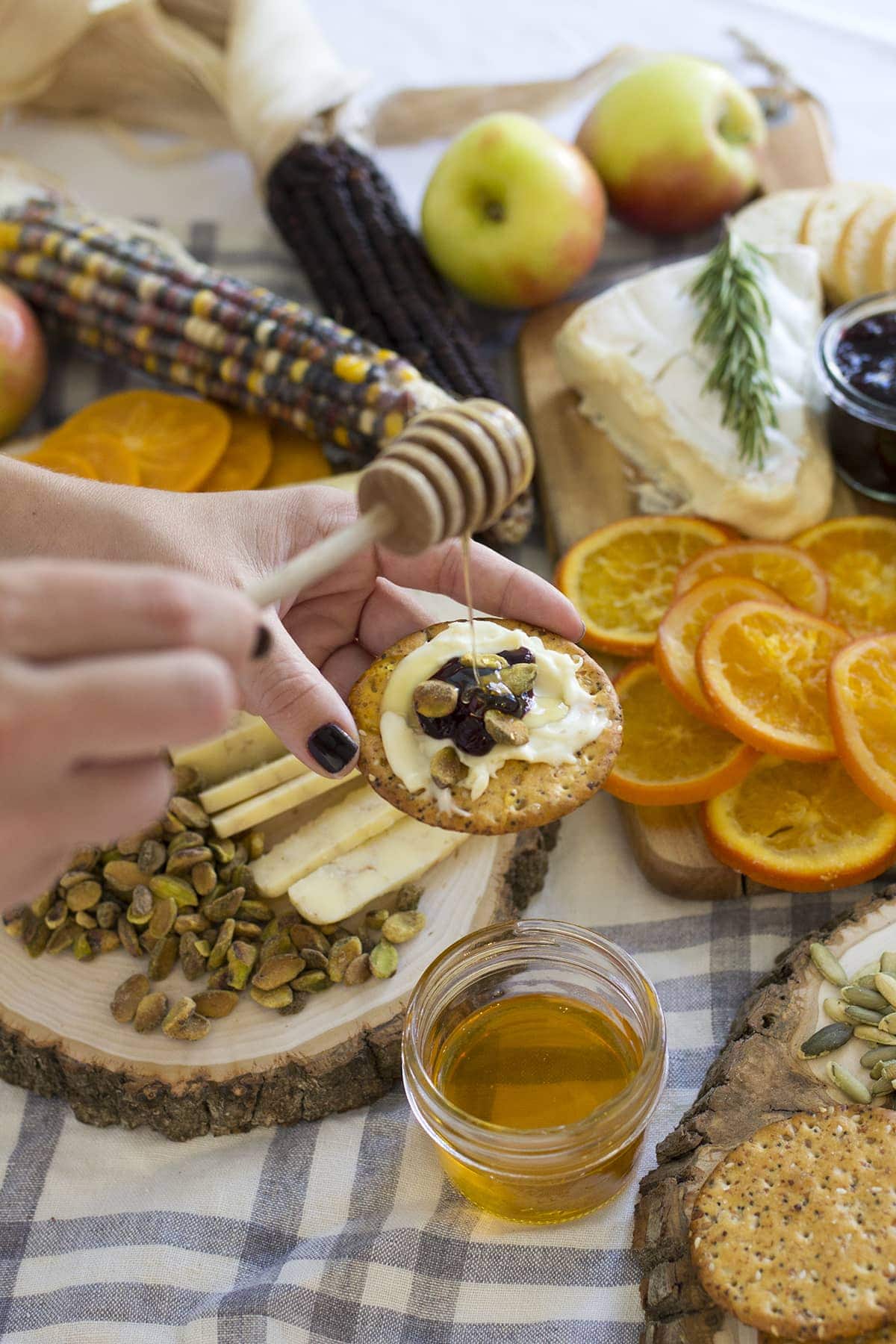 Boards & Platters: One large platter will definitely work but if you can, try breaking up your offerings into multiple platters! I used one small wooden cutting board and two sliced wooden serving boards clustered together. Surround the boards with dried Indian corn, apples, pears, small pumpkins or gourds...whatever you have that feels fall-like will work.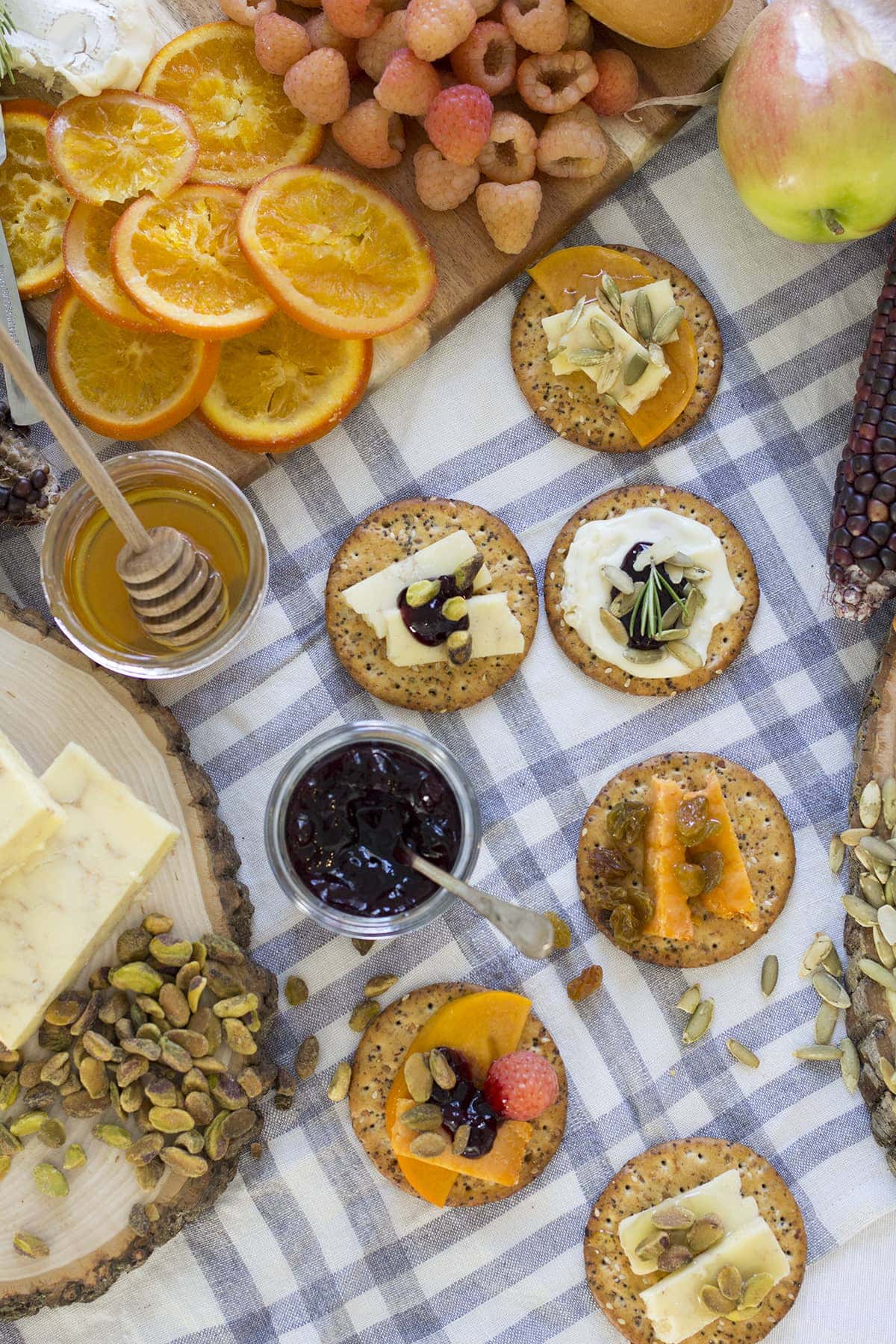 A beautiful cheese board really can come together so quickly and with hardly any prep work, aside from slicing a few pieces of cheese to get the snacking started of course. It's fun to see what sorts of combinations your guests will make. It's all about crafting that perfect cheesy bite! For me that's means Brie topped with some sort of fruit or nuts and a little drizzle of honey. Perfection!
photos by Leah Bergman
Save
Save
Save
Save
Save
Save