Halloween is tomorrow evening and if you haven't had time to plan a sweet treat for your little pumpkins, may I suggest Frosted Pumpkin Cookies? Ghouls and goblins alike will love these soft and spicy pumpkin cookies with their sweet frosting. Or make a tray of Candy Corn Meringue Sandwich Cookies or a bowl of easy Pumpkin Pie Dip. You simply can't go wrong with these sweets. Happy Halloween!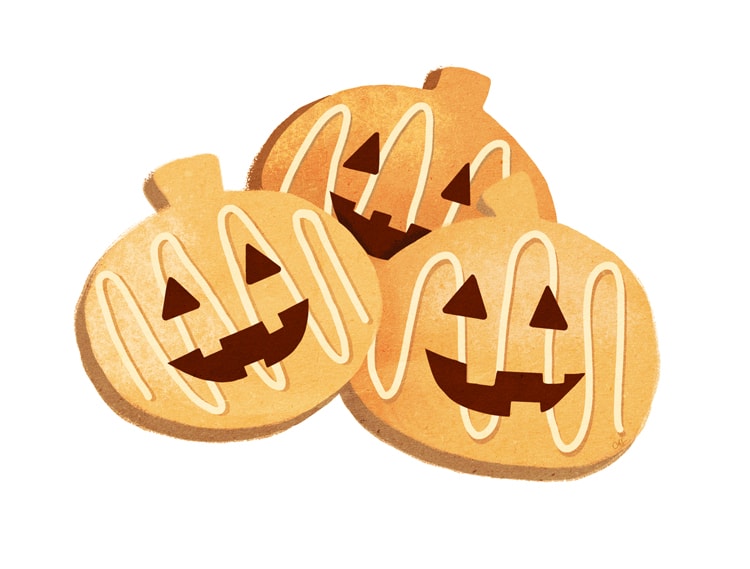 Illustration by Ann Shen
Frosted Pumpkin Cookies- recipe via Better Homes and Gardens
2 cups butter, softened
2 cups granulated sugar
2 teaspoons baking powder
2 teaspoons baking soda
1 teaspoon salt
1 teaspoon ground cinnamon
1 teaspoon ground nutmeg
2 eggs
2 teaspoons vanilla
1 15-ounce can pumpkin
4 cups all-purpose flour
Frosting
1/2 cup butter
1/2 cup packed brown sugar
1/4 cup milk
1 teaspoon vanilla
3 to 4 cups powdered sugar (add until desired consistency)
a sprinkle of nutmeg for garnish
Directions:
1. Preheat oven to 350 degrees. In the bowl of an electric mixer, beat butter on medium speed for 30 seconds. Add granulated sugar, baking powder, baking soda, salt, cinnamon, and nutmeg and mix until combined. Add the eggs, vanilla and pumpkin and mix throughly. With the mixer on low, add in the flour slowly mixing until combined. Switch to a wooden spoon if necessary.
2. Drop dough by heaping teaspoon full onto un-greased cookie sheets 2 inches apart. Bake for 10 to 12 minutes or until tops are set. Transfer to wire racks to cool completely before frosting.
Frosting:
1. In a small saucepan heat butter and brown sugar until melted and smooth. Transfer to a medium bowl. Stir in milk and and vanilla. Beat in powdered sugar with a wooden spoon until smooth. Spread frosting on cookies. Sprinkle with additional nutmeg if desired.