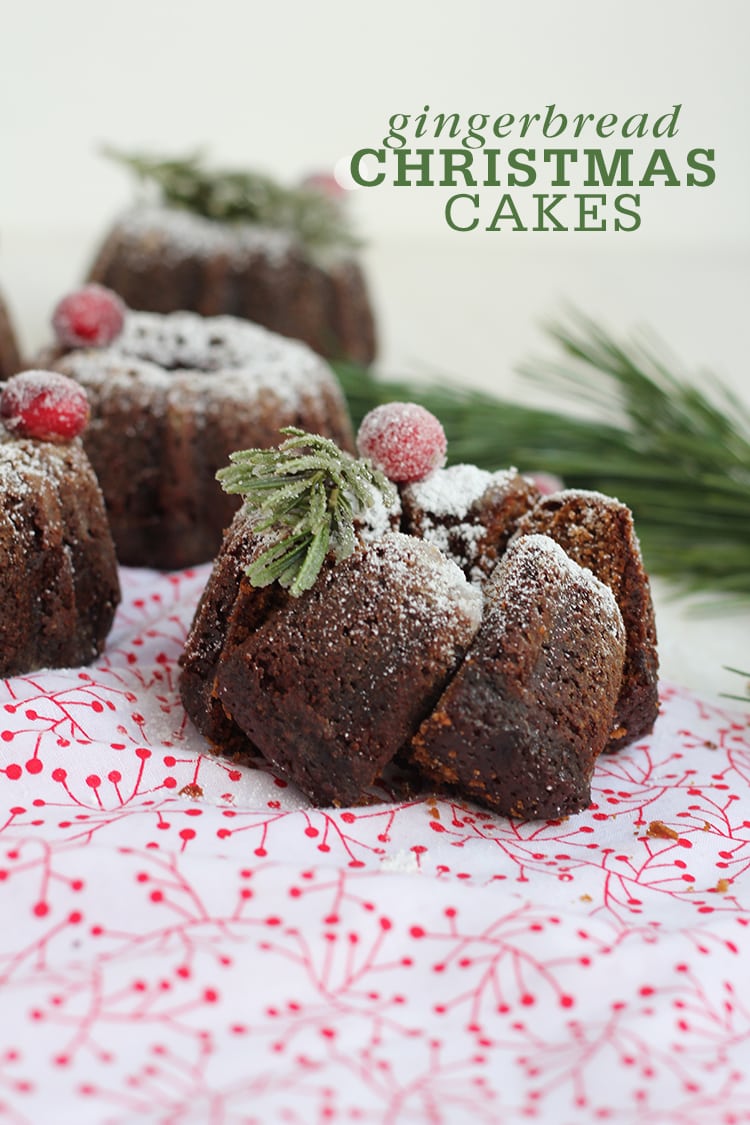 It's hard to believe that Christmas is only three days away! Between my sister's wedding and coming down with a terrible cold, I haven't had much time for Christmas celebrating. In fact, all I've been feeling up to over the last week is hot tea and a marathon of The Tudors on Netflix. How have I missed four seasons of this show? It's so scandalously good.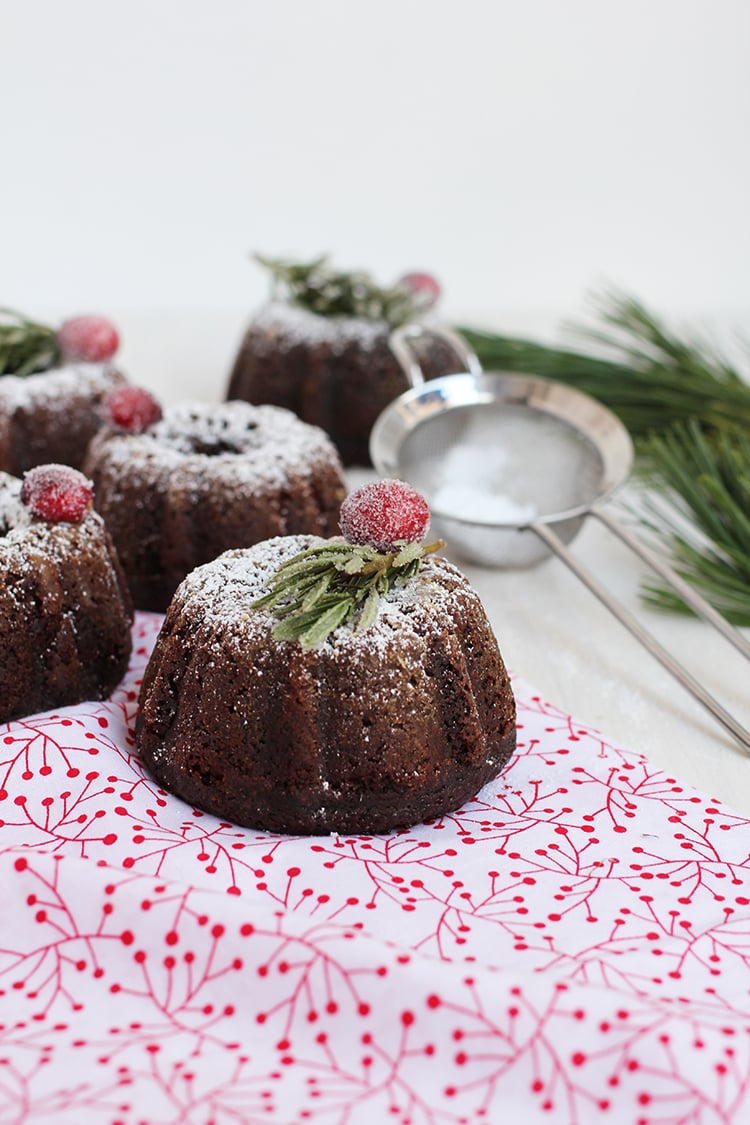 Just before I caught this nasty cold, I did get the chance to do a little holiday baking. These mini Gingerbread Christmas Bundt Cakes are one of my favorite recipes and Jason's as well. They make the entire house smell like spice and molasses and are decadently moist. Topped with candied cranberries and rosemary, and sprinkled with powdered sugar, these bundts make very festive treats! Here's how I make the candied cranberries…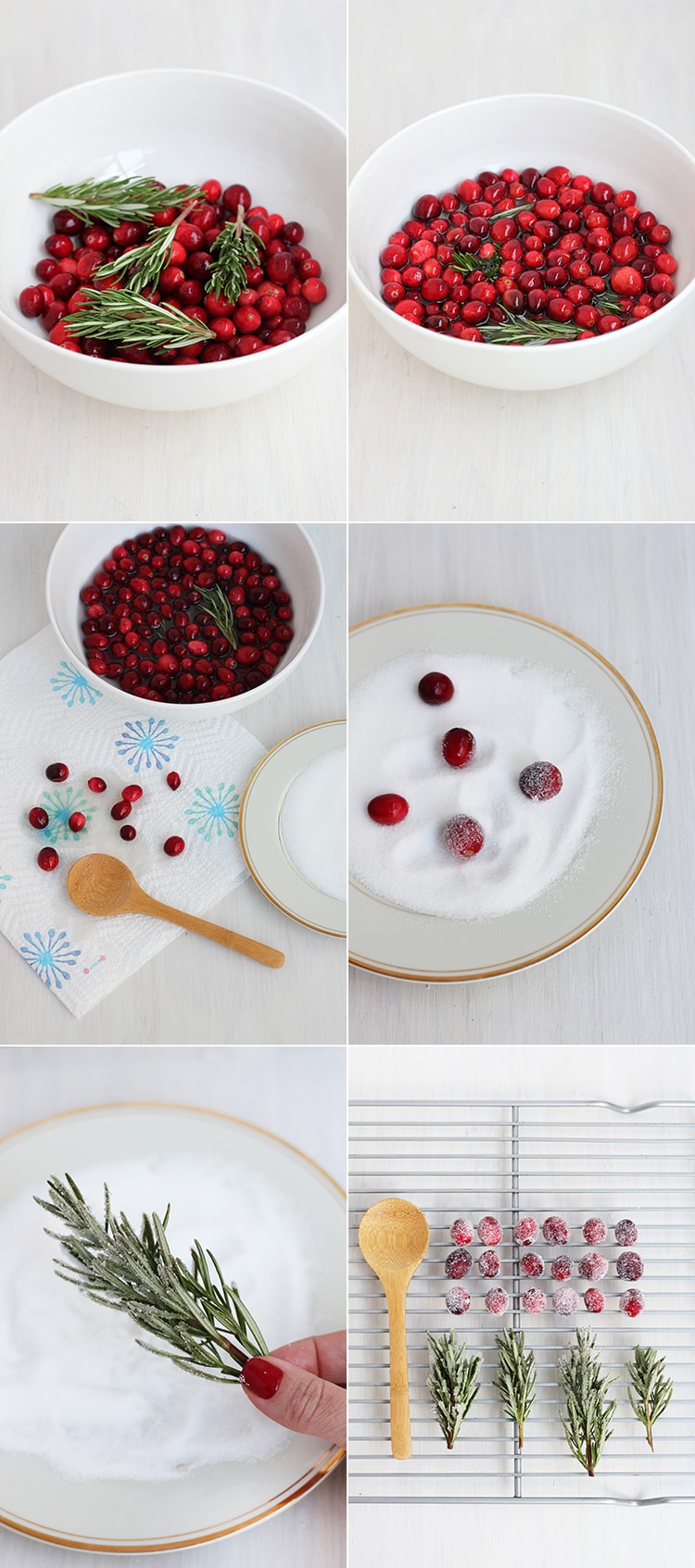 Wash two cups of cranberries (I make a large batch but you can always make less) and a dozen sprigs of rosemary cut into thirds. In a sauce pan combine 1 cup water and 1 cup granulated sugar and cook over medium-high heat until all of the sugar is dissolved. Set aside. In a large bowl, combine cranberries and rosemary and once the syrup has cooled slightly, pour over the berries. Cover with plastic wrap and refrigerate for at least 2 hours or better yet, over night. Remove berries and rosemary from the syrup and allow to dry by blotting on a paper towel. Roll berries in sugar and dip rosemary gently. Dry completely on a rack.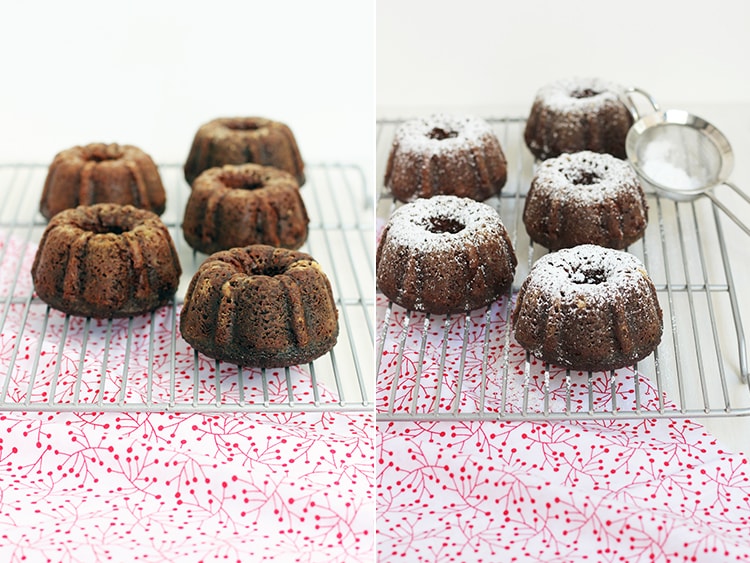 Once the cakes have been sprinkled with powdered sugar, garnish with the sugared rosemary and cranberries. The syrup will actually sweeten the cranberries just enough to eat! I love the tart and crunchy bite of these sugared berries, they are just delicious. And make a few extra, they are fabulous garnish for cocktails!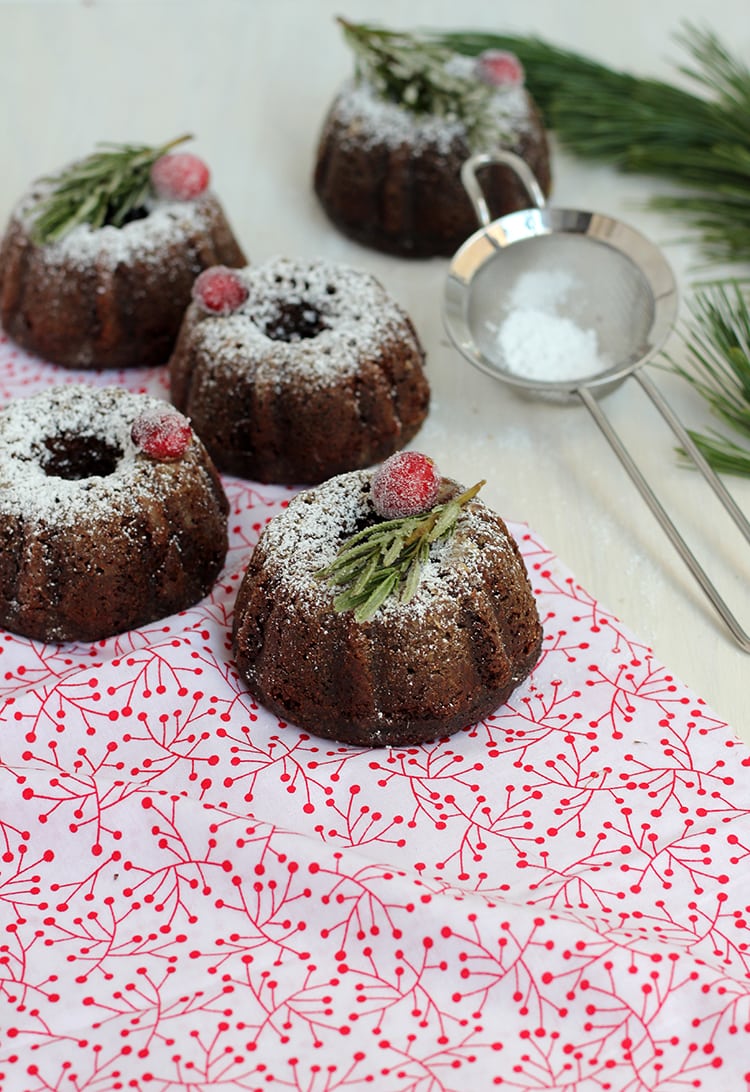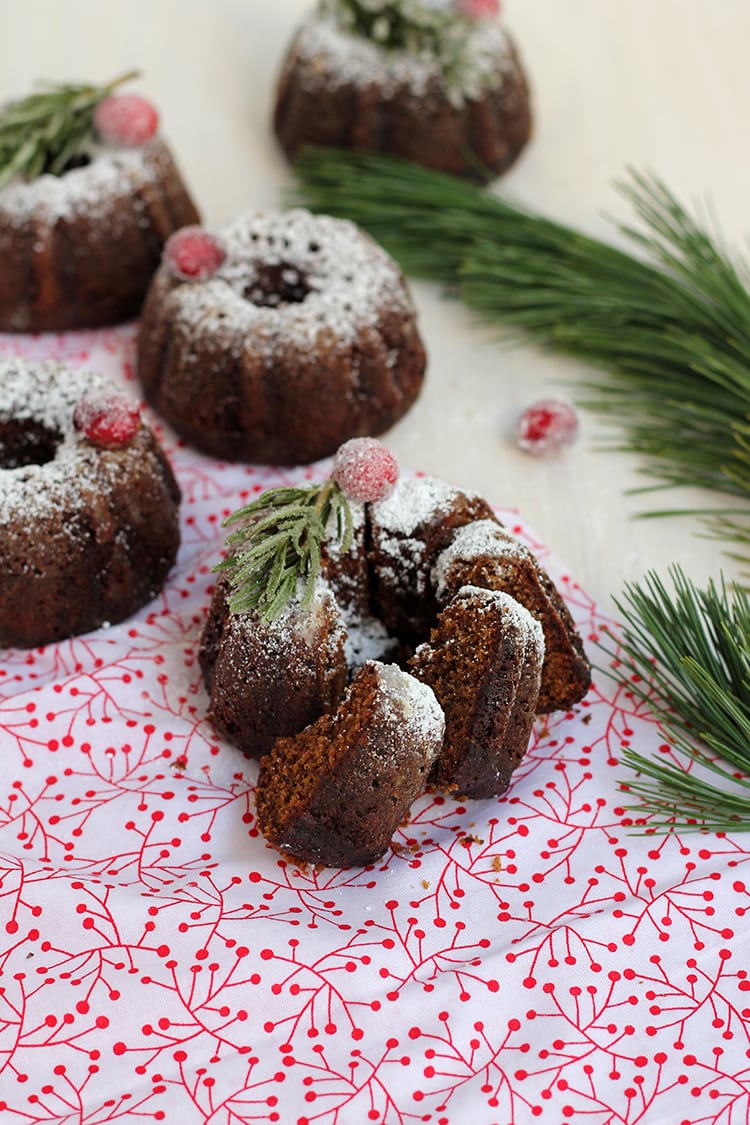 photos by Leah Bergman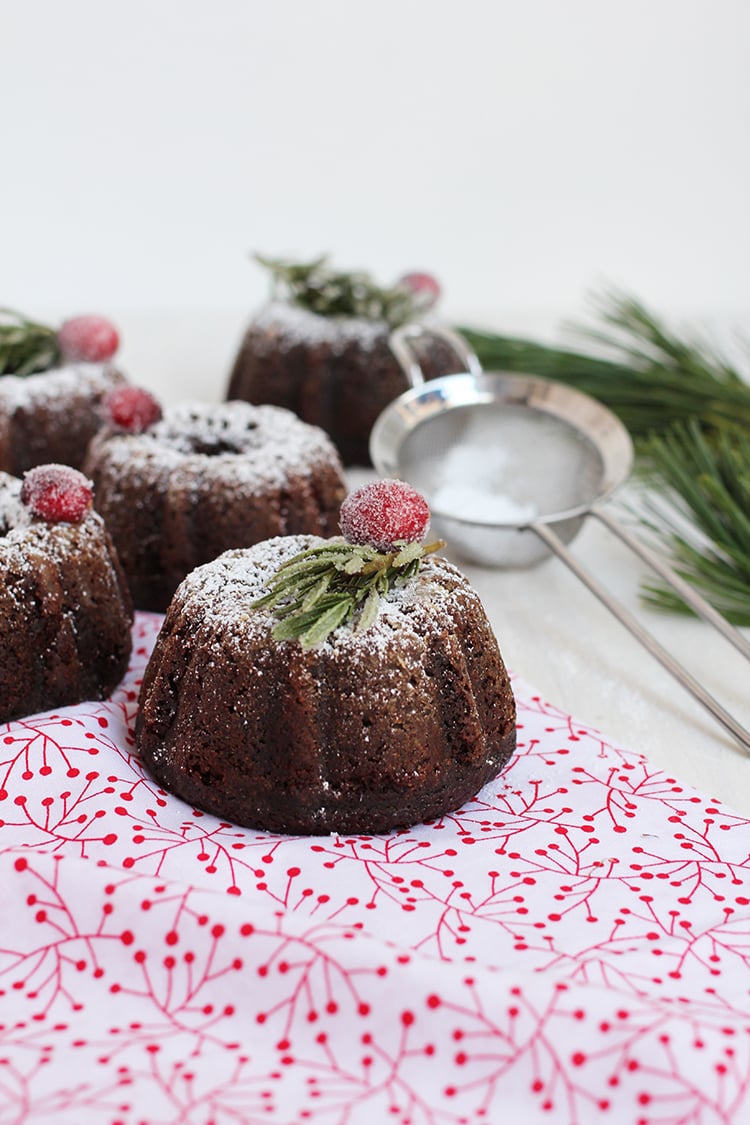 Gingerbread Bundt Cakes
2014-12-21 19:58:50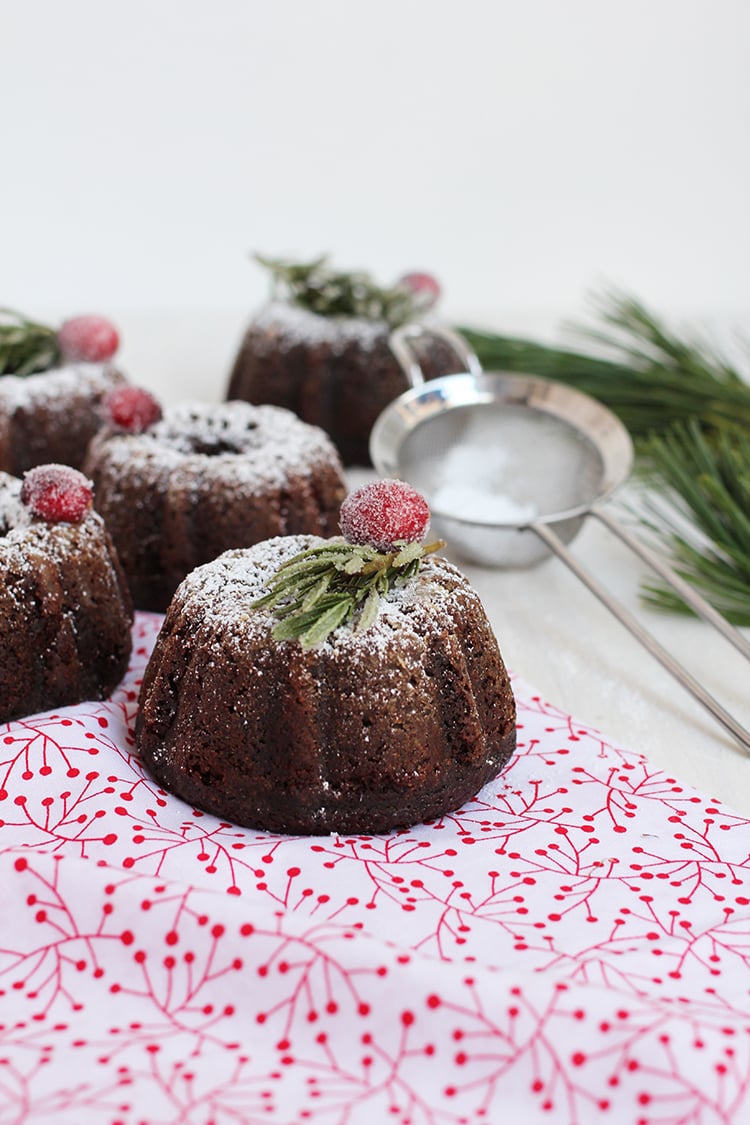 Ingredients
1 cup oatmeal stout or Guinness Stout
1 cup molasses
1/2 teaspoon baking soda
2 cups all-purpose flour
1 1/2 teaspoons baking powder
2 tablespoons ground ginger
1 teaspoon ground cinnamon
1/4 teaspoon ground cloves
1/4 teaspoon freshly grated nutmeg
3 large eggs
1 cup packed light brown sugar
1 cup granulated sugar
3/4 cup vegetable oil
Confectioners sugar for dusting
Instructions
Preheat oven to 350°F. Generously butter mini-bundt pans and dust with flour, knocking out excess. You can't be too generous in the greasing of the pans, this is a sticky batter.
Bring stout and molasses to a boil in a large saucepan and remove from heat. Whisk in baking soda, then cool to room temperature.
Sift together flour, baking powder, and spices in a large bowl. Whisk together eggs and sugars. Whisk in oil, then molasses mixture. Add to flour mixture and whisk until just combined.
Pour batter into bundt pan and rap pan sharply on counter to eliminate air bubbles. Bake in middle of oven until a tester comes out with just a few moist crumbs adhering, about 50 minutes. Cool cake in pan on a rack 5 minutes. Turn out onto rack and cool completely.
Serve cake, dusted with confectioners sugar and topped with sugared cranberries and rosemary.
Notes
This gingerbread is better if made a day ahead and becomes more moist when wrapped tightly in plastic wrap or a large ziplock bag. Cakes can be made and kept stored in an airtight container at room temperature for up to 3 days.
Adapted from Gramercy Tavern's Gingerbread
Freutcake https://www.freutcake.com/