My Grandma Elaine's Cheesy Hashbrown Casserole is hands down one of my favorite family comfort food recipes to make with Easter dinner.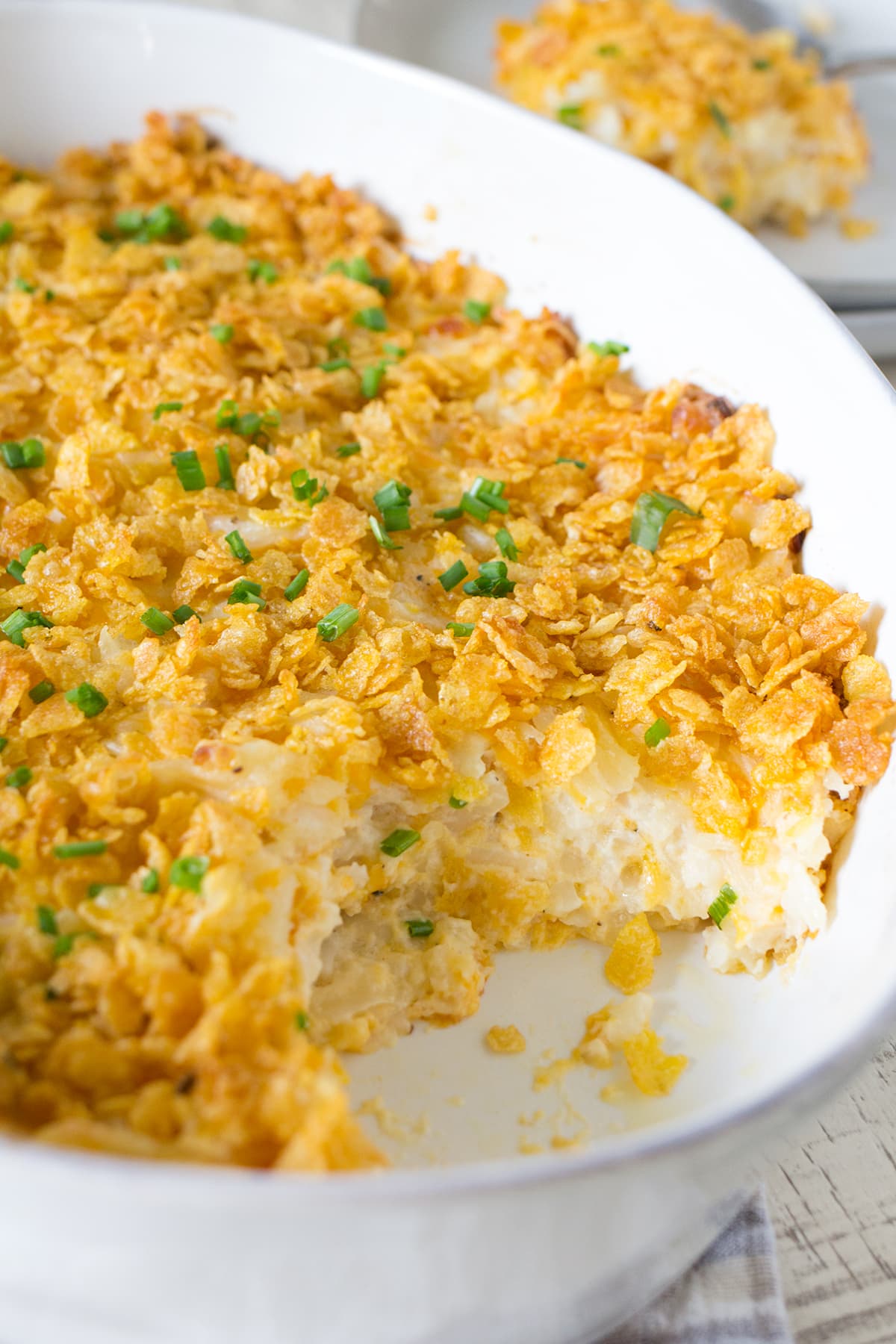 If you grew up in the United States, chances are you've had some version of this cheesy, classic hashbrown potato dish. It's sort of a staple and probably best known as the Cracker Barrel Hasbrown Potato Casserole...however my Grandma, and American Grandma's everywhere have been making it long before it became Cracker Barrel famous, I'm sure.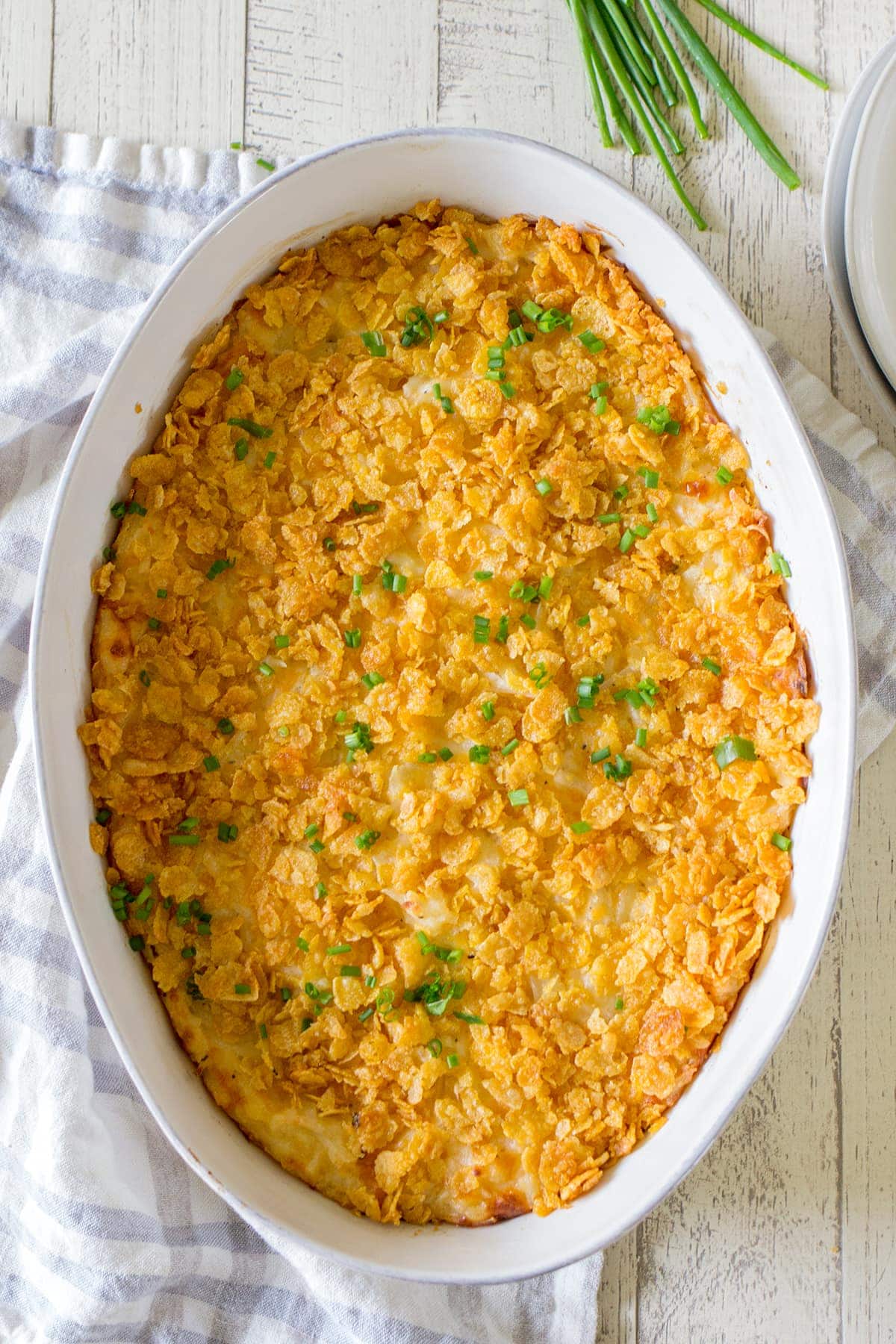 My Grandma is all about no-fuss recipes and makes this in the (gasp) microwave! Yup. Here original recipe calls for cooking this in the microwave. Gotta love how simple THAT is. I personally bake mine in the oven because I like the texture it creates as well as the crisp you get on top so that's how I'll be writing the recipe today.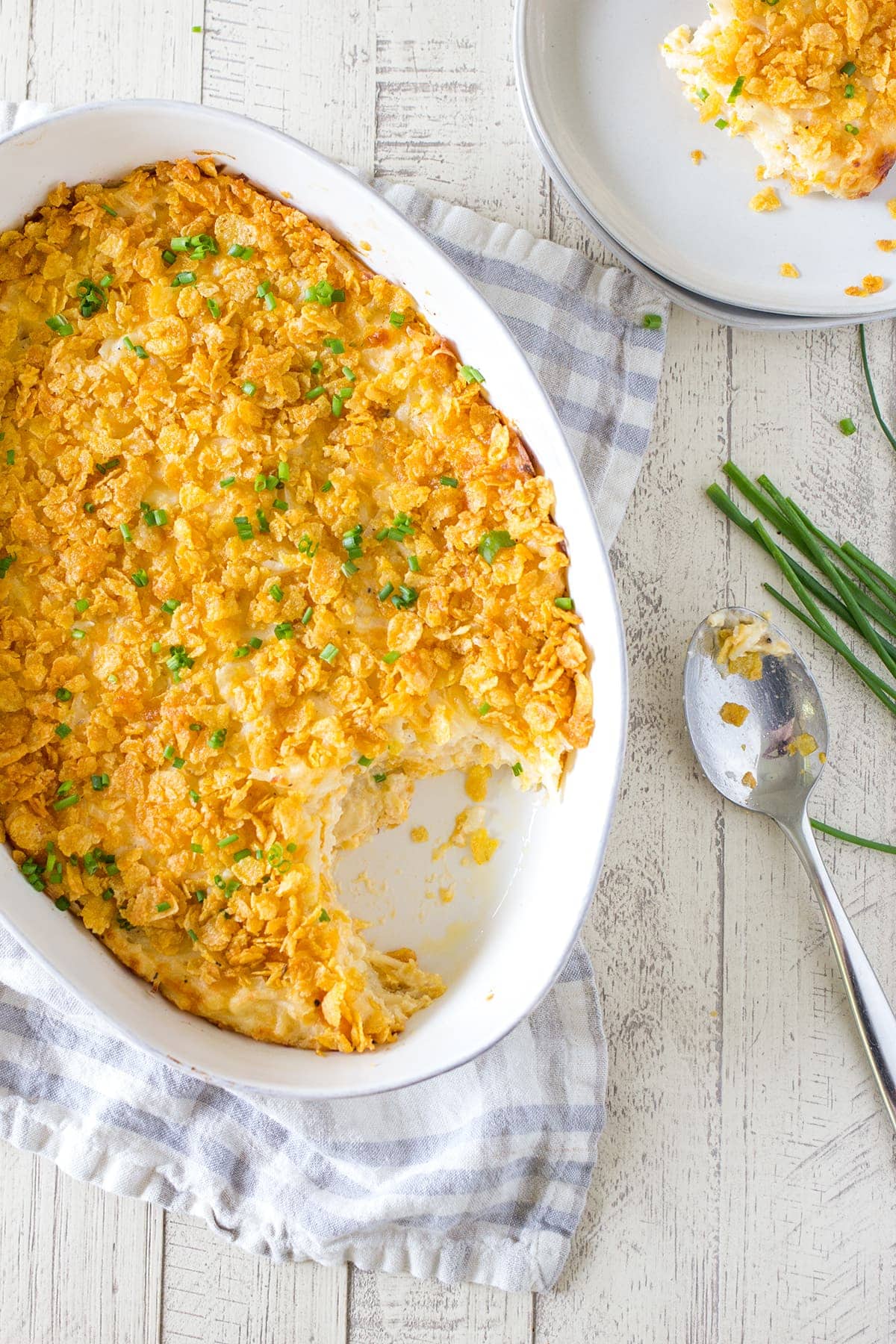 Also, the classic version of this recipe calls for cream of chicken soup, a standard in the casserole department but easy enough to substitute for a homemade cream of chicken sauce. It only takes a few minutes to make and adds such a nice flavor to this casserole, I know you will love it!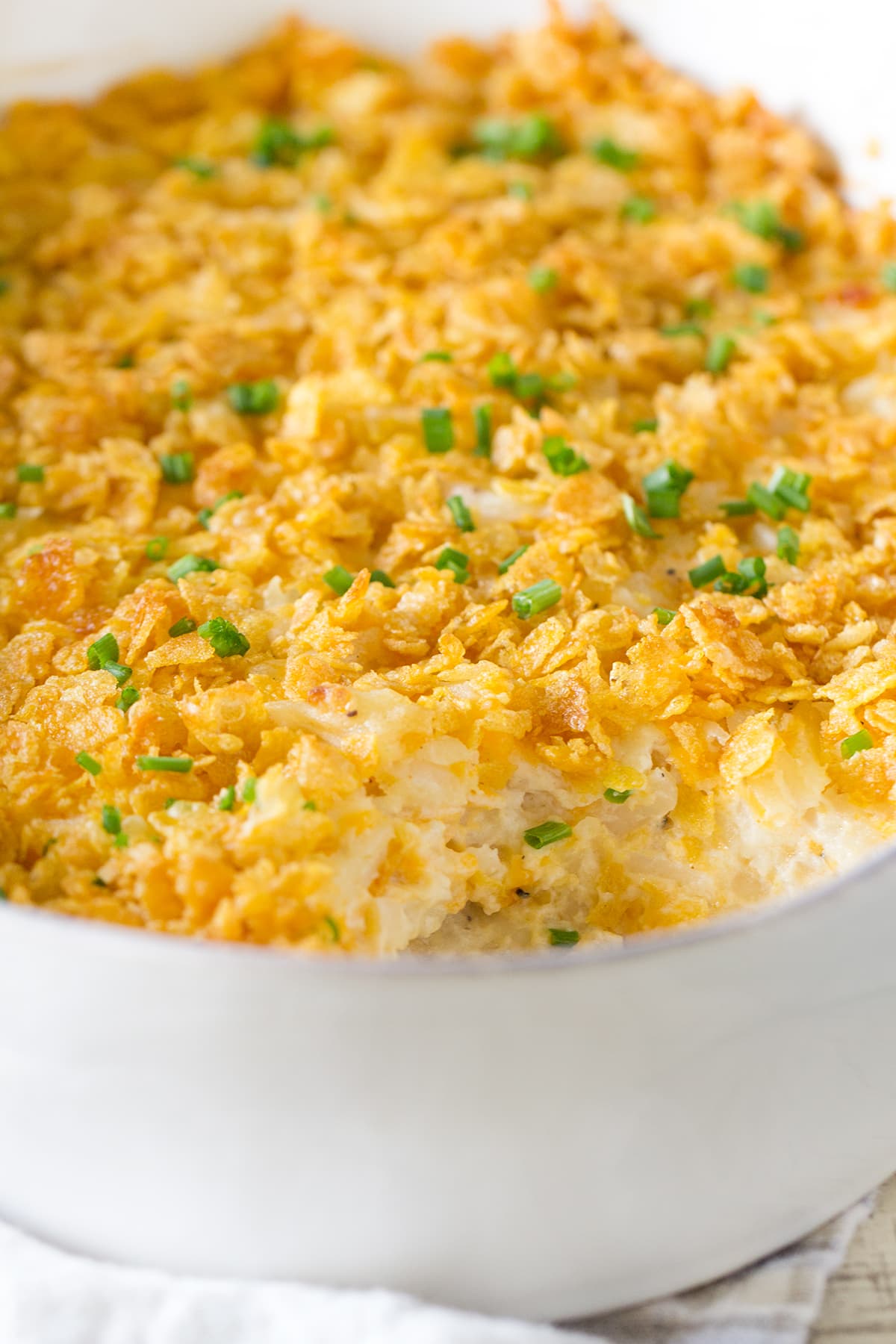 The ingredient list is simple, frozen hashbrown cut potatoes, sour cream, onion, lots of cheddar cheese, homemade cream of chicken, seasonings, butter and corn flakes. I like to sprinkle the top with chopped chives for a little extra onion flavor that cuts the richness of the potatoes.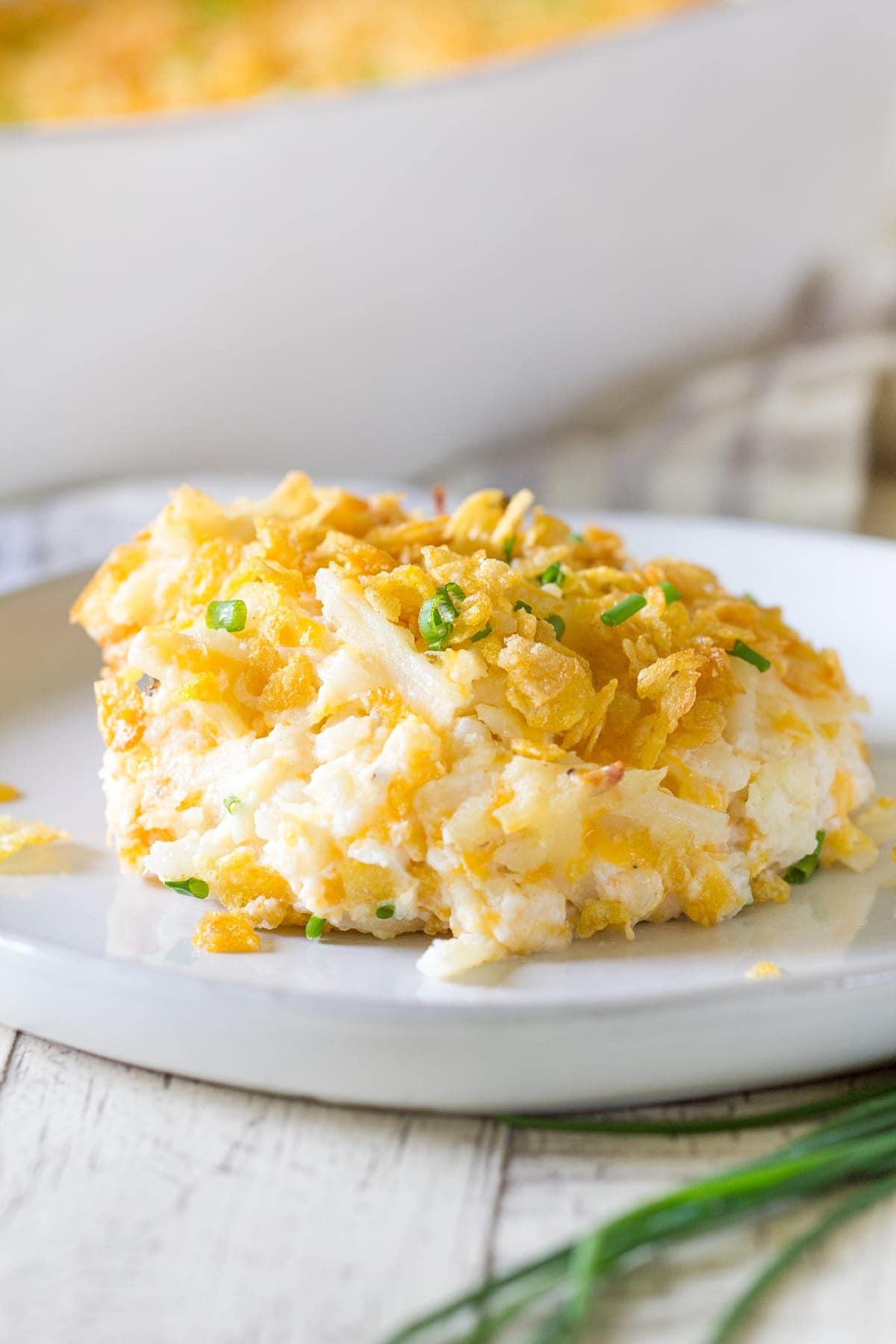 This casserole is the perfect side dish for serving with an Easter ham or even for family dinner along side tri-tip. If you haven't tried hashbrown casserole, this is definitely going to be a new family favorite in your house!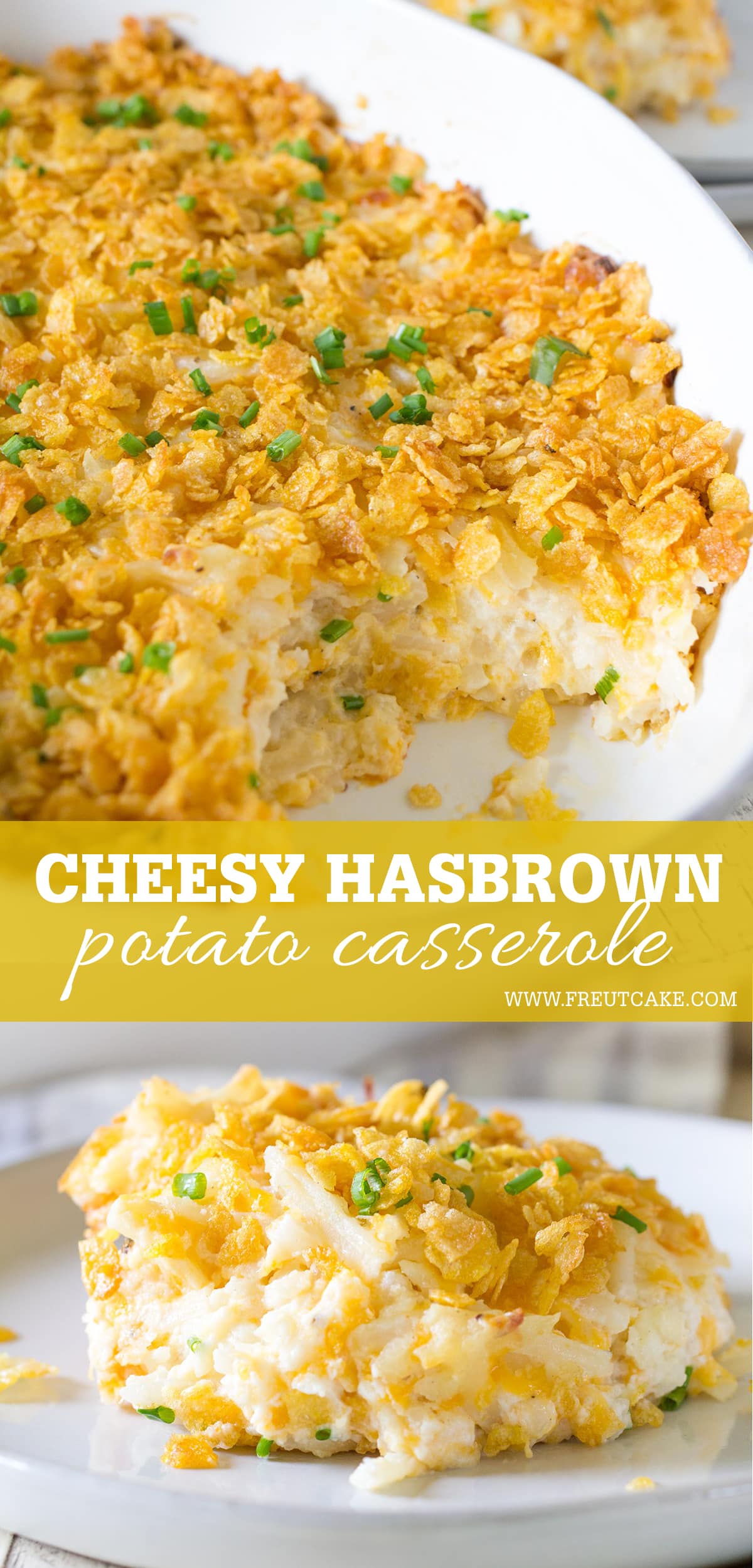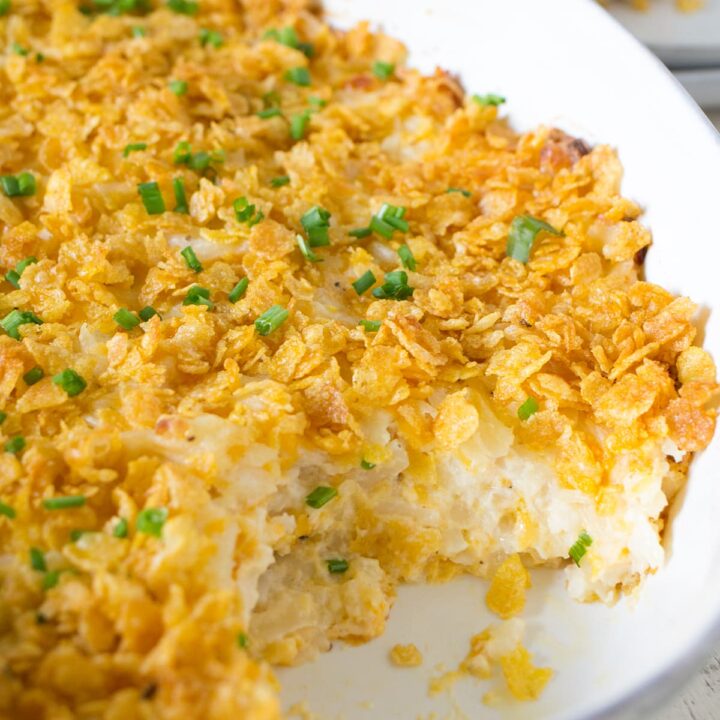 Grandma's Cheesy Hashbrown Casserole
Total Time:
1 hour
10 minutes
A cheesy hashbrown casserole made entirely from scratch without cream of chicken soup and perfect for Easter.
Ingredients
1 2lb bag frozen hash brown potatoes.
2 cups shredded cheddar cheese
1 teaspoon seasoned salt
½ teaspoon pepper
1 pint (16 oz) sour cream
½ cup finely chopped onion
Cream of Chicken Mixture:
3 tablespoons butter
3 tablespoons flour
1 cup chicken stock
1 cup whole milk
salt and pepper to taste
Topping:
1 ½ cups crushed cornflakes
4 tablespoons melted butter
chopped fresh chives
Instructions
Remove hashbrowns for freezer and set out to begin thawing while you make the cream of chicken.
Start by making the cream of chicken mixture: In a small sauce pan melt butter over medium heat. Whisk in flour and continue cooking and whisking for about 1 minute to slightly cook off the raw flour taste. Slowly add in milk and chicken stock whisking the entire time. Cook for about one more minute just until the mixture begins to thicken and combine. Season with salt and pepper to taste and set aside.
Preheat oven to 350 degrees and butter a 2 ½ - 3 quart baking dish.
In an extra large bowl combine hasbrowns (they won't be completely thawed, that's fine), cream of chicken mixture, shredded cheddar cheese, seasoned salt and pepper, sour cream and chopped onion. Mix well and taste to see if more seasoning is needed.
Spoon mixture into buttered casserole dish and bake uncovered for 30 minutes.
In a small bowl crush up cornflakes and mix with melted butter.
Top casserole with the mixture and bake an additional 30 minutes until the potatoes are bubbly and cooked through.
Remove from oven and allow to cool slightly. Top with chopped chives for garnish before serving.