I have been a long time admirer of my friend Sara of Matchbox Kitchen's beautiful cakes! They are simple, stunning, and delicious. So when Sara agreed to teach me how she assembles, frosts and decorates her cakes, I was over the moon. We decided to make a winter cake with layers of chocolate cake, Swiss meringue buttercream, white chocolate shavings and a tiny forest of snowy trees. I'm still in awe of how gorgeous and whimsical it turned out; not that I'm surprised, Sara is a cake genius.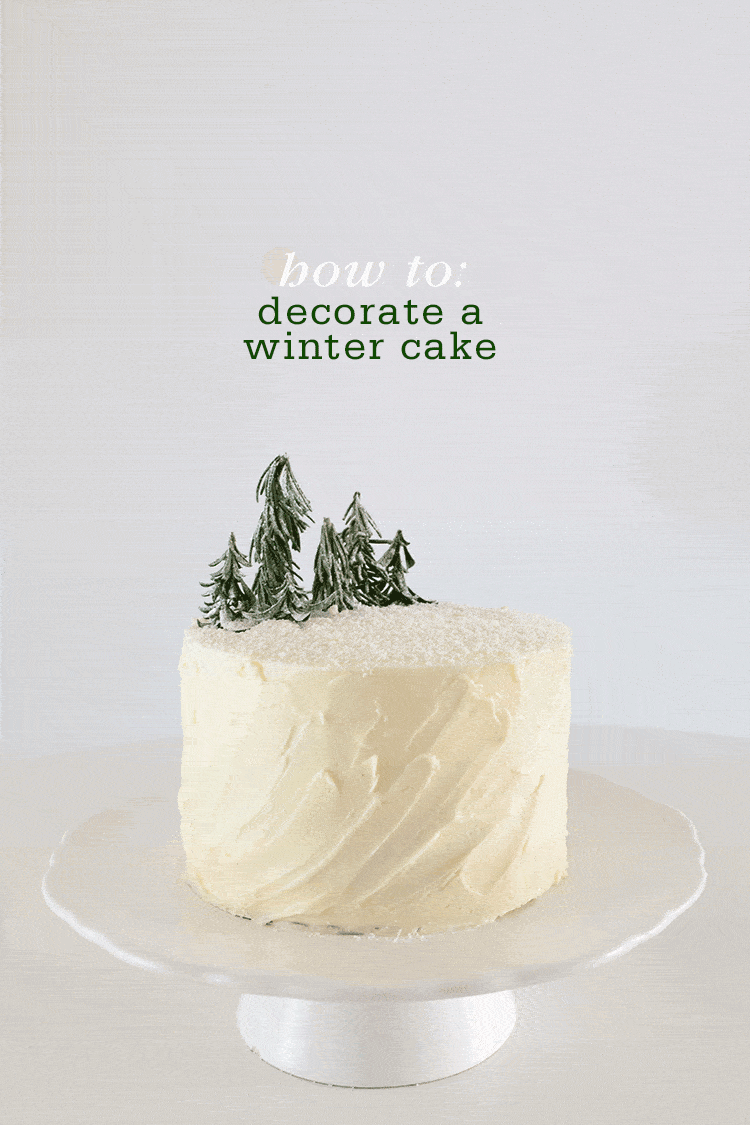 I loved how having Sara in my home quickly transforming my dining room into a cake shop! Layers of moist chocolate cake, a big bowl of buttercream, shaved white chocolate and fresh herbs make any room smell like candy land. Here's how Sara transformed her chocolate cake into a winter wonderland...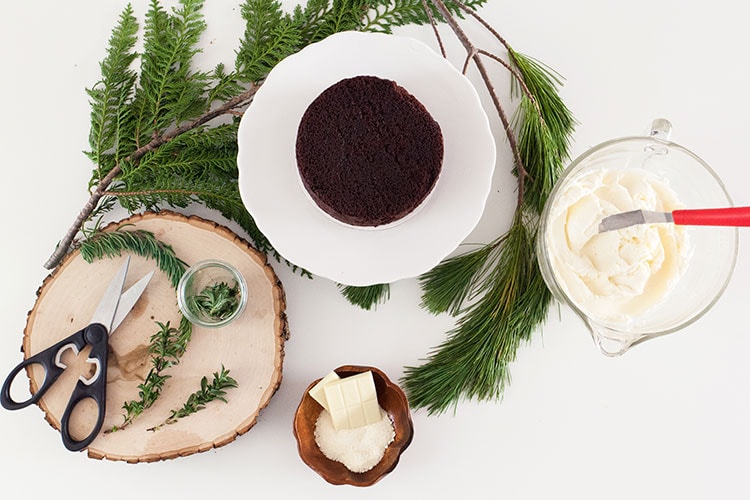 To get started you will need:
2- 6" round chocolate cakes (see recipe below)
1- batch Swiss meringue buttercream frosting (see recipe below)
white chocolate bar
sprigs of rosemary and winter savory
powdered sugar



To Assemble:
1. Trim and discard the domes off the top of each cake with a bread knife. Then, slice each cake half, giving you 4 layers total. Place 1 layer on a cardboard cake board or a cake stand or platter if you do not have one. Add approximately ½ - ⅔ cup buttercream and smooth with an offset spatula. Continue with the next 3 cake layers, making sure each layer is as level and even as possible.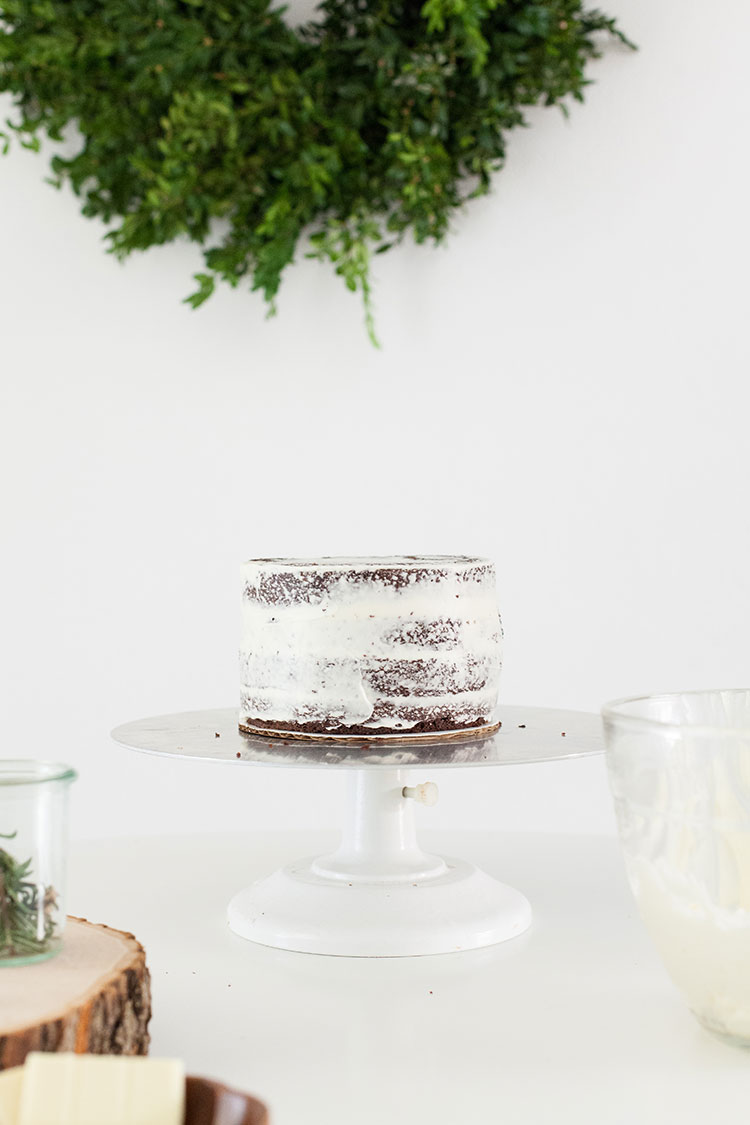 2. Add a thin layer of buttercream to the outside of the cake, called a crumb coat, to seal everything in. Place entire cake in the fridge for approximately 20 minutes or until the buttercream has solidified and makes for a sturdy cake.

3. Add the remaining buttercream to frost the outside of the cake. To add texture, drag your offset spatula to make a zig zag motion across the cake.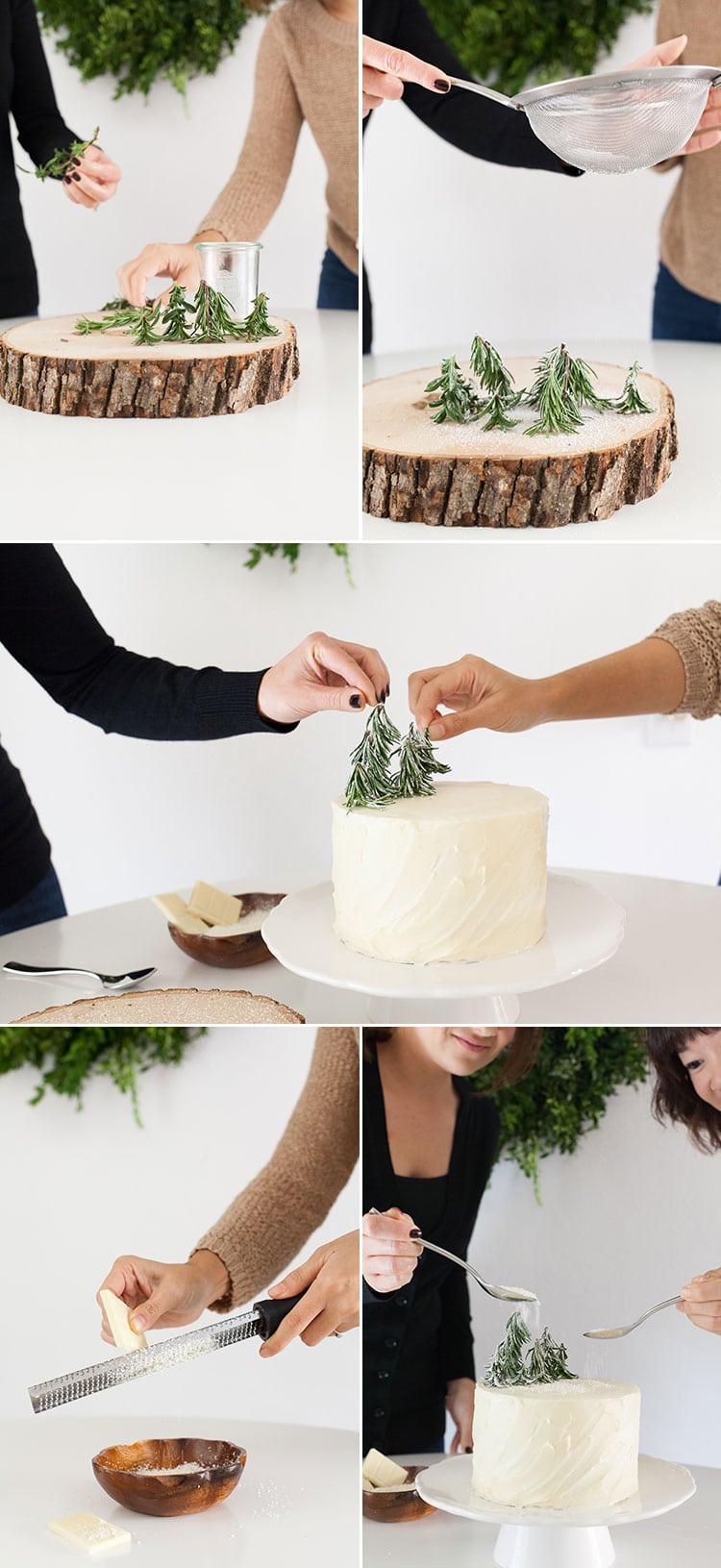 To Decorate:
1. Cut rosemary and savory to varying lengths. These will be your trees so similar heights will look best. Invert sprigs so leaf tips are pointing downwards, then dust with powdered sugar.  Place sprigs onto cake in a cluster to resemble a forest, pressing stem into buttercream to hold it in place.
2. Using a grater or zester, shave chocolate bar into very fine pieces to resemble snow. Continue until you have about ¼ cup. Gently sprinkle chocolate shavings onto the cake with a spoon. Store cake in fridge, dusting additional powdered sugar before serving if necessary.
Tips:
1. It is not necessary to have a rotating cake stand, but will be helpful to make the buttercream smooth and even. If not, simply place the cake on whatever platter you will be serving the cake on and slowly rotate the plate as you frost the cake.
2. For optimal taste and texture, it is very important to serve your cake at room temperature.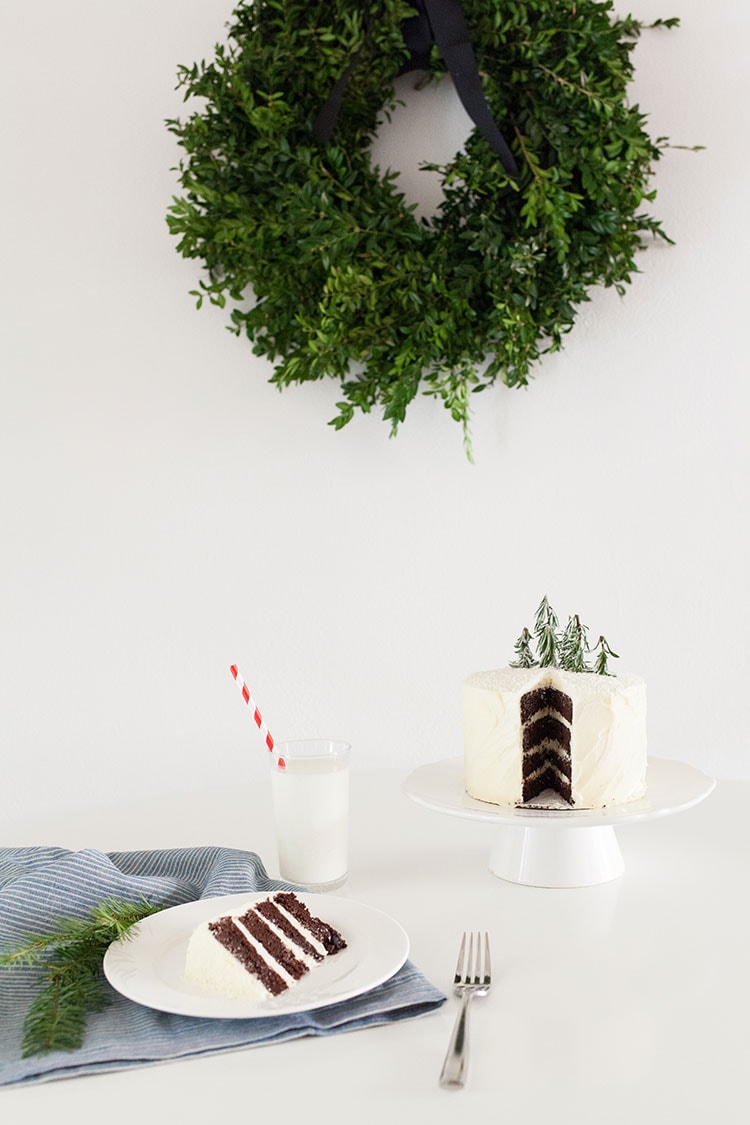 ½ cup unsalted butter, softened
1 cup + 3 tablespoon all purpose flour
1 ⅓ cup dark brown sugar
1 ½ teaspoon vanilla extract
2 large eggs
½ cup Dutch-processed cocoa powder
¾ teaspoon baking soda
¾ teaspoon baking powder
½ teaspoon salt
1 cup buttermilk
3 tablespoon mayonnaise
Directions:
1. Preheat oven to 350 F. Butter and flour two 6" round cake pans.
2. With a stand mixer or hand mixer, beat butter and sugar together on medium high speed until lightened and fluffy, about 5-7 minutes. Add eggs one at a time until fully incorporated.
3. In a separate bowl, sift together flour, cocoa powder, baking soda, baking powder, and salt. Measure out buttermilk and add in vanilla extract. Add a third of the dry ingredients to the butter mixture and mix on low until it just comes together, no more than 30-45 seconds. Add half of the buttermilk, then mix again on low. Continue to alternate the wet and dry ingredients, ending with dry. Gently fold in mayonnaise.
4. Divide batter evenly (use a scale if you have one) into the two pans and bake for 25 minutes without opening the oven. Rotate pans and continue to bake for another 20-25 minutes.  The cake is done when a skewer come out clean and the cake is barely starting to separate from the sides of the pan.
5. Remove from oven at let cool for 15 minutes, then invert onto cake racks. Once cooled completely, securely wrap each cake in plastic wrap and place in the fridge.
Tips: 
1. Once you add flour, do not over mix. Doing so will activate the gluten, which will make your cake less soft and tender.
2. It is okay to very slightly undertake chocolate cake, with a few crumbs left on the skewer.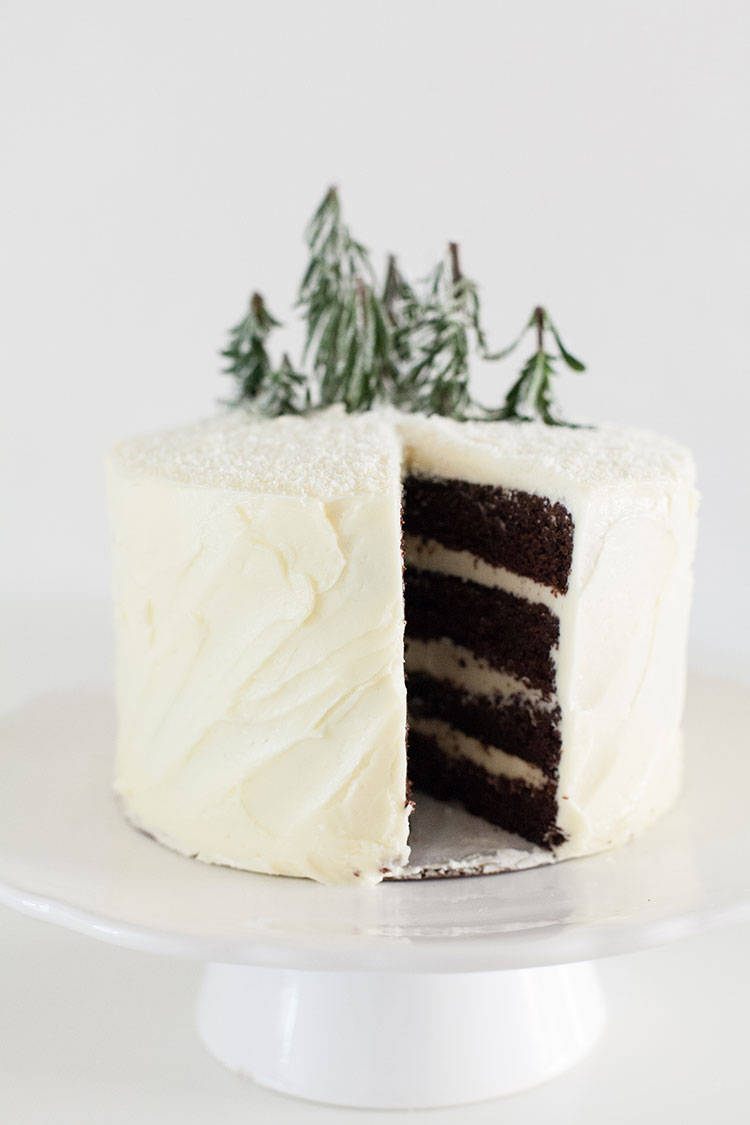 5 oz egg whites (about 5 large egg whites)
5 oz sugar (about ¾ cup)
1 lb butter (4 sticks), room temperature, cut into 1 inch pieces
2 teaspoon vanilla extract
Directions:
1. Fill medium sized saucepan with 2 inches of water and bring to simmer. Fit a glass or metal bowl (not plastic), or the bowl from your stand mixer, over the saucepan so it fits securely to make a double boiler. Add egg whites and sugar to the bowl and whisk constantly until the temperature reaches 140-160 F. If you don't have a thermometer, make sure the sugar has melted completely by rubbing the mixture between your fingers (it is not hot enough to burn you). Make sure not to let the water boil or it will cook your egg whites.
2. Remove bowl from saucepan and whip egg white mixture on medium high until it has turned into a thick, glossy meringue the holds stiff peaks. If using a stand mixer, switch to the paddle attachment, turn speed to low and add butter one piece at a time. Continue to add butter about every 20 seconds and mix until smooth. The mixture might look curdled for a while, but just keep mixing until emulsified. Add vanilla.
Tip: Make sure your bowl is clean without a trace of fat so that the meringue can whip up fully. Any residual fat such as butter or oil will prevent the egg whites from whipping up.
THANK  YOU SARA for sharing your recipes! For more of Sara's cakes or to order one of your very own,
visit her shop and blog
.